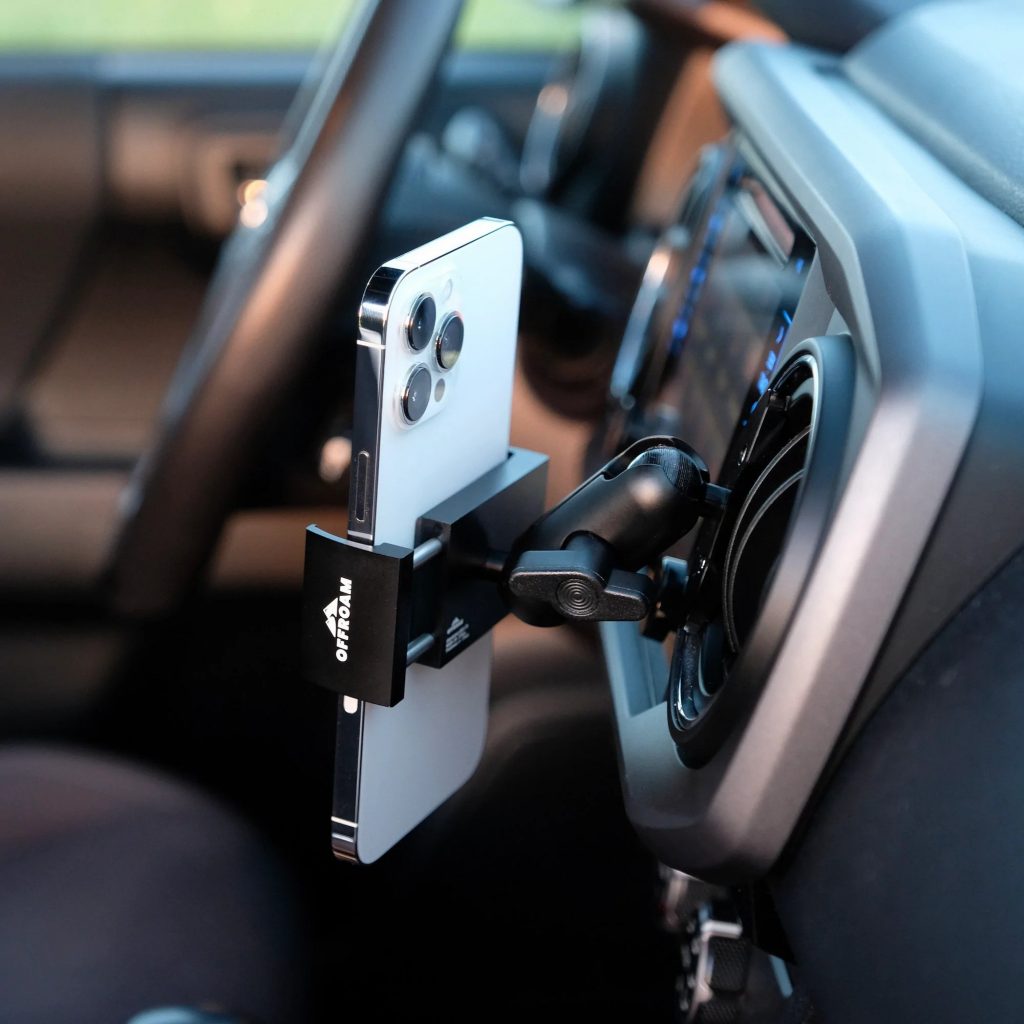 6 Popular Phone Mount Options for 3rd Gen (2016-2023) Tacoma – Secure Phone Mounting Methods For Your Truck
Trying to check your phone for relevant information, or change the music selection, while juggling other items can be a real pain in the neck. It is a multi-tasking nightmare. Not only is it inconvenient to shuffle between all these items, but it can prove to be very distracting and, ultimately, unsafe.
One way to manage this issue is to install a top-grade phone mount in your truck to secure your phone or other devices as you drive. Adding one will make your entire driving experience much more enjoyable and, more importantly, safer.
However, a poor-quality phone mount can be even worse than having no phone mount at all. It is critical to do your research before purchasing one. In this article, we will share some benefits of installing a phone mount and simplify the buying experience by reviewing some of the best phone mount options for 3rd Gen Tacoma models.
Benefits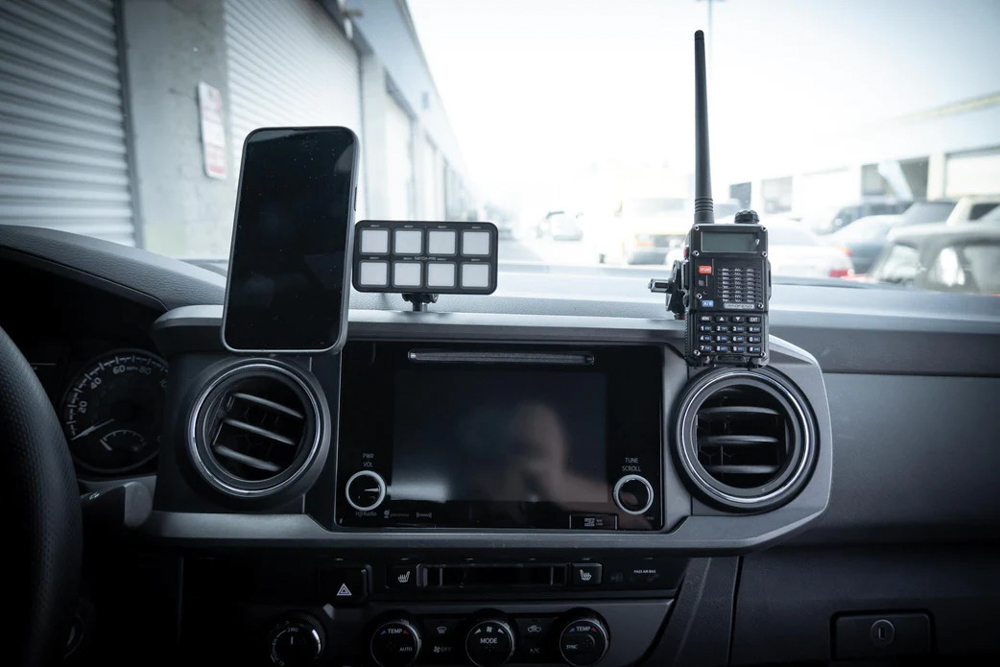 You probably wonder if adding a phone mount to your truck is worth it. We assure you that, for the most part, it is – it will drastically improve your driving experience, and you will wonder how you ever survived without one. Here are a few reasons you should make the jump and invest in a phone mount for your Tacoma.
Safety
First and foremost, driving with your phone in your hand is dangerous. It could easily fall out of your hand, forcing you to scramble to find it, which could have disastrous consequences. Looking down at whatever information you need on your phone is very distracting and unsafe.
By keeping your phone mounted conveniently in front of you, you can focus more of your attention on the road while simultaneously accessing whatever you need on your device.
Navigation
For off-road enthusiasts, navigating a trail system can be extremely confusing, especially if you are exploring a new environment. The less you have to look down at your phone, the more attention you can pay to that blind corner or surprise turn that you need to take to get to camp.
With your phone mounted and within your line of sight, you can simply glance at it whenever you need to get directions or see a view of the map.
Less Clutter
Another benefit to installing a phone mount is that it will clear up space inside the cab. Without a phone mount, you will either keep your phone in a cup holder or in your lap. Neither scenario is convenient.
Mounting your phone on the dash will allow you to properly utilize your cab's potential space. It also helps you better organize various items, as there are mounts that will enable you to prop up more than one device, which means your items are not just strewn around your cab.
Charging
Finally, some phone mounts have integrated wireless charging. This allows you to charge your phone without a cable while keeping it in a convenient place. The 3rd Gen Tacoma does have a wireless charging port, but it does not charge super fast in some cases, and it holds your phone out of view. Adding a phone mount can rectify these issues.
Do I Need A Phone Mount?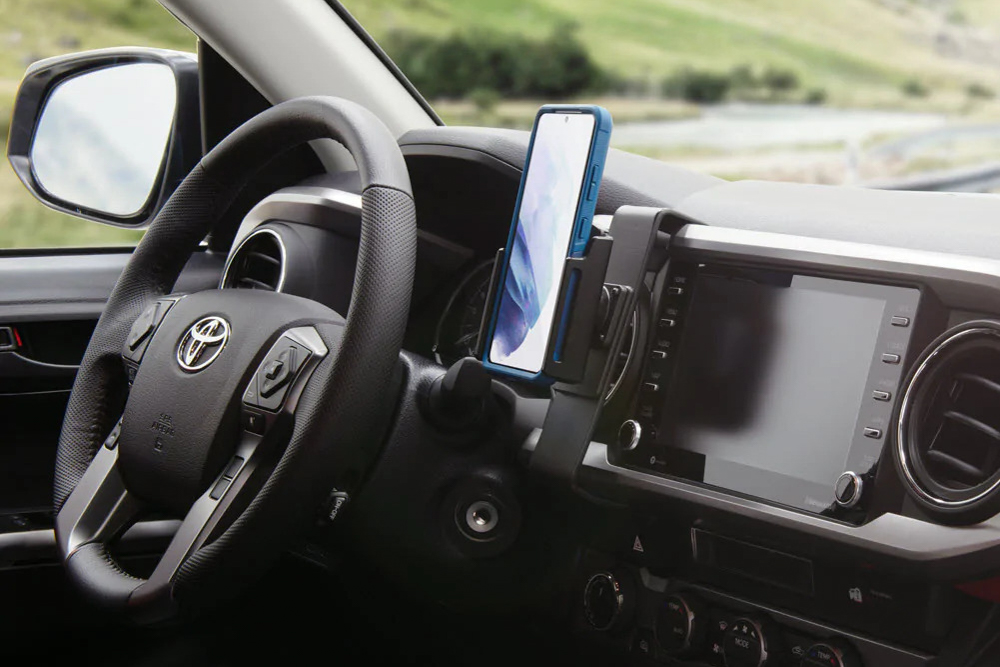 Whether or not you need a phone mount comes down to your specific needs. It will be a worthwhile upgrade if you are constantly annoyed with having your phone in your hand while driving. On the other hand, if you rarely check or use your phone while driving, you may not find a need for one.
Still, if you use your phone even just for navigation or to answer the occasional work call, it will be much safer and more convenient to have it mounted in front of you.
So really, the questions you should ask yourself before buying are – How often will I use it? Are the benefits worth the cost?
Different Styles
If you do a lot of off-roading or drive on rough roads, your mounted phone's stability will be important. A rigid, off-road focused mount will be your best option so that your phone does not fall out or vibrate while you navigate a demanding trail.
On the other hand, if you mostly use your Tacoma to commute to work or won't use your phone mount every time you get in your truck, then a low-profile and less secure option might do the job for you at a lower price.
Consider the driving situations in which you will frequently use your phone mount.
Drill vs. No Drill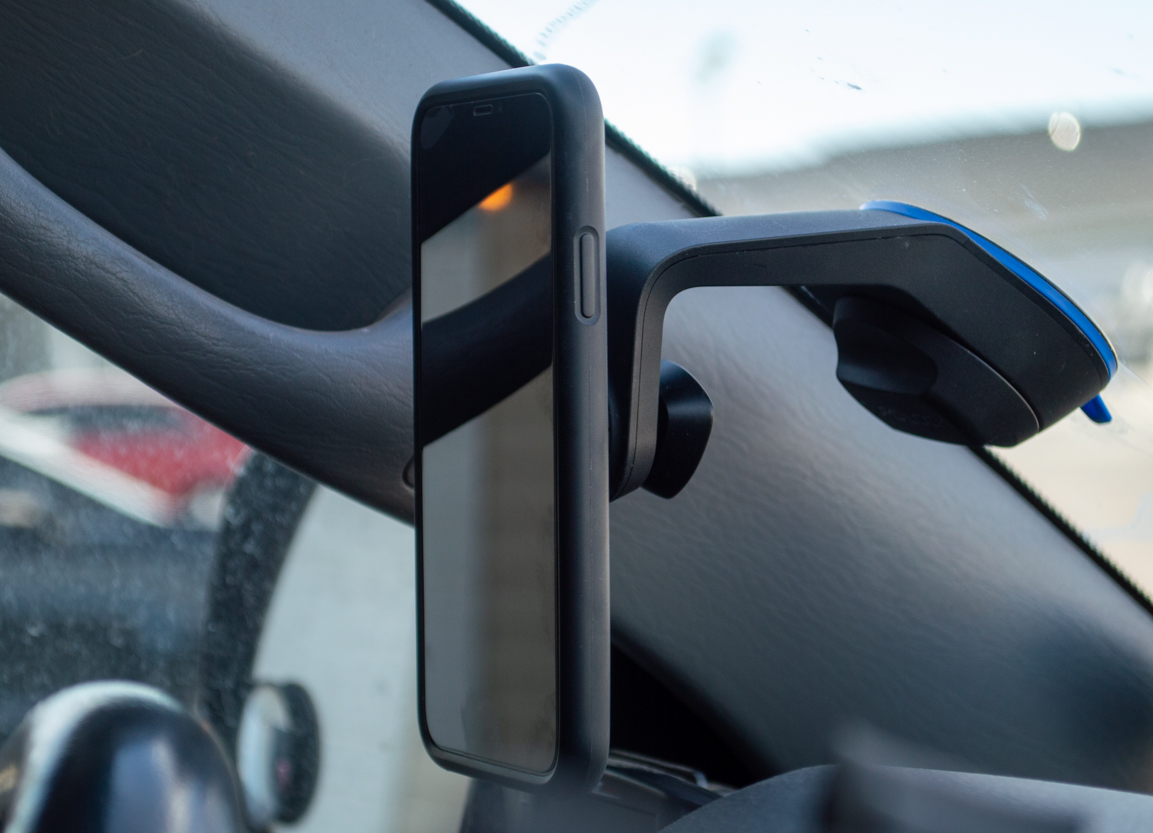 One major factor that separates the different available phone mount options apart is whether or not drilling is required during the installation process.
Drill
Although drilling will leave permanent holes in your dashboard, these mounts tend to be more secure since they are bolted down solidly to the surface of your interior. This is best if you need a sturdy mount and plan to use it all the time or leave it in your Tacoma 24/7.
No Drill
No drill phone mounts will be a better option for users who want an easily removable system without permanent marks on their interior. Although more convenient to install/remove, they will often be less secure since they are not bolted down to anything. No drill options are often more low profile as well.
There are exceptions to the "bolted phone mounts are more secure" rule, such as the Offroam Phone Mount.
Before deciding on the right phone mount, consider how often you will need to remove your mount, how secure you need your mount to be, and whether or not you mind drilling permanent holes in your interior.
Potential Downsides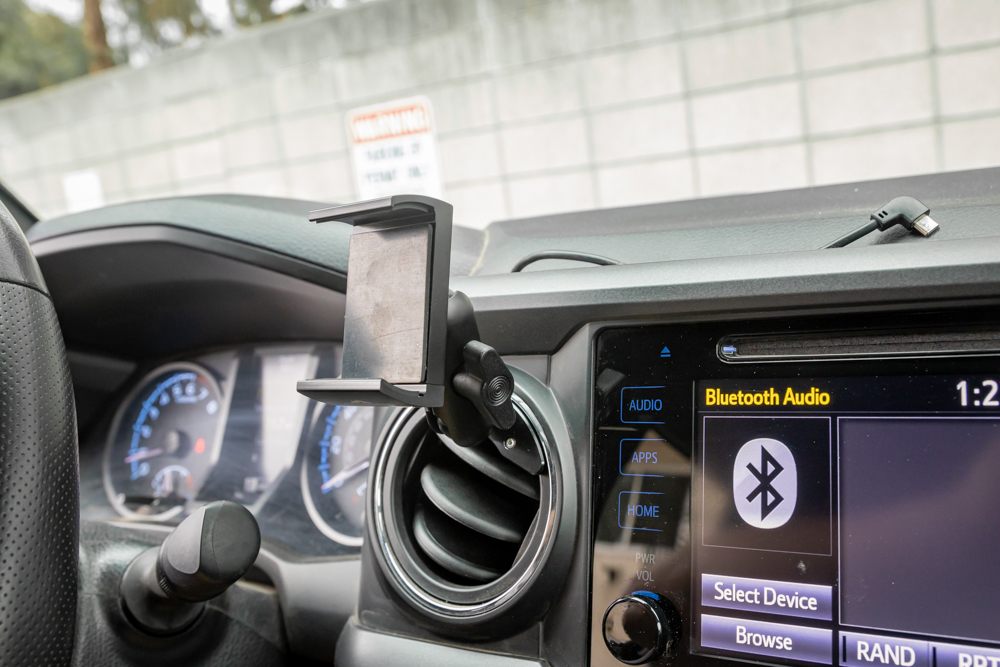 While installing a phone mount comes with benefits (as we've already mentioned), there are a few potential downsides that you should be aware of.
Permanent Drill Holes
While many phone mount options do not require any drilling to install, for those that do, the biggest downside to a phone mount is the permanent, unsightly holes you will have in the dash. You don't have to worry if you never plan to remove the mount.
Still, you never know if or when you might want to get rid of your mount and upgrade to a new one, so carefully consider this issue before buying a mount that requires drilling.
Blocks View
Another potential downside to some of the phone mounts on the market is that they can block your view. If they protrude above the height of the dashboard, it may obstruct a small portion of your field of view.
This may not bother some, but if you are the driver who needs to see everything, consider that when selecting a mount for your truck.
Easy To Use
While being easy to use might initially seem like an advantage, it can have some downsides. Having your phone directly in view means you will see every notification and alert you receive. For most of us, it can be hard to ignore messages from our friends or a breaking news story, so being able to see all of your notifications can actually become more distracting.
Remember that just because your phone is there does not mean you should be on it. Keep your eyes on the road!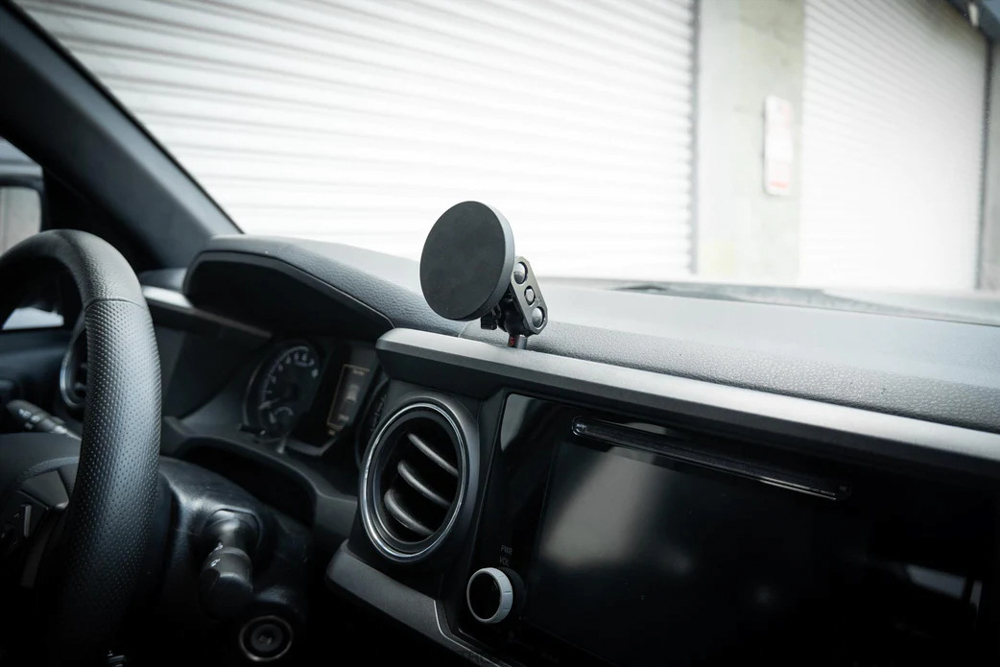 With all that out of the way, let's get into our picks for the Top 6 Phone Mounts for your 3rd Gen Tacoma.
Each comes in at a different price point, with different designs and features, so check them out before making a purchase.
1. Offroam Phone Mounting Kit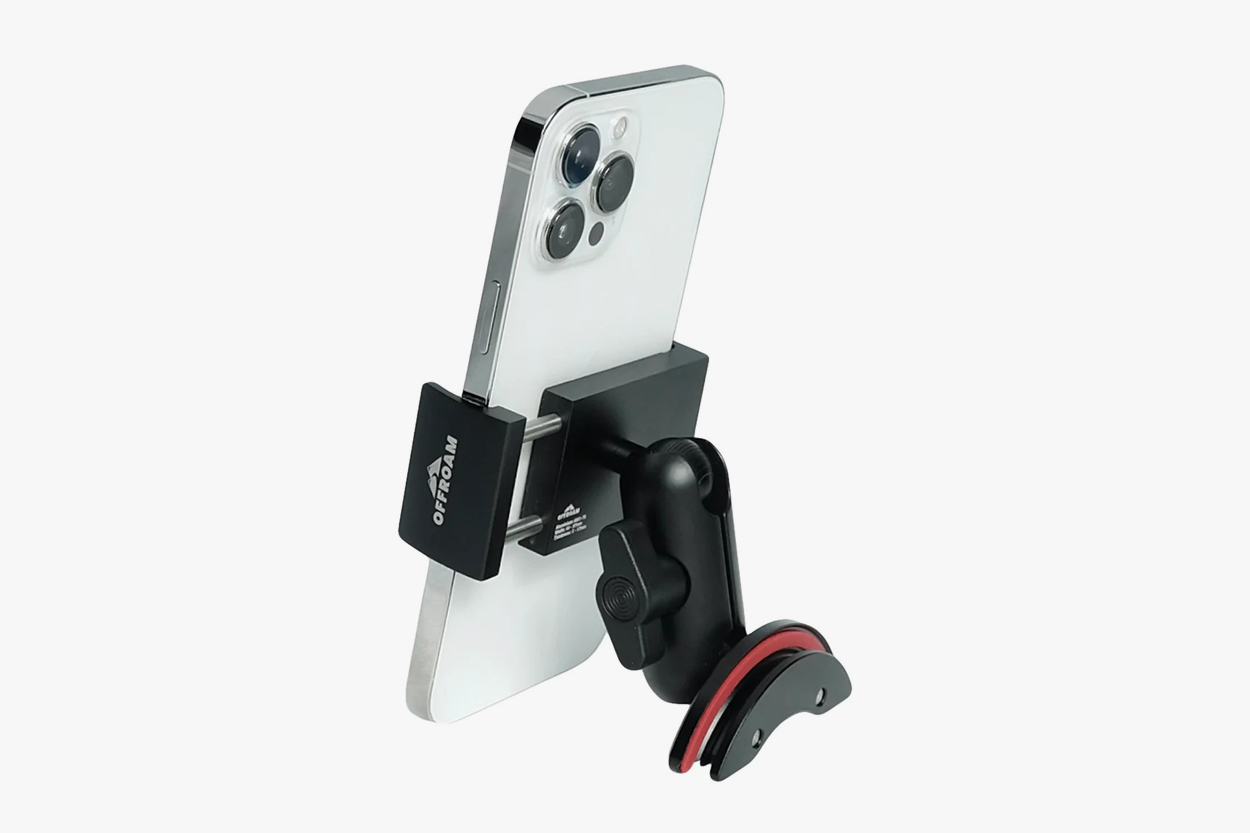 Find It Online
Offroam's Phone Mount Kit for the 3rd Gen Tacoma features a highly durable, three-piece construction made from marine-grade aluminum and stainless steel. You can expect optimal security and stability of your mounted phone when installed.
You also get a lot of flexibility when positioning the mount, thanks to the diameter grooved aluminum ball and socket system with an adjustment knob that gives you multiple options for adjusting the position of your phone for your viewing convenience.
When it comes to installation, it is pretty simple. No drilling is necessary for installing the mounting base to your air vent, and you can rest assured that your air vents are not blocked once you have it set up and ready to use. The mounting base is lined with molded elastomer to prevent marks on the vents. It's affordable at $79.95, a great price, especially for the materials you get.
Check out our Offroam 3rd Gen Tacoma Phone Mount install and review here.
2. Pro Clip Center Dash Mount
Find It Online
While the Pro Clip Center Dash Mount seems relatively cheap ($34.99), keep in mind that the phone/device holder actually has to be purchased separately. The last thing you want is to be disappointed when you receive your purchase and realize that you still need to get the ProClip device holder, so we are putting this disclaimer up front.
It is specifically designed for compatibility with 3rd Gen Tacoma models and securely attaches to the top and bottom seams of your dashboard screen.
Installation requires no drilling or modification to the interior of your truck. Although one of the bulkier options on the market, the installation is simple. Just clamp the mount to the seams of the dashboard first before adding the device holder. Once installed, the tension keeps it in place, and it sits solid and secure on the dashboard.
3. Hondo Garage Phone Mounting Bundle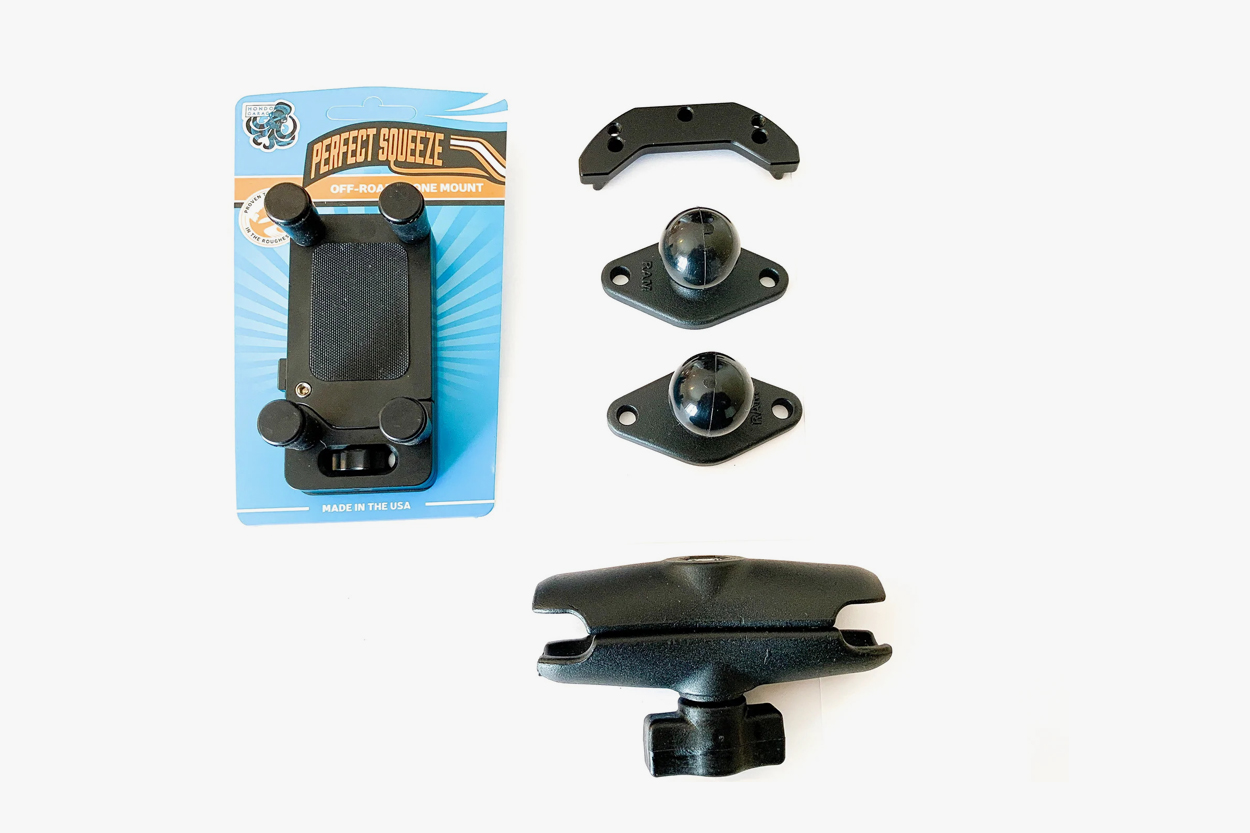 Find It Online
Hondo Garage's Phone Mounting Bundle is a high-quality system made from top-grade CNC machined aluminum and stainless steel. It comes with all the essential parts you need so that you don't have to source extra components elsewhere.
The no-drill mounting base that clamps onto the air vent of your truck means no modification is needed for install. It stays securely in place, even when you are driving over demanding, bumpy terrains. With the dash mount installed, you can still open your vents and close them halfway to enjoy some good air conditioning.
The Perfect Squeeze Phone Mount is the part of the set-up where your phone or device is mounted. The 'perfect squeeze' means you can be sure that once you insert your phone, it will not slip. The kit also comes with two 1-inch RAM balls and a RAM arm, allowing you to adjust the positioning of your phone seamlessly for your convenience.
All this for $149. It's definitely not the cheapest option available when it comes to Tacoma phone mounts, but if you are looking for a solid, highly functional design, this mount is worth the price.
Check out our Hondo Garage 3rd Gen Tacoma Phone Mount install and review here.
4. Taco Garage Dashtop Multi-Mount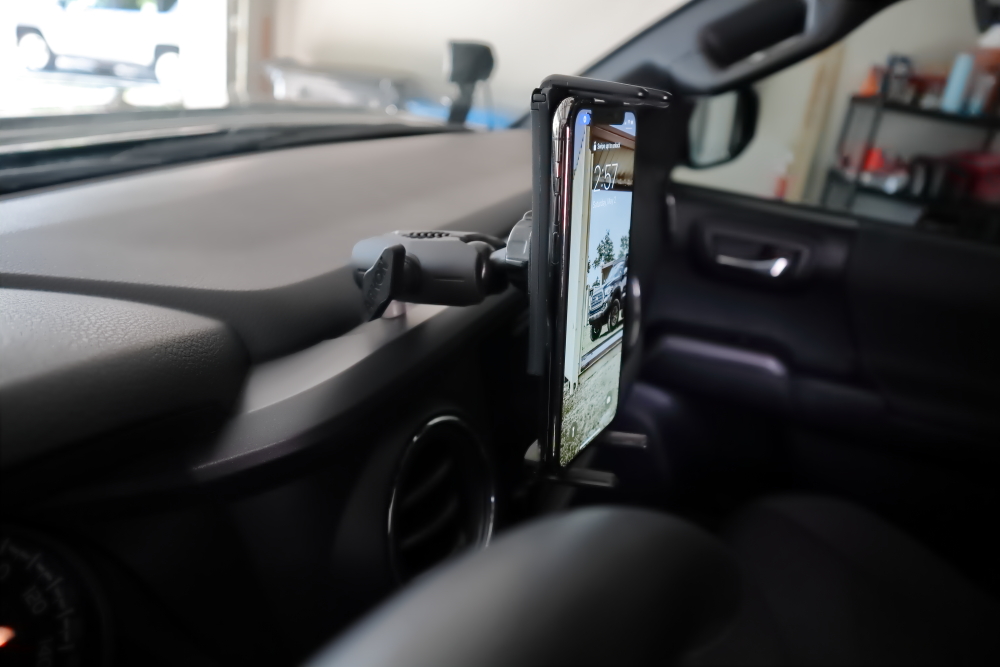 Find It Online
Taco Garage Dashtop Multi-Mount (DMM) is more than just a phone mount – it is one of the most versatile mounts on this list, designed to allow you to mount a range of devices and accessories at the same time, from phones to iPads to even a hammer (yes, you read that right). There are six mounting points available with this system.
If you are worried that mounting more than one accessory will clutter your dashboard and interfere with your line of sight while driving, you shouldn't. It is designed to be strategically mounted on the center of the dash, above the screen, without interfering with your line of vision.
Constructed from two layers of .09'' thick 6061-T6 aluminum alloy, it is built strong enough to support and secure your accessories.
Now let's talk installation. This is where, comparatively, things are not as straightforward as phone mounts that you simply clamp onto air vents. Not only do you have to pop out part of the dash, but there is also some drilling needed as the plates are directly attached to the dash.
The DMM will set you back between $79.95 and $169.95, depending on the mounting add-ons you decide to purchase.
Check out our Taco Garage DMM install and review here.
5. Course Motorsports Direct Fit Phone Mount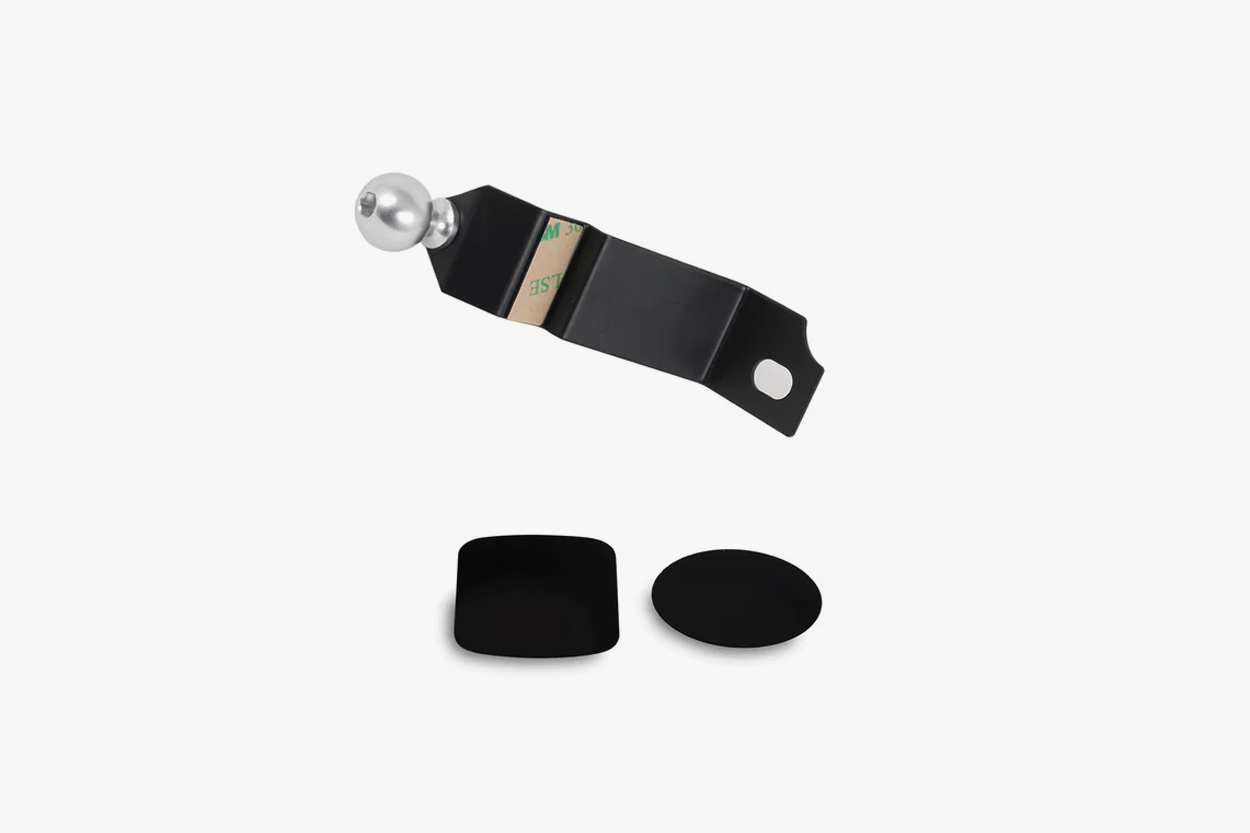 Find It Online
Designed specifically for 3rd Gen Tacoma models, Course Motorsports Direct Phone Mount is built from a CNC cut, powder-coated bracket with an anodized pivot ball attached, a neodymium magnetic mount, and a steel pad. The magnetic mount will secure your phone, even driving over the bumpiest terrains.
Installation is no drill and is relatively simple, but you do need to snap off the dash to insert the bracket. Once inserted, replace the dash, take the lock nut off the included magnetic pad and screw the pad onto the anodized pivot ball on the bracket. Then place the provided metal backer pad on the back of your phone, and attach it to the magnetic pad on the bracket mount. It should take about 5 minutes to get it set up and ready to use.
The base price is $45, but you have the option when placing an order, to build your kit to match your preferences. It's a great, affordable, discrete system for your phone mounting needs.
6. Quad Lock Wireless Phone Mount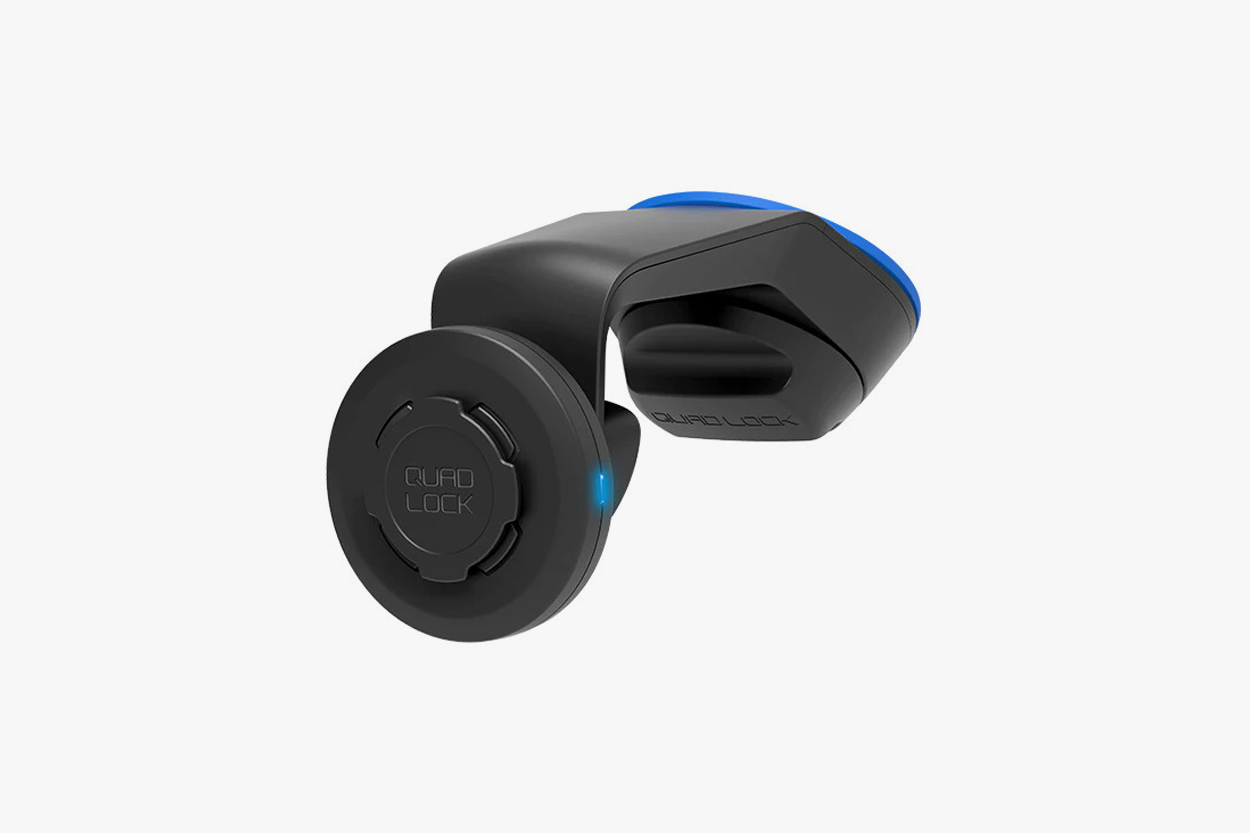 Find It Online
The Quad Lock Wireless Phone Mount is built strong, offering optimal stability for your phone when installed. It features a rigid polycarbonate body and an industrial-strength suction cup that allows you to mount it on your dash or your truck's windshield using the included adhesive pad.
The kit includes an iPhone case, the car mount, a 360 gimbal head, a locking knob, and an adhesive dash pad. Once you attach the adhesive pad to the dash or windshield, simply attach the mount to the pad and lock in. Encase your phone in the iPhone case and with a simple 1/8 turn, click it onto the front of the mount.
Its gimbal head is adjustable, allowing you to choose the best viewing angle for your phone. Depending on your preference, you can position your phone in portrait or landscape mode.
It costs about $80 without the wireless charging head and $110 with one.
Check out our Quad Lock Phone Mount + Wireless Charger install and review here.
Final Thoughts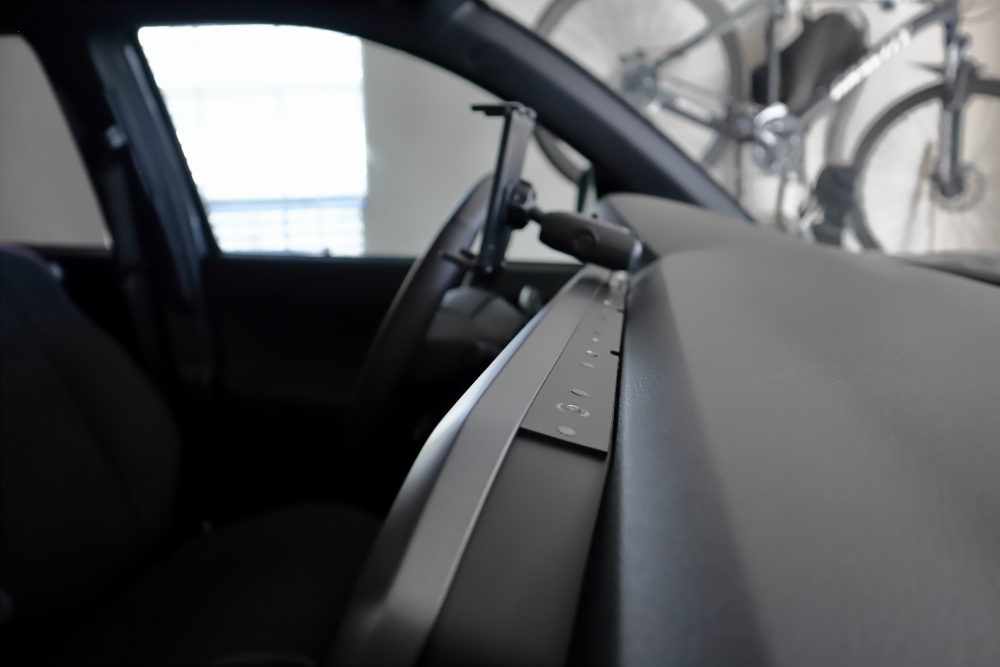 A high-quality phone mount can make all the difference in improving your driving experience, especially on long trips. There are a lot of cheap, budget options on Amazon, but those could end up being more of a hassle if they function poorly. Spending a little extra money now can save you from re-purchasing in the future.
Keep in mind that many of the manufacturers on our list offer mounts for larger devices, two if you prefer to use an iPad or tablet for navigation. Good luck in your search for the perfect phone mount!