2nd Gen Toyota Tacoma Rock Slider Setups – Protect Your Cab & Rocker Panels From Trail Damage While Off-Road
This Week's Topic: 2nd Gen Rock Sliders
Hey guys! Welcome back to another Taco Tuesday! If you missed last week's TT, we looked at gunmetal wheels for the 3rd Gen Tacoma.
This week, we take a look at several rock slider options available for the 2nd Gen Toyota Tacoma. Keep in mind, there are many more brands that make sliders for the 2nd Gen outside of this week's Taco Tuesday. If you want to see more, be sure to check out our 2nd & 3rd Gen Tacoma Rock Sliders Buyer's Guide.
Top Products Featured:
Cali Raised LED Bolt-On:

 

Check Price
C4 Fabrication Rock Sliders:

 

Check Price

Trail Ready Designs (no website)

Pelfreybilt (discontinued)

SOS Off-Road Concepts (discontinued)
2nd Gen Tacoma Rock Sliders
Why Purchase Rock Sliders?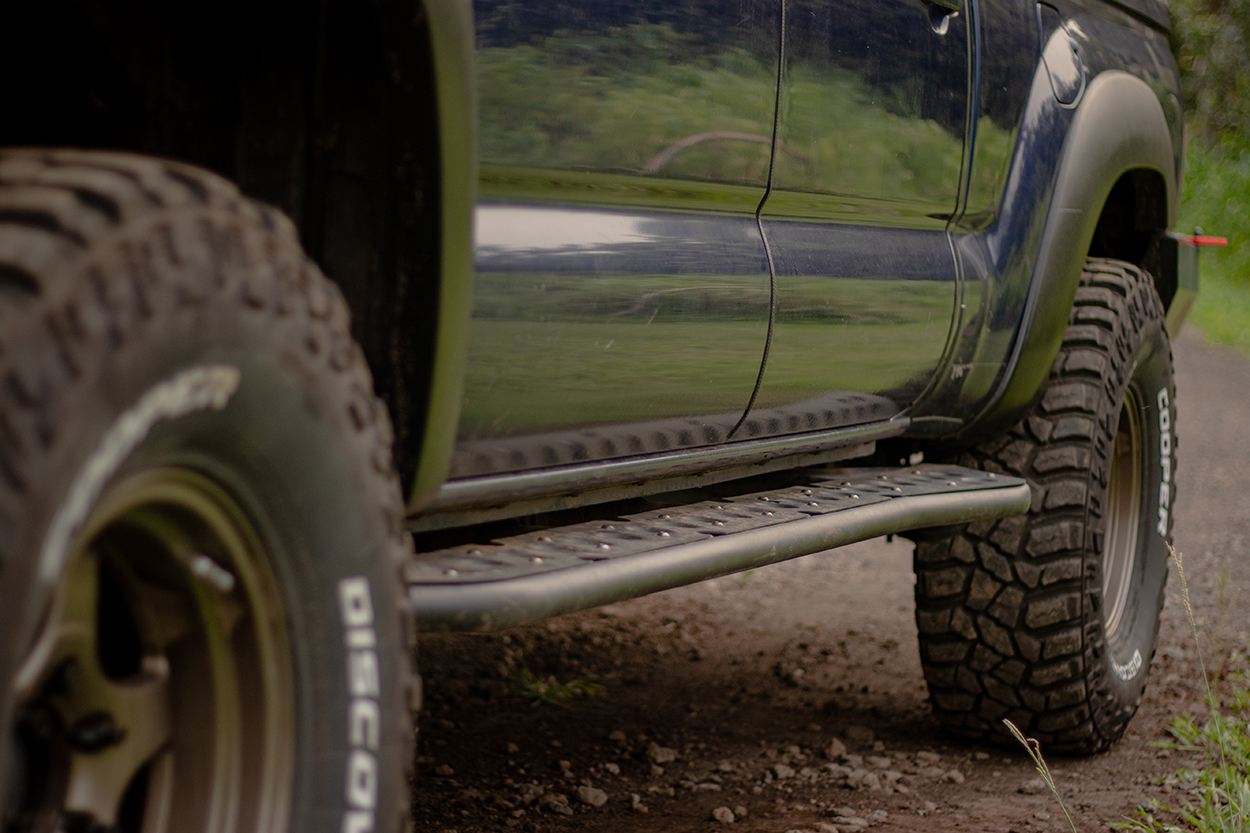 Rock sliders are often a 2-for-1 deal when it comes to functionality.
First, rock sliders help protect the lower portion of your Tacoma's cabin under the doors. This area is called your rocker panel. Rock sliders help keep this area dent and crumple free from, well, rocks. Rock sliders effectively allow your truck to "slide" over a rock, tree limb, or any obstacle on the trail that could potentially damage your Tacoma.
Another form of protection that rock sliders offer comes with the addition of a "kick-out" toward the end of the slider, near the rear tire. A kick-out gives the truck protection when you get super close to trees or other obstacles that would potentially damage the rear bed panel. Rock sliders with a kick-out feature will essentially "kick" the Tacoma out of the way and save your rear panels from damage.
The second function of rock sliders is that they can act as a step to get in and out of your Tacoma. It also allows you to easily reach items on your roof rack. Zero-degree sliders make for better steps than angled sliders as they have a larger surface area to step on. These sliders are usually paired with a top plate (see photo above), essentially making the rock slider a ruggedized running board.
Enjoy guys!
1. Nic Chargualaf (@shaka.taco) – Cali Raised LED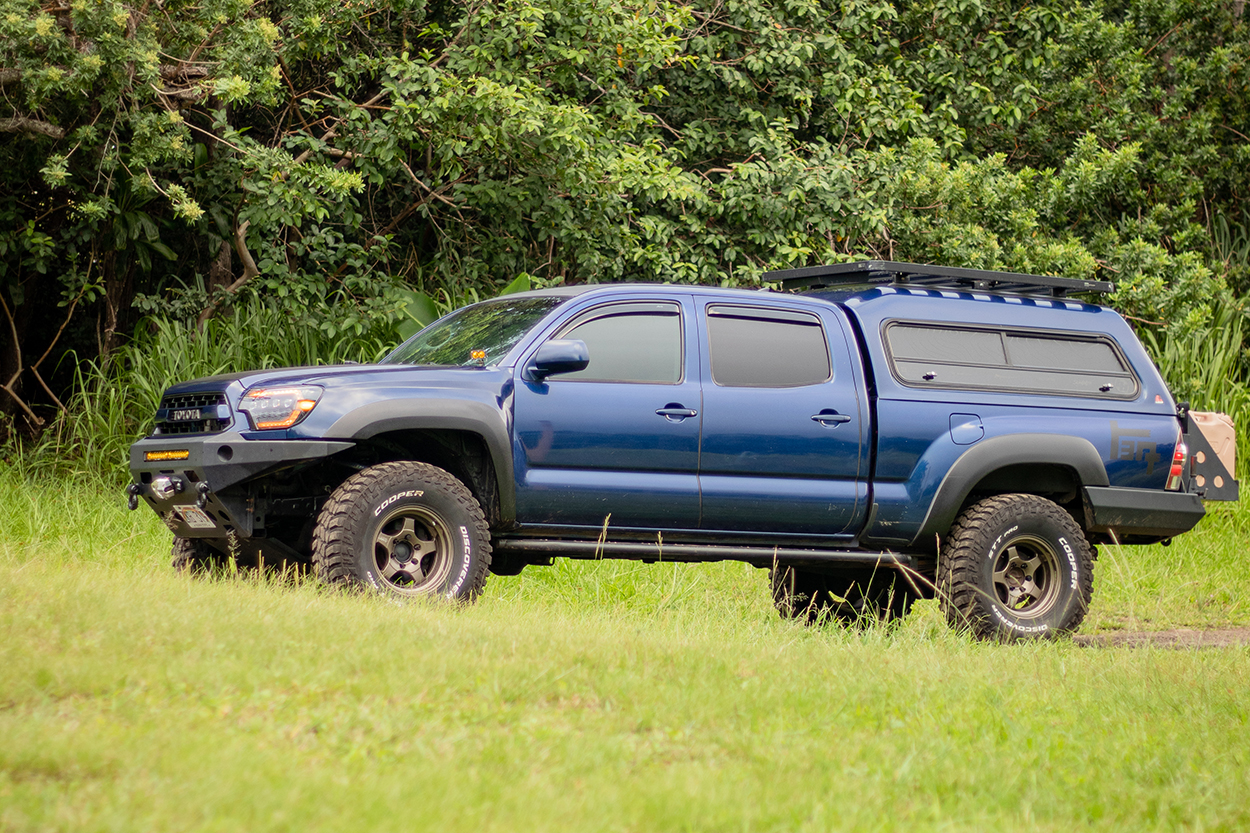 Slider Details
Long Bed Tacoma | Step Edition

Powder Coated & Top Plate

Kick Out
Price: $1100
What Do You Like Most About Your Rock Sliders?
I chose Cali Raised LED sliders for a number of reasons. Cali Raised LED uses a 1.75″ DOM tubing standard and they don't charge extra for features like kick-outs, which was a must.
The bolt-on application made them a breeze to install by myself in the driveway. I decided to go with the powder-coated step edition sliders because I like it when parts have multiple purposes. Not only do they protect my truck body, but they also make it easier for my dog to get in and out.
The sliders also give me a footrest when I'm just sitting at the beach with the doors open and serve as a solid point to jack up the truck with my Hi-lift if I need to swap out a tire. All of these features along with top-notch customer service made my slider choice an easy one.
2. Giovanni Rodriguez (@tacosupreme____) – Pelfreybilt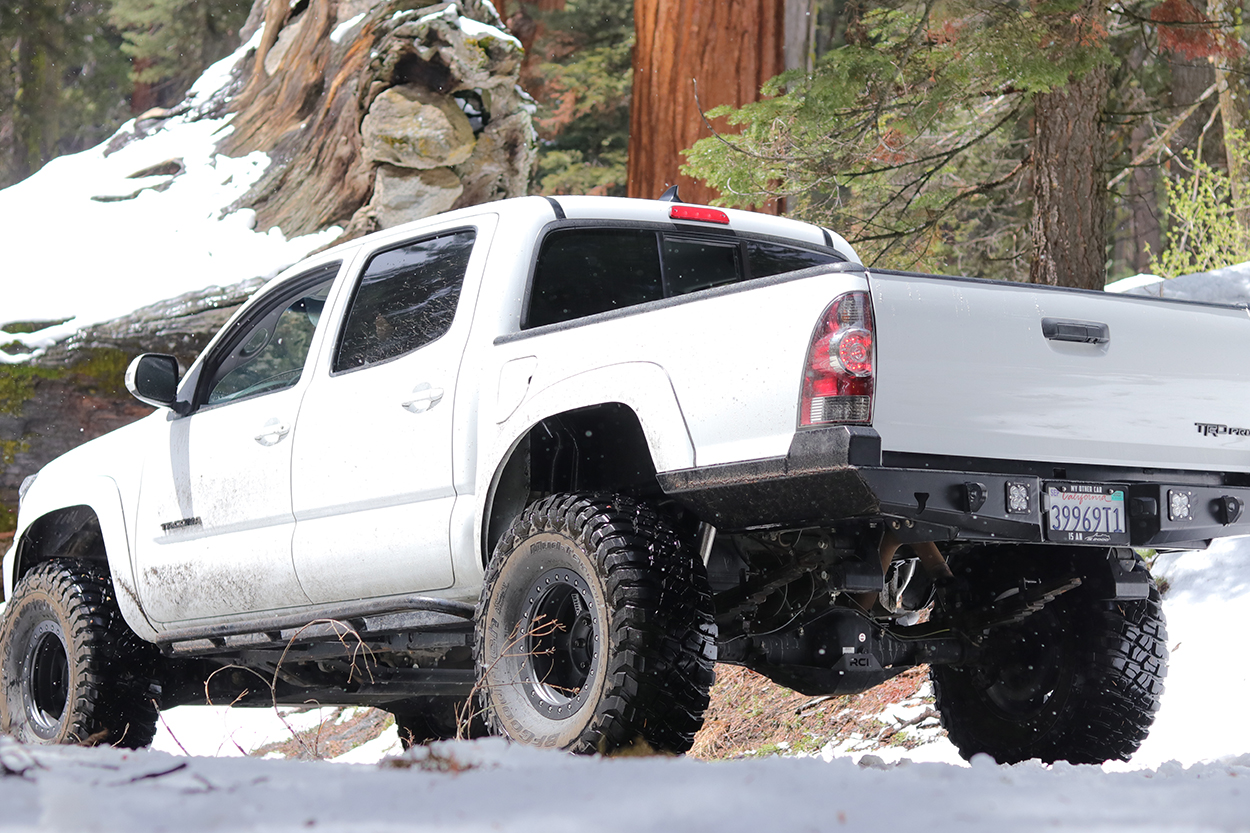 Slider Details
Bolt-On w/ Kick Out
Price: $750 (No Longer In Business)
What Do You Like Most About Your Rock Sliders?
I searched for a long time to find sliders that complimented the Tacoma's body lines. These rock sliders fit perfectly and have taken lots of abuse over the years. Pelfreybilt has unfortunately gone out of business, but Fabzone in San Diego makes a similar slider to them.
3. Kyle Gruber (@kgrubes6) – SOS Off-Road Concepts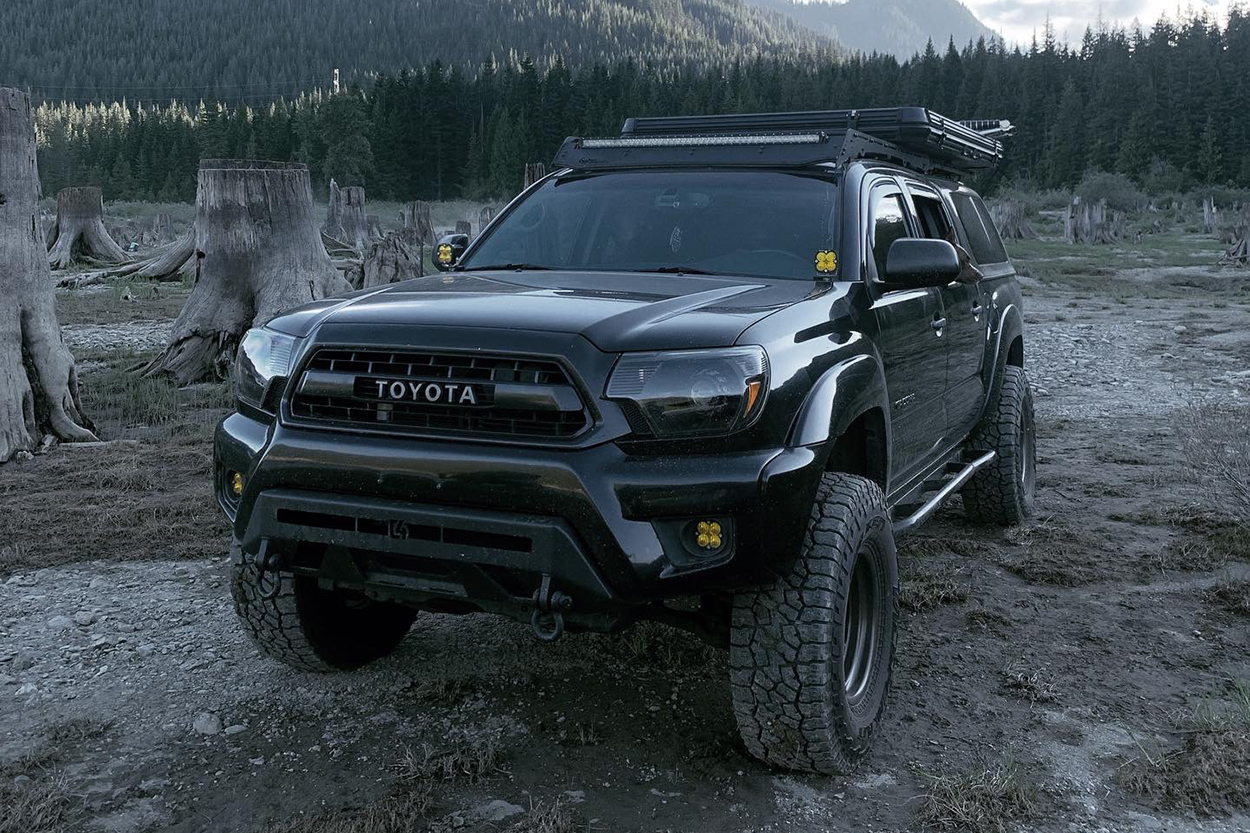 Slider Details
25° Angle

Price: $500 (Permanently Closed)
What Do You Like Most About Your Rock Sliders?
I chose these rock sliders a couple of years ago because they were a newer company at the time and I wanted to try them out. They were having a group buy so I decided to give them a shot.
They had great customer service and answered any questions that I had about the new sliders. My brother and I bought them at the same time and we are both very satisfied with the look and quality even still, a couple of years later. These rock sliders give my truck a great look!
4. Justin Pascarella (@subdivo_overland) – 

Pelfreybilt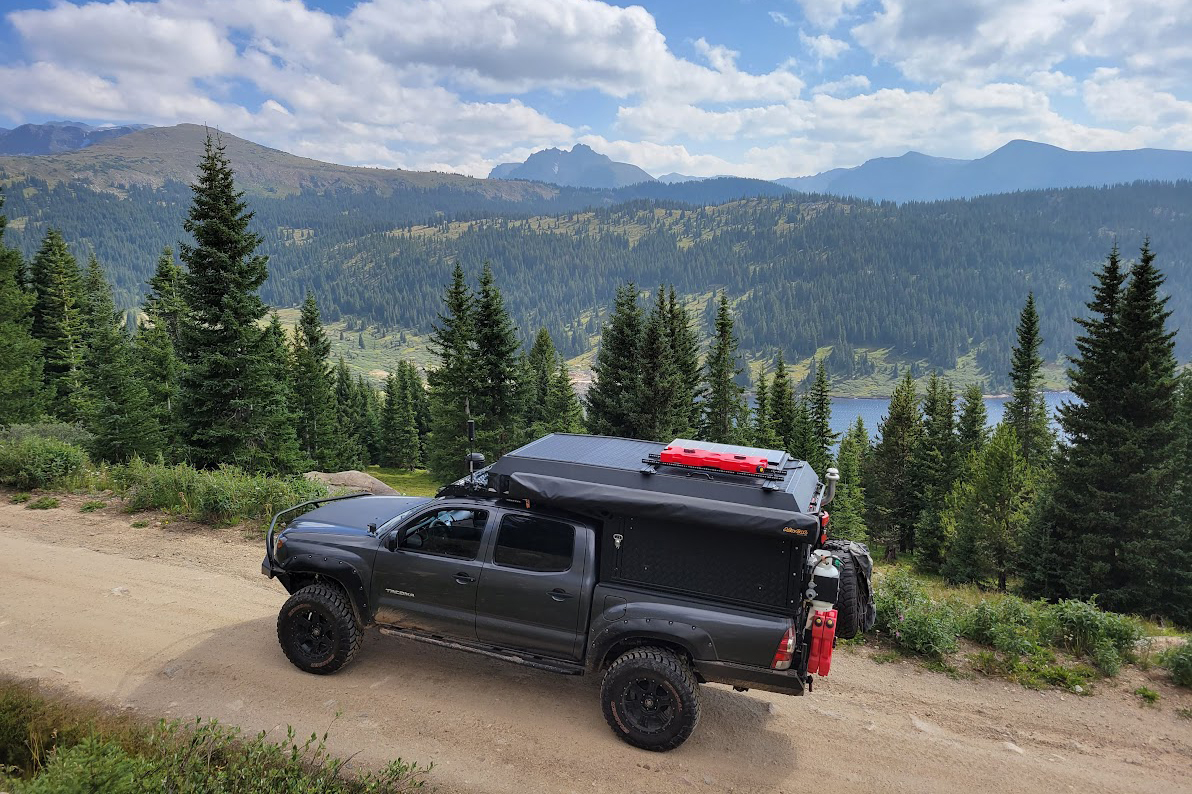 Slider Details
Weld On Tapered Kickoff 79″

Price: (Out Of Business)
What Do You Like Most About Your Rock Sliders?
I chose to do my sliders and armor entirely by Pelfreybilt, and for good reason. Their products have been proven to be extremely effective, protective, and durable over several years across vast trails and terrain. Pelfreybilt makes fantastic products and has proven to be reliable enough to protect my prized Tacoma!
5. Dre Piazrro (@sharkcoma) – DIY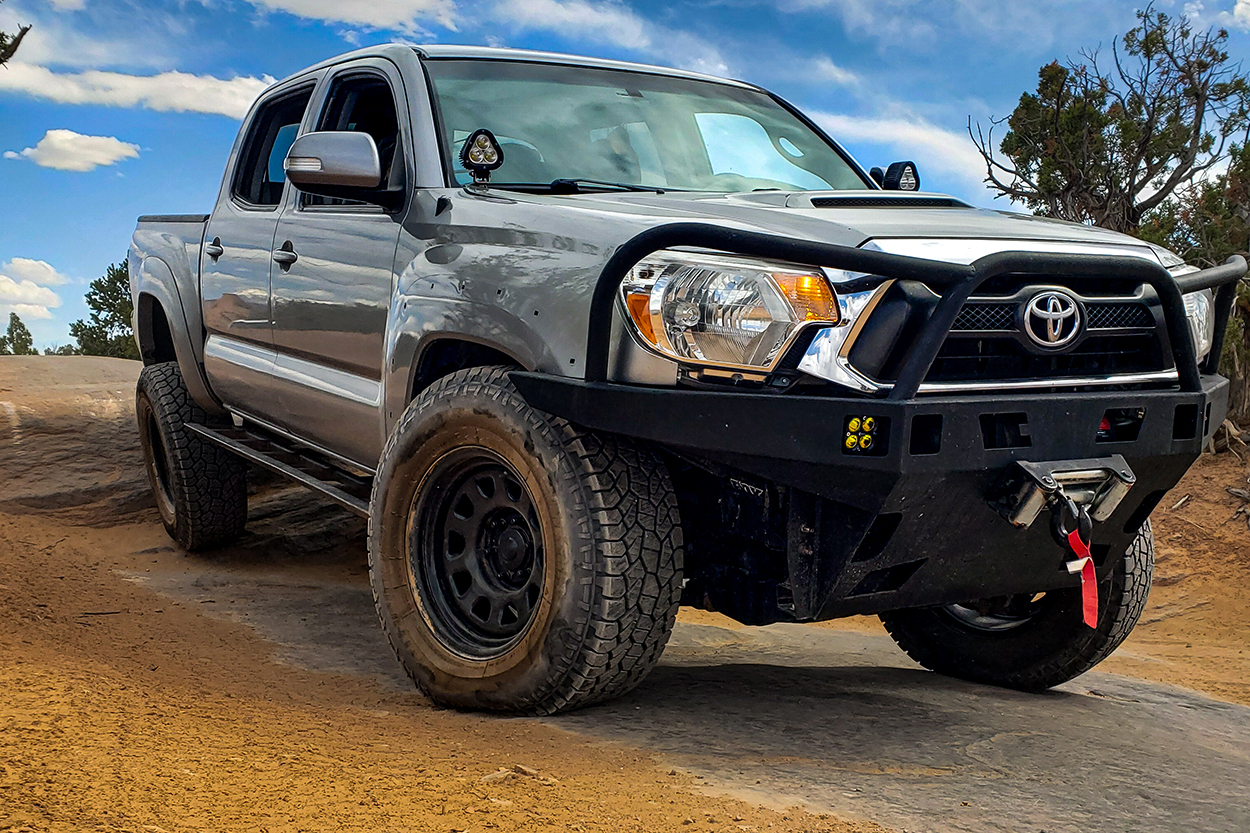 Slider Details
What Do You Like Most About Your Rock Sliders?
I built my rock sliders myself with some help from a buddy. I wanted something with a triangle look, so I created triangle tubing and placed the flat end up as a step. Then, I welded it together with some square tubing and welded the rock sliders straight to the frame.
These DIY sliders have given me the protection I need and for a fraction of the price compared to retail. 
6. Sterling Ross (@tac05) – Trail Ready Designs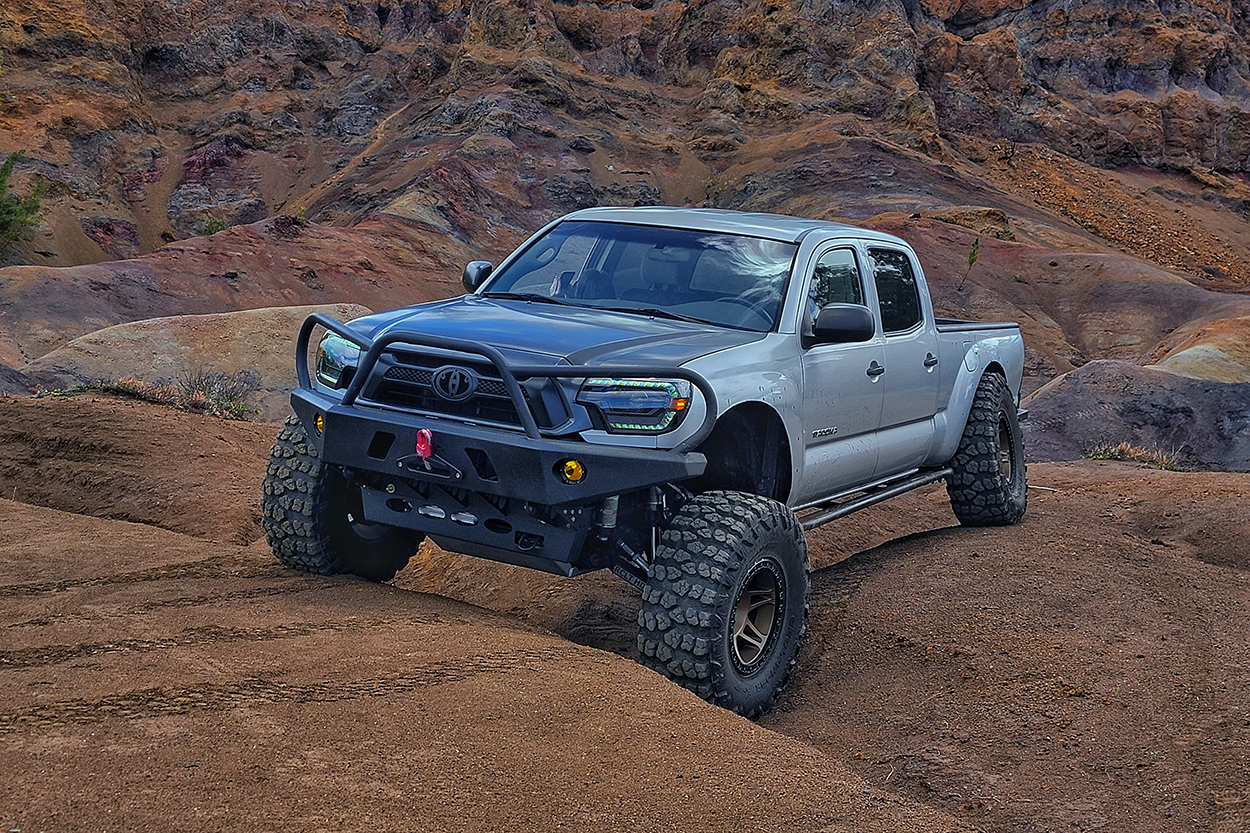 Slider Details
Custom Weld On
Price: $1800
What Do You Like Most About Your Rock Sliders?
At the time there were few weld-on rock slider options for a double cab long bed. Going the custom route allowed us to get a specific length ideal for a low center of gravity build running 37s. This was critical to have well-placed and angled kick-outs to make sure we cleared everything.
With the rock sliders being fully welded to the frame, I have complete confidence that they can take hits when rock crawling.
7.
Brenan Greene (@TRAIL4R) – C4 Fabrication
Rock Slider Details
Model: C4 Fabrication Bolt-On with Step Plates
DCSB Weight: 75lbs each
Price: $1200
What Do You Like Most About Your Rock Sliders?
Everyone who wheels should have a set of Rock Sliders, and of course a winch. Next to tires, it's one of the most important mods you can do to your Tacoma. Rock sliders prevent damage to one of the most vulnerable areas on the Tacoma; the rocker panels. We've been running the C4 Fabrication Rock Sliders on a handful of builds now and they're built rock-solid. I ran two sets on my previous 5th Gen 4Runner builds and now on this 2nd Gen Tacoma long travel build. I beat the shit out of them and the bolts haven't budged. There are 11 bolts in total. They're made from 3×2 rectangle tube providing a much larger surface to slide on where protection is needed most. The tube is made from DOM tubing for increased strength and dent resistance. C4 also offers a removable step plate which allows for dual coating options.
Final Thoughts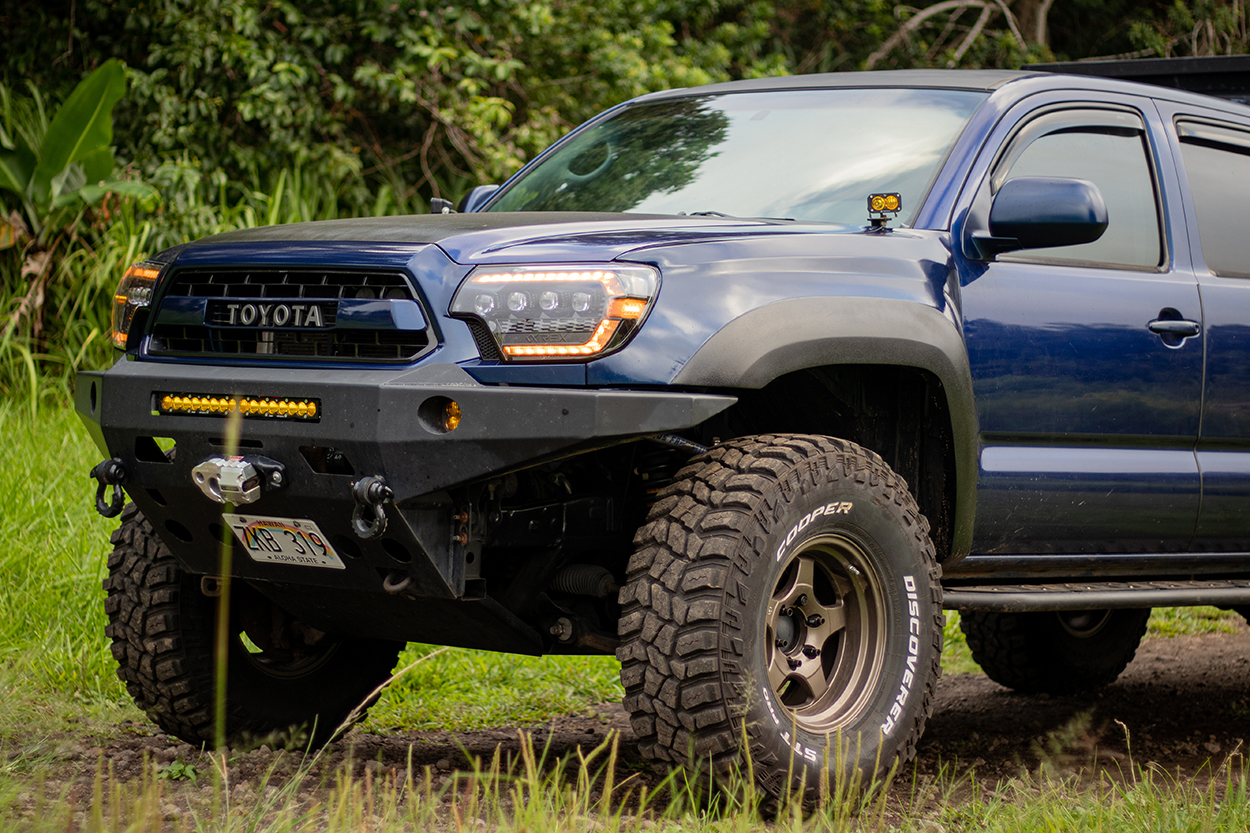 I think that rock sliders are the number one protective piece of armor (aside from skid plates) that one should purchase for their rig if they plan on doing moderate to difficult off-roading. The fact that sliders can also act as a running board for assisted entry and exit makes them a no-brainer, especially if your rig is lifted.
If you want to be featured for Taco Tuesday, submit your build through TrailTacoma.com/Feature. Next week's Taco Tuesday will be featuring Winch Options that Tacoma owners are running and what they like about them. We're looking for sweet rides to showcase! If this is you and you love your setup, send in your details because we want to see it.
Thanks for reading guys. I'll see you next week!