Top 7 Plug-And-Play Fog Light Pocket Kit Upgrades For 3rd Gen (2016+) Tacoma – Complete In-Depth Buyer's Guide to LED Fog Light Housing Replacements
One of the most common modifications Tacoma owners add to their trucks is upgraded fog lights. Since the OEM fog lights perform so poorly, many companies have made solutions to replace them with aftermarket off-road focused lights. If you are looking to get the most out of your fog lights, check out this post.
What Are Fog Light Pocket Kits?
Upgraded fog light pocket kits are essentially kits that allow you to remove your entire OEM fog light assembly and replace it with higher-performing LED off-road fog lights. By changing out the entire OEM fog light housing, you can run a light pod of your choice that will outperform the original halogens in every scenario.
These setups will also be much brighter than replacing just the light bulb with an LED bulb, allowing you to maximize your fog light output for off-roading.
Benefits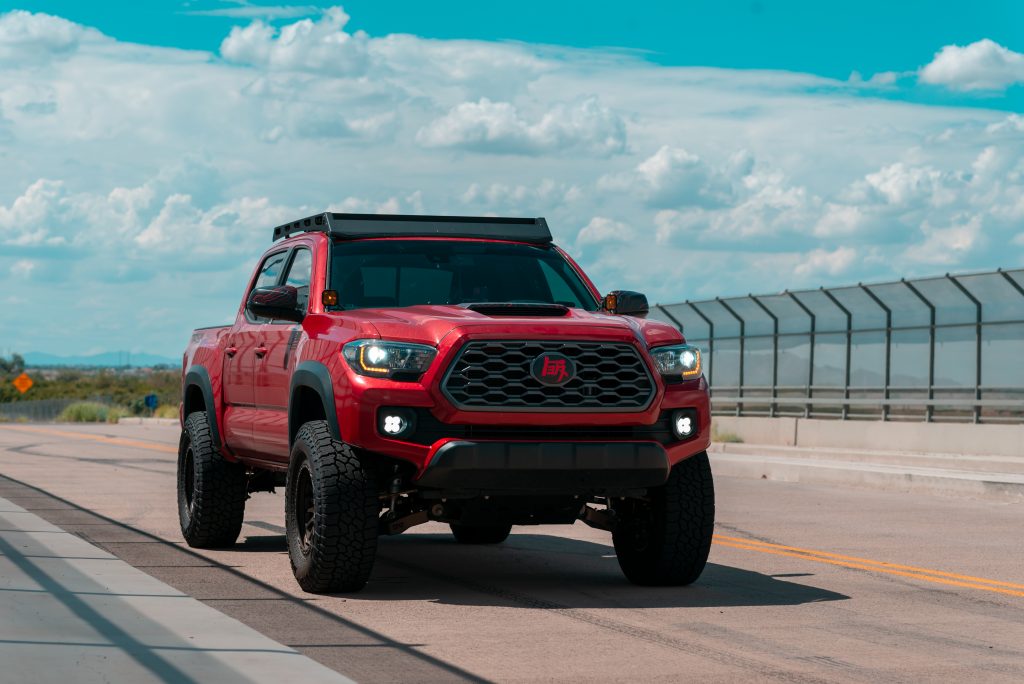 Light Output
With a pocket kit, you can run a high-performance LED light pod that will throw a ton more light than the OEM fogs. This means higher visibility at night and improved capability from the lighting system on your 3rd Gen Tacoma.
Off-Road Use
Most of these kits are focused towards the off-road enthusiasts of the Tacoma community since the LED light pods will help you see when out on the trail. Not much feels sketchier than going on a late-night trail run without sufficient lighting.
The lights in these pocket kits will give you improved visibility to see upcoming trail features. However, unless specifically labeled SAE, they will not technically be legal for street use.
OEM Fitment
One of the best benefits of the pocket kit that has made it so popular is that it is neatly integrated into the OEM fog light location. This means you don't need a bumper or roof rack to mount these lights. It also makes for a super sleek OEM look but with the improved performance of aftermarket LED pods.
Pocket Kits Vs. Bulb Replacement
Whereas a fog light bulb kit will replace only the light bulb on your Tacoma, the housing/pocket kit will replace the entire fog light assembly. This allows you to install large, aftermarket lights rather than just the bulbs. These lights are brighter and of higher quality, offering greater performance off-road.
Pocket kits will, however, be more expensive and are much less likely to be street-legal. Consider your budget and how much light output you are looking to get before deciding which route to go.
Which Light Is Best For Me?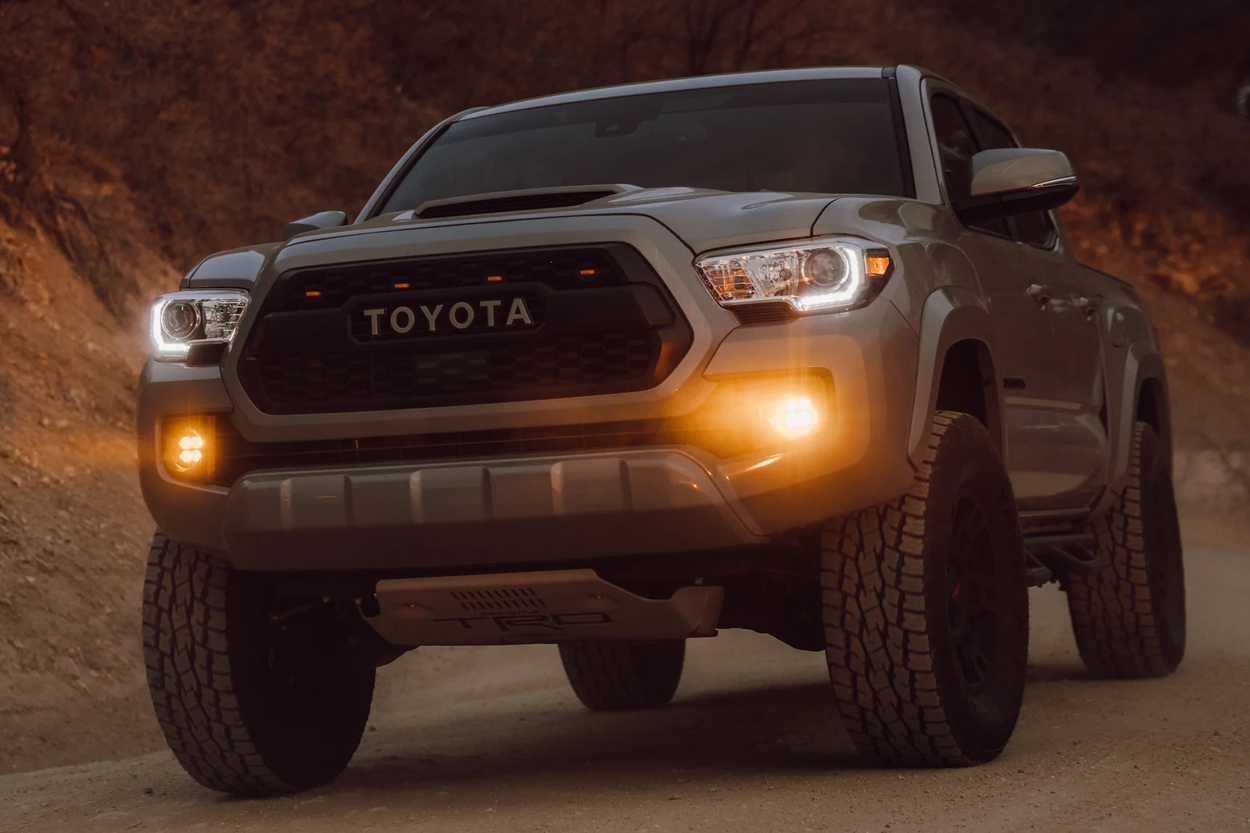 This comes down to – among other things – performance, price, and aesthetics. Lumen output will let you know how bright a light is; generally, the more lumens, the pricier that option will be since more effort had to go into the design of the light to make it brighter. There is another measurement for light output, lux – you might also see that term. They are different, so be sure to do your research.
Each of these kits and lights has a slightly different look for the light and how the light sits in the fog light pocket. So, it would help if you considered which kit looks the best in your opinion, so you have a fog light you will be stoked about when you look at your truck.
SAE Vs. Non-SAE
SAE (Society of Automotive Engineers) lays out the ground rules for vehicle lights. Many off-road lights on the market are illegal on the street for various reasons – most often because they are too bright for oncoming traffic. So SAE options for fog lights will not be as bright, but you can run them on the street.
SAE
Although not as bright, many Tacoma owners are satisfied with the light output of their street-legal fog lights. It is also a nice feature since you can run them on the street without illegally blinding oncoming traffic (though you will probably still be blinding them, just legally).
Non-SAE
For those who want the most possible light output, a set of non-SAE off-road light pods will be the way to go. While you shouldn't run them on the street, many people do without issues. You would be annoying to a lot of other drivers.
Also, if you have other off-road lights mounted to your Tacoma, you may not need the brightest fog lights since they will be supplementary and not the primary source of lighting when wheeling.
Fog Light Kit Vs. Other Off-Road Lights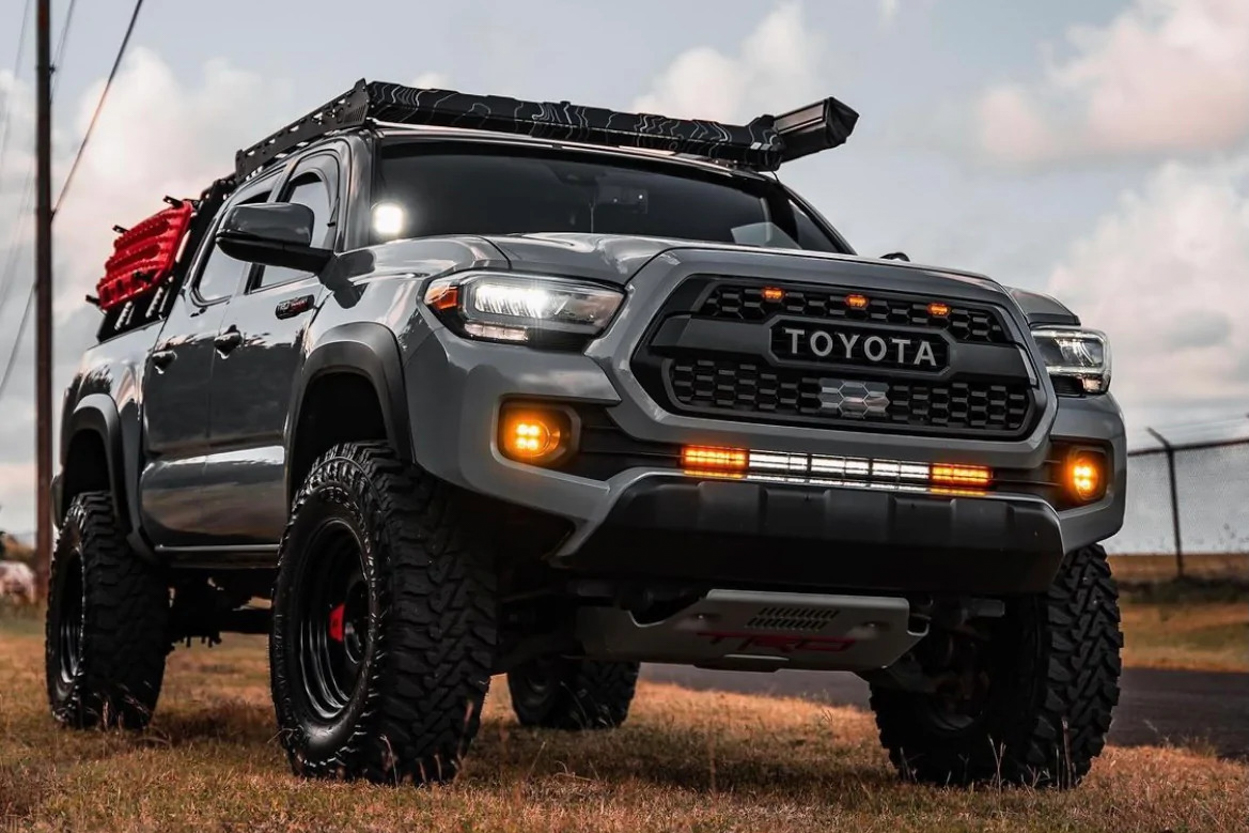 When determining your off-road lighting setup, you may be considering a fog light pocket kit versus something like a light bar.
If you opt for a light bar, you obviously have the option to get a light that is much brighter and more powerful. Fog light kits are the most realistic and affordable way to mod your truck. But if you want serious light output, a fog light won't cut it. Performance varies because big light bars are less practical for daily use, although they are much brighter.
We recommend starting with a fog light kit and then going from there to meet your needs. Don't let the hype get to you. Very few people need to spend six months' salary on 50+ lights. A handful of carefully chosen lights will get the job done.
Amber Vs. White
When picking which fog lights are for you, the lens color will play a significant role in your lights' look and performance. With most options on the market, you will have two options: amber or clear.
Amber
Although usually not as bright as clear lenses, amber fog lights will give you better visibility in poor weather conditions. Due to the wavelength of amber-colored lights, they cut through the fog, rain, and snow better than clear lights, reflecting light off fewer particles back to you.
Amber also tends to be more aesthetically interesting and will add to your Tacoma's "modded" look. If you like the look of the yellow or drive in harsh weather often, amber will be the way to go.
A quick note. Amber usually refers to a yellow color. But it is sometimes interchangeably used for orange as well. Technically, amber (as a color) falls between yellow and orange.
White
On the other hand, white lights will usually be brighter than the ambers. This means you are getting more bang for your buck in terms of light output. Of course, when you encounter low-visibility situations, you might wish you had a set of amber fogs.
White is your best bet if you are looking for maximum light output and only occasionally see bad weather. Again, some of these decisions will come down to aesthetics and personal preference.
1. Cali Raised LED
Find It Online
Cali Raised LED Fog Light Pocket Kit will directly replace your truck's fog light assembly to provide a much higher quality light output. Whether you are on a late-night trail run or driving in dusty, rainy, or snowy conditions, these lights will significantly improve visibility.
You can choose between amber or white 3X2 18W light pods. While the white lights will beam intense light, similar to daylight, for high visibility, the ambers are especially useful in dusty, foggy, or other poor weather conditions as they minimize glare.
When you purchase the kit, you will receive your light pods, mounting brackets, hardware, and wiring adapters. Installation is pretty straightforward, and you can check out Cali Raised's website for installation instructions.
This kit will run you about $175 with lights. One of the best bang for your buck kits on this list.
2. KC HiLites Bezel Kit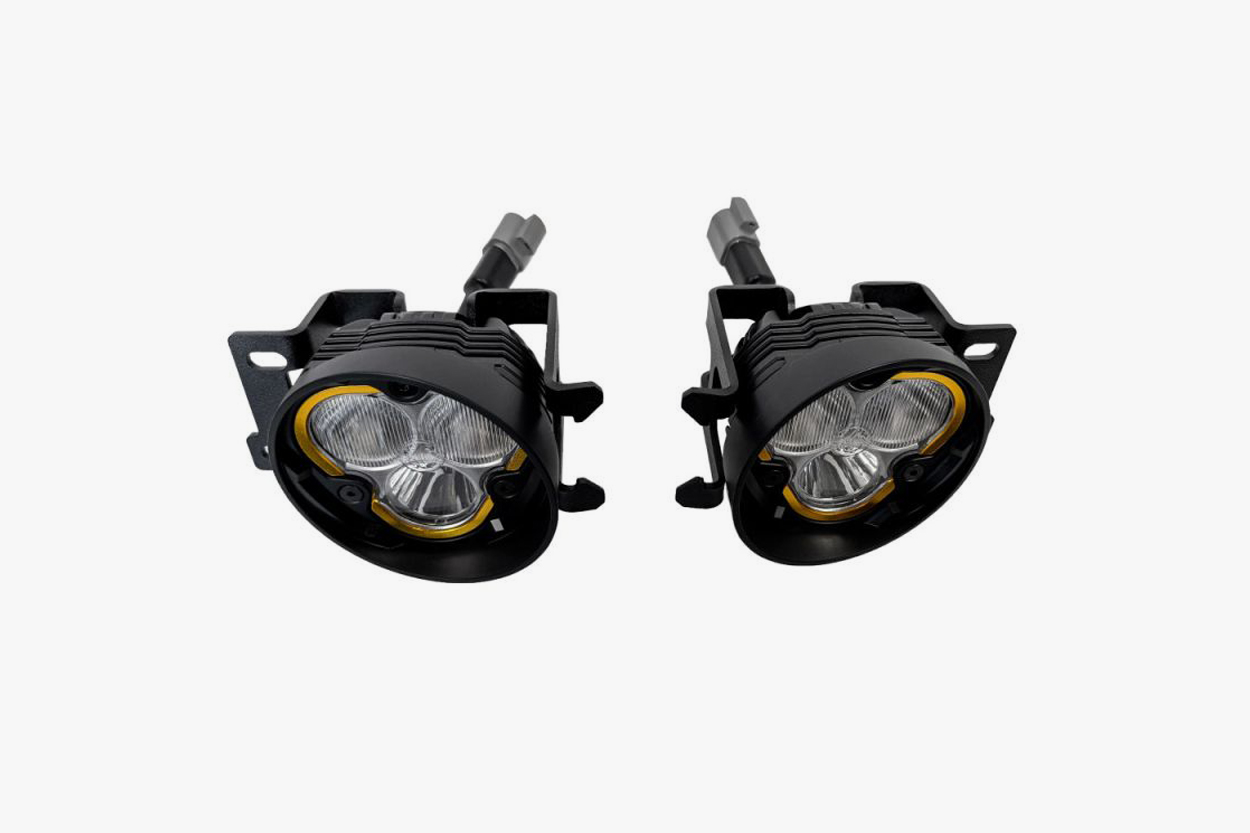 Find It Online
KC HiLites Fog Light Bracket Kit includes one pair of OEM Toyota bumper mounting brackets, shrouds, and bezels. However, they do not come with the lights, so you must purchase them separately. They work with KC FLEX ERA 3 lights which you find above.
Although small, the lights have an IP68 weatherproof rating and pack a punch with 3672 lumens with a 6000K white light. They also boast a 50,000-hour operating life to ensure you are well-lit for the life of your truck.
All installation hardware is included in your purchase. This bracket kit is designed specifically for the 2016-2023 Tacoma models and will seamlessly fit your stock fog light location.
These cost $140 for the brackets, and the lights will run you about $400, making this one of the more expensive setups on the market.
3. Baja Designs Squadron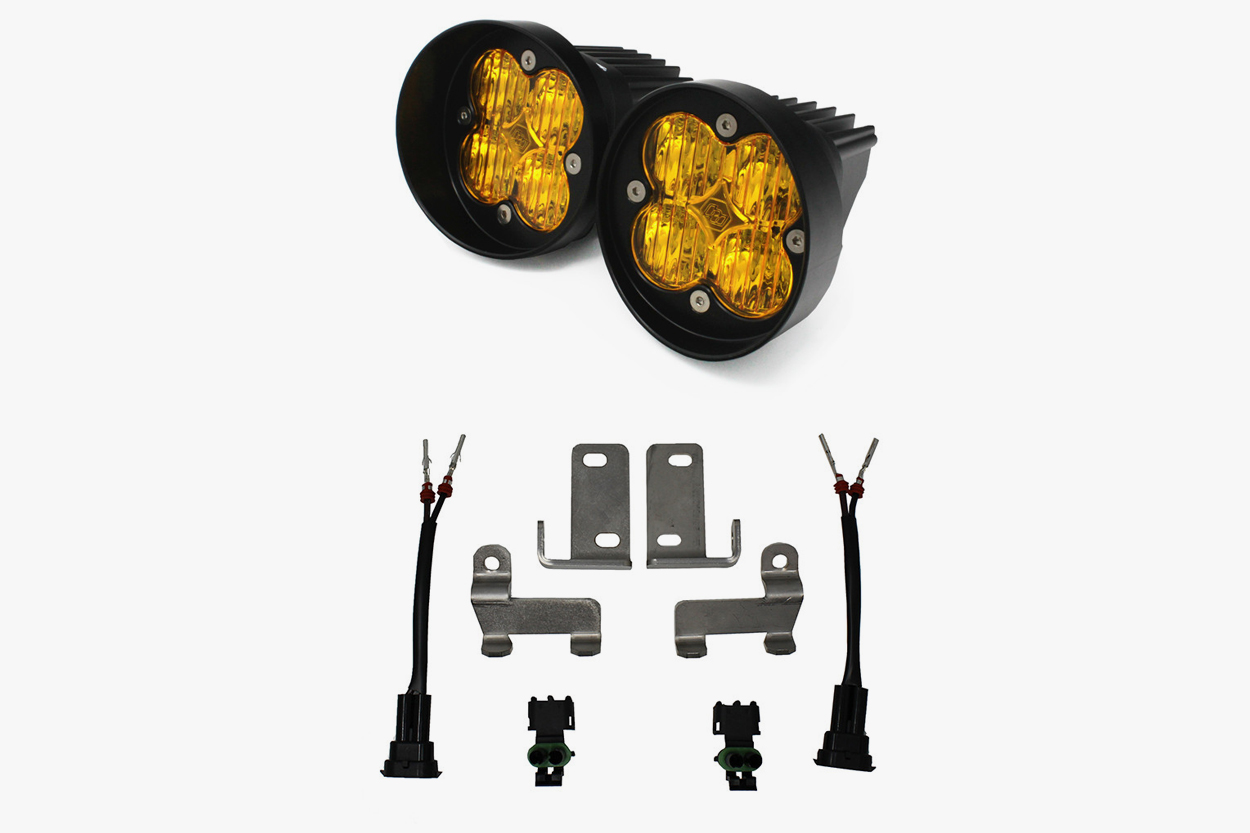 Find It Online
It goes without saying that Baja Designs is the go-to brand for many off-roading enthusiasts looking for solid lighting solutions. Their fog light kits will significantly upgrade your truck's stock fog light system, providing better visibility as you drive in challenging weather and at night.
The Squadron-R Sport Fog Light Kit is designed for 2012-2023 Tacoma models. Shooting 3150 lumens, you can expect a bright light, much brighter than the installed OEM lights. It comes with two Squadron Sport Wide Cornering lights, which utilize 4 LEDs and provide a 42-degree flattened horizontal beam. They come in both amber and white light.
Also included in your purchase are two mounting brackets and a wiring adapter. These enable you to use the truck's mounting hardware and factory switch seamlessly. Baja Designs also offer SAE versions of their pocket kit; both have a 50,000-hour lifespan.
Installation is easy – once you access the inner fog light area, you unplug the OEM fog light connector, remove the mounting screws and set the OEM light aside. Mount the brackets (included in purchase), then place the Baja Designs light assembly into the fog mounting slots and secure with the screws. You can then plug in the wiring adapters. In-depth, step-by-step instructions can be found on their website.
The Squadron Sport kit comes in at $375, and the SAE version will run you $430. Sean has an installation guide and review here.
4. YotaVerse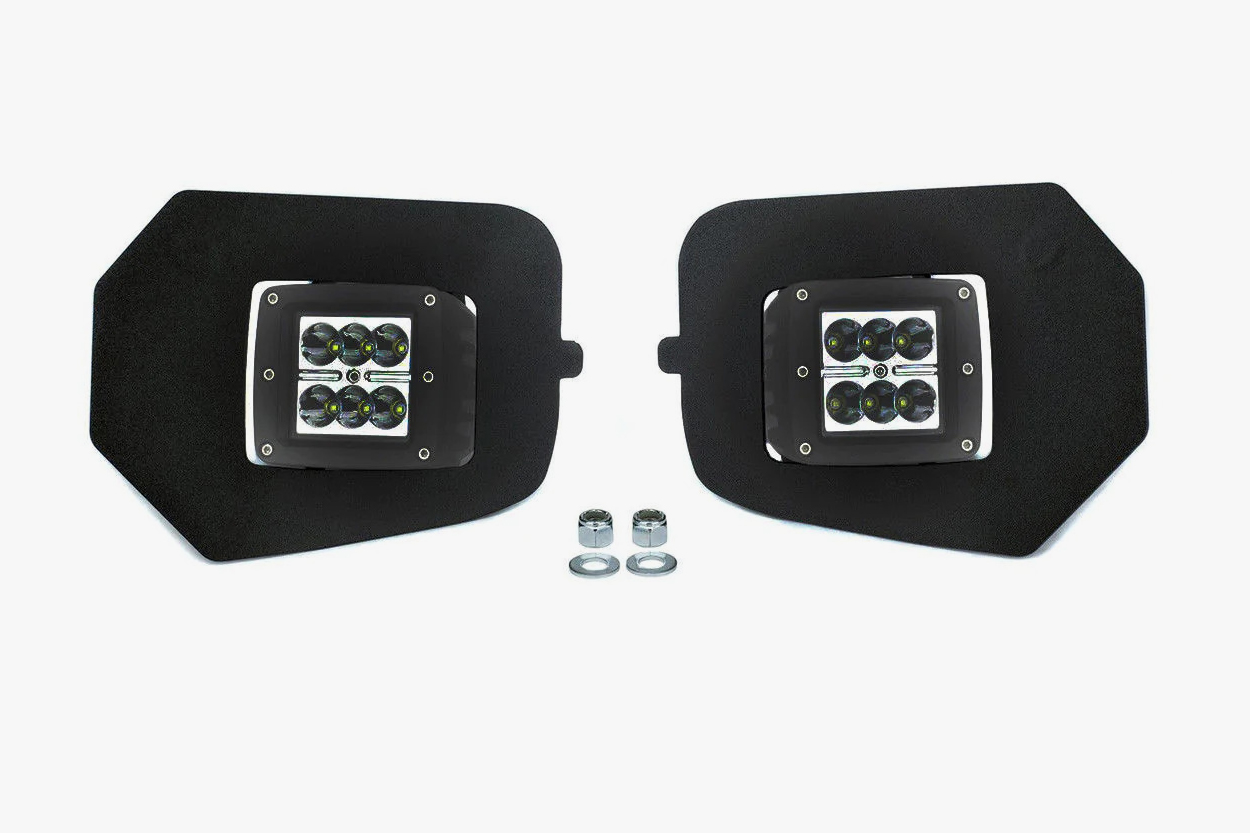 Find It Online
This kit from YotaVerse is plug-and-play, meaning an easy direct fit installation into your current OEM fog light system. The kit features laser-cut stainless steel construction with black powder coating to avoid any corrosion.
Included in this kit are two DOT-approved CREE LED light pods, meaning they are street-legal. You also get the mounting brackets, wiring harnesses, and a 1-year warranty if you encounter any issues.
Priced at $140, this setup is super budget friendly for those of you to improve your lighting system for as cheap as possible. Jon has an install and review on these, found here.
5. Heretic Studio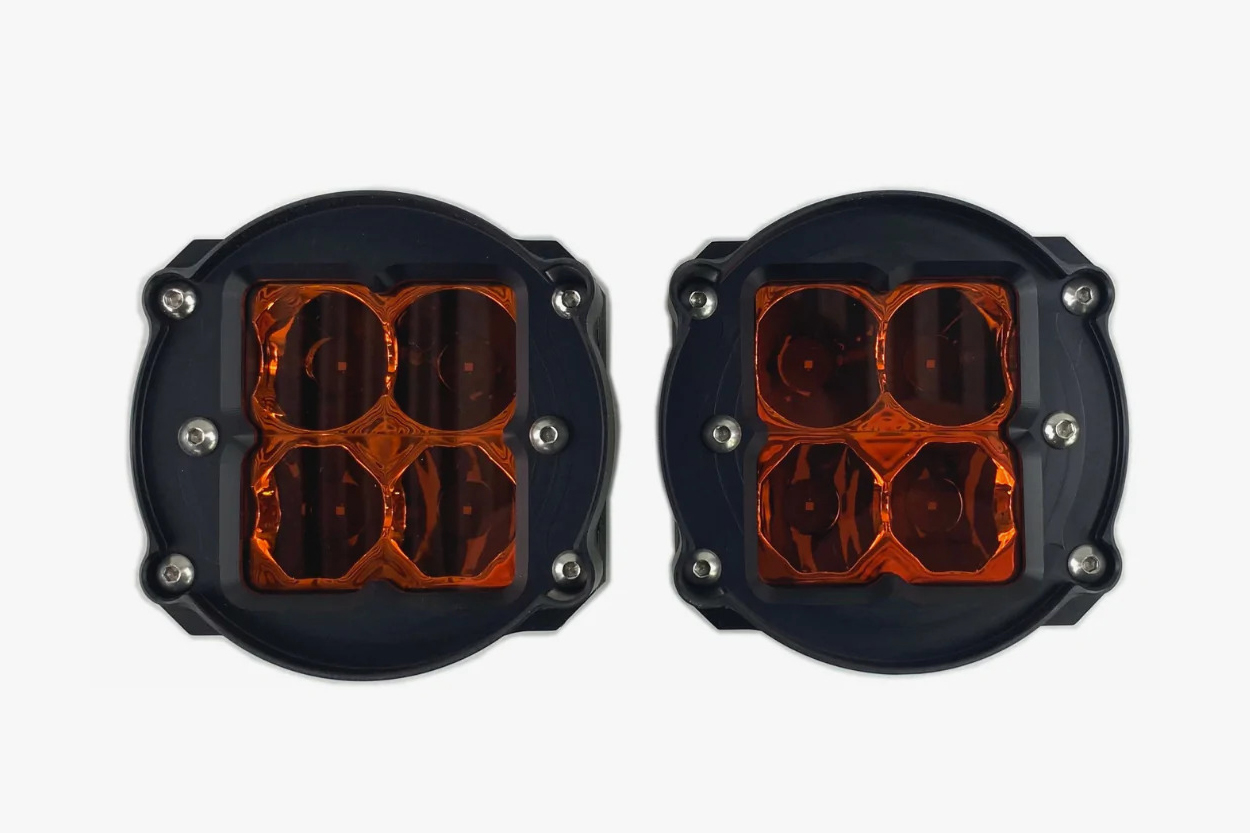 Find It Online
Heretic Studio's LED Fog Light Kit for the Tacoma models features their Quattro LED light pod. These high-performance lights are a drastic improvement over your OEM fog lights, projecting 2904 lumens per pod for optimal visibility while driving at night and/or under challenging weather like rain and snow.
They feature high-quality aluminum-grade billet housings and powder-coated stainless steel brackets that are built to last, protecting the lights from damage.
When you buy this kit, you get the mounting brackets, hardware, wiring adapters, and two Quattro light pods. Installation involves directly replacing your OEM fog light assembly, and the included H-11 wiring adapters will plug into the factory wiring. For a detailed installation guide, check out their website.
This kit will set you back about $350.
6. Diode Dynamics SS3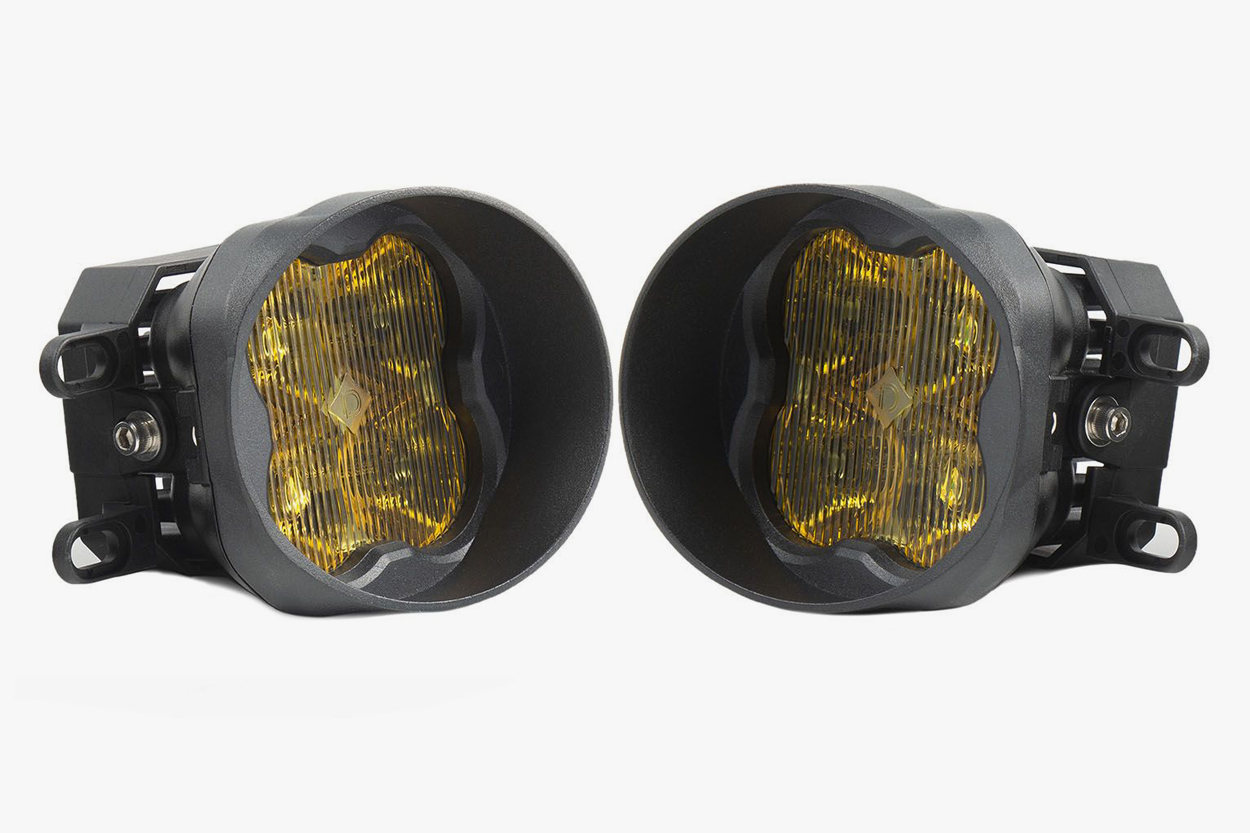 Find It Online
Diode Dynamics' SS3 LED Fog Light Kit for 3rd Gen Tacoma models features LED lights engineered with TIR (Total Internal Reflection) optics for maximum light intensity and optimal focus.
You can choose from two types of beam patterns: SAE Driving and SAE Fog. The driving pattern offers 18 degrees of illumination and is available in 6000K white color. The fog beam pattern provides a much wider 80-degree span of illumination and is available in 6000K white and 3000K amber colors.
Diode also offers these lights at different power levels. The sport configuration has 2262 lumens of white output and 1930 lumens of amber output. The pro option has 5796 lumens of white and 5220 lumens of yellow output. Finally, the max version offers 7920 lumens of output in both white and amber (although max is not SAE-approved).
For efficient thermal management, all SS3 LED fog light kits feature durable powder-coated aluminum construction with a passive, pin-fin heatsink.
Prices start around $280 for the sport option but can go all the way up to almost $600 if you purchase the white or yellow Max kit versions.
7. Morimoto 4Banger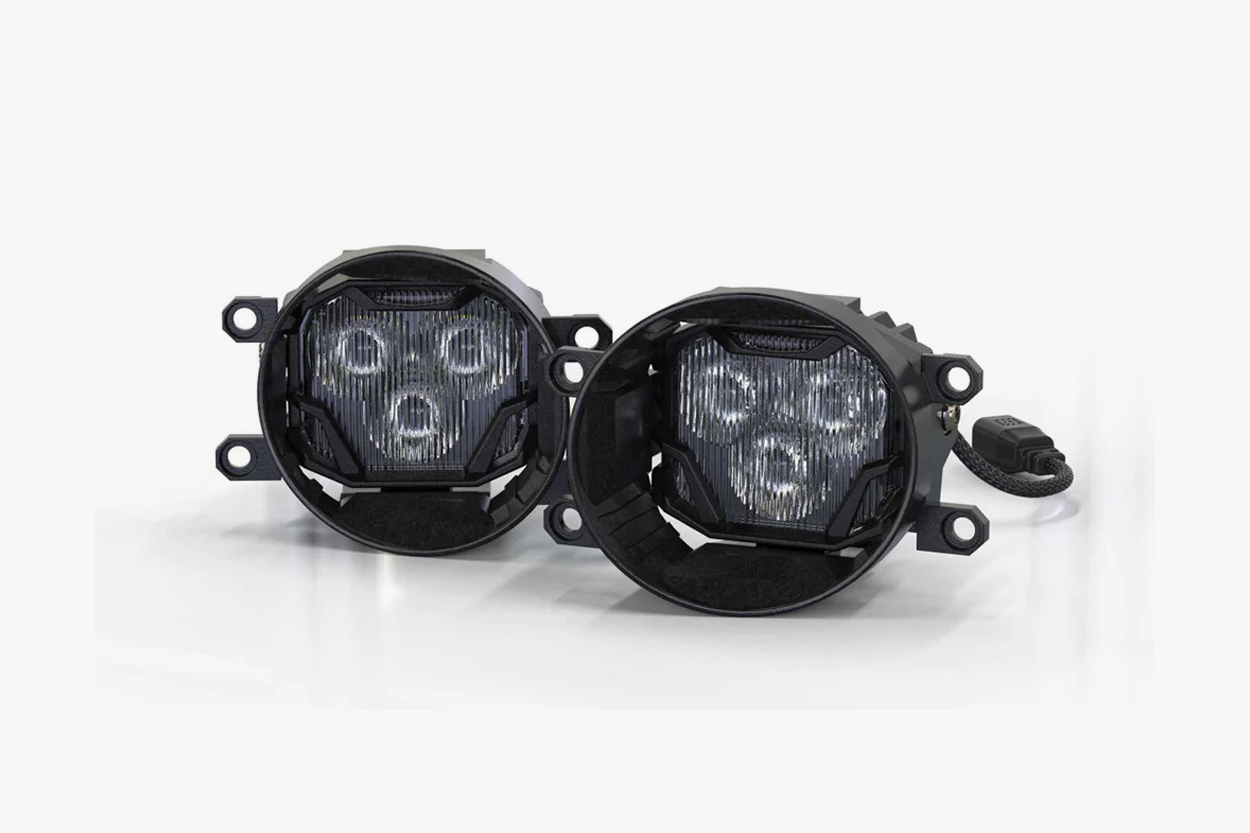 Find It Online
Another relatively new option, the plug-and-play Morimoto kit, stands out with a cool and unique design. With high-end parts from an established leader in lighting, you can't go wrong with this set.
In terms of color, beam pattern, and power – this kit provides one of the most extensive ranges for customizing your particular setup. It comes in both amber and white as well. With SAE compliance, tons of engineering/development, and features like air cooling, it's easy to see why Morimoto is known for great products. These guys measure light output in lux, so it's tough to compare to competitors that gauge their products with lumens. For the sake of comparison, these lights are very similar to the other higher-end options on this list.
These fog lights start around $375 and top out at about $575. With a limited lifetime warranty, these lights provide a solid choice for your truck.
Final Thoughts
Overall, a fog light pocket kit will offer you improved lighting performance with minimal hassle for installation. So, when that bad weather hits, you will be prepared and ready to power through.
These setups have few downsides, unless you are trying to save as much money as possible. In that case, I would suggest checking out a fog light bulb replacement, which will give you better performance than OEM at a lower cost.
Ultimately, the decision will come down to your aesthetic preferences and how much you are willing to spend on a set of fog lights.