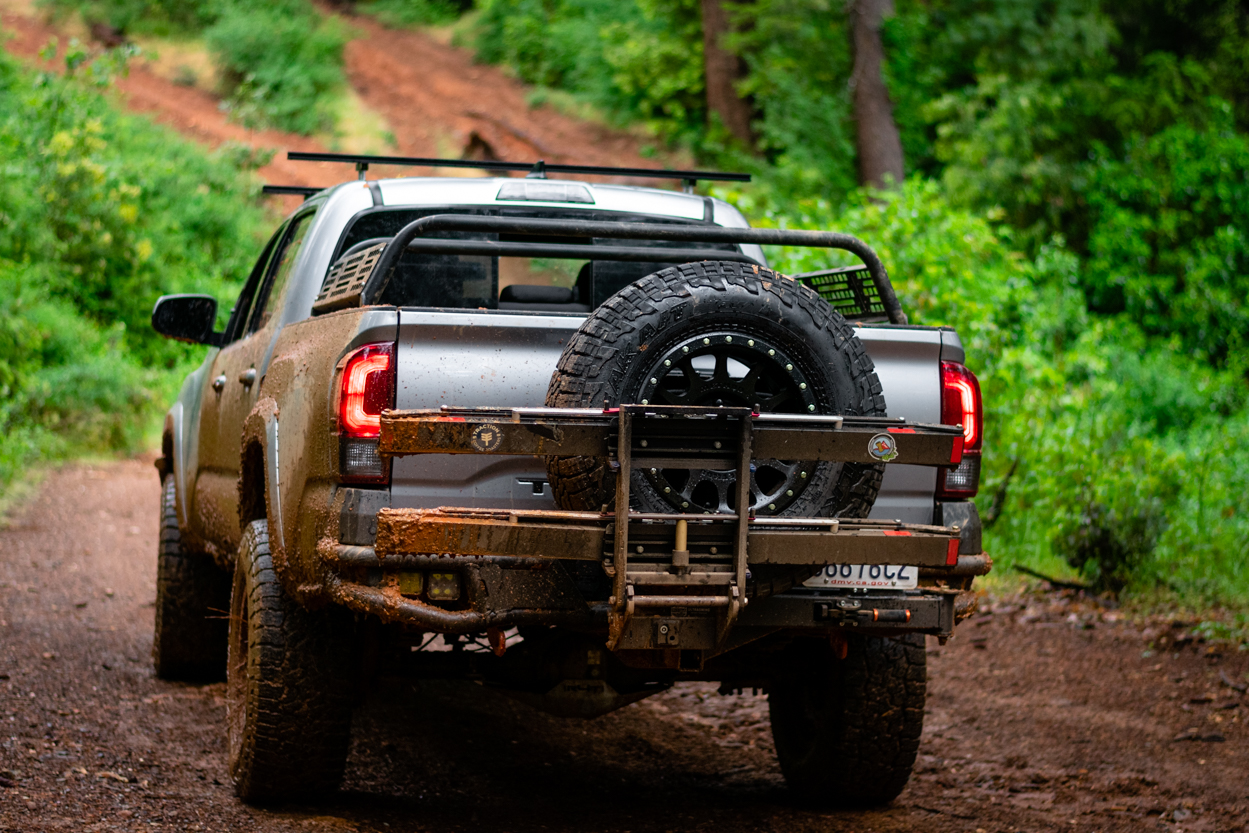 Heavy-Duty, Hitch-Mounted Tire Carrier by RIGd Supply – Detailed Review & Overview For The UltraSwing Multi-Fit Tire & Accessory Carrier
I believe the best products are those that solve a common problem, are well thought out and are multi-functional. For those of us running oversized tires, running a full-size spare can be challenging as they usually will not fit in the OEM mounting location under the truck.
Additionally, Tacoma mountain bike owners will know that using a bike rack can be a pain, and they are often in the way. This is what gave birth to the RIGd tire carrier.
The UltraSwing hitch-mounted tire swingout allows you to securely mount a full-size spare tire and a bike rack at the back of your truck while also being able to swing out of the way to access the tailgate. They also offer several accessories and features that I will lay out in this post.
Find It Online
RIGd Company Overview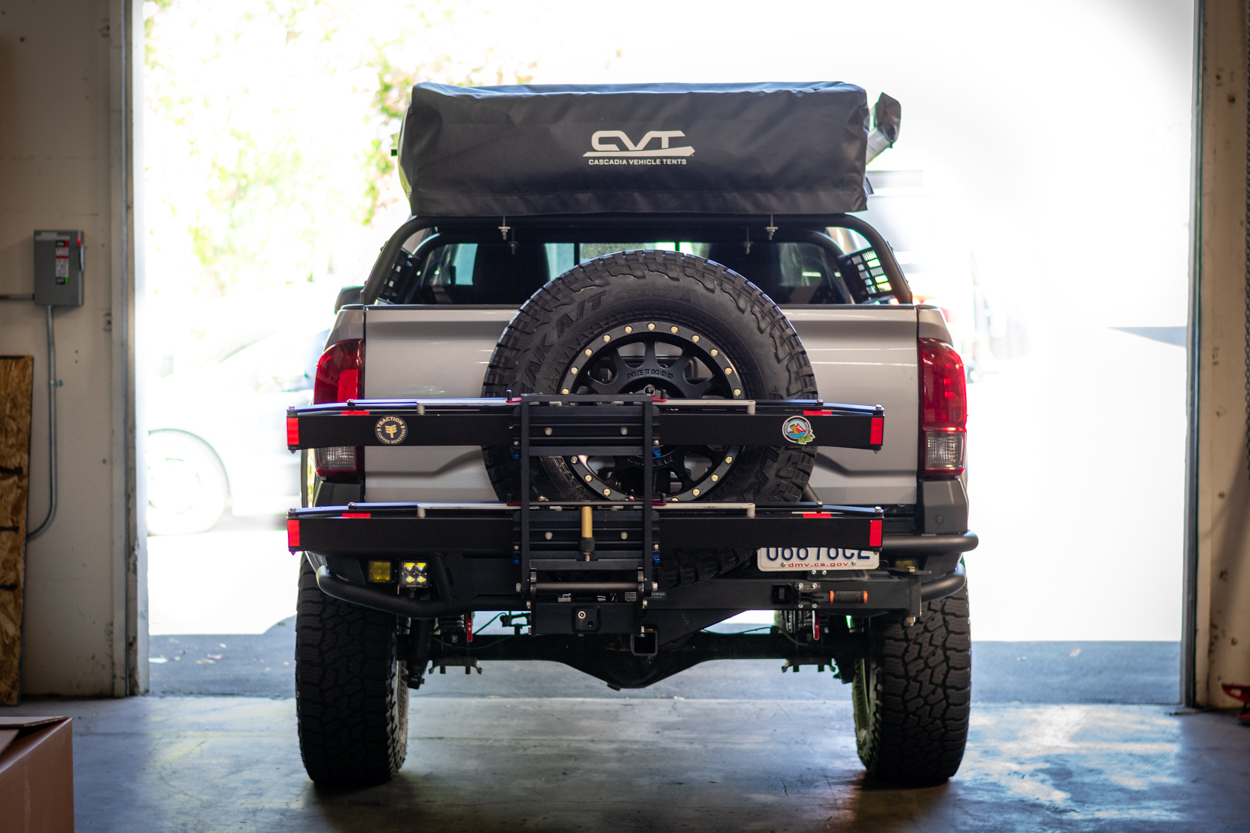 RIGd Supply was founded to make a product that solves everyday issues for off-roaders, cyclists, and campers alike. Then the UltraSwing was born. Carrying a full-size spare tire, bikes, and a drop-down table, among other accessories, is something no other companies can say they offer.
As I said before, the best products can solve multiple issues at once, and the UltraSwing does just that. If you are looking to mount a full-sized spare securely, a quick search about RIGd will provide you with ample confidence that their swingout won't budge off-road. Similarly, if you want to combine that with a bike rack that you can swing out of the way, RIGd also has you covered.
But how accurate are these testimonies? Let's find out.
Hitch Mounted vs. Bumper Mounted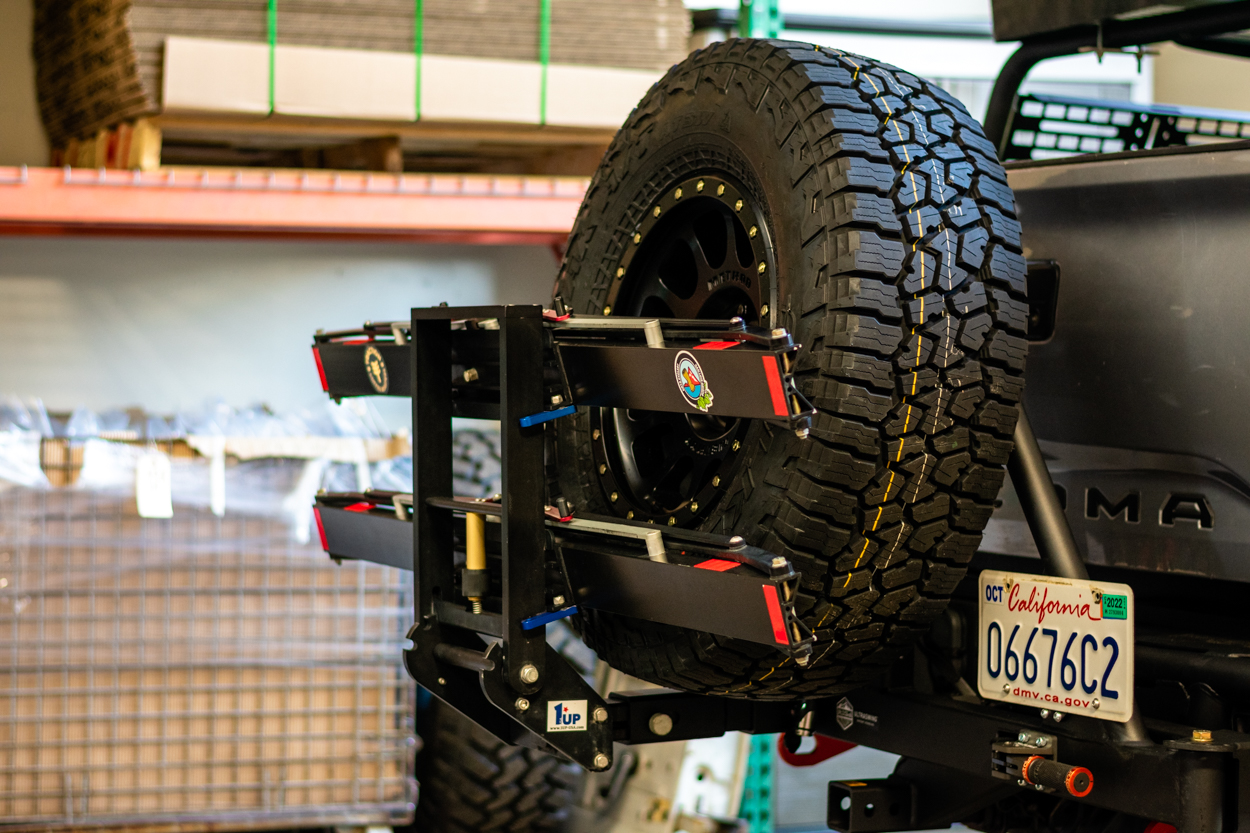 Regarding spare tire carriers, you generally have two options: hitch-mounted and bumper-mounted. If you are running an aftermarket rear bumper, many allow you to add a tire carrier swingout system. This can be nice as they are integrated and sometimes have higher clearance when tackling off-road features.
That being said, hitch-mounted carriers are not without their advantages. First, you can remove it and store it whenever you want. If you only want to run it on trips or trail runs, you can remove the carrier at any point. If you are worried about approach angles, RIGd designed their swingout to be durable enough to handle just about any hit it may take on the trail.
RIGd Accessory Lineup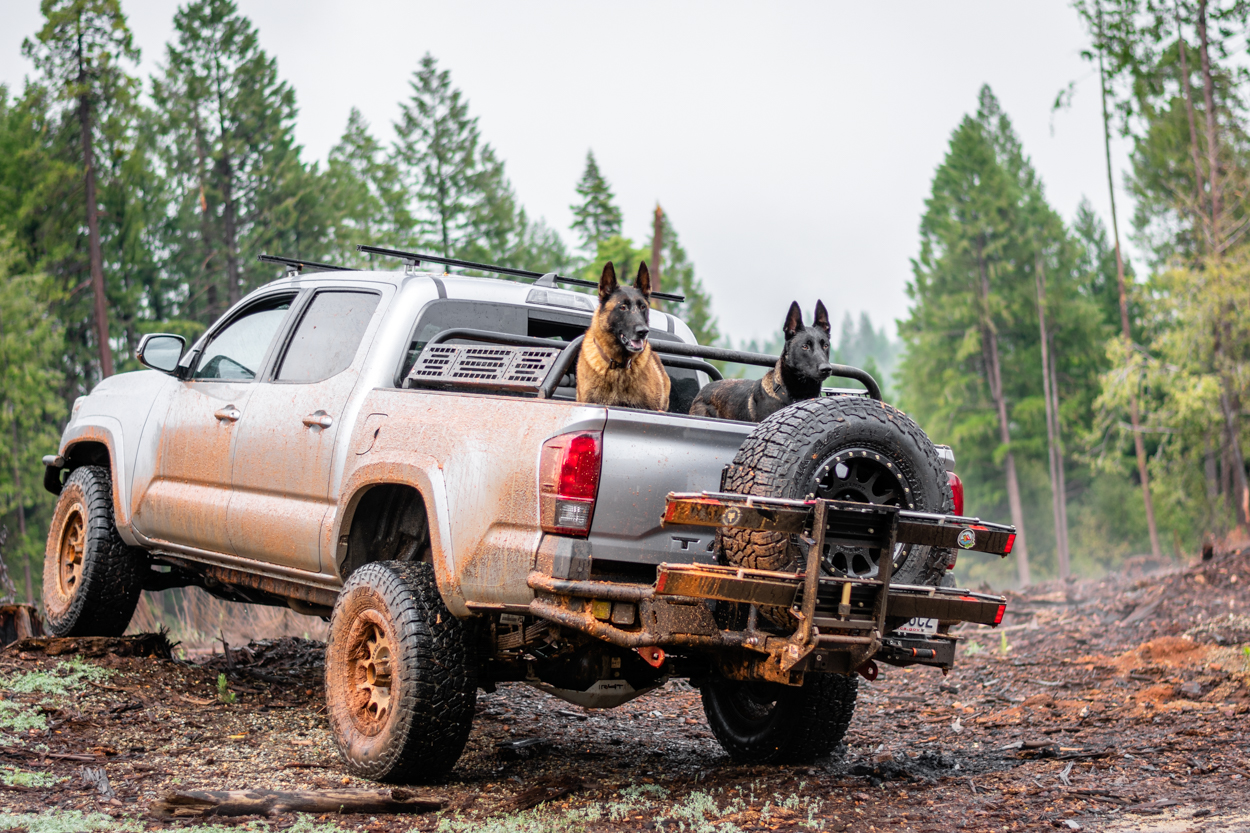 Now that we've laid out the groundwork, let's get into the nitty-gritty of all the accessories you can purchase alongside your UltraSwing. These add to that functionality aspect of your swingout and let you dial in your setup to suit your needs perfectly.
UltraTable
Find It Online
The RIGd UltraTable utilizes an aluminum backplate and a steel base plate to find a balance between strength and weight. To avoid any potential rattling on and off-road, this drop-down table is designed with rubber bumpers that retain the table's tension when closed. It also has an integrated bottle opener and a slide-out, FDA-approved food-grade cutting surface.
In my opinion, the UltraTable is a must-have. It helps clear up so much clutter at the trailhead and gives you that extra cooking surface when working on an extravagant camp meal.
SideHack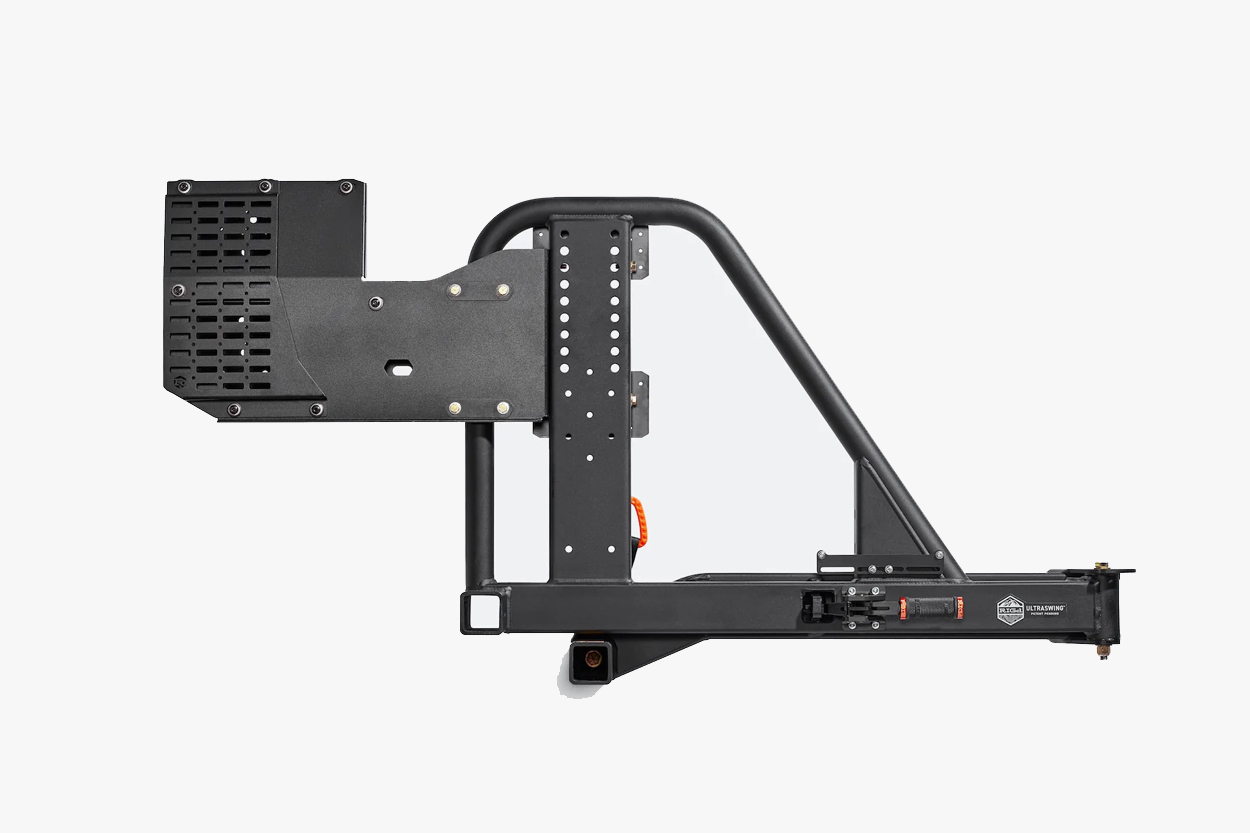 Find It Online
With a load rating of up to 50lbs., the SideHack is a heavy-duty MOLLE panel that can be attached to your RIGd tire swingout. This accessory lets you carry Rotopax fuel and water containers, as well as any item that utilizes the MOLLE mounting system. Getting these items out of your truck will give you more space for other camping gear in the cab.
TrailPouch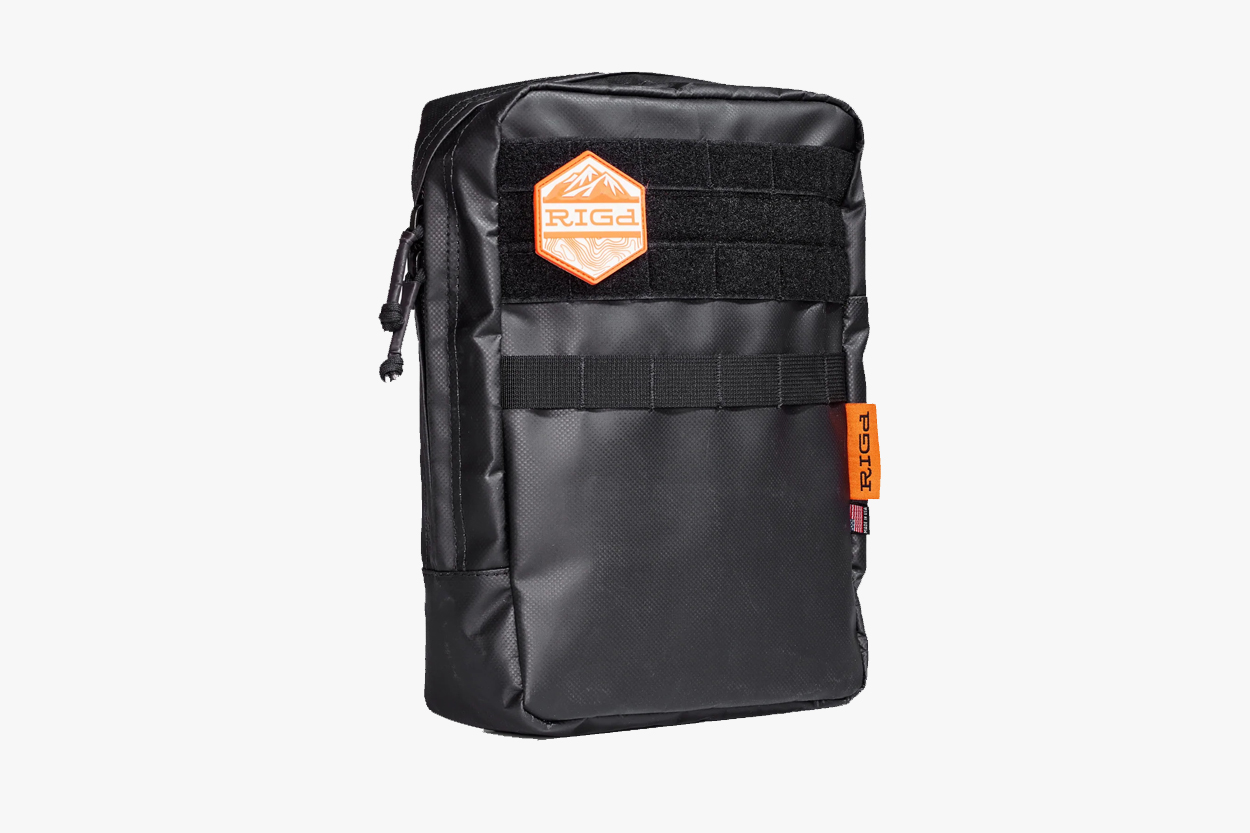 Find It Online
Designed to be used with the SideHack, the TrailPouch is a MOLLE-style gear bag that lets you keep your trailside essentials close. Designed with a weatherproof tarpaulin material to keep your gear protected from the elements, this bag is ready to hit the trails. For any of those small pieces that you carry for your truck, camp kitchen, or your mountain bike, the TrailPouch was made to keep everything in one secure place.
Skep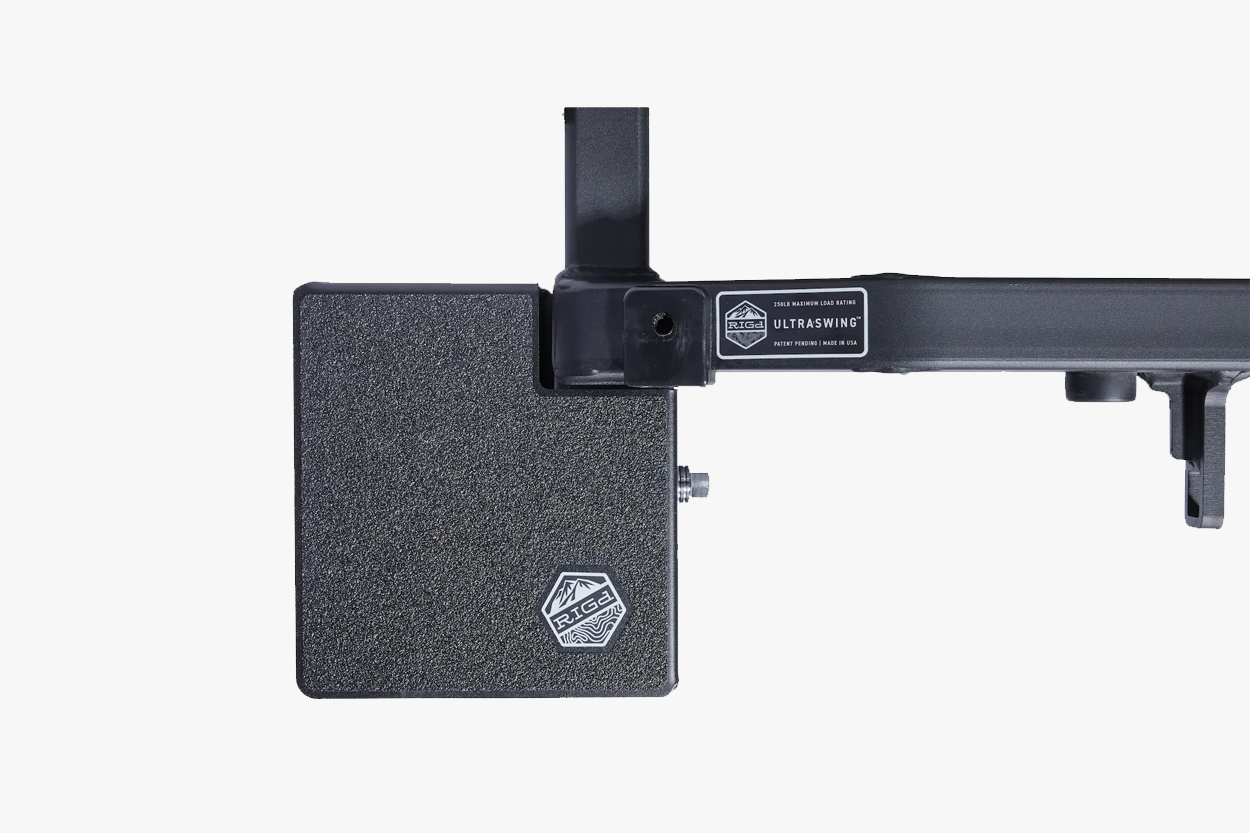 Find It Online
Ever need to reach up onto your bed rack to get something and have a hard time stepping up onto your bumper, tailgate, or tire? This is where the RIGd Skep comes into play. This is an all-in-one step and hitch skid plate that is fully compatible with your tire swingout. Including an anti-rattle hitch pin and a semi-gloss powder coat, the Skep will hold up to the elements when you put it to use.
JerryRig Fuel Mount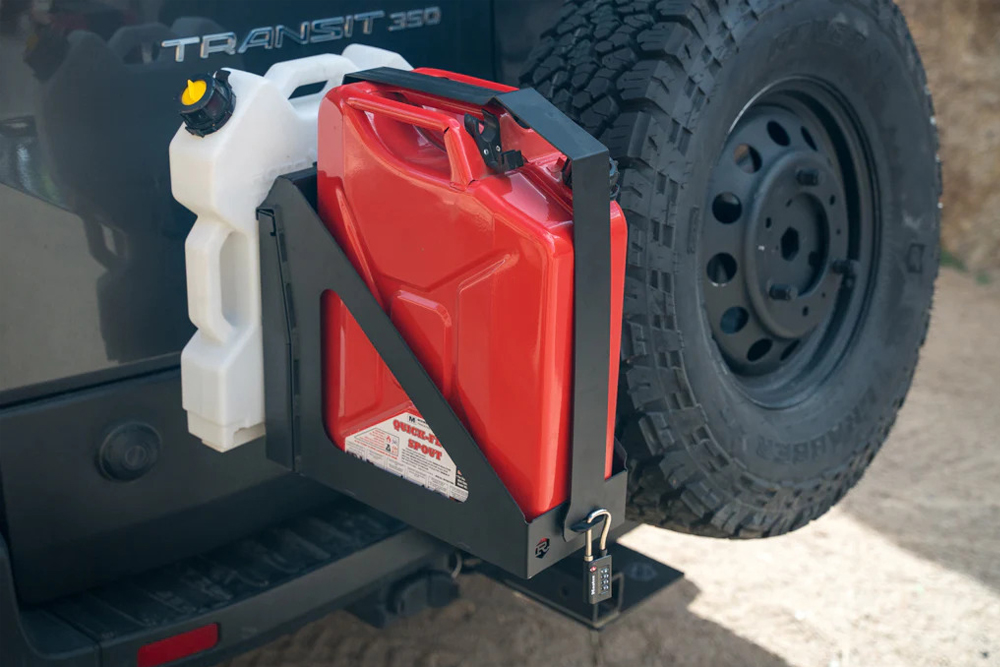 Find It Online
The JerryRig Fuel Mount works alongside the SideHack MOLLE panel on your UltraSwing so that you can mount your jerry can securely. It is also compatible with a lock so no one can steal your overpriced fuel. This is another great way to clear up space from your bed or roof rack, allowing you to bring more gear on your next trail run.
License Plate Light Kit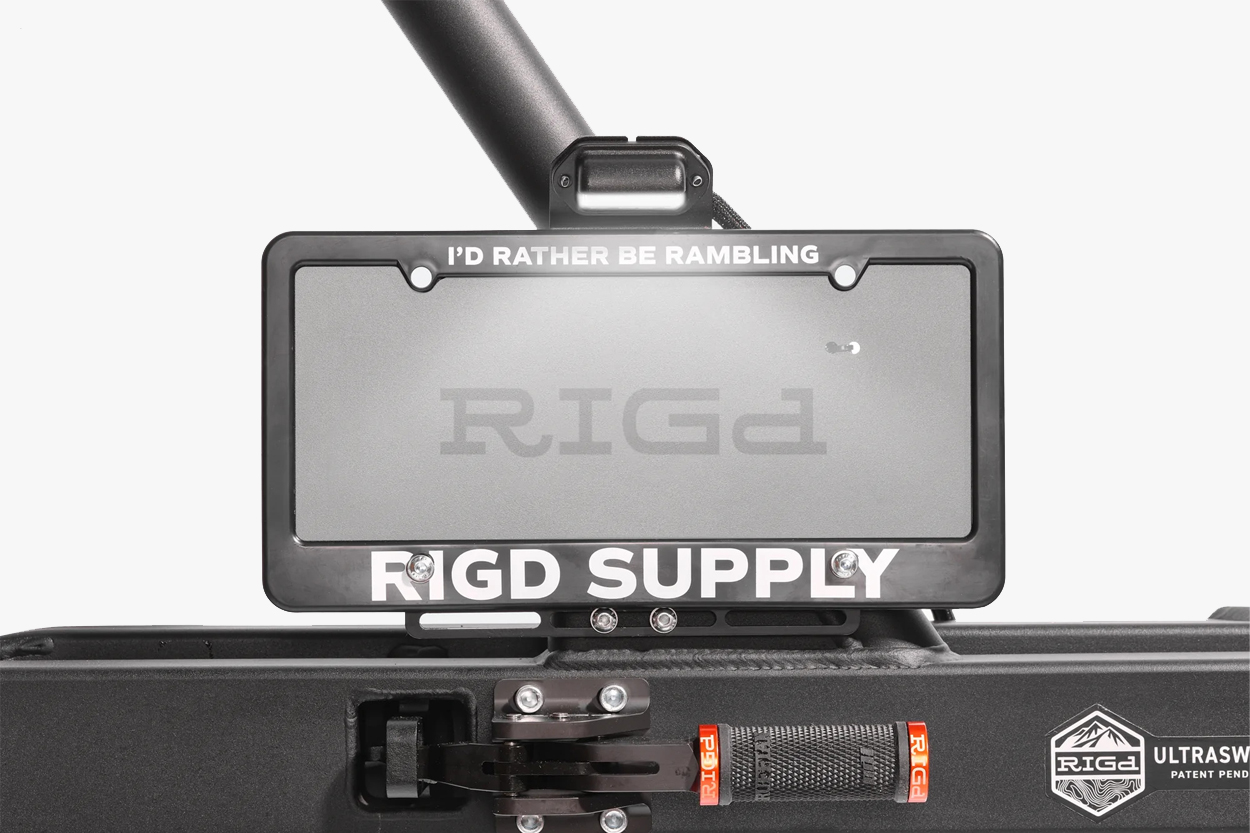 Find It Online
You might wonder how your license plate will be visible at night when you mount it on your swingout. That's why RIGd made their license plate light kit. With a complete plug-and-play installation, this kit comes with a wiring harness and plug that will work directly with your current system to ensure your license plate is always visible.
TrailStraps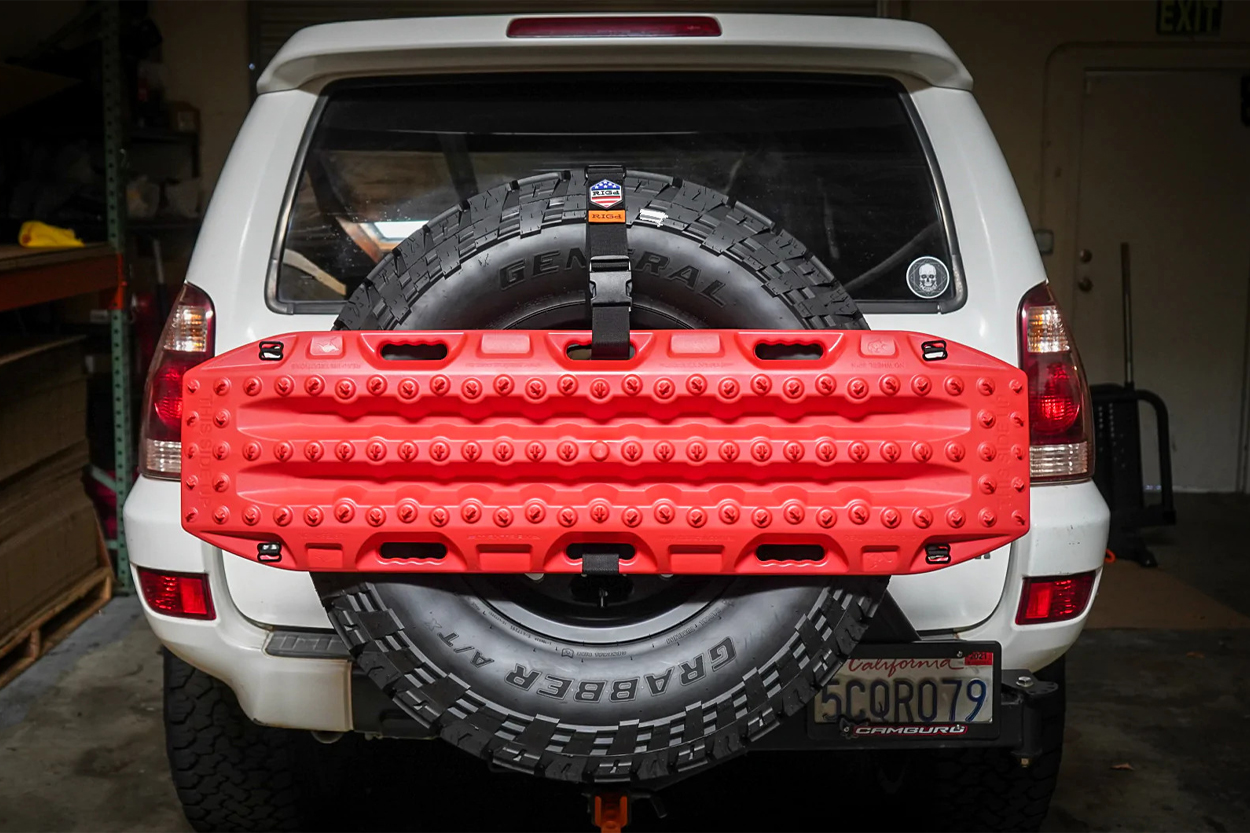 Find It Online
If you want those bulky MAXTRAX traction boards out of your bed, I suggest checking out the TrailStraps. These heavy-duty straps allow you to mount your traction boards to the back of your spare tire without worrying about losing them on the trail. RIGd designed these straps to work with 31″ to 37″ tires and will ensure that your recovery boards will always be ready when needed.
WobNot Adjustable Hitch Extension
Find It Online
Finally, we have the WobNot Adjustable Hitch Extension. This allows you to run any bike rack of your choosing with the RIGd UltraSwing, even with your beefy oversized tire in the way. Adjustable from 6″ to 8″, you will be able to make sure this extension suits your setup while remaining as low profile as possible.
Unless your bike rack has a crazy long hitch connector, you must purchase these to make your setup work.
How It Performs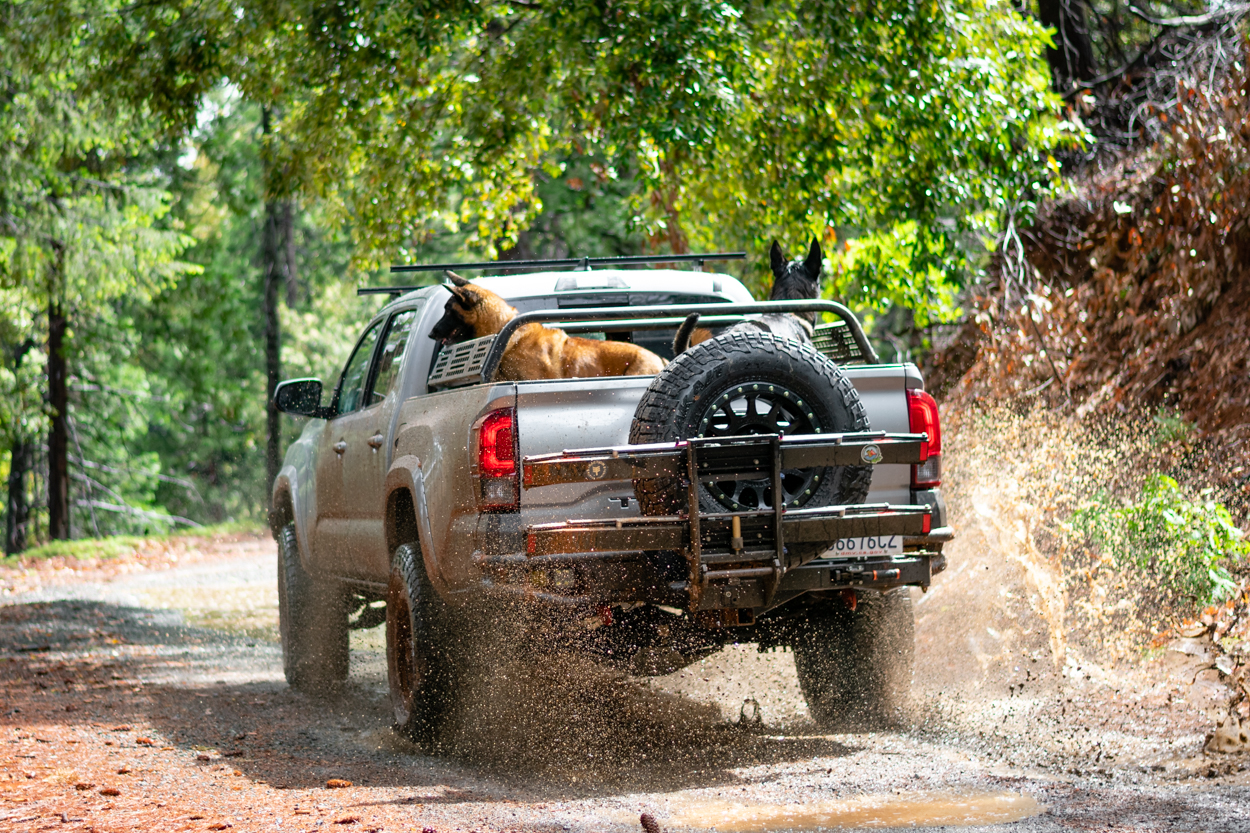 Having tested the UltraSwing over the last couple of months, I would like to give you my thoughts on how it held up. First things first, I have never had a part installed into my hitch mount that is as secure as this swingout. I have tried my best to throw it around off-road and have slammed it on several trail features, and I have still not found a way to knock it loose.
As for the accessories, it seems like RIGd has thought about every piece of criticism that someone could have about the UltraSwing and has created a solution. I have not experienced any crazy rattles off-road, and being able to throw my mountain bike gear on the table at the trailhead or lay out my camping meal ingredients is a luxury I never knew I needed. But now that I have it, I do not see myself returning.
Does It Wobble?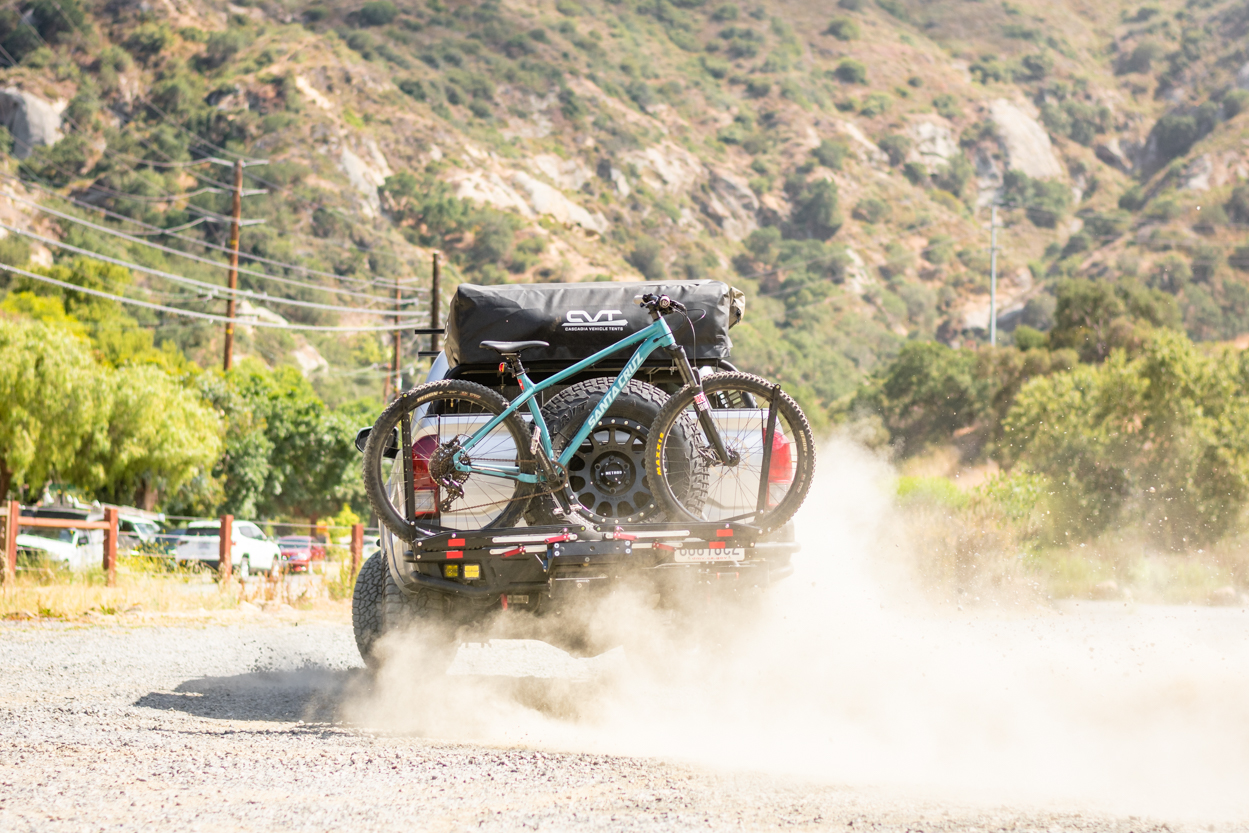 I have had the UltraSwing installed on my truck for several trail runs, and it has yet to develop any wobble. Growing up, every single bike rack that my family used would wobble like crazy after a few months of use. So, with a full-sized spare tire and a bike hanging off the back, one might assume that it would shake in the hitch receiver. That could not be more wrong.
I have sent my truck through a day in the mud and over some of the rockiest trails I have ever experienced, and there is no movement on the UltraSwing. This is extremely impressive, considering how much weight it is back there. At one point, the bike rack did develop a slight shake but a quick tightening, and it was good to go.
Swiss Army Knife Of Tire Carriers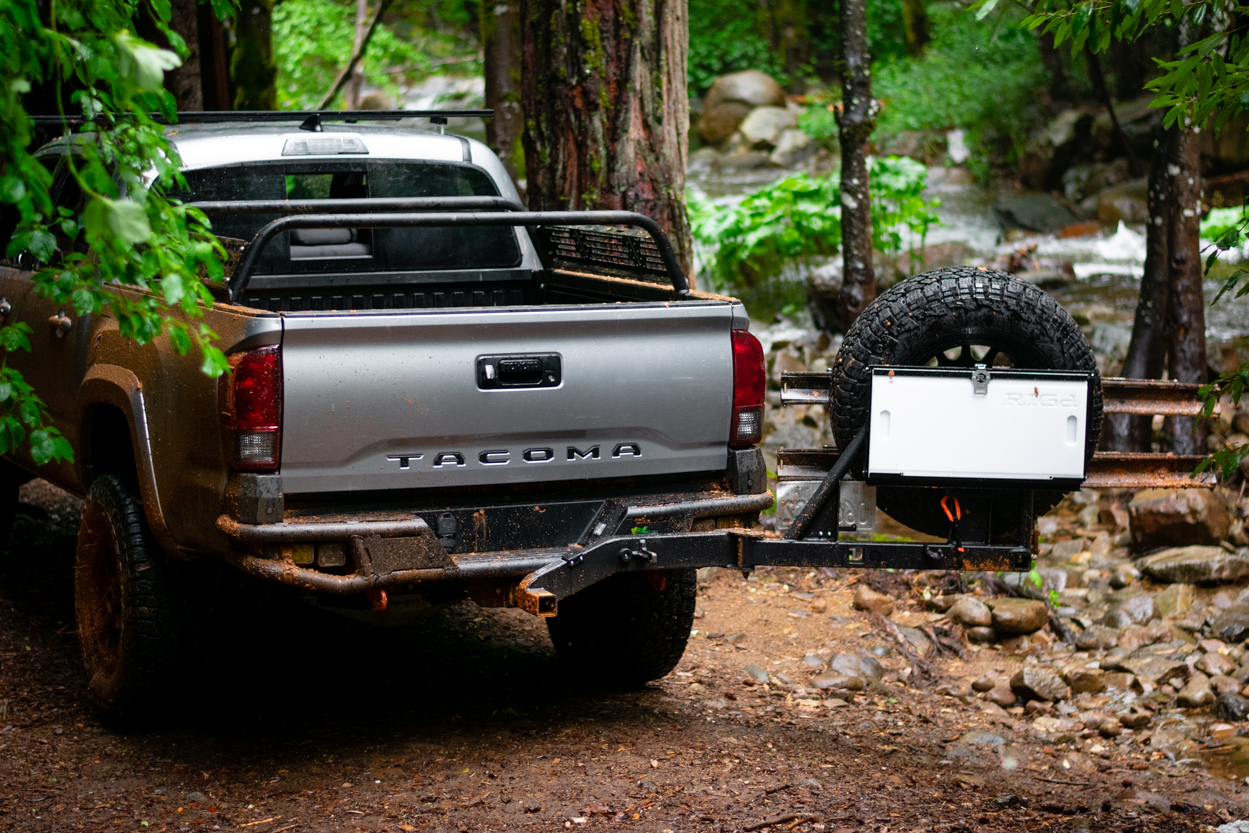 As I have mentioned probably about 100 times by now, the UltraSwing is the most multi-functional part I have installed on my truck. It has proven itself useful while camping, mountain biking, and off-roading. Pretty much anytime I take my truck out into the wilderness, I find a new reason to love this tire carrier.
Additionally, the RIGd works amazingly as a bike rack swingout. I previously just had my 1UP USA rack installed into my hitch receiver, but this meant unloading the bikes every time I wanted easy access to the bed. Having everything on the swingout when I need it while also being able to move it out of the way is a massive benefit to the UltraSwing. You can find my review of the 1UP bike rack here.
For bikes, the only issue I have had is that my bike shakes a lot within the 1UP rack to the point where I sometimes question if my bike will still be there when I get home. However, RIGd has just released their new RambleRack bike rack that I am stoked to compare to the 1UP soon.
Downsides
There is very little I can complain about regarding the UltraSwing. However, a few gripes of mine have come up since installing my tire carrier.
First, when traveling at higher speeds and crossing several consecutive bumps, there is this interesting phenomenon that occurs. The best way to explain it is the swingout bouncing the rear end and creating an unusual vibration. To mitigate this issue, I have found that speeding up helps my truck get out of this weird bouncing cycle. This is something that seems to occur with all tire carriers, full bumpers included.
The other issue I came across is the length it adds to my truck. While this is an obvious thing that anyone purchasing a swingout will consider, it is still worth noting. My truck sticks out much more in parking spots, and you lose a little bit of your awareness of where your truck ends. This would be resolved by installing an extended backup camera.
Outside of these two gripes, if there is ever an issue with how a particular joint on the swingout is moving, a healthy dose of WD-40 should fix it all up.
Final Thoughts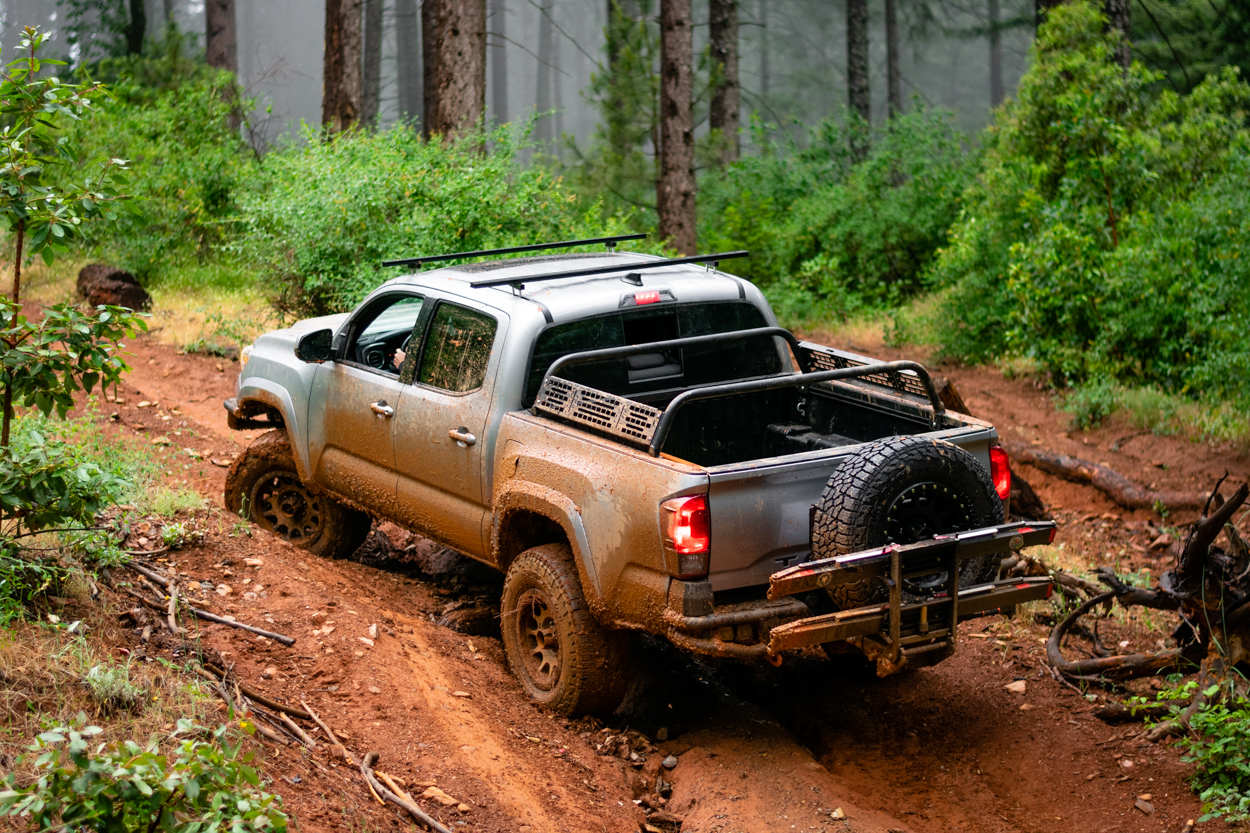 Having the UltraSwing on my Tacoma has been one of, if not my favorite, addition to my build. It combines functionality, aesthetics, and durability all into one convenient package. The added length can be intimidating, but since my Tacoma is already a compact pickup, I was not too upset about it.
I previously had my bike rack mounted directly into the hitch receiver, and it was always in the way when I wanted to drop the tailgate. Being able to swing all of my gear out to access my bed is fantastic. Plus, with the camp table right there, I can keep my crap out of the way when I am getting ready to go for a ride.
All in all, I would highly suggest this swingout to any off-roader or overlander who sees a need for the benefits that I have mentioned. The fact that the RIGd Supply team is made up of a great group of guys is just another added benefit to pulling the trigger on an UltraSwing.