6 Lunar Rock 3rd Gen Tacoma Overland + Off-Road Setups To Inspire Your Truck Build & Their Owners' Top 5 Modifications
This Week's Topic: Lunar Rock Tacomas
Welcome back to another Taco Tuesday! If you missed last week's TT, we looked at popular ditch bracket setups for the 3rd Gen Tacoma.
This week we are looking at Tacomas in the super popular Lunar Rock paint color. More specifically, we asked owners what their Top 5 mods are on their rigs.
When Lunar Rock was first introduced on the Tacoma for the 2021 model year as an exclusive TRD Pro color, it quickly became one of the more popular colors among enthusiasts. The following model year, Lunar Rock was available again, but also for several other trim levels for the Tacoma, including the Trail Edition. This color has been received so well on the Tacoma platform that for the upcoming '23 model year, Lunar Rock will remain available.
To me, Lunar Rock is like a blend of two TRD Pro colors; Cement & Army Green. However, it definitely resembles Cement a bit more. Depending on how the sun hits this color, it will appear more green than grey. On the flip side, the color will appear a bit more grey if there's an overcast day.
If you are looking for a Lunar Rock Tacoma and are curious about how they look with some mods, then you are in the right place. We asked each owner what their top 5 mods were for their Tacomas and what they liked most about their trucks.
As always, feel free to DM the owners on IG to ask any additional questions about their setup if needed.
Enjoy!
1. Niel Cabrera (@tacomakoma) – 2021 TRD Pro
What Are Your Top 5 Mods?
ARB Elements Fridge
Front & Rear Warn Winches
Total Chaos Long Travel Suspension w/ King Shocks
Powerbrake Front & Power Stop Rear Disk Brakes
Magnuson Supercharger
What Do You Like Most About Your Tacoma?
This build is practical and suits my needs for off-roading and overlanding. The Tacoma drives like a Cadillac on the road and even smoother off-road. Fitted with 37" tires, we can go to some of the most remote places without fear. With Toyota's legendary reliability, we never fear breaking down. Also, with standard adaptive cruise control, long drives are a breeze.
2. Eric (@erizona30) – 2022 TRD Off-Road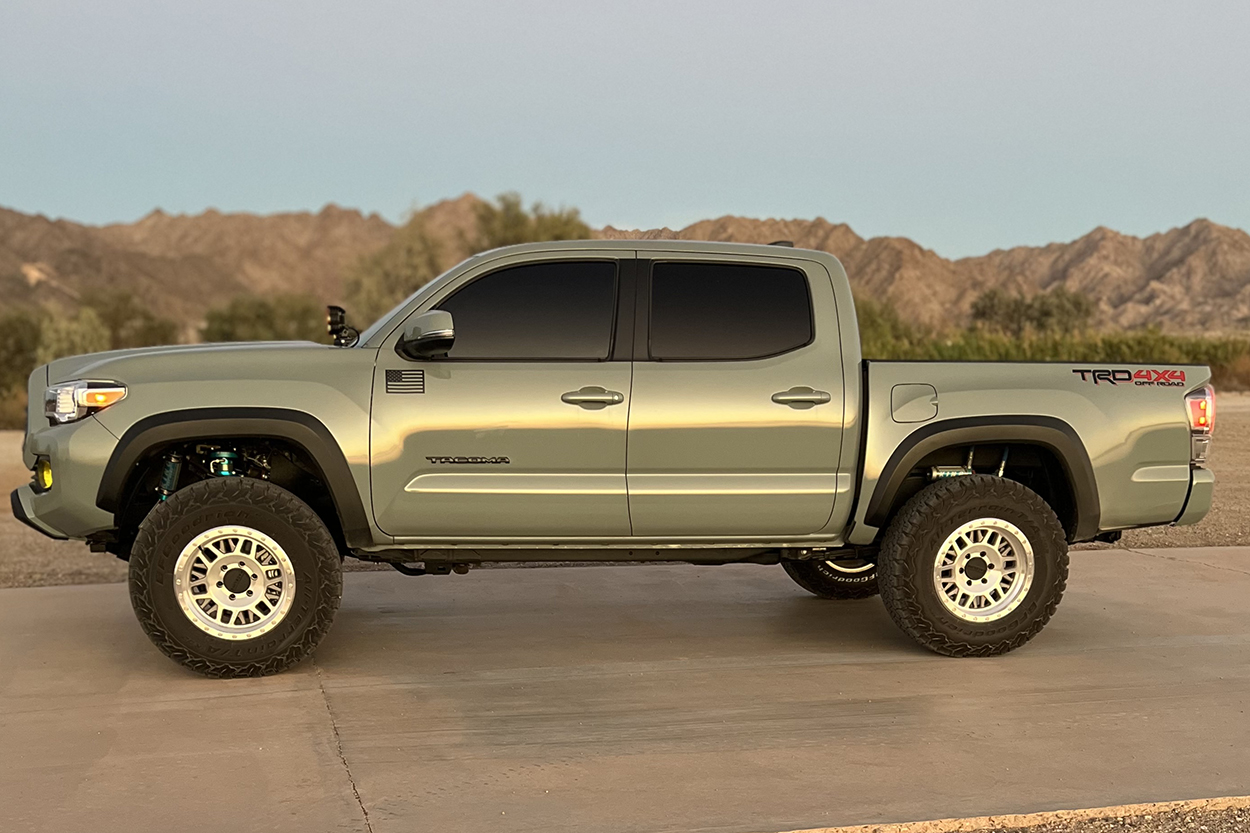 What Are Your Top 5 Mods?
King Shocks Ext Travel Coilovers & King Shocks Rear
Dirt King Boxed Upper Control Arms
KC Flex Era 4 Pods (Pillars)
Raceline 951 Machined Wheels
BFGoodrich KO2 (285/70R17)
What Do You Like Most About Your Tacoma?
The setup on my Tacoma looks slick and functions amazingly. I can go through any terrain thanks to the BFGs and the King Shocks. When nightfall hits, my KC pods light up the way, turning night into day.
3. Jonathan Schoemaker (@offroadplace) – 2021 TRD Pro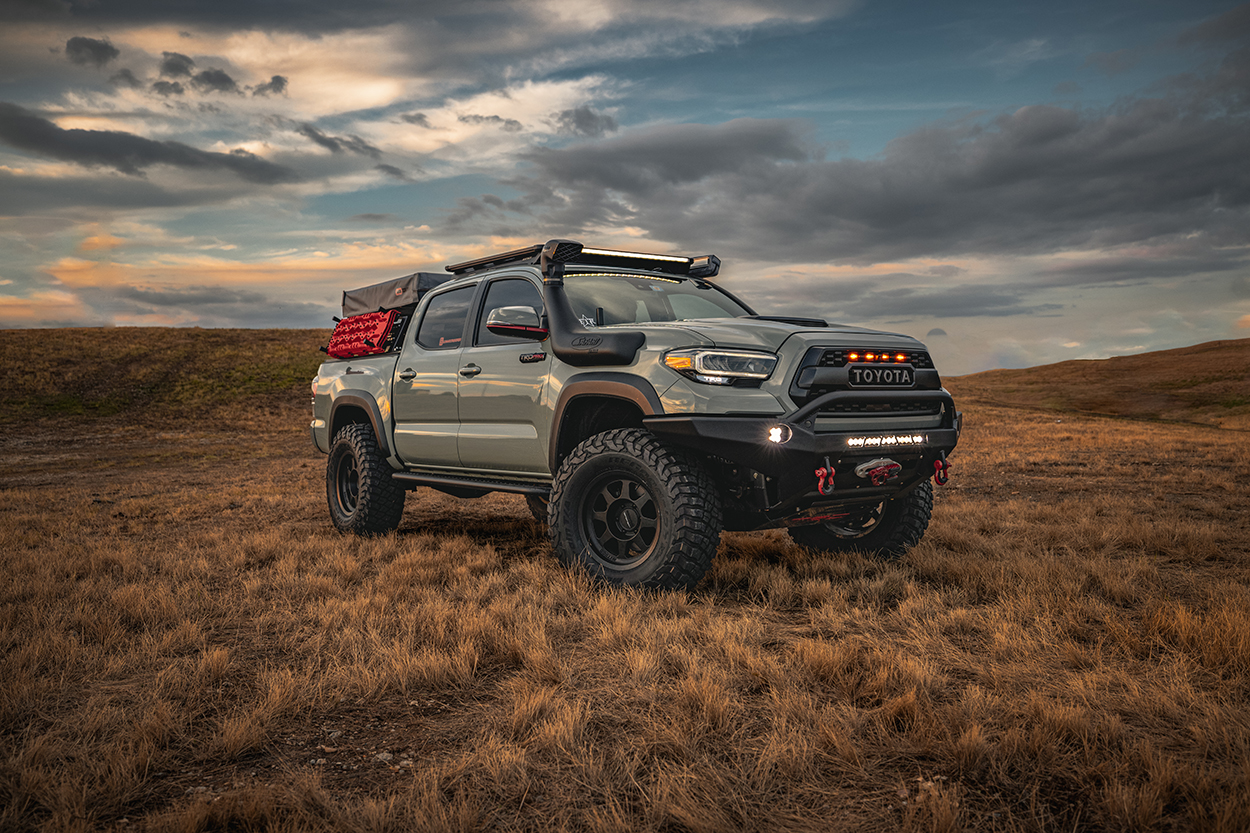 What Are Your Top 5 Mods?
ARB DVR Reverse Camera
Fox Suspension
5.29 Gears/OTT
ARB Linx
Trail Armor (CBI Bumper, RCI Skids)
What Do You Like Most About Your Tacoma?
This might sound vain but what I like most about my rig is its stance and overall style. All of the decisions I've made building it has been through the lens of style and functionality, so as not to compromise either of those things.
For the first time, I decided to upgrade from 33″ to 35″ tires, and I couldn't be happier. Although it did require a body mount relocation, CBI front bumper, 5.29 re-gear, and Overland Torque Tuning, it is well worth it. 35s have improved my off-road capabilities with more power and easier climbing. Plus, I was able to get the look that I always wanted.
That's an example of how I manage style and functionality with building out rigs.
As far as functionality, my favorite mod would be the ARB DVR Reverse Camera. My digital rearview mirror is always recording the front and rear of the vehicle. Most importantly, my view is never obstructed by the bed rack or RTT.
I run all of my lights and compressor through the ARB Linx. The Linx interface is basically a mounted Android phone and it's very easy to use. With a touch of the screen, I can engage my front locker via a twin onboard compressor, and control my two light bars and grill lights all in one place.
4. Germz Gabato (@lunartaco808) – 2022 TRD Off-Road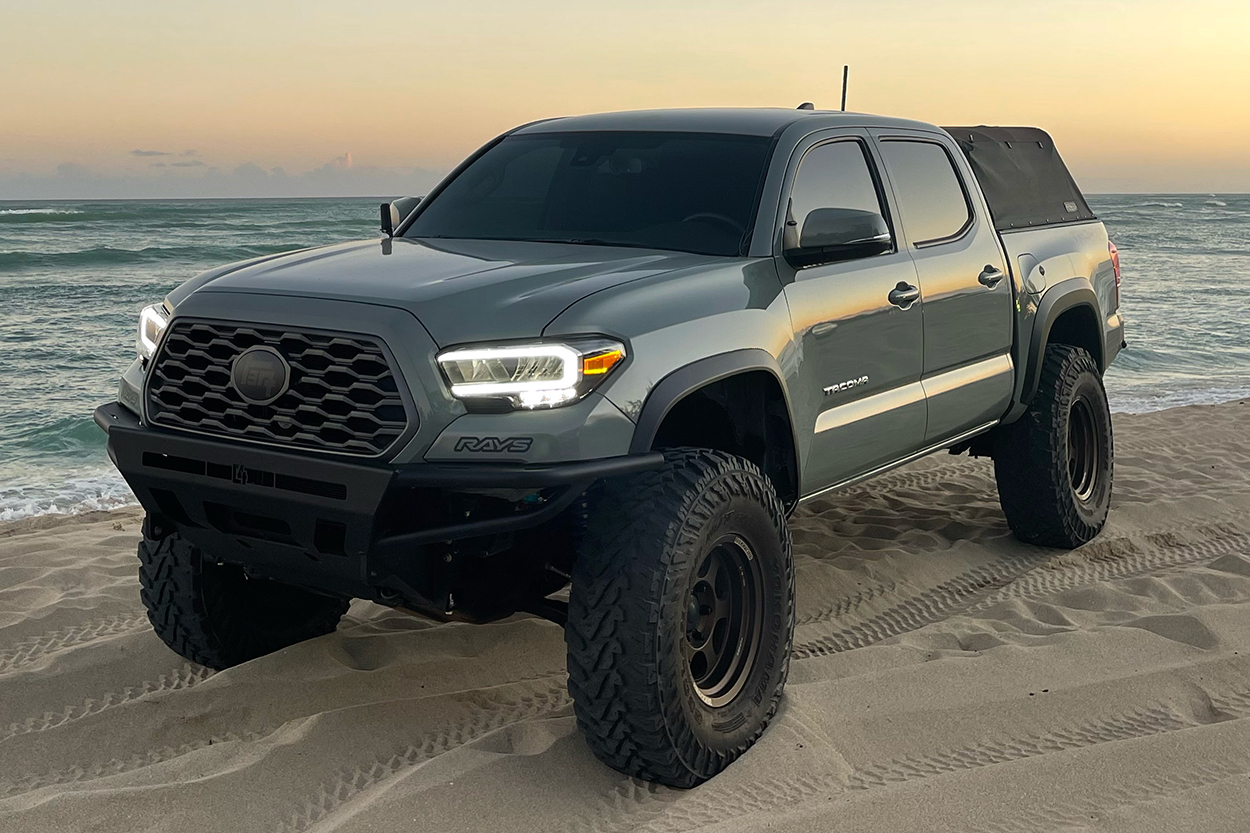 What Are Your Top 5 Mods?
Armor: Trail Gear Sliders, W.A.R Fab Rear Bumper, & C4 Front Bumper
Softopper Soft Shell Camper
Suspension: King 2.5 Ext Travel Shocks, OME Dakar 700lbs Leaf Packs, & SPC Upper Control Arms
Rays TE37 XT 16X8.5 -10 w/ | Yokohama Geolandar MT (315/75R16)
Midland MTX-275
What Do You Like Most About Your Tacoma?
I love the overall simplicity of the whole truck as a unit. It gets the job done whether it's wheeling or camping. Also, the fact that it's Lunar Rock makes it that much better! The armor I have on my Tacoma makes for worry-free wheeling.
What I like about my Softopper is that it is super lightweight with the ability to fold down and use the bed to haul large things. When you roll up the sides of the Softopper, it reminds me of older generation 4Runners with old-school bikini tops.
My suspension is as simple as it gets and does the job amazingly well on the trail when wheeling. I don't have any second thoughts about my choice of lift. Rays are the lightest wheel on the market and with my tire combo, it's the best I've ever experienced. The Geolandars don't have much road noise and I wanted to keep the build Japanese-made.
Proper communication is a big key factor with a group of people. I love being able to warn my partners about hazards or spot them on trails.
5. Alex Luong (@lunatheturdpro) – 2021 TRD Pro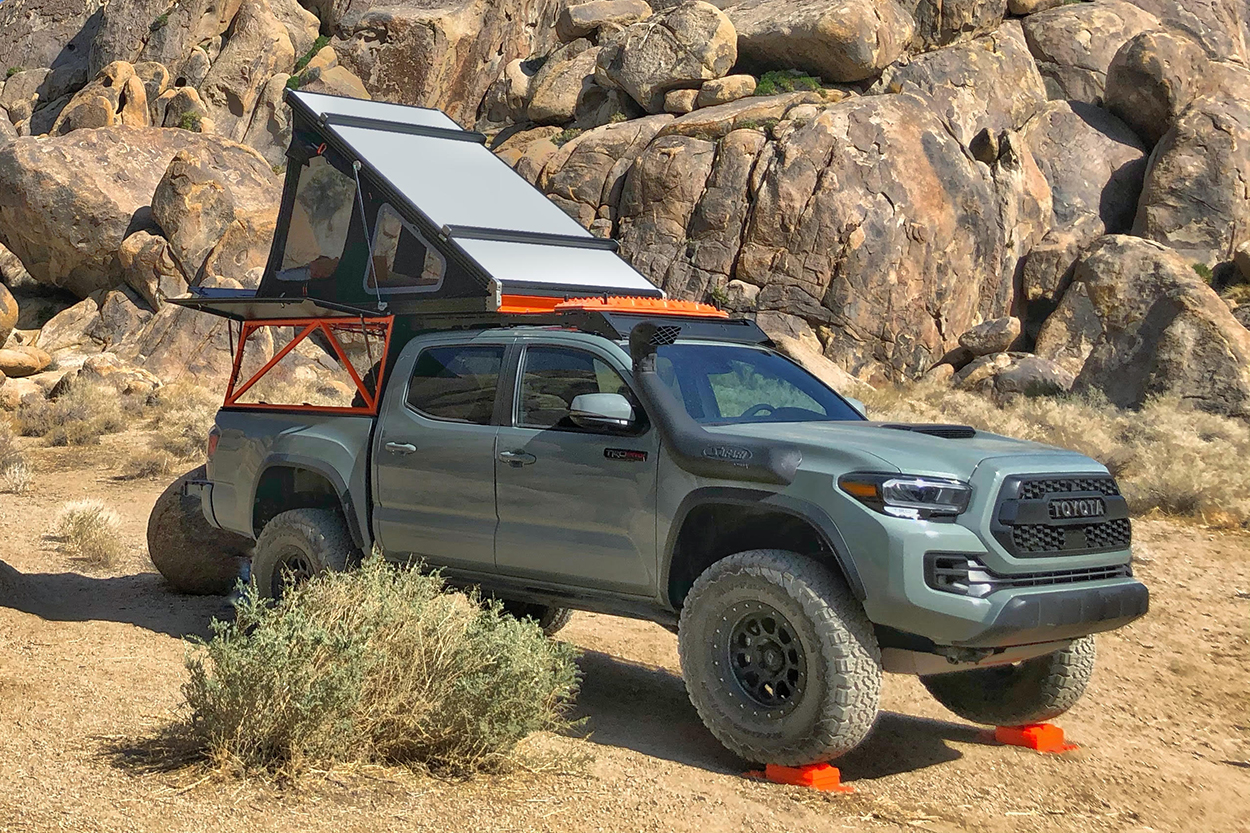 What Are Your Top 5 Mods?
C4 Fabrication Front/Rear Bumpers (soon)
BFG KO2s
Icon Vehicle Dynamics 2.5″ Suspension + Deaver Leaf Springs
Prinsu Roof Rack
Go Fast Camper V1
What Do You Like Most About Your Tacoma?
I love the functionality of this setup. This is my daily driver but it also functions as a weekend camping rig. I used to have a RTT, but the GFC is a game-changer. It transforms the bed into quite a bit of usable camping space. I replaced the original mattress with an Exped mattress, which has been heavenly. If you're wondering, yes, the Prinsu roof rack does clear the GFC!
6. Stetson Westmoreland (@brisktaco) – 2022 TRD Off-Road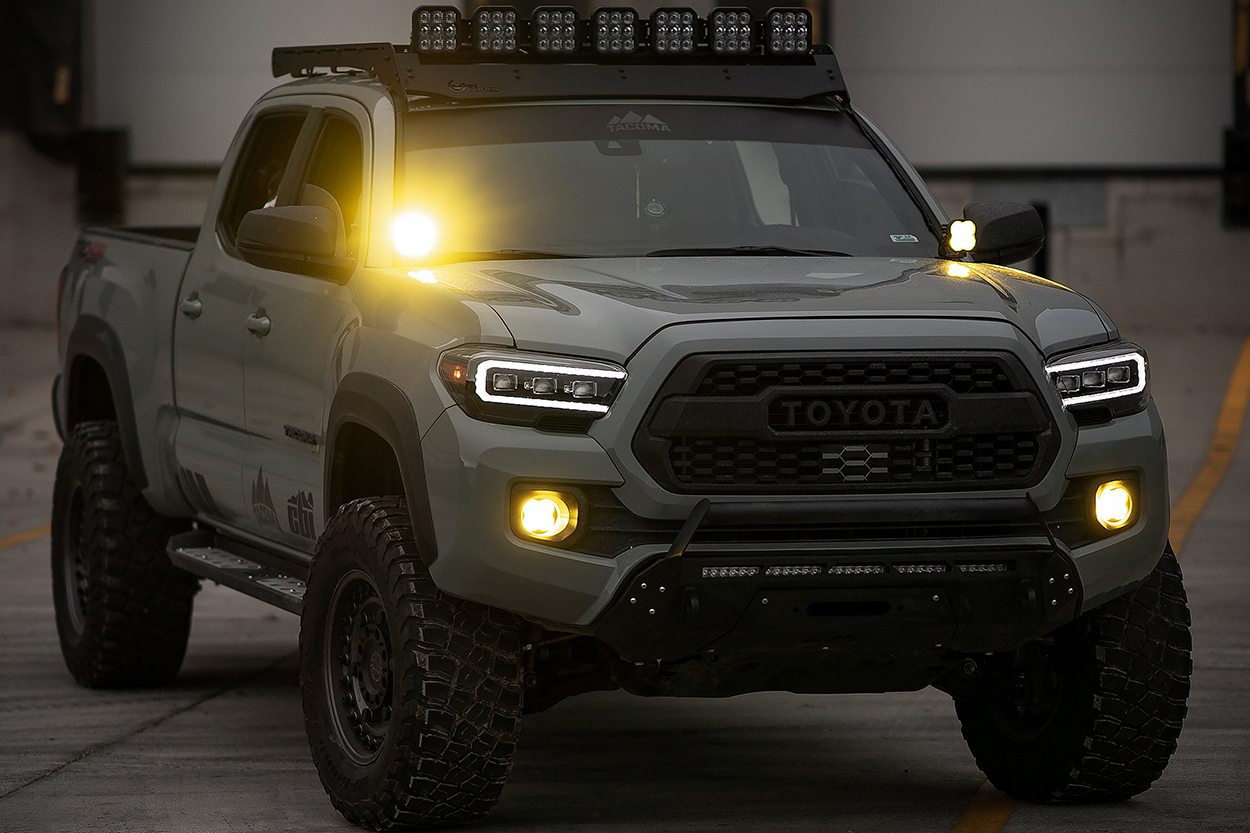 What Are Your Top 5 Mods?
Prinsu Cab Rack & Shield Plate
Tacoma Lifestyle Tactical Sun Visor MOLLE Panel
Diode SS5 CrossLink 7-Pod LED Light Bar
Tacoma Lifestyle Carbon Fiber Mirror Caps
Tacoma Lifestyle Tactical MOLLE Seat Back Panel
What Do You Like Most About Your Tacoma?
My favorite part of the truck would definitely be the long bed. Even though the short-bed Tacoma seems to be the more popular option, I couldn't be happier. When out on the trails, I tend to pack a lot of gear, and having the long bed gives me the space to keep things in the bed and have plenty of room inside the cab. This setup is perfect and lets my dog look out the window while we head to our destination.
Final Thoughts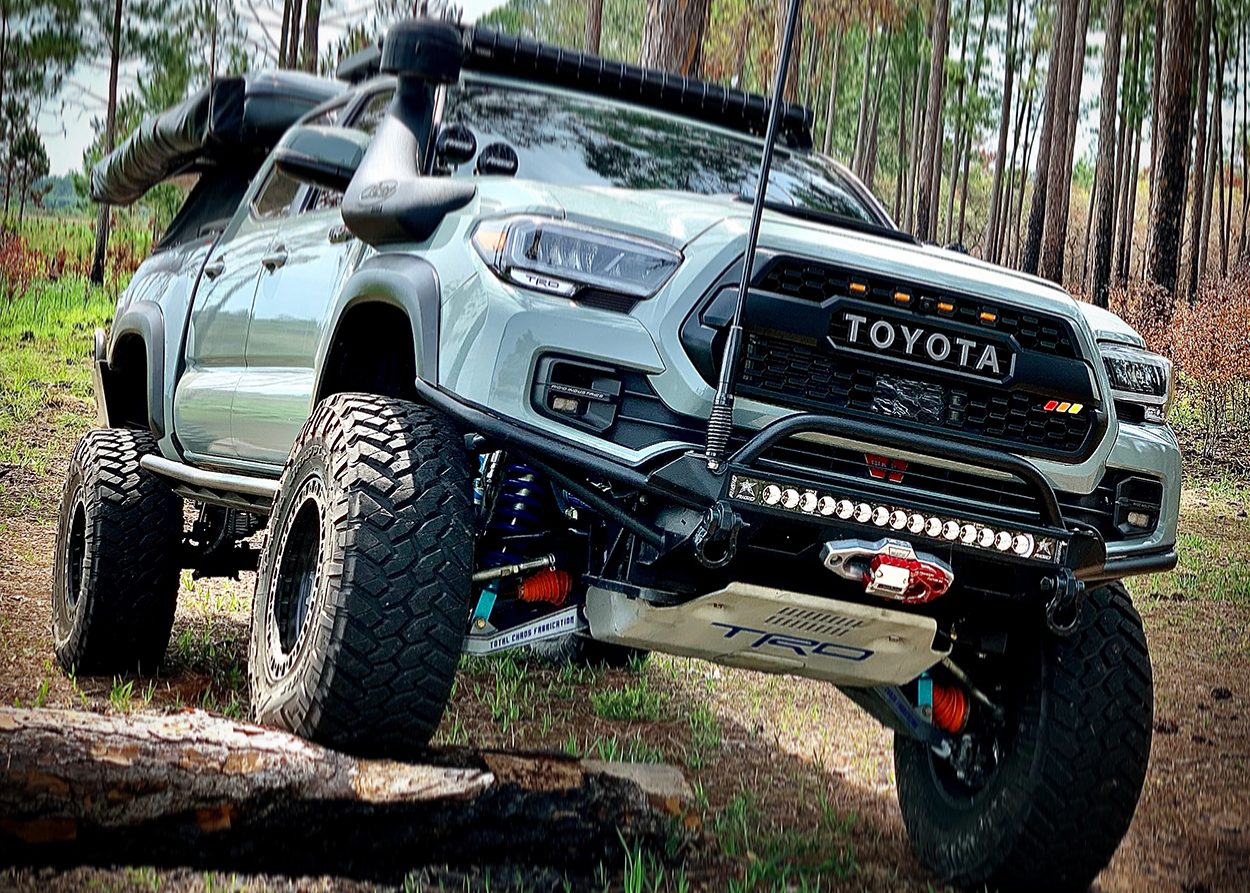 Lunar Rock is by far, one of my favorite colors for the 3rd Gen Tacoma. I would love to own a Toyota truck, 4Runner, or shoot, even a RAV4 in Lunar Rock one day. The color is just so awesome and changes so much depending on the surrounding environment! I have to say though, the Tacoma wears it really well!
If you want to be featured for Taco Tuesday, submit your build through TrailTacoma.com/Feature. Next week's Taco Tuesday will be featuring Tacomas With Viper Cuts. We're looking for sweet rides to showcase! If this is you and you love your setup, send in your details because we want to see it.
Thanks for reading guys. I'll see you next week!