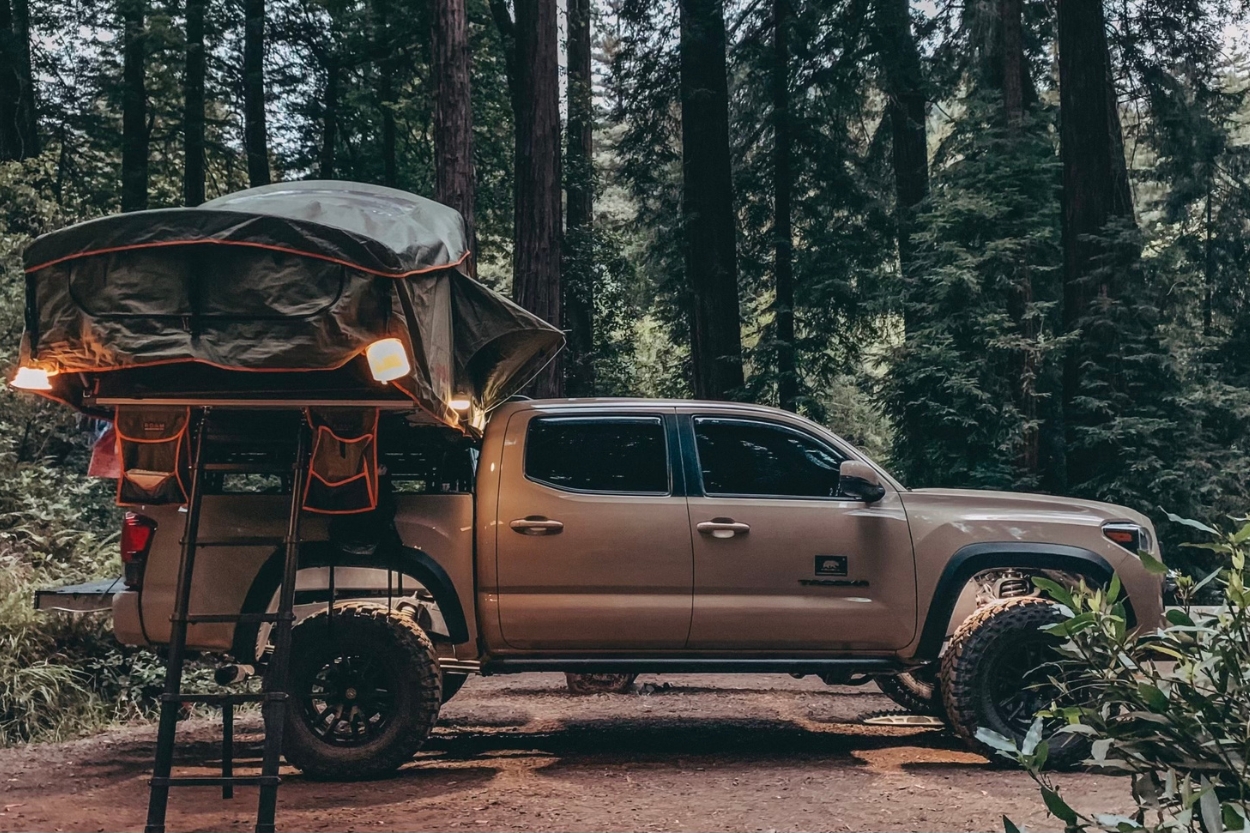 We Asked 8 Toyota Tacoma Owners Why They Chose To Buy A Softshell Rooftop Tent (RTT) & What They Like Most – Here's What They Said!
This Week's Topic: Softshell Rooftop Tent
Welcome back to another Taco Tuesday! If you missed last week's TT, we looked at the top interior mods for the 3rd Gen Tacoma.
This week, we are getting into the camping vibe with some popular softshell rooftop tent options for your overland build.
Softshell rooftop tents (RTTs) are very popular among Tacoma owners. They're more popular than a hardshell RTT due to their compact size when stored away and spacious interior when fully deployed.
The Tacoma's bed is small, to say the least. Additionally, the majority of Tacoma owners elect for a double cab short bed configuration, which only has a 5-foot bed. Many of the hardshell RTTs are well over 6′ long, meaning they would extend past your tailgate by at least a foot.
A softshell RTT is nice and compact when folded up, which allows it to stay within the dimensions of the Tacoma's bed. Additionally, depending on the tent, you get a huge interior space once deployed – significantly more than a hardshell RTT.
Now, let's see what the owners below like about their softshell RTTs!
Enjoy guys!
Top Tents Featured
Softshell Rooftop Tent Setups
1. Joey Mercado (@joe.y88) – ROAM Adventure Co.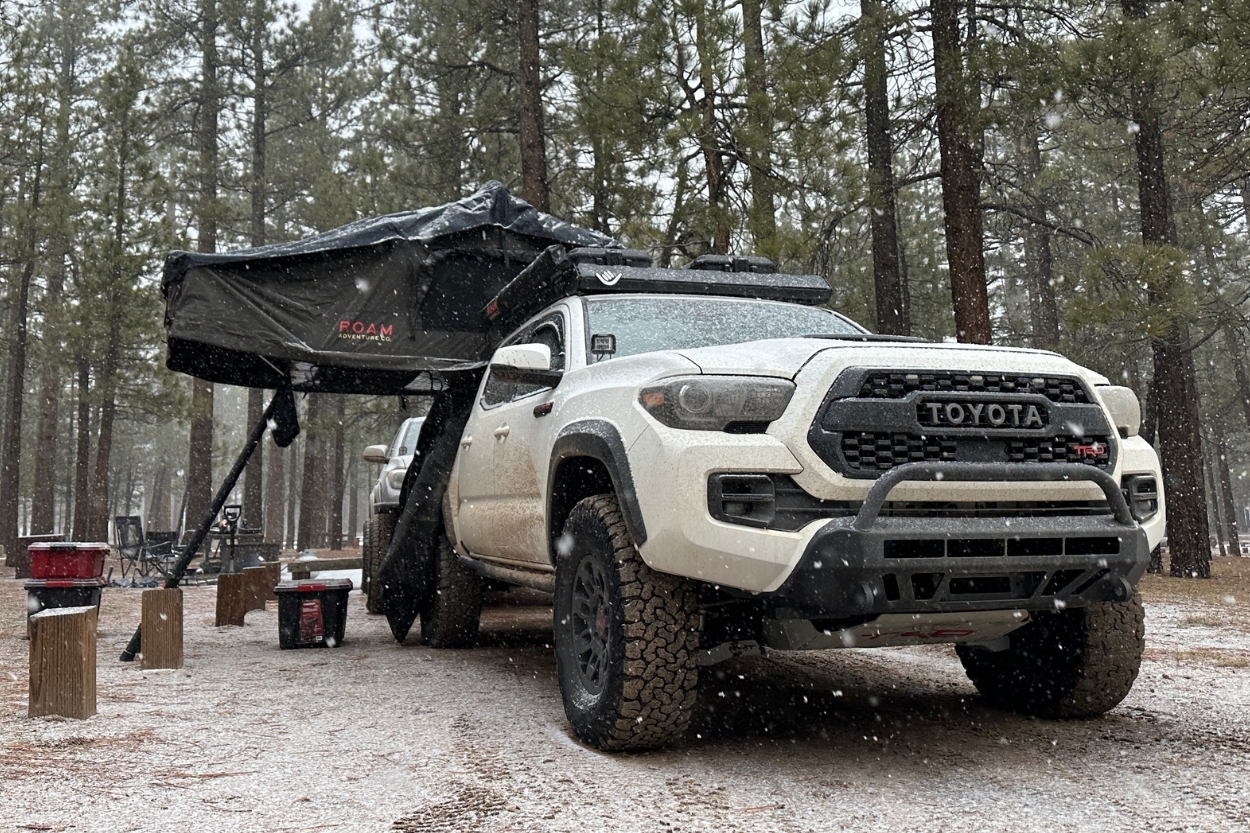 RTT Details
Model: Vagabond RTT w/ Annex
Price: $2400
What Do You Like About Your Rooftop Tent?
What I like most about the ROAM Vagabond RTT is the ability to set up camp within minutes, practically anywhere I want.
The windows on each side and two skylights give you surrounding views of the landscape. The rip-stop material is very durable, withstands very strong winds without a worry, and keeps the morning light out so you can comfortably sleep in.
Roam tents are also known to have the thickest (and possibly most comfortable) memory foam mattresses on the market. Despite not upgrading to the insulated walls, I've managed to sleep fine in as low as 26-degree weather. This RTT has seen all elements and terrains over the past couple of years and has performed flawlessly!
If you're looking for an "affordable" RTT that's going to withstand the elements and be reliable without breaking the bank, this is the best bang for your buck!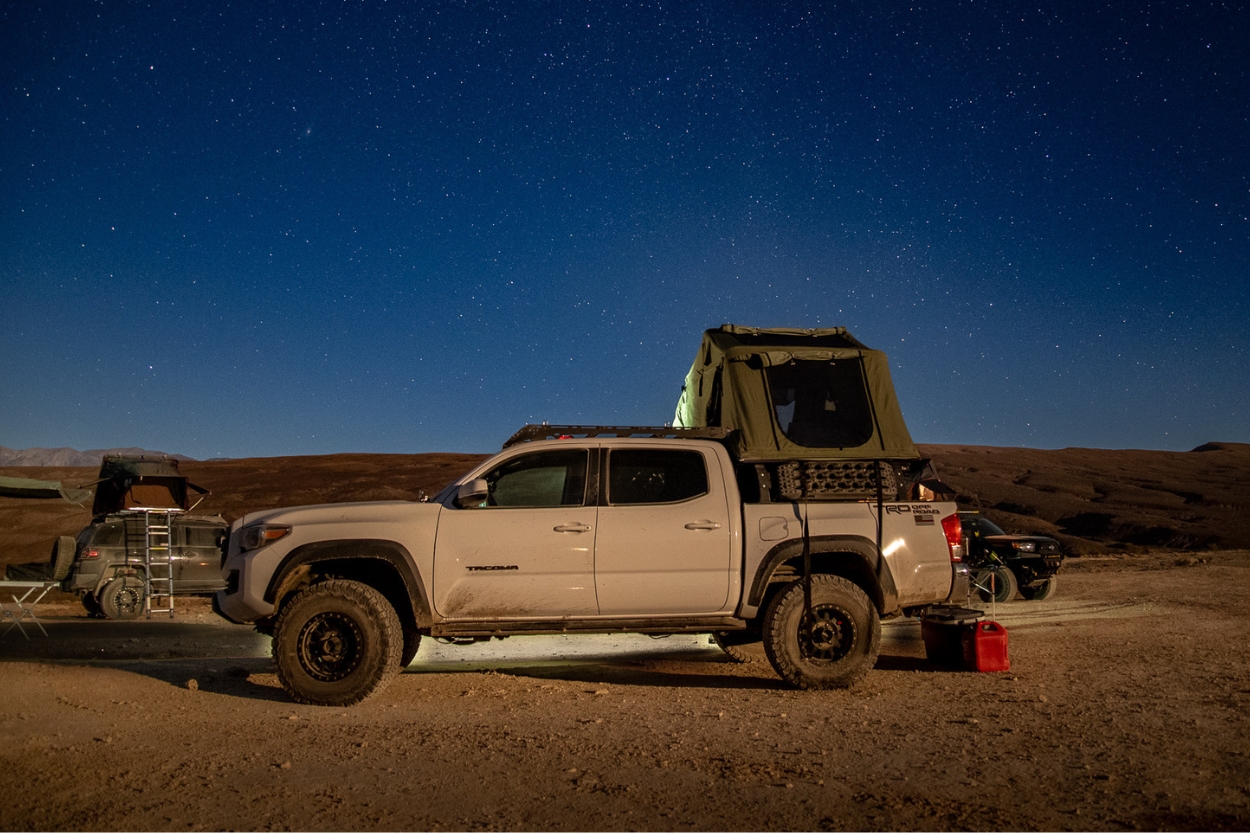 RTT Details
Model: Tepui Explorer Kukenam 3
Price: $1300
What Do You Like About Your Rooftop Tent?
I like how spacious the inside of the tent is as it is both tall and wide. I am 6 feet tall and can easily fit and move around in this tent. It could easily sleep 3 people.
I have the insulated liner in mine to sleep comfortably in cold weather conditions (I highly recommend getting this if you camp in the cold). This tent comes with everything you need: a rain cover, windows all around, and a comfortable sleeping pad.
3. Roberto Sanchez (@lunr_landr) – Tuff Stuff Overland
RTT Details
Model: Trail Head
Price: $1000
What Do You Like About Your Rooftop Tent?
The Trail Head is a great value and hasn't let me down in terms of comfort or shelter. It is a 3-season tent so it fits my needs perfectly as I don't typically winter camp. Being able to open all the windows is great for letting in a cool breeze and having great views. The roof window also lets in some extra light.
Overall, I'm very pleased with this tent and look forward to many more adventures in the Trail Head RTT.
4. Matin Raisa (@wavemachinetacoma) – Cascadia Vehicle Tents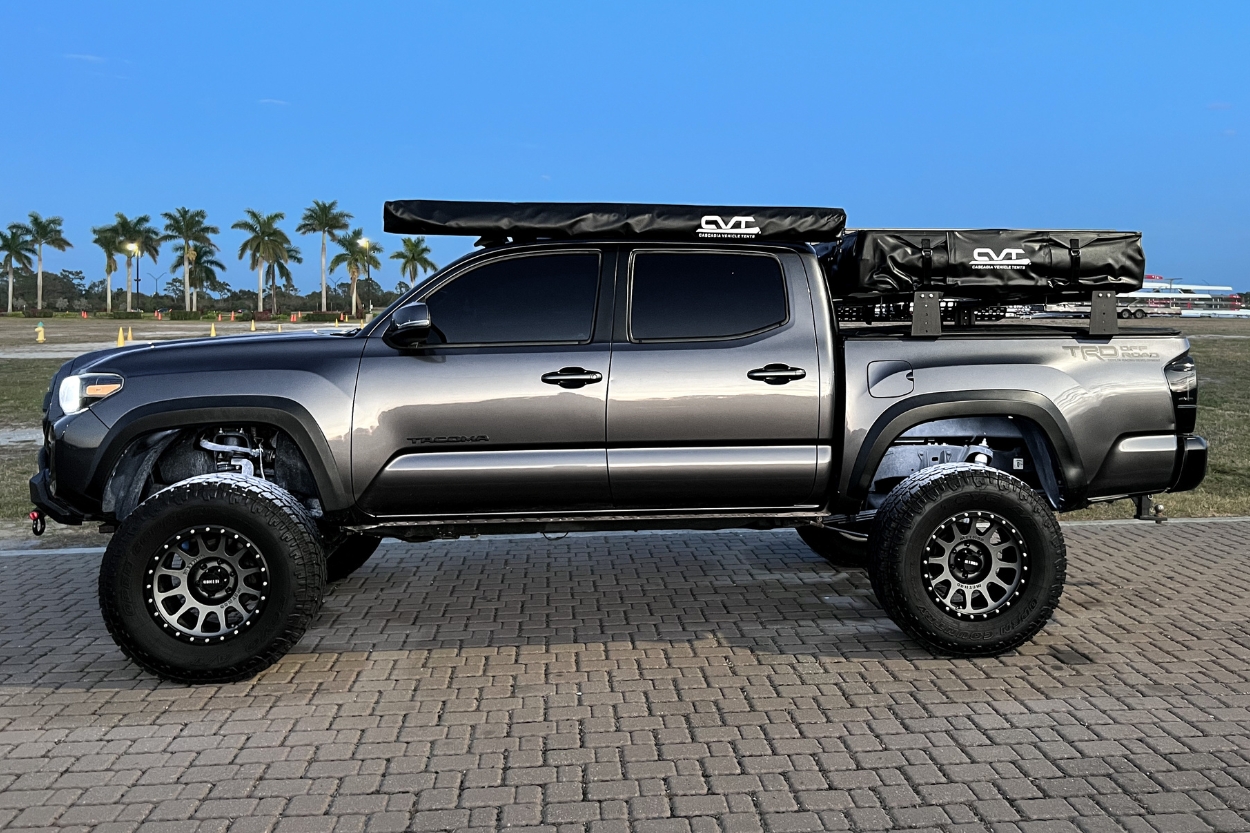 RTT Details
Model: Expedition Tent Series – Shasta w/ Extended Fly
Price: $2400
What Do You Like About Your Rooftop Tent?
Ever since I was young, I have always wanted to explore the world. I loved the idea of going on new adventures and discovering new things. That's why I bought my rooftop tent. It was the next step to be able to go out and travel the country; my goal is to travel to all 50 states.
What I love about my rooftop tent is how it allows my Tacoma to be a little house on wheels. It is super easy and quick to set up when compared to a regular tent. You also don't have to worry about predators or dew from the ground seeping into your tent. It is all around a more comfortable way to camp.
I really love the three-inch memory foam mattress that folds up with the tent. It is almost as comfortable as my bed at home. This makes camping so much more enjoyable because I don't have to wake up to my whole body aching.
I also enjoy that the tent has skylights. This was one of the features that really sold me on this rooftop tent because I can watch the stars as I fall asleep. How cool is that?
Finally, the rooftop tent looks so sleek on the back of my Tacoma and awesome when it's set up at the campsite. I'm sure everyone has stepped back from their truck after setting up camp and said "Wow, that is one sick setup!" That being said, if you don't already have a rooftop tent, what are you waiting for? Unlock that desire for adventure!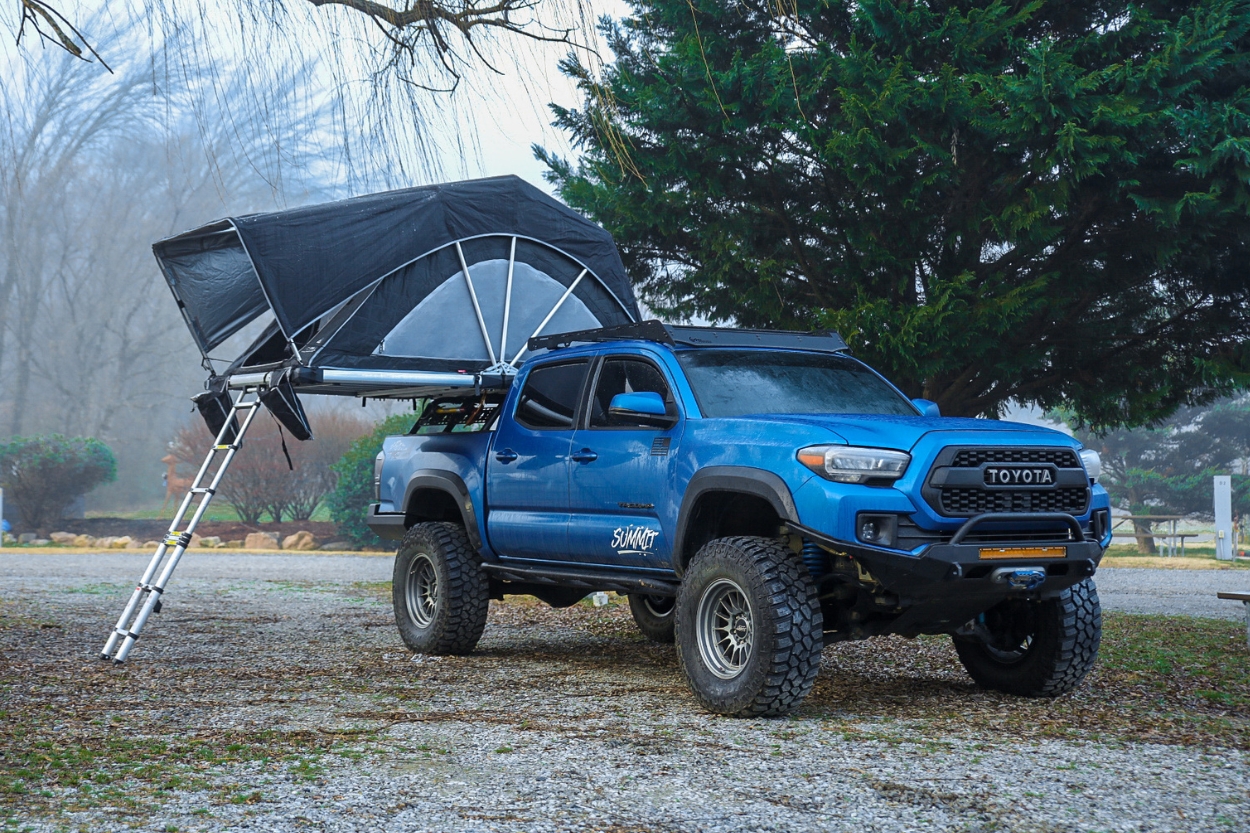 RTT Details
Model: High Country Series 63" Premium Tri-Layer
Price: $3200
What Do You Like About Your Rooftop Tent?
Honestly, I love everything about the tent. What really sold me on FSR over every other brand was the tri-layer option being built-in. I'm a year-round outdoorsman, so that was definitely a must-have. I've camped with it while the temperature dropped into the low teens and had no need for any kind of heater (my wife might say otherwise). Paired with a good sleeping bag, you'll have no problems.
I love that it has multiple window openings with screens and a skylight. It even has built-in lights that can be powered by a small USB charger. Another major selling point for me was the size. At 63" long, it sits flush with the end of the 3rd Gen Tacoma's bed when closed. Don't let that fool you though; I can comfortably fit myself, my wife, and my three large 80+ lb. German Shepherds in there. I honestly can't say enough great things about this tent.
6. Nick Salsbury (@quicksendtaco) – ROAM Adventure Co.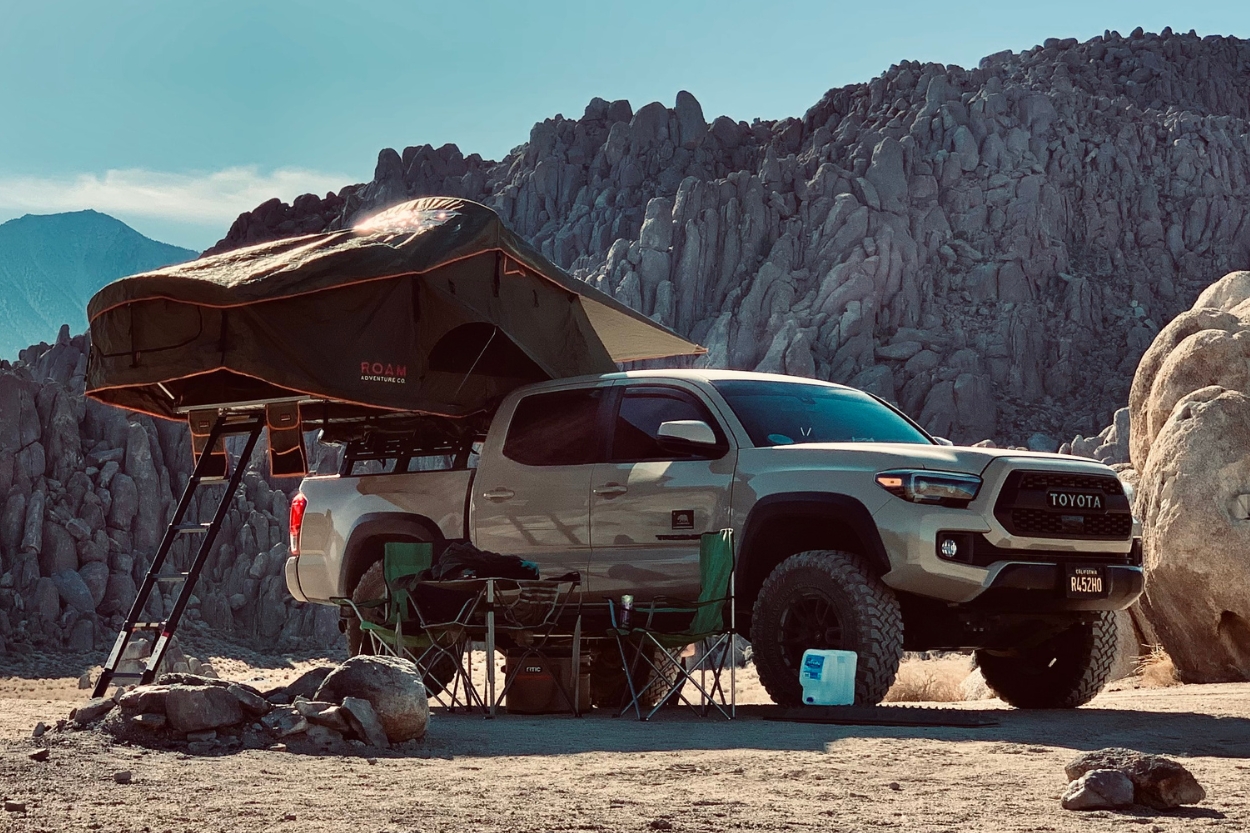 RTT Details
Model: Vagabond RTT (Standard)
Price: $2250
What Do You Like About Your Rooftop Tent?
When ROAM first started out, I had heard about them through YouTube. Coming from a Tepui RTT, I knew what I did and didn't like, and ROAM seemed to check the boxes.
I love the footprint of the Vagabond when opened up. It's over 8 feet long, which gives plenty of room to move around inside. I am more of a fan of the softshell RTT look and if I had to replace this one, it would likely be with another ROAM RTT softshell tent.
I also like to keep the color pallet of my truck build uniform. So, given that the truck is quicksand, I like my accessories to be colors such as tans, black, greens, and oranges, which the Vagabond RTT does.
7. Soichiro Yamashita (@yota_soutaco99) – Adventure Kings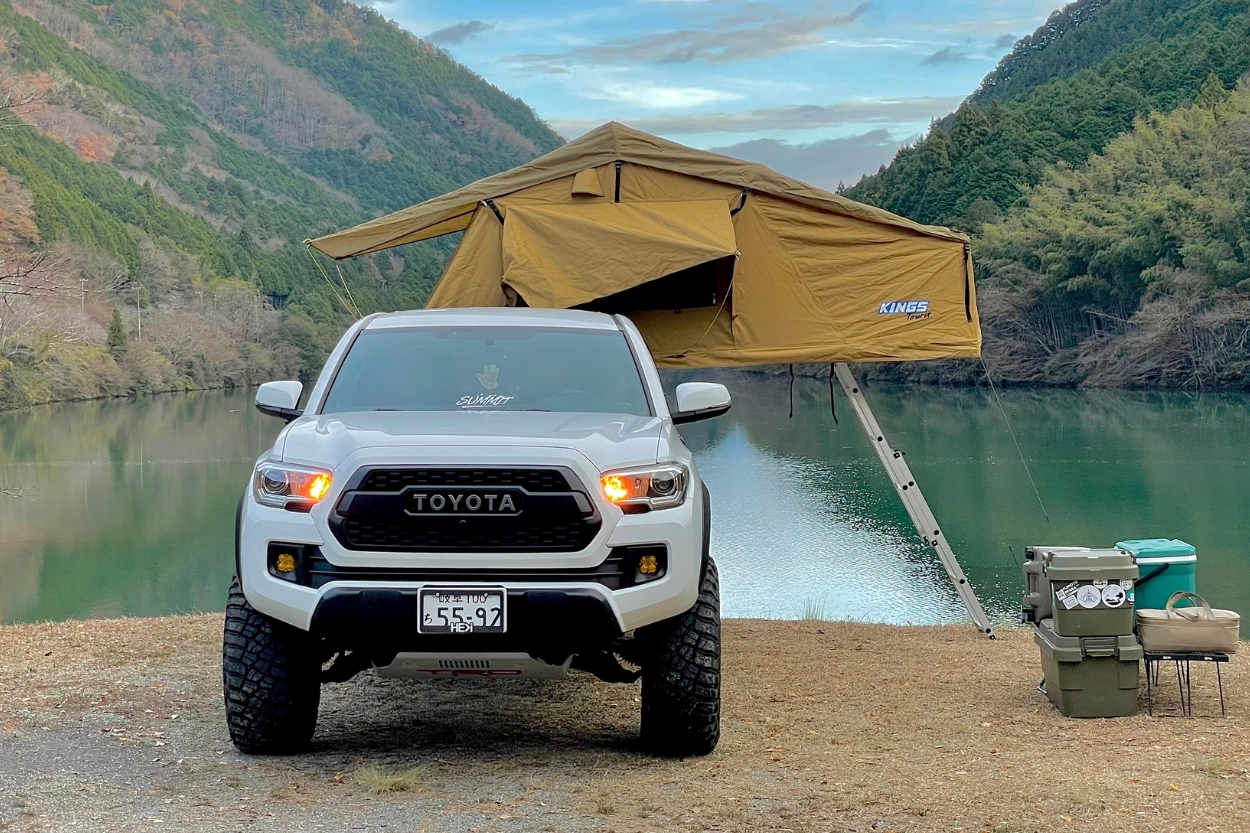 RTT Details
Model: Adventure Kings Rooftop Tent
Price: $870
What Do You Like About Your Rooftop Tent?
I like this RTT because of everything it has to offer and especially the way it looks. The color is great and the overall design of the RTT is very functional. In five to ten minutes, you can have it set up and sleep anywhere.
8. Dominic Brown (@oscartrdgrouch) – Thule / Tepui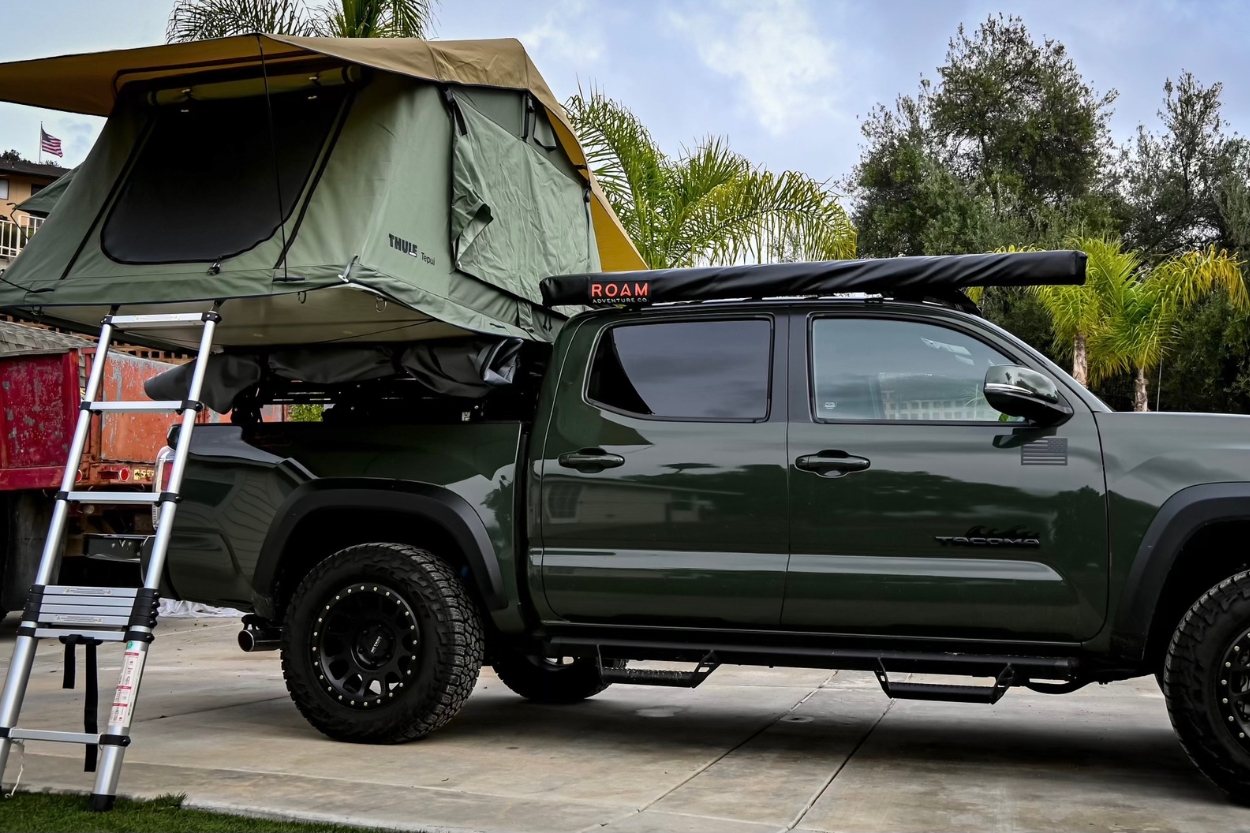 RTT Details
Model: Tepui Explorer Kukenam 3
Price: $1300
What Do You Like About Your Rooftop Tent?
First and foremost, you can never go wrong with Thule. Having a tent that is affordable, high quality, and able to withstand the outdoor elements is always a priority and Thule is up there in outdoor capability.
The RTT not only came fast and without any damage, but was also mostly assembled aside from the rails and anchors. This tent is universal and aside from my Tacoma, is also able to mount to any roof or bed rack.
This tent is perfect for one or two people but can sleep up to 3 people. Thule has a variety of add-on items to attach to the tent for an efficient camp set up including a changing room annex, a foldable tray, a boot holder, a condensation mat, and many other items.
At just over 130 lbs., the tent is easy to store in the off-season and attach to a bed rack when needed. With the mid-size bed rack, visibility out the back window is really great even with the tent mounted.
Final Thoughts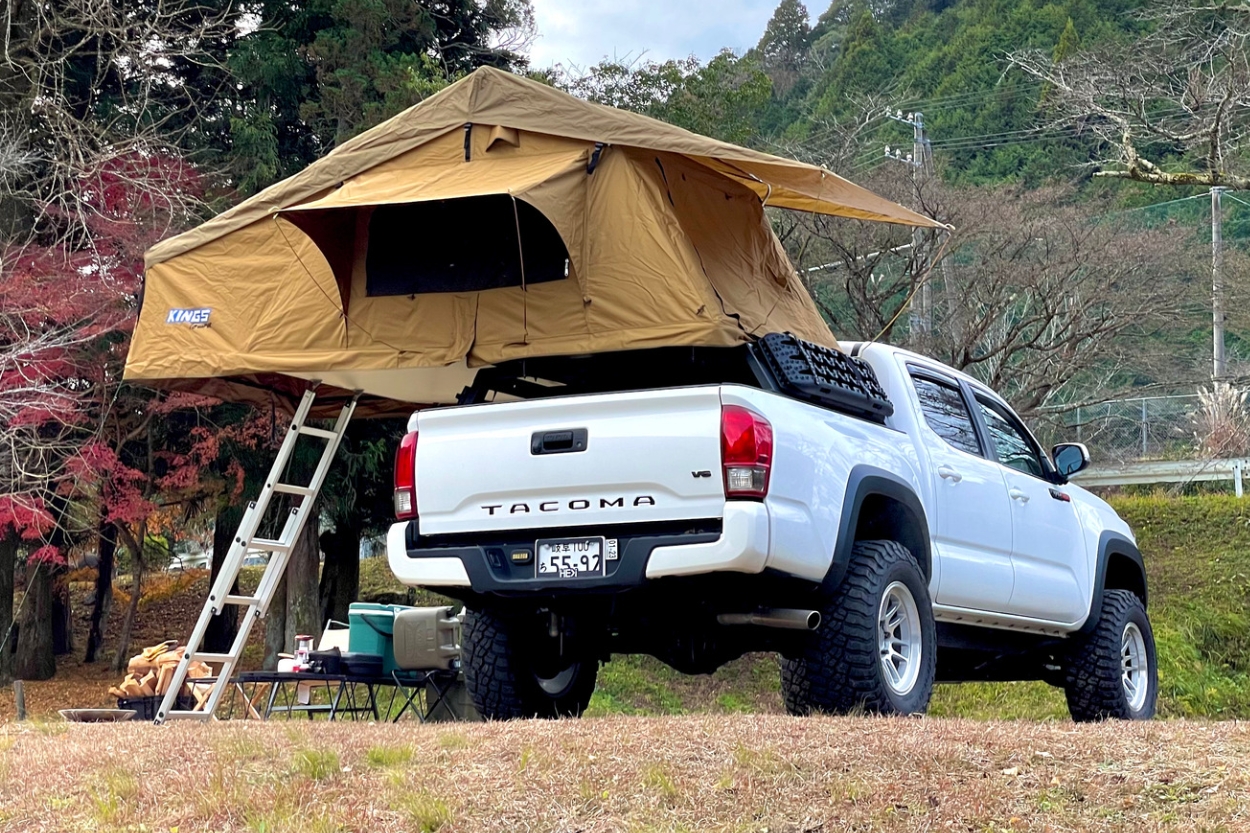 What a great way to kick off Taco Tuesday for 2023! If you are looking forward to camping this year, let us know down in the comments where you plan on traveling and also what your camping setup looks like! Have a great rest of your week everyone!
If you want to be featured for Taco Tuesday, submit your build through TrailTacoma.com/Feature. Next week's Taco Tuesday will be featuring Cavalry Blue Tacomas. We're looking for sweet rides to showcase! If this is you and you love your setup, send in your details because we want to see it.
Thanks for reading guys. I'll see you next week!