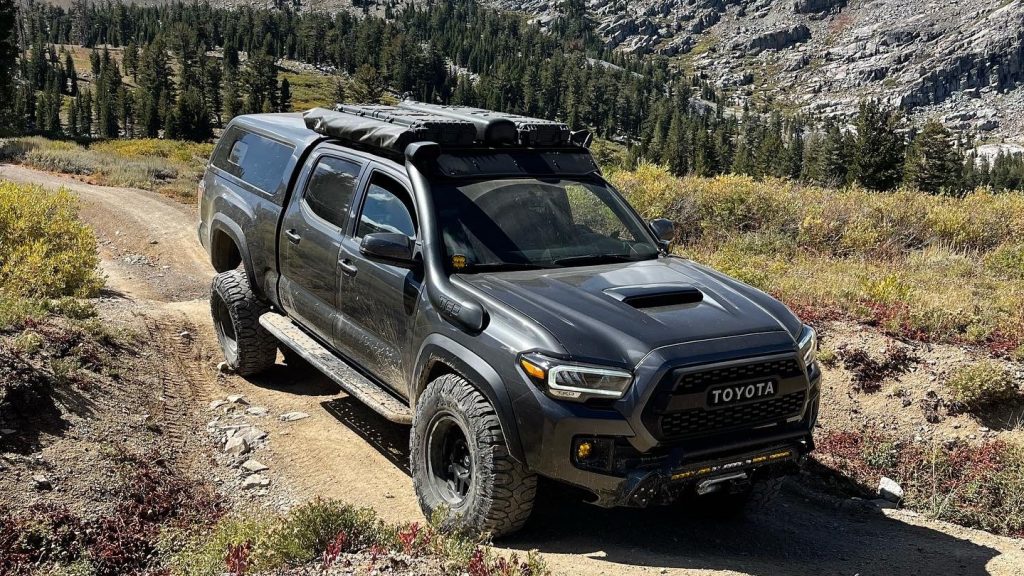 ARE CX Revo Fiberglass Truck Cap for 3rd Gen Tacoma: Everything You Need to Know Before Buying – Long Term Review & Overview
If you've done any amount of research on fiberglass camper shells (aka truck toppers/truck caps), then you're probably aware of the cost and know that they aren't exactly cheap.
The world of camper shells is a never-ending void of options, models, and brands. This can lead us in many ways while we shop, so it's best to do some research on the features you want in a camper shell.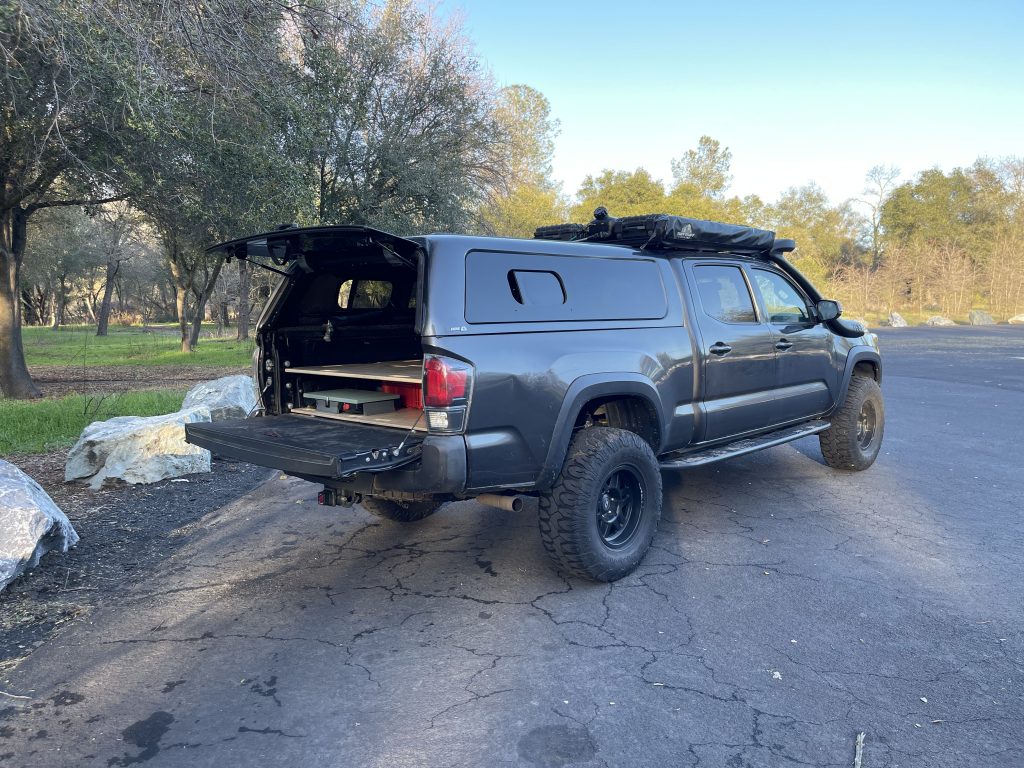 I decided to move away from a rooftop tent and build out a sleeping platform inside of a camper shell. With that being said, some of the features I wanted in a camper shell included small sliding windows for airflow. The camper shell needed to be lockable and closed from the inside. Also, we were looking for an option with an electric lock for easy one-button locking.
From there, I needed to find what brands met these requirements and call around to see what companies had shells in stock in the same color as my truck.
I was able to get an ARE CX Revo pre-painted with installation. I opted to do the wiring myself for many reasons. Some key perks I was looking forward to over a bed rack and rooftop tent were the ability to lock everything inside while parked, keeping everything out of the dust and rain, and sleeping in a secure box instead of a fabric tent.
Find It Online
Options + Specifications
Price Range
The starting price listed on the company website is $3250. Talking to local dealers in the area, you can usually find a deal lower than that. However, the starting price does not include very many options.
The features available in a camper shell are where all the customization really comes from. ARE offers a ton of standard features that other companies may not offer. There are even some additional features that are items not available by other companies.
Regardless of the make or model, it is best to visit a local dealer to see if you can test them out in person before buying.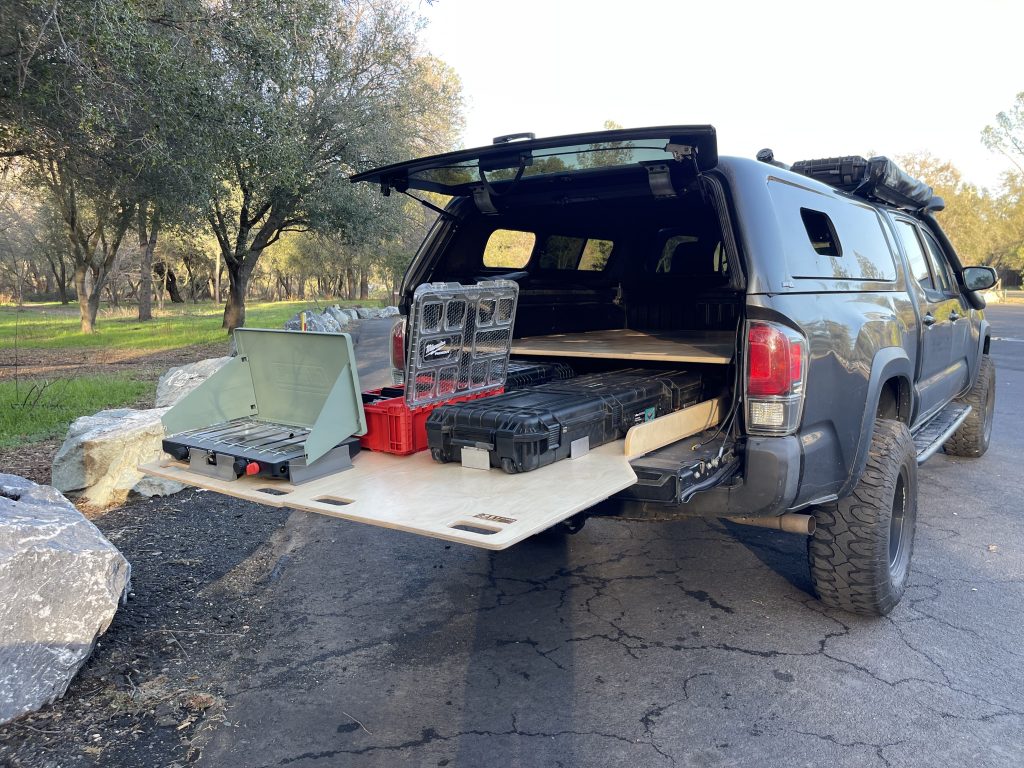 Standard Features
The CX Revo comes with a few standard features:
Paint-to-match
Frameless all glass side windows
Frameless tailgate formed rear door with OneMotion™ handle
Dark gray headliner
12V LED dome light with ActiveTilt™
Optional Features
The optional features are where things get a little more fun. We can really make the shell our own and make it fit our needs. Sadly, these features' prices are not openly listed, and you must contact a dealer for pricing.
OTR (exterior black coating)
Frameless sliding side glass
Frameless sliding side glass w/ screen
Frameless sliding side glass w/ pet screen
Frameless sliding side glass w/ pet screen & screen
Frameless front window
Aluminum framed front window w/ tilt-down/picture
Aluminum framed front window w/ tilt-down/sliding
Rear frameless tailgate formed with keyless entry
12v LED dome light
12v LED dome light w/ center rope light
12v LED dome light w/ active tilt & center
12v LED dome light w/ dual rope lights
12v LED dome light w/ active tilt & dual rope
Curious about my bed setup? I'm running a BamBeds sleeping platform (read the install/review post here) and the new BamBeds bed sliders.
My Build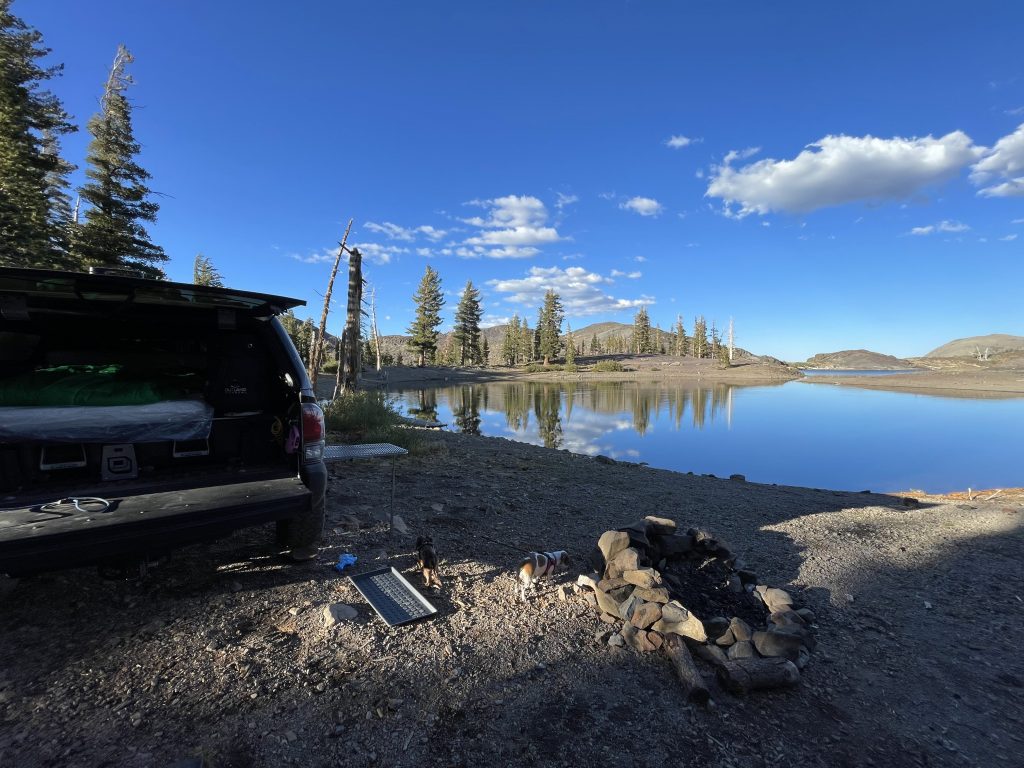 Looking over the standard and optional features and comparing them to the shell I got, there are a few things I wish I were able to get.
I got all the base features with paint to match my truck. My side windows came with the frameless sliding option but not the screen, which I would have liked. I contacted a dealer to get the roll-out mesh screen (when you open the window, the mesh rolls out). This is a very cool feature but also close to $100 per window. To save money, I opted to build a mesh screen myself.
Furthermore, my camper shell came with the front aluminum framed tilt-down slider. The slider feature is what I wanted, but the tilt-down feature is not something I have seen before, nor do I see any real use for it. This feature would be awesome with a Tundra where the rear window completely goes down.
My shell also came with the 12V dome light with active tilt. This is a magnetic switch that turns on your dome light when the rear hatch is open. I will write an article in the future on my wiring solutions for the camper shell. The dome light does a good job, but the back of the camper shell is still a bit dark. I will be looking to do some upgrades in the future.
I also have the rear frameless tailgate-formed glass with keyless entry. This is an actuator that can be installed behind the glass handle, and when wired in, will allow you to lock the glass of the camper shell with the truck. This was a big key feature that I was looking for, and I will also be writing an article on how I plan to wire this all up without cutting into the factory harness.
Stand Out Features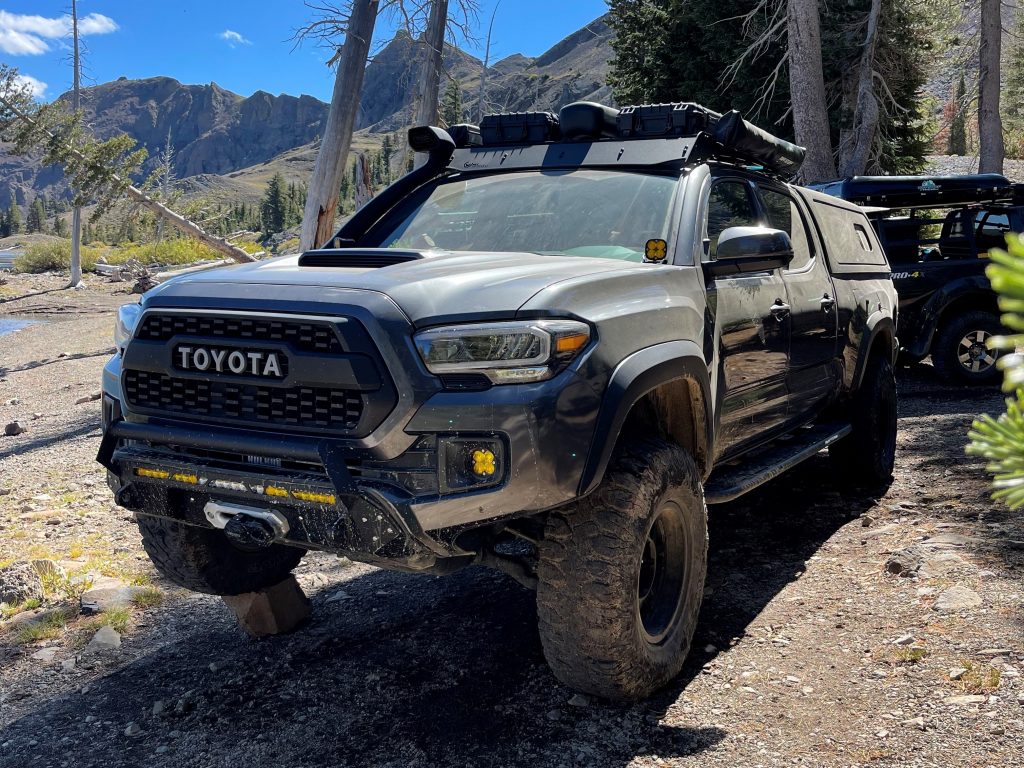 There are a few things about this camper shell that I wanted to highlight. Things that are cool, different, or that I just wasn't excepting.
First, the camper shell weight. Typically fiberglass and glass are pretty heavy. However, this setup, compared to the steel bed rack and rooftop tent ended up being around 150lbs lighter. Also, the improved aerodynamics of the truck meant that I started to use sixth gear a little more often on the freeway.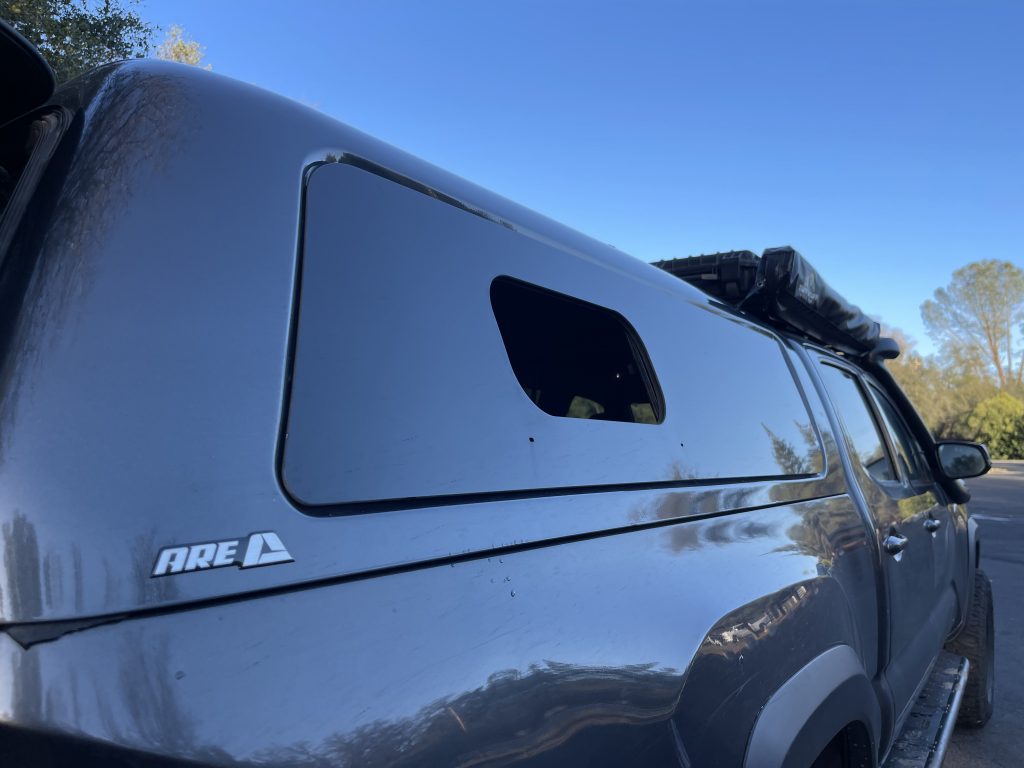 Next are the rear glass hinges. These hinges are nothing like I have ever seen before, with a large piece of aluminum sliding into a case as a hinge. This is something people comment often about. While talking about the back glass, there is an option to add an actuator to lock the back glass when you lock the truck. The trace for this actuator is built into the glass! This means you don't have any wires running along your glass or ones you have to hide.
Finally, the overall look of the shell. The shell ends up adding a lot of real estate to the truck. I have seen Tacomas with shells before, but I did not think I would like it as much on my truck. Once it was finally put on, it completely changed my mind, and I immediately said, "now I need larger tires to tie it all together."
Final Thoughts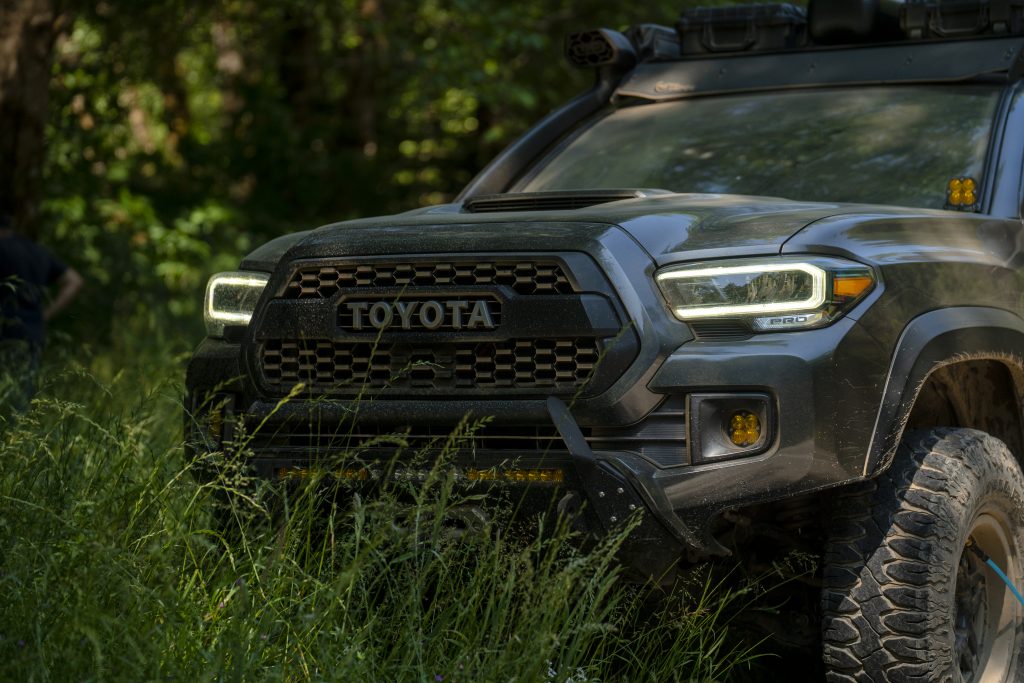 The ARE CX Revo camper shell, for me, was a long-term move. The rooftop tent thing worked out well, but it was heavy, made the truck stick out, and had a lot of steps for setup and take down. With the camper shell, I blend into the crowd a little bit more, am saving a couple of hundred pounds, and don't need to set up anything.
I am able to roll into camp, open the back and crawl straight into bed. Surprisingly, this camper shell is also coming in way under what a rooftop tent and bed rack cost.
In the future, I do plan on adding roof tracks and a Prinsu Roof Rack to the shell. I also want to build a custom kitchen and mattress platform for the back and am sure even more items will also come to mind as the build progresses.  I am always around to answer any questions you may have so feel free to reach out on Instagram!