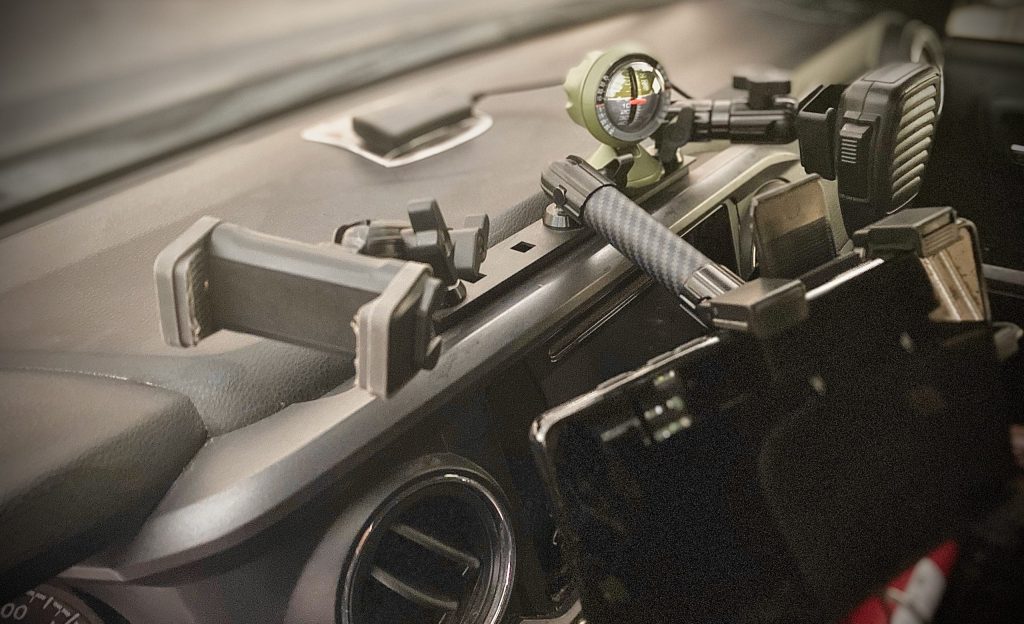 A Great GPS Package Under $250 – How I Built My DIY GPS Setup With A Samsung Tablet & Garmin Glo 2 – Complete Review & Overview
I started this project because my phone just couldn't perform as a reliable overlanding GPS unit while off-roading. Furthermore, products like the Garmin Tread Overland Edition Navigator make great GPS units specifically tailored to overlanding, but these units cost anywhere from $650 to $1400, a price I simply was not willing to commit to. Thus, I created my own overlanding GPS unit with a tablet and a GPS receiver.
With very little technical effort, you also can create your own custom GPS unit to fit your needs, and I'll show you how I did it for under $250. 
While most people my age are technologically literate, if you're like me, trying to figure all of this out may seem harder than buying an expensive unit right? Wrong. On one hand, expensive overlanding GPS modules require a lot of user knowledge in order to take advantage of the many different features.
On the other hand, I felt more comfortable using my phone since I knew how to use it: I had my GPS apps, and I could easily download my maps and routes. However, this all took up a lot of storage on my phone, and I found that the GPS location was not reliable, especially in remote locations, causing a lot of missed turns and wasting a lot of time. Not to mention, it was hard trying to listen to music and get directions on my phone with my overlanding navigation pulled up.
That's why there's no doubt that this DIY unit is the easiest to set up and use for a fraction of the price and hassle of pre-built overlanding GPS systems.
Products Used:
Why Is Good Navigation Important?
Before we get to why accurate navigation is so critical to overlanding, let's go over the basics of overlanding.
Overlanding is described as self-reliant travel to remote destinations where the journey is the principal goal. Typically, but not exclusively, it is accomplished with mechanized off-road-capable transport (from bicycles to trucks) where the principal form of lodging is camping.
Nowadays, overlanding is a growing recreational sport, traveling through the vast wilderness of nearly untouched land. As any experienced overlander knows, bad navigation leads to backtracking, U-turns, and getting lost. On one hand, this can lead you to explore further, but often it ends up causing frustration and delaying your travel. After all, the journey is the point of overlanding.
Overlanders have many needs in a GPS: accuracy, off-grid capability, route planning, etc. Additionally, when planning a route, you have to mark several points of interest (POIs). These will include sleeping arrangements, gas, national and state parks, campsites, and more. The planning process involves estimating the amount of area one can traverse before needing to reach their desired stop. 
Furthermore, if you're anything like me, overlanding often involves much more than just off-road and camping locations. I like to mark historical sites, fishing ponds, nature sites like waterfalls and mountain peaks, and rock climb and hike.
The same programs you use for overlanding route guidance can also bed used to mark and navigate such activities. For example, apps such as Gaia GPS will show you dozens of hiking trails near any given location, with most local, state, and national park trails and sites well mapped.
This can also be useful for recreational off-road parks; whether that be ORV, 4-wheeler, side-by-side, or dirt bike trails. Many off-road parks have online maps created by the park themselves or public recordings of trails which can make a day at the off-road park much easier!
I've done this at my local parks such as Carolina Adventure Worlds and Gulches here in SC. I've also found tracks for out-of-state trails such as Bundy Hill in Michigan and the Hayfield and McCoy trails in West Virginia. Furthermore, these digital maps also provide helpful information such as road/trail closures, trail difficulties, accidents, and so forth. 
Choosing A Tablet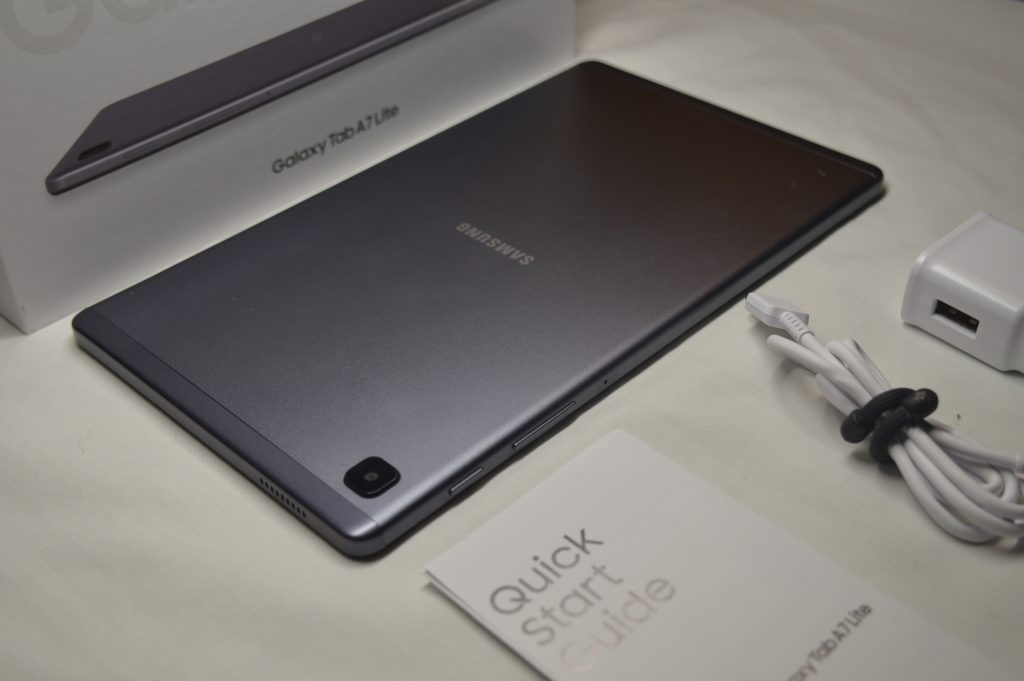 The main item necessary for this build is a tablet of your choice. When looking for a tablet I had three main requirements:
Had to be under $100

 

Ample computing power and memory
Have Bluetooth and a built-in GPS module of some sort that would work without an internet connection
After searching for a tablet within these requirements, I chose the Samsung Galaxy A7 Lite (price may be a little higher now). This tablet has a screen size of 8.7 inches, making it easier to see than a phone without taking up to much space in your rig. This tablet also has ample processing capacity and 2-4GB of RAM for loading your GPS programs.
Not only does it come with 32GB of standard storage, but this tablet also allows you to expand the storage with a microSD card up to 1TB. I opted for an additional 256GB MicroSD so I could download all of the maps, as well as download movies and footage while I'm off the grid.
While I got the Wi-Fi-only version, you can spend more to get an LTE model. However, a SIM card or cellular connectivity is not required for this setup. I bought my tablet for $110, a little over my initial budget but a great value.
Note, check the current price above. Another budget-friendly option is to find an "open box" or used listing on eBay.
By no means is this the only option, as you can use pretty much any type of tablet you want. Some other budget options I looked into included tablets from Lenovo and Amazon. I also looked into iPads, but due to the price and lack of expandable storage, I chose to go with an Android tablet.
I have also heard that the GPS module in Apple devices requires either a Wi-Fi or cellular connection to locate via GPS signal, however, I cannot vouch from experience.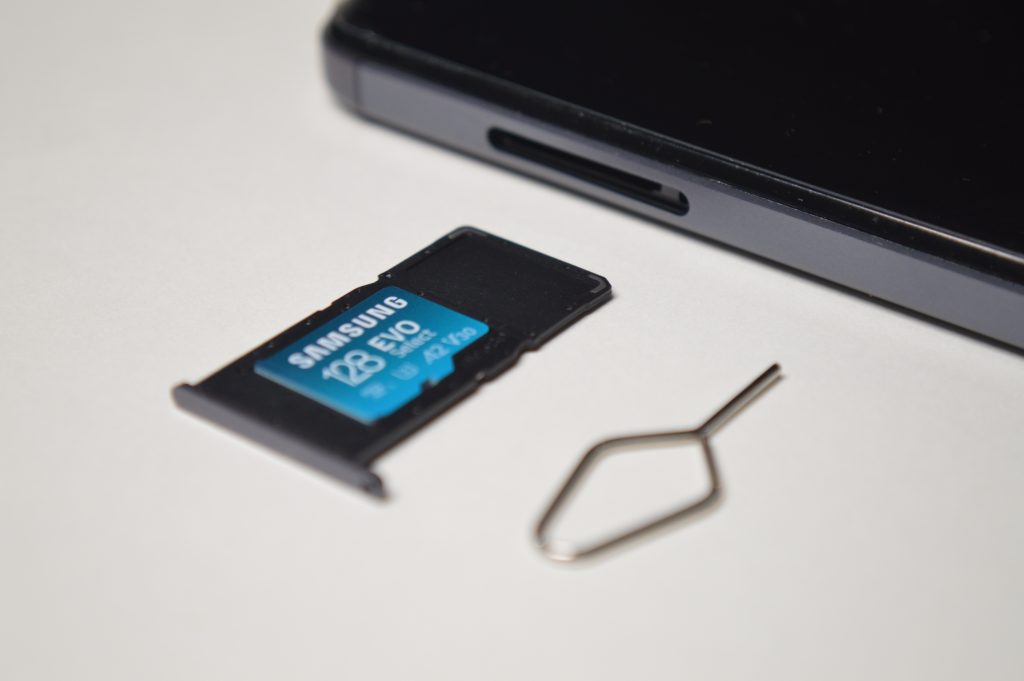 I recommend that you expand the Galaxy A7 Lite's storage with an EVO Select + Adapter microSDXC 128GB – seen above.
Personally, I do not use the A7 as a daily tablet. I recommend that you do not use your overlanding tablet too often outside of your GPS needs. While you certainly can, daily use can use up memory or slow the tablet down. When attempting to navigate via my iPhone, my GPS applications would often crash due to the additional stress of running GPS in parallel with my day-to-day apps.
I also recommend not leaving your device in the vehicle long term. Especially when cars get so hot, leaving your device exposed to extreme heat or cold can cause battery damage and further functionality issues. There's also the theft aspect to consider, especially if you leave your rig parked outside. I also make sure to never under or overcharge the tablet's battery, keeping it between 40-80%. These tips should help prolong your tablet's useable life.
Garmin GLO 2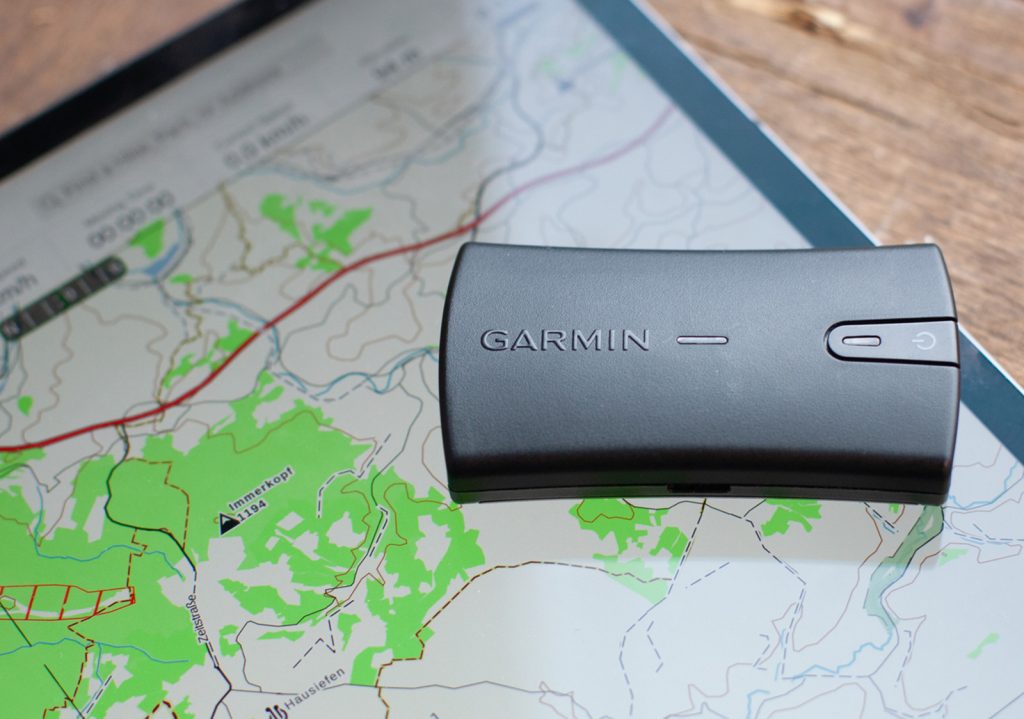 The next item on the list after acquiring a tablet is to get an external GPS receiver. This will drastically improve your GPS location accuracy. Receivers improve location accuracy by providing multiple satellite positioning services.
The US Global Positioning System (GPS) is the service we are all familiar with, but did you know that there are several mapping satellite systems outside of GPS? There is also Russia's Global Navigation Satellite System (GLONASS), China's BeiDou Navigation Satellite System, and the European Union's Galileo.
Receivers access these additional satellites for improved accuracy. The more satellites it can triangulate off of, the better location signal you will receive. Furthermore, receivers maintain stronger, more stable connections to satellites than your mobile device.
When it comes to GPS receivers and mobile devices, there are few choices. The Garmin GLO 2 stands out among others. Garmin has been around recently and has become legendary when it comes to mapping and navigation.
The "GLO" in the name refers to GLONASS because it is able to access both GPS and GLONASS satellites. This device connects via Bluetooth and boasts 13 hours of battery life to ensure a strong location without electricity access.
I opted for the dash mount that provides a no-slip dash grip for the GLO 2. Having the unit directly on the dash ensures that the signal has no obstructions. This allows for the best accuracy, up to within 3 yards. 
What Programs Can I Run?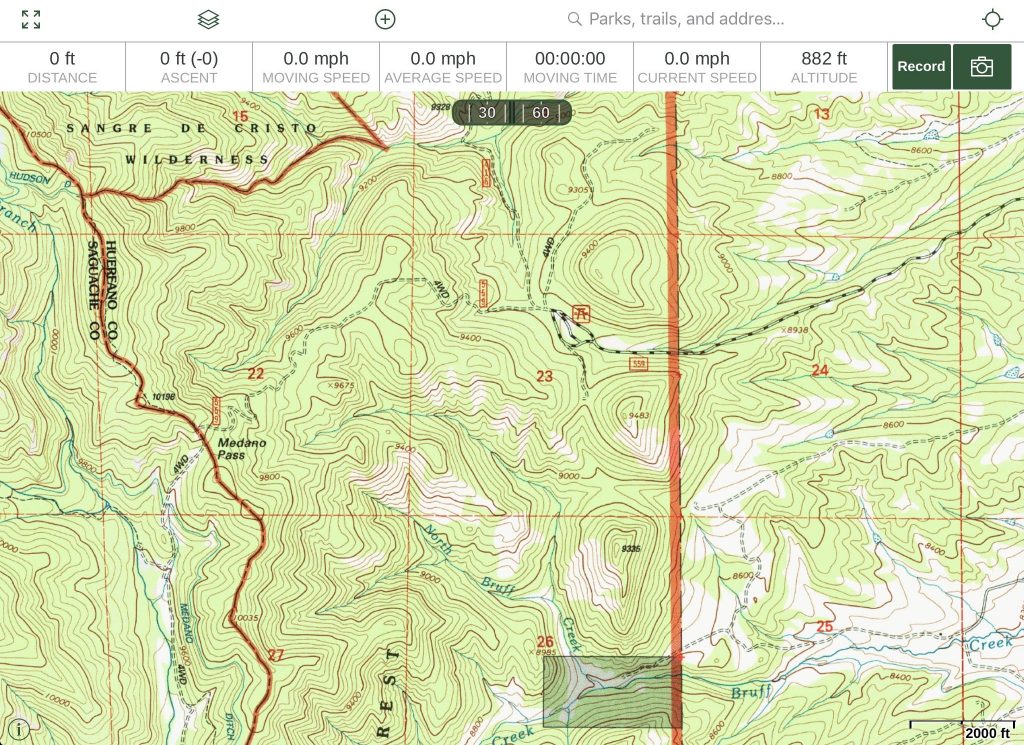 So, you've got a dependable tablet with accurate GPS signals, what now?
I recommend downloading several different GPS applications and programs to see which one you like best. To start out, the apps I see most commonly used are OsmAnd GPS, Backcountry Navigator, AllTrails, and Gaia GPS. These apps are free but come with in-app purchases. Personally, I use all of these apps for different features and trip planning, but I primarily use OsmAnd.
Garmin has several navigation apps that can be used for overlanding such as Garmin Tread or Garmin Explore. While these apps perform amazingly well, they will cost you a subscription plan. Similarly, OnX off-road is another subscription-based navigation platform that has gained popularity in the community.
So how do I download trail routes? Simple. Go online and search for available "GPX" files for trails that you're interested in. Sometimes, these files and trip plans are available for purchase, but often you can find them free. Most GPX files also come loaded with dozens if not hundreds of POIs and alternate routes.
From there, I like to edit the trail to fit my schedule and interests. These apps can be tricky when first starting out, so I recommend trying each out and getting familiar with them. While it may require an in-app purchase, most of these programs will allow you to download maps for offline use.
This is where I find the expandable storage in many Android tablets useful. I bought a 128GB MicroSD card for $16 and have all of the US and Mexico downloaded. This is also nice for downloading movies when I don't have a signal on the trail. Furthermore, apps like Dyrt and Free Roam offer public campsites and boundaries. 
Other Considerations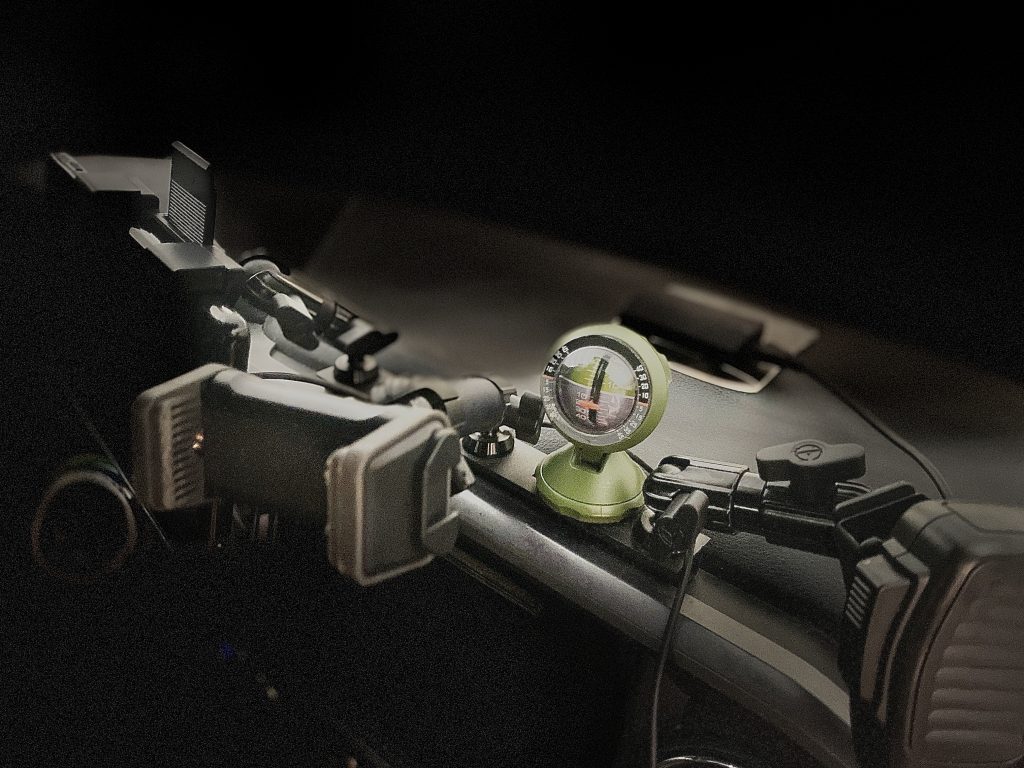 While not necessary to the function of your GPS tablet, here are some optional accessories to add to your setup.
My first recommendation would have to be a dash mount. I have the Taco Bar from Bulletpoint Mounting Solutions seen pictured above. While you can customize your options to fit your needs, I have mine set up with their XL phone holder (a great option if you have a bulky phone case like an Otterbox or LifeProof), their tablet holder with 6" carbon fiber arm, and another adjustable arm for my radio mic.
I also have my Garmin GLO 2 on a nonslip dash mount. Garmin recommends this placement because it allows for optimal satellite signal reception. I can say from experience that a solid mount helped a lot on the trail. Even on harsh bumps, the mount doesn't move and the visibility on the trail is impressive.
You should check your local laws to determine the legality of a mounted GPS tablet. Most states allow GPS assistance, but some limit the device type or location, as GPS devices are covered under distracted-driving laws.
Distracted driving is no joke, and according to the CDC, it takes 8 lives per day. Never use your GPS tablet while driving for anything but GPS assistance. 
While law specifics vary from state to state, it is illegal in every state to hold any electronic device, including a phone, while operating a motor vehicle. Certain mounts may be illegal as well, such as windshield mounts. These are illegal in over half of the states. Often these laws may also include stipulations such as the size of the device mounted.
This affects me when I overland through Georgia, as they have stricter laws on GPS use than my home state of South Carolina. Sites such as gpstracklog.com are great sources when researching specific requirements.
I have listed a few of my favorite mounts below. For more options, be sure to check out the Best Phone Mounts For 3rd Gen Tacoma Buyer's Guide.
Another accessory to consider is a tablet case. If you use your tablet while overlanding for other reasons, it's never a bad idea for a hard protective case. Companies also make cases with features specifically for GPS tablets.
One such brand is GPSlockbox which makes lockable mounts and cases to prevent theft if your car were broken into. I also like its unique features such as a radio mic stand and cooling fans.
Another good option is the RAM mounts fan-cooled case. When running GPS on your tablet for long periods of time, it will inevitably get hot. These fan-cooled cases will prevent heat from building up, and protect your tablet's battery and internals.
Tacoma Dash Mounts To Consider:
Final Thoughts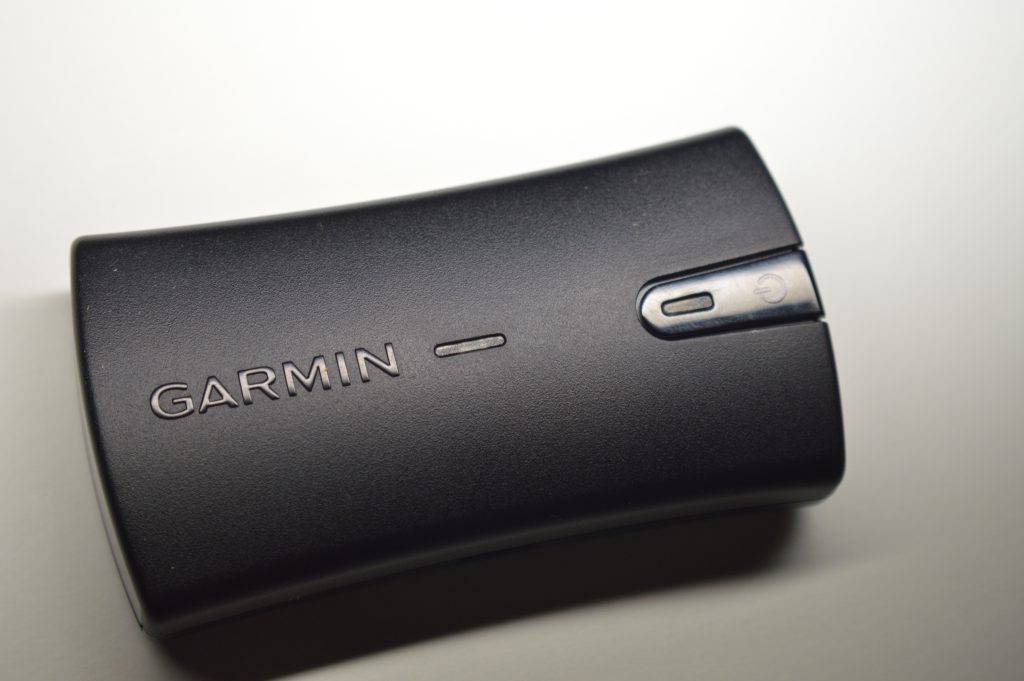 After using this setup for the past few weeks, I am very pleased with the way it has performed thus far. The ability to plan routes on the tablet and directly upload .gpx files has made navigation and trip planning a breeze.
The bigger screen is helpful and I am able to read the titles of POIs and locations easily. The accuracy of the Garmin GLO 2 has surpassed my expectations, leading to fewer missed turns and inaccurate route guidance.
Overall, this tablet GPS setup performs just as well as many purpose-built overlanding GPS units and is a great option for anyone looking for a great budget navigation system.