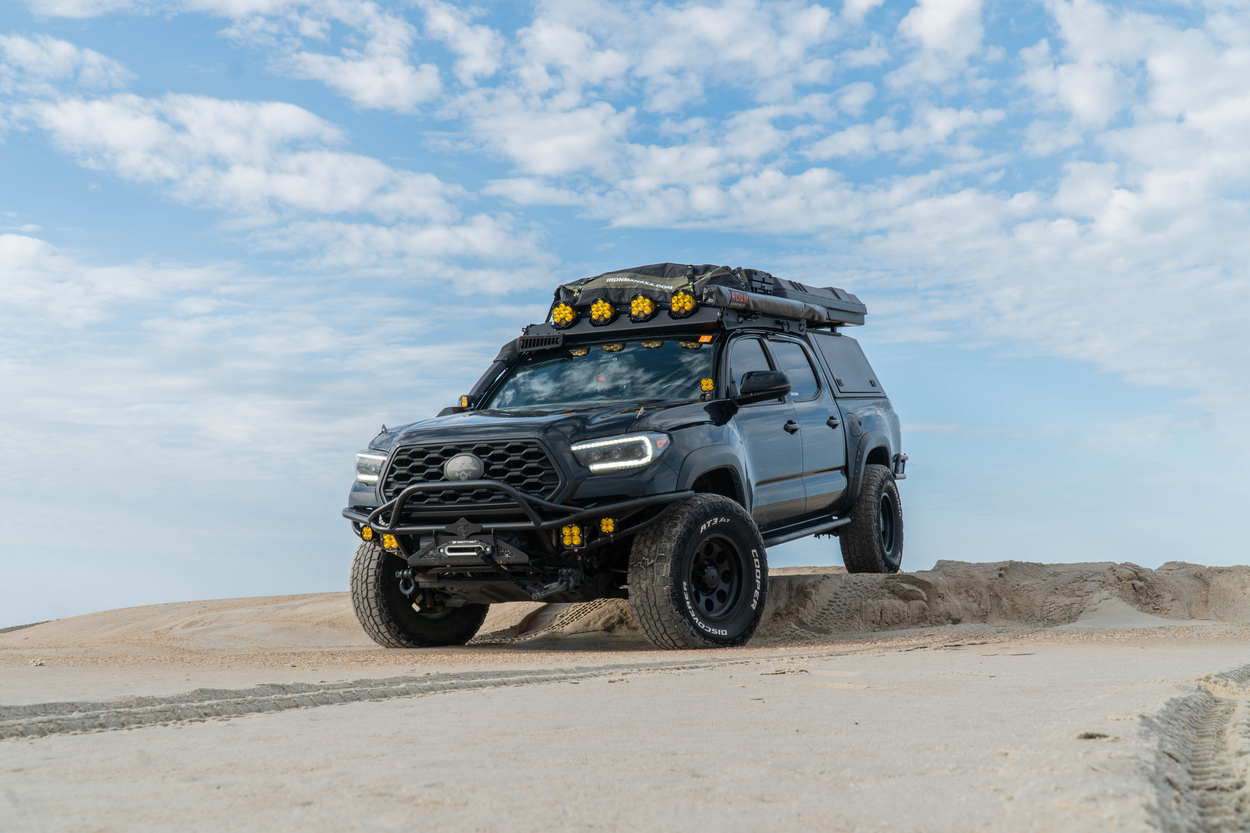 14 Different Winch & Front Bumper Combinations For The Toyota Tacoma: Owner's Summarize Their Setups – Truck Build Inspiration For 2023
This Week's Topic: Winch & Bumper Setups
Last week, we took a look at amber lighting setups. This week, we dive into armor and recovery.
Are you considering upgrading your Tacoma's front end to be more trail-ready? Well, you've come to the right place!
Today, we're taking a look at 12 different winch and bumper setups that will not only elevate the look of your Tacoma but also ensure that you're ready for your next recovery mission.
Let's get started!
How To Get Featured

Do you want to be featured in a future Taco Tuesday post? We want readers to get inspired by a variety of rigs/products.

Submit your build for Taco Tuesday here to get featured!

We have specific topics for each Taco Tuesday post and we would love to feature your rig!
Note: The builds listed below are in no particular order
1. Austin Dewitt (@trailtaco17
) – Smittybilt XRC GEN3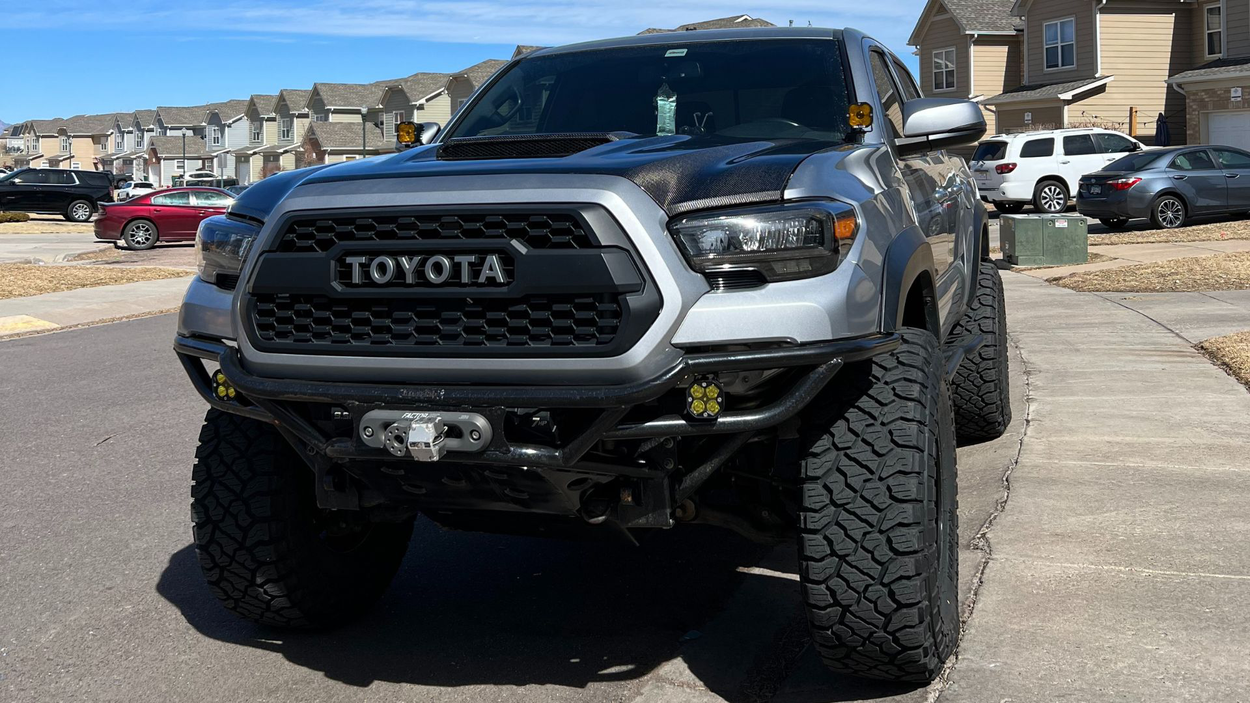 Winch & Bumper Setup
Custom High Clearance Tube Design Bumper (Engineered by Loren Krey at Kreyzfab LLC)
Smittybilt XRC GEN3 9.5K Comp Series Winch with Synthetic Cable
Factor 55 Fairlead
Factor 55 FlatLink Winch Shackle Mount
Factor 55 Rope Guard
What Do You Like Most About Your Setup?
I chose this setup to achieve the most clearance in the front end without having to cut the frame. Loren at Kreyzfab built a skid plate and tied it into my RCI skids to help me navigate those steeper rocks. I also wanted to be different and didn't want to buy just any bumper off the market, so I opted to get a custom build.
Loren has a great mind and a resume of builds that appealed to my design style.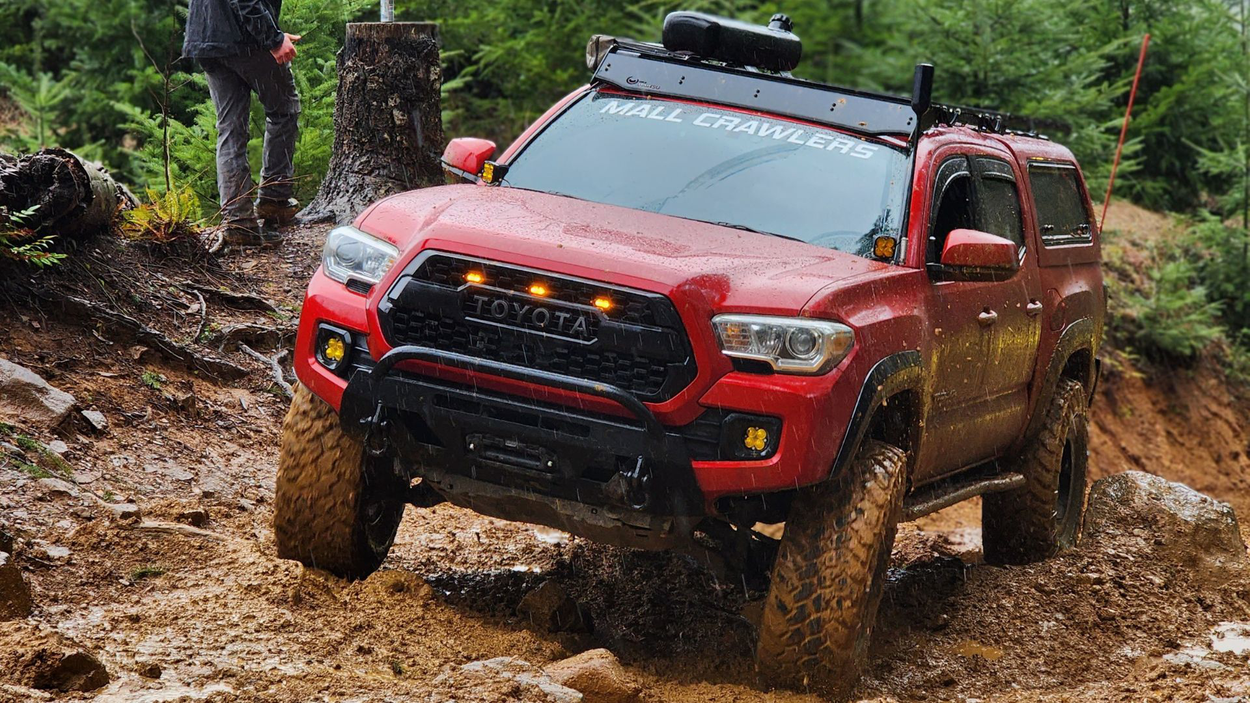 Winch & Bumper Setup
C4 Lo-Pro Winch Bumper
Warn Zeon 10k Winch
Factor 55 Fairlead
Freedom Off-Road Synthetic Rope 3/8"
What Do You Like Most About Your Setup?
We picked this setup because we wanted a rugged look that didn't add a ton of extra weight. The C4 Lo-Pro front bumper was extremely versatile for my needs. It gave me the ability to install a light bar for extra visibility when we go off-roading at night and protection when sliding down boulders on extreme trails.
We recently picked up the Warn Zeon 10 winch because of its durability and ability to pull up to 10,000 lbs. This makes it easier to recover vehicles. We want to ensure that our winch is reliable and won't crumble under the weight.
We picked the Freedom Off-Road synthetic cable because it is actually safer in case it snaps under load. It is also much lighter than steel cables. Freedom Off-Road makes very durable and safe synthetic ropes. Make sure to clean your rope between uses so it's always ready for the next recovery.
3. John Buchan (@jyota16) – Smittybilt X20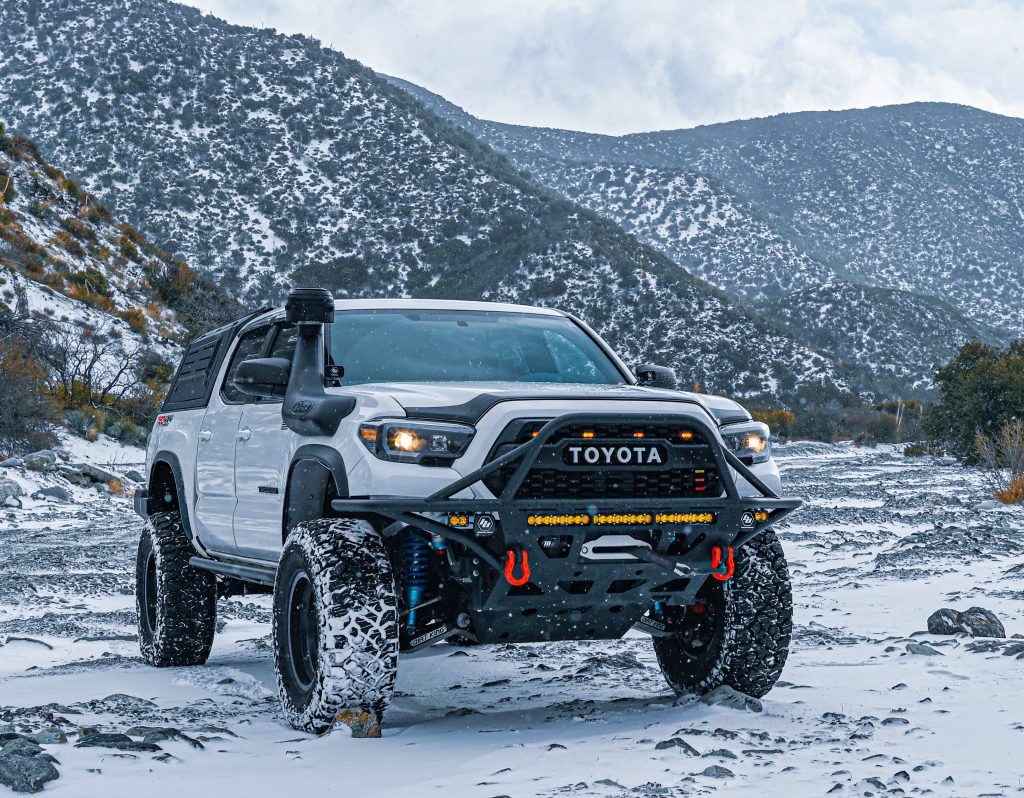 Winch & Bumper Setup
Relentless Fabrication Hybrid Front Bumper w/ Summit Bar
Smittybilt X20 Gen 2 10k Waterproof Wireless Winch w/ Synthetic Rope
What Do You Like Most About Your Setup?
I chose the Relentless Fabrication bumper because I just love the look. Its geometry also gives better clearance than other bumpers. They are also built to take a beating, so I knew no matter where I ended up, my bumper would protect the truck.
I chose the Smittybilt winch because it's a tried and true brand with a decent price point and has yet to disappoint me.
4. Caliway Jones (@suits_to_sunsets) – Badlands Apex 12K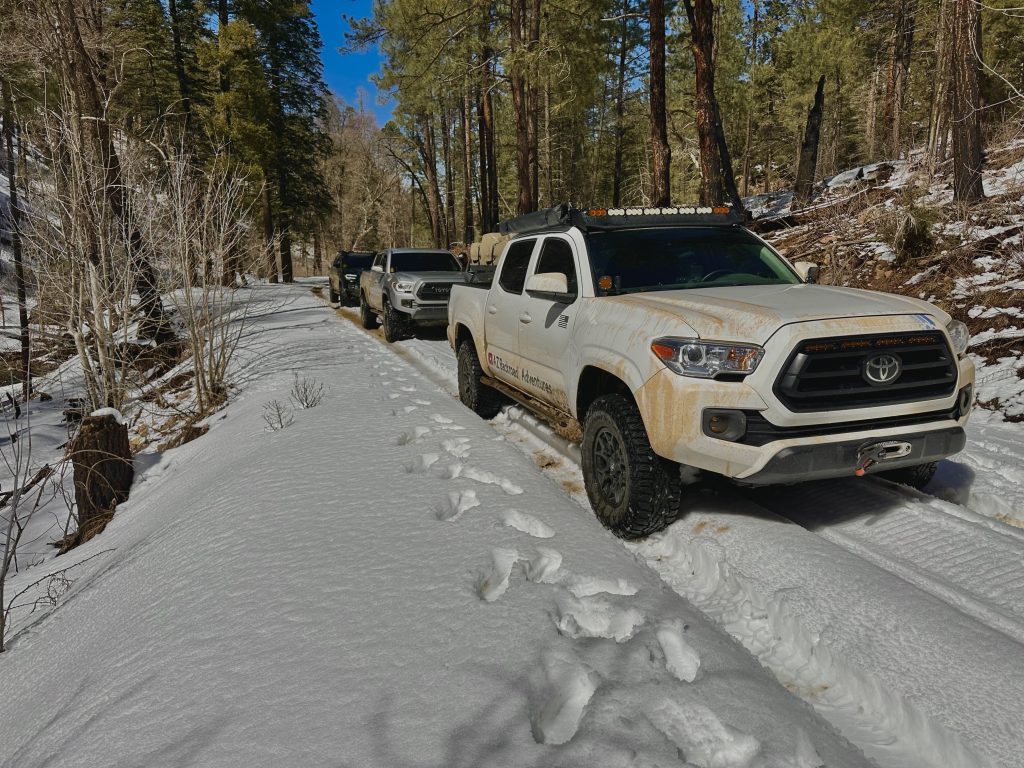 Winch & Bumper Setup
OEM Factory Bumper
E-Trailers Winch Mount
Badlands Apex 12K Winch w/ Synthetic Rope & Wireless Remote
What Do You Like Most About Your Setup?
After purchasing my truck, it didn't take long to start modifying it (as most do). However, I wanted to plan a multi-day solo trip and knew that I would need a winch to self-rescue should the need arise.
In researching winch and bumper combos, the issue became apparent very quickly that bumpers with a winch cradle were not only quite expensive but also had a 12+ week lead time, putting me past my trip timetable.
As I continued my research, I discovered the hidden winch mount readily available at a fraction of the cost. This was the solution I opted for. I documented the installation and started a YouTube channel (AZ Backroad Adventures) showing others how you don't need to spend a fortune in order to get out and enjoy the outdoors with your vehicle.
5. Jonathan Valerio (@yota_tico) –
Smittybilt X2O Gen3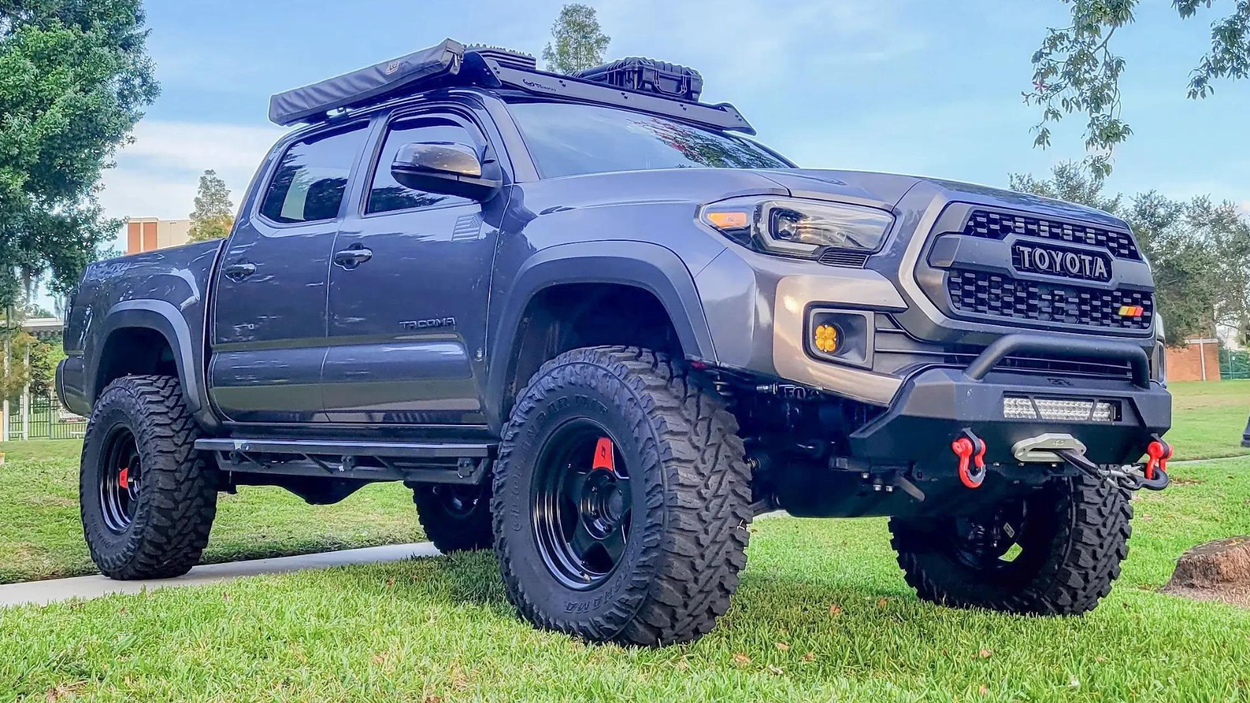 Winch & Bumper Setup
Body Armor 4×4 Hiline Front Winch Bumper

Smittybilt X2O Gen3 12k Winch w/ Synthetic Rope
What Do You Like Most About Your Setup?
The bumper has a sleek, low-profile design with a welded bull bar, light fitment, and integrated shackle recovery points. This direct bolt-on bumper requires mild trimming of the factory bumper, keeping the stock front look of the Tacoma.
The Smittybilt X2O Comp Gen2 winch is one of the best-performing and most powerful on the market. It has a pull capacity of 10,000 pounds, a 6.6 HP motor, and as an added bonus, is completely waterproof. I wouldn't hit the trails alone without this winch.
6. Angelo Lazzara (@alazzarajr) – Rough Country Winch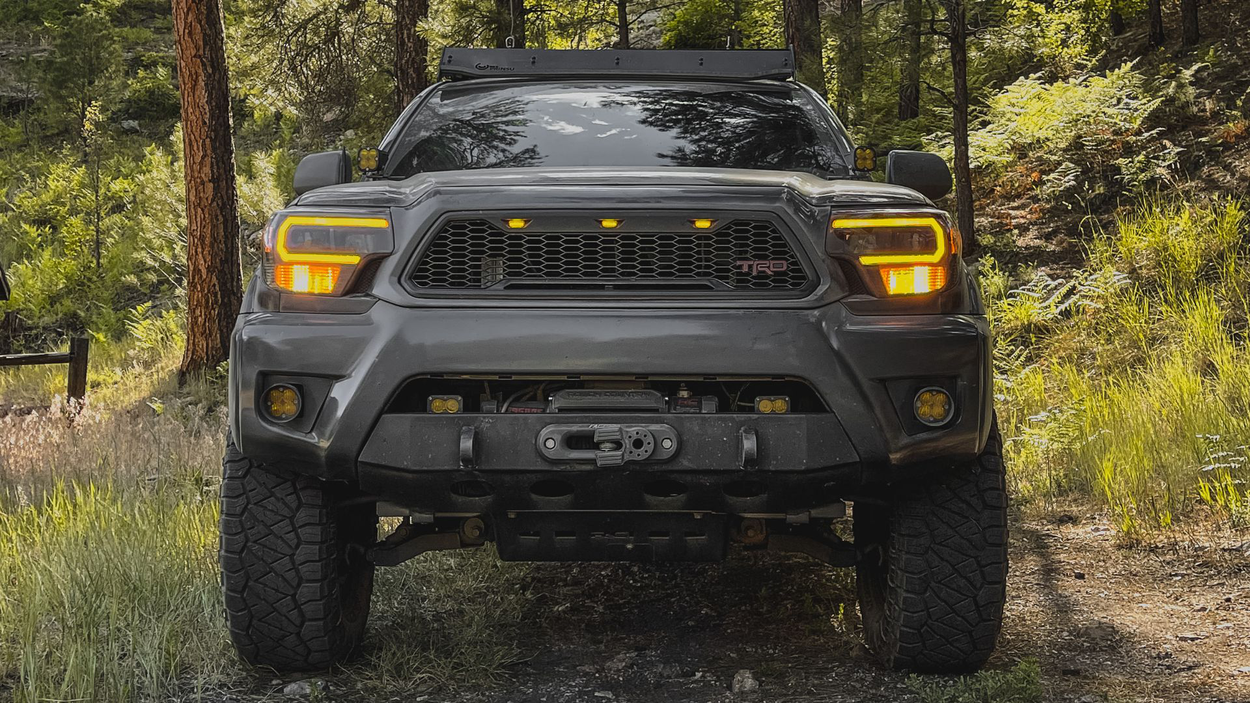 Winch & Bumper Setup
US Off-Road Tacoma Winch Mount Bumper
Rough Country Winch
Factor 55 FlatLink Winch Shackle Mount
Factor 55 Fairlead
What Do You Like Most About Your Setup?
I like this bumper because I was able to keep the OEM bumper intact for a sleek look. I also like how I was able to fit some Baja lights next to the winch.
The winch is an effective addition to my build. I chose the Factor55 recovery accessories because they offer color-matched gear and are quality products.
7. Collin Riley (@bugout_overland) –
Smittybilt X2O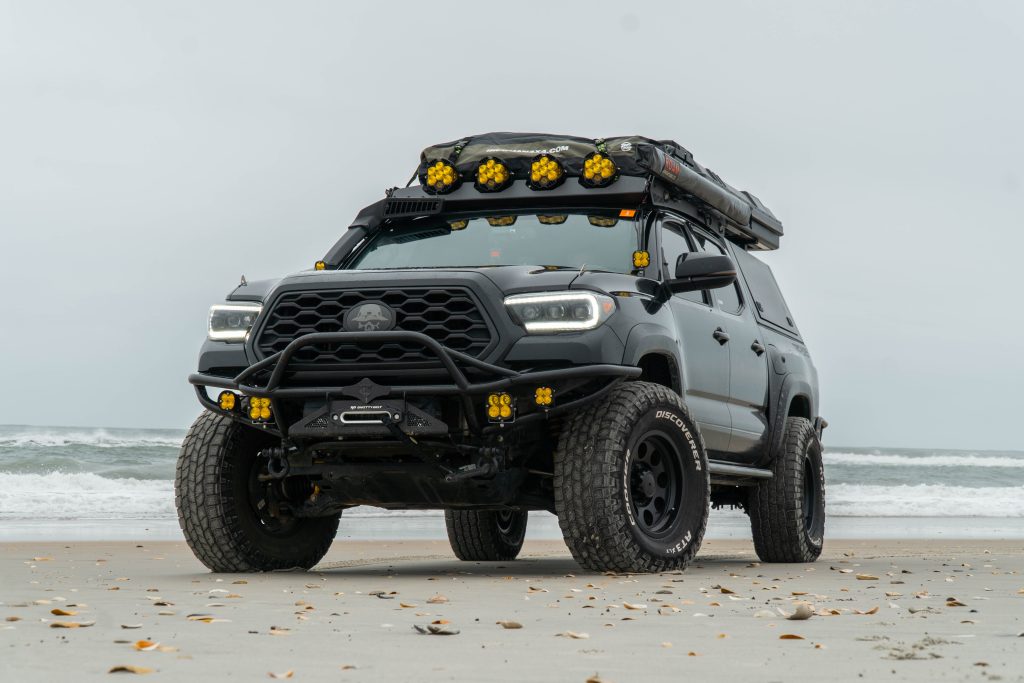 Winch & Bumper Setup
JC Customs "Bugout" High-Clearance Bumper

Smittybilt X2O Gen3 12k Winch w/ Synthetic Rope
What Do You Like Most About Your Setup?
The best part about this bumper is it's entirely custom-made from scratch by my buddy Jacob Campbell (JC Customs) out of upstate South Carolina. He designed my rear bumper and sliders, so I figured I'd let him design my front bumper as well, and he did not disappoint!
This bumper provides plenty of clearance. I like that if it gets dinged up or scratched, I can patch spray paint right over it, making it look new again! I chose the winch because I've heard good things about it, and it was right in the middle of the road price-wise.
8. Chau Huynh (@chauxcoma) – Warn VR Evo-10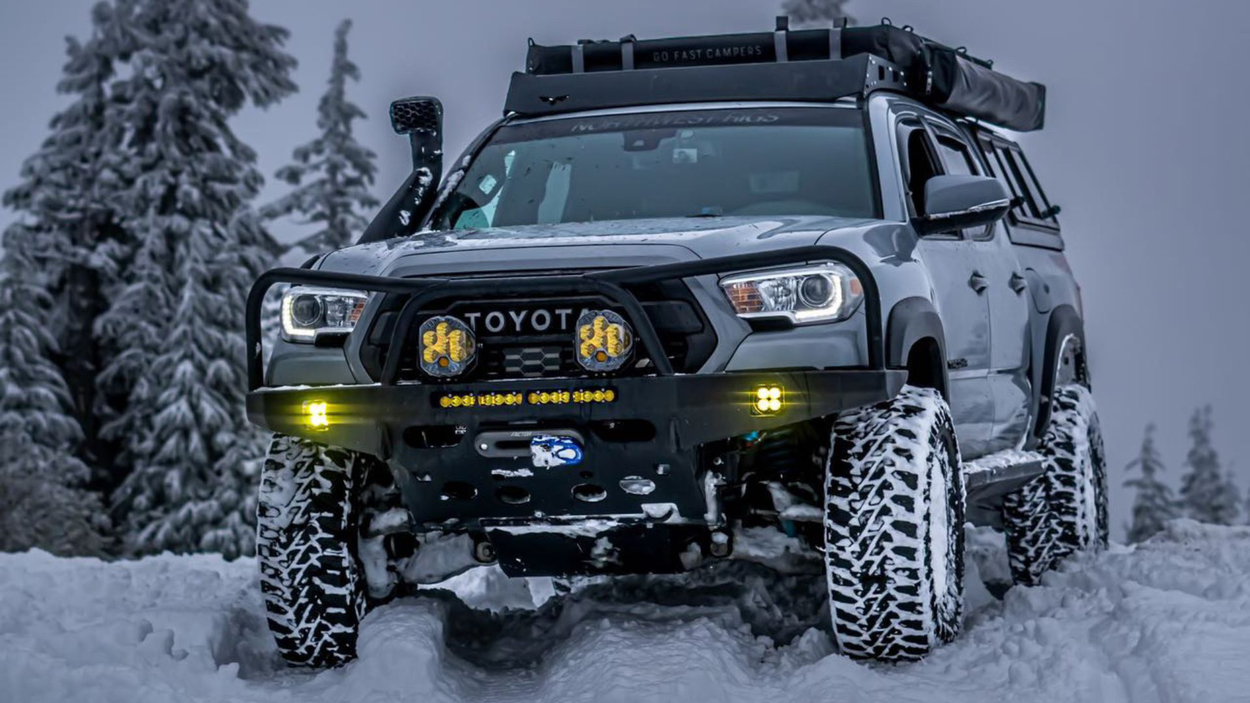 Winch & Bumper Setup
Brute Force Fab Plate Bumper w/ Full Hoops
Warn VR Evo-10 S Winch w/ Synthetic Rope
Factor 55 Fairlead
What Do You Like Most About Your Setup?
I picked this setup because I like the protection you get from a plate bumper. With my previous setup, I had a 20″ Baja S8 and was looking for a bumper with that size cut-out, plus I was planning to add the Baja LP6s. I decided to go with full hoops for the aggressive look.
A winch has always been on my list because it is such an important tool to have on the trail. I've recovered a few trucks and myself in addition to clearing small fallen trees. The Warn comes with a wireless remote which is very useful because you can operate the winch from a safe distance.
9. Luis Colmenares (@spar_taco19) – Warn Zeon 12-S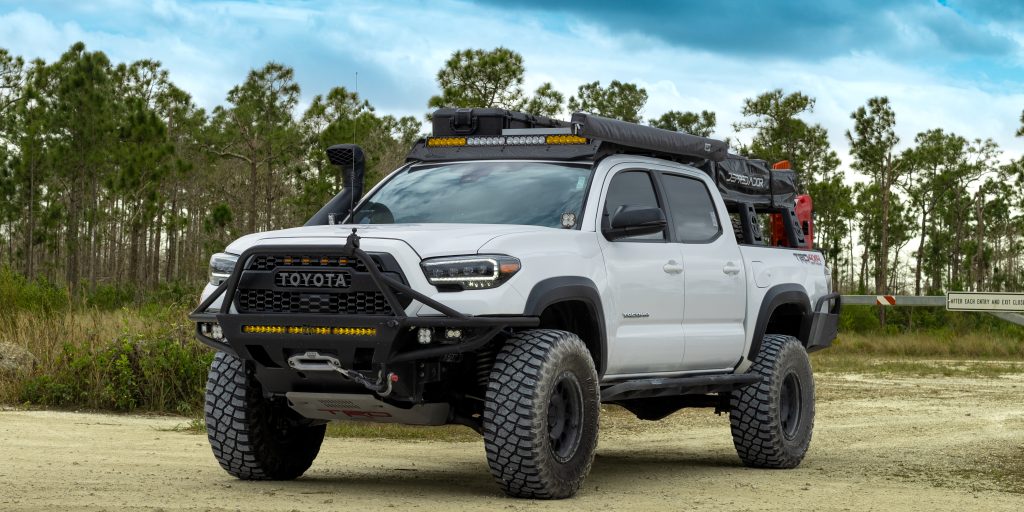 Winch & Bumper Setup
C4 Fabrication Hybrid Bumper
C4 Fabrication Frame Support Brackets
Warn Zeon 12-S Winch
Warn Remote Control Extension 98348
Warn Winch Damper & Snatch Block
What Do You Like Most About Your Setup?
I wanted a strong bumper that could handle abuse and winch my truck/other vehicles when needed while not being super heavy.
For me, the C4 Fabrication Hybrid bumper is a top choice for Tacoma owners due to its durability, protection, style, functionality, and customization options. It's made from heavy-duty steel and features a full grille guard, winch, light mounts, and recovery points. The sleek and modern design adds a unique and aggressive look. It also offers much more clearance for a better approach angle and fitting larger tires.
Additionally, you can opt for frame brackets which add extra support for the factory bumper mounting locations for extreme winching and pulling situations.
Matching this bumper with a Warn Zeon 12S winch provides a powerful combination that enhances the off-road capabilities of any vehicle. The winch has a 12,000-pound pulling capacity, high-quality construction, faster line speed, and safety features. Warn is also an industry leader; what more can I ask for?
I added a little accessory that makes our life easier when winching. Putting an extension to the remote control has been a game changer. No more reaching under the hood to connect the winch controller to the control box. Instead, I only need to remove the cap in the bumper and connect the controller there. It's so much easier.
Overall, this setup is an excellent option for off-road enthusiasts who want a strong but relatively lightweight bumper that can withstand extreme conditions. It allows you to mount several lights, lets you safely winch your vehicle, and also makes your truck look great.
10. Dustin Arp (@

wu_tacoma

) – Smittybilt X2O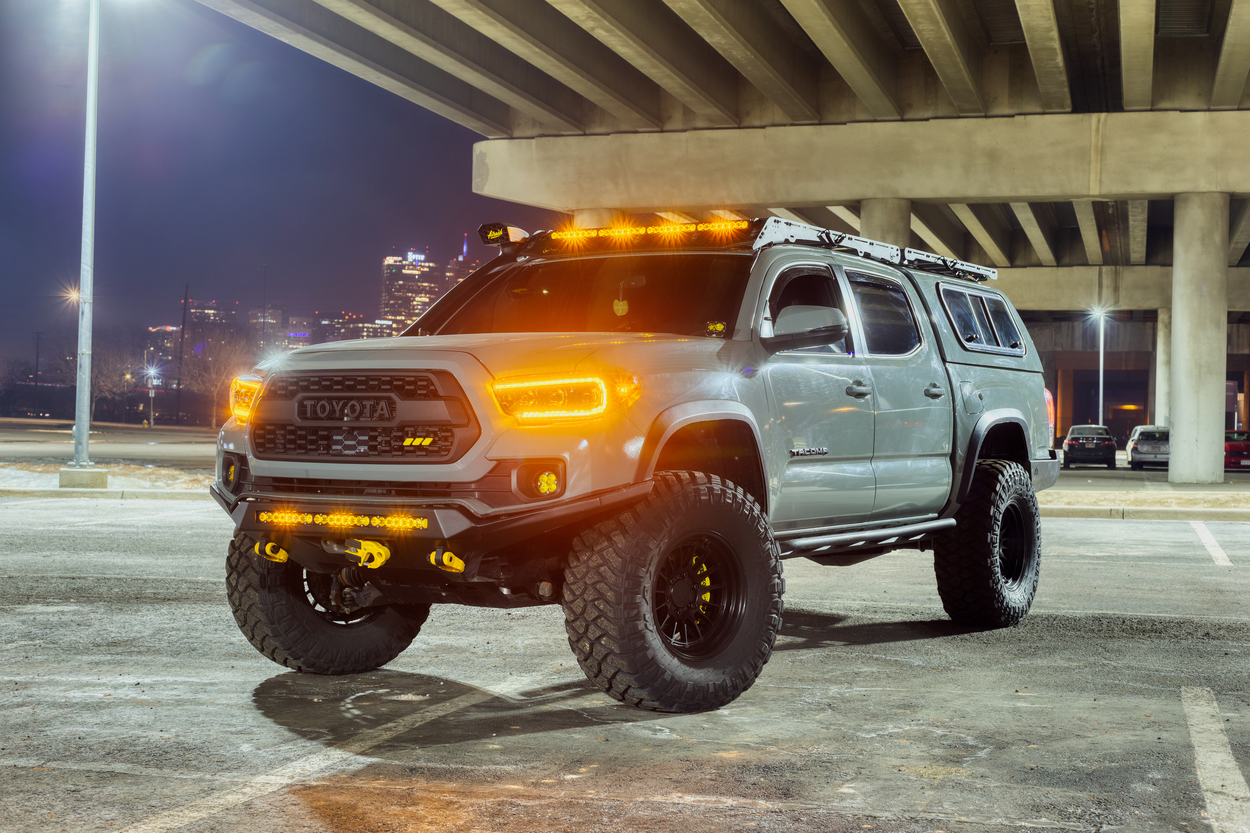 Winch & Bumper Setup
Saints Off-Road Alpha Front Bumper
Smittybilt X2O-10K Gen2 Winch

Factor 55 UltraHook Winch Hook w/ Shackle Mount

Factor 55 Fairlead
What Do You Like Most About Your Setup?
I picked the Saints Off-Road bumper because I like the slim factory look. I also like the built-in light bar cutout and winch capability. Adding a bumper and a winch was important for my build since I do a lot of solo off-roading.
For the winch, I decided to go with Smittybilt because, through all the research I did, I found only good things about it. I also added Factor 55 Fairlead and Ultrahook for added peace of mind.
11. Joshua (@ahsoka_taco) – Warn Evo 10S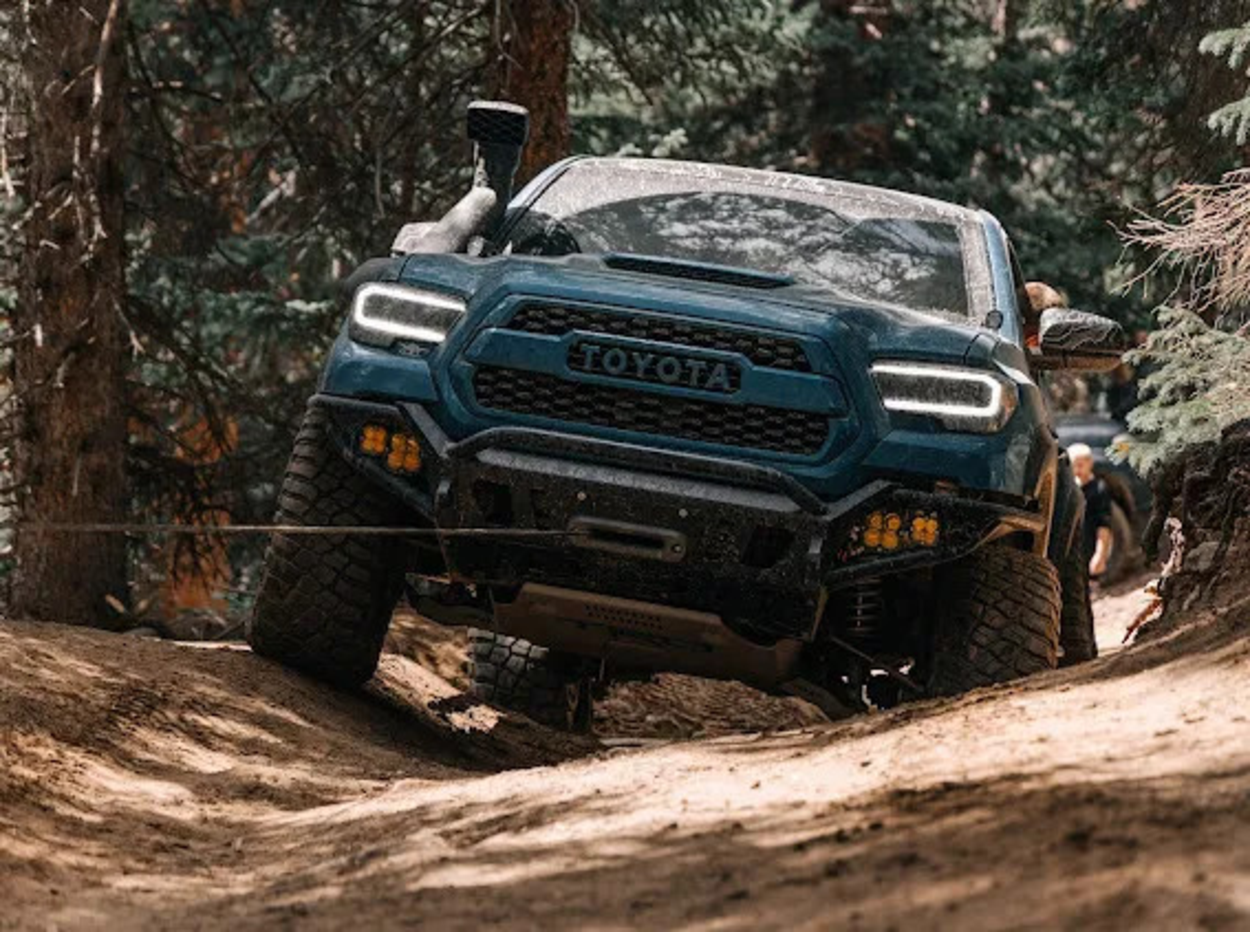 Winch & Bumper Setup
Lil Bs Fabrication Hybrid Bumper w/ Low Bull Bar
Warn Evo 10S Winch
Factor 55 Fairlead
Factor 55 FlatLink Winch Shackle Mount
What Do You Like Most About Your Setup?
I chose the Lil Bs bumper for its strength and looks. The DOM tubing and steel plate construction have proven to be extremely durable. This bumper has thus far supported the weight of the truck on many occasions and, unfortunately, come across a couple of elk as well.
It's a bit scraped up from use but has indeed served the purpose of having a high-clearance steel bumper as opposed to the plastic shell from the factory. 2.5 years in, and the bumper is still straight, solid, functional, and looking good as ever. The Tacoma already has a sleek front end, but this bumper ices that cake.
12. Alyssa Salemi (@

holdmycoffee_az

) – Warn VR Evo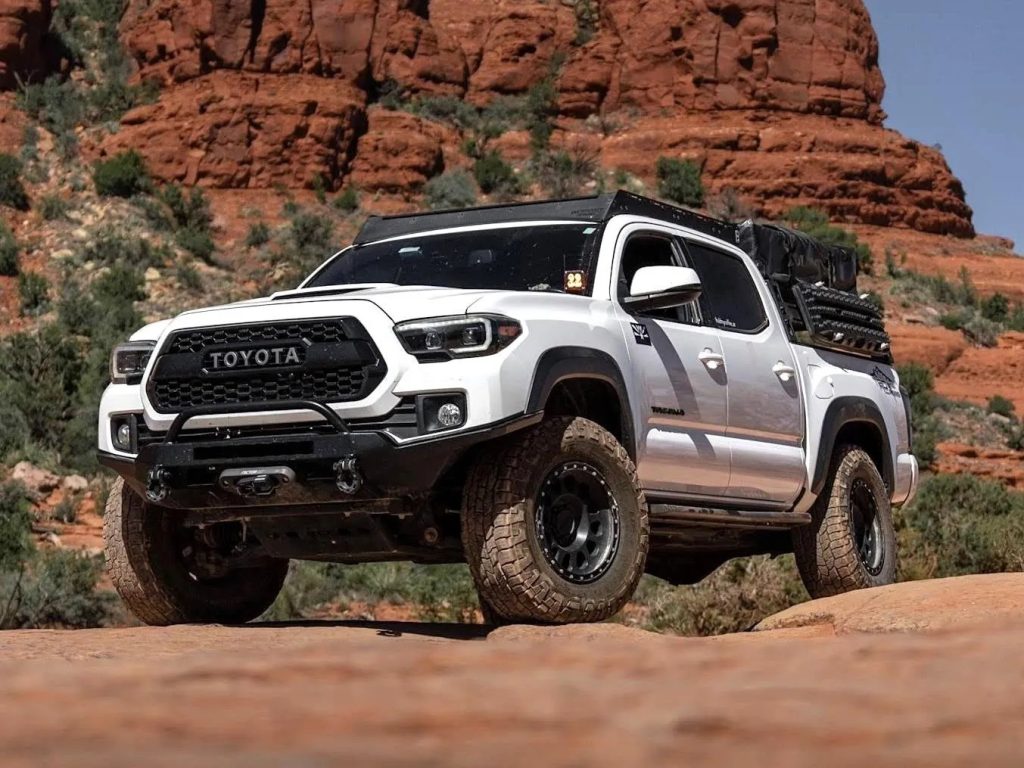 Winch & Bumper Setup
Southern Style Offroad Slimline Hybrid Full Plate Front Bumper
Warn VR Evo 8-S Winch
Gear America Mega Shackles
Gear America Mega Shackles Isolators
Factor 55 Fairlead
Factor 55 FlatLink Winch Shackle Mount
What Do You Like Most About Your Setup?
I chose the SSO Slimline Flat Plate bumper because it provides protection and high clearance with a minimalist and clean style. I added the Warn Evo 8S winch because I know it's powerful enough to recover my truck and other vehicles I may come across on the trails. This winch fits perfectly behind the SSO bumper and runs effortlessly!
I've tested this setup in multiple states on multiple terrains, and it's cleared every challenge!
13. Brenan Greene (@TRAIL4R) – Smittybilt XRC Gen3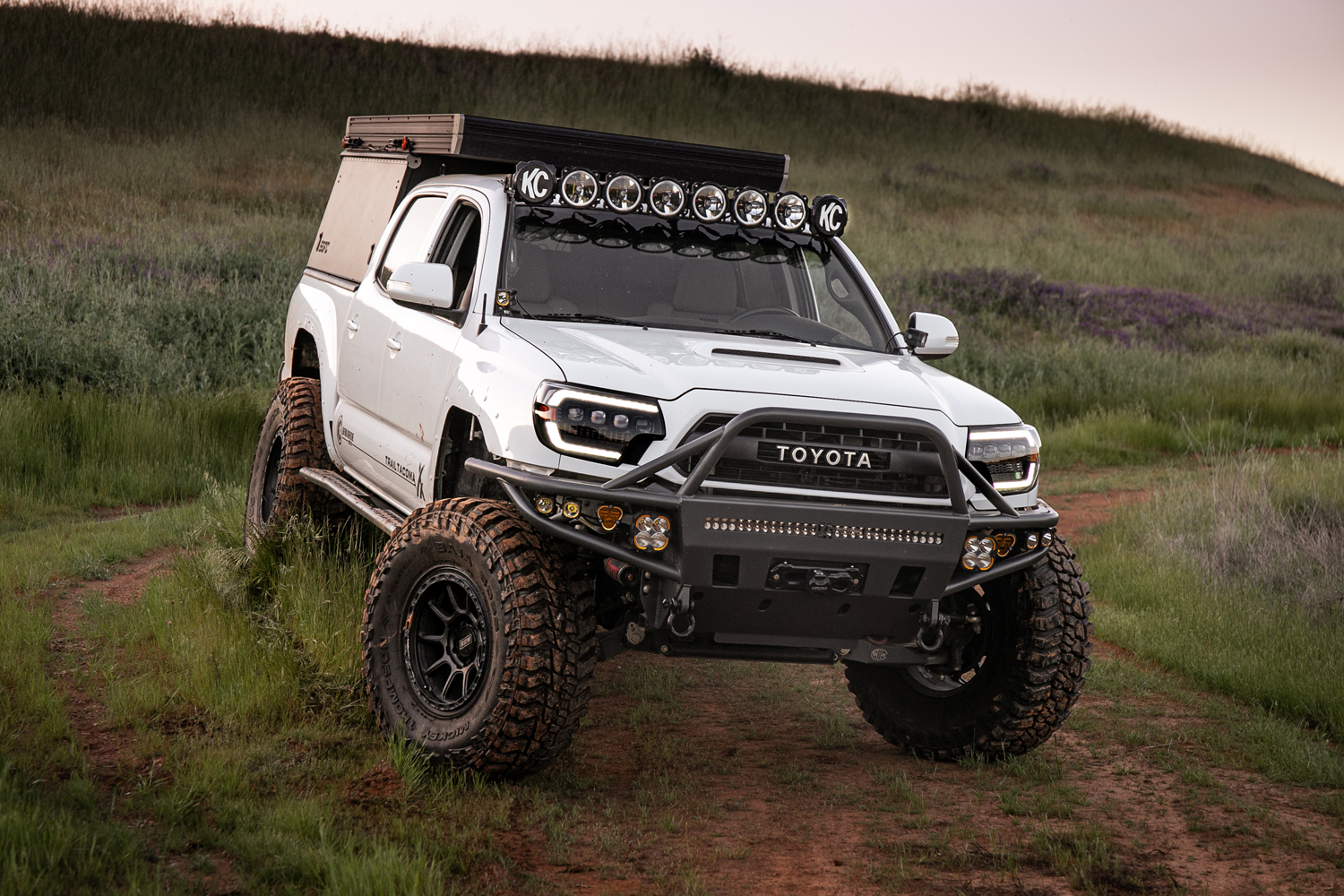 Winch & Bumper Setup
C4 Fabrication Hybrid Bumper
Smittybilt XRC Gen3 12K
What Do You Like Most About Your Setup?
I am running the C4 Fabrication Hybrid with the Smittybilt XRC Gen3 Winch. This winch is feature packed for sure. I've run both the X20 Gen3 and now the XRC Gen3. The X20 was a good winch, but Smittybilt stepped it up with this one. The XRC is available in 9,500 or 12,000lb, steel cable or synthetic cable, an upgraded 7.0 HP Motor, a new load indicator warning system, onboard lighting, a controller flashlight, and dual magnet mounts. In addition to the core features it also provides a 12V aux post, customizable armor plates, a DRL, and is IP67 rated. To top it off they feature a 5-year electrical warranty and a lifetime mechanical warranty.
14. Konrad Chojnowski (@trail_tacoma) – Superwinch SX10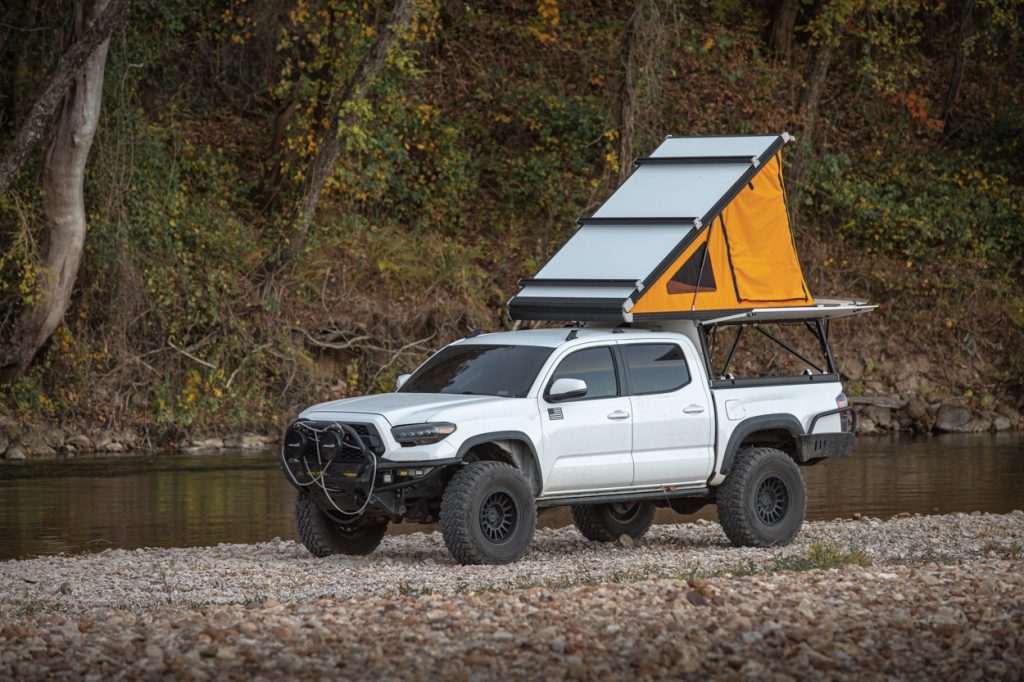 Winch & Bumper Setup
Relations Race Wheels Hybrid Bumper (discontinued)
Superwinch SX10SR
While this bumper is no longer in production, I always liked how it contoured around the front of the truck. It certainly did the job for me. A word to the wise… get reinforcement brackets. You WILL bend/break your frame with hard winch pulls. The Tacoma just isn't set up to handle crazy hard pulls.
As for the winch, I really like my Superwinch. This version has 10K pulling capacity, a rad outer shell, and a super smoothly operating clutch. I ran a Warn in the past, but I like this option much better. It has held up well so far and has several features that make using it a breeze. It's got great warranty and is backed by Westin Automotive.
Final Thoughts
And that wraps up another Tacoma Tuesday!
Your Tacoma is a reliable and versatile vehicle, but sometimes you may need extra help hitting the trails. That's where winch and bumper setups come in handy. With so many options on the market, it can be overwhelming trying to choose the right one.
We hope that seeing real-life testimonials and hearing why people chose their setups helped you choose your next front-end setup.