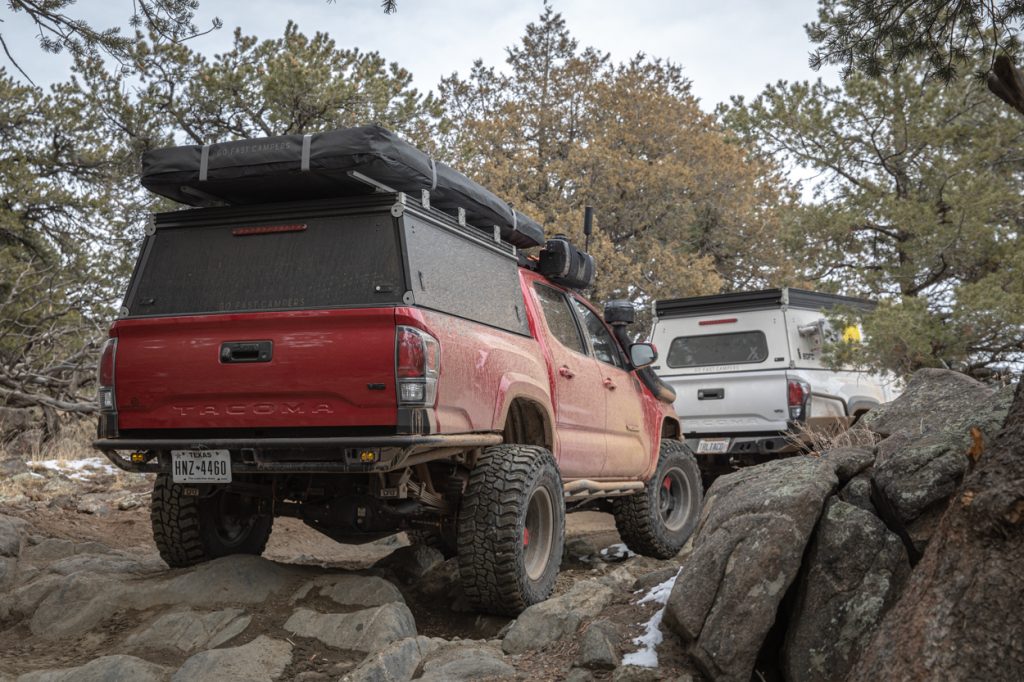 Popular Camper Shells, Truck Caps & Bed Toppers For 2nd Gen (2005-2015) + 3rd Gen (2016+) Tacoma – How To Choose What's Best For You
When it comes to the most useful accessories that you can install on your 2nd or 3rd Gen Tacoma, not much can beat a camper shell (truck bed topper). Especially for those of us who use our trucks for camping or work, being able to lock all of your gear securely in a weatherproof area can be massively beneficial.
However, with so many options on the market, it can be rather confusing to figure out which one is right for you. So, in this post, I will go into everything you need to know about camper shells for your Tacoma before pulling the trigger on one for yourself. This post will also lay out some of the most common options on the market to give you potential ideas for your setup.
Camper Shell, Truck Cap, or Topper?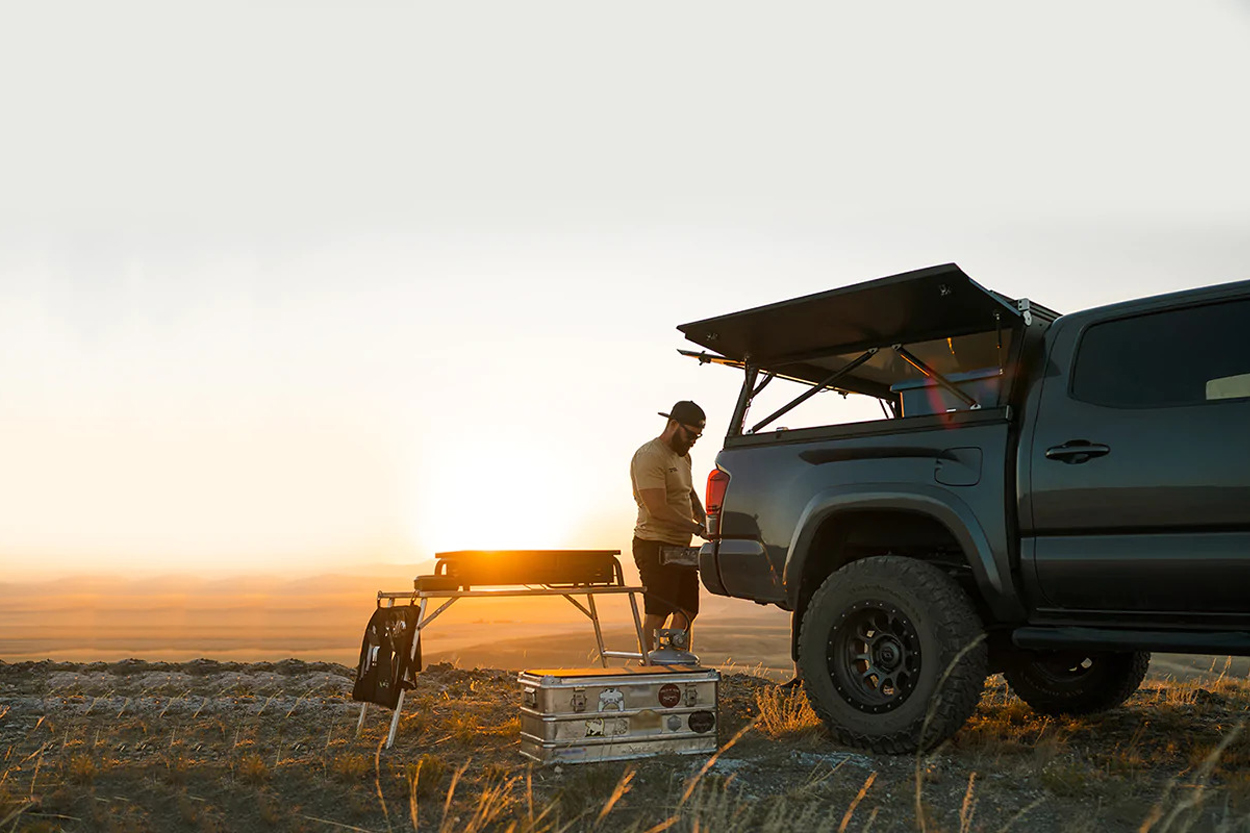 I guess the best place to start is to figure out exactly what we're referencing in this post. Simply put, we're looking at cab-height hard-sided covers for the bed of your Tacoma. They sit on your bed sides and act as almost an extension of your cab.
These can go by many names. Sometimes called toppers, campers, camper shells, truck caps, hard shell bed covers, canopies – the list probably goes on.
The point being… they are all usually referencing a product in relatively the same category. A 5-sided, hard shell bed cover that dramatically improves the utility of your bed. That especially goes if you camp, off-road, or overland in your truck. If you pay attention to other rigs on the road, you have probably seen many trucks with a camper shell setup.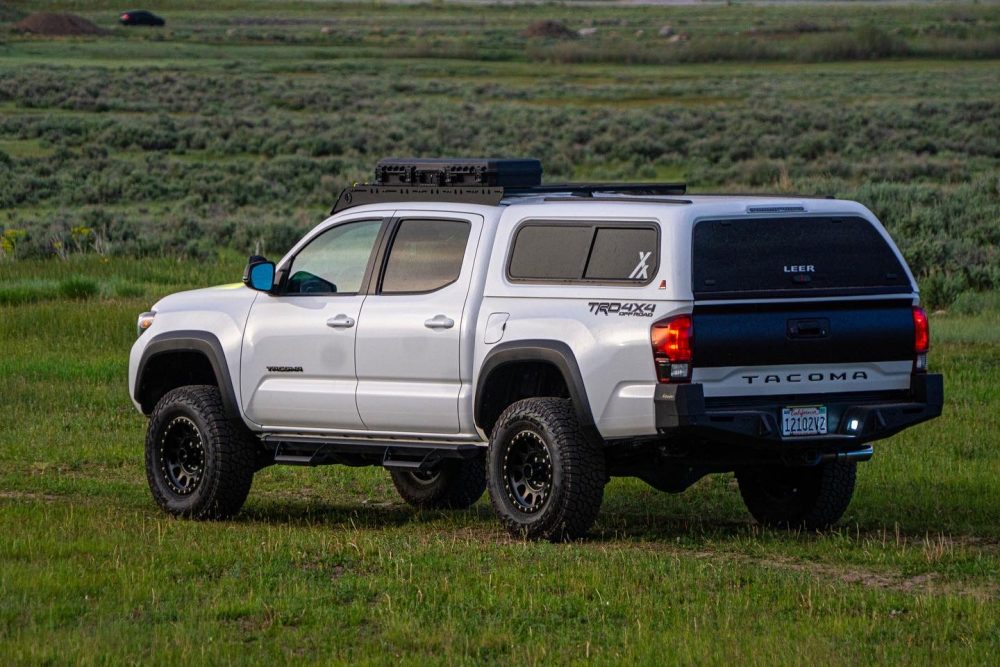 The most common reason for installing a topper is for storage and security purposes, however, there are endless ways to make use of a camper shell. Depending on the shell, they can be made of a wide range of materials but most often are aluminum or fiberglass. There are various styles ranging from utility to luxury.
It is also important to note that the shells we are discussing in this post are different from pop-up-style campers that have become common in the overland scene. These setups do not have extendable roofs for sleeping like those you might associate directly with the word "camper".
Materials & Construction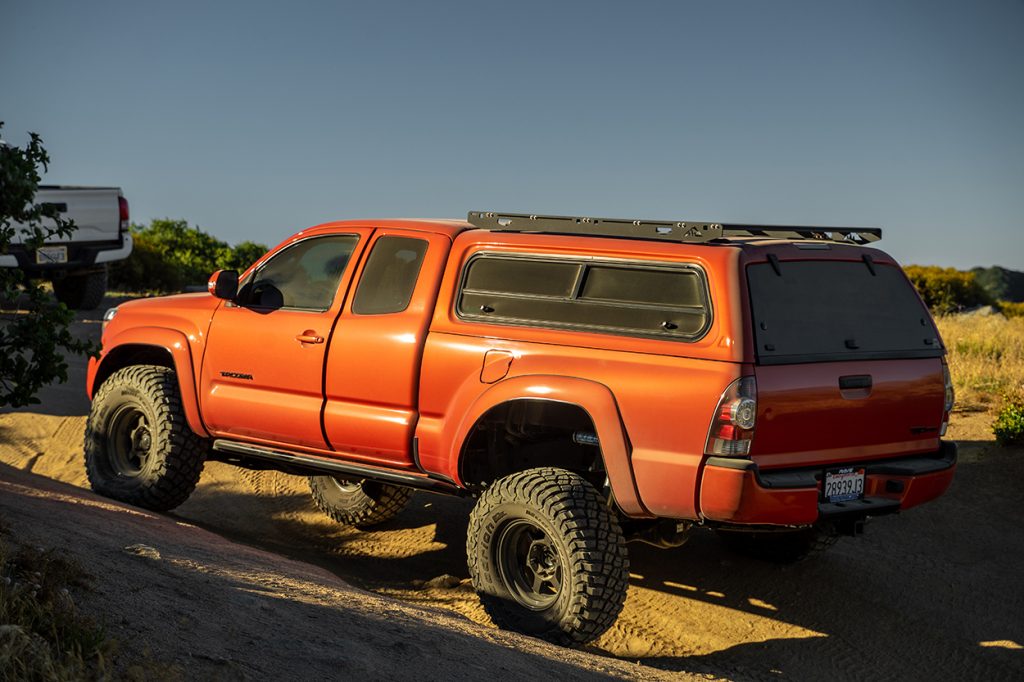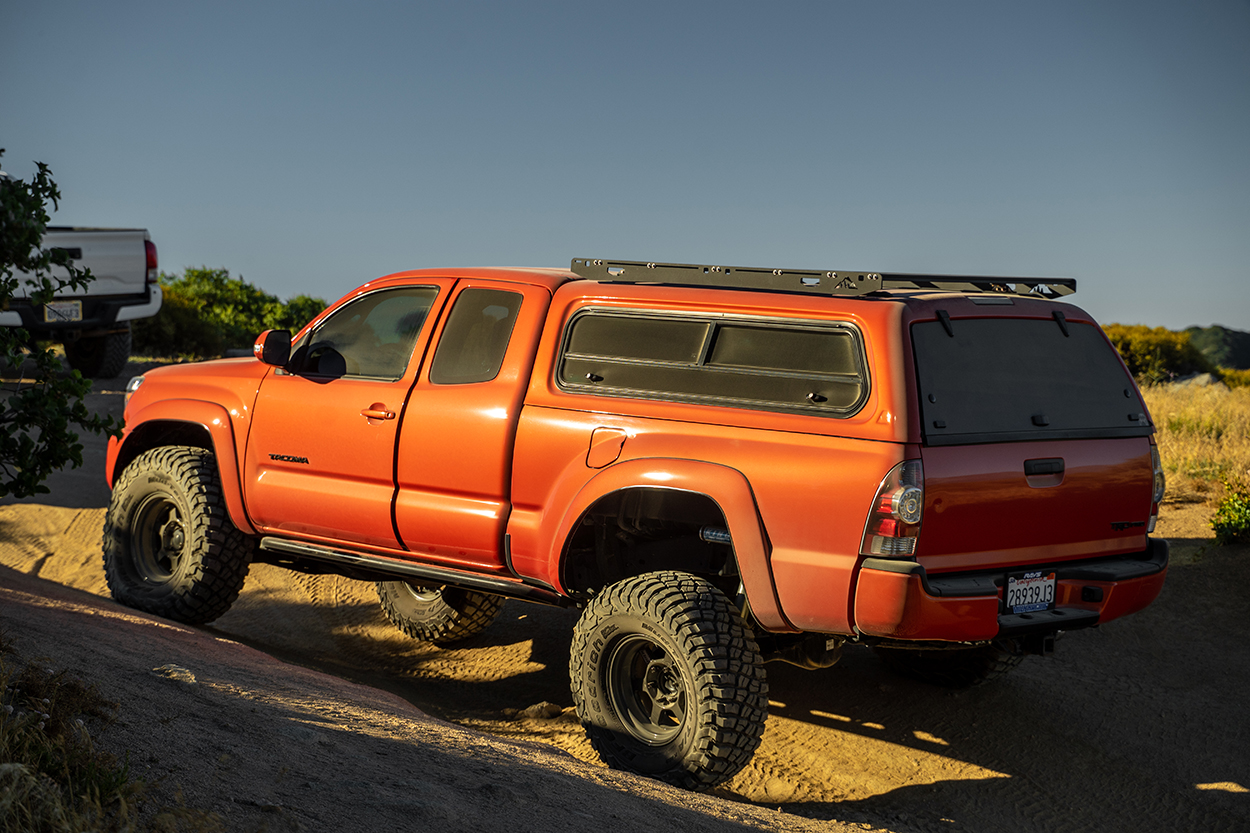 The materials used to make your camper shell can be different depending on the style you choose.
For each of the products mentioned later in the post, I will be sure to note what they are made of. For now, I will briefly explain some of your options.
Fiberglass
Clean OEM-like styling
Color-matching
Better insulation
More window options
Tend to be very heavy
Overall weaker construction (relative to metal)
Fiberglass is likely what you associate most with bed toppers. Mostly all of the color-matched campers on the street are fiberglass since it provides a sleek and factory-looking aesthetic. These camper shells also provide a more luxurious style and have many different customizable options. Generally, when building your fiberglass topper you can choose amongst options for windows, carpeting, and lights.
While this option will give you the most OEM style, they are often more expensive and are usually less equipped to handle intense off-roading. These toppers seem to be better suited for the road, and the casual camper. Someone who really puts the miles on and off-road may want to consider a different option. Especially when loading them down, we have seen failures. Fiberglass also tends to be considerably heavier, which is important to consider.
Metal (Aluminum/Steel)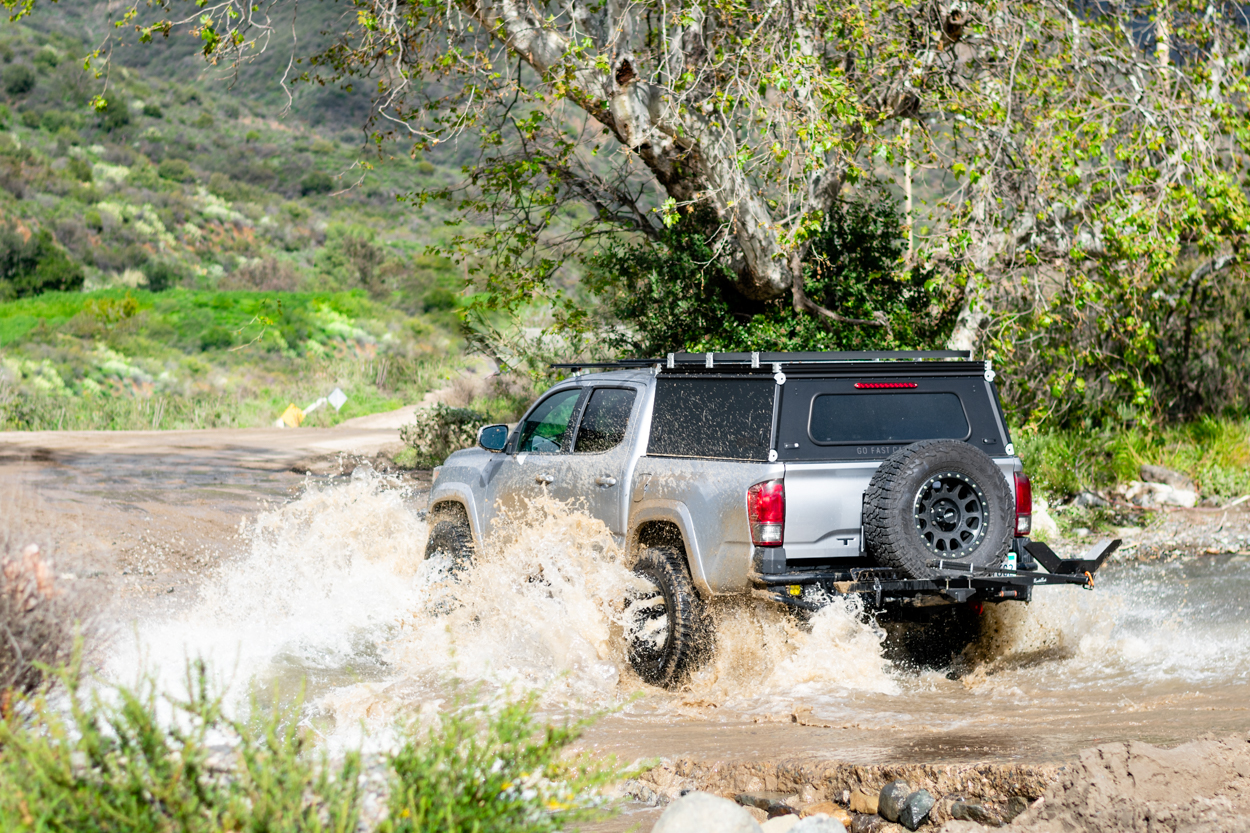 More utility and off-road focused aesthetic
Not always color-matched, some color options come close
Stronger rooftop mounting solution
Fewer window options
Lightweight (more in regards to aluminum)
Overall stronger construction (relative to fiberglass)
One of the most notable benefits of an aluminum topper is that it will be significantly more lightweight than a fiberglass camper. Weight savings translates to easier installation and removal and it will also place less stress on your truck as a whole. Think about a 250-300+ lb. shell with another 300-600 in armor, tires, and gear. With that kind of load, you need to consider saving weight wherever possible. Another benefit to campers with a metal construction is that they will be much more rugged in harsh environments and you can mount many accessories to the interior.
A potential downside to metal campers is that they have a more rugged or utility look compared to the OEM aesthetic of fiberglass. If you are searching for a topper that looks like it came with your truck from the factory, and that's your primary focus, then fiberglass will be your best bet. However, if utility and durability are more important to you, then an aluminum/steel camper shell will be the one for you.
Hard Shell Cover Vs. Soft Shell Cover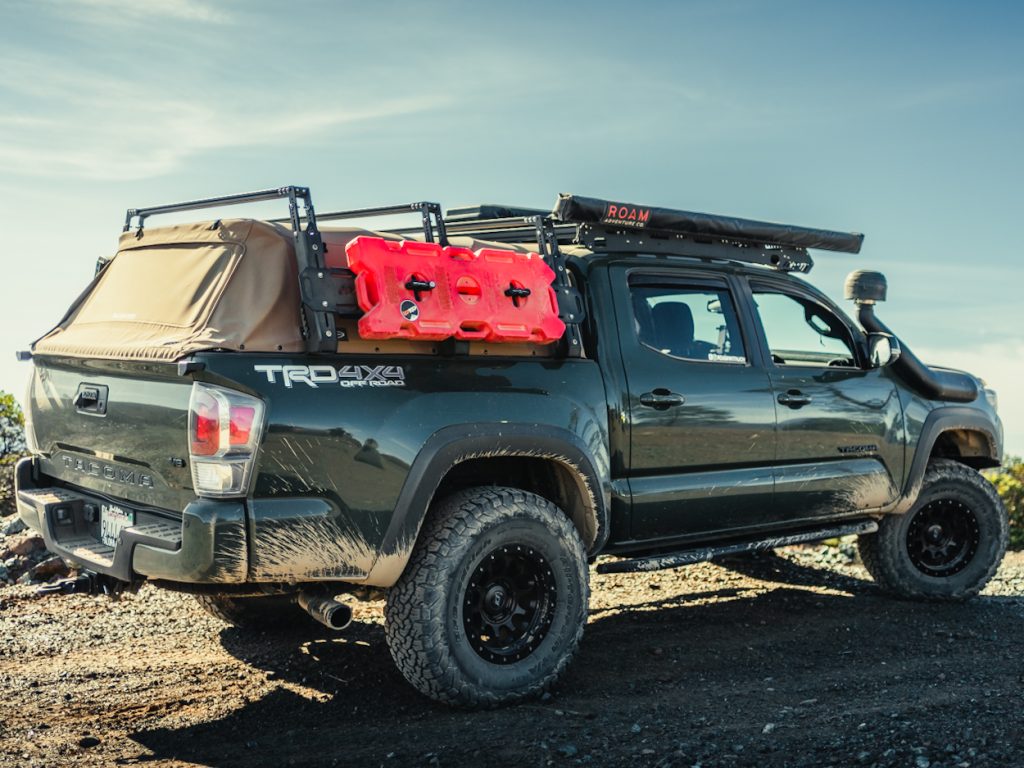 All of the offerings on the market that will be covered in this post are hardtop campers, although you may be considering a soft shell as well. Softshell toppers essentially provide the same benefits as hard-shell ones just to a lesser degree.
They allow you to keep the gear in your bed protected from the environments, though they are certainly not as weatherproofed as a hardtop. Additionally, they prevent thieves from simply walking by your truck and taking items that are conveniently located. However, if a thief really wanted to steal something from your bed, they could simply cut through the canvas topper and take off with your items.
In these situations, hardtop campers would certainly be better but softshell canopies are generally cheaper. And, thanks to their lightweight construction they can be removed and installed much easier than a fiberglass or metal topper.
Pictured above, is a popular soft shell bed cover, the Softopper. It's paired with a compatible bed rack from upTOP.
Top Benefits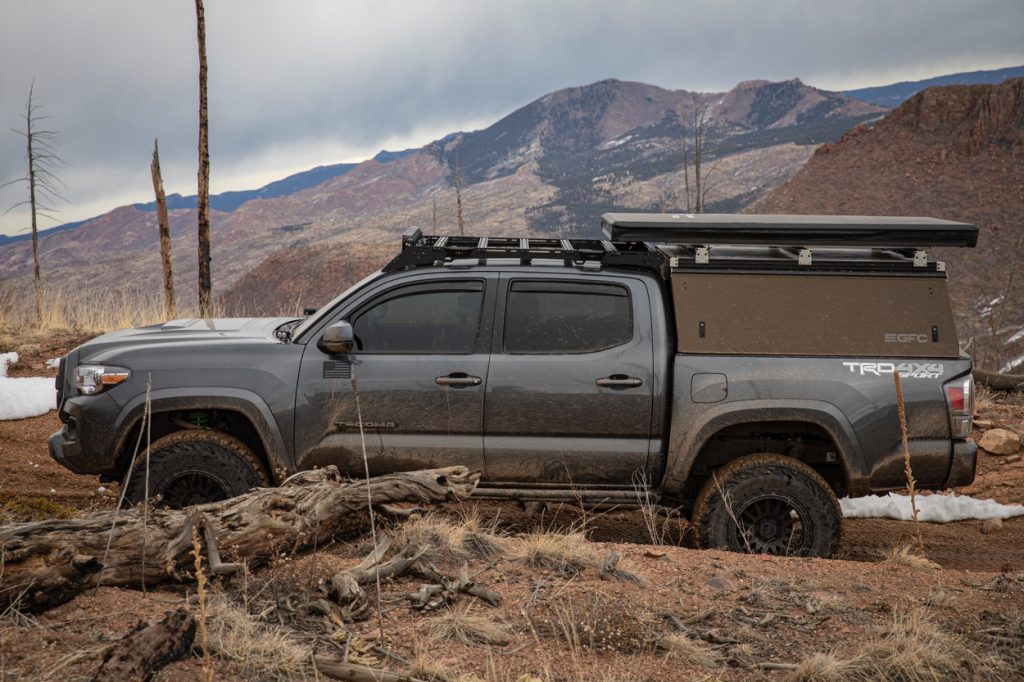 Security
Perhaps the most advantageous aspect of installing a topper on your Tacoma is the fact that you have a theft-proof, lockable storage area in your bed. This means all of your camping, hunting, or work gear will be stowed away safely without having to worry about someone stealing it out of your bed.
Weather Protection
Another key benefit to a camper shell on your Tacoma is that it will protect your luggage from the elements. For those of you who live in states where rain, snow, or other inclement weather conditions are common, you would not need to worry about your items being affected.  Additionally, when driving on the highway you can be sure your stuff will not fly out.
If you carry valuable items or gear that is not waterproof, this will be potentially the biggest benefit to a topper.
Organization
You might be wondering how a shell can improve your organization when it does not add any compartments for gear. Well, a lot of the important items that you might carry on a daily basis may usually be stuffed somewhere in your cab to keep them safe. Not only does this clutter your driving space and interior capacity, but it can be easy to lose small items.
By adding a hard shell camper to your truck build, you essentially extend the security of your cab to the bed while having more storage space than an SUV. Camper shells and storage systems like a Decked storage drawer can be a great combination if you leave many items in your truck at all times.
Extended Rooftop Storage
The final advantage that I think is important to mention is that a topper will extend your roofline giving your more storage opportunities for large items. The majority of campers on the market allow you to mount roof racks so if you often travel with long rooftop tents, kayaks, or other large items, you can easily store them above without losing any bed capacity.
Potential Downsides
Of course, camper shells are not without their downsides. First, they are often heavy. Especially with the fiberglass options on the market, you can expect noticeable changes in the weight of your Tacoma after installing a canopy. The weight differences are not so bad that it would make you regret your decision to have a camper, but it is worth noting that your rear end may sag a bit more, particularly with you still run your stock suspension.
Another downside to camper shells is their price. While you can avoid the costs by buying used, most of you will likely buy your camper new and very few will be under a thousand. Most will range between $1500 to $5000 depending on the model and accessories you include. This is not an easy pill to swallow but with the benefits you get, you may be willing to pay the price.
One final thing worth mentioning is if you frequently haul oversized items in the bed of your Tacoma, a camper shell will restrict the size of gear you can fit in the rear. After installing one, you may need to resort to strapping big items to the roof.
Add-Ons & Upgrades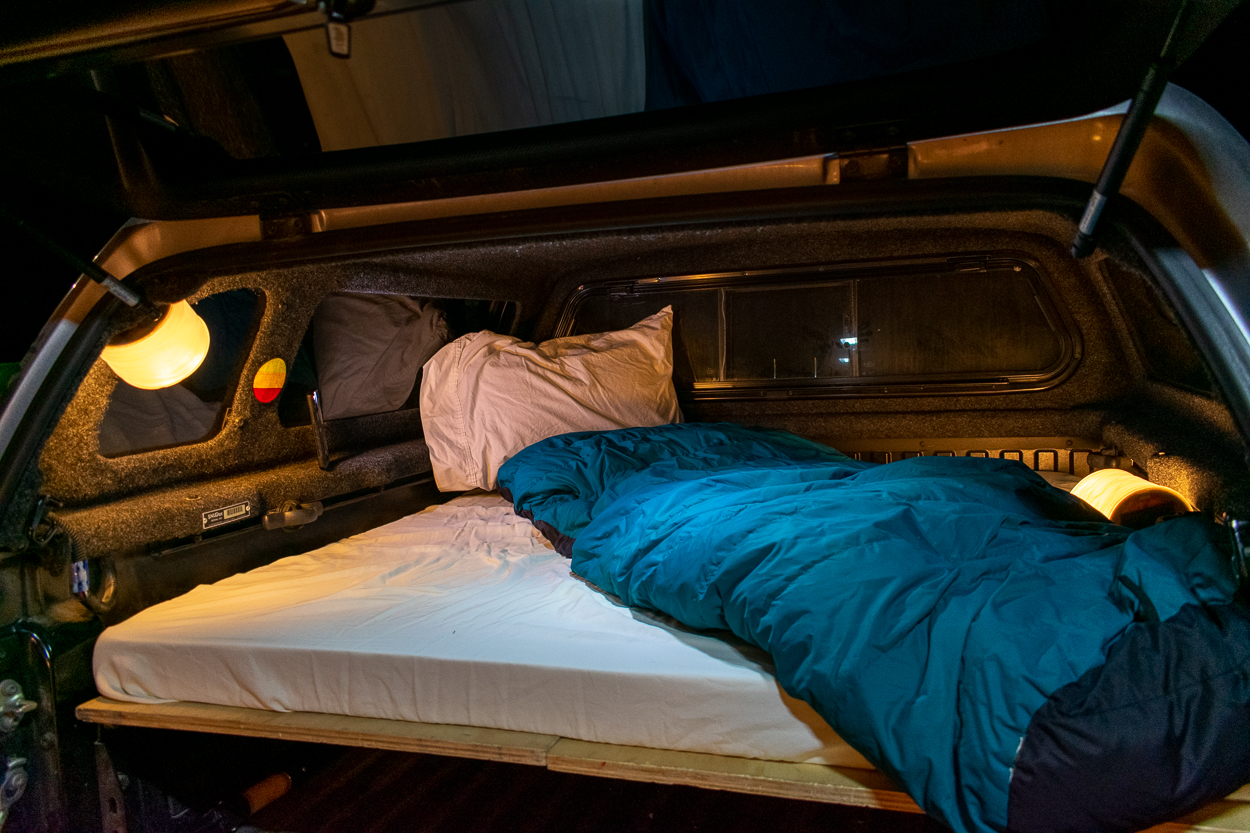 If you are already set on purchasing a camper setup for your Tacoma, you should begin to consider what features matter most to you in terms of utility. As with any accessory for our trucks, we want them to be as functional as possible.
Interior Lighting
Interior lighting is the most common and desired add-on for camper shells. Not being able to see your gear can make it nearly impossible to navigate your bed when it is dark. Thus, having an overhead light would be extremely useful.
Depending on the company, you can get different styles of lights ranging from a small dome light similar to the ones in your cab to LED light strips that wrap around the edge of your topper. If your preferred system does not already come with lights, you can also get wireless light strips or pods that are controlled by switches with an adhesive back to stick anywhere on your roof.
Carpeting
Next, we have interior carpeting. Depending on the style of camper you choose, it may or may not be an option from the factory. Most fiberglass toppers will come with some sort of carpeting which has various benefits.
By lining the inside walls of the shell with carpet, you can reduce road noise and protect your gear from damaging your interior or vice versa. Depending on the material, it can also have insulating qualities that keep the bed space from losing heat during cold winters if that is important to you.
Window Styles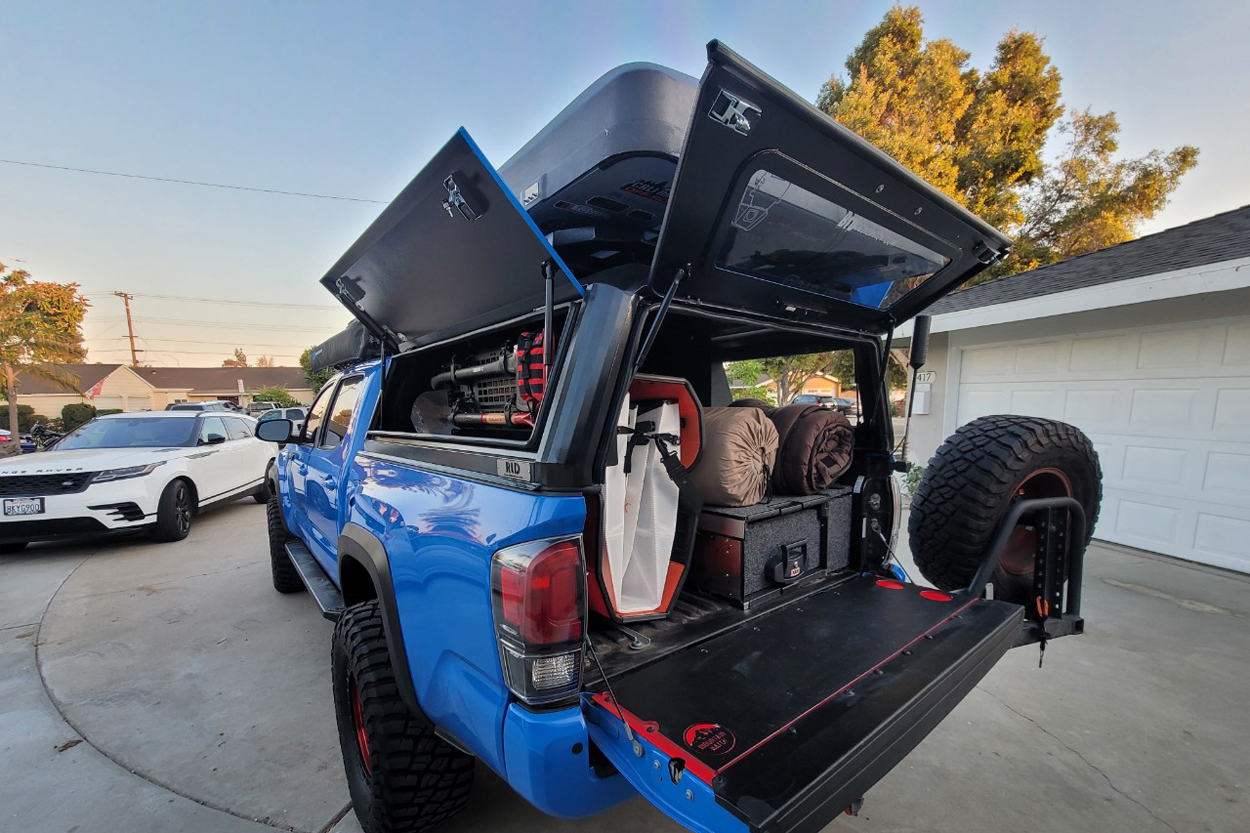 Finally, there are several options when it comes to the windows on your topper. If you are buying from the factory you can usually select from a few different styles of windows as well as their placement.
The most common style that Tacoma owners want is "windoors" or windows that open up and outwards that allow you to access your bed from the side of your vehicle. By opening completely, they allow you to retrieve items that are at the front of the bed without needing to crawl all the way in from the tailgate.
Additionally, many manufacturers allow you to select whether or not you want front and rear windows. The more utility-based toppers can often come with no windows for a rugged appearance and stealthy look so that no one can know what is in your bed. However, if you want to maintain rearview mirror capabilities, you should certainly opt for windows front and rear.
Popular Camper Shells For Tacoma
Without any further ado, let's discuss the best camper shell options on the market for your 2nd or 3rd Gen Tacoma.
With so many styles out there, it can be difficult to narrow down what will suit your build the best. But hopefully, we can give you a little bit of clarity before pulling the trigger.
1. Go Fast Campers (GFC)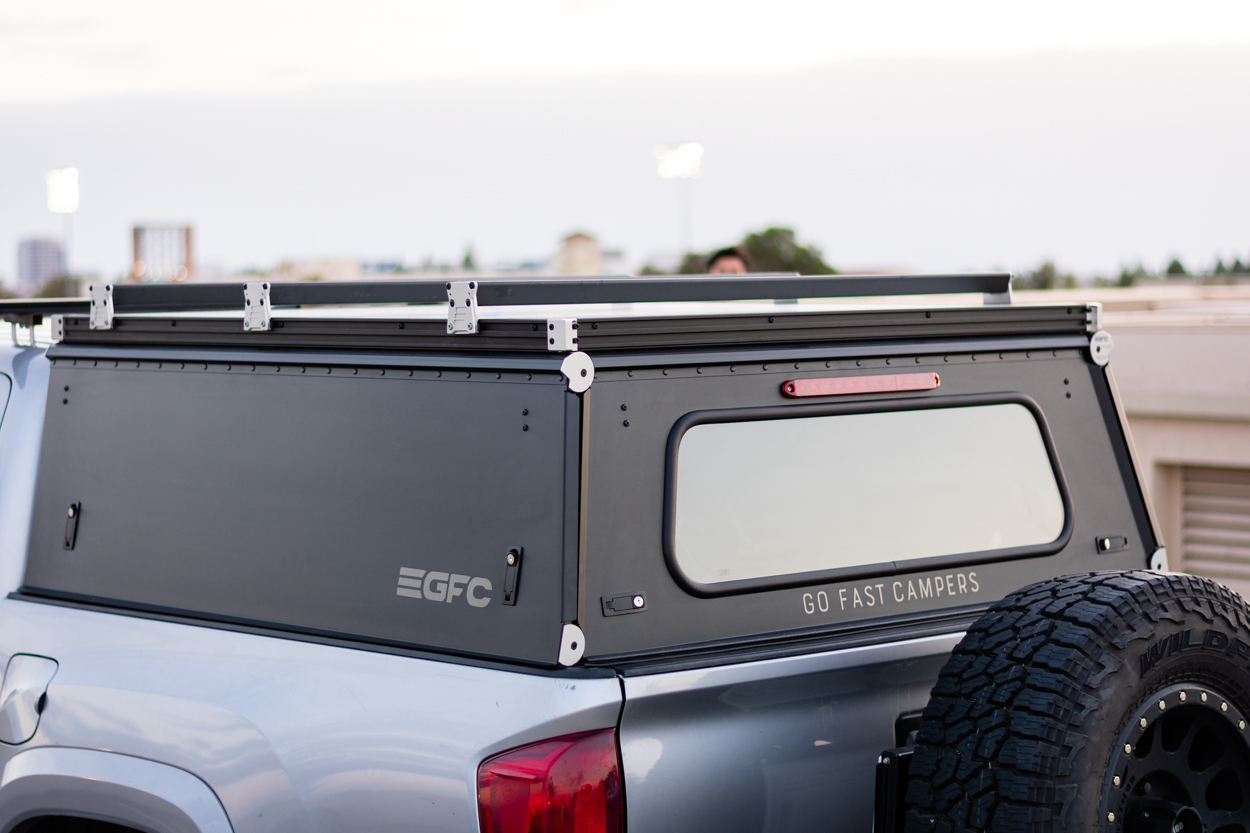 Find It Online
When it comes to off-road oriented camper shells, GFC is likely the most well-known and reputable brand that comes to mind – at least in the overland community.  These guys pretty much brought the fast and light truck camper to market at scale. They are popular for their lightweight pop-up wedge style camper, but have recently come out with their platform topper. Their company structure is heavily focused on American sourcing and manufacturing, and they actively invest into their employees and facilities as well. We love this business because of their attention to detail and their awesome business model.
Weighing in at just 135 lbs., the platform topper is extremely lightweight, while having the potential for an 800 lb. load rating. GFC even put a pickup truck on top of their shell to prove its strength. This makes it a prime candidate for people looking to mount items on the roof such as a tent or storage containers. They certainly geared their camper towards off-roaders by constructing their shell with a triangulated frame that will not rattle apart on the trail.
In terms of accessories, you can opt for no windows, individual windows in the front or rear, or both front and rear windows. Additionally, GFC offers several panel color options. There's no question here, GFC offers the most unique color choices. With colors like the standard black, you can also explore colors like a metallic bronze and bright red.
Starting at $3995 without windows, it is priced on the mid to upper end of pricing. Installation is possible at GFC in Montana, or in several of their new facilities across the states. Their new shipping options and remote installs can save you quite a bit of time. This option is our personal favorite, you will not be disappointed by the quality and functionality of this topper.
And how could we forget? GFC offers some of the lowest lead times in the industry – as little as 8 weeks!
2. RSI Smart Cap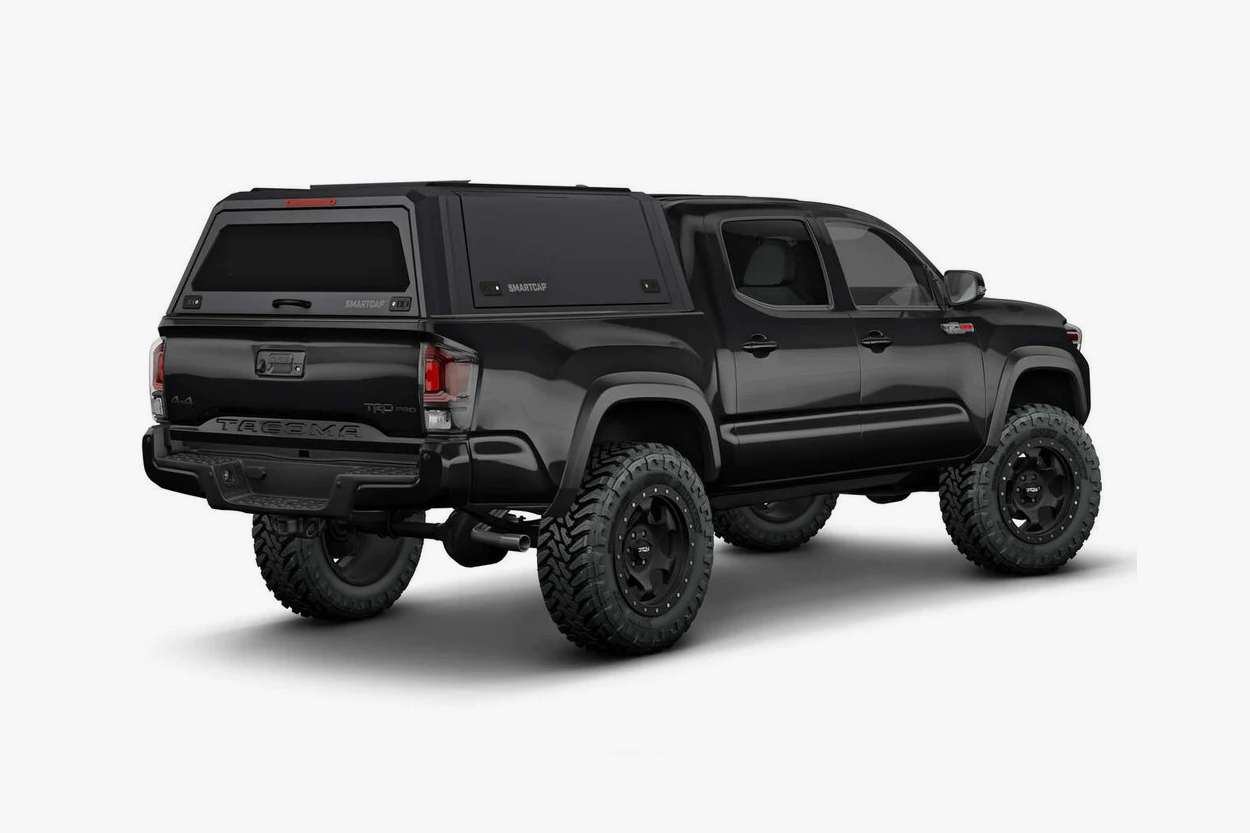 Find It Online
A newer company from South Africa, Smart Cap offers several varieties of their toppers for your Tacoma. The EVOa Adventure is geared towards off-road and overland applications. It features a 5-piece modular stainless steel design and gullwing doors for easy side access. RSI has also integrated molle panels into the side doors for added accessory mounting.
The adventure cap comes with roof rails from the factory that allow you to mount your roof rack of choice. Rooftop load capacity is 770 lbs. static weight but 330 lbs. when in motion. In terms of window options, the Smart Cap features a slider front window and a fixed rear window.
Color options are limited as it only comes in matte black. This choice is listed at $3995 before shipping and installation. A rad option, but leads times vary quite a bit, and are often longer and more limited.
3. Alu-Cab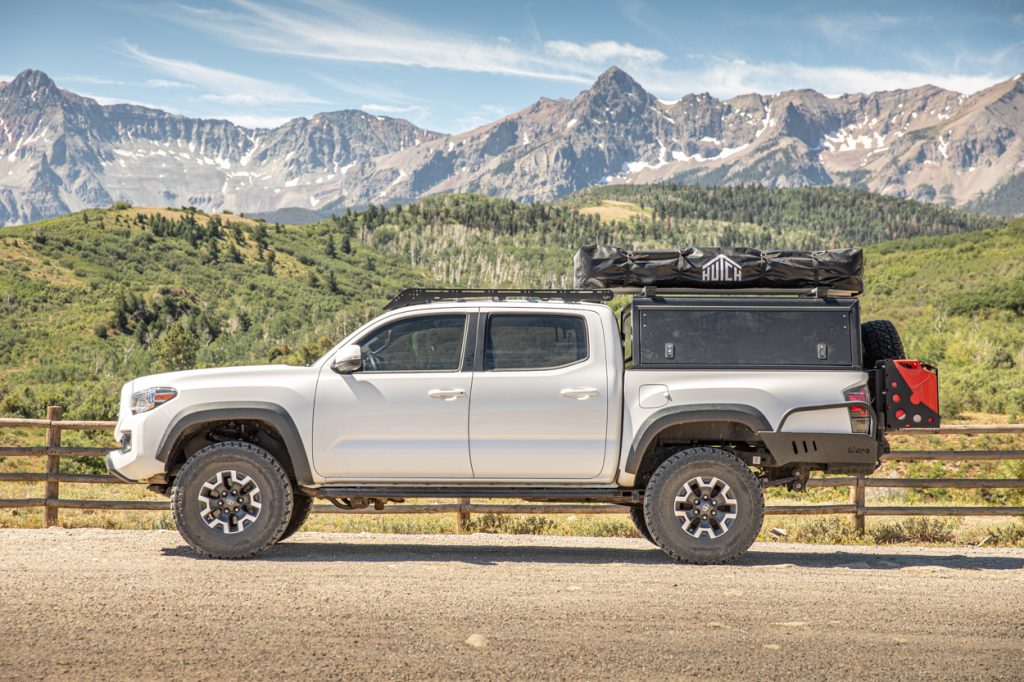 Find It Online
Next up, we have the Explorer Canopy by Alu-Cab. Another option from South Africa, these guys have been around for a while. This topper utilizes an aluminum alloy construction for a solid strength-to-weight ratio, allowing it to be up to 40% lighter than steel canopies. Moreover, thanks to its aluminum build, it is naturally UV-stable and corrosion-resistant.
With full-length side doors and front and rear windows, you will have solid visibility through your rearview mirror and easy access to the bed. Alu-Cab also utilizes waterproof hinges that prevent rainwater from entering the canopy with the doors open.
The explorer comes with built-in roof rails, similar to the Smart Cap, that allow you to mount your preferred roof rack. Depending on the dealer, this canopy will run you around $3600 plus installation and other fees like shipping. Lead times can also vary greatly, and tend to be on the longer side.
4. RLD Design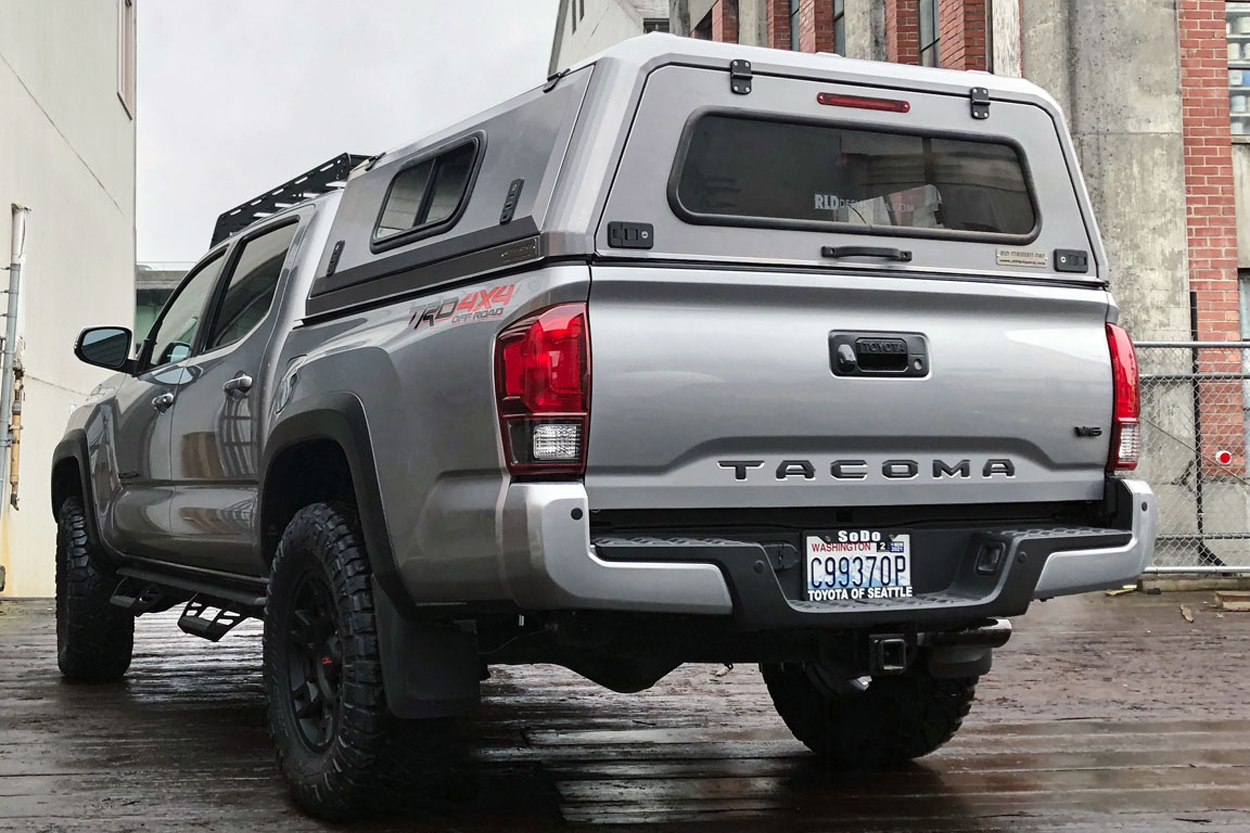 Find It Online
Now for the last on our list of canopies specifically geared towards the off-road community, is RLD Design. Their camper consists of bent and tig welded stainless steel which comes fully powder coated for improved durability. Due to its steel build, the RLD topper has a dynamic load capacity of over 700 lbs.
Additionally, it comes with a front sliding window and a glass rear window. The side panels are "windoor" style so that you can easily reach the items in your bed. They come solid without windows, though you opt for sliding windows. Mounted to the camper with gas struts, the panels also feature integrated locks that keep your camper secure.
For the short bed, the RLD canopy weighs 165 lbs. while the long bed option is 185 lbs. Prices range from $4200-4500 depending on your base configuration. Once again, lead times can be a bit on the longer side. Per the time of publishing, there were several messages that said the ordering process was currently closed until they catch up. This company is also overseas.
5. Leer
Find It Online
Moving away from the rugged, utility-based campers and getting into the traditional toppers on the market we have the Leer 100R. Leer has been in the truck canopy industry for quite some time and you have likely seen their products atop many trucks. The 100R features a framed rear door with double T-locks for improved security.
On this topper, you get framed 50/50 sliding windows so you can access the bed, though not as easy as with pop-up-style windows. Moreover, this setup features insect screens, an automotive glass front window, and an interior dome light.
Potential upgrades for the 100R include windoor side windows, an interior headliner, and a front sliding window. You can expect this system to start at around 2300 for base models and go up to about $3500+. Although the official weight is not disclosed online, most users report it weighs over 200lbs.
6. SnugTop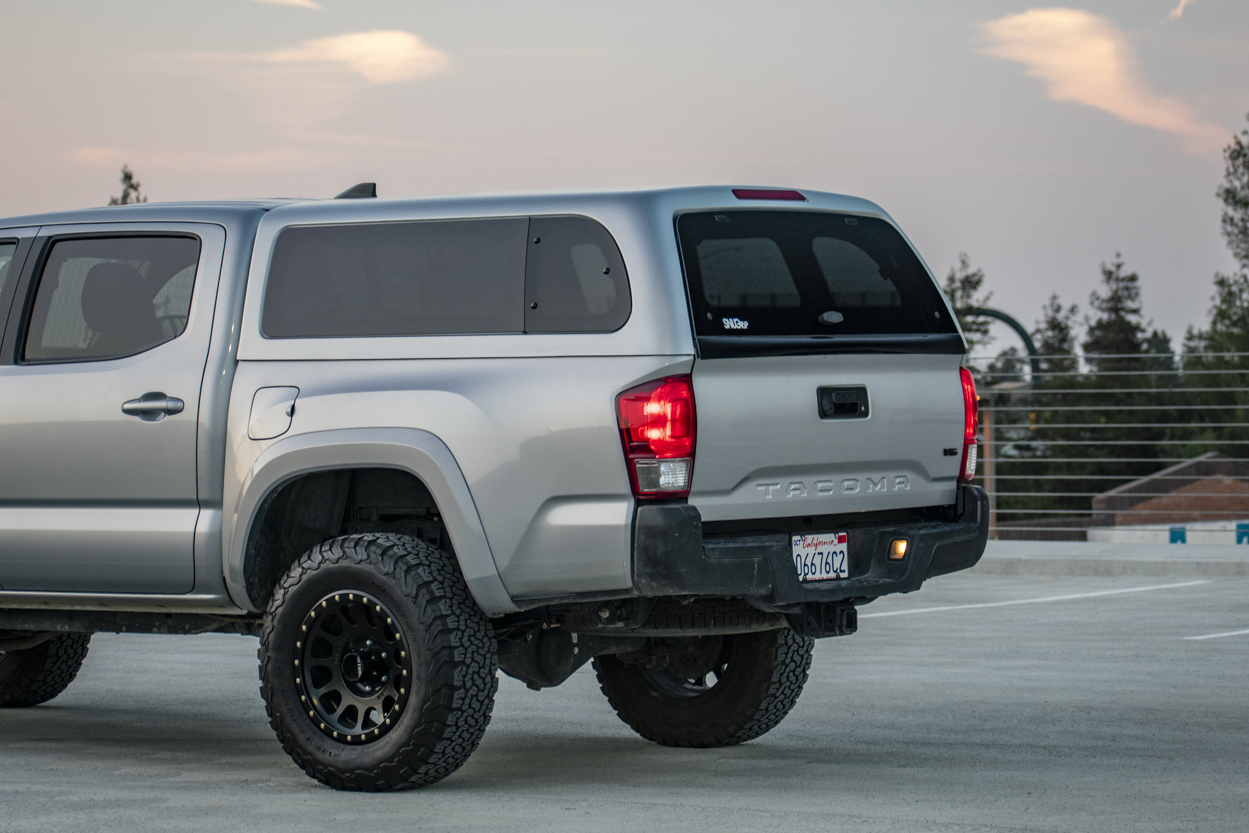 Find It Online
Finally, we have the SnugTop Super Sport. This topper leans far more on the luxury side than the rugged side of things. SnugTop's Super Sport features flush-mounted, frameless windows with panels that slightly pop out for ventilation. With this style of window, accessing the bed is rather difficult since you need to crawl in through the tailgate. However, you get a sleek OEM look.
Additionally, the roof has honeycomb patterned reinforcement so you can put various items overhead. It also features a built-in brake light and a sliding front window so you can access the bed from the cab.
Although this luxurious canopy looks sleek, you will have to pay a premium price. I previously had one on my Tacoma and with a slight discount, it was about $3500 – though it can certainly go up from there.
7. ARE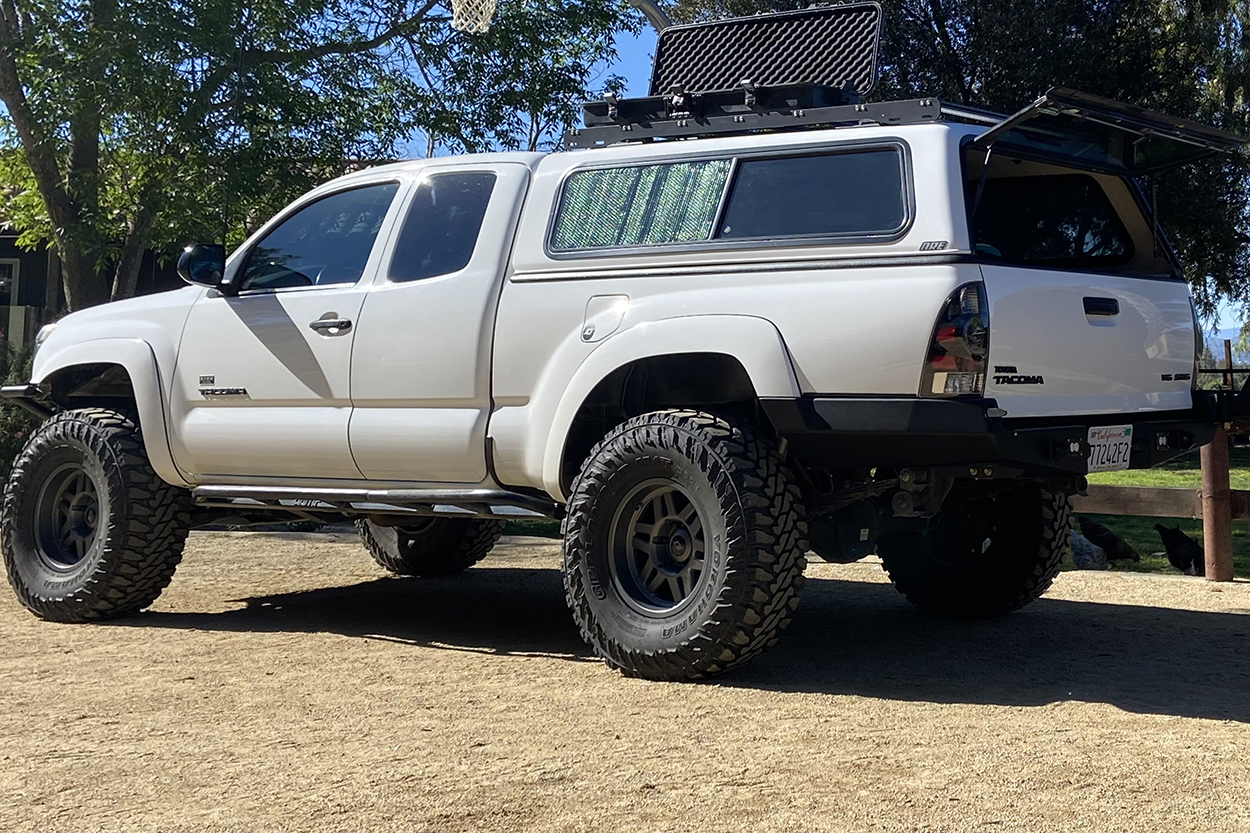 Find It Online
If you are looking for another fiberglass option on the market, you should check out ARE. The CX Classic is one of the more common options out there on the market. Comparable to the offerings from Snugtop and Leer, this setup will certainly give you OEM styling.
Depending on how you option it out, you can get a fixed or sliding front window, a single or double T-lock rear door, an LED dome light, and a fabric headliner. Additionally, the CX Classic features sliding side access windows. This system falls somewhere between luxury and rugged in terms of aesthetics. As you can see in the picture above, you can install mounting tracks for a roof rack to carry accessories like RotoPax or storage cases.
The ARE camper shell seem to start around $3000, which is pretty much average for similar products on the market and it weighs in at around 160lbs to start.
Final Thoughts
Hopefully, this post has helped you come to a conclusion or at least helped you start thinking about what topper would be best for you. Canopies such as the ones on this list are very beneficial for a wide variety of applications. Ultimately though, I cannot make the decision for you.
I previously had the Super Sport on my Tacoma and then switched to a bed rack setup before switching now to a GFC topper. So with my experience in mind, I can offer you some advice. If you want a luxury, OEM look and do not need the most heavy-duty topper, then look at Leer and SnugTop. On the flip side, if you off-road a lot and need maximum utility, GFC, RLD, and Smart Cap will likely be your best choices.
All in all, it will come down to your personal preferences. But, as a self-proclaimed weekend warrior who also daily drives my Tacoma, the lightweight yet heavy-duty nature of the GFC is almost unbeatable.