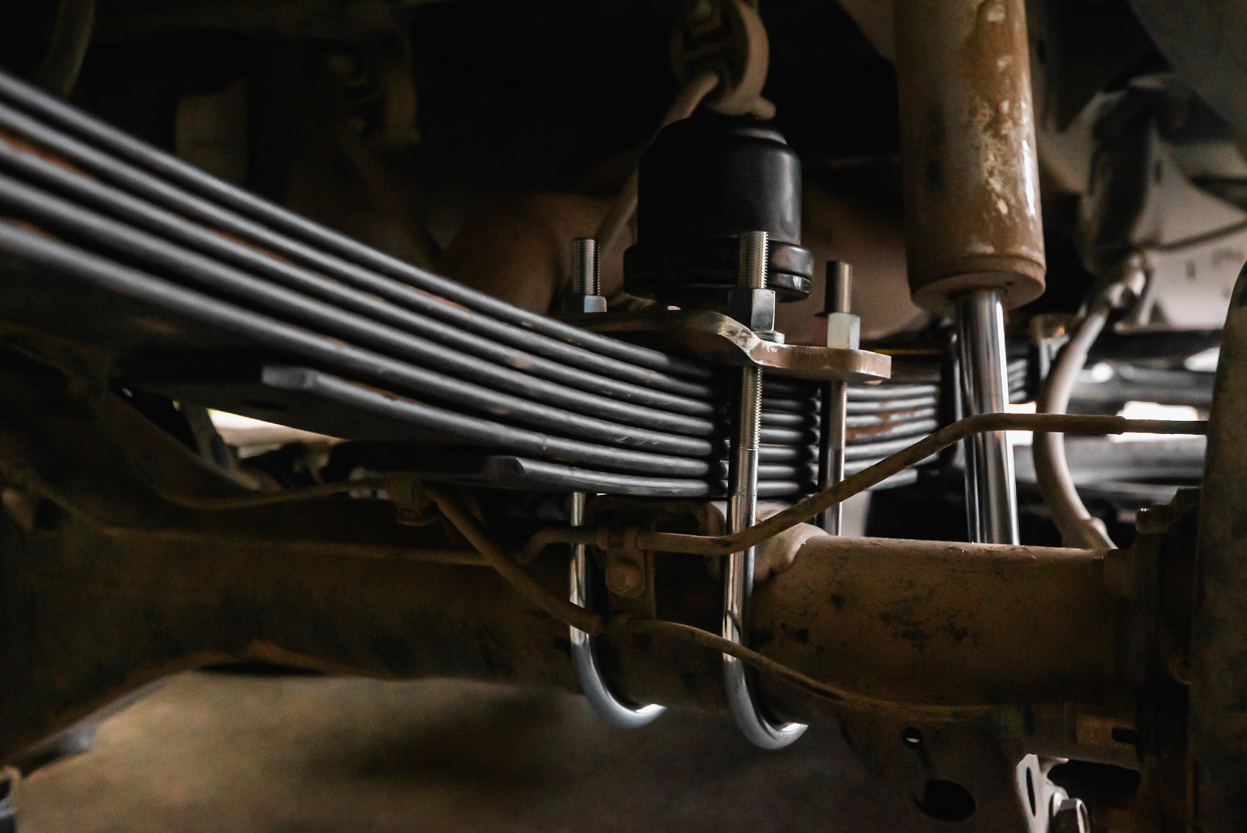 8 Popular Aftermarket Leaf Spring Upgrade Options For 2nd (2005-2015) & 3rd Gen (2016+) Tacoma – Everything You Need To Know About Leaf Packs & Add-A-Leaf Kits
With all of the weight and gear we strap onto our trucks, we start to find our OEM suspension system's limit. If you have ever hauled anything in your 3rd Gen Tacoma, you probably noticed how much the rear end sags. Especially over repeated use, the OEM suspension loses its charm.
The biggest culprit of this issue is undersized leaf springs. By upgrading your leaf packs on your rig, your truck will be more prepared to off-road or mall crawl with some weight in the bed.
Looking for more lift kit content? See the following posts…
What Is A Leaf Spring?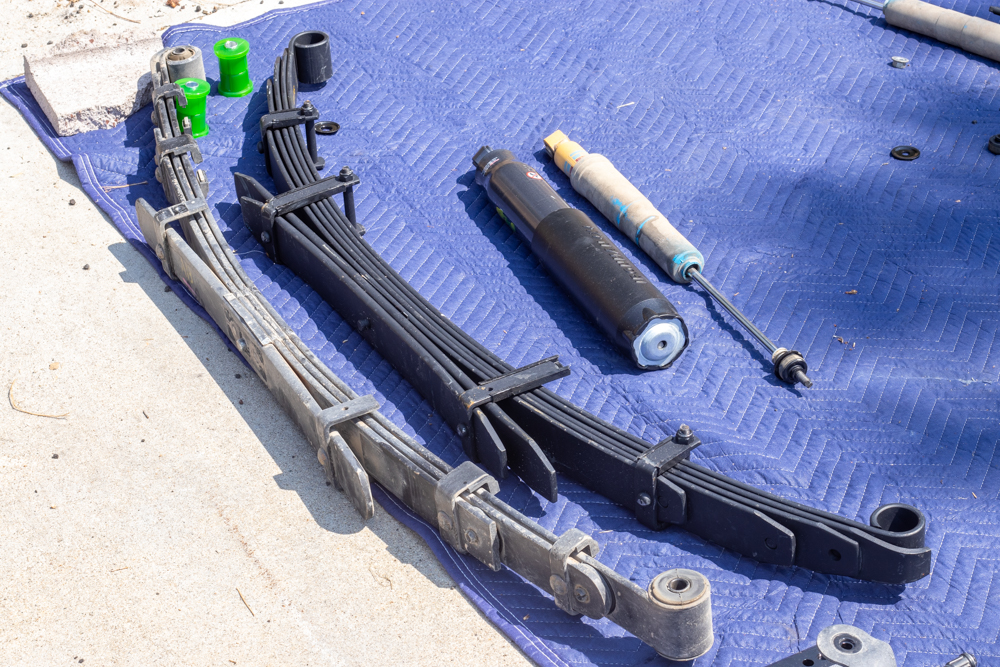 Leaf springs are rectangular strips of steel stacked on top of each other that work as part of the suspension for the rear end of your Tacoma. Whereas a shock and spring would absorb and support the entire rear-end weight of your truck, a leaf spring will distribute weight across the length of the pieces of steel.
With each of the individual "leaf" pieces stacked on top of each other within the leaf pack, they relieve the weight of your Tacoma off the shock which allows it to absorb the bumps you drive over.
Do I Need Them?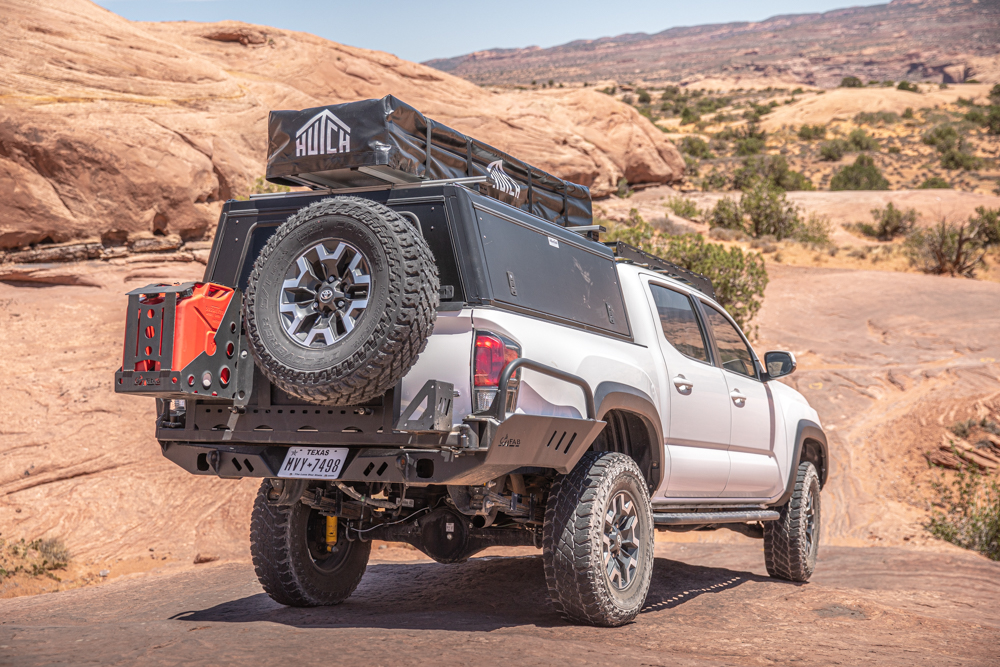 Ultimately, you should be looking for an aftermarket leaf spring system if you are requiring any sort of support or lift in the rear end. Even if your Tacoma only sags a bit, if you tow a lot or have constant weight in the bed it will wear your OEM springs over time and the issue will get worse.
If you are looking to lift your Tacoma, then they are absolutely necessary. Of course, you should also look into new rear shocks and a brake line extension kit if your lift is more than an inch or two. Additionally, if you are upset with how the rear end of your stock Tacoma performs, upgraded leaf springs could be a great solution for you.
How Much Lift Will I Get?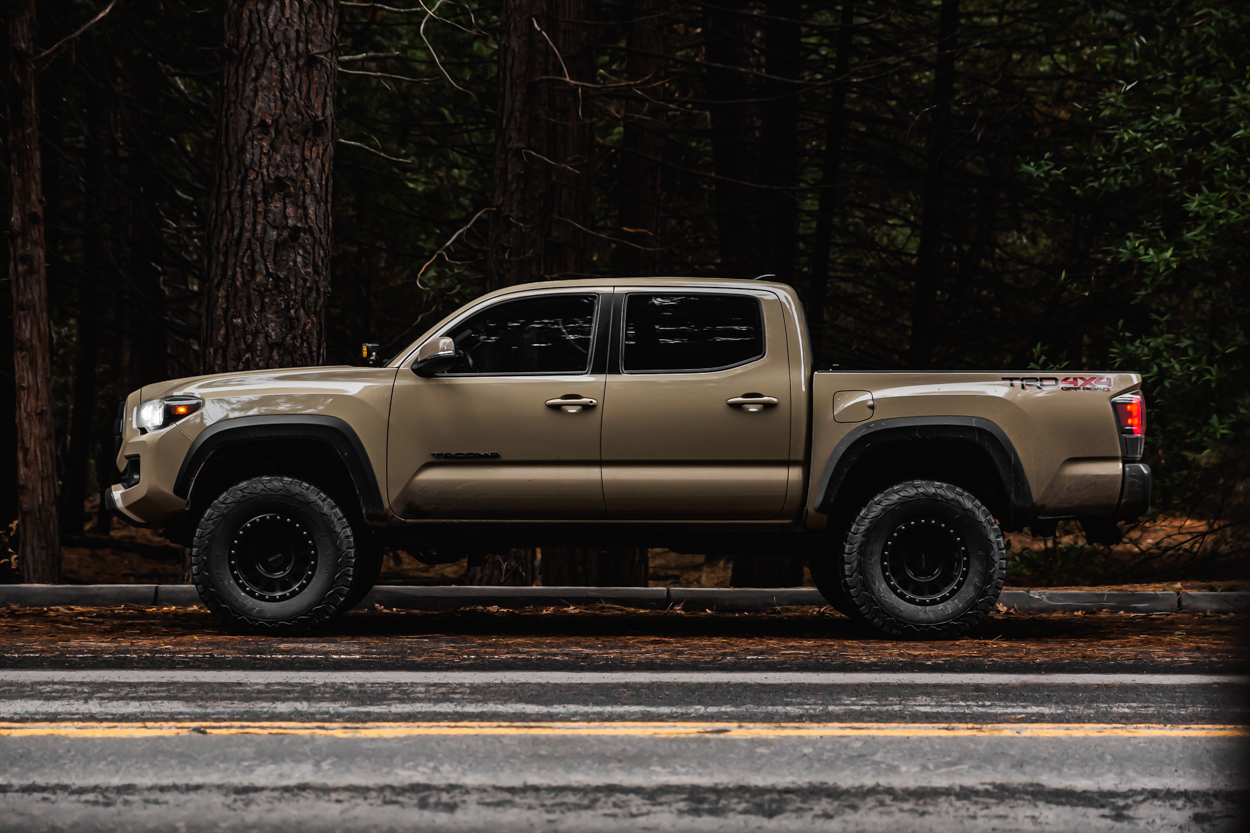 The amount of lift that you receive from your leaf spring package depends on the weight rating/capacity of the leaf pack. As a general idea, with factory loads, an add-a-leaf will give you around 1.5″ of lift. With aftermarket leaf packs, assuming you pick the right weight capacity, you will be looking between 2-3.5″ of lift.
Some companies offer multiple capacity options when you are purchasing your leaf springs which allow you to select the best setup for your rig. If you carry a lot of weight, you'll want to go with a heavier-duty leaf spring. The exact amount of lift that any particular kit provides will vary between manufacturers. If you are unsure, check the description on the company's website and it should be able to guide you.
Note: What the manufacturer says is not always the case. Sometimes it might be higher or lower than specified. Often the lift numbers higher until the springs break in and settle after a little while.
Typically, you upgrade to a new leaf pack when lifting the front of your truck as well. Many lift kits are around 2-3″, so you'll likely be looking for a leaf pack that provides 2-3″ of lift as well.
Add-A-Leaf Vs. Full Leaf Packs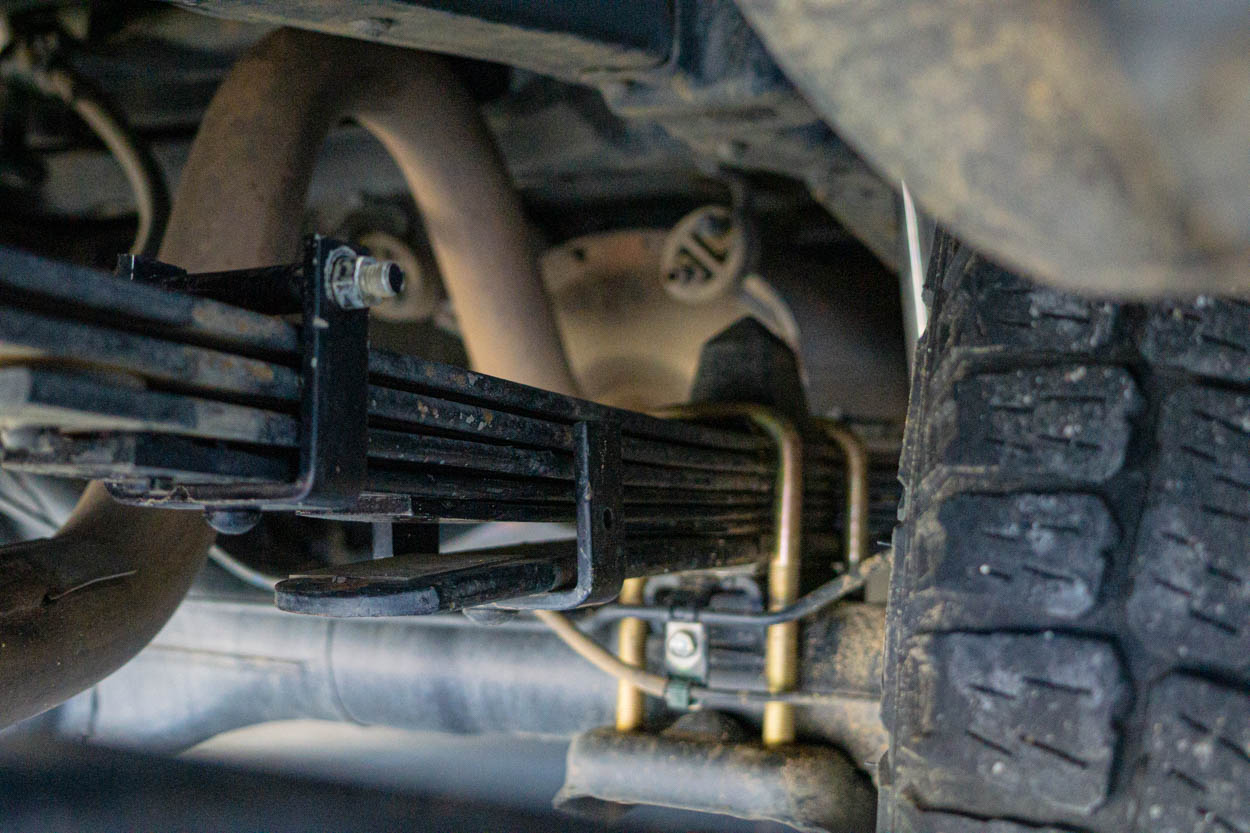 When choosing to upgrade your leaf springs, there are two routes: Complete leaf packs or add-a-leaf kits. AALs will be cheaper but won't provide as much support (and usually less lift) than a complete leaf pack.
Complete Leaf Pack
Upgrading your entire leaf pack means you are removing your entire leaf spring and changing out the whole assembly. If you are going for a lot of lift (more than 1.5″) or plan on adding a significant amount of weight, this will be the best option for you.
However, it will be a more expensive solution. If your current leaf springs have been on your truck for a while, it might be time to upgrade the whole system too.
Add-A-Leaf
An add-a-leaf on the other hand simply adds one of the "leafs" or slabs of steel to your current leaf packs. This will provide you with more rear-end support, just less so than an entire new leaf pack. If you only add a little bit of weight or tow on occasion this is a more cost-effective solution.
Generally though, AALs will only give you 1.5″ of lift at most. And if your OEM leaf packs are worn and saggy, an AAL will mostly be a band-aid fix until you replace the entire pack.
Benefits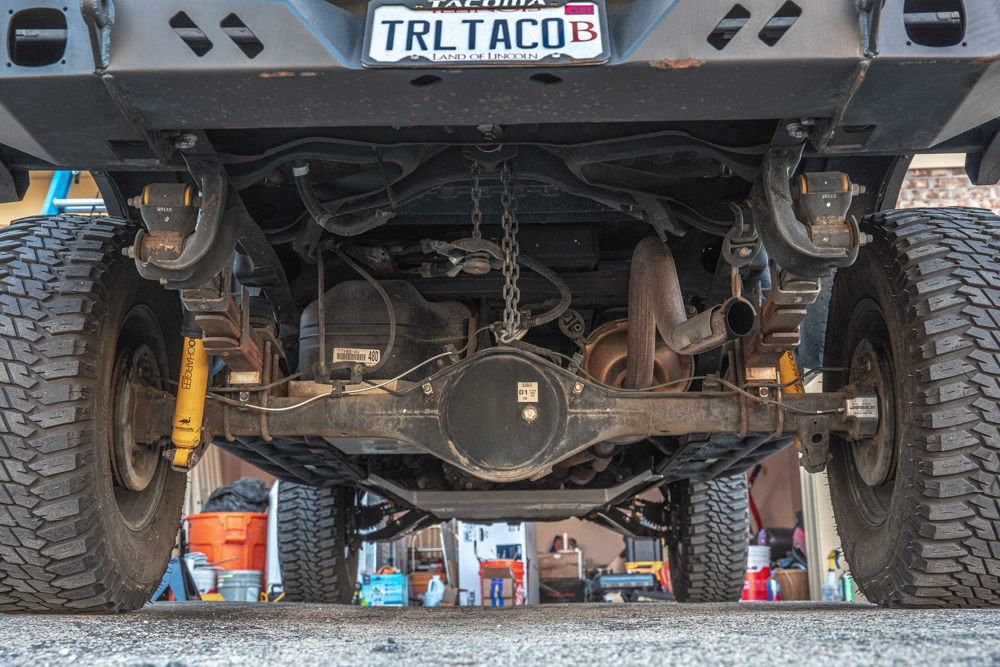 Load Capacity
Upgrading to aftermarket leaf packs allows you to support more weight in the bed. Adding items like a rooftop tent, camper shell, or a bunch of heavy camping gear can cause the rear end of your Tacoma to sag. Bigger leaf springs will remedy this issue.
Although it is worth noting that you should not haul beyond Toyota's set capacity because leaf springs are not the only part of your truck that limit the payload capacity (it also depends on things like the axle, etc.). But, the closer you get to that weight limit, the leaf springs will prevent any rear-end sag.
Increased Lift
One of the most common reasons people upgrade their leaf packs is because it will provide you with rear-end lift. If you want to retain the stock ride height but prevent any sag, you can get leaf springs with a small amount of lift.
Many companies that sell leaf springs will specify the options which will indicate how much lift you receive after installation. If you are hoping to lift your truck, heavier-duty leafs will be the solution.
Ride Quality
Aftermarket leaf springs can improve your ride comfortability a lot. Especially if you experience a lot of body roll in your Tacoma, a better supported rear end can help reduce that sketchiness since it will be stiffer and tighter than your OEM springs.
They can also liven up your ride when you are hauling a lot of heavy gear.
Towing Capacity
Similar to the payload, if you tow a trailer it can drag the rear end of your Tacoma down a lot. Leaf springs will support the rear end and prevent this issue. Since it is able to better support the weight, your ride quality while towing will also be a lot better.
Downsides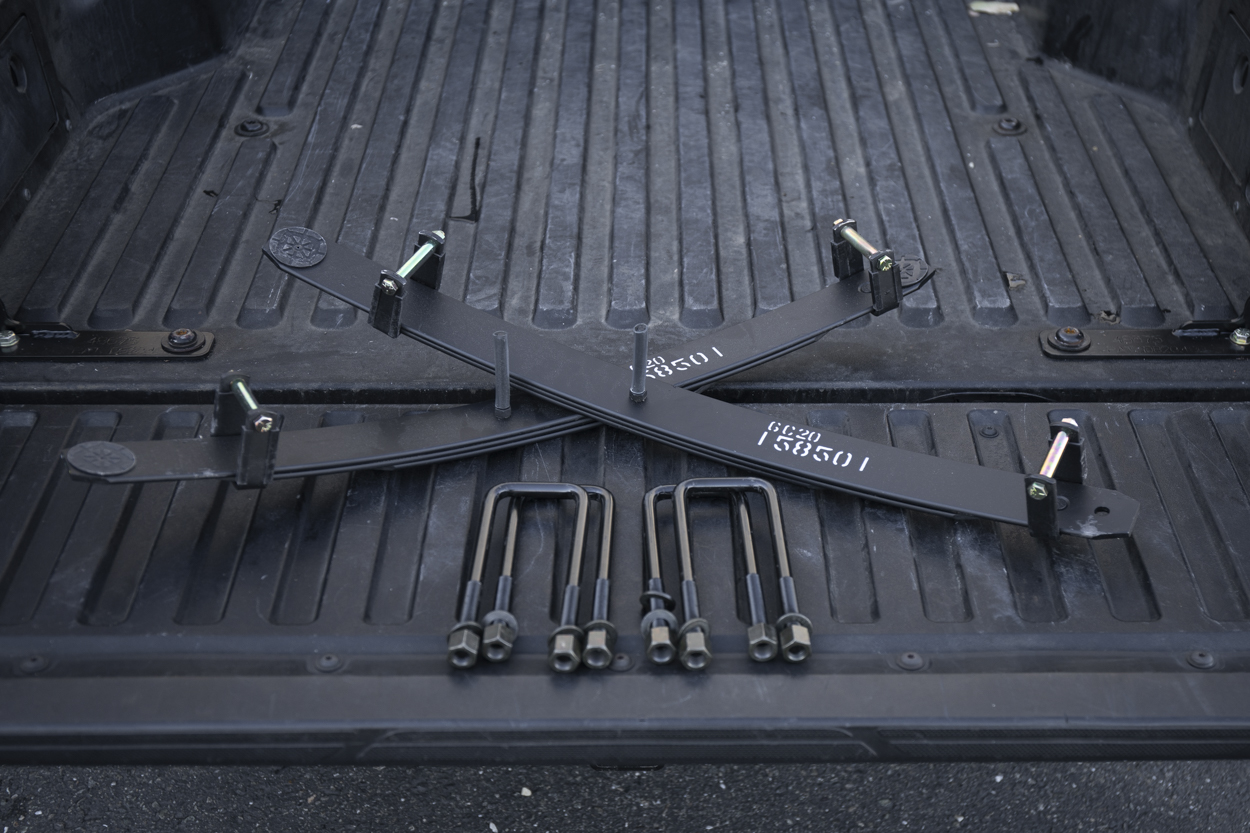 As with almost every modification for our trucks, there are some downsides to upgrading your leaf system. The primary downside is the cost. If you buy an entire leaf pack you are looking at roughly $600-1000+. This is a pretty penny if you are not certain that you need them. Plenty of people off-road on stock suspension, and if you are not finding the limits of your current system, it probably won't be worth the investment.
Another downside is that changing the ride height of your truck can cause alignment issues and changes in the geometry of your components. The world of lift kits is complicated and confusing and it is not as easy as throwing on a set of leafs.
If you are looking at adding some serious lift (2″+) then you should look into driveshaft spacers, brake line extensions, and a few other key components that will prevent your Tacoma from having vibrations or other issues.
Top Leaf Systems For Tacoma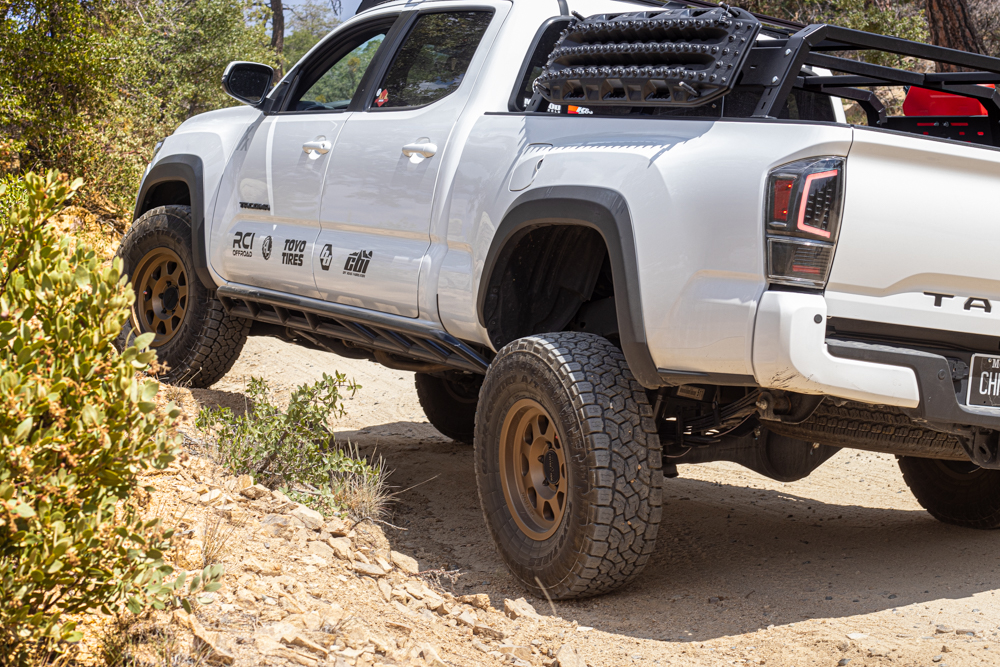 Now that we have a solid grasp of what leaf springs are and why they are so important, let's get into the 10 best options on the market. Each manufacturer specifies different lift amounts and load ratings so before you decide, check all of the details in the product descriptions.
Note: Keep in mind that load capacities may vary between one leaf spring option when comparing long and short beds.
1. Icon RXT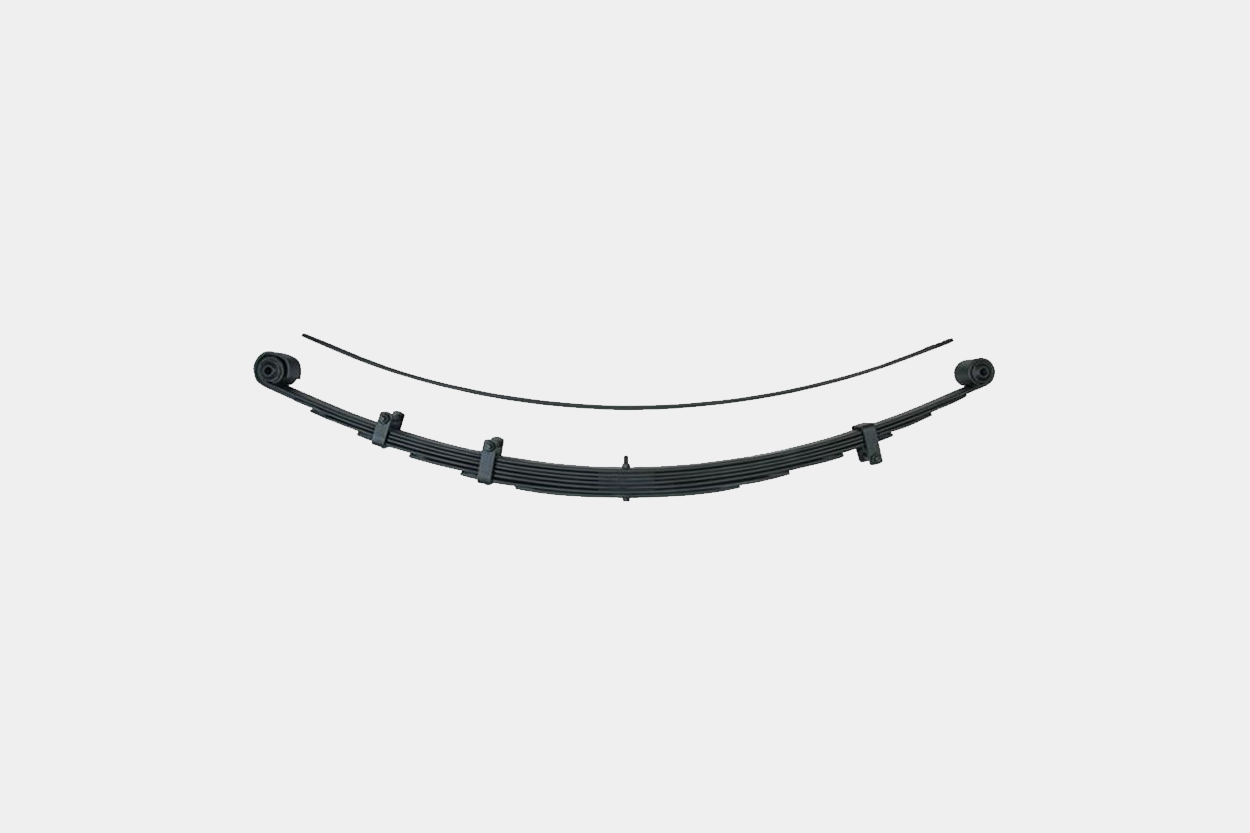 Find It Online
One of the most popular options, Icon offers both a add-a-leaf kit, and their complete replacement, the RXT.
As with most add-a-leafs, this one give you 1.5″ of lift. Moving on, for the more advanced user, Icon's Multi-Rate RXT Leaf Pack is a durable and flexible leaf spring system that comes with 3 user-adjustable spring rates.
Icon slightly lowered the spring rate in the design of this leaf spring to enhance ride comfort. But if you have mounted heavy gear, like a rooftop tent or a bed rack, you may prefer a higher spring rate. To accommodate the extra weight, Icon includes an extra leaf in the kit which can be added to the leaf spring or exchanged to provide an additional 10% or 20% spring rate.
For optimal performance, galvanized leaf separators minimize friction between the leaf springs, and reduce the possibility of corrosion. Ride comfort is greatly enhanced, and noise minimized, thanks to leaf tip inserts.
For more info, check out Blaise's install and review here.
2. ARB OME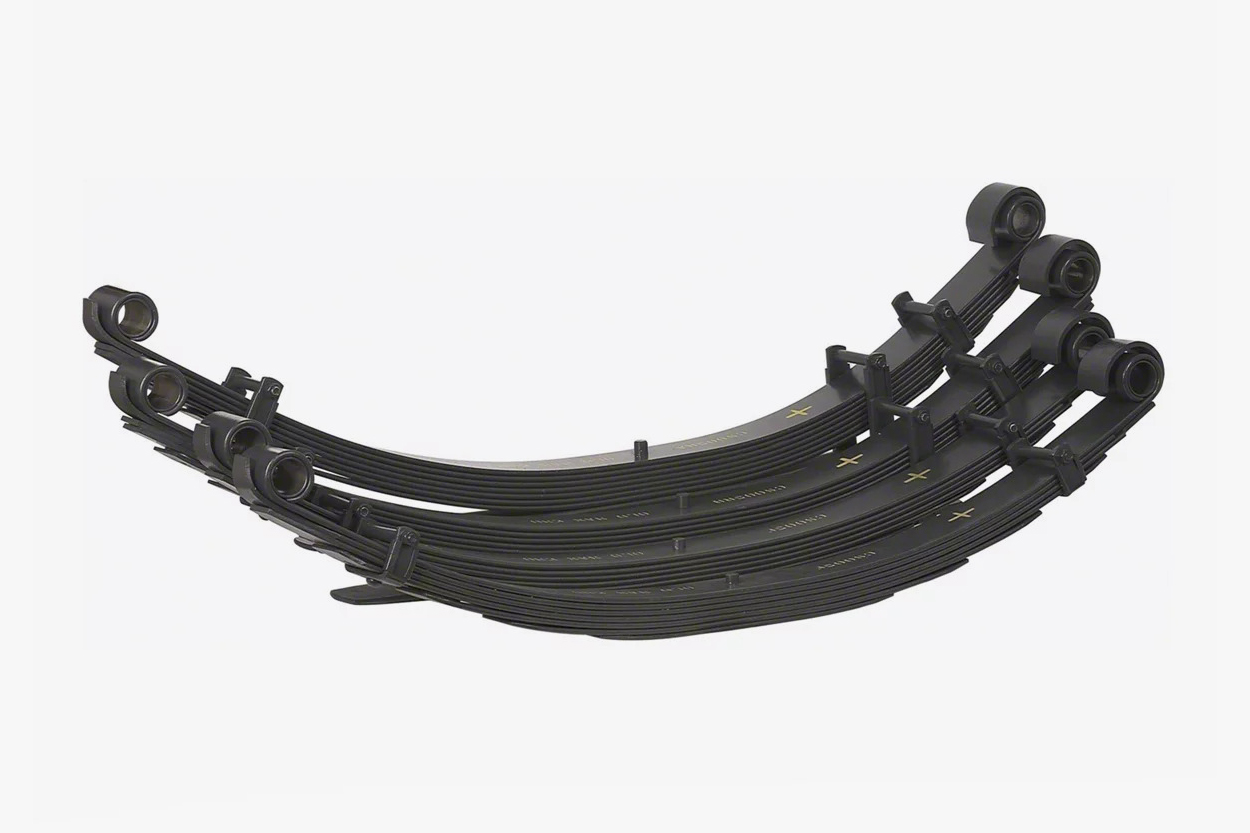 Find It Online
The ARB Old Man Emu Leaf Spring will boost the functionality of your truck, enhancing ride quality, supporting heavier loads, and adding 2'' of lift for 2nd & 3rd Gen models.
Its draw-tapered and diamond-cut leaves efficiently support medium loads by distributing the weight progressively over a large surface area. That way, stress that typically develops at the leaf ends is minimized. Also, nylon anti-friction pads placed in between the leafs minimize friction at the leaf tips.
Installation should take about 2 hours. Bushings and longer U-bolts are not included in your purchase, but Old Man Emu offers these separately. Above, we linked a heavy version, but there is an option there for a medium load as well. ARB only has the full replacement leaf packs. No add-a-leaf kit is available. They do sell individual leafs, but they may not work with all leaf packs.
3. All Pro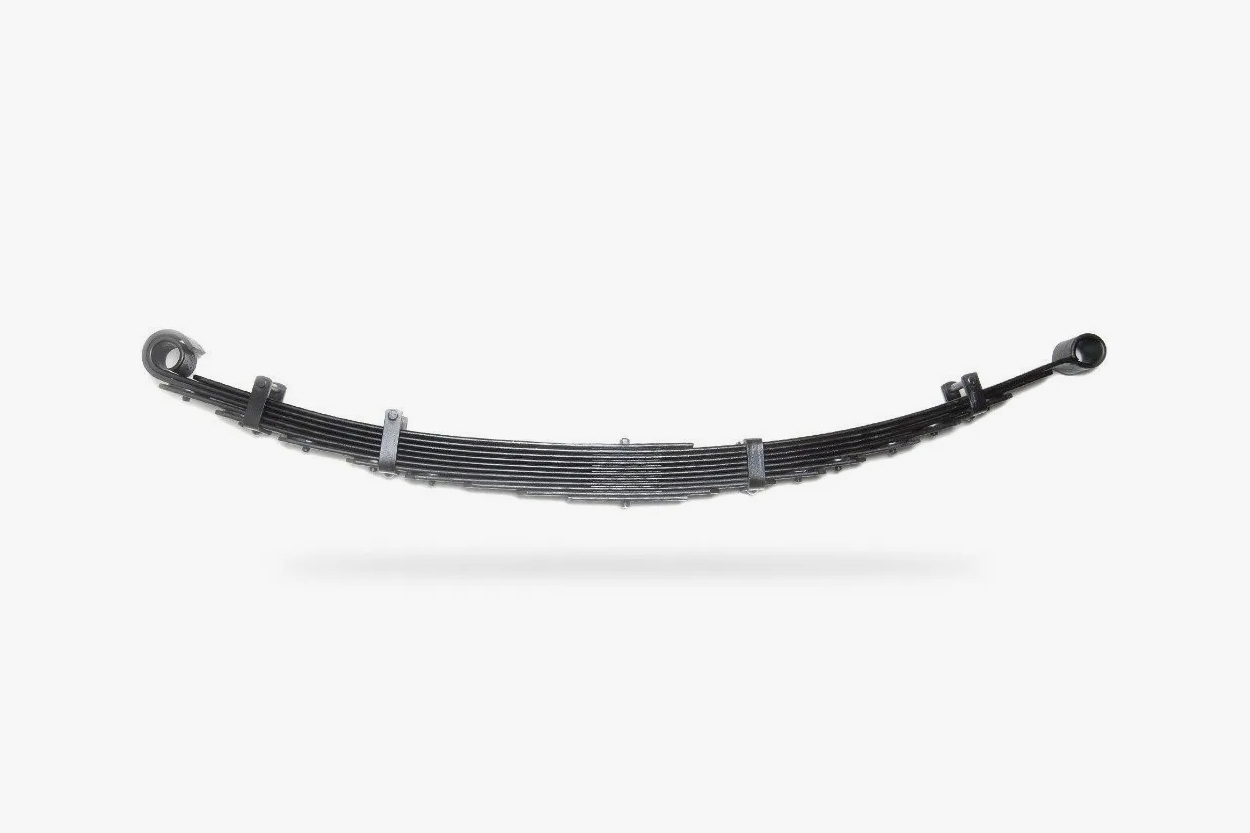 Find It Online
All-Pro Off-Road specializes in aftermarket parts and accessories for Toyota vehicles. They offer competitive prices without compromising on quality. These guys carry both a complete leaf spring upgrade, as well as an add-a-leaf option.
The add-a-leaf kit is a simple way to get your truck 1.5″ off the ground at a good price point. Similar to other kits, it bolts right into your factory leaf pack.
If you're ready to get more serious, the 3″ leaf springs are the answer. They have three different options: Standard, Expedition, and Expedition 2.0. Each built to handle more weight, all the way up to a consistent 1000 lbs.
All leaf springs are shot-peened for added strength and feature diamond-cut leaf ends to remove stress points and prolong the leaves' service life. A complete urethane bushing and sleeve kit is included in your purchase, and detailed installation instructions can be found on their website.
4. Ironman 4×4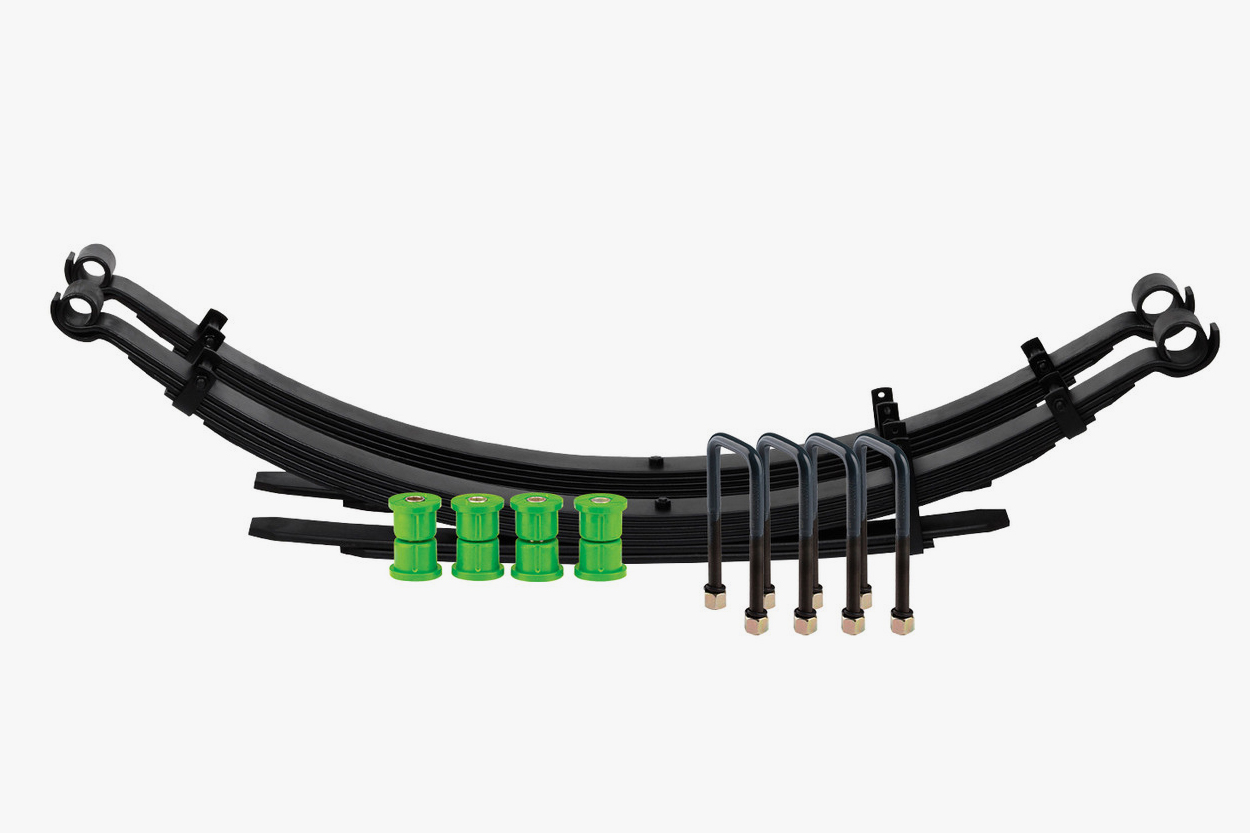 Find It Online
Ironman 4×4 offers a high-quality rear leaf springs kit for the 2005-2022 Tacoma models. Like other options, they have an add-a-leaf and a complete replacement spring.
The full spring kits come in medium and heavy loads. The medium option is engineered to support loads up to 440 lbs, with an estimated leaf height offering of 2''. The heavy load offers a similar lift, but is geared towards constant load weights of over 440lbs.
They are shot-peened for added strength and guaranteed longevity. Thanks to the multiple-leaf design, you can expect enhanced flexibility, which will improve ride stability and comfort. The great thing about this kit is that, for your convenience, it comes with all hardware necessary for installation. This includes both leaf packs, a U-Bolt kit, and a spring bushing kit. Ironman also sells a individual leaf spring slabs, but they don't work with all leaf packs.
Adam has covered Ironman's entire lift kit (springs included) on our site. Find the install/review here.
5. Deaver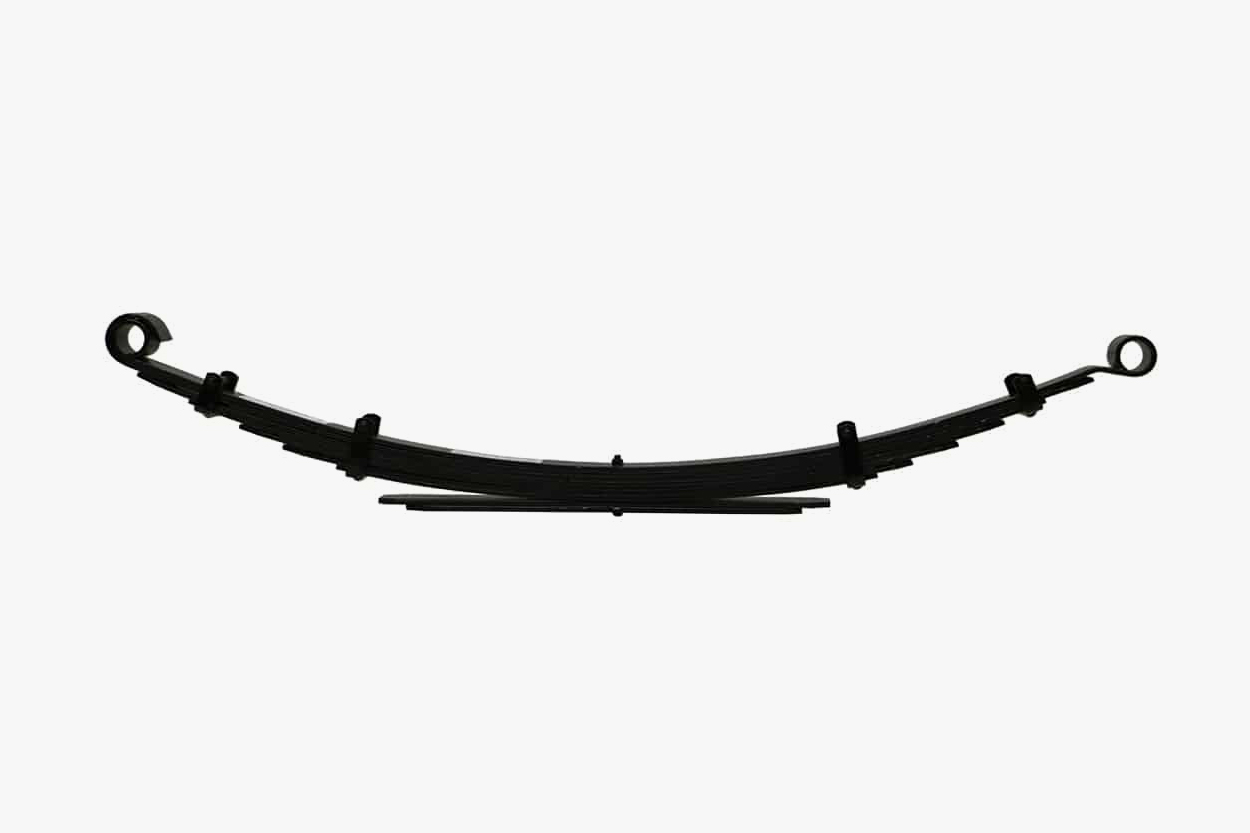 Find It Online
Featuring high-quality steel construction, Deaver Progressive Series rear springs are built strong, with military-wrapped spring eyes and diamond-cut inner leaf ends.
Each spring comes with 9 thin leaves for a more flexible progressive leaf stack, compared to stock leaf springs. It will support heavy loads and provide needed lift while optimizing ride comfort.
Deaver offers three different options, based on the load weight you consistently haul in your truck bed:
Stage I for 0-300 lbs.
Stage II for 400-600 lbs.
Stage III for 700-1000 lbs.
All types feature anti-friction pads to minimize friction between the leaves, protecting them from premature wear. They are pricier than other leaf springs on this list.
6. 4WP Factory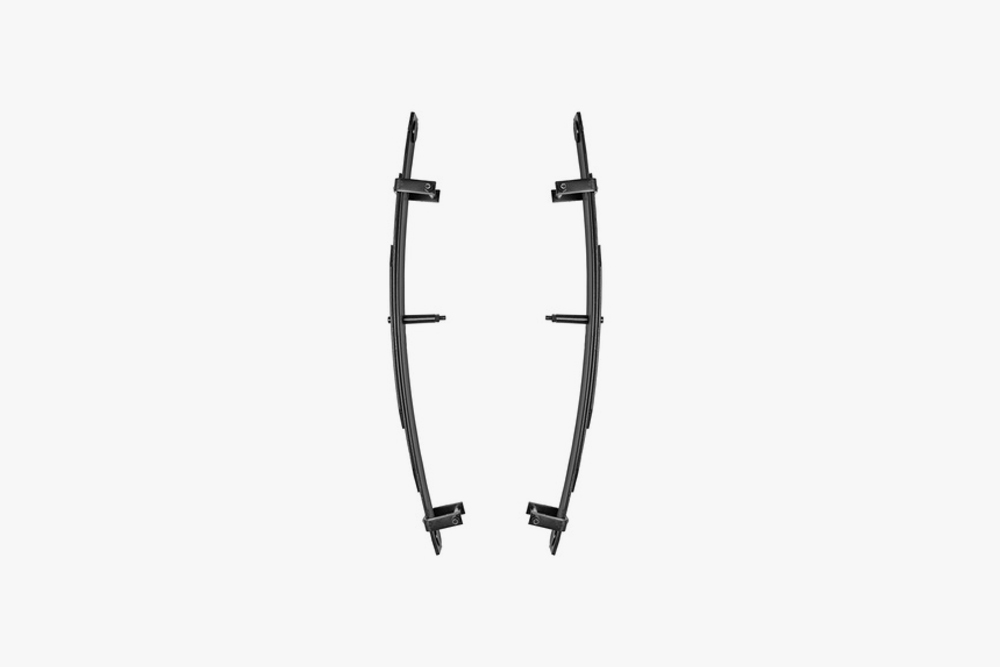 Find It Online
The 4WP Factory rear add-a-leaf will add roughly 1.5'' of lift to your Tacoma. Included in the kit are their 3-leaf expansion pack and U-bolt kit with hardware and E-coat.
When installing the leaves, the OE overload leaf should not be reused unless you are consistently carrying a load of at least 400 lbs.
This pack is affordably priced. It will get the job done, adding some good ride height without compromising ride quality. It is perfect for truck owners who want a basic suspension upgrade without breaking the bank. They do not sell full leaf packs.
7. Dobinsons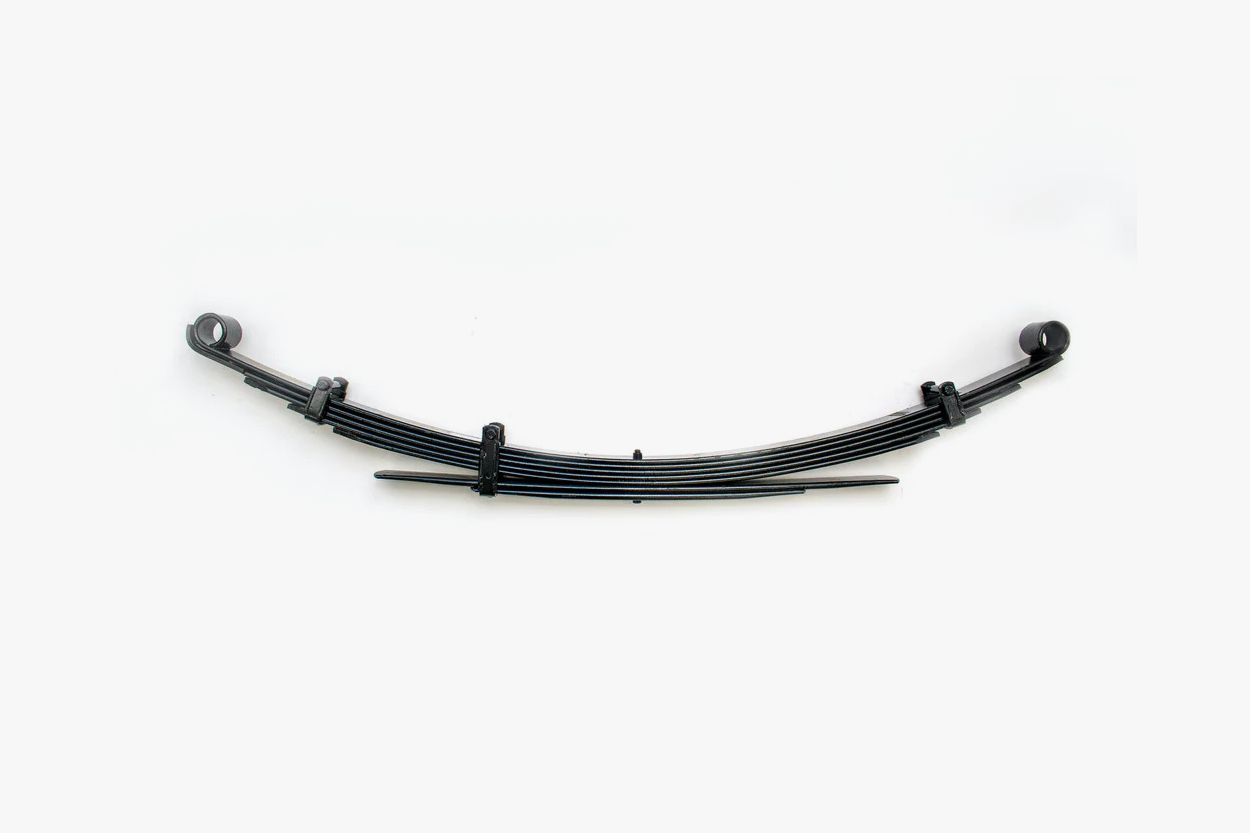 Find It Online
Dobinsons has been in the leaf and coil spring manufacturing business since 1953. They are headquartered in Australia and are known for their great suspension systems.
Their leaf springs for the Tacoma are constructed from high-quality spring steel and are built durable to withstand the most demanding conditions.
They come in a pair and feature multiple drawn and tapered leaves. They will not only support the truck's weight but enhance the quality of your ride while driving over the bumpiest terrains. Inter-leaf liners help minimize friction which ensures a quieter, smoother ride and extends the overall service life of the leaf spring.
The range of weight capacities is helpful for dialing in your suspension to your particular setup.
8. Rough Country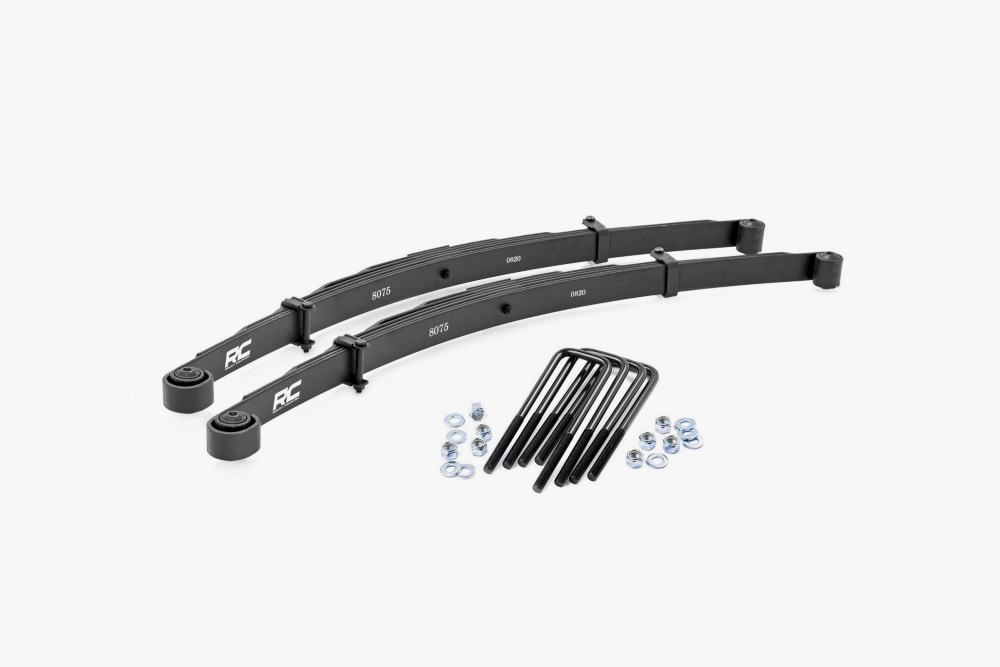 Find It Online
Rough Country's Rear Leaf Springs for the Tacoma feature solid construction and multi-leaf design, with tapered leaves for more flex on leaf ends and optimal distribution of loads.
When installed, you can expect 3.5″ of lift while preserving your truck's suspension lift height and improving overall ride quality. Installation is straightforward and is 100% bolt-on. We could not find official load capacity numbers.
These are on the lower end of the price spectrum for a full replacement, compared to most leaf springs we featured on this list. It can be a good option for truck owners working on a budget who want to upgrade their suspension system for uncompromised performance on and off-road.
Final Thoughts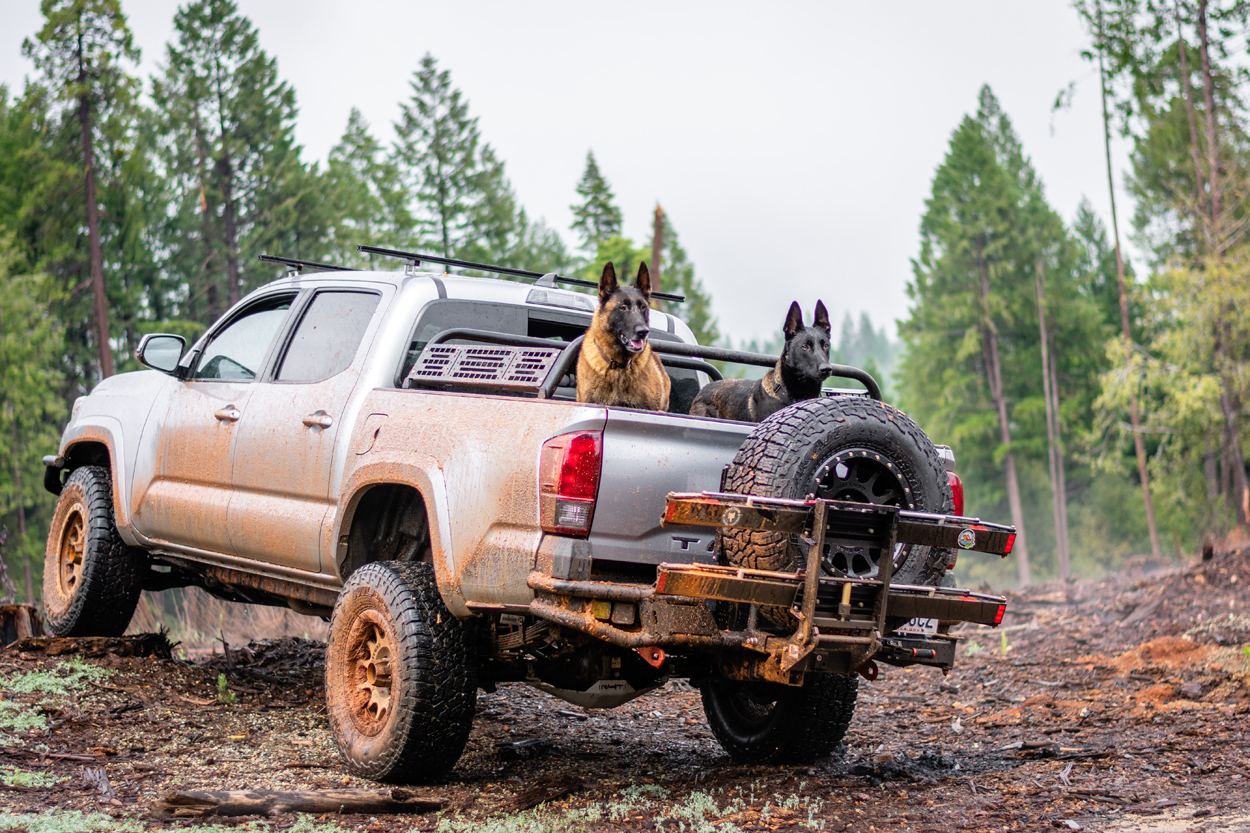 Overall, upgraded and heavier-duty leaf springs will be a great solution for Tacoma owners who use their trucks like trucks. Whether you want better support to carry gear or more lift to tackle features off-road, they can make your driving experience much better.
It is important to remember that maximum lift/support if not needed or weighed down can make ride quality very uncomfortable and jumpy. If you are planning on adding a lot of weight soon and want to get big leaf packs to prepare for that, you can get some 50lb. sand bags to throw in the bed until you add the weight.
One final thing to note is that when you add a lot of lift (more than 3″) you will need other parts to accommodate the change in your truck's geometry.