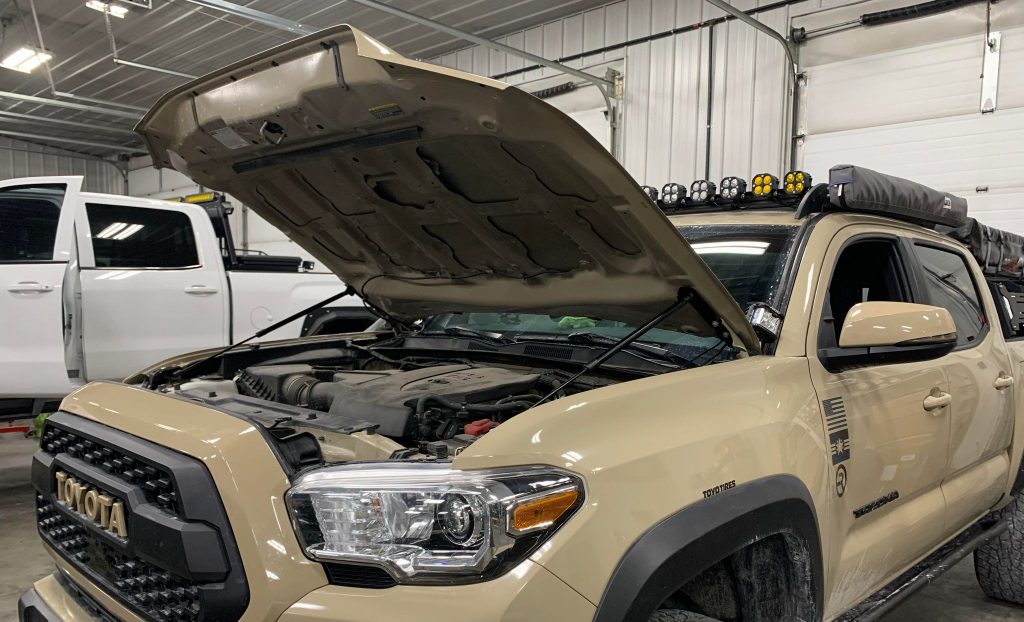 KTJO 4×4 Hood Strut Lift Kit For 3rd Gen Tacoma: Replace Your Factory Hood Prop For Easy Engine Bay Access – Install, Review & Overview
KTJO 4×4 was founded in 2019 when founder Katie Kelley manufactured interior and exterior modifications she believed should have come from the factory. She started with a locking tailgate harness for her 2017 Tacoma, then a power-folding mirror kit and a driver-side grab handle that has quickly become their best seller.
KTJO 4×4 is based in St. Helens Oregon and works hand in hand with its family members to design and create new products to fill a void of modifications that benefit the day-to-day use of your Tacoma.
Since 2019, KTJO 4×4 has expanded its product line to the 4Runner, Tundra, and even Highlander. Their attention to detail and customer service really shows when you open the box to see everything neatly packed and organized with detailed instructions.
Today, we'll be taking a look at the KTJO 4×4 hood lift support kit; which adds gas struts to your Tacoma's hood. This is something that was a definite miss on Toyota's part, but that problem has now been addressed with this easy-to-install kit!
Find It Online
KTJO 4×4 Hood Strut Lift Support Kit (3rd Gen Tacoma): Check Price
Kit Overview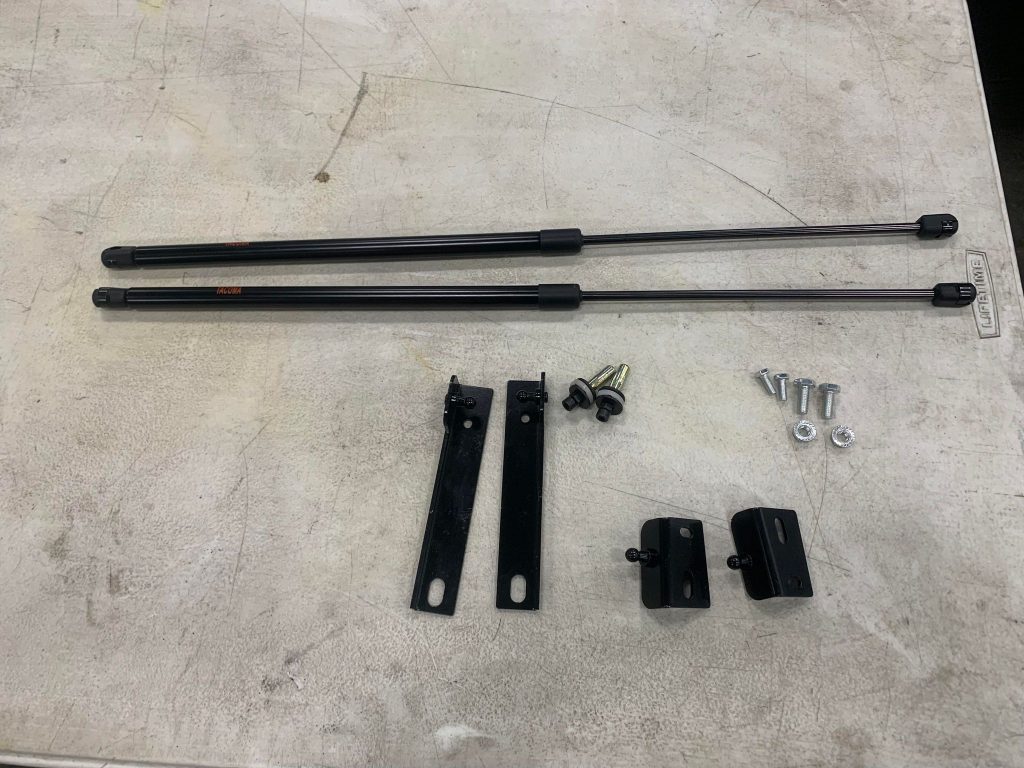 What's Included
2 x Gas Struts (color options of Blue, Orange, or White)
1 x Hardware Bag
My first thoughts were how good the finish was on the brackets that were installed on the fender and the hood. The gas struts were firm and felt solid. The hardware kit comes with all the bolts and two expansion screws needed.
Tools Needed
1/2 Drive Ratchet
3/16″ Hex or Allen Key
10mm, 12mm,13mm, & 14mm Wrenches
Step 1. Install Lower Bracket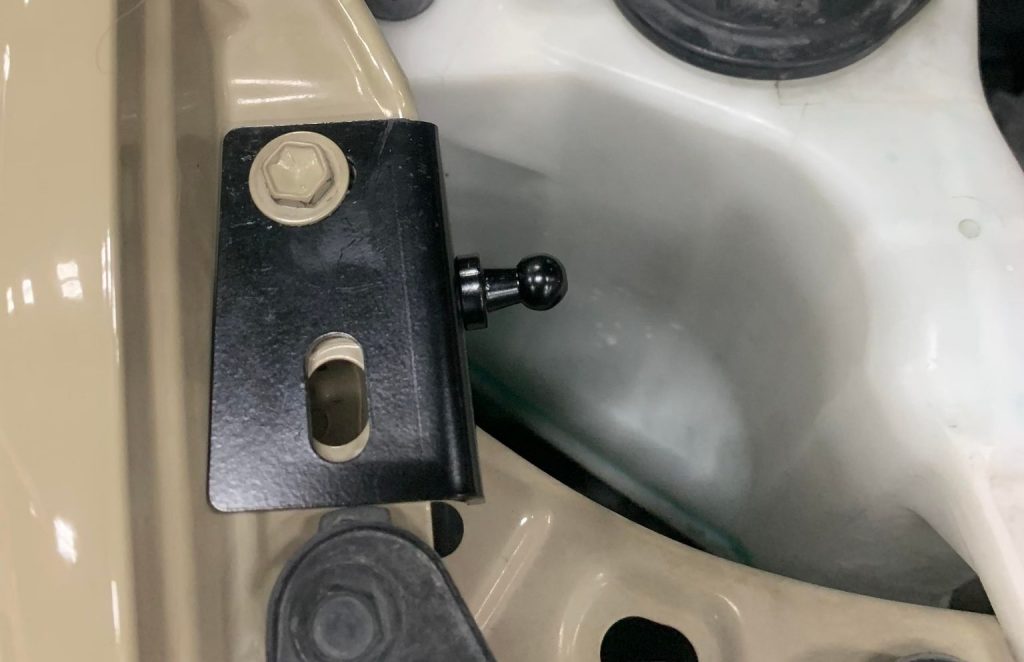 The lower bracket near the headlight is pretty easy! Just remove the 10mm bolt located below and place your new bracket. Then, hand-tighten for now. We'll tighten it up once the other bolt is in place.
Next, install the provided 14mm bolt and nut and tighten it up. Once the bottom bolt is tight, it's time to tighten up your 10mm bolt above. Repeat this for the other side of the truck.
Step 2. Upper Bracket Hardware Install
Now it's time to install our expansion screw. This part for me definitely took longer than I was expecting, but I think it was just due to having a longer driver bit than needed. For these, grab your 3/16 Allen driver and a 10mm wrench.
Tighten the nut on the bolt to expand the metal inside the hood. This creates our new mounting point for the front portion of the bracket.
Step 3. Install Top Bracket
To install the top bracket, start by loosening the front hood bolt with a 12mm wrench. I have ditch lights on my truck, so I already had a bracket in place. However, the KJTO 4×4 bracket installed over the bracket with no issues.
Note: The original 10mm bolt that came with the kit was not long enough due to my ditch light bracket. That's an easy fix! A slightly longer bolt and using a black washer from the expansion bolt did the trick. If you don't have ditch light brackets, the supplied bolt should work just fine.
Step 4. Secure The New Bracket & Install Strut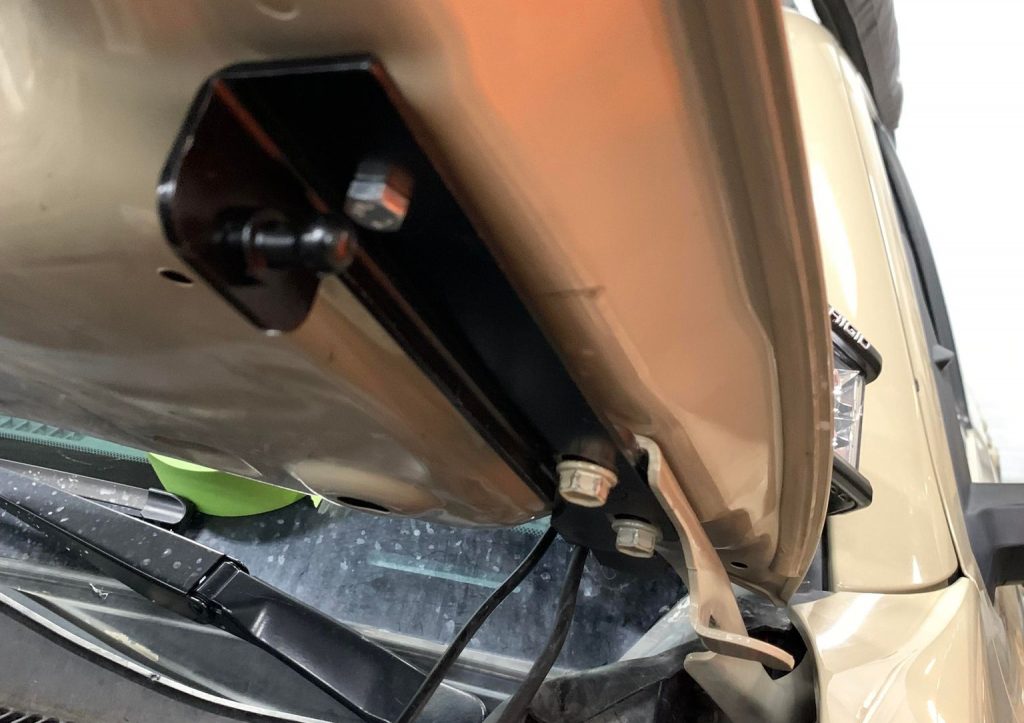 Tighten up both bolts to fully secure the new bracket and repeat this for the other side of the truck.
Finally, grab your strut and simply press it onto the ball joint of the brackets. Repeat for the opposite side. Slowly lower the hood to check clearances.
Final Thoughts
This kit was a super easy install; it's easily a sub-30-minute job and can be done with minimal tools. The fit, finish, and quality of this kit are awesome. I definitely plan on following KJTO 4×4 for their other awesome products!
The only thing I would change is the inclusion of a longer bolt and washer for those who have ditch light brackets installed, but this is a super minor thing. This kit's well worth its price and gets that annoying manual prop rod out of your way when working under the hood.