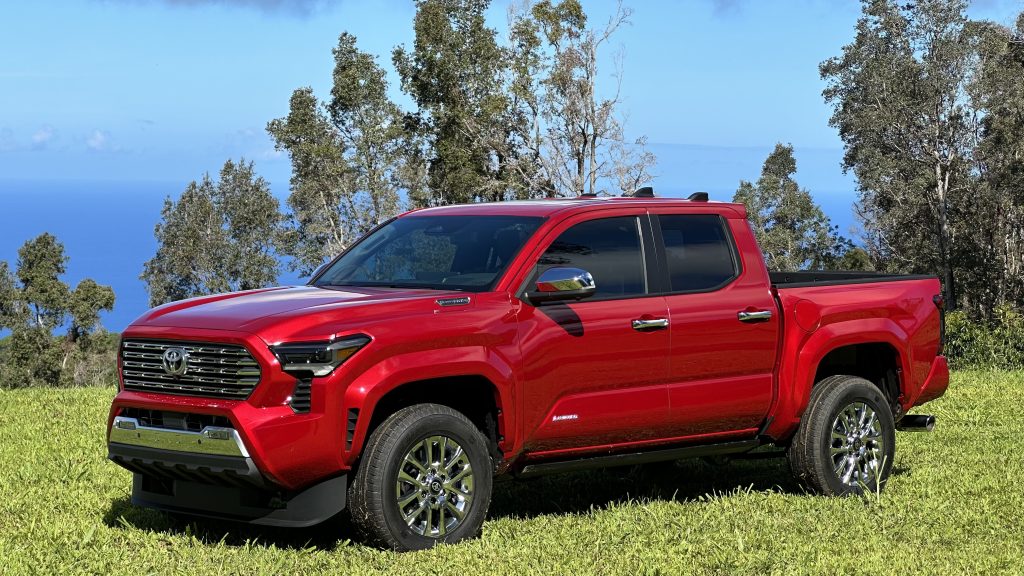 Toyota Reveals The Brand New 2024 (4th Gen) Tacoma – A Completely Redesigned Truck, With The Overland Ready Trailhunter Trim Level, TRD Pro & More!
The 4th Gen Toyota Tacoma is finally here! I recently saw the brand new 2024 Toyota Tacoma in the flesh both in Hawaii at the world reveal, and in Flagstaff Arizona, at Overland Expo West. This new 4th Gen Tacoma blows me away – I'm really, really, impressed.
Toyota's official press release reads:
"After nearly two decades as the champion of the mid-size pickup truck market, the Toyota Tacoma is ready for its next chapter. This go-anywhere truck is entirely new for 2024 with epic adventures in mind, improving upon every winning aspect that has made it a stalwart for truck buyers for years along with Toyota's legendary quality, durability, and reliability and much, much more.."
In this article, I'll dissect Toyota's official press release, along with sprinkling in some of my thoughts on the 4th Generation Tacoma. I will go over the new powertrain, design, and deep dive on the new top trim levels: TRD Pro, and the all-new Trailhunter.
Design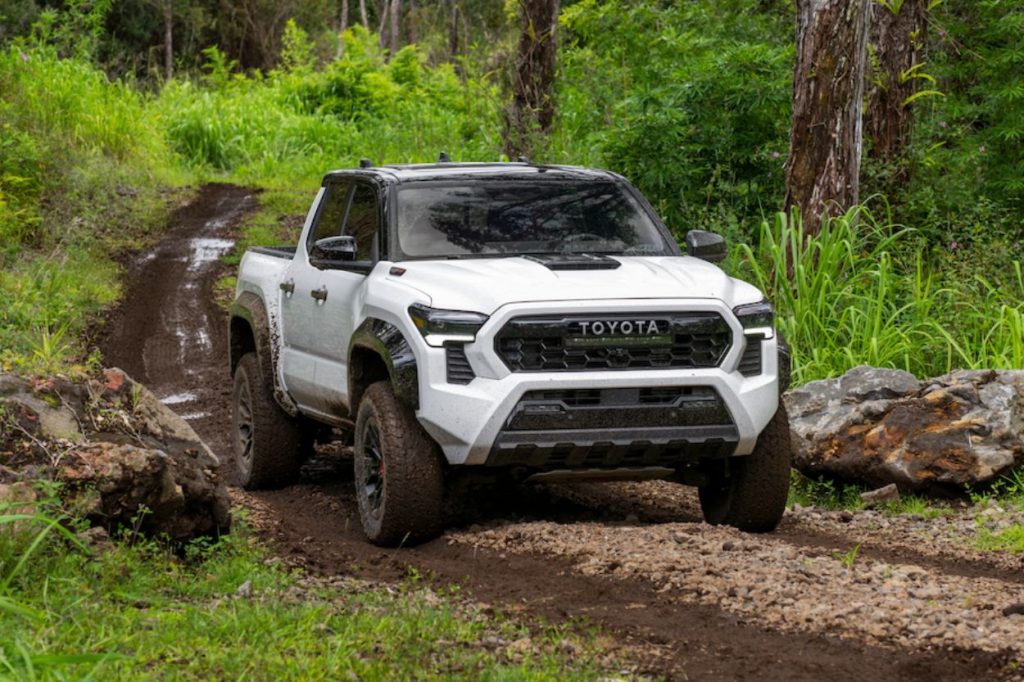 At first glance, the new 4th Gen Tacoma may look similar to the outgoing 3rd Gen. Well, Toyota did that intentionally. Toyota calls this "Tacoma-Ness". This phrase was used throughout the design process of this 4th Gen Tacoma to retain the identity of a true Tacoma. If I'm being honest, Toyota knocked the design out of the freaking park! It looks incredible both in photos and in person.
Our primary design goal for the all-new Tacoma was to be authentic to the way our customers use their trucks for rugged outdoor fun," says Kevin Hunter, president, CALTY Design Research. "We looked at our truck DNA and the Toyota Baja race trucks for inspiration to capture the extreme spirit of offroad adventure. High lift, big tires, slim body, and a powerful athletic stance define the iconic Tacoma look, referred to as 'Tacoma-ness'."
I was fortunate enough to sit next to Tacoma's chief engineer Sheldon Brown on a redeye flight from Hawaii to Arizona, prior to the Overland Expo. We talked about the overall design of the new 4th Gen Tacoma and he mentioned that of the three designs that the CALTY Design team dreamt up, there was one that clearly stood out above the rest. Akio Toyoda himself chose the 4th Gen Tacoma design to represent the Toyota Pickup EV Concept, back in December of 2021!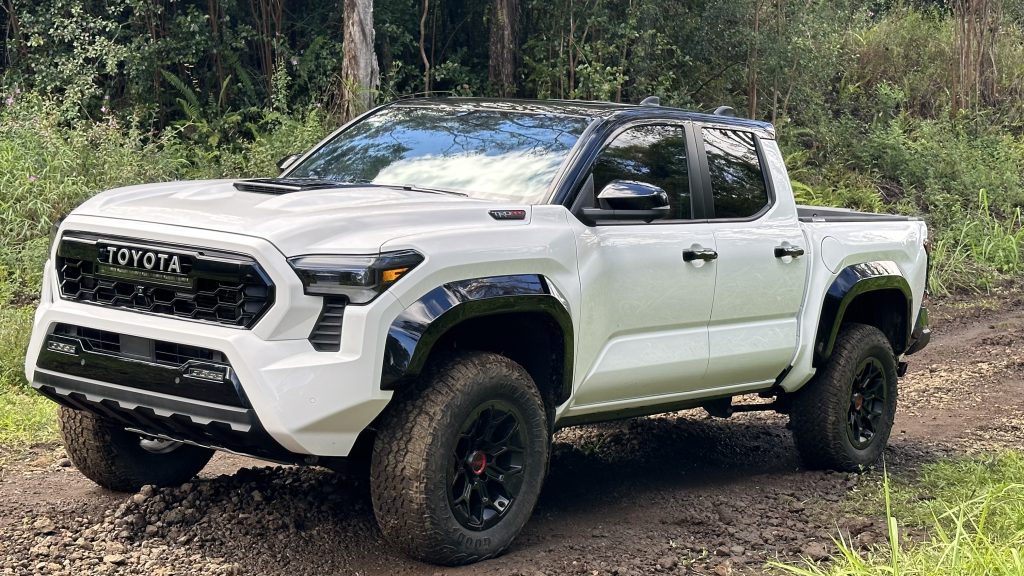 Obviously, some tiny design changes have been made since that initial reveal. That's mostly to comply with crash test standards and other DOT regulations. However, it was wild to hear this information firsthand; the design was so good that they wanted to showcase it to the world nearly 2 years ago.
The Tacoma makes the most of its cabin for this newest generation. The cabin was completely reworked for an improved driving position and increased rear legroom. While the overall cabin width and length didn't change, the height of the 4th Gen Tacoma was raised to aid taller drivers and improve the ingress and egress of the truck.
Gas models have three times more storage space under the rear seat compared to the 3rd Gen. The rear seatback can also fold down flat for additional loading surface. This is a really cool feature for camping or pets. A shelf is integrated into the front instrument panel for phones or other small items.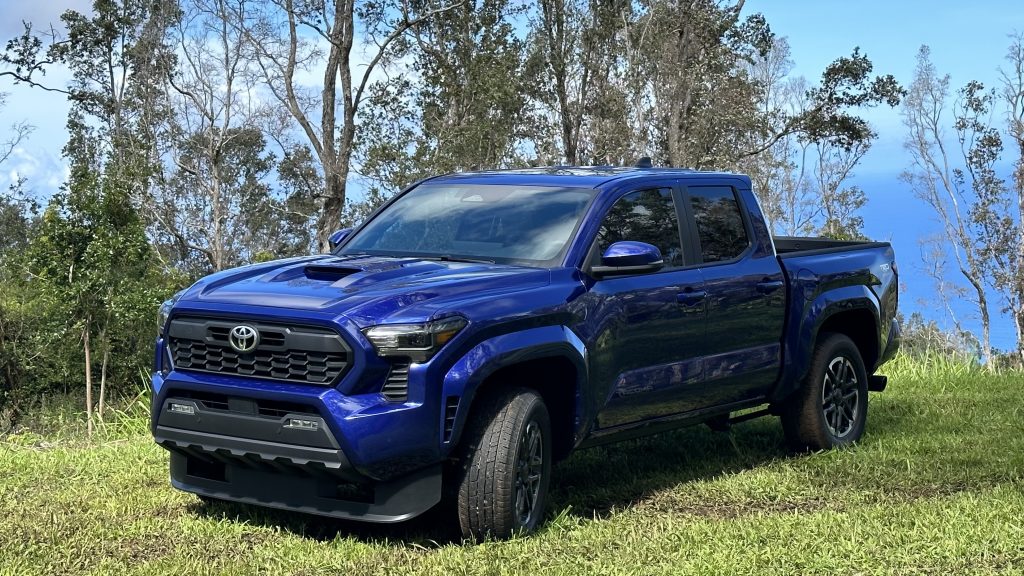 There is also a slew of MOLLE panels throughout the cabin of this new Tacoma. Gone are the days of drilling into your plastic to add aftermarket MOLLE panels! There are some on the center console and door panels allow for even more versatile storage.
Rubber grips are on the driver and passenger sides of the center console and all doors. Double Cab models also include handles on the B-pillar overhead.
A hidden side pocket on the driver's side dashboard has a QR code for dimensions to design and 3D print their own accessories such as a lantern, multitool, or toolkit.
Powertrain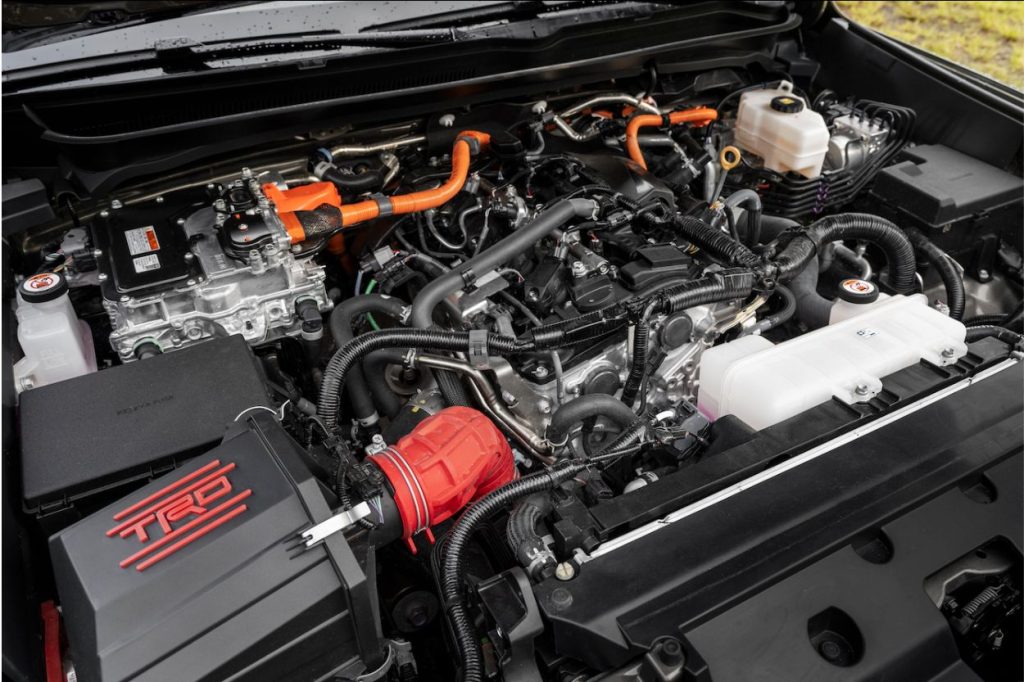 This has caused some controversy. However, many are thrilled to have a high horsepower & torque 4-cylinder i-FORCE engine. Gone are the days of a naturally aspirated V6 for the Tacoma.
The all-new 4th Gen Toyota Tacoma will offer two powerful and efficient powertrains. They both revolve around a new 2.4-liter turbocharged four-cylinder engine.
For entry-level SR grades, this powertrain produces 228 horsepower and 243 lb.-ft. of torque. It's fairly similar to the outgoing 4-cylinder in the 3rd Gen Tacoma base models. For all other grades with the standard i-FORCE engine, power is increased to 278 horsepower and 317 lb.-ft. of torque.
The Achilles Heel of the 3rd Gen Tacoma was its horrendous six-speed automatic transmission. The six-speed has been replaced with a new and improved eight-speed. Along with this, Toyota kept a six-speed intelligent manual transmission (iMT2). That still has automatic rev-matching and anti-stall technology available. The manual transmission models produce 270 horsepower and 310 lb.-ft. of torque.
If you are looking for big dawg power, then you want the Tacoma's new i-FORCE MAX hybrid powertrain! This torque monster will be available on TRD Sport, TRD Off-Road, Limited, and standard on the TRD Pro and Trailhunter models.
The i-FORCE MAX pairs the 2.4-liter engine with a 48-hp electric motor integrated into the eight-speed transmission. This feeds off a 1.87-kWh NiMH battery pack for a total output of 326 horsepower and an insane 465 lb.-ft. of torque! That is nearly double the torque output of the current-gen Tacoma. So, complain as much as you want about the V6 going away. Personally, I'll take this new i-FORCE MAX instead.
2024 Tacoma Trailhunter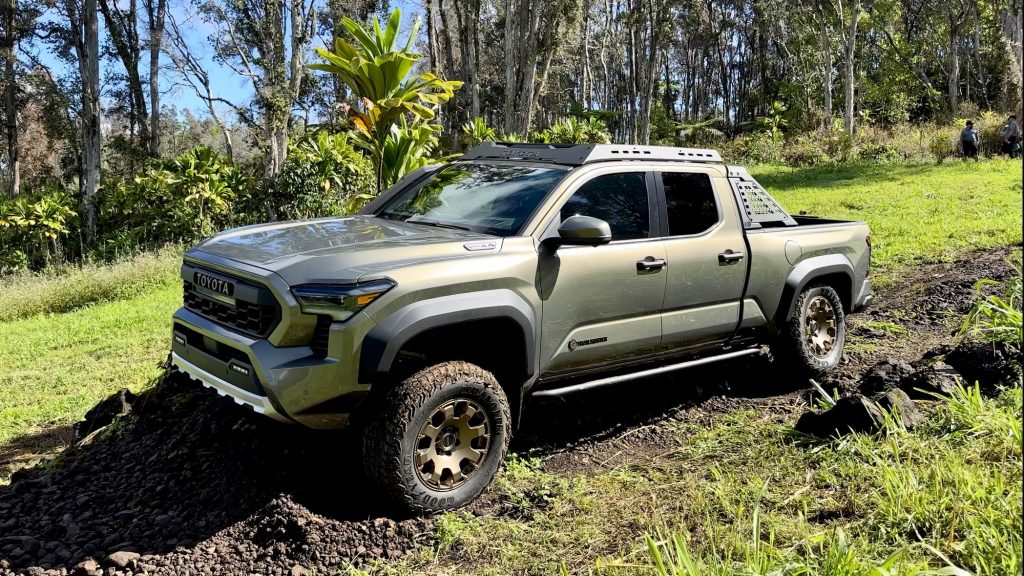 Toyota introduced an all-new 2024 Trailhunter trim to the 4th Gen lineup. With this trim, you essentially get an overland-ready rig straight from Toyota.
Toyota worked with ARB on this truck to co-develop several solid accessories including:
Old Man Emu 2.5-inch forged monotube shocks w/ rear external piggyback style remote reservoirs
Steel rear high clearance bumper
Bed utility bar with removable MOLLE panels.
The Trailhunter will come with either a 5′ or 6′ bed, and will only be available in Double Cab with the i-FORCE MAX.
The Tacoma Trailhunter comes standard with 33″ Goodyear Territory R/T tires (yes you read that right). In conjunction with the OME suspension, this gives the Trailhunter an additional 2″ of ground clearance in the front and 1.5″ in the rear.
A high-clearance exhaust tip and low-profile high-mount Trailhunter air intake are also standard. The air intake is routed up the passenger-side A-pillar. Lastly, the Tacoma Trailhunter comes with proper rock rails and several hot-stamped, high-strength steel skid plates. The one above also had a roof rack, bed rack, snorkel and a bed mounted air compressor.
To me, this truck is awesome for those that want an off-road/overland-ready truck straight from Toyota. All of the concerns of sourcing parts, installers, and voiding your warranty are alleviated with the Trailhunter. Not only is everything included with one price, but it's also all fully warrantied. I was also told there will be even more options for this truck come production time. For now, though, this thing is already pretty loaded and ready to go!
A little bonus too, the interior of the Trailhunter is insanely good! I love all the color choices that Toyota used on this one.
2024 Tacoma TRD Pro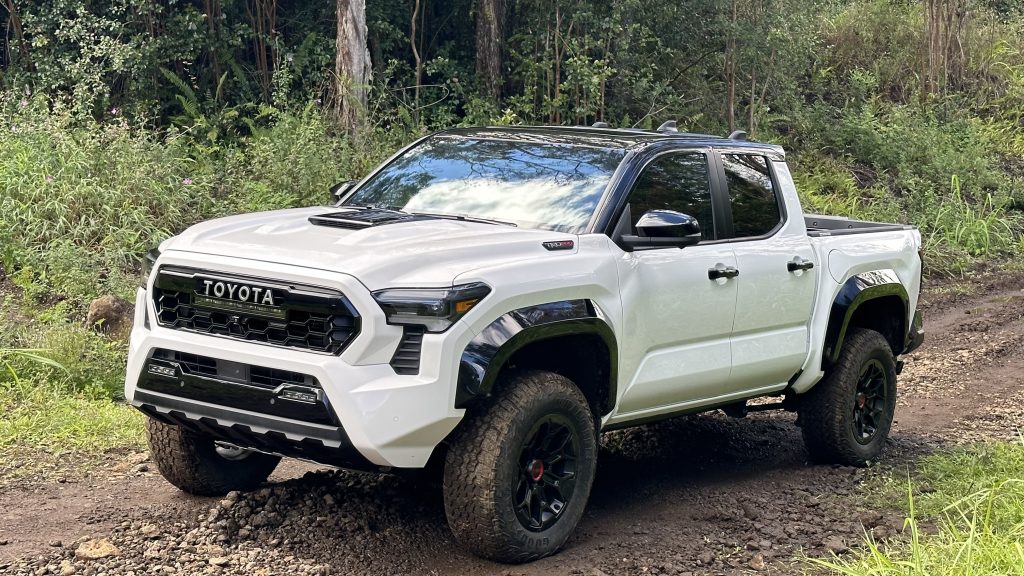 This is the model I am really looking forward to. The 4th Gen Tacoma TRD Pro is truly something special. It is no longer just a "package" for lack of better words. The new 2024 Tacoma TRD Pro is a high-speed desert-hauling machine!
Carrying over from 2023 are the candy red TRD billet upper control arms. These UCAs help optimize front geometry and reduce unsprung weight. They are necessary because the TRD Pro has a 3″ wider track over the standard SR5 and TRD Off-Road models. The TRD Pro also sits 2″ higher than other models and still sports Fox shocks, but with a major upgrade.
The new Fox shocks are internal bypass 2.5-inch manual modal Quick Switch 3 (QS3) shocks. They can be adjusted to three different settings via dials on the shock bodies to tune compression damping. Do you want to jump your Tacoma? Well, Toyota thought of that too with FOX Internal Floating Piston (IFP) bump stops to ensure a smooth landing.
Like the Trailhunter, the TRD Pro also comes with 33″ Goodyear Territory R/T tires. It also comes with TRD performance air intake and TRD cat-back dual-tipped exhaust, which actually sounds pretty decent for a 4-banger engine.
A new integrated TRD LED light bar works with the standard LED headlights to optimize beam pattern aiming for balanced light output. I was told that this lightbar is two times brighter than the light bar on the TRD Pro Tundra. The Tacoma TRD Pro also gets the same high-clearance ARB rear metal bumper with red recovery hooks as the Trailhunter and the classic aluminum TRD front skid plate.
Oh, but there is more! The new TRD Pro gets IsoDynamic Performance Seats! What does that mean? The seats use an air-over-oil shock absorber system to dampen vertical and lateral movement for better back and neck support and safety. In simpler terms, they're bad-ass-looking seats that work like how a gimbal does for your phone or camera.
Overall, I love the new TRD Pro. Rather than just a slightly upgraded TRD Off-Road, it's truly in a league of its own and worthy of the name. The Tacoma at the reveal sported a cockpit red interior, but I am sure that we will have a black interior too if that's not for you.
Final Thoughts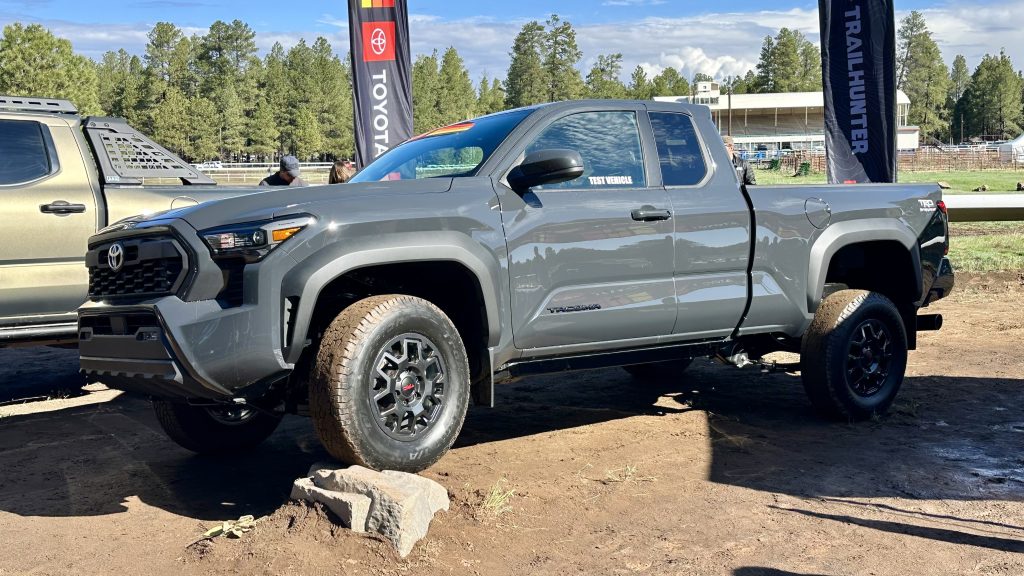 The all-new 2024 Tacoma will go on sale later this year with i-FORCE MAX models arriving in early 2024. The manufacturer's suggested retail pricing will be announced closer to the on-sale dates. Tacoma will be offered in numerous grades and configurations for its new generation. Two cab styles are available with either a 5- or 6-foot bed: a four-door Double Cab and a new two-door XtraCab with clever storage features behind the front two seats. Check out Toyota's site for more detailed info.
This truck is awesome and I can't wait to drive it later this year. I have seen mostly positive comments about this truck so far on my social media accounts. That is REALLY GOOD considering the slew of haters that came out of the woodwork when I covered the 3rd Gen Tundra release. Negative comments mostly revolve around the new engine and electronic tailgate because "it's just something else to break".
This new Tacoma has me super excited for the next generation of Toyota body-on-frame vehicles that are coming down the pipeline (6th Gen 4Runner).
It's really hard to capture my excitement and every detail in words (there is a lot). The good news is that Toyota plans on making plenty of these trucks to keep up with demand. So, if you are hyped about this truck like we are, let us know in the comments, along with which trim level you are looking to get!