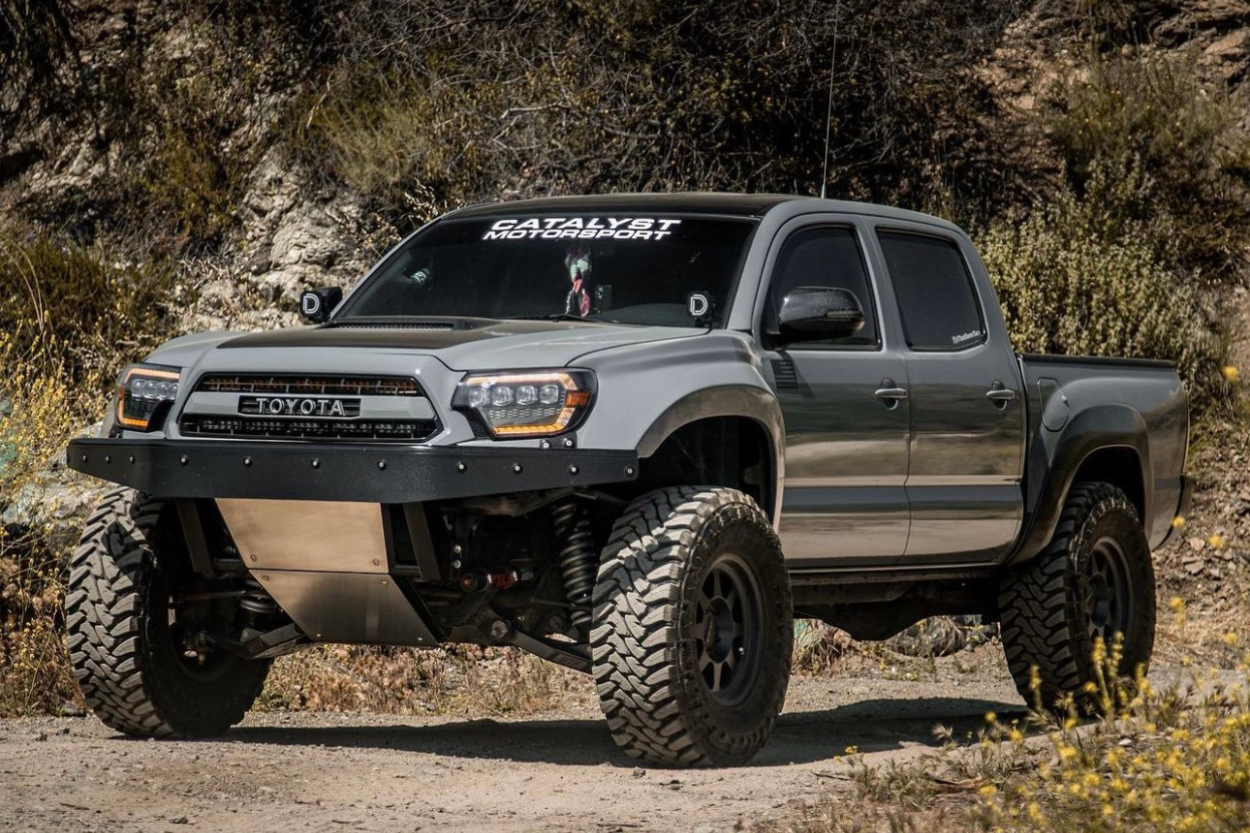 9 Different Wheel & Larger Tire Setups On 2nd & 3rd Gen Tacoma – Unique Combinations To Inspire Your Off-Road Truck Build
Welcome back to an all-new Taco Tuesday! Last week, we covered spare tire carrier setups. This week, we are taking a look at oversized tire setups for the 2nd and 3rd Gen Tacoma and what it took to make them fit.
The stock tire sizes for the Toyota Tacoma vary depending on the trim level. The base trim typically comes equipped with P245/75R16 tires, offering a balance of durability and versatility. However, as you move up in trim level, you are able to upgrade to larger sizes such as P265/65R17, P265/70R16, or P265/60R18. We've seen  265/70/16 to be the most common.
As we all know, upgrading tire sizes is inevitable when building out an off-roading truck. Let's take a look at a few options below!
How To Get Featured

Do you want to be featured in a future Taco Tuesday post? We want readers to get inspired by a variety of rigs/products.

Submit your build for Taco Tuesday here to get featured!

We have specific topics for each Taco Tuesday post and we would love to feature your rig!
Note: The builds listed below are in no particular order
Wheel & Large Tire Setups
Why Upgrade Your Wheels & Tires?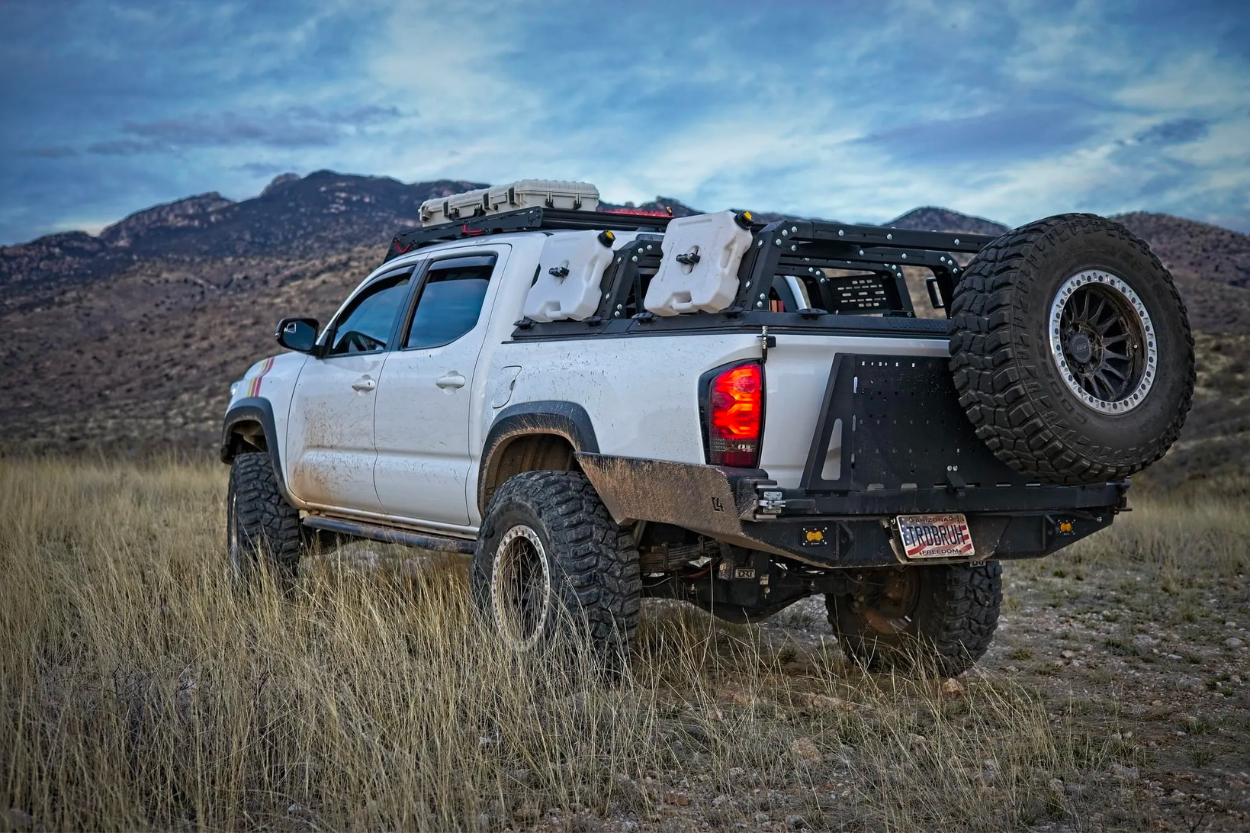 When it comes to Toyota Tacomas, oversized tires are considered to be larger in both diameter and width compared to stock tires. These larger tires offer several advantages, particularly for off-roading and overlanding enthusiasts.
Oversized tires mainly provide increased ground clearance. With a larger diameter, the truck's undercarriage is raised higher off the ground. This helps reduce the risk of scraping or getting hung up on rough terrain. Your Tacoma will also gain better approach, departure, and break-over angles with oversized tires. That makes inclines, declines, and obstacles a little easier without having to worry as much about scraping the undercarriage.
The wider footprint of oversized tires will also enhance traction. This comes in handy, especially when you are looking to do any technical or more challenging off-roading. You'll really see the benefits when driving around in loose gravel, mud, sand, and other conditions where you may need extra traction.
Another large benefit is improved stability and handling off-road. The wider stance enhances the truck's stability, which can reduce the likelihood of tipping over in off-camber situations. The larger sidewalls also allow you to air down, which aids in absorbing impacts and providing a smoother ride over rough terrains.
Finally, larger, more aggressive stance gives the truck a rugged and commanding look. You'll be sure to turn some heads.
Wheels are less important, although a quality wheel will not only dramatically alter the look of your truck, they often run wider to better accommodate a bigger tire. These wheels might have more aggressive offsets, and options for protection rings or true beadlocks. Some wheels also offer a weight savings.
Let's dive in!
1. Mar Pasalo (@4lo_mar) –
Toyo Tires & Falcon Off-Road Wheels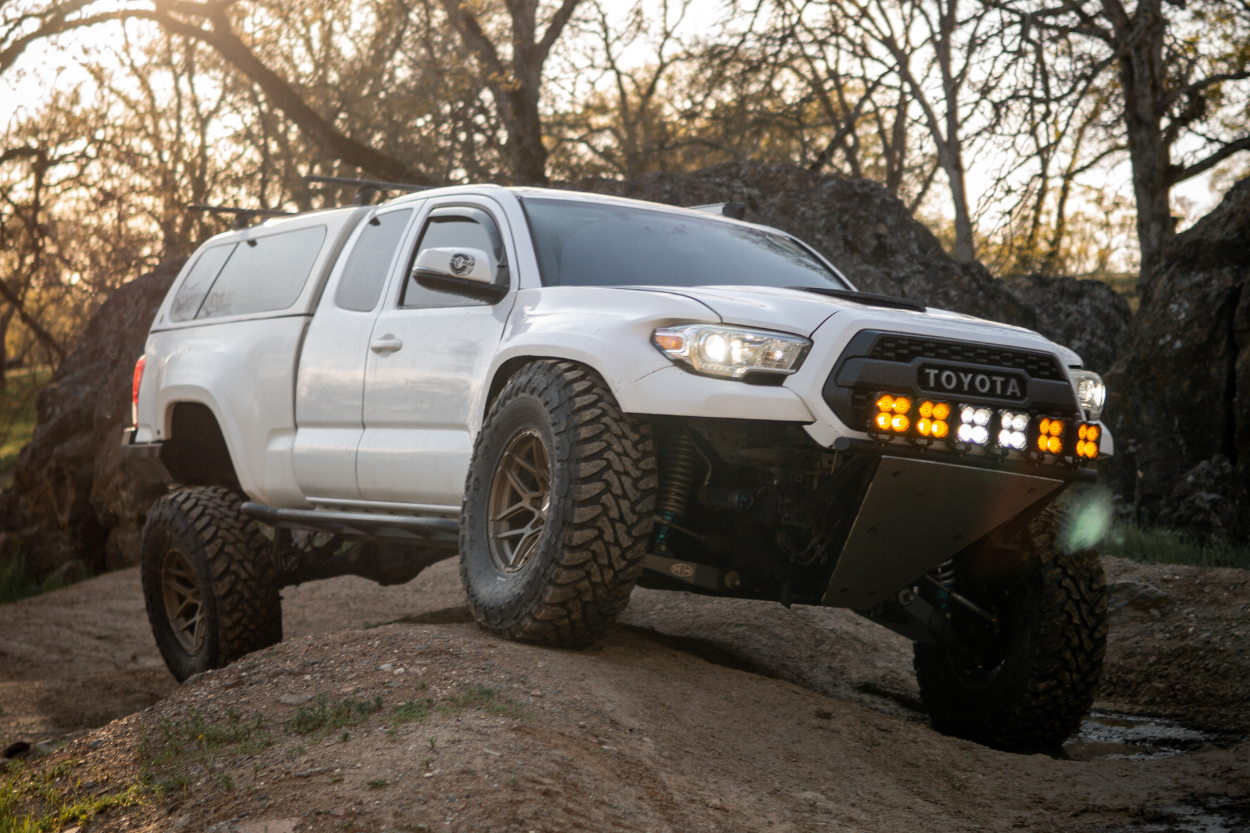 Setup 
Tires: Toyo Tires Open Country MT | 37×12.5R17
Wheels: Falcon Off-Road Wheels T9 Atlas | 17×9 -38
Tell Us About Your Setup
I upgraded tires for better clearance over obstacles as well as better traction on uneven surfaces. I chose Toyos because I liked the look of the tread pattern and heard they were great off-road. The tires I bought were also on sale, bringing the price down to the same as the competitors. The 37s have helped with traction, making rolling over small ruts and obstacles easier. Plus, the Tacoma just looks amazing with the beefy tires! The bronze wheels complement my setup too.
2. Stephen Moore (@weeman1199) – Milestar & RockTrix Wheels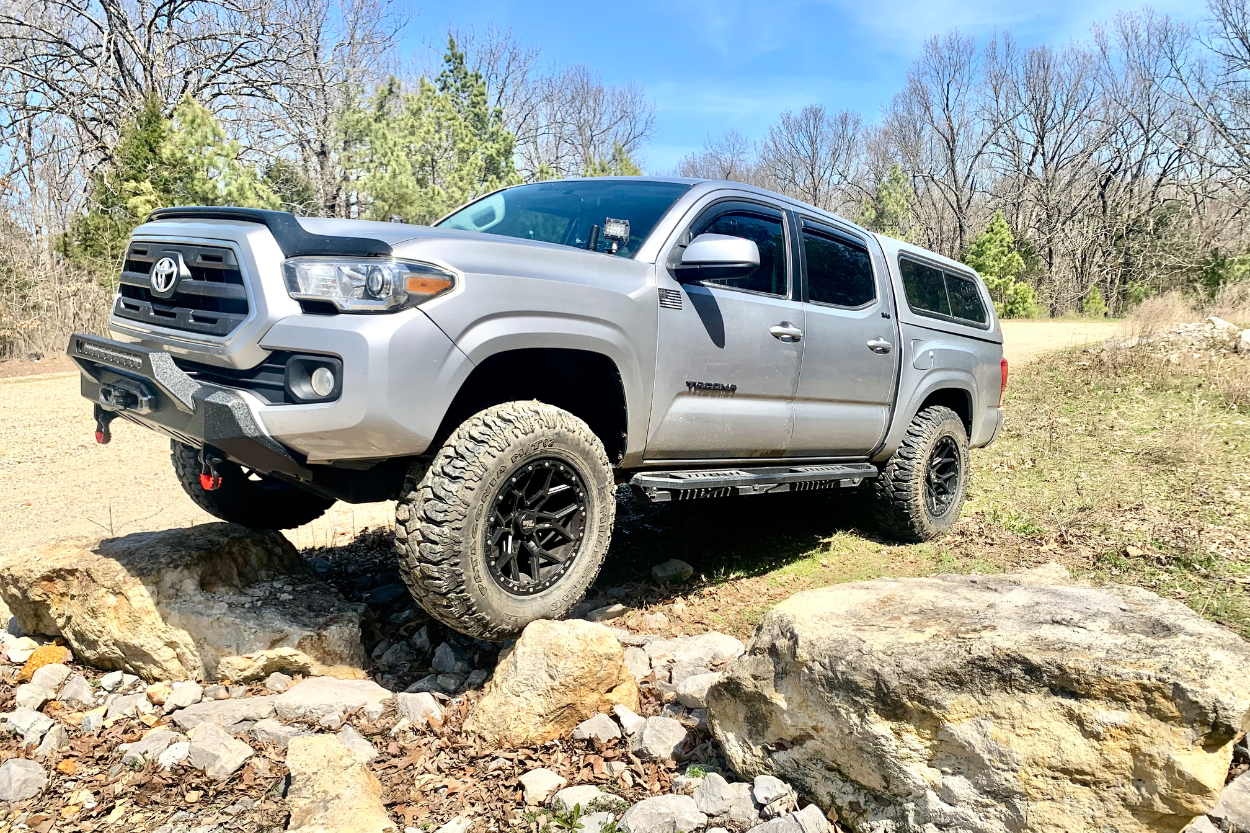 Setup 
Tires: Milestar Patagonia MT 02 | 285/70R17
Wheels: RockTrix Wheels RT107 | 17×9 -12
Tell Us About Your Setup
I've always firmly believed in an aggressive mud tire with 10-ply sidewalls. So, I chose the Milestar Patagonia MT 02 for several reasons. The first reason being they are cheaper than most other tires. However, even though they are less expensive compared to others, they still have the aggressive look I was after.
They also have incredible performance both on and off the trail. It's among the best compared to other brands I was looking at. This was very important to me as I do a lot of off-road driving, and I needed something that would be durable and reliable.
But most importantly, they work well in all weather conditions and continue to perform well whether I am aired up or down. I've got them mounted up on some RockTrix wheels for a near perfect stance.
3. Nicholas Gonzalez (@nickg_trd) – Cooper & Relations Race Wheels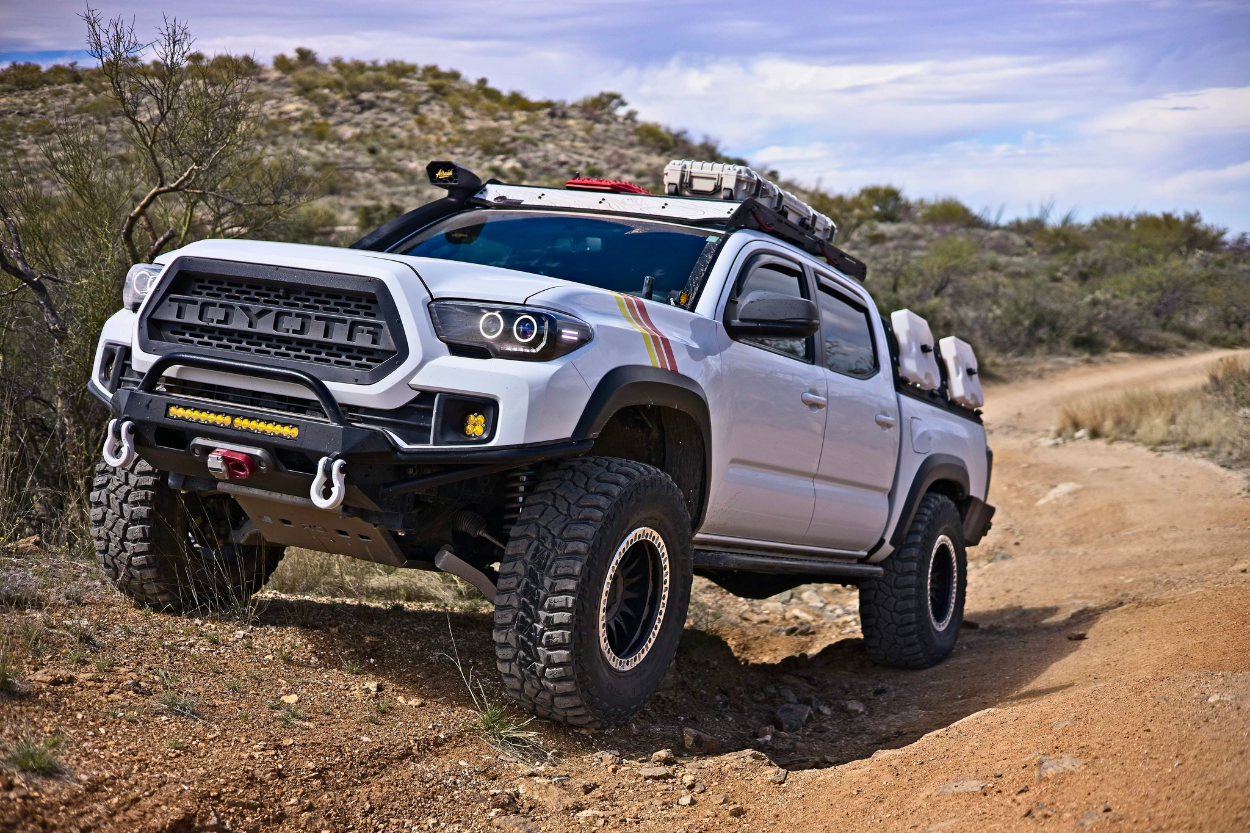 Setup 
Tires: Cooper STT Pros | 315/70R17
Wheels: Relations Race Wheels RR7-H | 17×8.5 -12
Tell Us About Your Setup
I chose this size tire for the width & additional clearance but also because they look great!
I have run all sorts of tires, and the reasons that ultimately led me to this brand are its USA production, toughness, and the fact that it's the lightest tire when compared to all other MT competitor tires in the same size/lineup.
The larger tires have helped significantly with navigating rocky terrain in Southern AZ. When aired down, I have a large surface area of contact/grip with the ground. The wide tires mold to obstacles very well, providing significant traction improvements while significantly reducing the potential of a puncture.
Collectively, I've got tens of thousands of miles with these tires on both of our off-road vehicles, and they have been phenomenal! They look awesome paired with some Relations Race Wheels too.
4. Zane Manibog (@hst__4bngrs) – Maxxis &
Setup 
 Tires: Maxxis Trepador | 42×14.50R17
Wheels: Real Wheels 17×15
Tell Us About Your Setup
I upgraded to size 42(") Maxxis Trepador tires to have that Hawaii old-school look wrapped around 17×15 Realz. I chose Maxxis Trepador tires for their thread pattern and beefy look.
These tires help me in the mud and sand and perform very well. I am even surprised by how well it does on-road; the ride is very smooth, and the tires aren't that loud on the pavement.
5. Brandon Gray (@rollin_taco_20) – Toyo Tires & Method Race Wheels
Setup 
Tires: Toyo Tires Toyo M/T | 35×12.50R20
Wheels: Method Race Wheels MR305 | 20×9 -24
Tell Us About Your Setup
I upgraded to this size because I like the look and better mobility on the trails. The Toyos have gotten me through a lot with just basic throttle control. I don't think I'd use any other brand of tires again. They provide just the right amount of grip when aired down as well.
If you are in the market for some new shoes, I recommend Toyo M/T's for your next setup. They look great with the MR305 Methods.
6. Jake Coughlin (@taco.nomad) – Falken & Method Race Wheels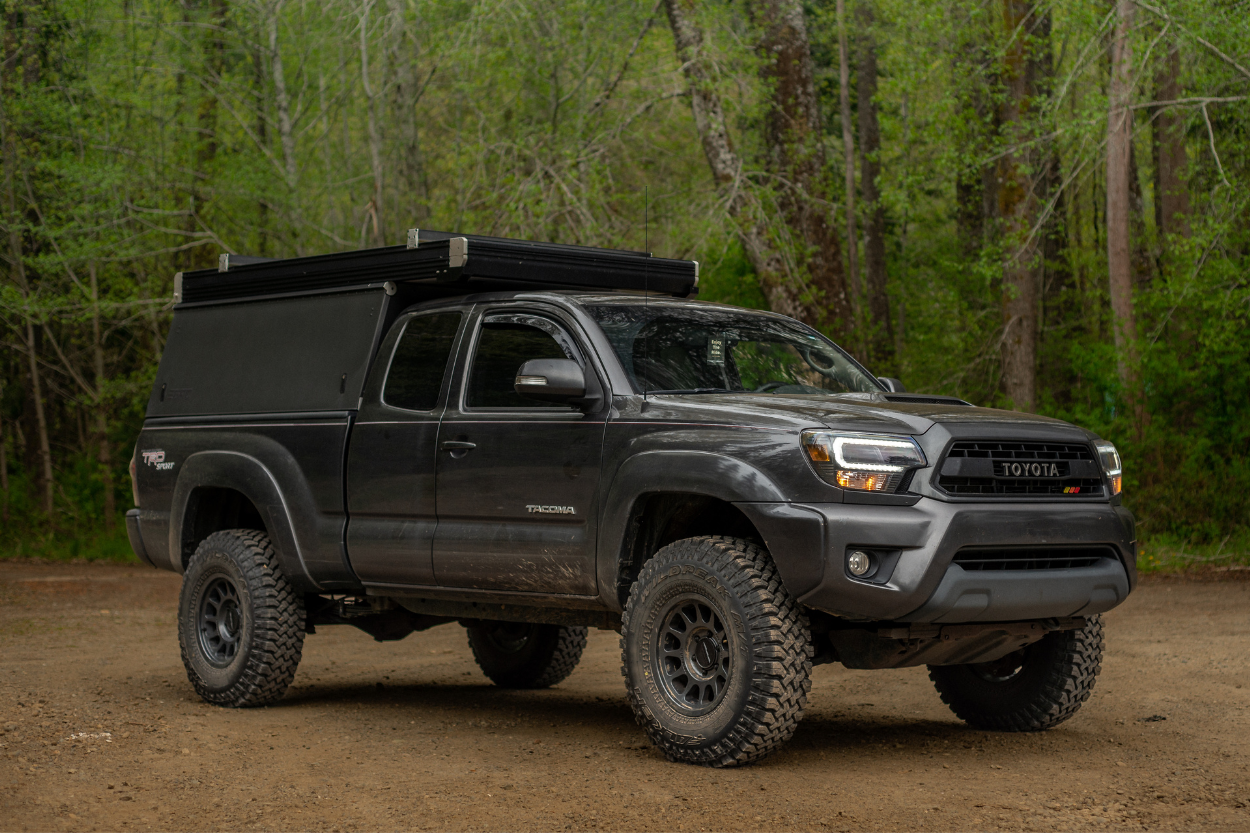 Setup 
Tires: Falken Wildpeak MT01 | 255/85R16
Wheels: Method Race Wheels MR703 | 16×8
Tell Us About Your Setup
With having a minibike on a hitch carrier, I was tired of dragging it through the dirt in the Olympics, so I knew 33s were going to happen. I went skinnier because they're lighter, require less trimming, and honestly, I love the look of pizza cutters.
I chose Falken for its solid reputation and my experience with other brands not being great. So far, these MT01s have been great on wet or dry surfaces and on dirt and pavement.
I have yet to drag the hitch carrier with these larger tires, and I'm still getting close to the same MPG as I had on the 31" K02s beforehand. The Falkens paired with the Method 703s also give a super comfortable ride off-road when aired down to around 15 PSI.
7. Ethan Tardy (@black_sand_taco) –
BF Goodrich & Black Rhino Wheels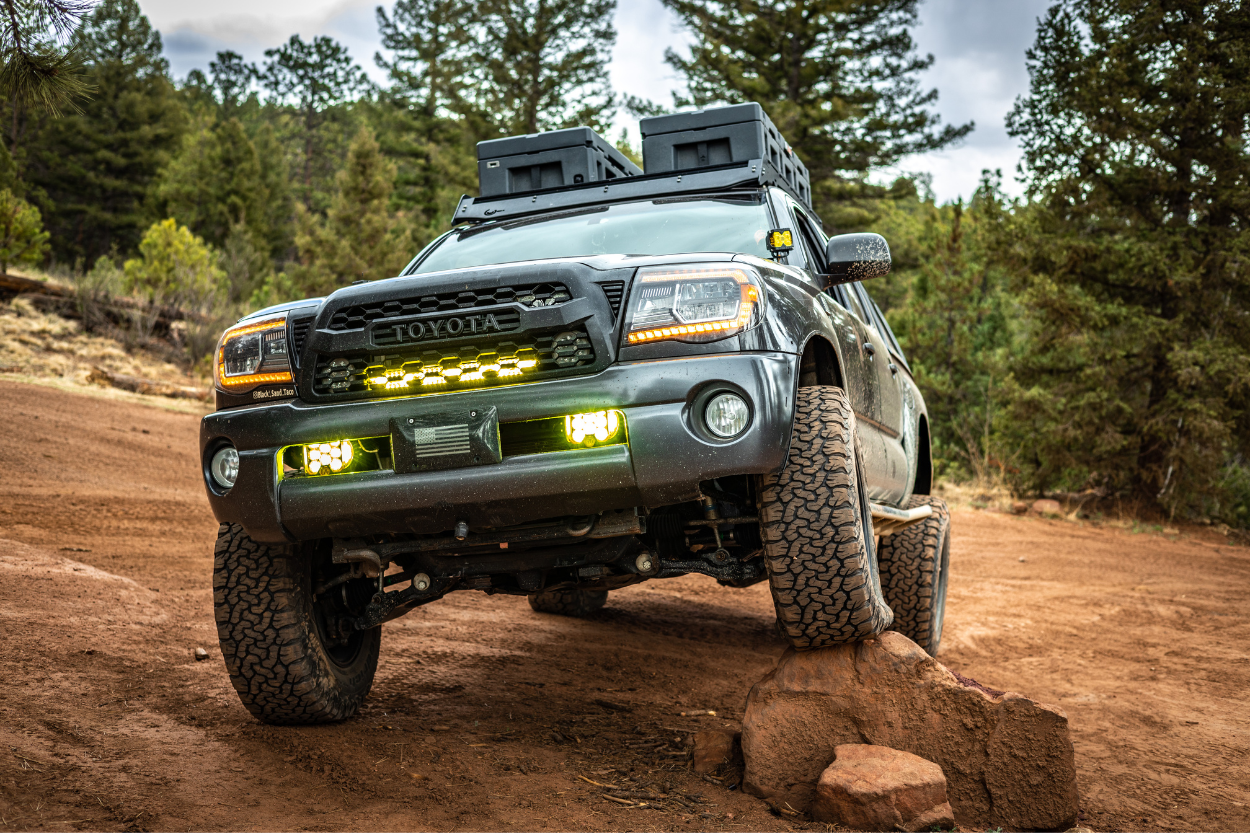 Setup 
Tires: BFGoodrich KO2 | 285/70R17
Wheels: Black Rhino Wheels Arsenal | 17×9 -12
Tell Us About Your Setup
I came from a 32" tire (275/70R17), which was quite capable. However, it doesn't offer as much tread area as the 285/70R17.
I have found that a wider offset on your wheels and a wider tire size significantly increase stability and traction on snow and rocky terrain. I have always run the KO2s on any of my 4×4 vehicles, so I stuck with what I knew.
Honestly, I'll admit that a large part of why I upgraded the tire size was the look it gives the vehicle. I mean, who doesn't love a wide stance on a built truck?!
8. Jarod Johnson (@thatdamntaco_) – Toyo Tires & Method Race Wheels

Setup 
Tires: Toyo Tires Toyo M/T | 35×12.50R17
Wheels: Method Race Wheels 701 | 17×9 -12
Tell Us About Your Setup
I had 33″ tires on the truck for years and loved the size. Upon installing long travel (on the front for now), I knew I wanted to go to something bigger. I chose to go with Toyo Tires because I have heard nothing but good things.
I've always loved the ride and performance they offer, and I am satisfied with how long they last, especially with highway miles. The bigger tires have made it easier to clear obstacles and offer a smoother ride both on and off the road. The Methods look great with the larger tires.
9. Shaun Ezell (@

alpinetactics

) – Falken & Toyota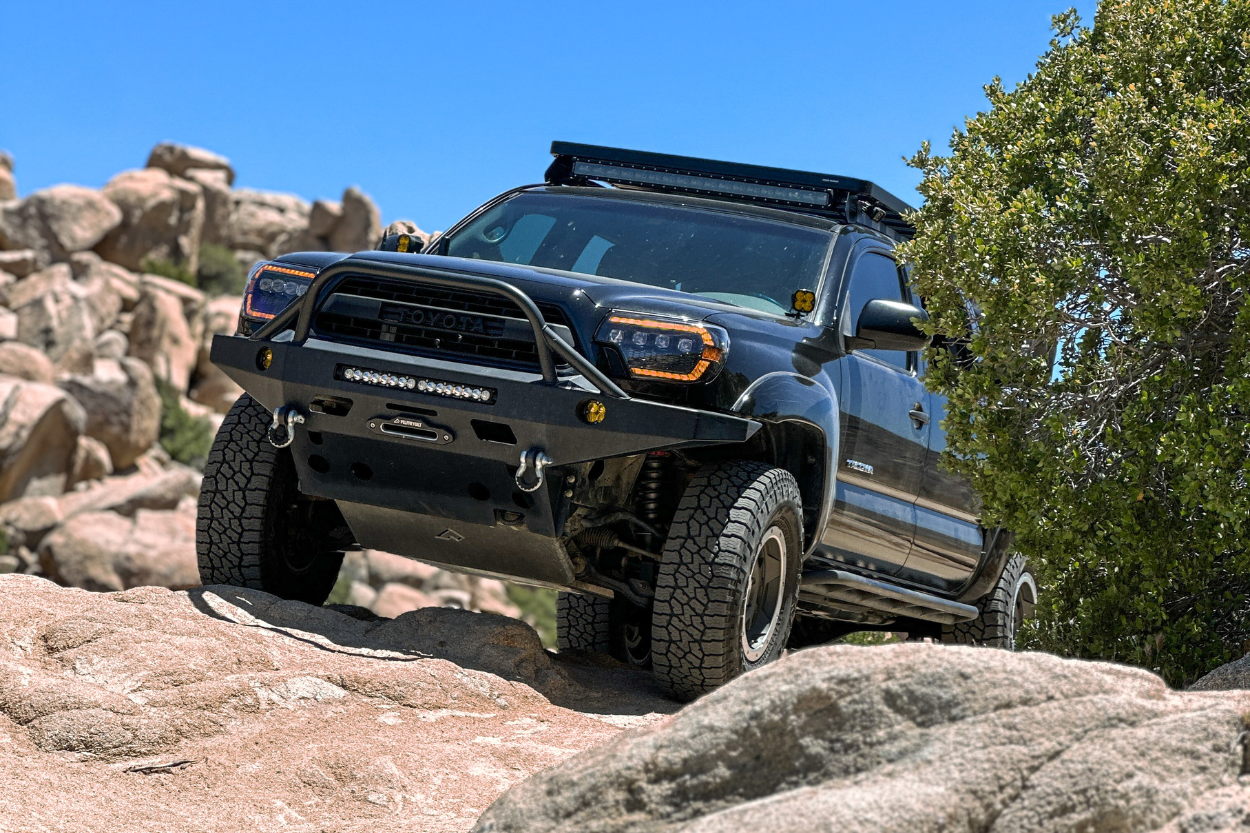 Tire Setup 
Falken Wildpeak AT3/W | 285/75R16
Wheels: Toyota TRD Wheels | 16×7.5 -10
Tell Us About Your Setup
I upgraded to this tire size for better ground clearance, approach, and departure angles. I picked the Falken AT3/W because I had heard great things about it and wanted to try something new.
Previously, I was running BFG KO2 tires. While they performed fine, they tended to be noisy on the road. The AT3/Ws have been a great all-around tire and give me the traction and clearance I need to get out there and have a great adventure. The TRD wheels give a perfect OEM touch.
Final Thoughts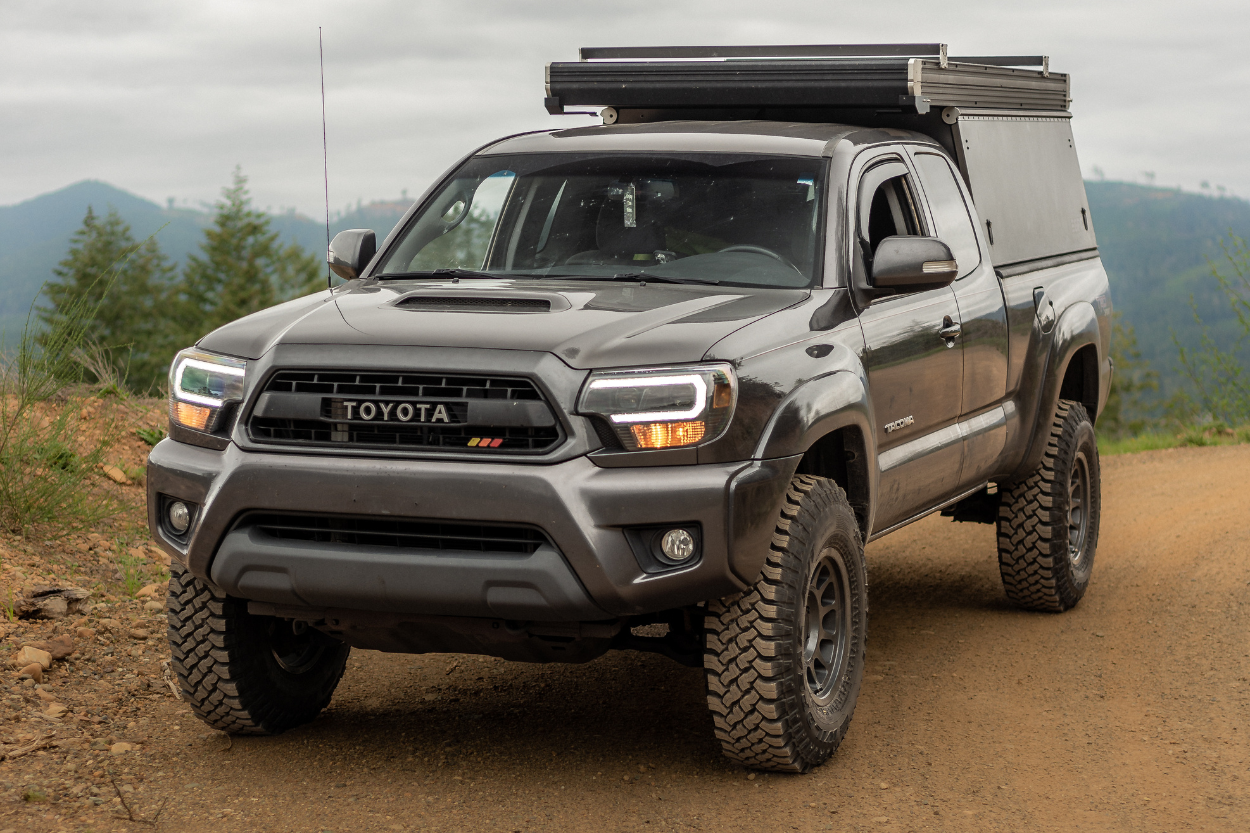 That wraps up another Taco Tuesday!
What are your thoughts on upgrading to a bigger tire size? Personally, I think it's a great modification for anyone looking to get into the off-roading or overland community. Paired with a few other modifications, your Tacoma will be able to tackle anything!
Next week, we'll be showcasing Tacoma SR & SR5 Builds. If you are interested in being part of these weekly posts, make sure to submit your build at the link above!