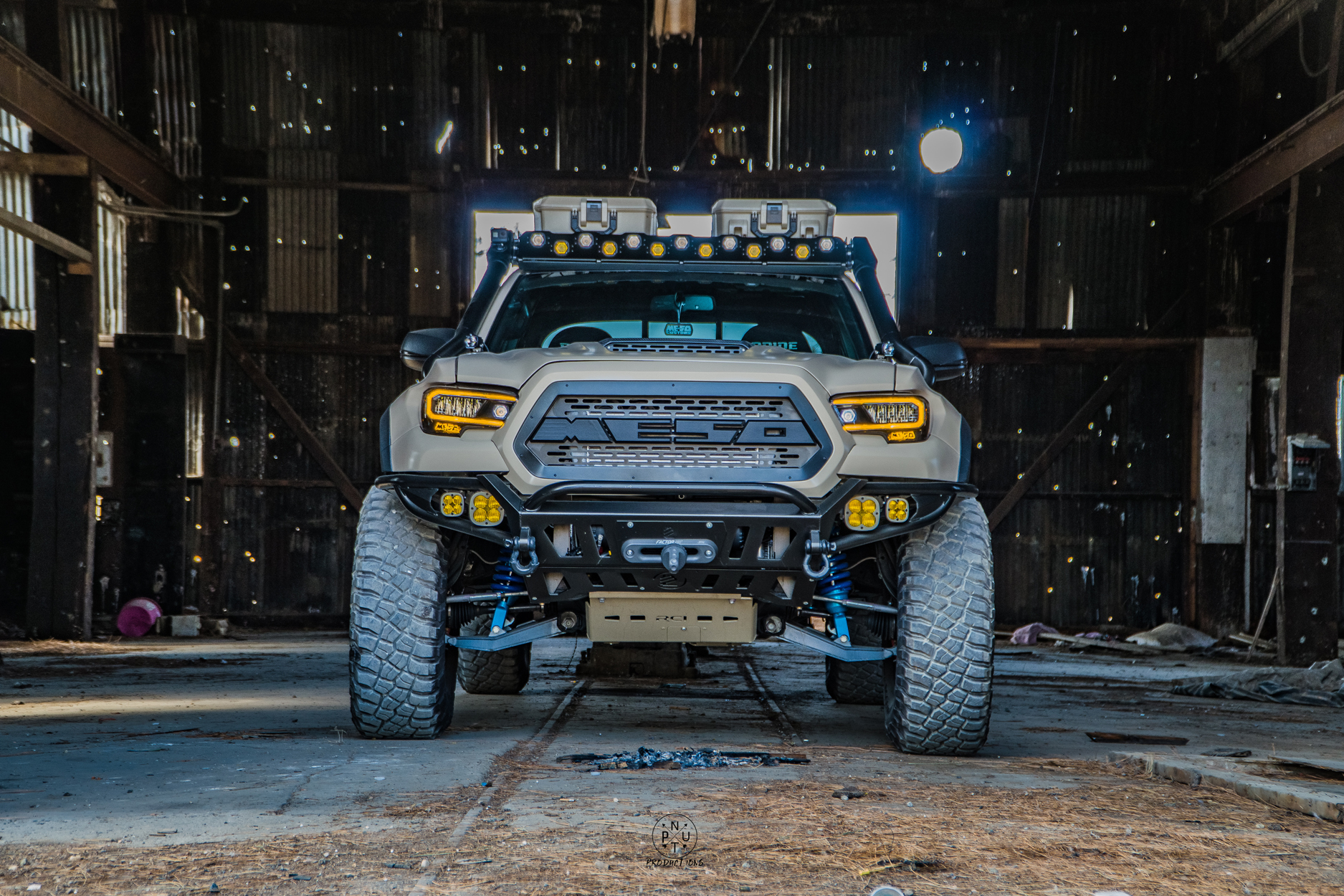 Meet The MESO CUSTOMS Insanely Custom Total Chaos +3″ Long Traveled Twin Turbo 3rd Gen Toyota Tacoma On 37" BFG M/Ts, Volks & So Much More!
If you own a Tacoma and haven't heard the name Meso Customs, you've clearly been hiding under a rock.
Meso Customs is owned by Stew Gibbs and this guy has clearly set the highest bar possible when it comes to modifying a 3rd Gen Toyota Tacoma. In the vast realm of Instagram Tacoma profiles, there are rare moments when a single vehicle build captures the attention of just about everyone. Not only has Stew's incredibly famous quicksand Tacoma build inspired Tacoma enthusiasts around the globe – but he's also created one very impressive brand around it.
I've had the pleasure of hanging out with Stew and I can tell you right now, this guy is a vehicle visionary. What he sees as possible, most of our minds can't even fathom. His vision for each build is really special and it's been a privilege getting to watch Stew customize this Tacoma (the version pictured here) and what he has planned next, which is even more insane; which I'll jump into at the end.
Stew's long-traveled twin turbo 3rd Gen Tacoma build has become the stuff of legends, showcasing a thoughtful blend of innovation, meticulous craftsmanship, and an unwavering commitment to pushing the boundaries of what is possible. At the end of the day, Stew has masterfully transformed this Quicksand Tacoma into a work of art, and for many enthusiasts, would quite literally be a dream come true to own and drive.
What sets Stew apart from others is obviously his consistent attention to detail. From meticulously crafted light housings that match OE lines to thoughtfully designed multi-cam interior accents – this build was truly executed with type-a personality driven precision. Stew clearly has a relentless pursuit of perfection, ensuring that every detail of the build not only looks factory but also delivers insane performance and functionality.
Now for Meso Customs…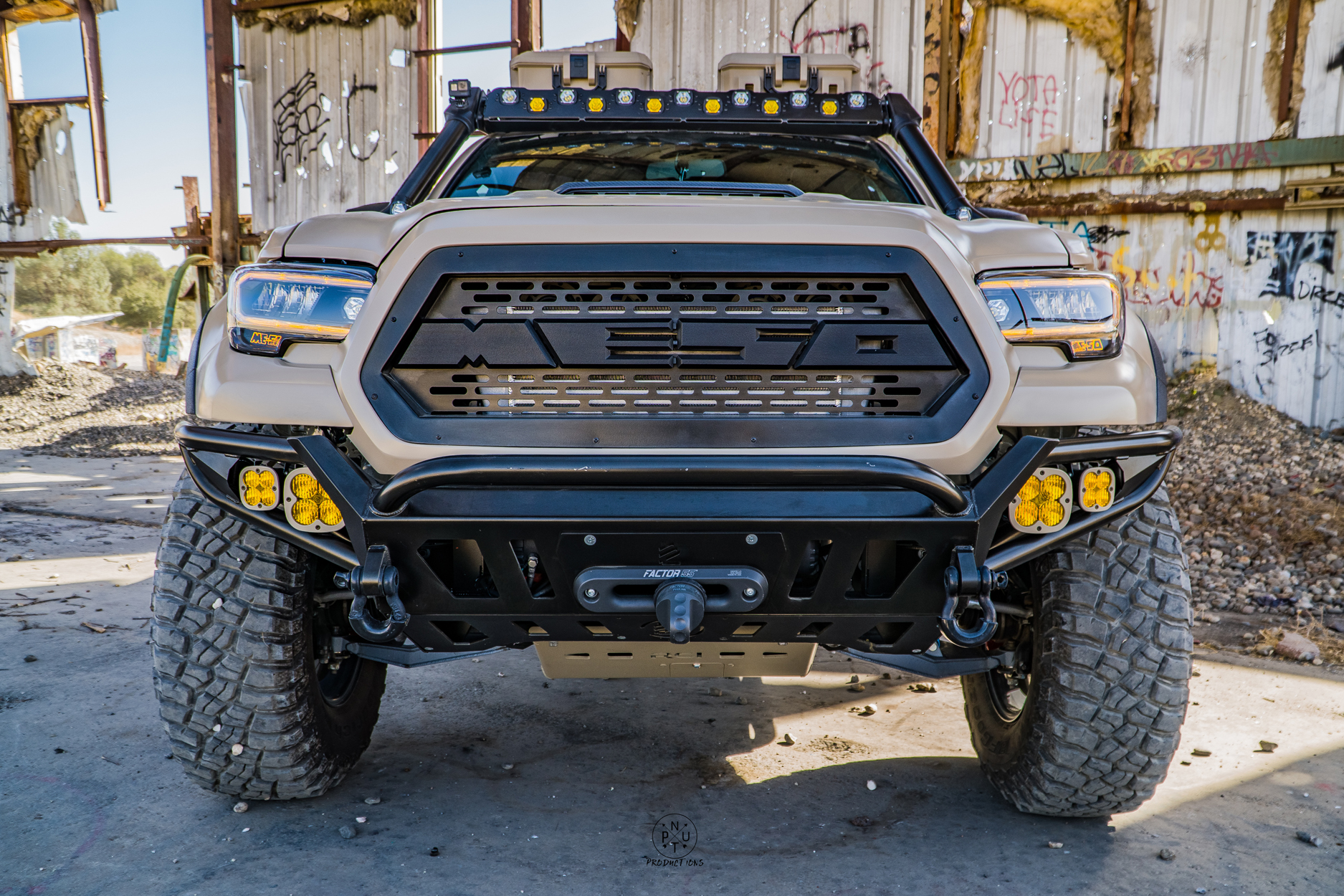 Stews' commitment to modifying his Tacoma extends far beyond his exceptional build. His company MESO Customs has redefined what it means to personalize the Tacoma, 4Runner, and Tundra platforms inside and out through incredibly simple yet highly functional plug-and-play mods.
With a strong emphasis on precision and craftsmanship, Stew and his team take pride in creating products that seamlessly integrate into factory Toyota lines, providing an OEM-like fit. Simply put, MESO Customs has a very distinctive style of highly functional OEM-like mods, bringing a fresh and unique aesthetic to custom Toyota off-road and overland builds.
Meso Customs continues to push the boundaries of Toyota customization, setting new standards which will for sure leave a long-lasting mark on the automotive industry.
Without any more, let's jump into the build overview.
Find Them Online 
MESO Customs Long Travel Tacoma Build – Parts List
Wheels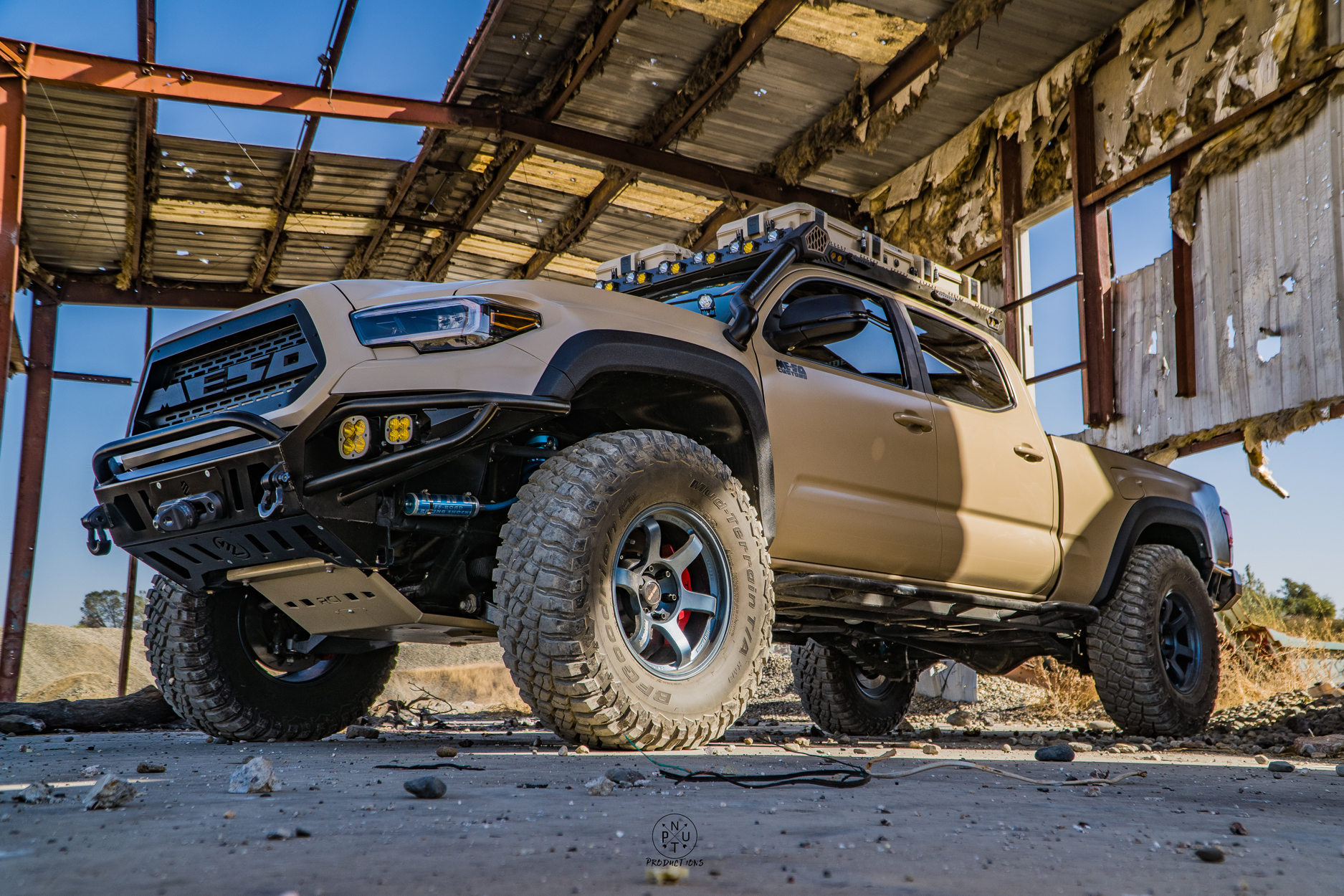 Volk Racing TE37 large PCD mag blue 18X9.0 +0
Brakes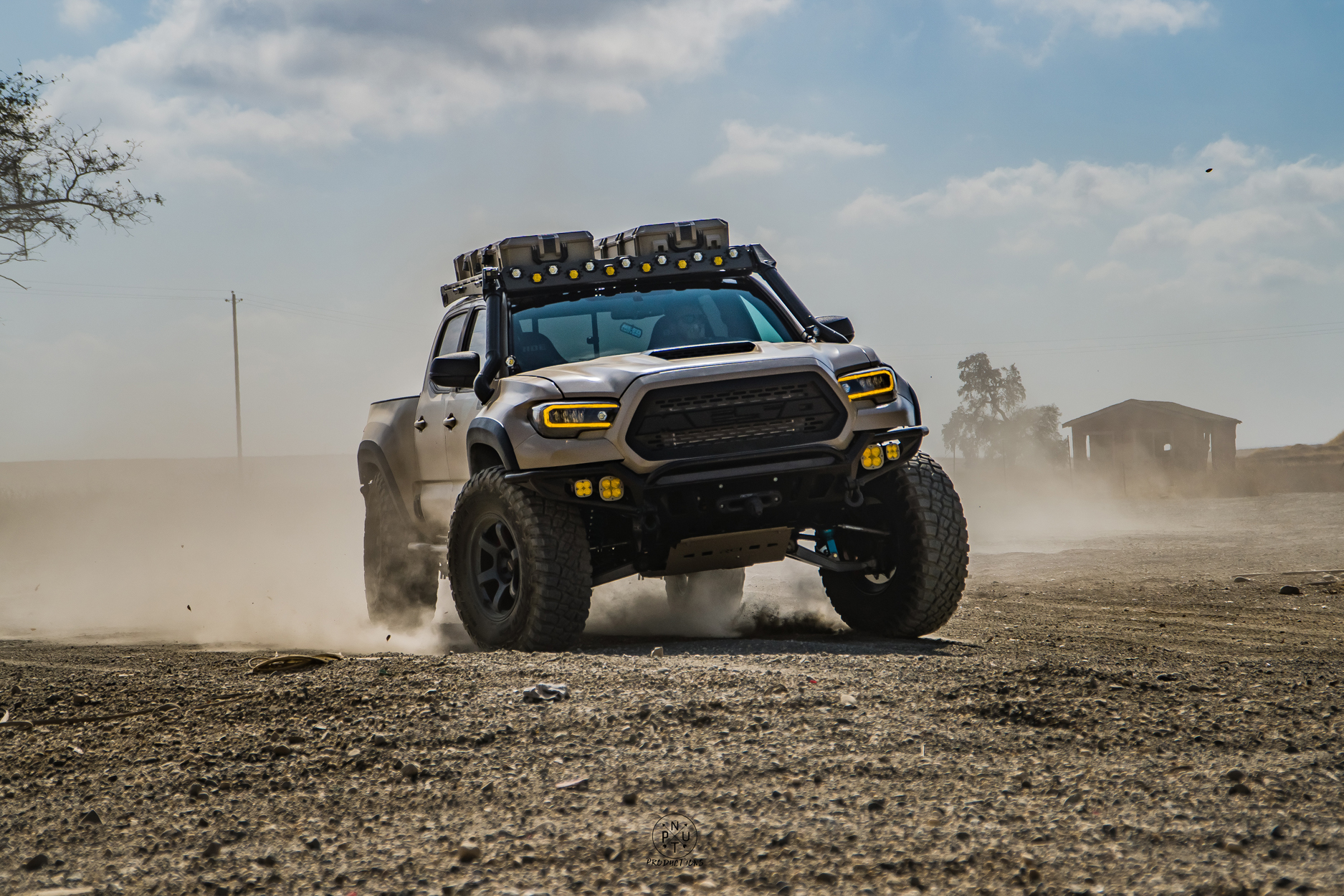 Front: Stoptech 6 piston big brake kit with 360MM 2PC rotors
Rear: SOS performance disc conversion Stoptech 4 piston with 340MM 2 piece rotors
Extended-length SS brake lines
Tires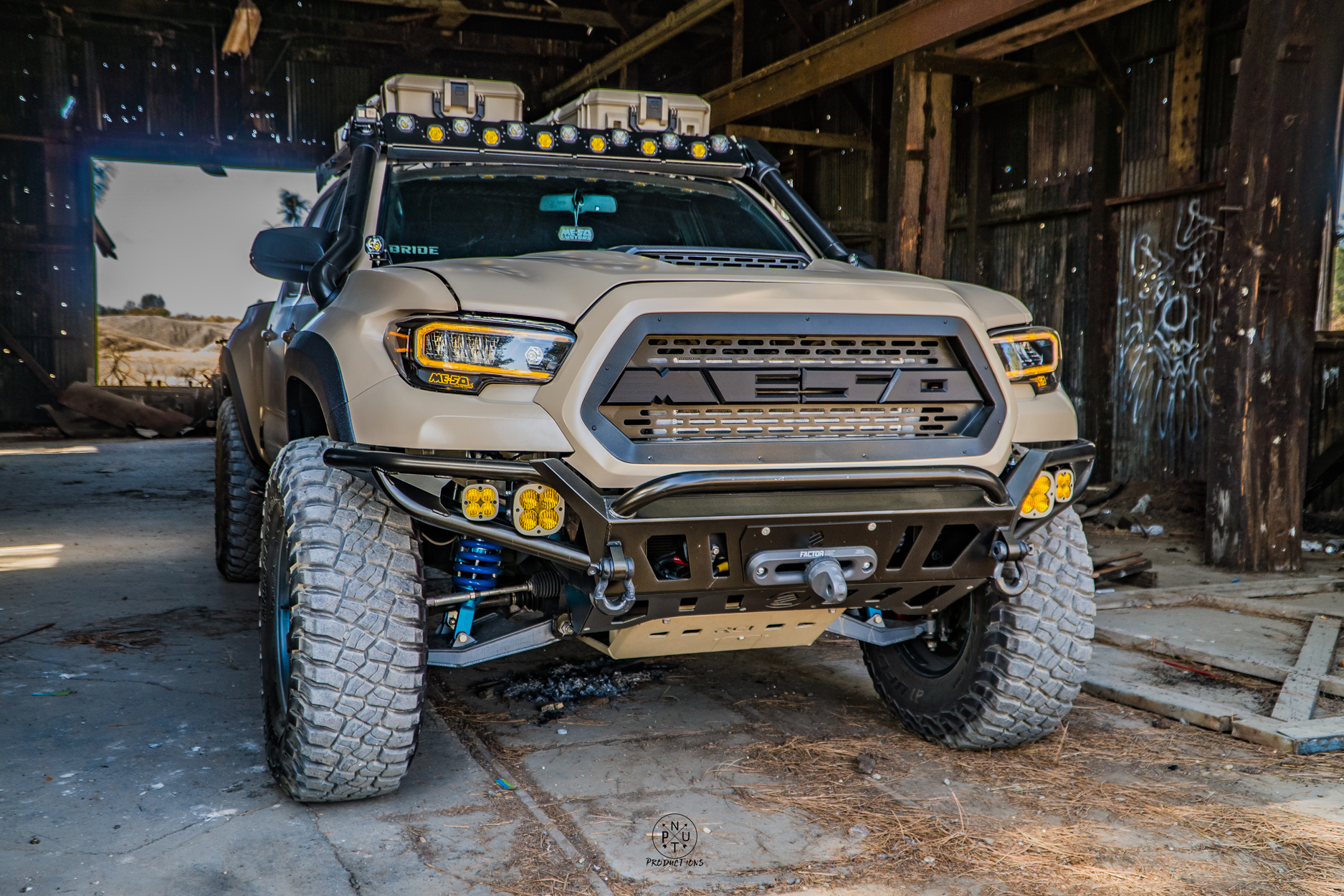 Suspension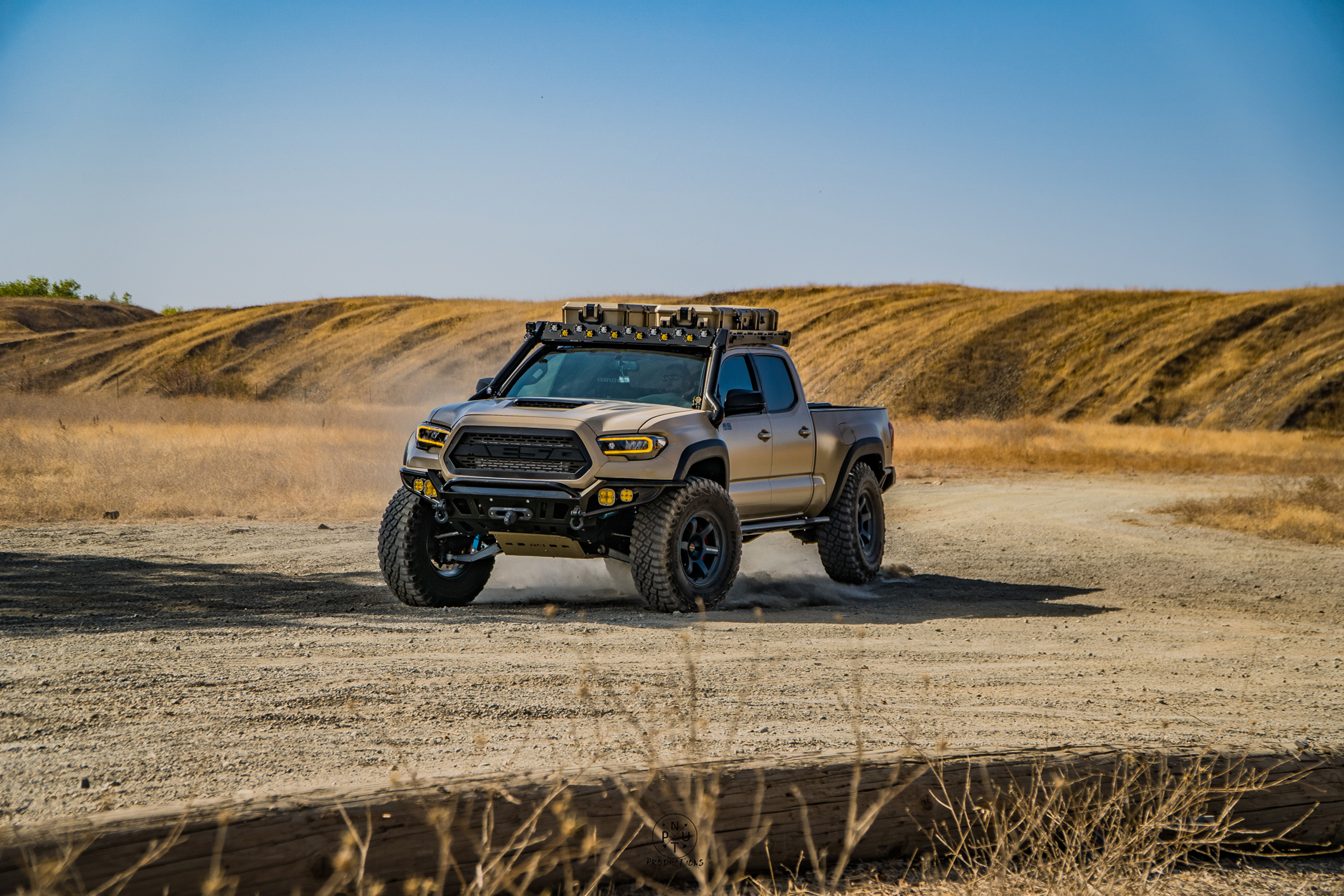 Total Chaos Full +3.5" race long travel kit
Extended chromoly front axle shafts w/ Tacoma joints
Adjustable limit straps
Extended brake lines
King long travel coilovers
King 2.5 triple bypass
King 2.0 bump stops
DMZ SUA rear suspension kit
DMZ bed cage
Steering
Solo Motorsports Tundra steering rack
Solo Motorsports machined stainless steel tie rods
Solo Motorsports Toyota clevis steering upgrade
Total Chaos weld-on spindle gusset reinforcements
Gearing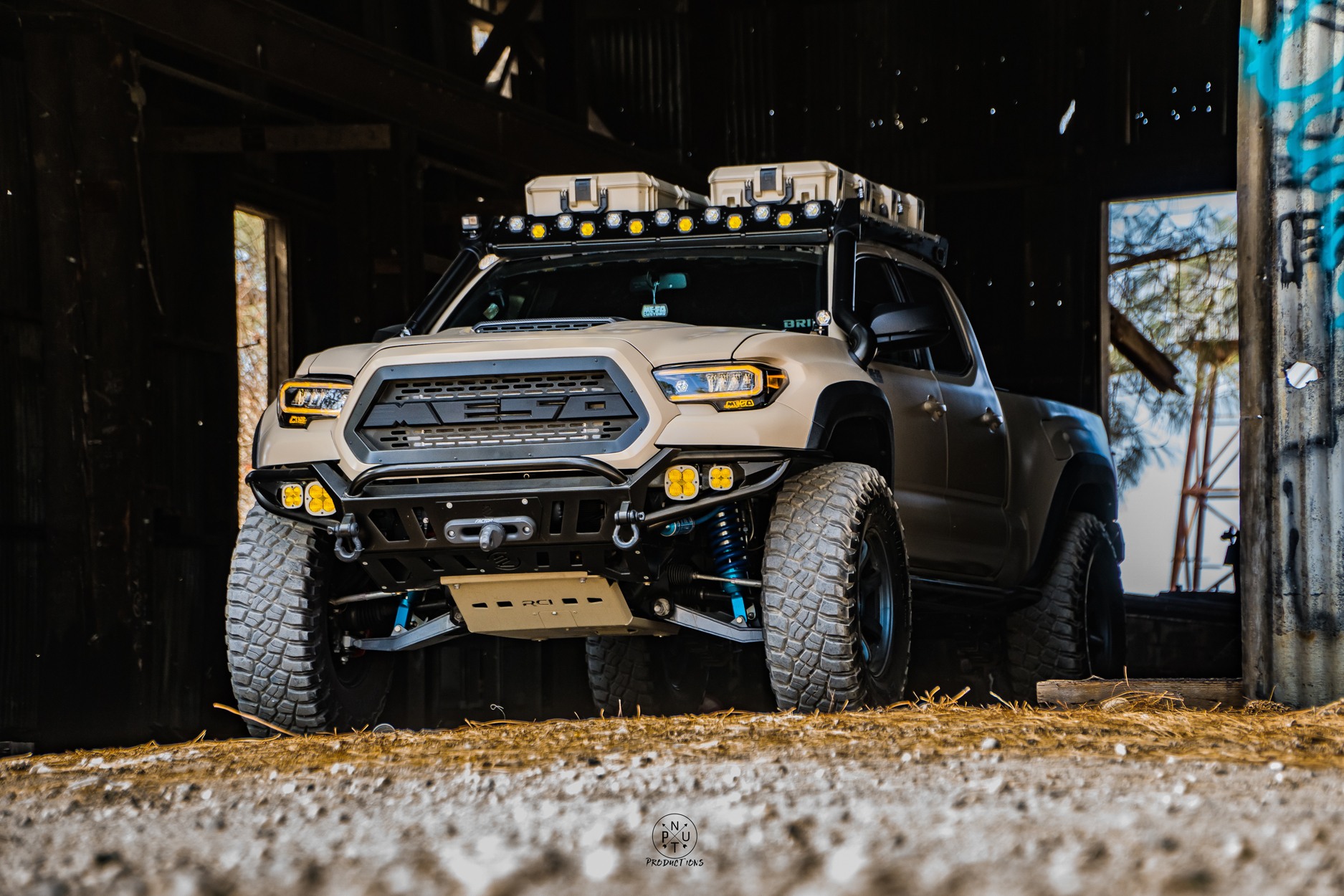 Engine / Performance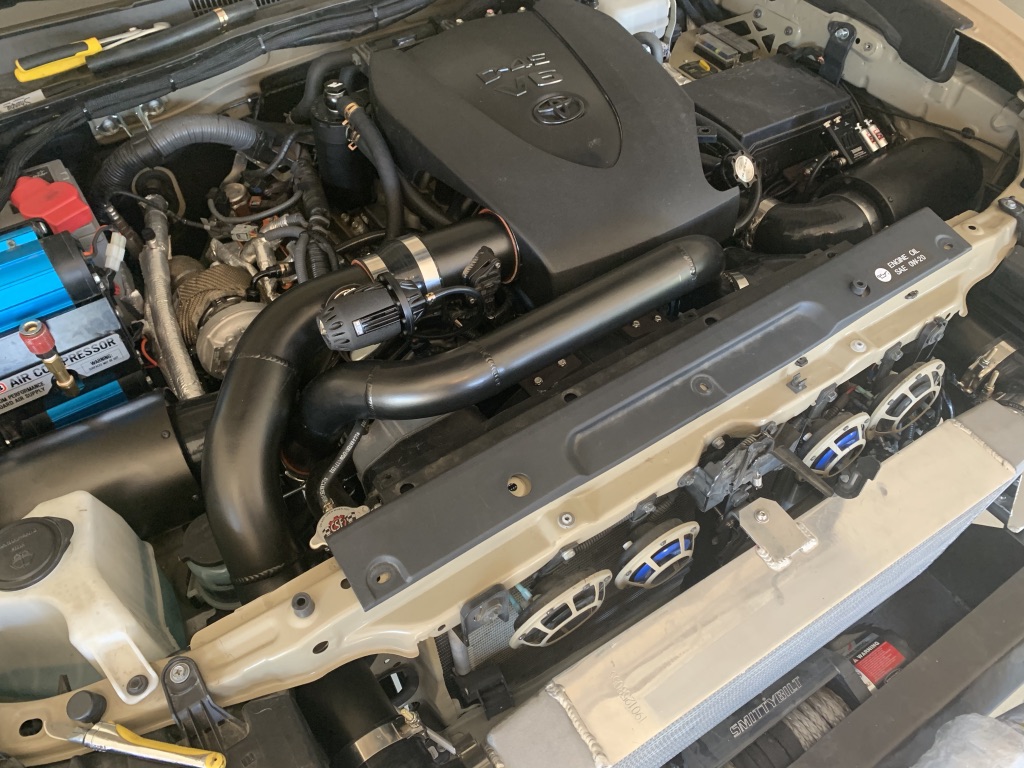 OVtune twin turbo kit (Garrett GT2560r)
Lexus LS500 injectors
NGK spark plugs
RIPP coil packs
Walbro 255 in tank pump with OV fuel pump controller
Custom intercooler piping with 3" FMIC
HKS SSQV BOV
JLT oil catch can
Custom Dual 3" snorkel intakes
TurboSmart boost controller
Custom 304 stainless steel downpipes and side exit exhaust with Spintech muffler
CSF aluminum radiator with custom electric fan conversion
Armor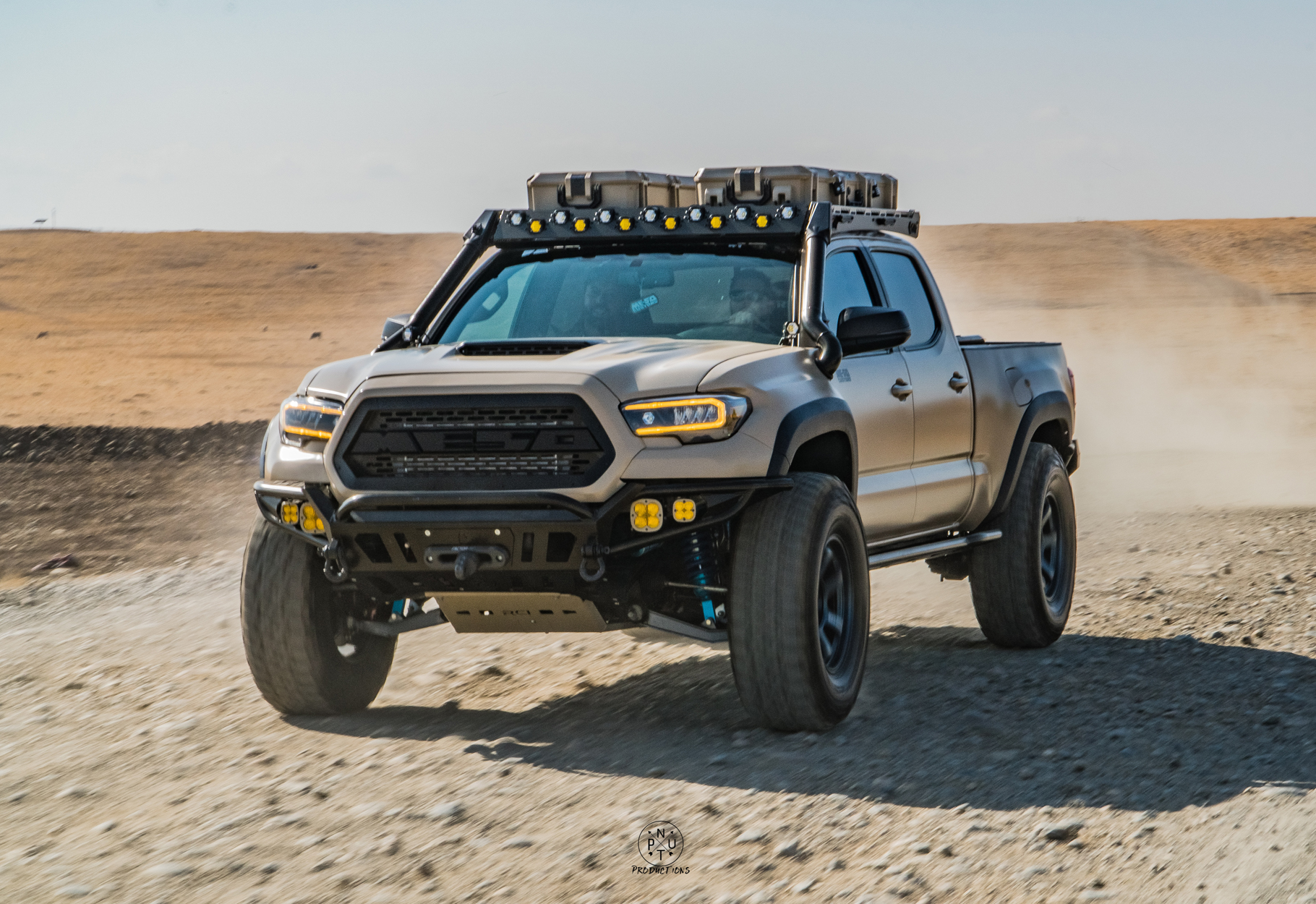 Lil Bs Fab front bumper
Lil Bs Fab sliders
CBI rear high clearance (sides wings cut off and tube style welded on)
RCI skid plate
Factor 55 fairlead and prolink
Smittybilt winch
Interior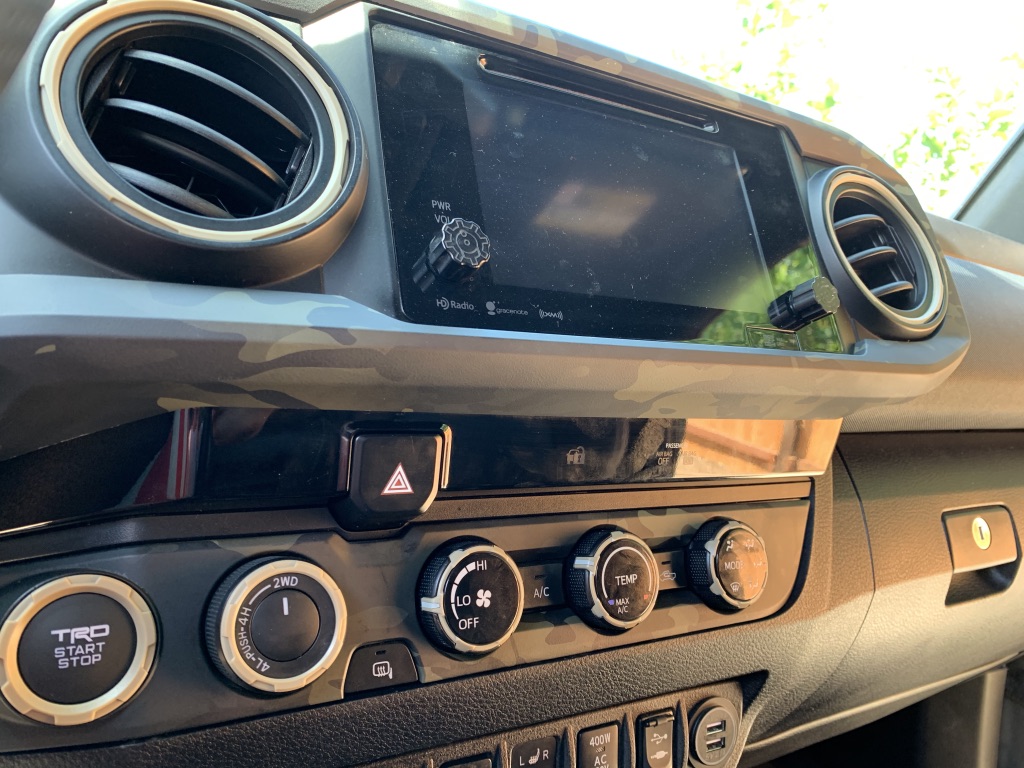 MESO Customs chrome delete interior kit
MESO Customs interior lighting kit(map and dome light)
MESO Customs overhead hexrack
MESO Customs blackout door handle kit
MESO Customs coin bucket organizer
MESO Customs PRO stealth shift knob
Autometer UEGO boost/AFR gauge in custom MESO dash pod
Bride gias carbon kevlar seats
Planted seat brackets
Multicam black hydro dipped interior
Exterior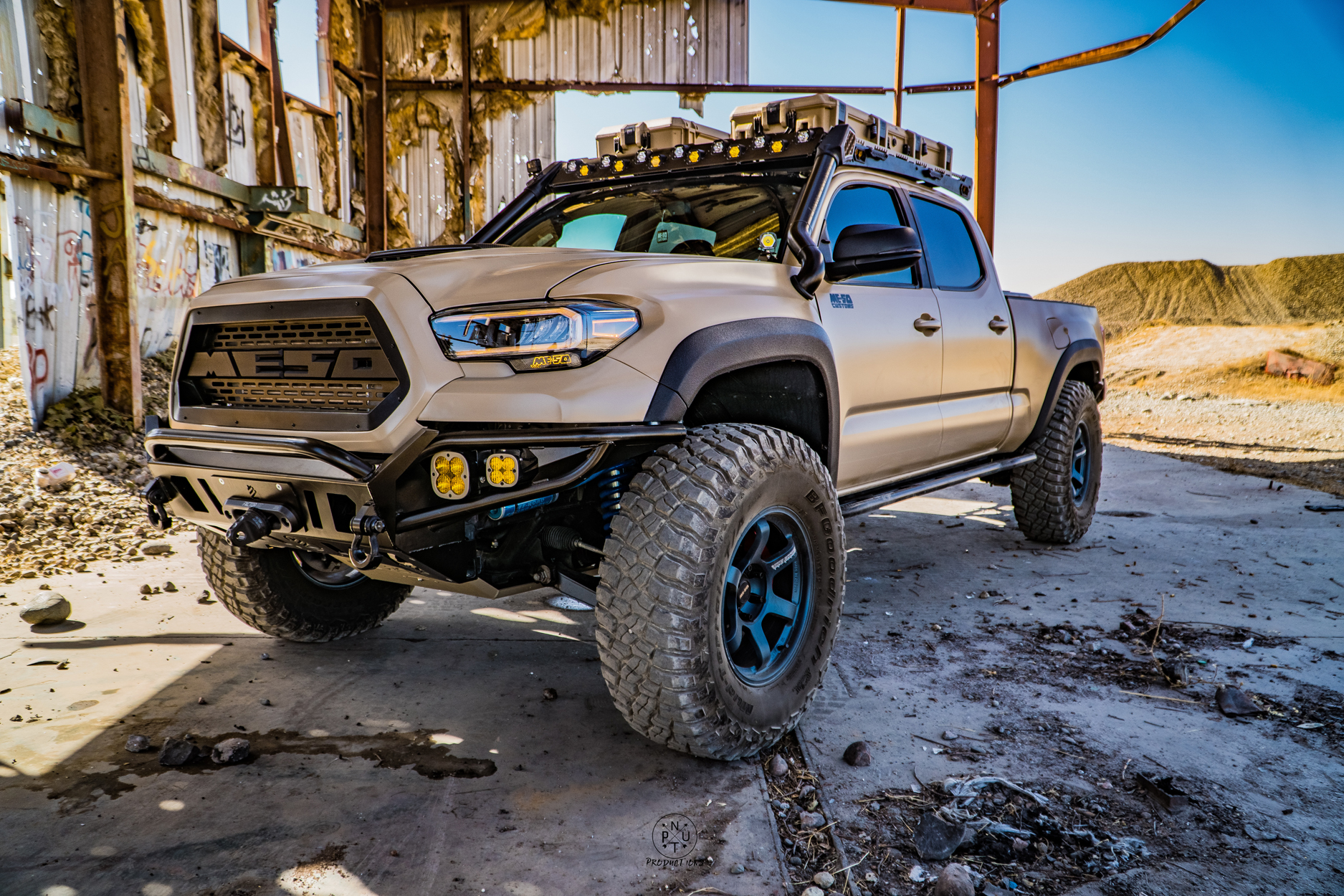 The entire truck painted in matte clear coat over factory quicksand
Seibon carbon hood (paired with exposed carbon)
McNeil extended fiberglass fenders and bedsides
Raptor lined fenders/bed
BAMF front grill with custom MESO 3D logo
MESO gasshole
Lighting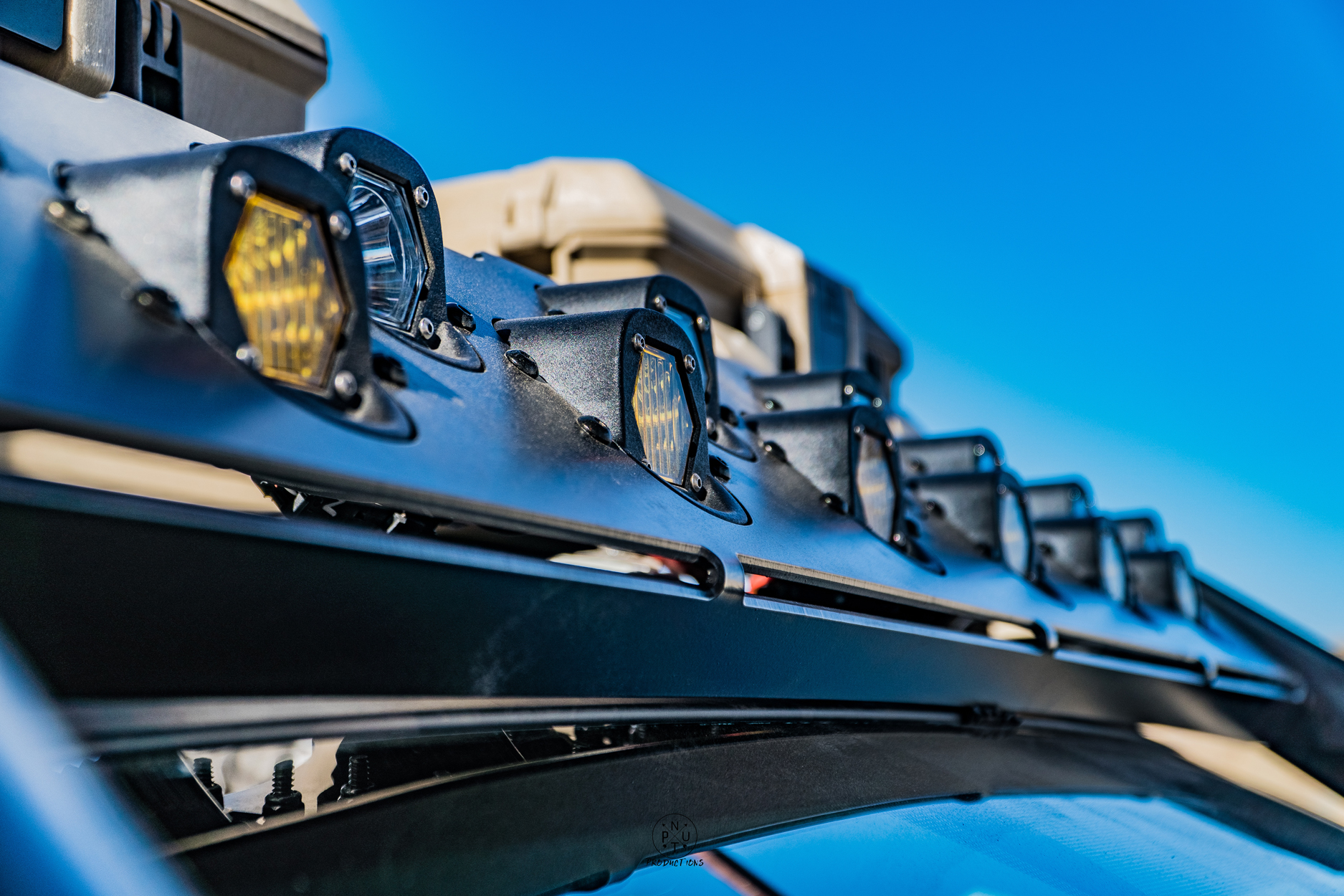 Custom MESO TRD pro headlights with retrofitted Baja S1s and amber DRL
Custom MESO LED tail lights
Custom MESO 3rd brake light
MESO Customs mirror puddle pod LED kit
MESO Customs V5 switchback mirror signals
Baja XL80 + Squadron pro front lights
Baja S2 pro reverse lights
Baja S1 ditch lights
Battery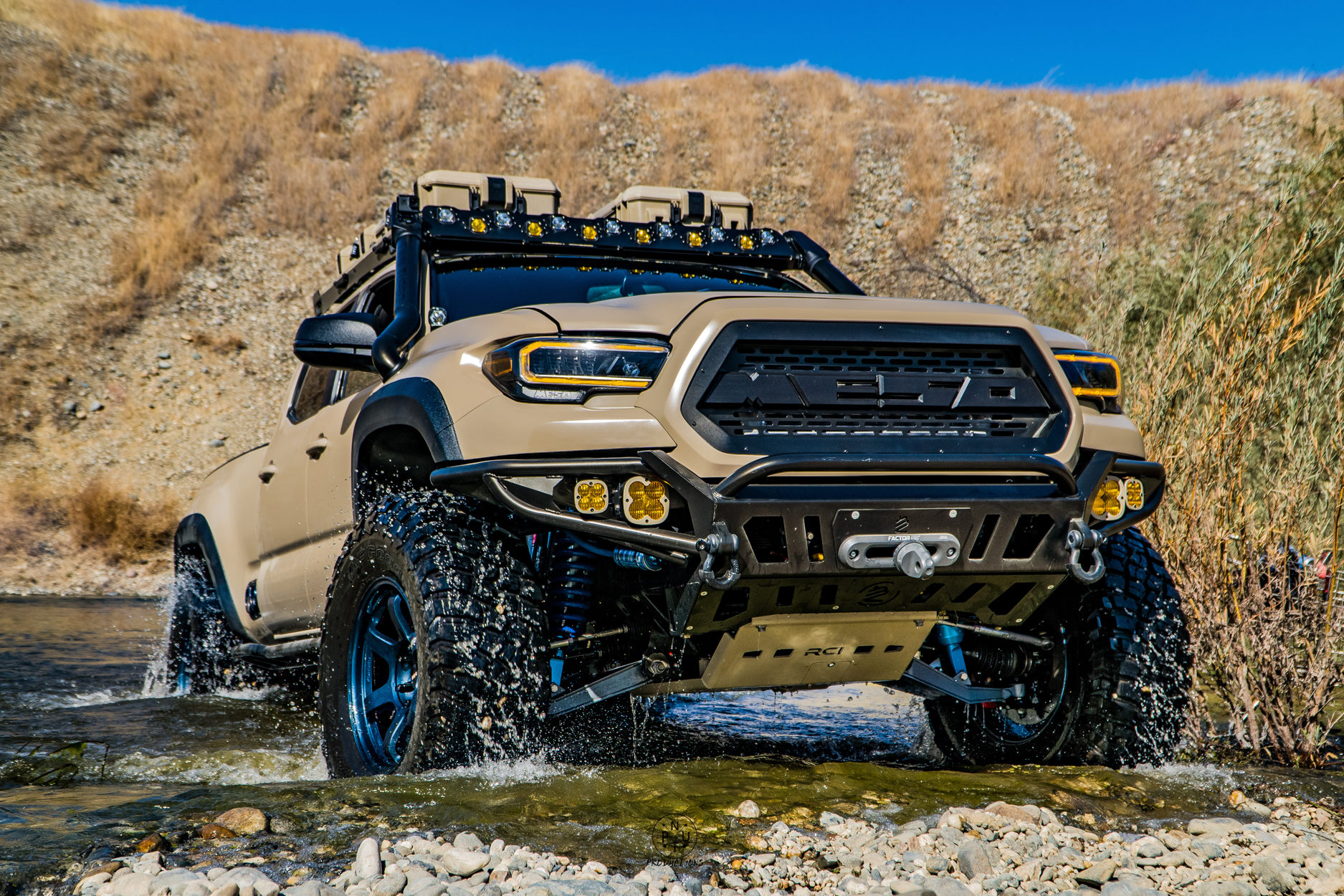 Off-grid engineering battery relocation
Northstar group 35 AGM
Roof Rack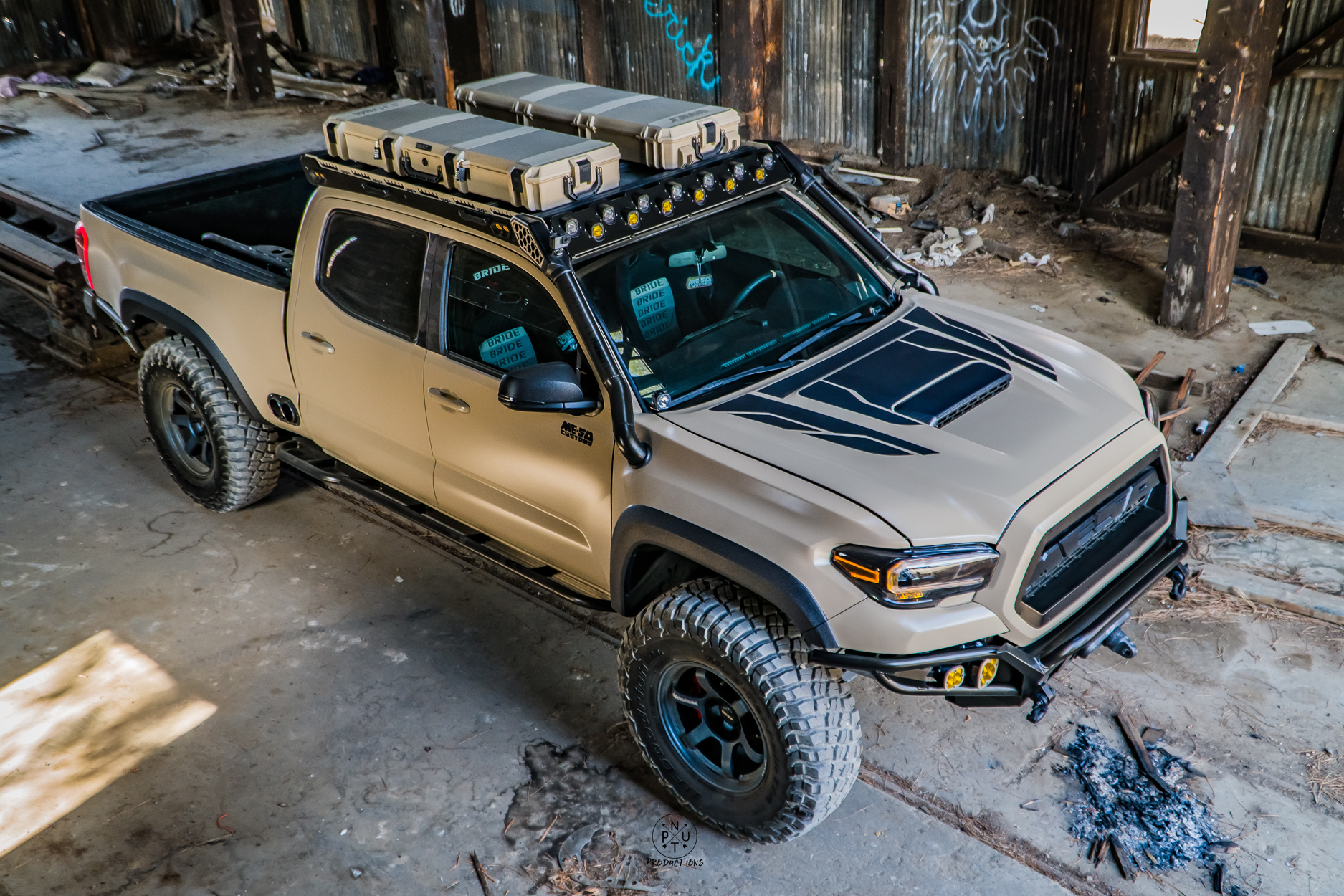 UpTop alpha roof rack
Custom MESO front faring with Baja S1s (13)
Custom MESO side lights
Dual FDE Pelican vault cases
Audio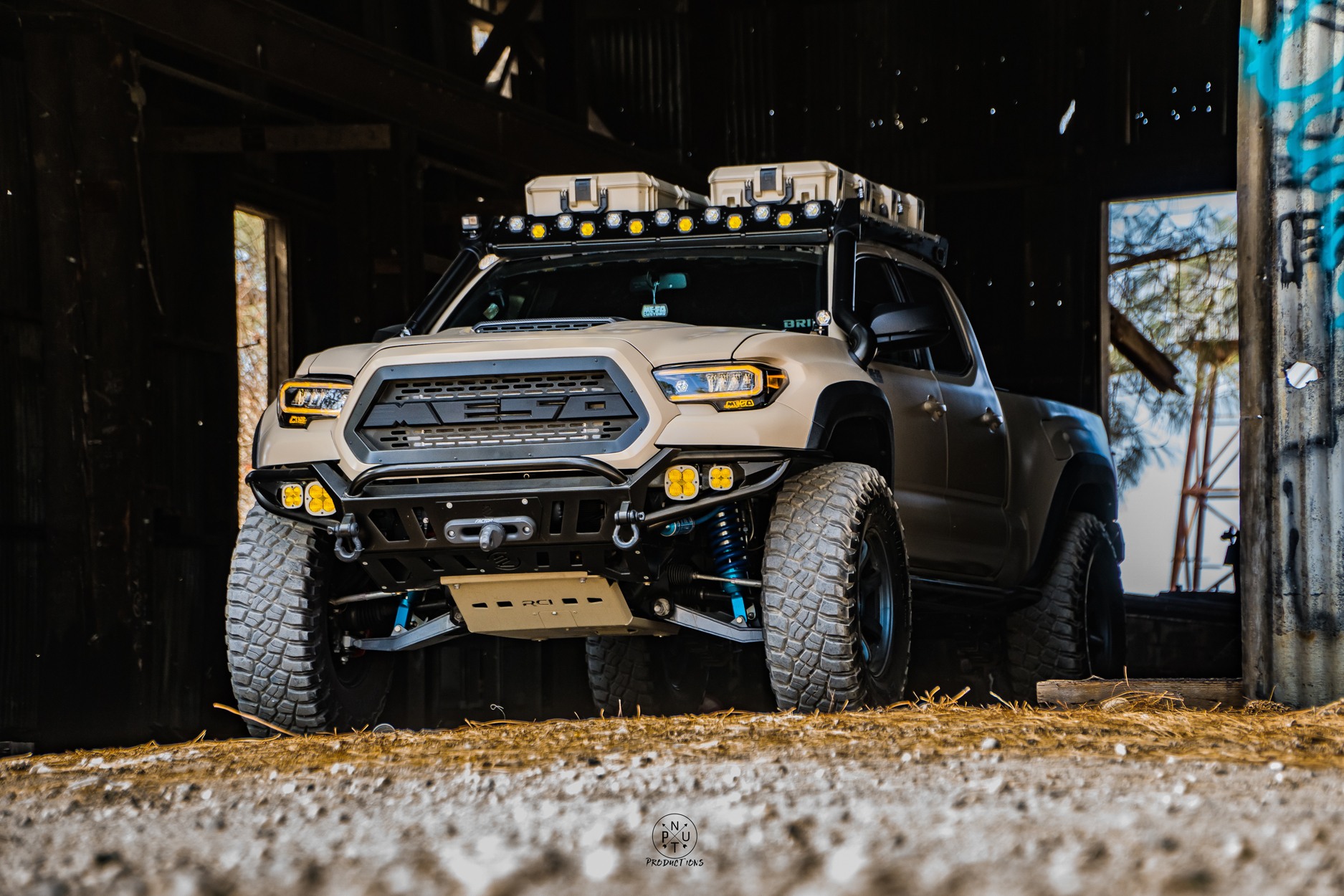 Kenwood 5-channel amplifier
Kenwood 10" slim sub in custom box
Kenwood component speakers front/rear
Audio control signal processor
Soundskins sound deadening (roof, floor, doors)
Final Thoughts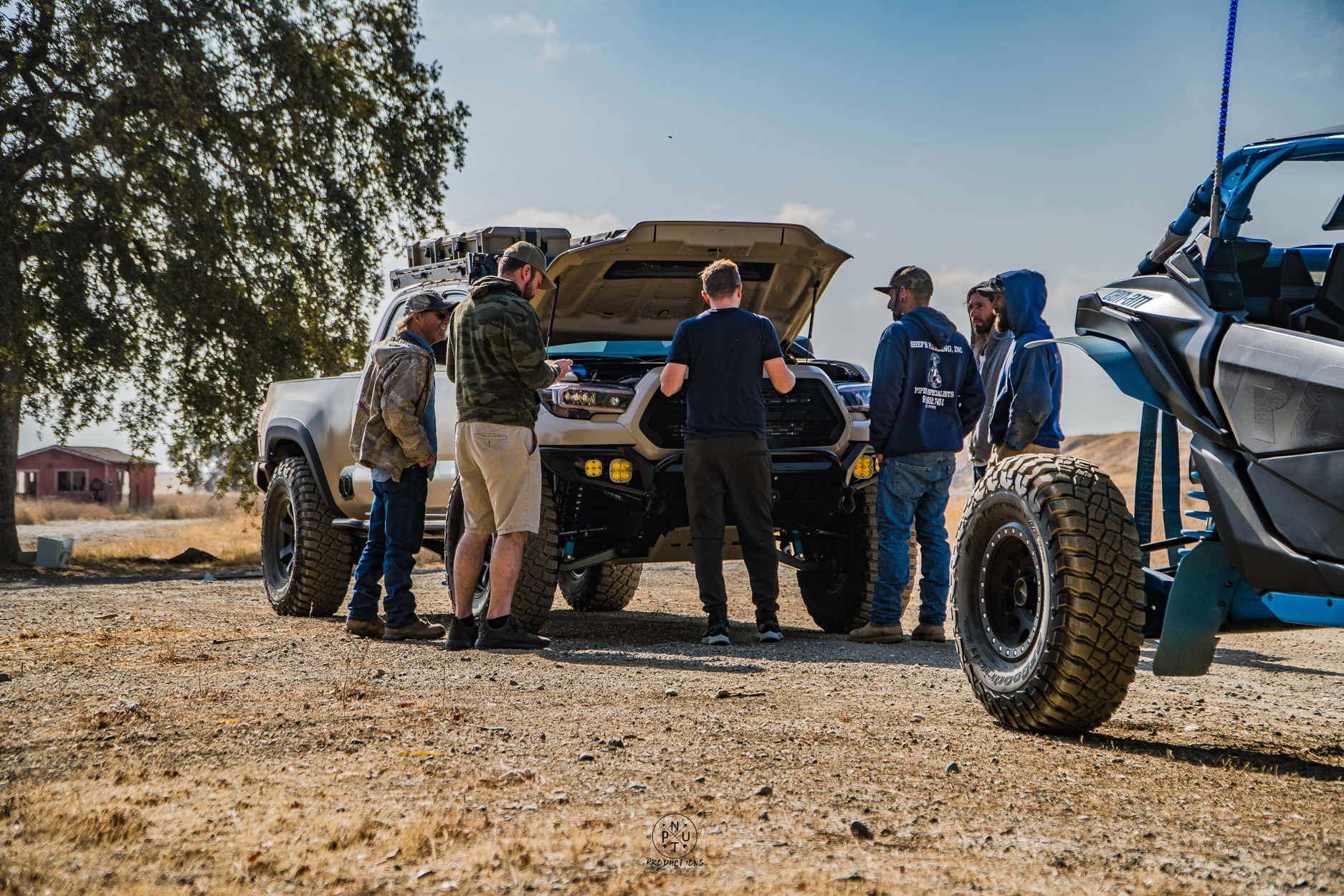 Okay, now that's one impressive Tacoma build. Stew has since blown the turbos on this Tacoma and has even bigger plans for what's next. If you're local to Sacramento, CA, and frequent the shop Stellar Built, you may have seen what's coming for the next stage of this Quicksand flagship Meso Customs build.
Stay tuned for the stage as it's coming together fast and we just might get the exclusive on another write-up.