Long Term 10,000 Mile Review & Feature Overview For The Yokohama Geolandar G003 Mud-Terrain Tires – A Popular Mud Tire Option For The Tacoma
When I decided to upgrade the tires on my 3rd Gen Tacoma to 33-inch (285/75/16) tires I knew I wanted something that looked aggressive, would last a while with daily driving, and perform great both on-road and off-road. I was super skeptical about going with mud terrain tires for my daily driver due to the negatives I heard about in the community, however, after a lot of research and seeing them in action, I knew the Yokohama Geolandar G003 M/T was the way to go.
For a deeper dive into tires in general, check out – Choosing Tires For Your Tacoma.
Find It Online
Yokohama Geolandar MT Review
Why Buy Mud-Terrain Tires?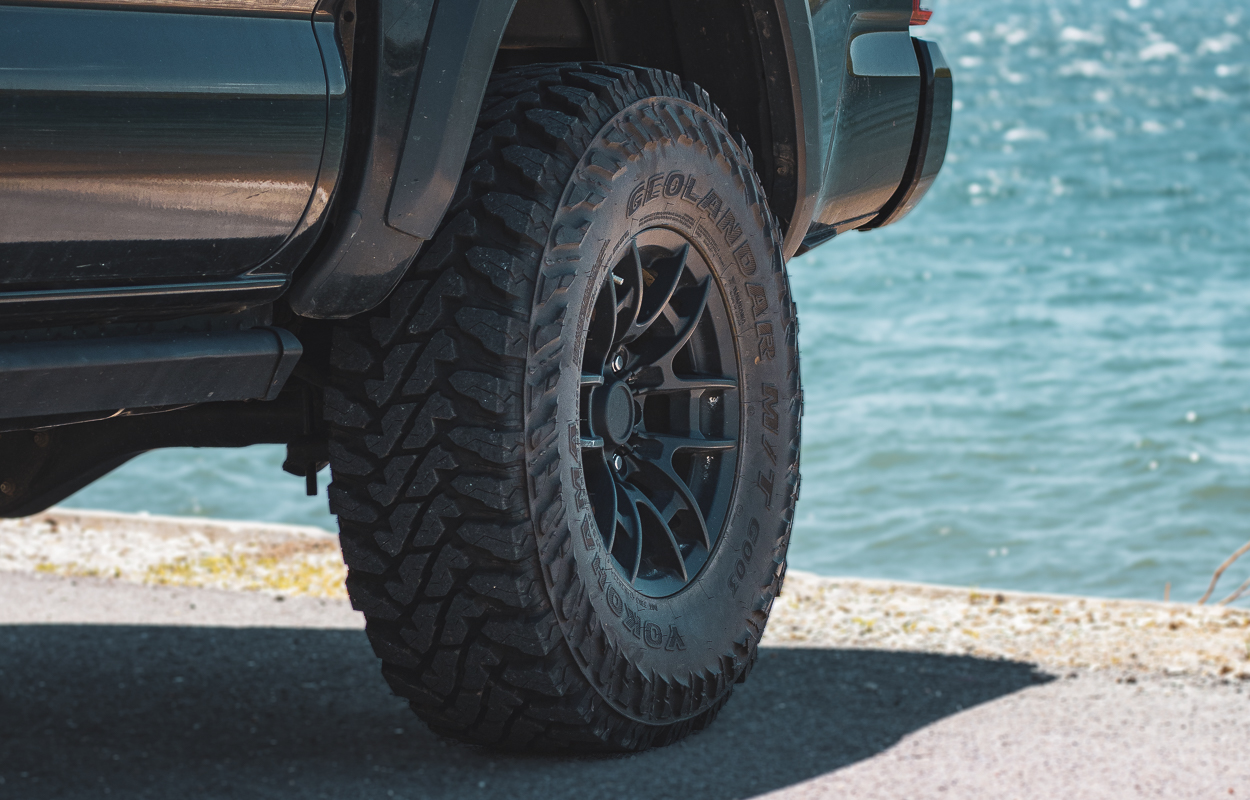 Mud-Terrain tires are designed to handle tough off-road terrain by ejecting mud, rocks, and other debris from the treads in order to provide you with more traction. Another great benefit of mud-terrain tires is that they basically grab just about everything, which makes getting over obstacles like logs and large rocks due to the super aggressive and prominent tread blocks.
Living in the Ozarks, I'm no stranger to rain, mud, and big obstacles like trees and rocks on the trails so it only made sense to get something specifically made for those situations. After seeing the performance capabilities of the Geolandar M/T on the trails with a buddy running these on their Tacoma, I knew that they had to be my next set of tires.
Key Features & Specs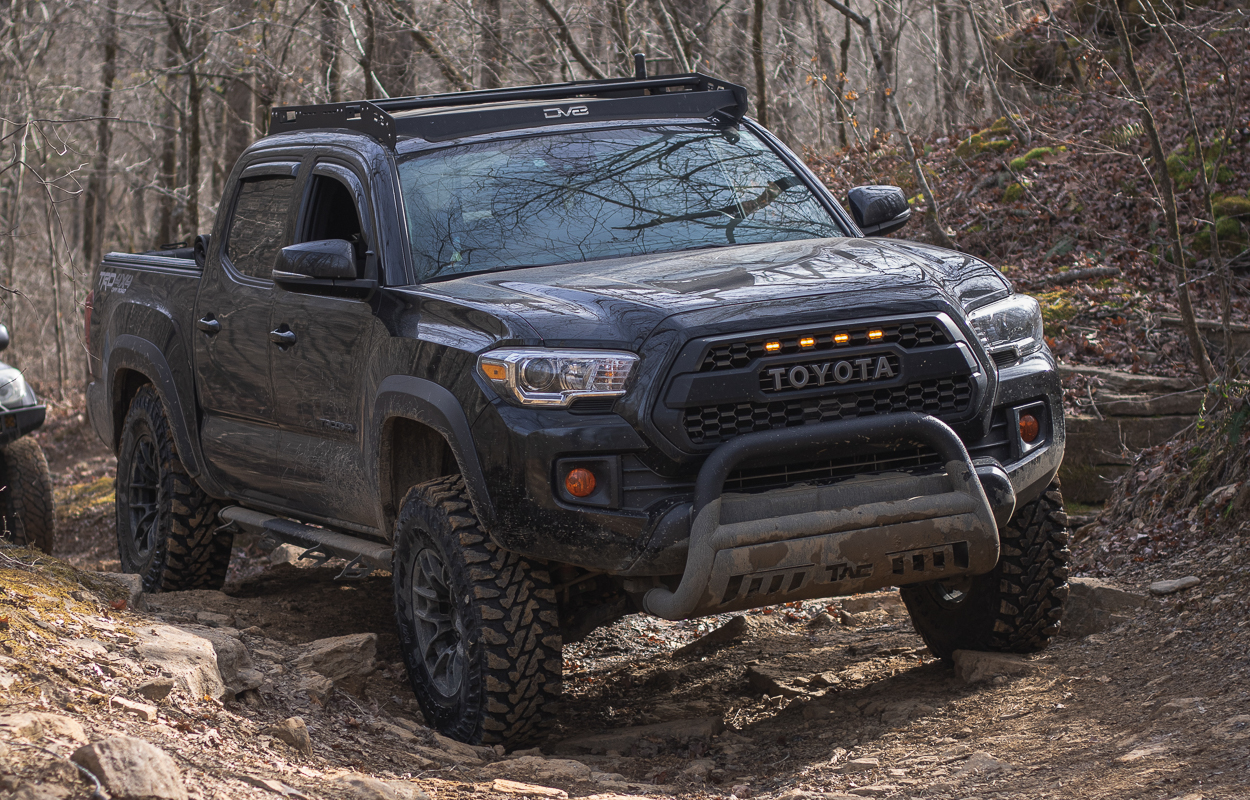 The Geolandar M/T tires gained popularity fast in both the overlanding and offroad communities, and for good reason. These tires not only look super aggressive but have the off-road performance to back it up all while providing a comfortable ride on the road. Here are some of the key features that make these tires so great…
Block To Void Ratio & Sipes
The specialized treat pattern featured on these tires have been optimized to not only provide excellent off-road traction but also address the issue of wet performance we see on a lot of other mud-terrain tires. The sipes help provide a shorter stopping distance in wet conditions making them safer for daily driving.
Mud & Stone Ejectors
In between the tread blocks on the Geolandar you may notice tall grooves in between the tread blocks on the outside edges. While it may seem like they are just for aesthetics, these actually help eject mud and rocks to keep your tires free from debris and keep traction. I've noticed this feature in action especially when hitting the pavement after a trail day and seeing the mud, rocks, and debris fly out.
Geo-Shield Technology
These tires feature Yokohama's Geo-Shield technology which basically means that the tire has sturdy, multi-ply sidewalls to help protect from punctures and damage to the tire from sharp rocks and other obstacles. The aggressive blocks on the outside sidewalls also act as a sort of sidewall protection as well as provide extra grip when the tires are aired down.
Advanced Variable Pitch Tread
Mud-terrain tires are well known for being pretty noisy. The Geolandar M/T addresses this issue by featuring a tread pattern that varies in height and spacing to provide a quieter ride while on the road making them comfortable for driving around town or on the highway.
High-Density Compound & Wide-Flat Profile
All mud-terrain tires use softer materials than other types of tires which means they will wear down faster on the pavement. This can lead to having to buy a new set of tires sooner alongside having to worry about your tires wearing unevenly. Tires are on of the more expensive purchases for your Tacoma so getting the most life out of yours is something you definitely want. The Yokohama Geolandar G003 M/T is made out of a high density compound in order to prolong the life of the tires and the wide and flat profiling help to minimize uneven wear by putting more of the tire on the ground to create even wear across the tread blocks.
On-Road Performance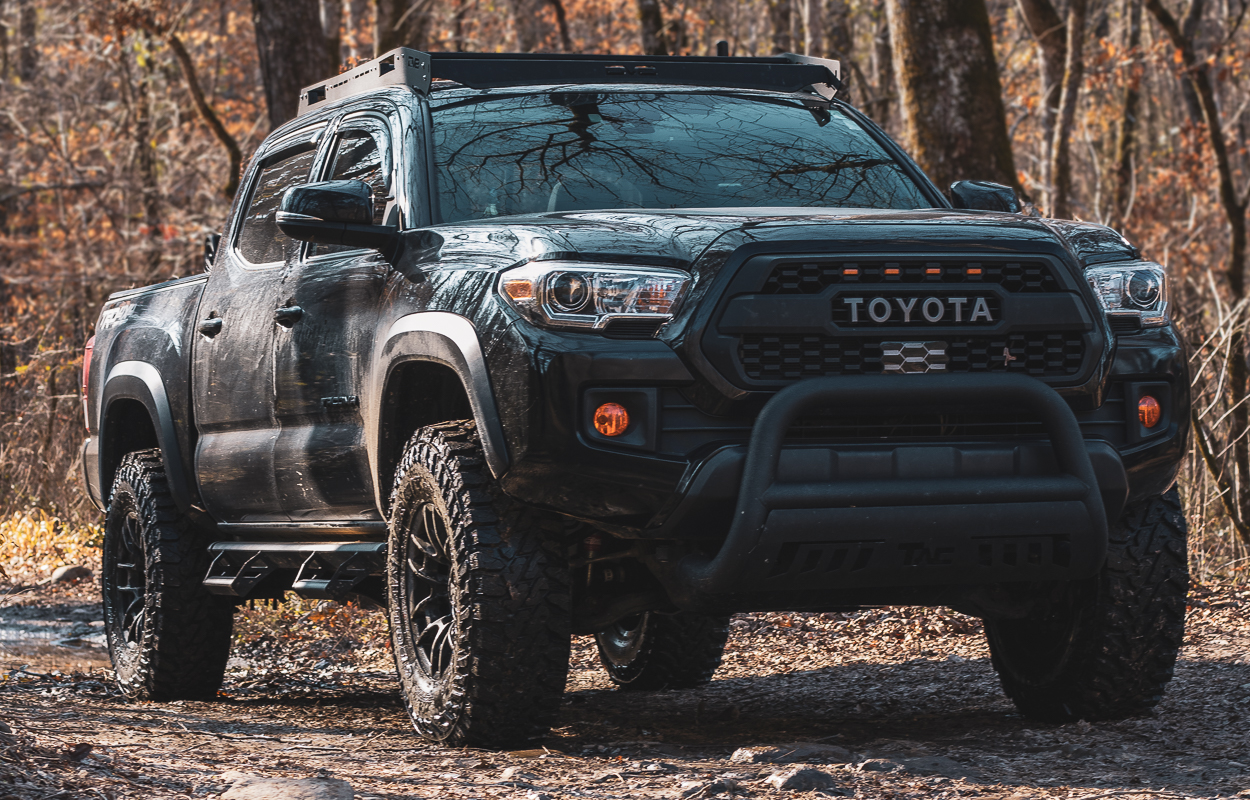 As I mentioned earlier, my Tacoma is my daily driver, so I have often spend a lot of time on the road and put a lot of highway miles on my truck.
From personal experience these tires ride great even in a load range E, which is known to be quite a bit firmer than other ratings. Coming from someone who has only driven on all-terrain tires before moving over to the Geolandars, the noise level while driving is actually pretty low. Keep in mind that they are a mud-terrain so they definitely won't be quiet but from myself and my passengers they aren't loud enough to be annoying.
The most noise I notice coming from the tires is around 35mph on smooth pavement and they are the quietest below that. Highway driving there is a little bit of humming but it's in the middle ground for the noise levels. Mud tires do make more noise as they wear down but even with a little over 10,000 miles on them, I'm still very comfortable with the noise inside the cab.
As far as stability goes, I do notice that these tires require a little bit more braking distance if you are heavy on the brake or slowing down from highway speeds. During normal day-to-day driving they feel like just about every other tire I've had.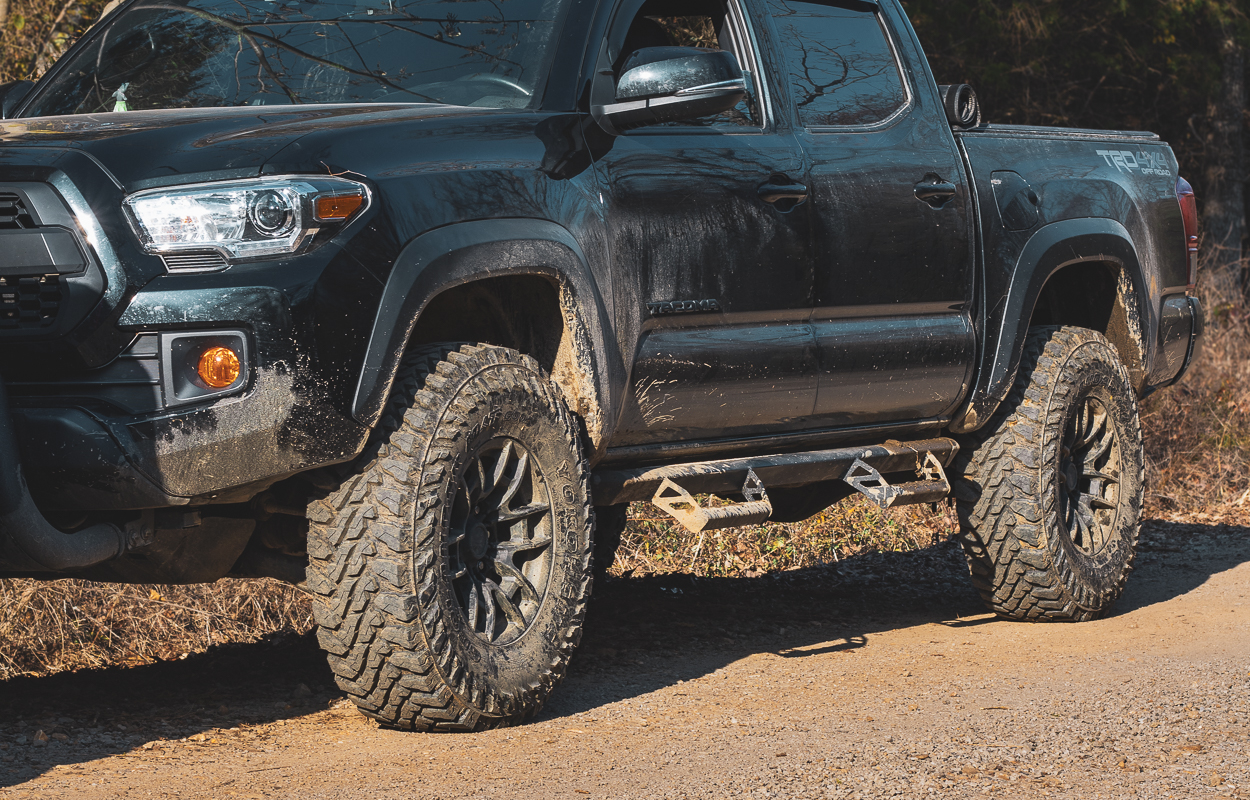 To my surprise, the wear speed on the Geolandars is actually really great. Since I have been following Yokohama's recommendation of rotating the tires every 3,000 miles, my tires still have a lot of life and tread with around 10,000 miles on them and a lot of time on the pavement.
The only downside that I have had with these tires are their performance in icy conditions. Almost any tire, besides studded, aren't great on ice but mud tires are notorious for being the worst due to their large tread blocks and less siping.
While they definitely aren't the best on ice, with a little bit of preparations, smart driving decisions, and taking your time you are still able to use your truck during the colder months.
Off-Road Performance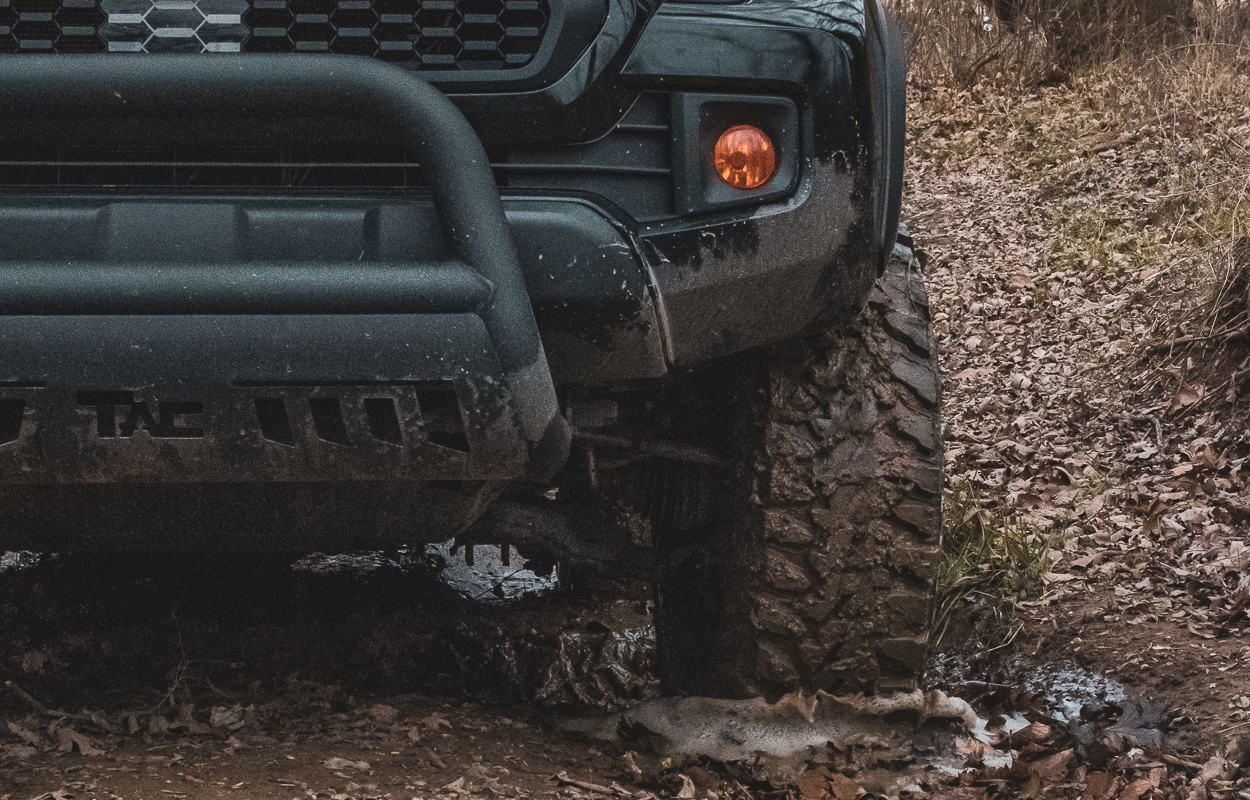 Off-roading is where these tires really excel and they have performed better than I could imagine. The traction they provide over rocks, dirt, mud, and just about anything I have driven on allows me to ease through tough obstacles without breaking a sweat. Previously with the stock Goodyear tires I noticed that I would have to switch into 4WD a lot more often than I do now to get through the same obstacles.
When airing these tires down to around 20psi I found that I was essentially glued to the trail and easily able to crawl up and through obstacles like mud pits, rock shelves, and steep inclines.
Final Thoughts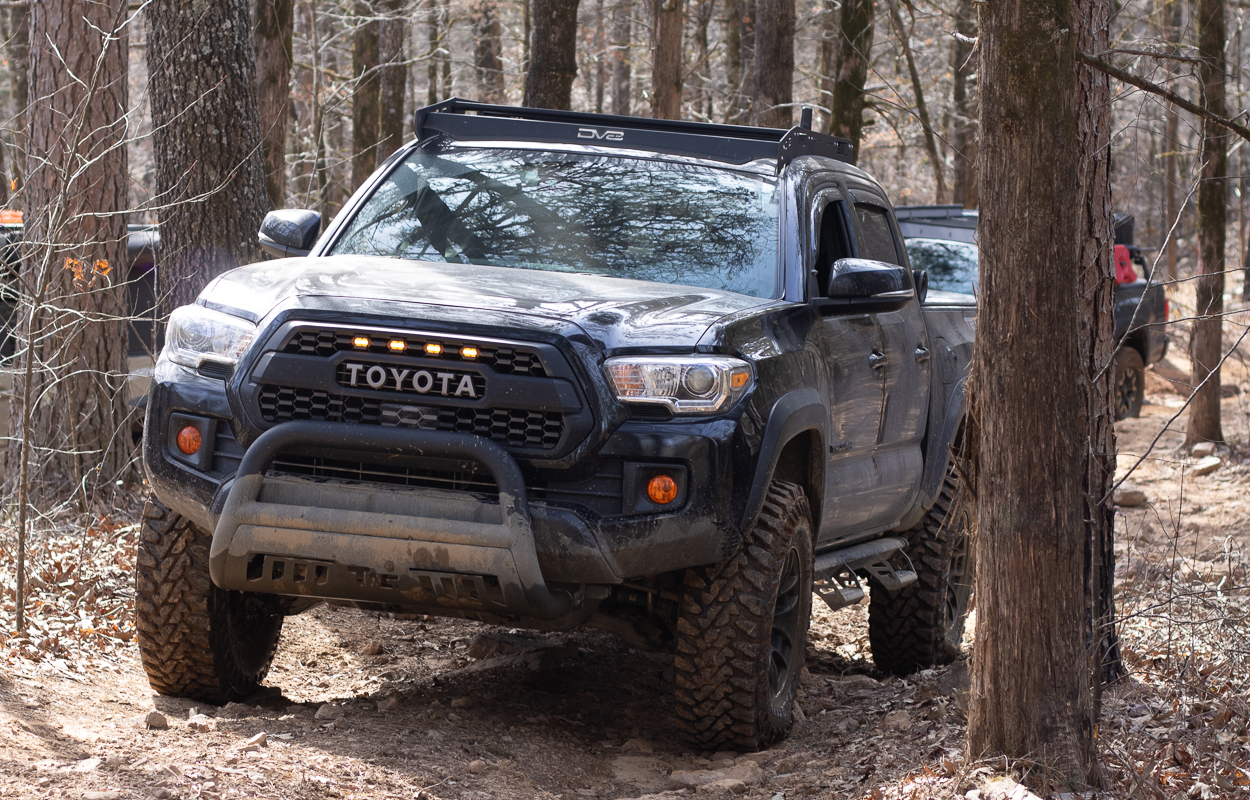 If you're looking at getting a mud-terrain tire for your Toyota Tacoma but aren't sure which ones will provide you with the most off-road performance without sacrificing on-road comfort, I would highly suggest picking up a set of the Yokohama Geolandar G003 M/T.
I was skeptical at first never having driven on mud tires but they have easily become my favorite set of tires and I can definitely see myself sticking with them far into the future.