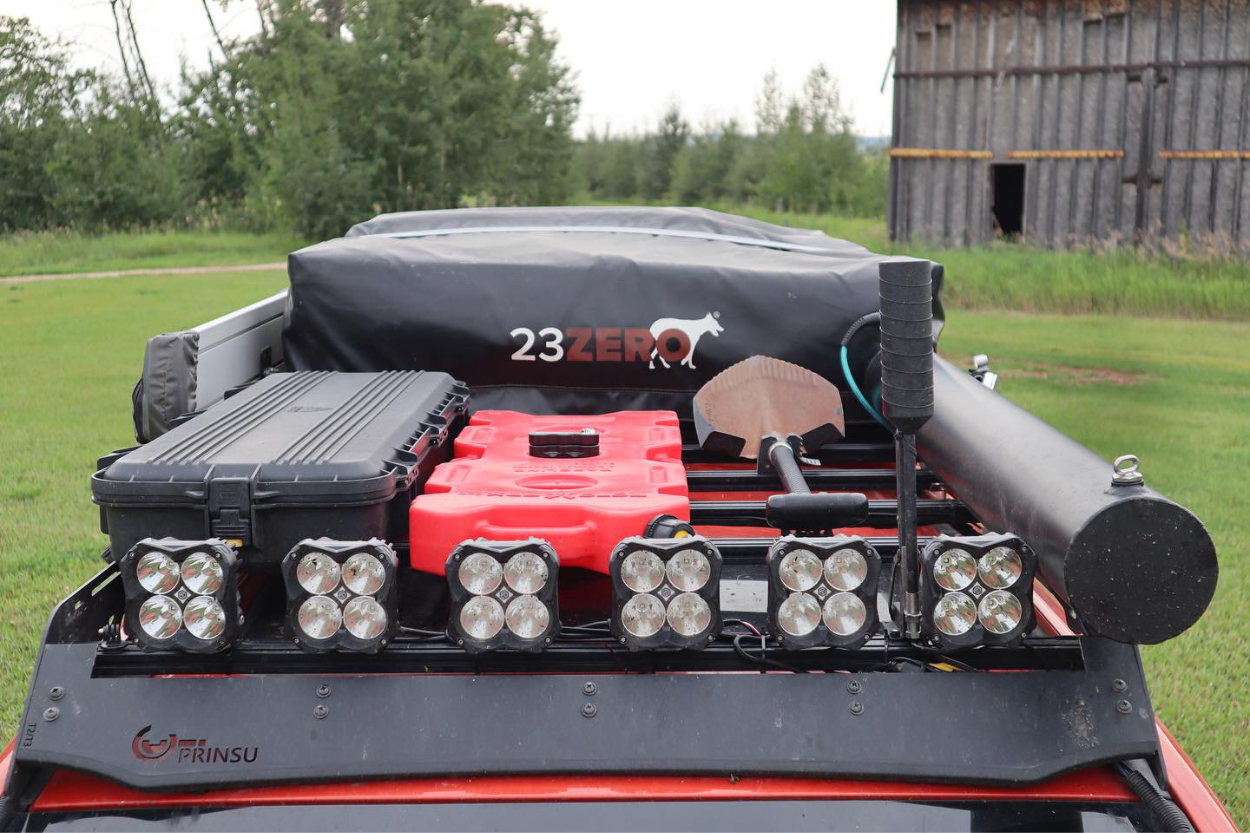 Popular Roof Rack Mounted Gear & Accessories – Seven 3rd Gen Tacoma Owners Discuss Their Truck's Setup
This Week's Topic: Roof Rack Gear & Accessory Setups
Last week, we covered portable fridge/freezer setups. This week, we turn our attention to roof racks.
Roof racks are slightly less common on the Tacoma (than say the 4Runner) due to the fact that many owners opt for bed racks to mount their accessories. However, they offer a different king of versatility than bed racks. With the former, you have the freedom to mount virtually anything with tons of available mounts and custom solutions, even creating an extension to bed racks depending on the model.
In this post, we dive into the exciting world of Tacoma gear and accessories. We asked our readers what their favorite accessories were and why, so let's take a look!
Roof Rack Gear & Accessory Examples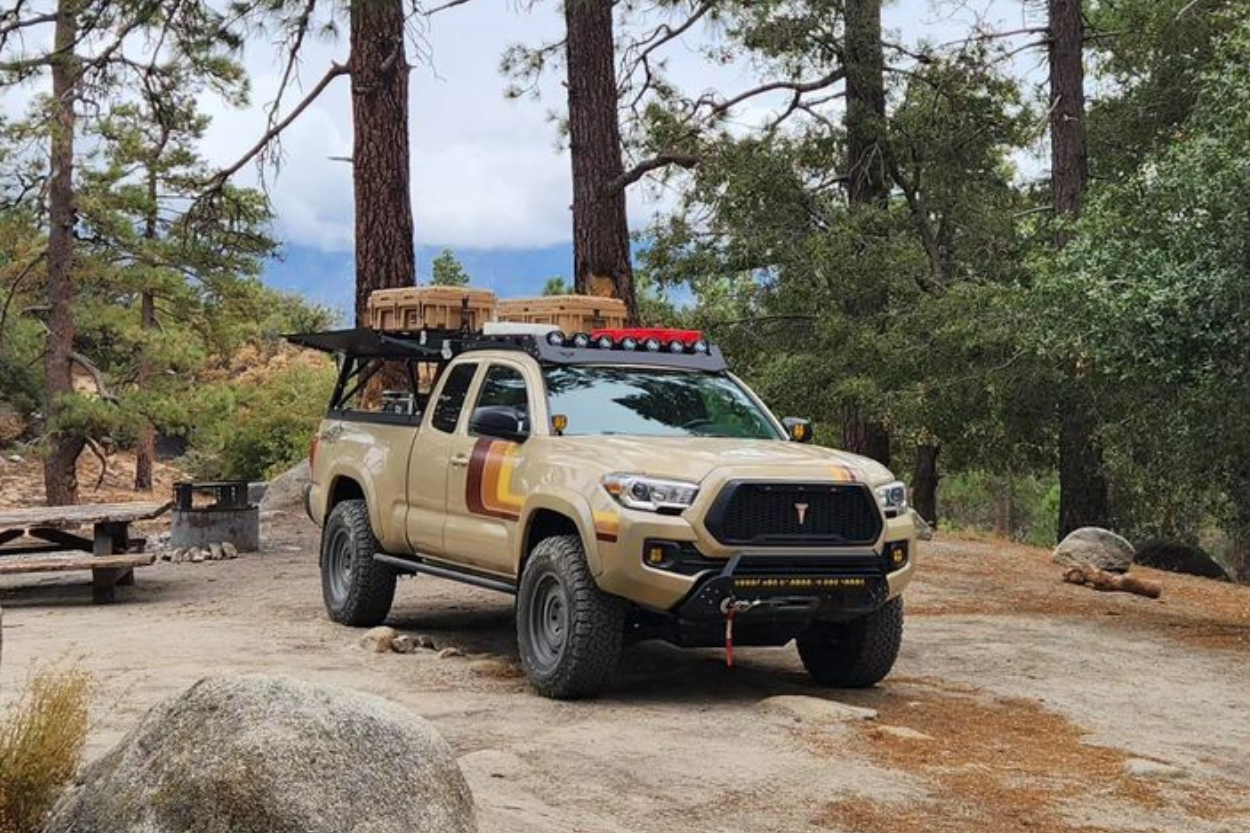 Gear + Accessories
RotopaX 4-gal Fuel Pax
RotopaX 2-gal Water Pax
Baja Designs XL Linkable Prinsu Lightbar
Roam Adventure 95L boxes (x2)
Tell Us About Your Setup
Everything is attached to my Victory 4×4 access cab rack and roof rack. I decided to go with Victory 4×4 because they were one of the first companies to come out with a roof rack for the Access Cab Tacoma. Options were limited, but it was the more affordable option. The only issue I've had was having to cut the wind deflector to accommodate the light bar.
I arranged my gear for better aerodynamics, as having the boxes up front would kill my already poor fuel economy. My rack also gives me a place to carry my fuel and water outside of the cabin.
I keep the Fuel Pax on the driver's side and the Water Pax on the passenger's side with the spout facing outwards. This helps avoid water dripping on my passengers and provides easy access to rinse off.
The driver's side Roam box holds all of my recovery gear while the passenger box holds gear for whatever activity I'm out doing such as camping or skiing.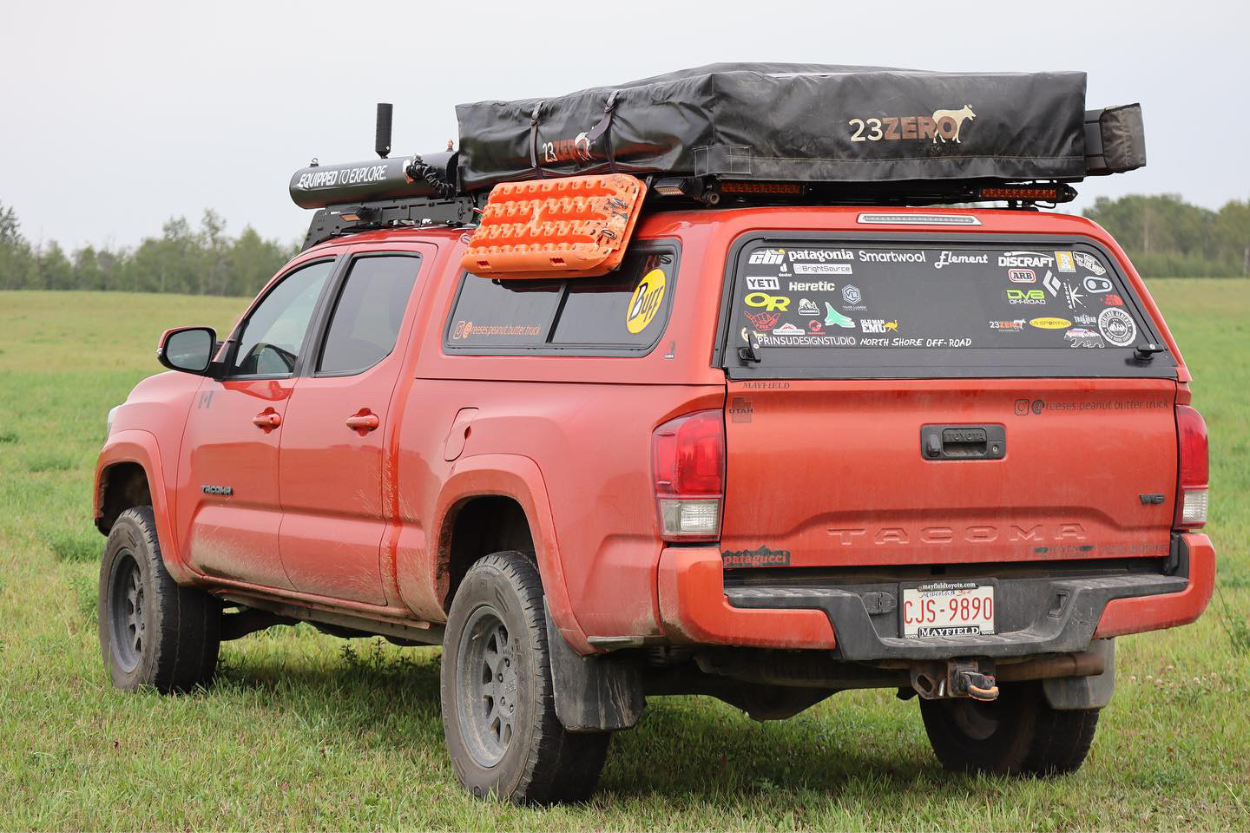 Gear + Accessories
23Zero 72 Walkabout Rooftop Tent
Oz-Tent Fox Wing 270 Awning
Plano Case
RotopaX 4-gal
weBoost Cell Booster
Princess Auto

Shovel
Water Tank
Recovery Boards

Vivid Lumen Lights
Tell Us About Your Setup
I have a Prinsu roof rack and top rack mounted to my hard topper. It holds the majority of my overland accessories and gear when I hit the trails. I have also fabricated my own mounts for many items for ease of use.
Personally, this has been a really great investment because I need to bring so much gear on trips. It's been great to have the racks to organize and store everything.
I've really enjoyed the puzzle aspect of this build and trying to figure out the best spot for everything. This Prinsu rack system was the best way to organize it all! As an added bonus, it keeps a good chunk of things out of the cabin that often gets dirty and wet.
3. Nicholas Gonzalez – (@nickg_trd)
Gear + Accessories
Yota Twins Paracord Grab Handles
MAXTRAX Recovery Boards
Prinsu MOLLE Panels
Eylar 44" Rifle Case
Tell Us About Your Setup
On top of my Tacoma, I have the Prinsu roof rack that holds all of my gear and accessories. This has been a great setup because it keeps everything up and out of the way, freeing up valuable cab and bed space.
I have my MAXTRAX recovery boards conveniently mounted with locking pins and use them both for recoveries and leveling out the truck when camping.
The Yota Twins Paracord Grab Handles are attached to the Prinsu rack and help with accessing gear on my roof rack.
My Eylar case is mounted to the roof rack using carriage bolts and a mount that is secured using the roof rack cross bars. Despite having to drill holes through the bottom of the case, everything is weather-tight with silicone. Inside the case, I store all of my recovery gear.
Finally, I have the Prinsu MOLLE panels, which make it easier to mount a variety of different accessories.
4. Austin Bender – (@sr5life)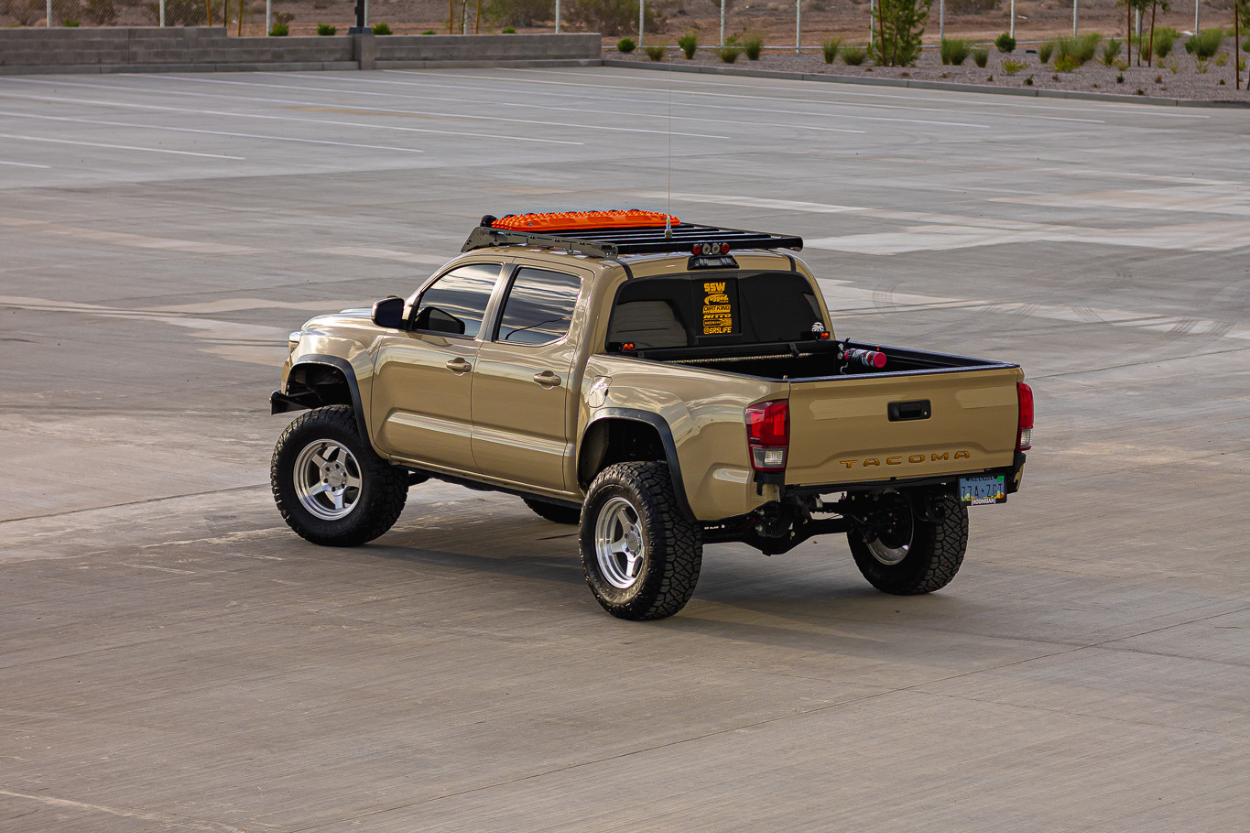 Gear + Accessories
Amazon DRL/Spot Forward Lights (x8)
KC Cyclone V2 Rear Chase Light
Amazon Universal Handles
ActionTrax Traction Boards in Orange (x2)
Tell Us About Your Setup
I have the Prinsu Special Edition Desert Intake Fitment Rack designed for Tacoma models ranging from 2005 to 2023. The following products are mounted on my roof rack for several reasons.
First, I have the traction boards mounted for quick access. I also appreciate the aesthetic they add to my setup.
In the desert, good lighting is crucial for visibility both for myself and others. For this reason, I set the rack up with multiple light sources.
All of these items are securely mounted using T-Slot hardware integrated into the rack. This keeps everything in place even during off-road adventures.
The primary purpose of these products is to enhance my desert experience. Traction boards are indispensable for desert goers like me. Additionally, good lighting plays a crucial role, enabling us to embark on night trails confidently and safely in the desert.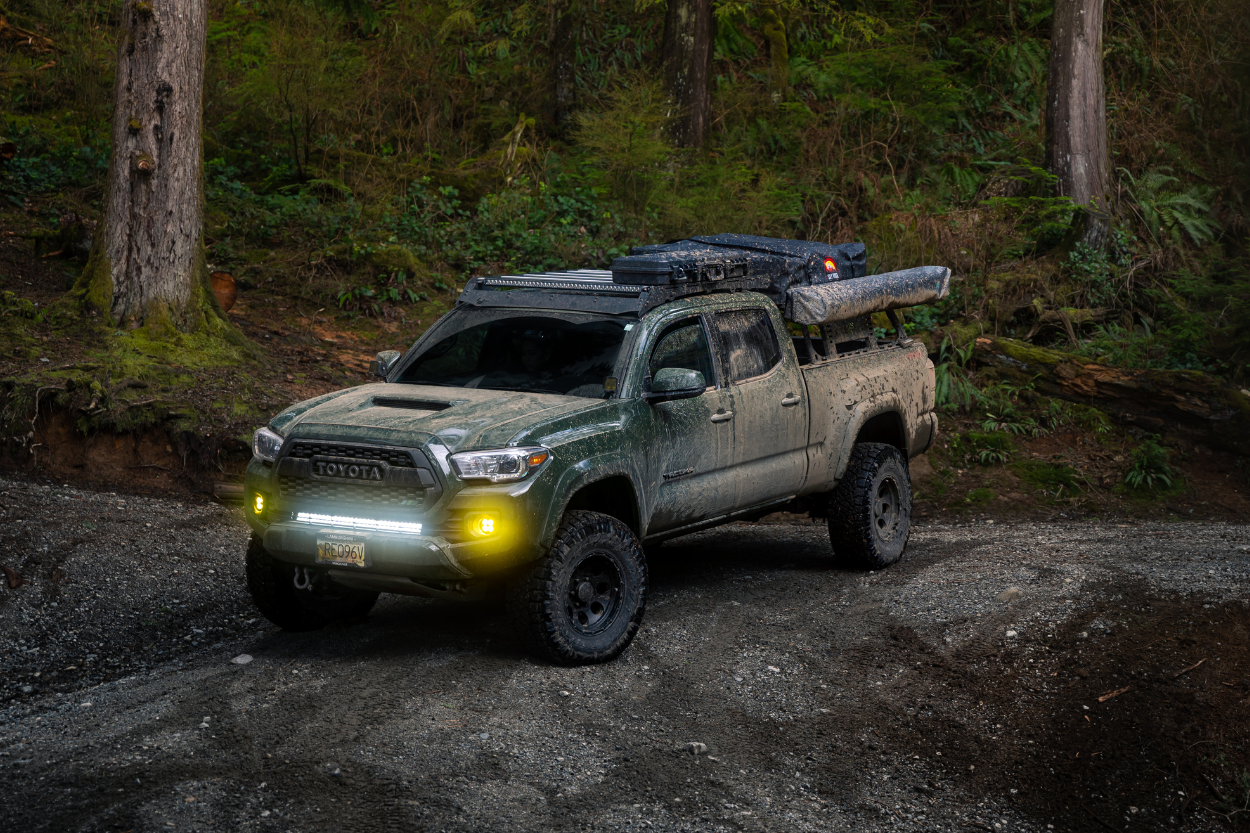 Gear + Accessories
Tell Us About Your Setup
The truck is equipped with a version one Prinsu Roof Rack. I was given a deal to buy it that I just could not refuse. Funny enough, this is the second time I purchased the exact same rack.
Mounted to the rack is my Plano case. I stumbled upon this case through a previous purchase and decided to keep it after much debate. I originally wanted a Roam case, but realized that this case could fulfill the same basic function at a fraction of the cost.
The Plano case is mounted with four 13mm bolts. It had been drilled by the previous owner before me so I reused the holes and applied silicone to the gaps to ensure no water leaks inside.
I use the case to store basic items for camping and everyday items. For off-roading, it holds my air compressor, accessories, and recovery gear.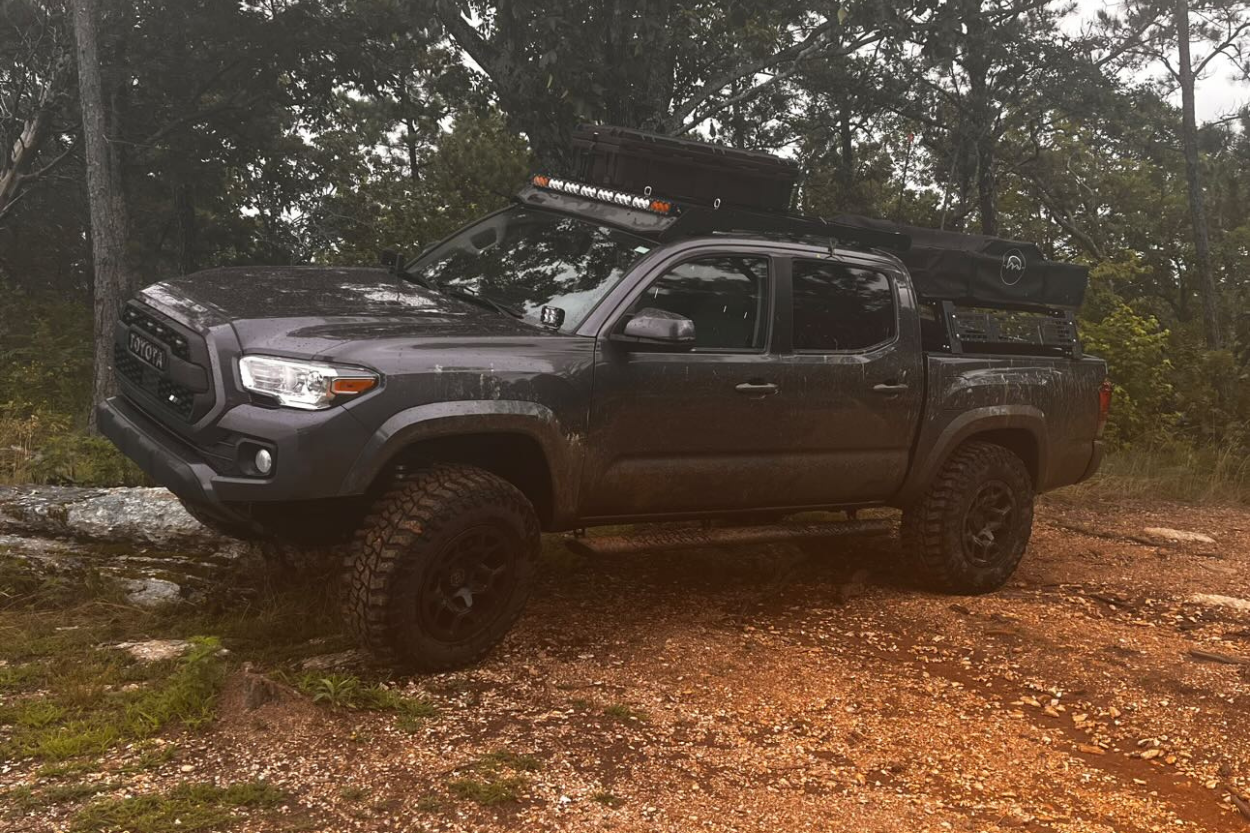 Gear + Accessories
Roam Adventure 95 Liter Box
Cali Raised LED 43″ LED Light Bar
Tell Us About Your Setup
I am currently running the Prinsu Cab Rack with the 40″ lightbar cutout and had to slightly modify it to fit the 43″ lightbar.
I mounted my Roam Adventure box, using the Roam box mounts to keep clutter out of my cabin. In the box, I keep recovery gear and a full medical pack. It is super handy and easy to access whenever you are out on the trail.
As for the light bar, it's pretty self-explanatory. I was looking for some extra light on the trail and decided to get a light bar mounted onto the rack. I love the amber lights for dust and the white lights really show the way ahead. The light bar is mounted using the supplied brackets from Cali Raised LED. I did have to grind out some of the wind deflector on the Prinsu rack to fit the larger light bar.
In the future, I am hoping to install some red lights around the rack for better bug-free camping, a Roam 270 awning, and perhaps another cargo box.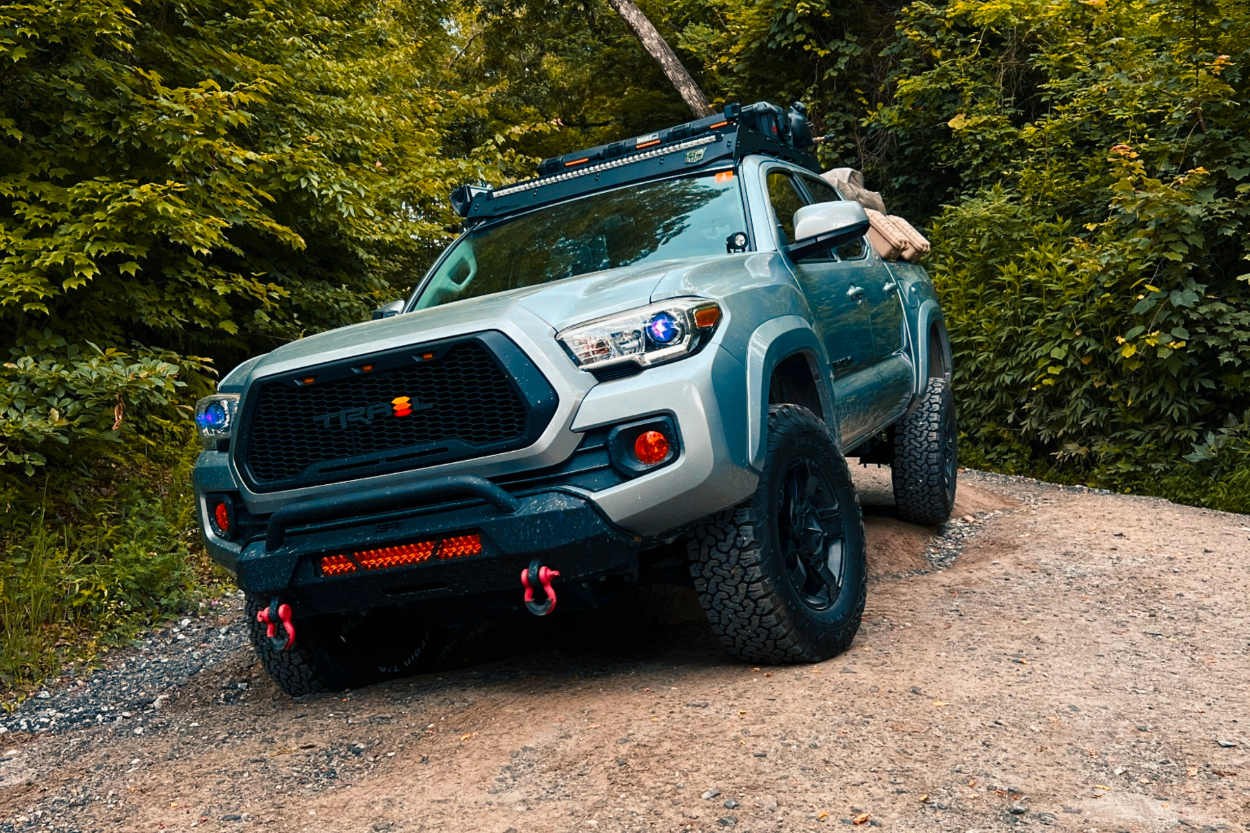 Gear + Accessories
40″ Amazon Single Row Light
Prinsu GoPro Mount w/ GoPro Hero 7
Harbor Freight 25W Solar Panel
Pelican V800 Vault Pelican Case
WaterPort Weekender 8 Gallons
Roam Adventure Awning
Tell Us About Your Setup
I have a Prinsu roof rack with a ton of different accessories and gear that I use on practically all of my adventures.
My accessories address safety, long-range visibility off-road, documenting my adventures, protecting/storing recovery gear, and all necessary camp luxuries like running water and shade.
Everything is mounted using T-slot bolts, lock nuts, and some mounting accessories. I use my gear for overlanding purposes and have quick access to all of it for an enhanced adventure experience.
Final Thoughts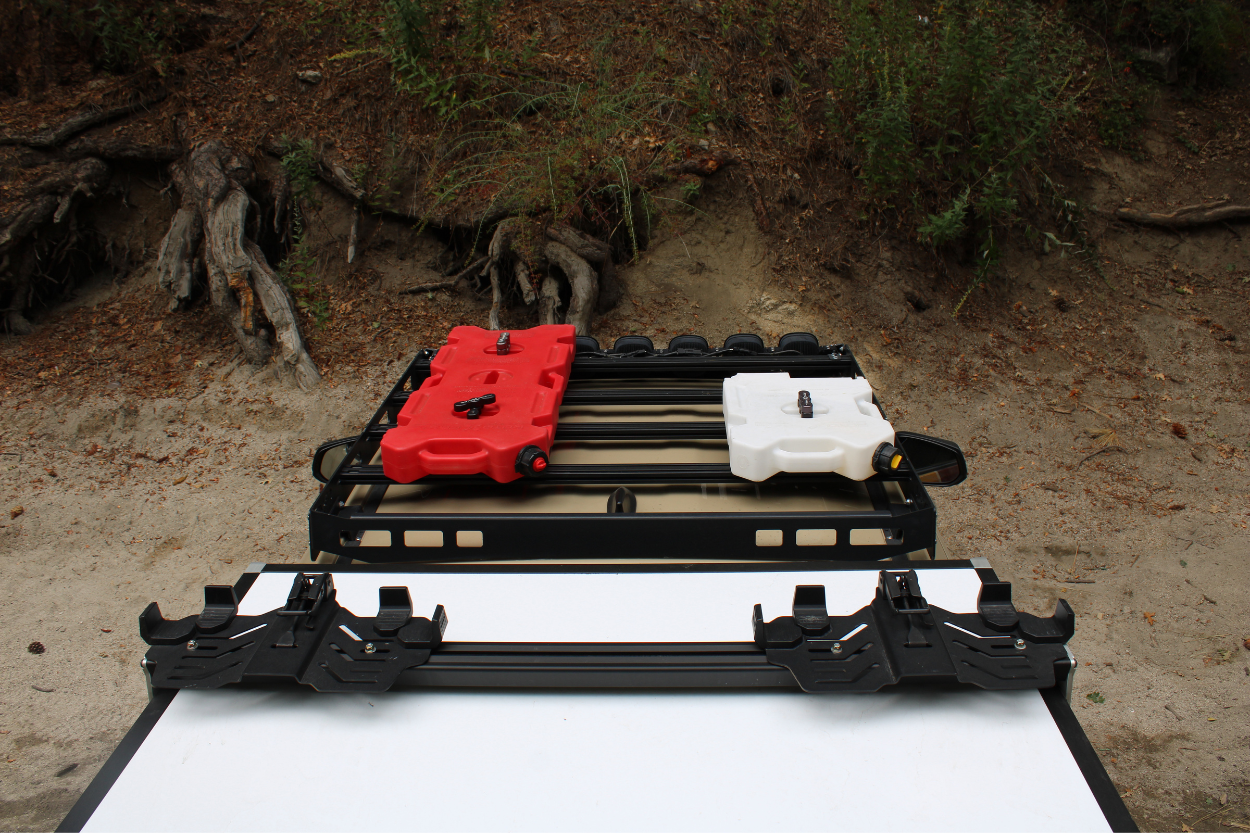 When it comes to roof rack accessories, the sky's the limit; there are endless options for your next adventure. Whether you are looking to mount a whole camp setup or just looking to mount everyday items, roof racks are a great option for any Tacoma owner.
Comment down below what you have mounted to your Tacoma and make sure to stay tuned for next week's post!