Toyota Announces Two All-New Powertrains (Engine + Transmission) For The 4th Gen (2024+) Tacoma – First Ever Hybrid With An i-FORCE MAX Motor!
The new 2024 4th Generation Toyota Tacoma coming later this year is a complete ground-up refresh when compared to the outgoing 3rd Generation. For the new generation, Toyota has done something bold, they made their new flagship truck more powerful than ever, all while losing two cylinders. You read that correctly, gone are the days of a proper 6 cylinder in the Tacoma. This new powertrain is already generating hype for potential new customers along with gripes from those reluctant to give up their V6 trucks in exchange for a smaller 4-cylinder.
Not only will the all-new truck have two new engine options, but it will also have two transmission choices as well, one of which is a manual option – mind boggling for a modern day vehicle.
In this article, I'll go over what we know about these two new variations for the Tacoma and what you can expect from them. I have yet to drive this new truck yet, however, when I do, I will be sure to report back on how well, or how poor, these features perform.
Check these posts out for more!
4th Gen Tacoma Powertrains
All New Standard i-FORCE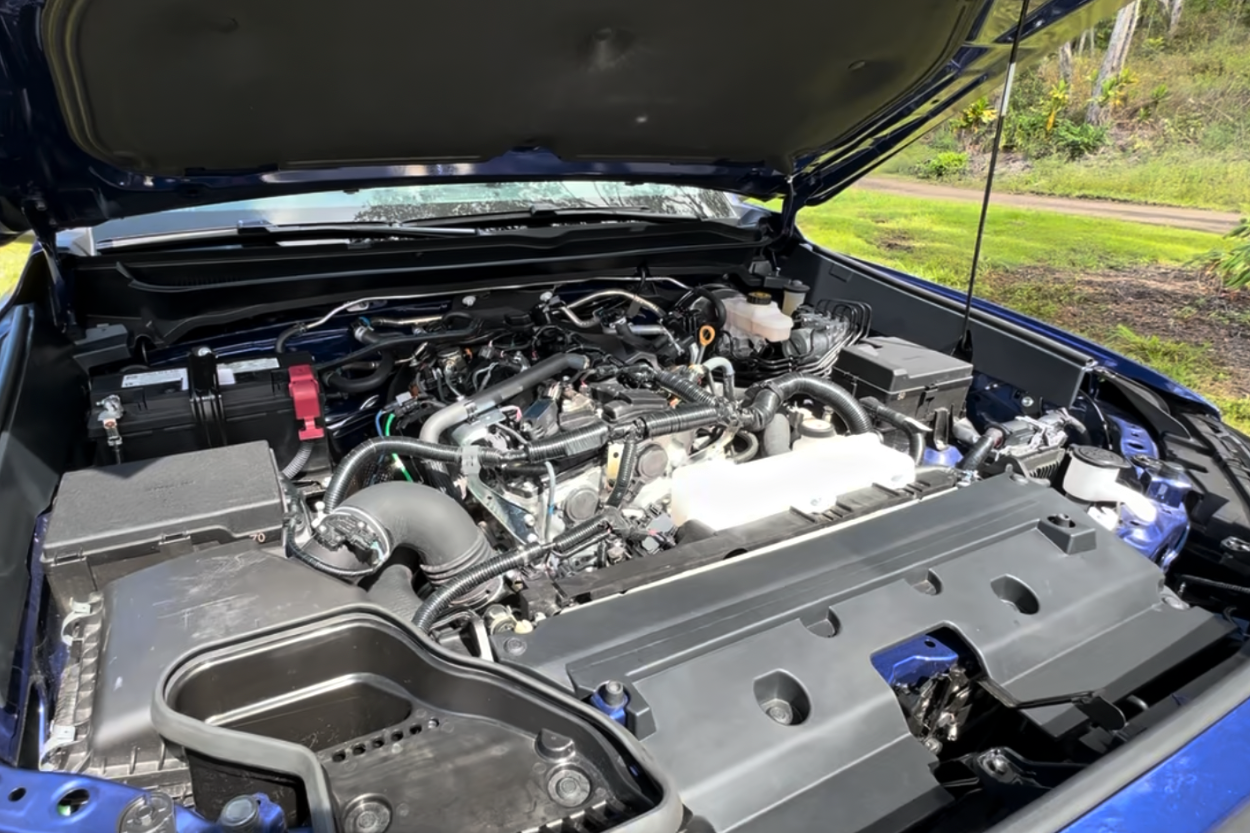 At the heart of the 2024 Tacoma lies a 2.4L turbocharger 4 cylinder. Now before you close out this tab in rage that there will be a 4-cylinder standard, let me share with you some power numbers.
For entry-level SR grades, this new engine produces 228 hp and 243 lb.-ft. of torque, which yes, honestly isn't that impressive. However, the 2023 3rd Gen SR comes standard with a 2.7L 4-cylinder good for only 159 hp and 180 lb.-ft. of torque. That's a huge bump in numbers for the entry-level SR grade.
For all other grades though where this engine is standard, performance numbers increase to 278 hp and 317 lb.-ft. of torque. And again, just like the SR, these new numbers are a bit better than the current 3.5L V6. The outgoing 3rd Gen V6 has 278 hp and 265 lb.-ft. of torque. So we are looking at the same horsepower numbers between these two motors but the new 2.4L turbo offers 52 more lb.-ft of torque, which to me is very important when it comes to a mid-size truck. These new power numbers I'm sure will reflect in an even more enhanced driving experience when we go over the transmission options later in this article.
i-FORCE equipped 4th Gens will come standard with a 7-inch gauge cluster along with an available 400W AC inverter outlet in the bed and on the rear of the center console.
Standard i-FORCE trucks should be on sale around the November/December timeframe of 2023.
First Ever Tacoma Hybrid i-FORCE MAX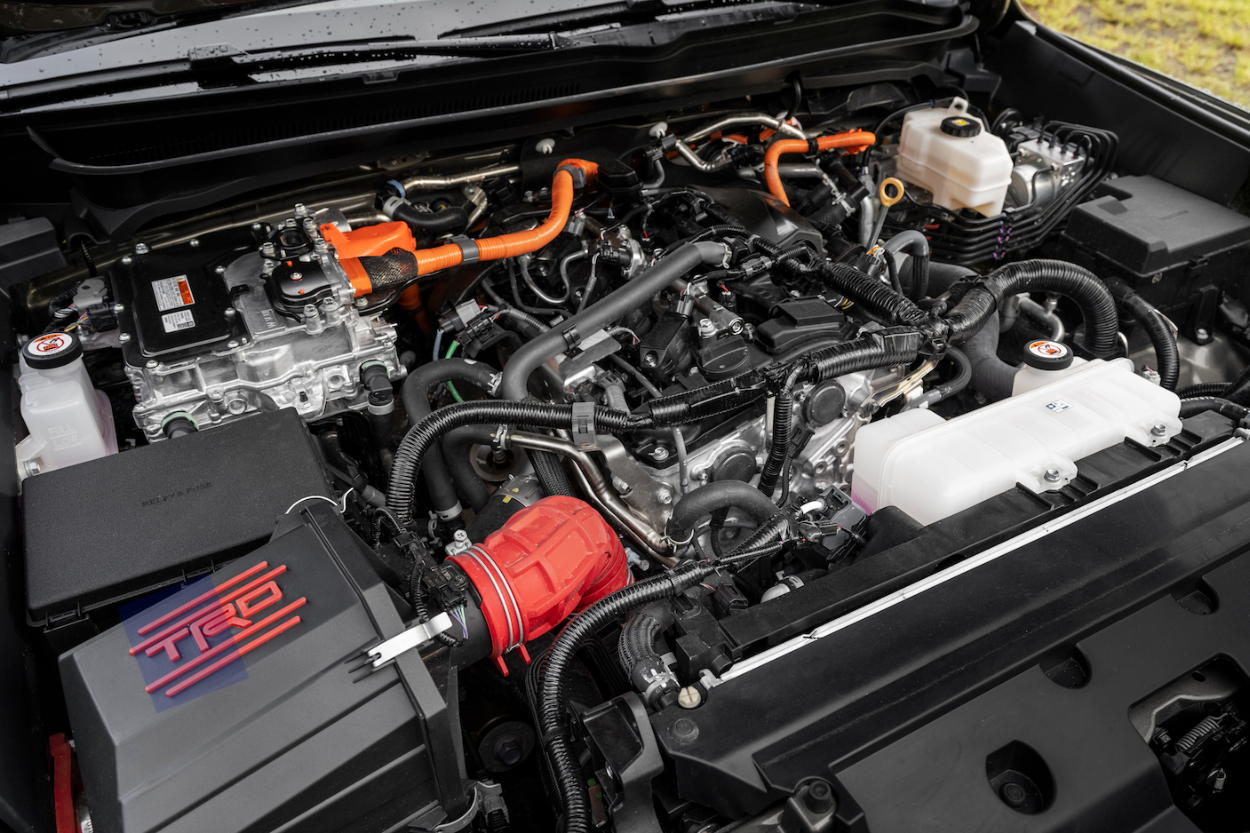 Okay, I get it, you still aren't impressed yet with the standard i-FORCE powertrain and you want even more out of your new truck. You're lucky because the i-FORCE MAX hybrid powertrain blows the standard i-FORCE numbers out of the water. i-FORCE MAX pairs the same 2.4L turbo engine with a 48 hp electric motor integrated into the eight-speed transmission that creates a total system output of 326 hp and a whopping 465 lb.-ft. of torque! Those numbers are insane, man! That is almost double the torque output of the current-gen Tacoma with the 3.5L V-6 engine.
i-FORCE MAX vehicles will come standard with a 2400W AC inverter in the bed of the truck, which I wish Tundra would have done. Along with this, a 12.3-inch digital gauge cluster with four configurable different styles is also standard on hybrid trucks.
i-FORCE MAX will be available on TRD Sport, TRD Off-Road, Limited, and standard on the TRD Pro and Trailhunter.
If you want a hybrid Tacoma, then you are gonna have to wait, unfortunately. These i-FORCE MAX models will arrive in early 2024, I was told around March (ish).
Two Available Transmission Options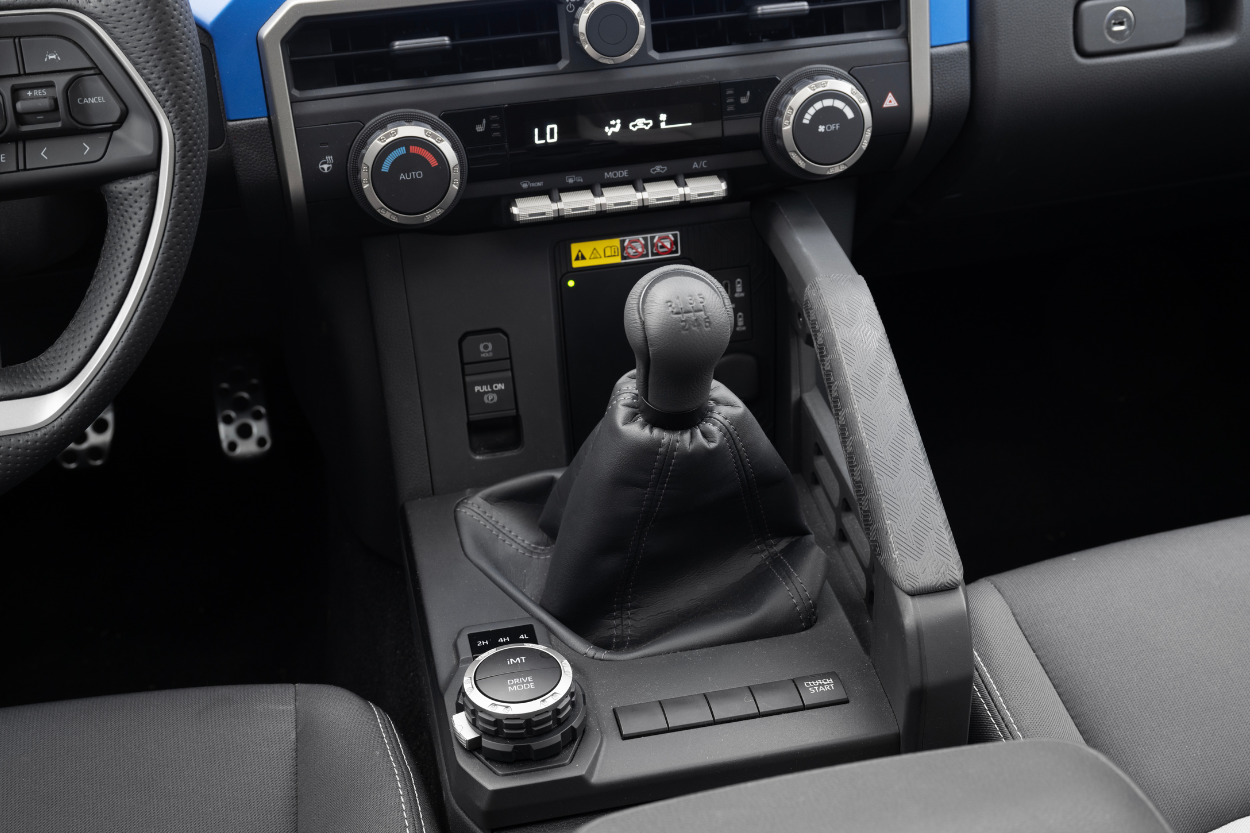 Well, you asked, and you shall receive! Enthusiasts rejoice because a six-speed intelligent manual transmission with automatic rev-matching and anti-stall technology will be available for the all-new Tacoma.
Manual transmissions will only be available on standard i-FORCE equipped models, meaning that if you want a hybrid truck, then you will be forced into an automatic. But if you are old school and are looking into a manual truck in 2024, you probably aren't interested in all that hybrid trickery anyway right? Manual transmission models produce 270 hp and 310 lb.-ft. of torque which is 8 less hp and 7lb.-ft less of torque compared to automatic Tacoma models.
A manual transmission will be available on the following grades as per Toyota's press release. Keep in mind, that this may change by the time these trucks are available to the public later this year.
SR (Double Cab)
TRD Sport
TRD Off-Road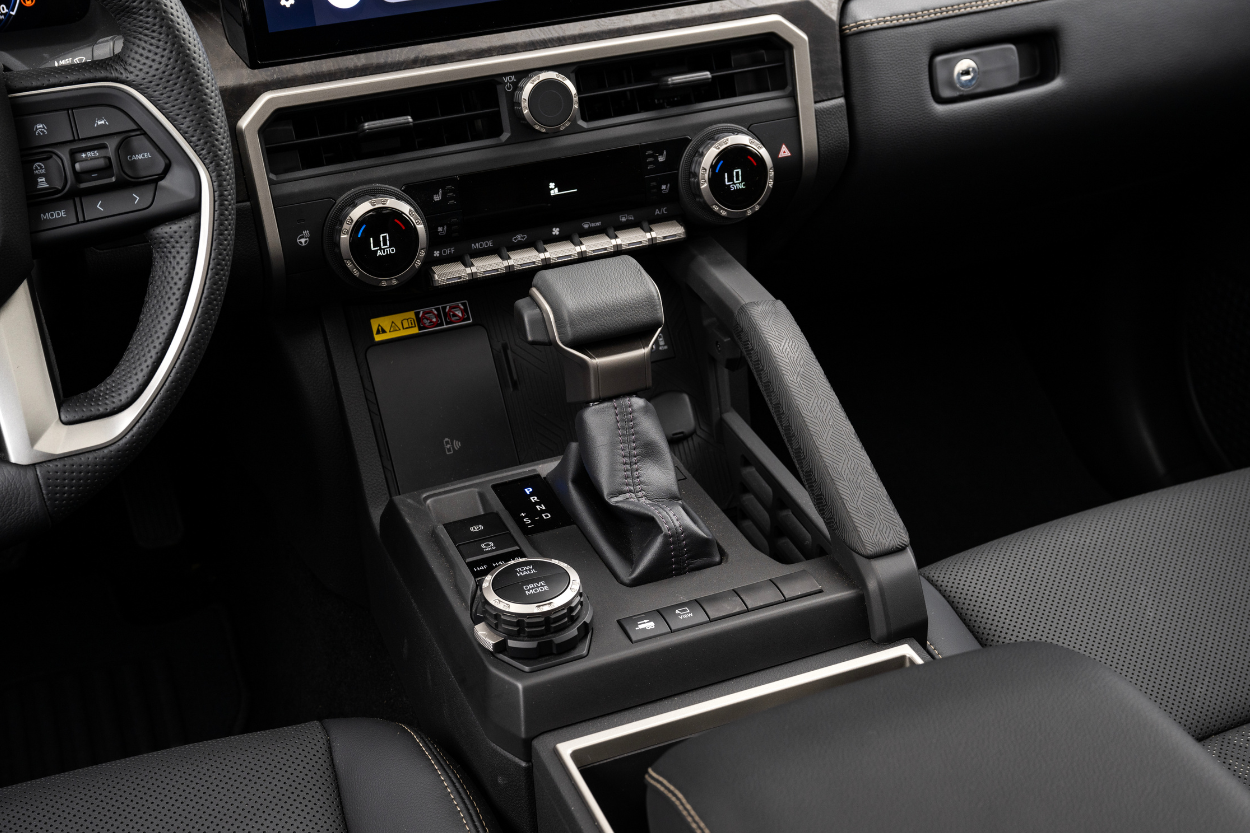 Let's touch on the automatic version. This is where we get an all-new automatic transmission. The constant gear hunting 6-speed transmission will be replaced with the new eight-speed electronically controlled automatic transmission.
When equipped the all-new with i-FORCE MAX motor, Toyota claims that the 4th Gen will be able to ascend an 8-percent interstate grade without the need to downshift, making long road trips more pleasant than ever. If you know anything about the current model, its 6-speed automatic would be shifting constantly in and out of overdrive while trying to climb an 8-percent grade, even unloaded.
Final Thoughts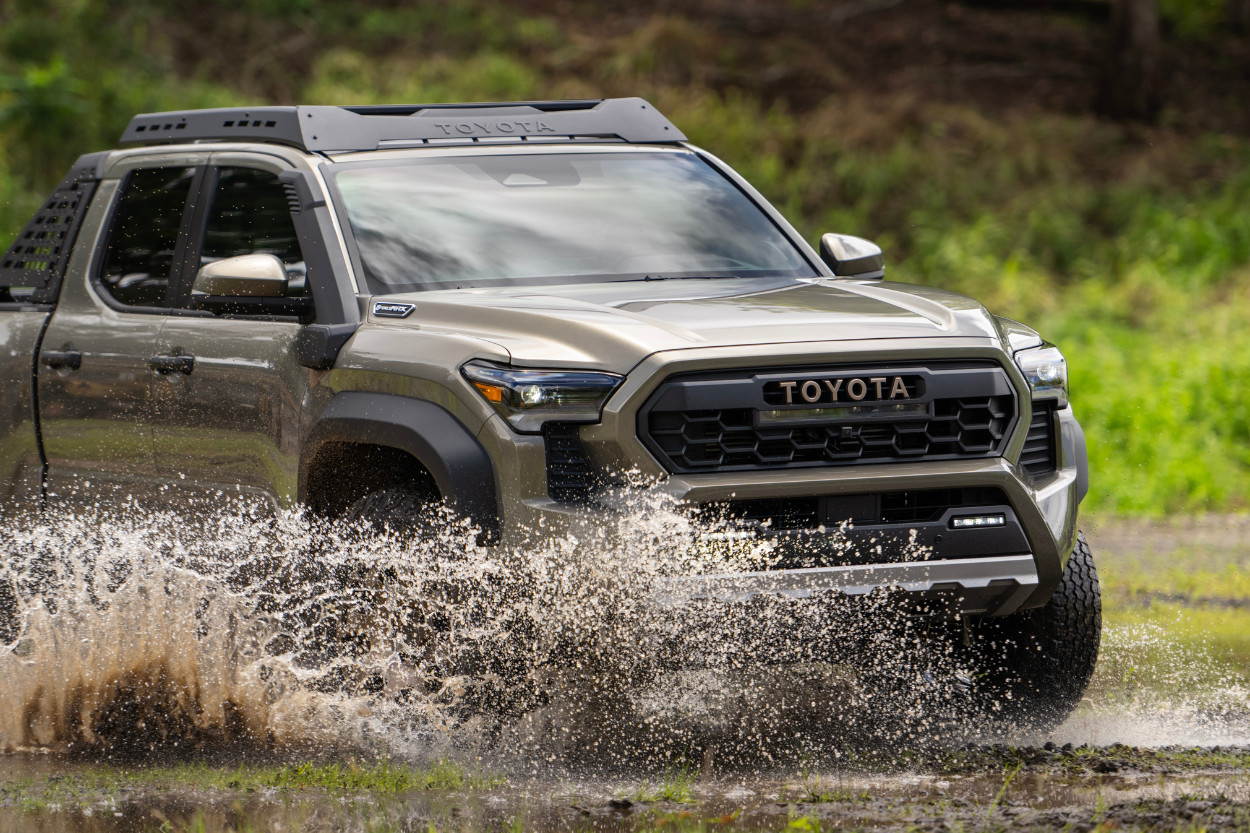 Well, I'm not sure about you, but I am very eager to drive this all-new truck. I know it isn't a body-on-frame truck, but when I was in Hawaii at the Tacoma reveal, I was fortunate enough to drive the all-new Toyota Grand Highlander with the Hybrid Max powertrain which is extremely similar to the i-FORCE MAX powertrain found in the 2024 Tacoma. If you aren't familiar with the Grand Highlander, I'll summarize by saying it is a big huge 4,500lb crossover SUV from Toyota. When I floored that thing, let me just say that I was insanely impressed. The 400 lb.-ft. of torque that that vehicle had properly threw me back in my seat and got that heavy family hauler up to speed with ease.
This makes me excited about Toyota's new truck! What do you all think? Let us know in the comments!