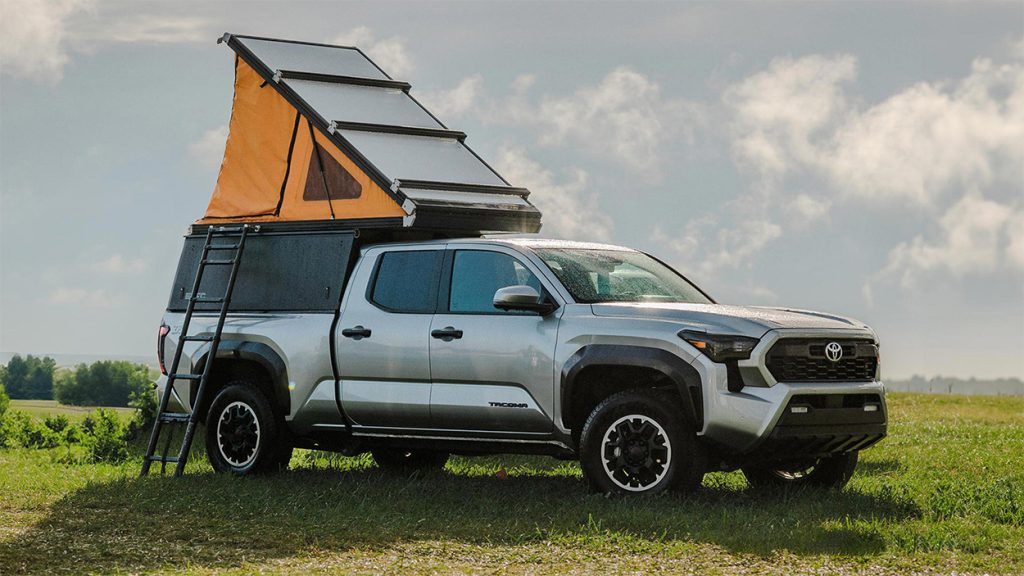 The 4th Gen (2024+) Tacoma Isn't Available For Purchase Yet… But GFC Already Has A Camper Ready To Buy! A Detailed First Look
Your eyes do not deceive you! That is a pre-production 4th Gen – with a GFC platform camper.
A few days ago, GFC officially announced the release of the first ever truck camper engineered to custom fit the brand new Tacoma. Ready for both five/six foot bed lengths, and any trim level. Starting at $7,700, the platform camper is ready for order today! Another impressive achievement by the brand.
Find It Online
GFC 4th Gen Tacoma Camper
Same Great Camper, All New Platform

Featuring an eight-foot-tall ceiling above the Tacoma's truck bed, the new camper has plenty of room to stand inside, a 50×90 inch sleeping area, a three inch dual density memory foam mattress, secure storage, and a 500 lb dynamic roof load capacity. All of this is achieved with a total weight of 266-278 lbs. (short and long bed models). A killer weight to function ratio.
Adding only 6.78 inches to the total height, the lightweight construction complements the truck's newly-improved driving dynamics. The GFC won't slow you down, and gives a comfortable, instantly accessible place to sleep at the end of a long day of trails.
If you didn't know already, GFC campers are custom-designed to perfectly fit every bed for all compatible models. This contrasts many offerings on the market, that are sized more generically. This ultimately results in a stronger, lighter solution – that doesn't skimp on interior space.
Functional Versatility For The 4th Gen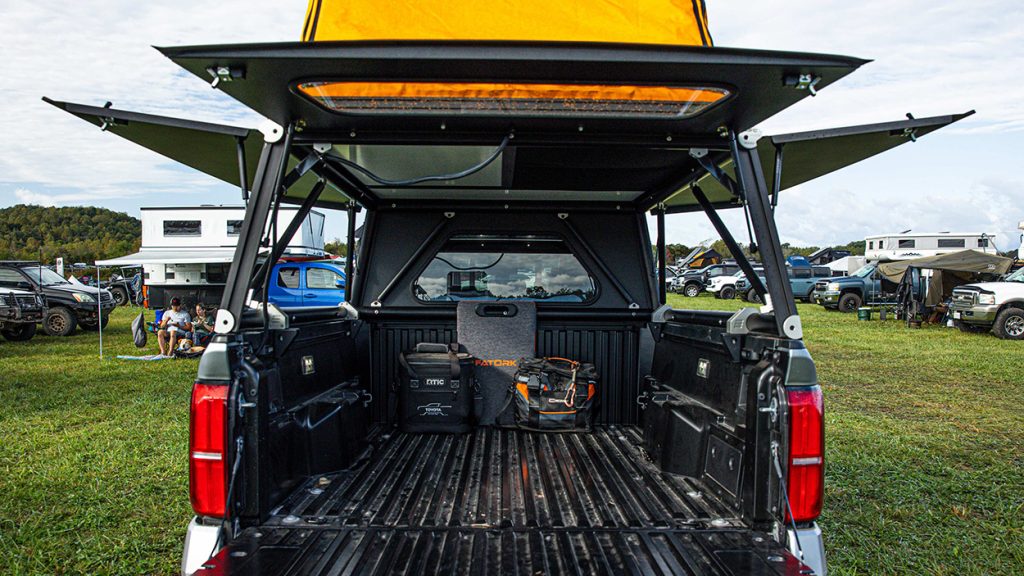 When you're not camping, the platform camper doubles as a truck bed topper and roof rack, while adding cab-height lockable space and the ability to carry larger/heavier loads on the roof. Available beef load bars allow for mounting solar panels beneath the load surface, carrying loads safely above. A T-track system surrounds the roof perimeter, and is made for mounting anything from lights, to awnings, to radio antennas.
The white honeycomb composite roof reflects solar radiation and provides insulation. Combined with side access panels that can easily be opened, this design keeps your truck bed cooler than traditional bed topper/camper alternatives.
This camper gets its strength to weight ratio from the space frame. Constructed from machined billet aluminum joints, which capture forces and then distribute them through the custom aluminum extrusions. Bolted connections help to make the camper serviceable far beyond what others offer. Designed to ultimately outlive and truck – even a 4th Gen Toyota Tacoma!
A Company Dedicated To Community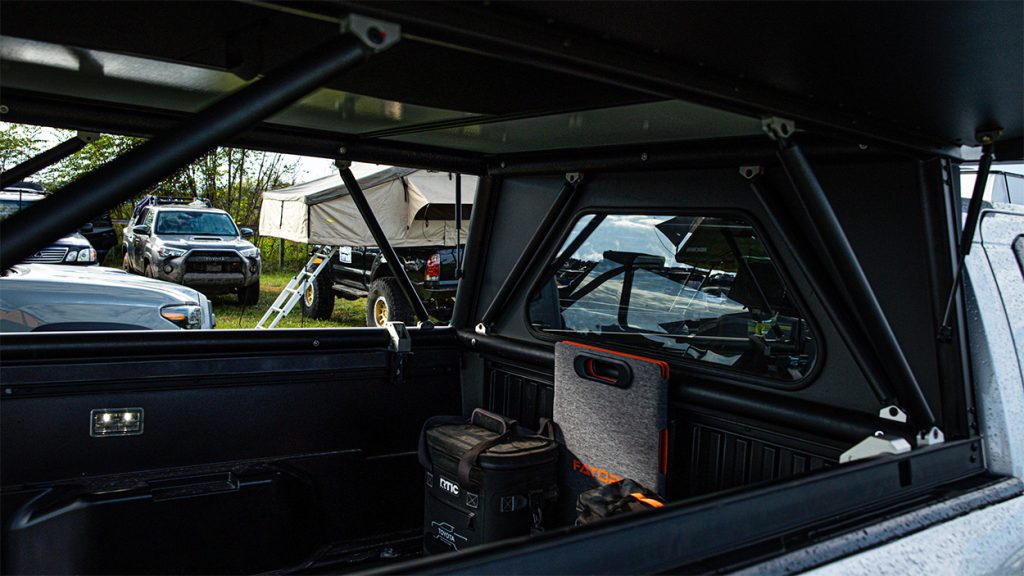 GFC creates these campers using automation tools of their own invention. These tools free workers from potentially hazardous and repetitive tasks, allowing focus to be allocated where humans add real value. This extreme efficiency allows them to pay the highest starting wages of any manufacturer in Montana. Careers start at $57,200 with full benefits, and all jobs are full time. Importantly, all GFC products are made in Montana with the vast majority of components sourced in the USA.
New Tacomas are expected to hit dealers in December. If you drop a deposit, you may not know the exact configuration of your new truck. Once you receive your VIN from the dealer, you'll be able to lock in final specs. Campers can be installed at headquarters in Bozeman, or any satellite location. Not only is GFC the first company to offer a camper, they are the only one that can guarantee an exact day/time for delivery.
First inventing the modern "fast" wedge camper in 2017, crowd funded through a initial campaign, today they employ 50 people in Montana, produce thousands of campers, toppers, bed racks, and tents each year.
Final Thoughts
Dang! Pretty impressive, huh? This was all made possible by GFC working closely with Toyota during the redesigning of the new Tacoma. If Toyota trusts these guys to this extent, that speaks volumes for the rest of us.
I currently have a 3rd Gen with their platform camper, and experience with all their other products. I am continually impressed, and already thinking about what color I want to get when I finally jump into a new 4th Gen!