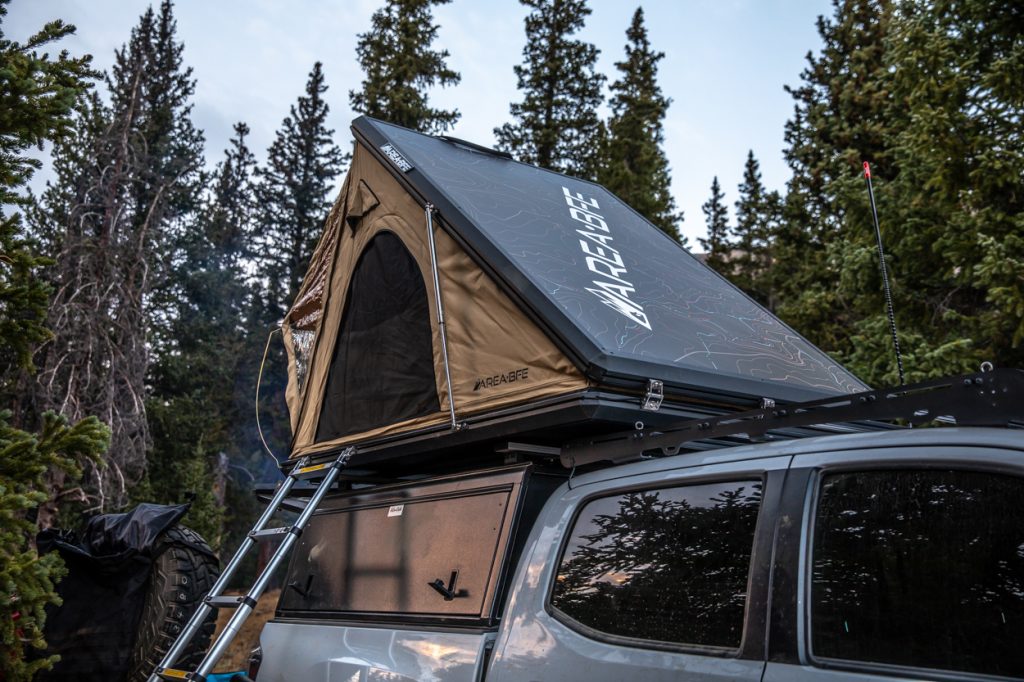 Everything You Need to Know About the AreaBFE Black Series Hard Shell Rooftop Tent
Camping has been gaining in popularity, especially at this moment, with it being a bit more difficult to travel. The overland and off-road industry have grown considerably in the past 10 years, and with it, so has the camping market.
Rooftop Tent Popularity
Taking your car or truck off the grid is getting more popular and that has driven the community to create and release bigger and better ways to get outside. One of the innovations that we've seen do really well is rooftop tents.
As early as 2-3 years ago, the rooftop tent market was just getting started, and it was a bit rarer to see guys throwing a new RTT on their builds. Now, rooftop tents are all the rage, and for good reason.
Quickly Growing Company
AreaBFE is a company that recently got into the rooftop tent and accessory market, but they had a quick come up, and they've got a ton of happy customers. In this article, I'll go over the tent in detail and provide you with my honest experience. If you're on the fence about getting a hardshell tent, this is the article you've been looking for.
Why Go With An RTT?
The number one reason to run a rooftop tent is convenience.
On-The-Go Travel
While you don't need a rooftop tent, those who have been on their fair share of camping trips, especially with family, know that setting up and breaking down camp can get very tedious. Most of us typically travel and camp on the go, so rolling into camp after a long day of driving or trail riding can get frustrating.
Long Days On The Road
We live in the Midwest and have to travel a great deal before we can get to the major trail systems. Our road/wheeling trips often involve driving thousands of miles. We try to start early, but we're often driving or sightseeing into the late evening, often up until sunset. After a long day, you want to set up camp, make dinner and get to relaxing as quickly as possible.
Setting up camp can take up to an hour, about 30 minutes of which is usually spent setting up a tent and getting ready for bed with sleeping bags and blow-up mattresses. This is where the RTT comes in. This tent makes camping so easy, you'll convince even the biggest homebodies to come out for a night.
Hard Shell vs. Soft Shell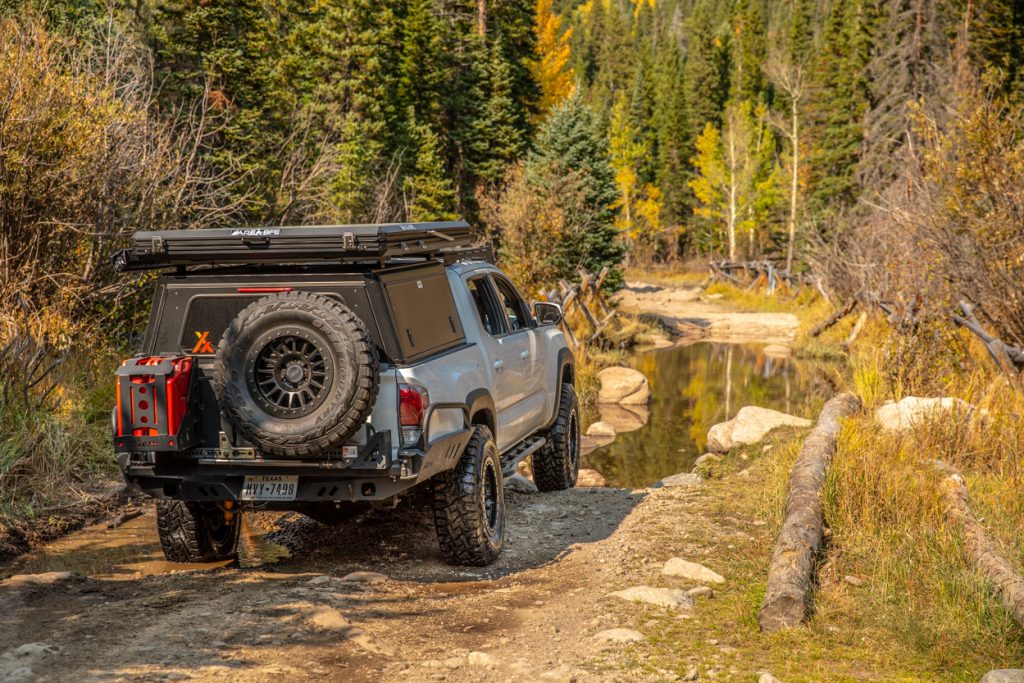 The main purpose of a rooftop tent is to provide you with a safe, comfortable and secure place to lay your head down after a long day of trail riding. While the intention for softshell and hardshell tents is the same, they still have some major differences.
Height & Weight
A softshell tent is usually at least 10 inches in height, sometimes upwards of 14-15 inches, and has a significantly greater impact on the aerodynamics and weight distribution (and ultimately mpg) when compared to a hardshell tent. This could potentially be solved with a mid-height bed rack, where the tent sits below the roofline, but not everyone likes that sort of thing.
A hardshell tent may weigh either the same or about 10-20lbs more, than a comparable softshell tent. But the weight is distributed across a much larger surface area. This reduces the amount that the tent affects the handling of the vehicle.
Material
Sure, both of the tents have canvas walls. But a hardshell tent is undeniably more sturdy than a softshell one. This a huge benefit for super windy nights and fierce storms. Both tents would likely do well, but the aluminum portions of the tent can arguably take much more abuse.
Looking for Speed?
Finally, and likely most importantly, a hard shell style tent usually deploys in under 30 seconds and up to around a minute. A softshell tent will probably take an average of 10-15 minutes. This might not sound like a lot of time, but the ease of use is undeniable.
Specifications
So, what's the deal with this particular rooftop tent?
Let's go over some specifications:
Aerodynamic Design – Only 6.3″ Tall, Tapered Edges w/ T-Slots
Aluminum Construction – Weight Saving
280G Rip-Stop Canvas Fabric – Resistant to Abuse
Optional Crossbars
4 Different Options Available

Small

Outside Dimensions: 85″ x 51″ x 6.3″
Mattress Dimensions: 81.5″ x 51″ x 3″
Weight: 145 lbs

Medium

Outside Dimensions: 85″ x 56″ x 6.3″
Mattress Dimensions: 81.5″ x 53″ x 3″
Weight: 152 lbs

Medium with SkyLight
Large

Outside Dimensions: 85″ x 60″ x 6.3″
Mattress Dimensions: 81.5″ x 57″ x 3″
Weight: 160 lbs

Choice of Background Color (topo/logo graphic on top of the tent)
Shoe Bag
Bungee Cord (to help draw material in and make closing tent easier)
1-Year Warranty
As you can see, AreaBFE provides its customers with quite a lot of options.
If you've already bought one, or you're just curious about how a tent like this is mounted and set up, check out the install and setup article here.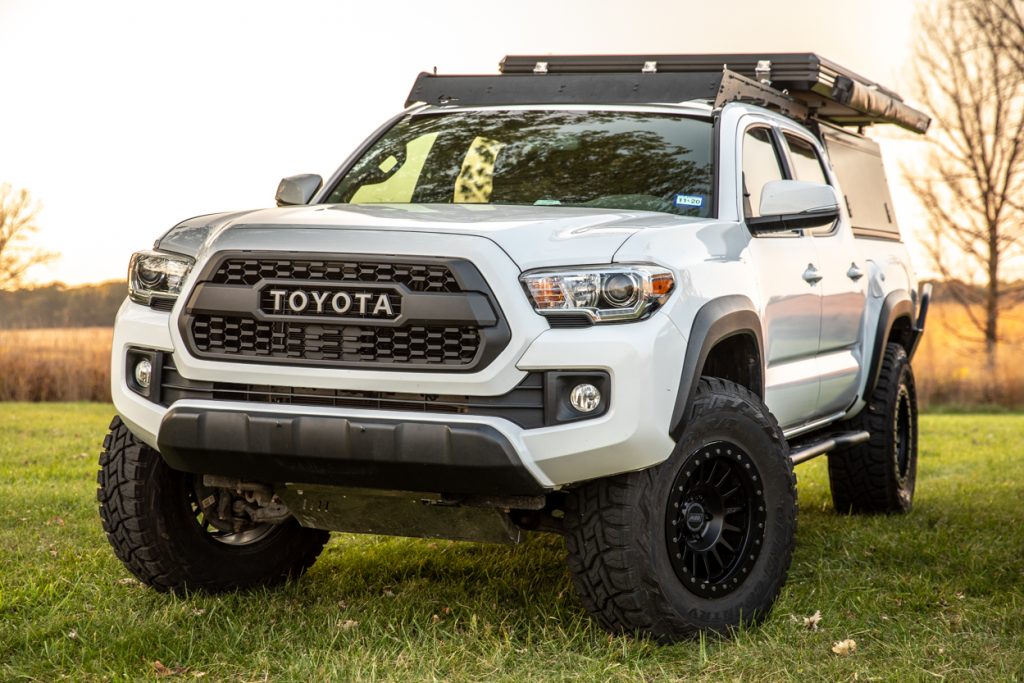 I chose to go with the medium size tent without a skylight. I wanted enough room for me, my wife and our 50lb dog.
The mattress/sleeping footprint in a medium is 81.5″ (L) x 53″ (W) – for comparison sake, a queen size mattress is 80″ x 60″ – so you're losing about 7 inches total, or 3.5 off each side, depending on how you want to visualize it. I'll go into more details in the impressions section.
Find it online
AreaBFE Black Series Aluminum Hardshell Rooftop Tent:

 

Check Price
Features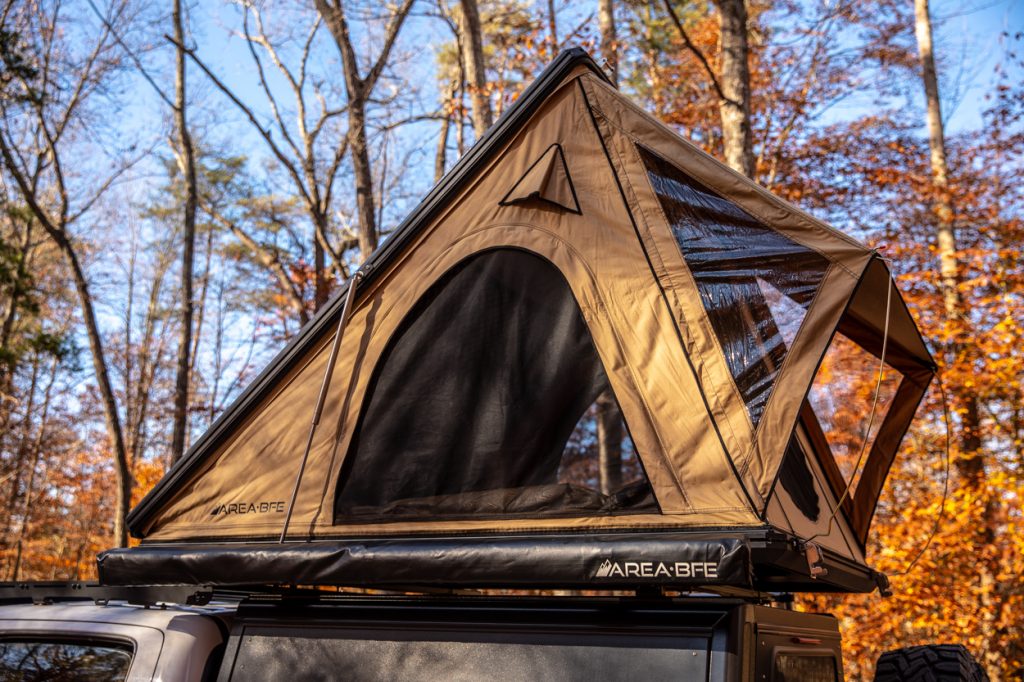 The AreaBFE rooftop has a lot of great features.
Let's run through the essentials.
Super Quick Setup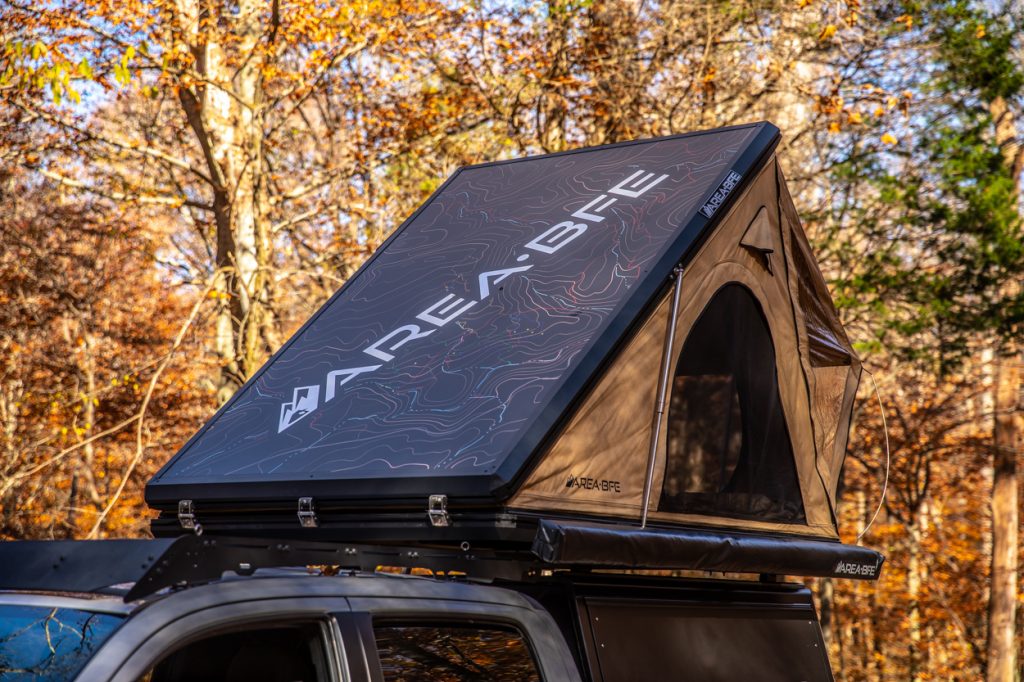 When I say fast, I mean it.
I've had experience with a few rooftop tents. This was my first hardshell tent. Softshell tents are great, but the setup and breakdown time can still take about 10-20 minutes, depending on how comfortable you are with your setup.
This isn't a huge downfall, because you still get to sleep off the ground, on a super sturdy platform, but if you're looking for pure speed, the AreaBFE is calling your name.
Total setup time? No joke, probably 15 seconds.
You might even be able to shave a few seconds off of that. All it takes to open this tent is a flip of the two locking latches and a quick push on the handle. Boom. Toss your sleeping bags and pillows inside and you're ready to go. That easy. You can thank the shocks for that one.
I should say, there are rain fly poles that need to be set up, but they're not essential to getting a good night's sleep. That might take you an additional 30 seconds. Longer than it takes to open the tent and pretty much be ready for bed. We enter the tent on the side of the truck, so the rain fly is not really necessary, but it does cover the back door/window of the tent.
Doors/Windows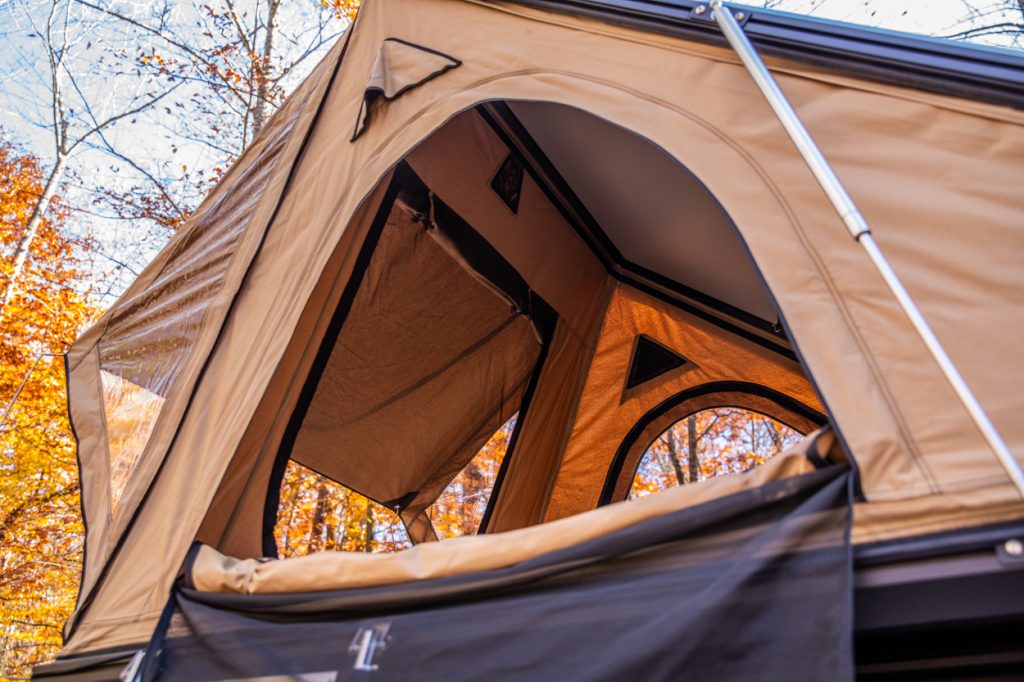 This hardshell has 3 openings. You can enter the tent through any one of them.
All of the openings have two layers. A bug net and tent material. Both have zippers. Pretty much like any standard tent out on the market. Each layer can be rolled up and pinned into position with the sewed in hooks and loops. You can see this at the bottom of the image above as well as at the top of the rear opening.
Storage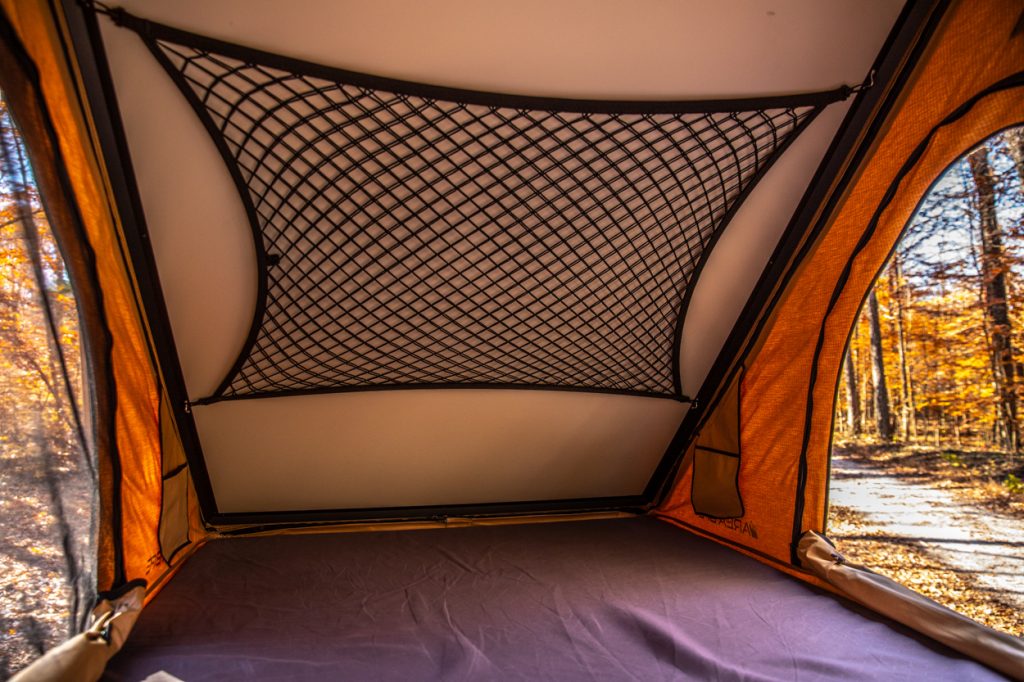 Inside the tent, you'll find two pouches where you can store your stuff.
Keys, wallets, flashlights, water bottles – these pouches are good for anything small you might want to bring inside for the night.
The tent also features a large elastic cargo net on the roof. This is perfect for storing extra clothes or a blanket. I've even seen some people figure out a way to mount an iPad to the net so they could watch a movie while laying down for the night.
T-Slots All-Around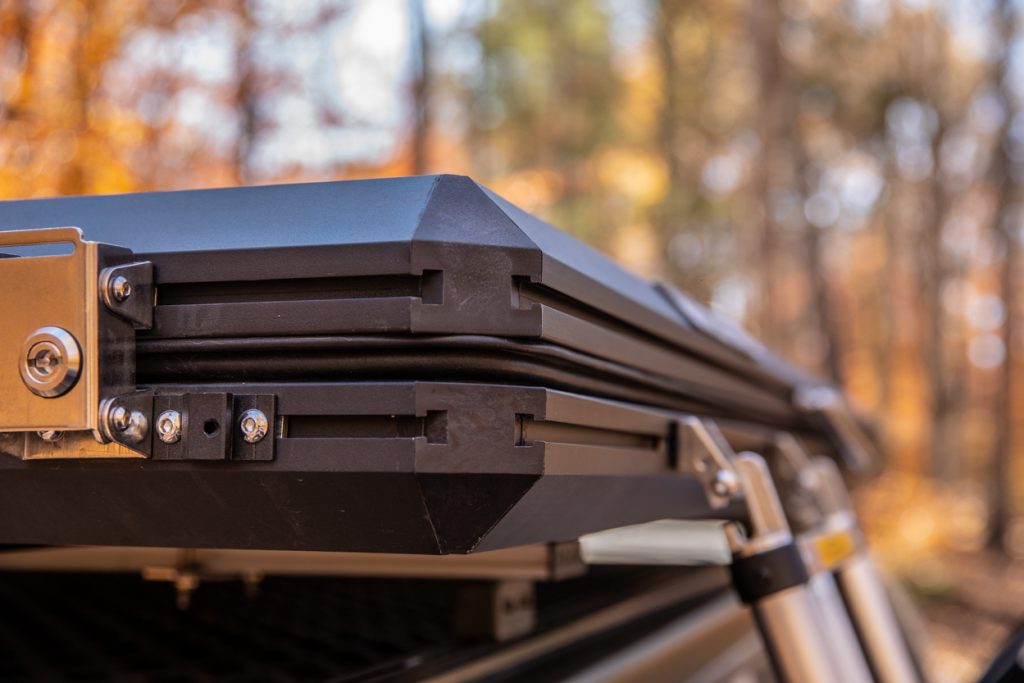 Quite possibly one of the biggest benefits of this design, the t-slots.
These make it incredibly easy to mount the latches, ladder mounts and rain fly poles. They're also an excellent spot to mount some scene/chase lights, a cell signal booster, or maybe a custom shovel mounting solution. The mounting options are only limited by your imagination.
AreaBFE also makes some sweet mounts for these t-slots. The main intention for these is to mount an awning or shower tent. Be on the lookout for those articles soon.
Unrelated, but from this angle, you can appreciate the tapered edges of the tent the best and really see why it's more aerodynamic.
Vents
Like most rooftop tents, this one has three vents along the top.
This ensures good airflow and helps to minimize condensation as the temperature changes.
Foam Mattress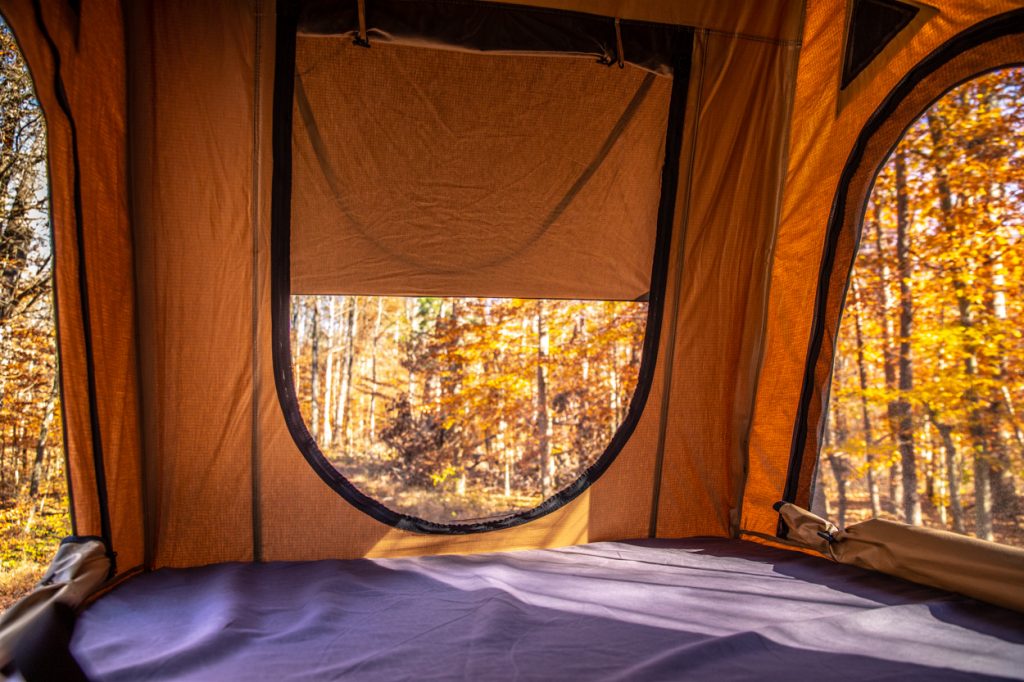 The tent comes with a standard 3″ foam mattress.
This mattress worked well for us, but some may find it a bit stiff. Spirit of 1876 has been known to carry one which many consider an upgrade; check them out here.
Side note: If you're local to the Denver area, Spirit of 1876 has a sweet showroom in Castle Rock where you can test and see all sorts of equipment before you buy. They're an authorized dealer for AreaBFE so you can typically find one there in stock, with no wait time.
When we camped in the tent, we laid down an extra blanket on the mattress and threw some sleeping bags on top. Considering how uncomfortable tent camping can be, this is a huge upgrade.
Anti-Condensation Mat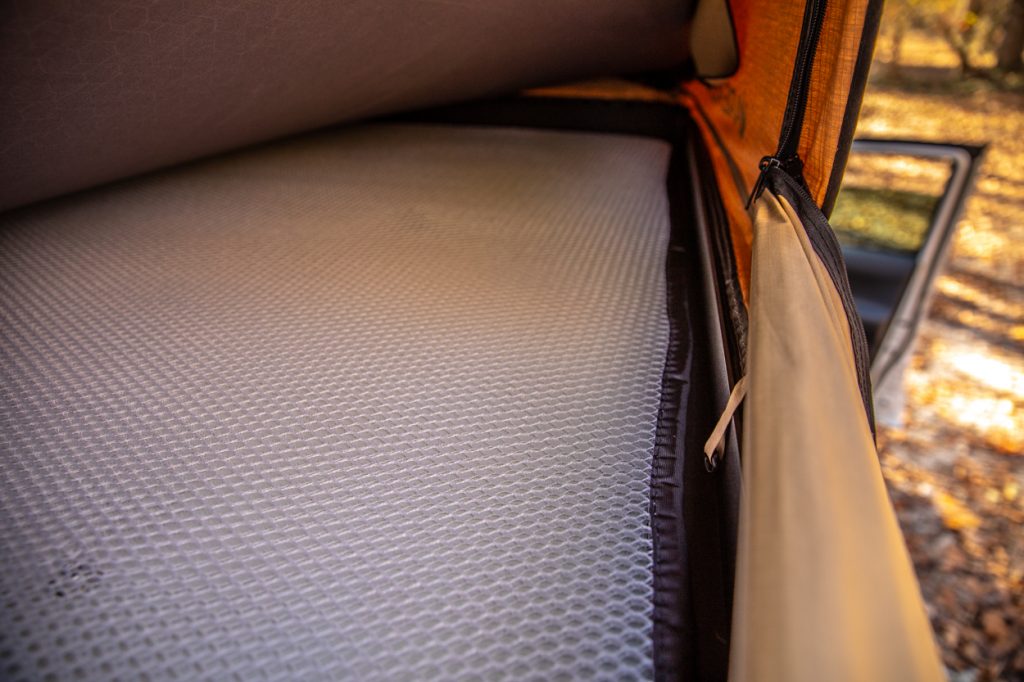 The AreaBFE tent also comes standard with an anti-condensation mat.
This does exactly what you imagine. It creates some separation between the mattress and bottom of the tent to again, cut down on condensation.
Rain Fly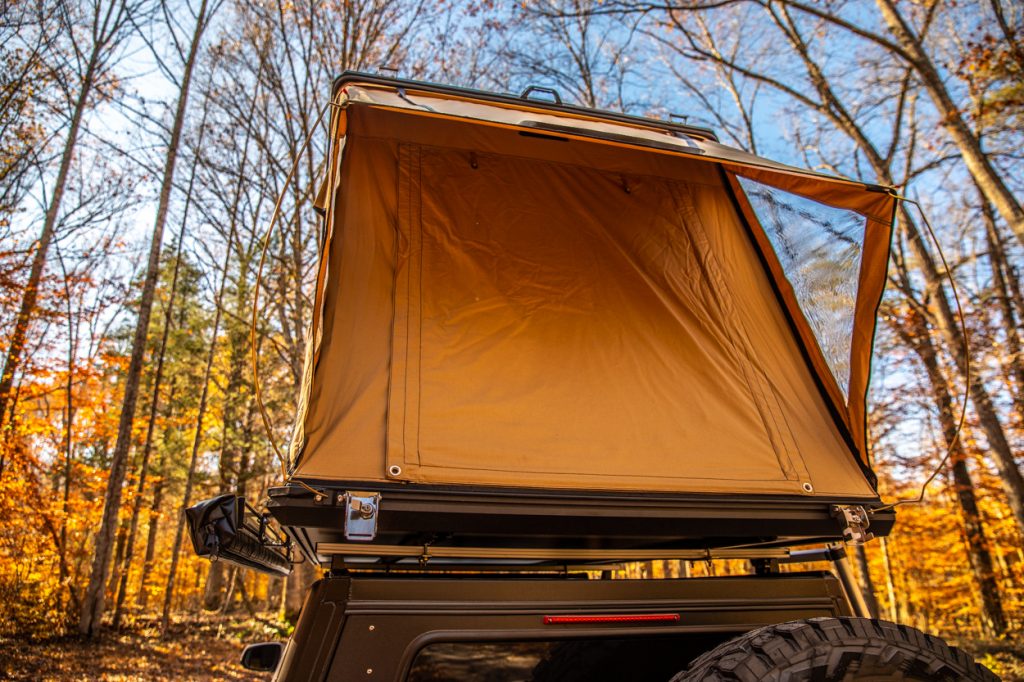 There isn't much to say about this part of the tent.
It's a pretty standard rain fly that helps to ensure you stay dry if you're entering in the back of the tent or if you want to take a peek out of the window to catch some views if it's raining.
Telescopic Ladder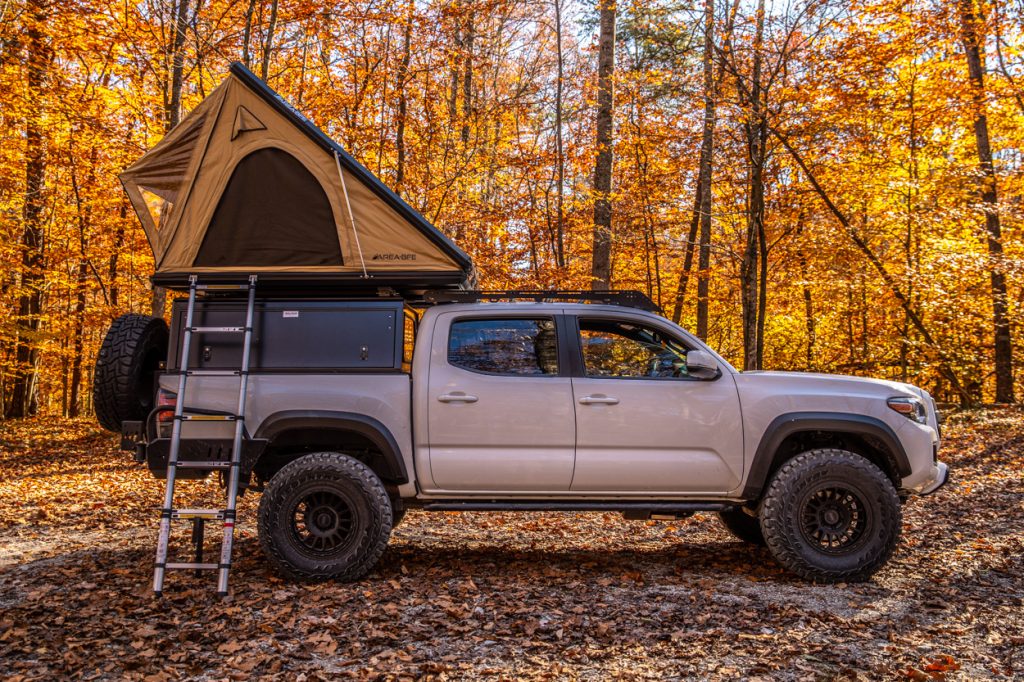 The ladder is your typical collapsible RTT ladder.
Due to the thin design of the tent, the ladder won't fit inside when it's closed. You'll need to store the ladder inside your car/truck.
Tent Material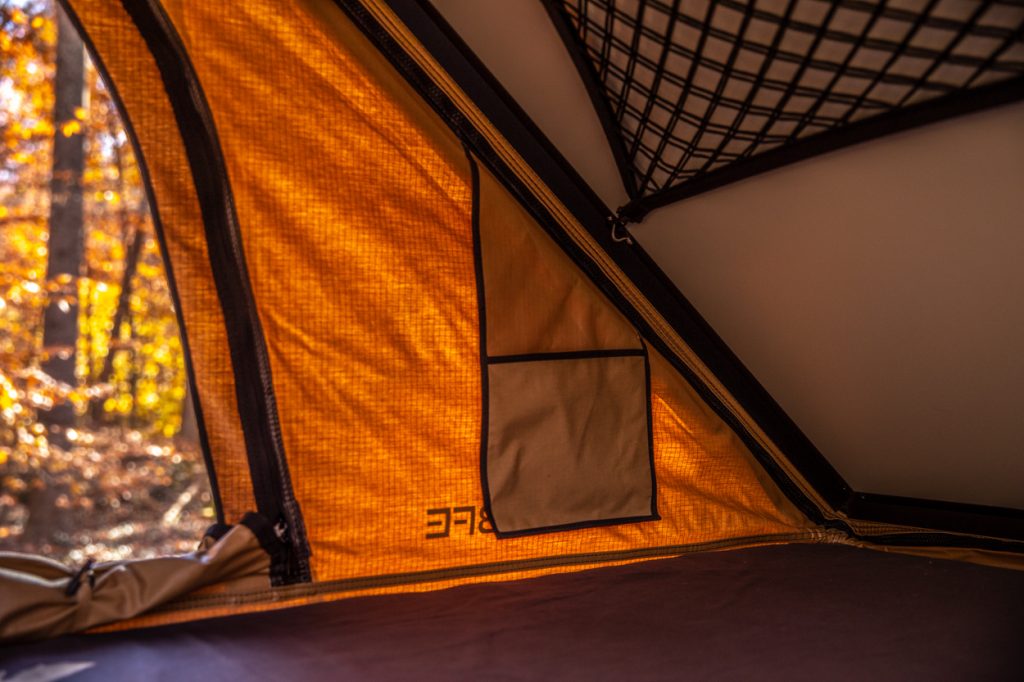 As mentioned before, the tent is made of a super durable, 280G Rip-Stop canvas fabric.
The tent material is very thick and is similar to other tents on the market. There isn't much more to say, just know that this tent will handle everything the outdoors can throw at it.
The canvas material zips into the shell of the tent, so if you're looking to do a deep cleaning, it can easily be removed.
Overall Impressions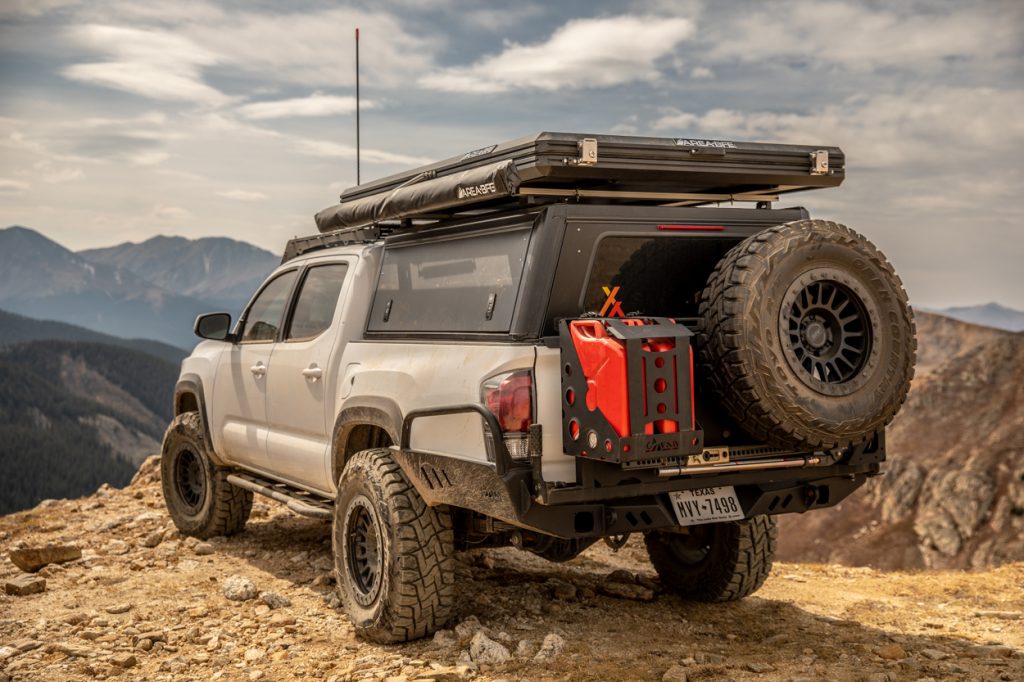 Thousands of Miles Driven
I've had the tent mounted on the truck now for about 2 months. In that time period, I've done thousands of miles all over the country and spent more than a handful of nights in the tent.
Fast & Universal
I've got it mounted on my AluCab bed topper, but it can mount to just about any roof rack or crossbar. The mounting system is pretty universal. I already touched on the setup, it's lightning-fast. Probably the single biggest benefit of this tent.
Wind Noise
The wind noise is very minimal, the 6.3″ height and tapered edges definitely help here. Even at 80+ mph, I can't hear the wind noise over the noise that comes from the roof rack. This might change depending on how you mount it; mine is mounted fairly far to the back of the truck. But in comparison to other hardshell and softshell tents, it might as well be almost silent.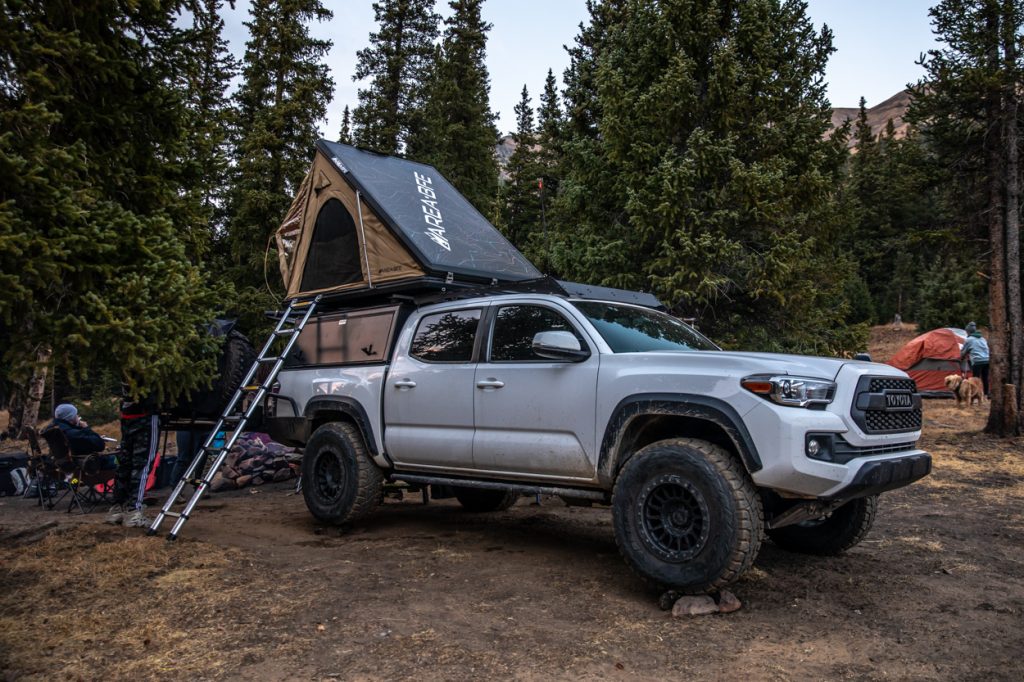 Comfort
I touched on overall comfort previously, but I'll say it again. This setup is much more comfortable than a ground tent and comparable to soft shell tents. It is, however, a bit better since there is no fold in the middle of the tent, like you typically see in a softshell tent. So you know you'll always have a smooth surface to sleep on.
Again, I've seen others buy the upgraded mattress from Spirit of 1876, or cut some memory foam to fit. I might consider upgrading the mattress in the future. I will say, I've heard no complaints from the wife yet, or the dog, lol.
How Well Do We Fit?
I'm 6'1″ and my wife is 5'6″ – our dog Emerald is about 50 lbs. The three of us and two sleeping bags, two pillows and two blankets fit comfortably. At my height, if Iay in a complete plank with my feet towards the ceiling, my toes lightly touch the more narrow portion of the tent.
With that said, I don't know anyone who sleeps like that. I usually lay on my side, and with my knees slightly bent so there is no problem with space for me.
Durable Tent Material
The tent material is super beefy and stands up to the wind and elements really well. We've never had any issues, no matter what the weather was like.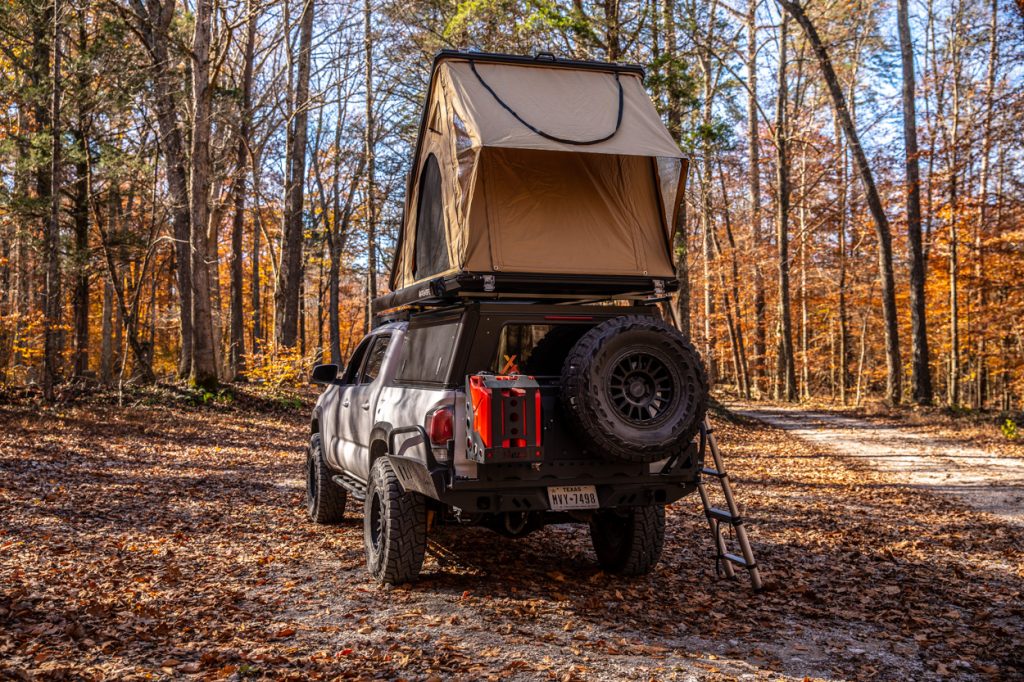 Latch Upgrade
My one, and probably the only real issue with the tent, are the latches used to close the tent. They are fairly generic and can make it tough to open and close the tent. Now, I don't mean to exaggerate this issue. But you may need to give them a good yank to release them.
The same goes for closing the tent, due to how thin it is, and the amount of tent material, you might need to push on the top to help close the latches. This might be an excellent opportunity for AreaBFE to create a custom solution that works a bit better and progressively applies pressure.
Thin Design
While having a super-thin tent is important, it's a bummer that we can't store our sleeping bags and pillows inside the tent when it's closed. There is simply no room. You might be able to get away with leaving a blanket in there.
Not really the fault of the manufacturer, you typically sacrifice one benefit for another when saving weight or size. This really doesn't affect how I feel about the tent, just one aspect that I find very convenient.
Chrome Hardware
Another small gripe: I'm not a huge fan of chrome. Now, again, this is really not a deal-breaker. However, I would love to see the latches, hinges and shocks painted black or gray.
This would give the tent a much stealthier look. This is just my personal preference. You could easily pull the above-mentioned chrome pieces and paint them yourself.
Center of Gravity
Even though the tent weighs around 150lbs, I didn't feel the truck get very top-heavy because of it. We ran several off-camber trails and I never felt like the weight on the roof was excessive or causing the truck to feel more top-heavy. In fact, I barely noticed it at all.
This is due to two reasons. One, the truck is long and the weight is distributed across a longer wheelbase. And two, due to the large footprint, the weight is more evenly spread out over the length of the truck. This is much better than say, a 150lb softshell, which is two or more times the height of the AreaBFE and about half the size (while stowed away).
Final Thoughts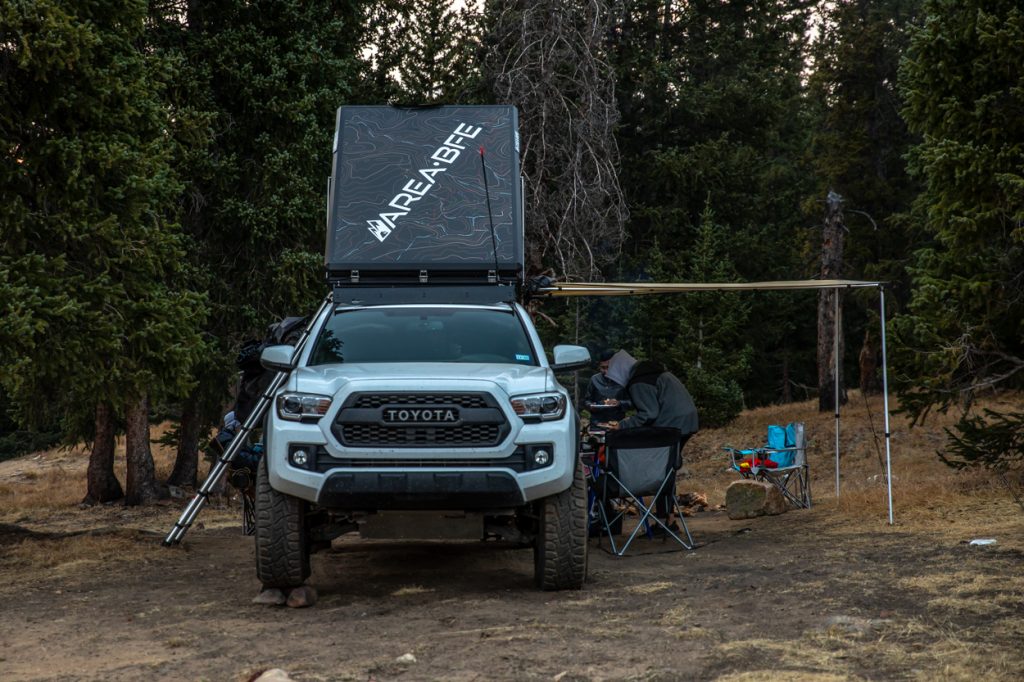 So what is the bottom line?
To me, convenience is key. I want to be able to move quickly and not waste hours per day setting up my camping equipment. Cutting down on that portion of our trips has made a huge difference.
Buy Once, Cry Once
While these tents are not cheap, you have to understand that they make your life incredibly easy, while providing a safe place to sleep. I rationalize investments like these primarily by seeing how much I would have spent in a hotel or cabin, Airbnb or paid camping spots.
If you're camping and traveling ten plus nights a year, you'll essentially break even on the cost of the tent. They also tend to hold their value if you take care of them, so if you go to sell, you should get a decent amount of money for one.
I encourage people to test several setups and see what works best for them. However, if you're looking to maximize your time spent in the outdoors, this is absolutely the solution for you, hands down.