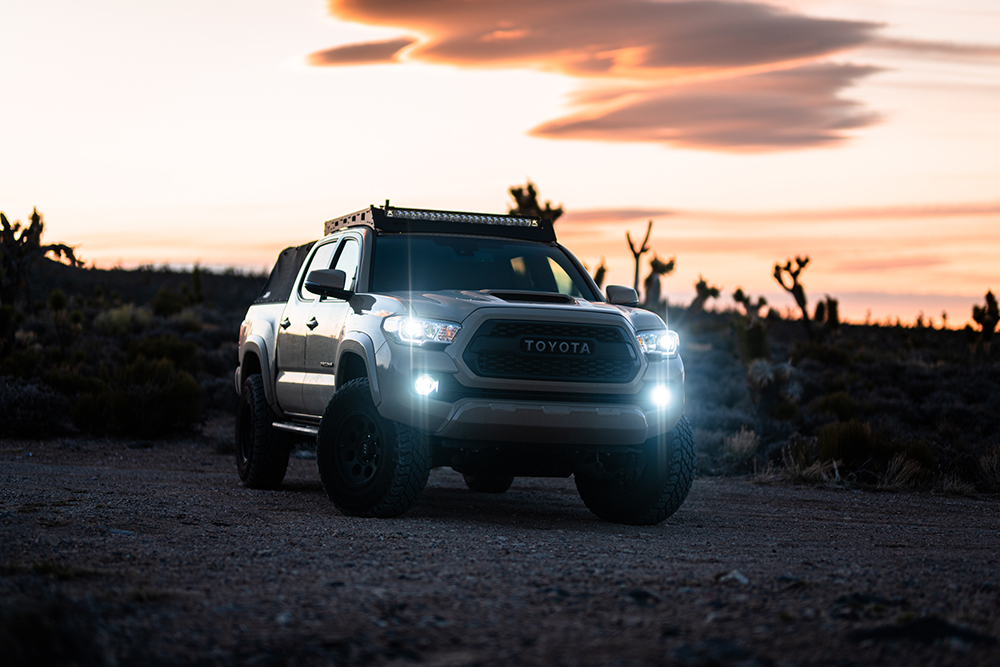 So You Bought Yourself A Pickup Truck. What's The Best Way To Utilize The Bed On Your 3rd Gen Tacoma?
To begin, I'll start by putting your mind at ease, you can't go wrong with any of these options I outlined below. Each and everyone's needs are different — this is just a solid overview of the various products on the market.
That being said, you still have to make an educated purchase. Weigh your options and what you intend to do with your truck and be honest with yourself when you do this. It would suck to buy a $1,000 tonneau cover, and then in a couple of months, you're in the market for a rooftop tent that the tonneau cover won't support. That's exactly why I'm here to help.
Within the first month of getting my Tacoma, I was already planning a trip to Zion, Utah. I hadn't thought of the limitations of my uncovered bed, but I learned quickly once I got on the road. I was ill-prepared, to say the least. I hadn't planned on how to organize my stuff and what I needed. I ended up putting way more stuff than I wanted into the cab of my truck, which was also being occupied by my dog and a friend of mine. Not ideal.
Soon after this trip, I knew I needed some sort of solution. So I started to research various options to cover/transform my truck bed. I was in the market for some kind of bed cover/topper. After weighing all my options, which at the time was on a very small budget, I ended up with a Softopper.
Find It Online
After a year of ownership, that included a torrential downpour while leaving Yosemite, days in the Las Vegas Sun, off-road excursions and highway adventures, I can say that I am very happy with my Softopper. It's still in perfect condition and has met all my expectations. Even so, I am now in the market for a hard topper due to where the direction my build is going. While the soft top is great, my plans require something a bit more functional.
But enough about me. Let's dive into the options that exist out there for your Tacoma.
Tonneau (Bed) Covers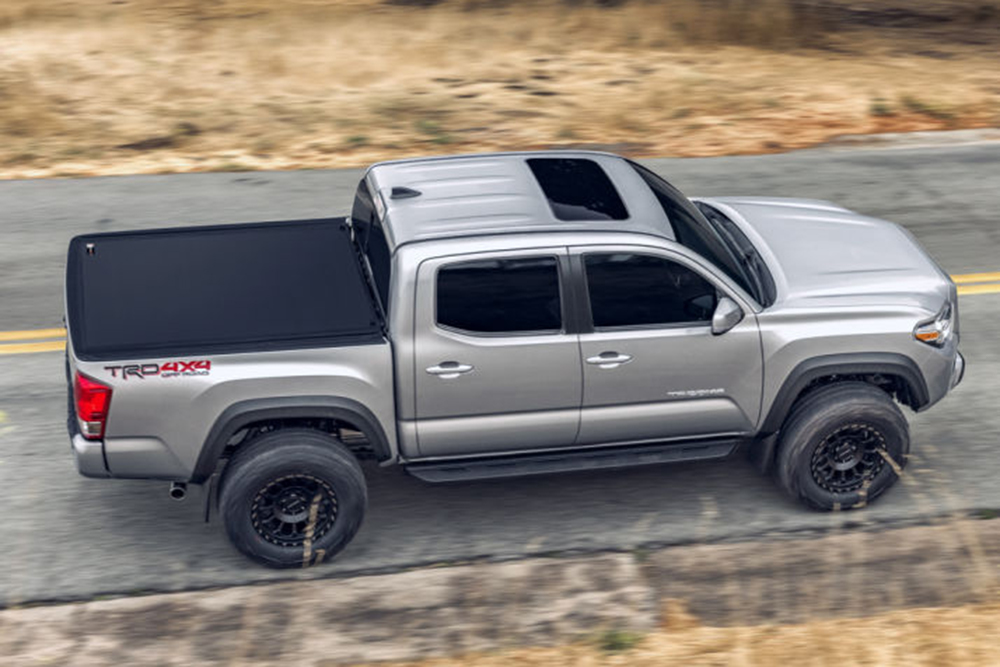 Tonneau covers are probably the most common method of covering the bed of a truck.
Because they are so common, there is a plethora of quality choices and a large price range to choose from. I've seen options as low as $300 and as high as $2000. A popular example would be the BAKFlip MX4. I can't possibly go over every tonneau cover option out there though. I'm mainly here to list the PROS and CONS of each bed cover solution.
Find Them Online (popular options): 
Tonneau Cover Pros
A few PROS to a tonneau cover. First and most importantly, you got your bed covered. Mission accomplished. Another pro is the ease of installation. Most tonneau covers require no drilling at all. They can be installed and taken off completely within minutes.
Furthermore, to access the bed you don't have to remove the cover. Depending on which make and model you go with you can either roll it up, retract it, or it flips up and is held by struts like in the Diamondback covers.
Tonneau Cover Cons
Now CONS. My first thought when it comes to tonneau covers is storage space. Yes, you still have the length of your bed but now you're limited by the height of your bed, which isn't very tall. Also, most covers are not weather sealed either. Unless you do some DIY work on your cover to weather seal it or invest a lot of money on a cover like the Diamondback, be prepared to make sure all the contents that go into your bed won't be affected by water leaking in.
The last con on my list is limited expandability. What I mean when I say this is that your choice of bed racks dwindle significantly and the side rails within your bed may not be as useful as they were, or at all. So if you are planning an overland/offroad build, or anything that requires you to carry a good amount of gear with you, a tonneau cover may not be your best option. Some bed accessories are compatible with a tonneau cover, they're just few and far between.
Bed Racks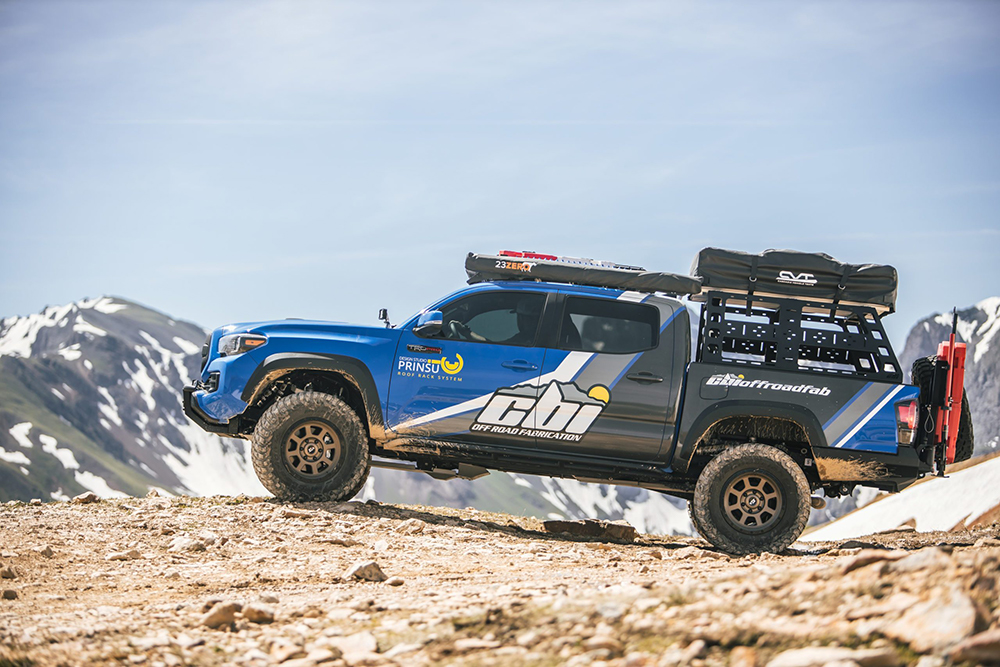 Bed racks are becoming a staple in the overland/off-road community, and for good reason. The various options of bed racks and ways to configure your gear on them are nearly endless. If you're reading this article I'm sure you've seen many applications of bed racks – it's quite impressive.
You can mount your jacks, shovels, axes, chainsaws, bikes, tents, fuel, water, tires, solar panels, boxes, showers… I could go on! Not only that, but you can mount certain bed racks in conjunction with tonneau covers and soft toppers. So what are the pros and cons to bed racks you ask? There are quite a few companies that make bed racks for the Tacoma, so many that it would be hard to list them all. But we can point out a few very popular options for the 2nd Gen and 3rd Gen Tacoma for reference.
Find them online: 
What are some pros?
Let's start with the PROS. First and foremost, there are more than a few companies that make bed racks. On top of that, you can find some that sit flush with your bed, are mid-height, or sit flush with the top of your cab. As a result, if you do want a bed rack, chances are you'll find one that fits your lifestyle and goals.
As mentioned above, you can fit just about anything on a bed rack. So all the gear that has to be within the bed with all the other equipment is now mounted over your bed on your rack. Now that your recovery gear, fuel, and living quarters are mounted outside, you still have an empty bed to fit whatever else you're bringing. Finally, bed racks cost about as much as a soft topper or tonneau cover and are much cheaper than hard toppers.
And, the cons…
So what are the CONS of something that seems so limitless and perfect? To start, a bed rack is sitting over your bed but it isn't covering it. Everything that goes within your bed is fully exposed to the elements. Not only that but so is all the gear you've mounted to it.
Like the tonneau cover, you'll have to make sure everything that goes into your bed is weather sealed… but like, truly weather sealed. With the tonneau cover, if it rains, you'll end up with only some water leaking inside. But with a bed rack, if it rains, all your stuff is out in the rain too. Also, the sun constantly beating down on certain items is going to have consequences. If you're planning to put a refrigerator in your bed it will likely have to work overtime to keep all your goods cold. Same with a cooler but that results in your ice melting much faster.
There are methods to help insulate these items from the sun but be sure to take that into account if you're going with a bed rack. Lastly, you can lock all the gear that sits on your bed rack but anything that goes inside the bed will be a little more tricky to keep secure. Everything you have in your bed is still in sight and easily accessible to thieves.
Soft Tops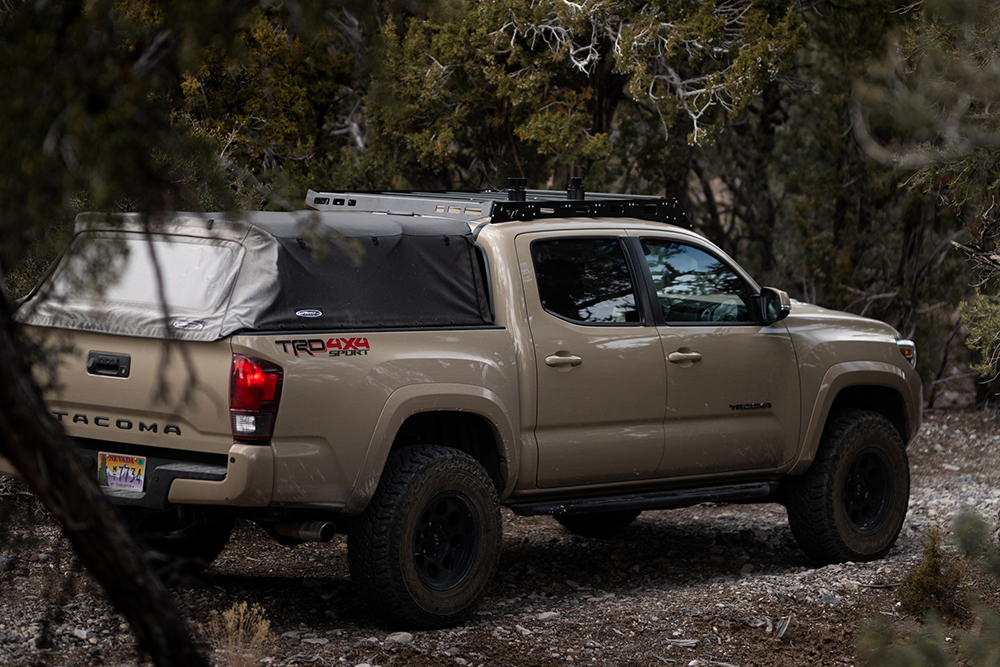 Arguably my favorite option, the soft topper.
Like I was saying earlier, I bought mine just about a year ago. It was the first modification I bought for my truck. When I was deciding on what I wanted back then I was limited on price. I needed something that covered my bed and that I could fit quite a bit of gear in.
From the start, I knew that this truck was going to be built to go off-road and camp, overlanding, I guess. What I was looking for was a hardtop but didn't have the funds at the time, so I went with a soft top. Same look and basic functionality for about a third of the price. You can find the same Softopper I have for about $750. Another comparable option is called the Bestop. I am not a fan of the side windows on the Bestop but that's just my preference. I'll be writing a review of the Softopper in the future but for now, let's dive into the pros and cons.
Find It Online
Let's start with the PROS.
Off the bat, affordability. For the amount of utility you gain from a soft topper at its price point, I think the only comparable option is a bed rack. The soft topper covers your bed like a tonneau cover that has a similar price point but it sits flush with the height of your cab. As a result, you have significantly more storage space to use.
When I go camping I fit my spare tire, Hi-Lift jack, ground tent, buddy heater, two chairs, camera bag, waterproof gimbal case, 45-gallon tub, two 15 gallon tubs, and 85-quart cooler all in the bed with more room to spare. Additionally, it's extremely lightweight at about 20 lbs and installation is a breeze. I can take my Softopper off and put it back on my truck in less than 5 minutes, combined. Lastly, the soft topper option keeps anything in your bed out of the elements almost completely. When I get caught in the rain I get very minimal leakage into the bed.
And, the CONS
As for CONS, I can't think of many but here's a couple. Lack of security. I wouldn't leave anything in your bed that you don't need. The reason being is that you can't lock a soft topper, it zips and buttons up. I lock my tailgate if I have anything in my bed but I know this won't stop someone that wants to put in some effort to get to my stuff. Secondly, like I briefly spoke of earlier, it does do a good job of protecting your stuff from the elements but not completely. From what I can tell, it doesn't seem possible to remedy this either.
Hard Tops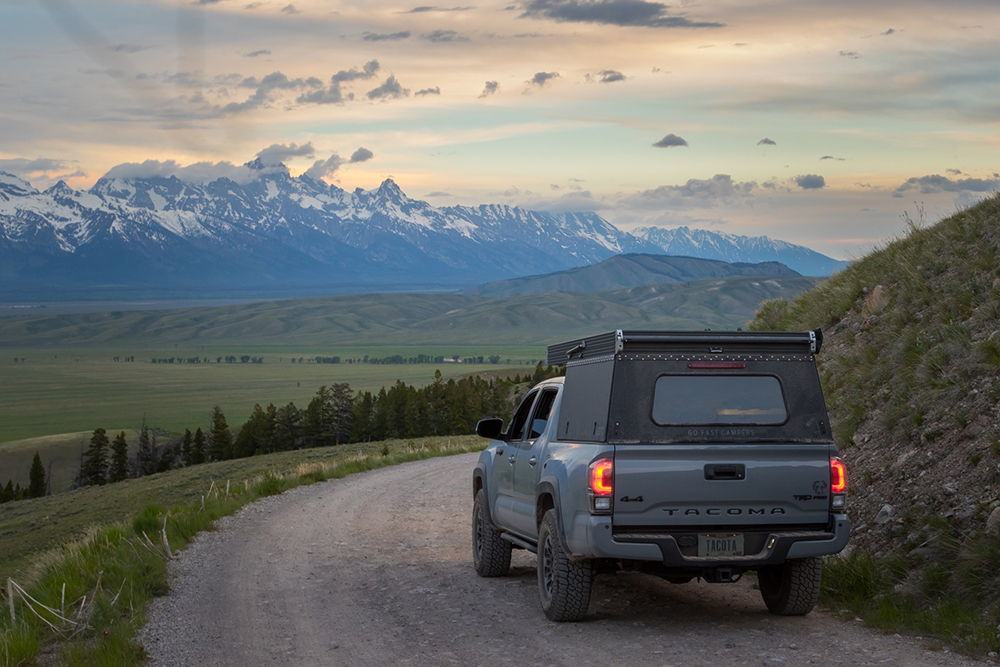 This option is very much like the soft topper, but with a few differences.
As of right now, I am in the market for a hard topper, otherwise known as a truck cap. If you decide on a hardtop, the next biggest hurdle will be deciding which brand to go with. As with the bed racks, there are plenty of companies that make hard toppers for our trucks. You have the big ones like Leer, ARE, and SnugTop.
Although not technically truck caps, there are a couple of other choices. There are some slightly lesser-known, but equally, or more cool options like RLD Designs and Go Fast Campers. Check out our review of the GFC V2. After that, you get to dive into all the different models and build options as well!
Find Them Online
Let's jump into some PROS
Well to start, unlike any of the other options, these are supposed to be completely weatherproof. No water leaking in and no sun beating down on all your stuff. Like the soft topper, you get storage space up to cab height, or even taller depending on what model you get. You also get a bit more security and peace of mind. Someone can't simply cut open your bed cover and take whatever they want. Depending on what make and model you get, you can get locking aluminum panels instead of windows. So people can't even break your window to get in.
On the other hand, the CONS
The first thing that comes to mind when looking at hardtops is their price. It doesn't matter what brand or model you go with if you are buying new you are dropping at least $2,500. I'm exploring some options that are as much as $7,000. This is not the most cost-effective route. They are however and investment and can ultimately make sense in the long run. Hardtops are also difficult to remove and reinstall on your own. And if you do take it off, it takes up a good amount of room wherever it needs to be stored.
Final Thoughts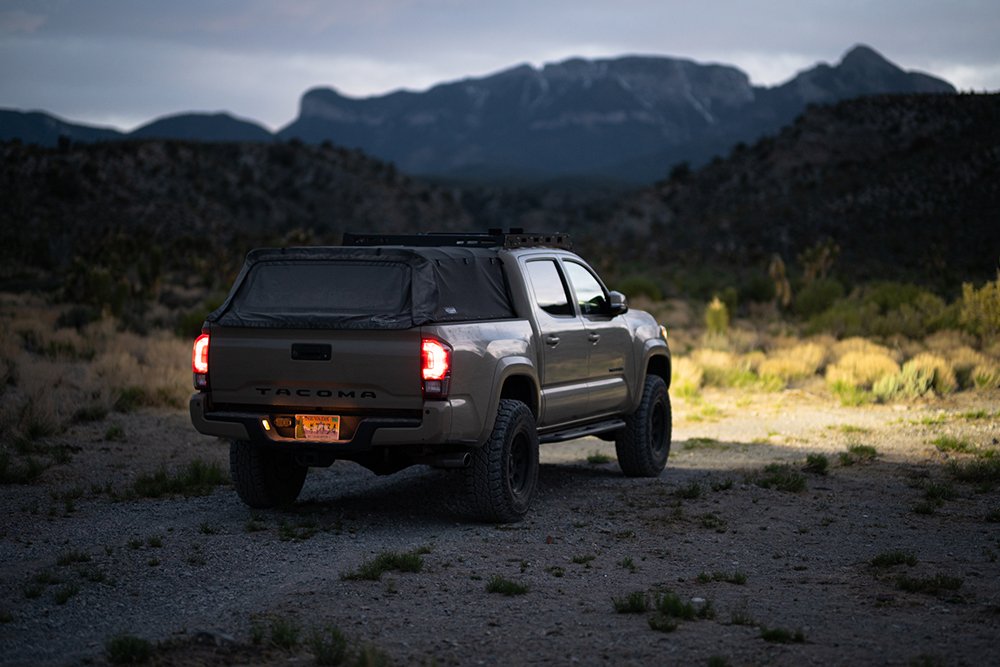 In summary, there is no right or wrong answer. It's just about what's right for you and what you are planning to do with your truck. I favor the soft topper and hard topper routes for the way I use my truck and where I want to take my truck build.
I hope that this overview was informative and gives you the ability to buy with confidence!