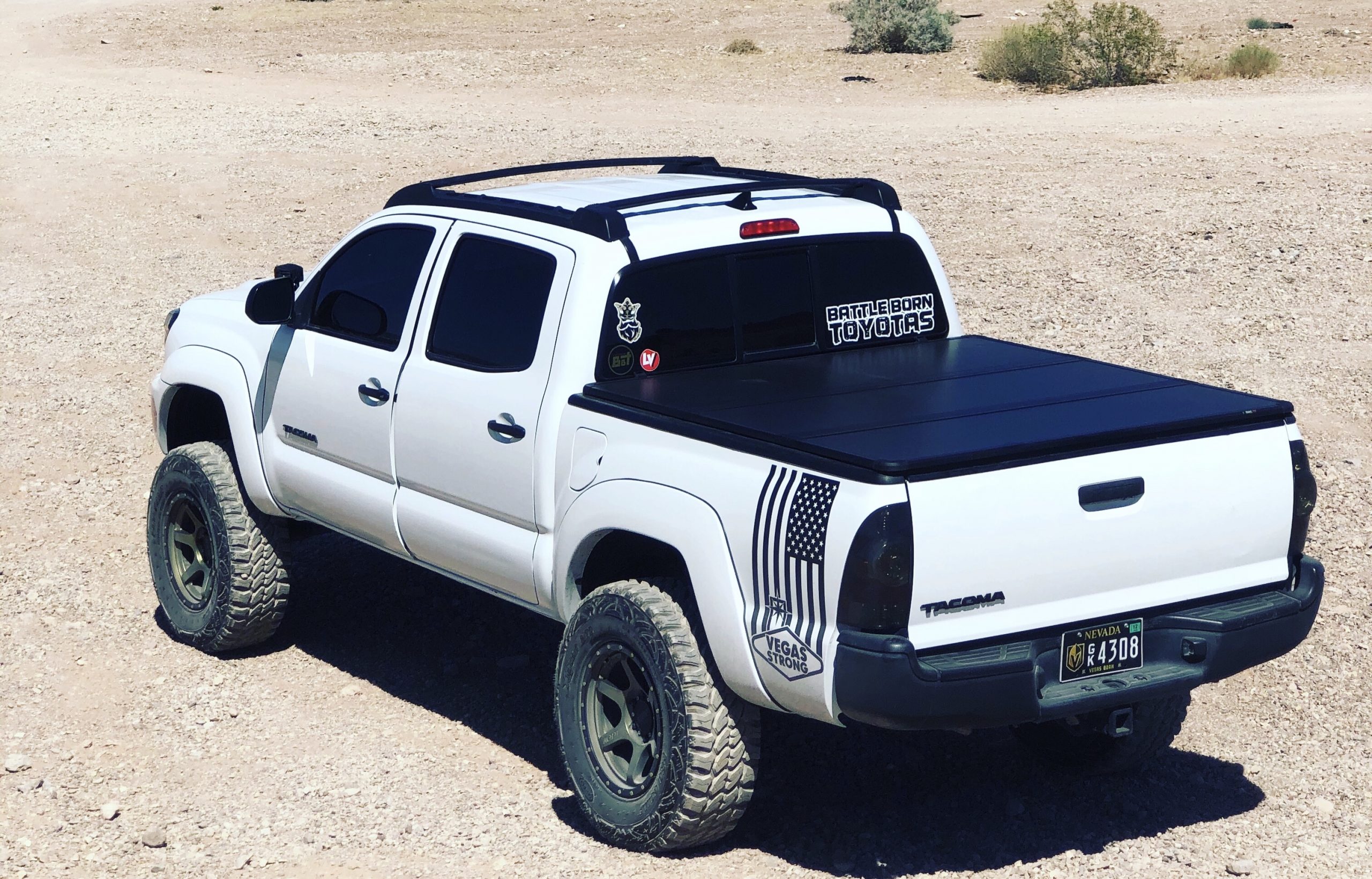 TravelPRO 65-Series Tri-Fold Tonneau Bed Cover For the 2nd Gen Tacoma
So you've got a pickup truck. Having the utility of a bed is awesome, but what about securing the items you place in there?
While convenient, having a bed has its downfalls. The main one is that everything you place inside is completely exposed to not only the elements but to people who can't keep their hands to themselves.
If you're in the market for a Tacoma tonneau (bed) cover, this is definitely one you should consider.
From protecting the items in your bed from thieves to keeping all of your gear dry to transporting groceries and gear for all those weekend trips, installing a folding hard bed cover is a great option. It may seem like a big investment, but the added functionality and peace of mind is worth it in the long run.
If you are unsure about running a bed cover, a bed rack or a camper, check out a recent article by Daniel on bed racks vs. campers. This goes into great detail on bed covers, bed rack, bed covers, and camper shells.
RDJ Trucks
This bed cover from RDJ Trucks is built from marine-grade aluminum tubing with honeycomb supported sub-panels for additional rigidity. This is a seriously high-quality cover and you can tell this before you ever pull it out of the box. The TravelPRO is built to last and gives you added security and protection without compromising on aesthetics.
Quality Build
The cover comes with a rubber "Q-Seal" that covers all four of the potions that come into contact with your truck bed. You never have to worry about water, or dust getting in to make a mess, or worse, ruining your gear. This is a huge plus when it comes to a \tonneau bed cover because not all of them provide water-resistant features like this.
This tonneau cover has multiple uses and is extremely simple to install with one person, but two are recommended when making any adjustments. For the most part, the kit comes pre-assembled, with the exception of a few loose parts. Everything is very well packaged, with solid instructions and the cover comes with an awesome 3-year warranty.
If you have a 3rd Gen Tacoma, you can check out that install article on Trail Tacoma. With that said, the two are very similar.
Now, let's get started!
RDJ Trucks Tacoma Bed Cover
RDJ Trucks Part Numbers
For this particular install, we are using a 2015 TRD Offroad model Tacoma (the late model 2nd Gen Tacoma). To start (and to make the install easier), I removed everything from bed and cleaned it.
You will also need to remove, if you have them, the bed cleats to make room for the cover. 
Step 1. Unbox Your TravelPRO 65 Cover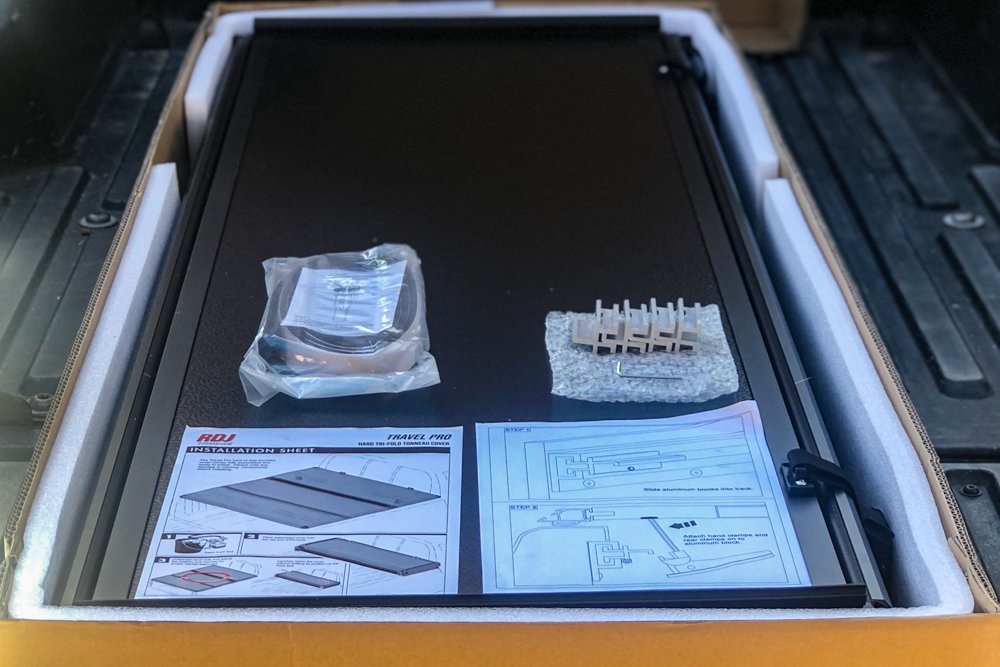 RDJ Trucks did a great job of packing its product to keep it well protected. I was also pleasantly surprised and making sure a lot of parts aren't needed for this simple install.
Tonneau Cover Kit Contents
Tri-fold hardtop bed cover
Aluminum blocks for the bed rails (4)
Felt-like stickers to mount on the side of the bedrail to prevent damage (4)
Tool/parts needed for install
Instructions
RDJ also provides extra weather seals for truck beds that are uneven or that are not completely flat. After shipping, I notified RDJ that the 2nd Gen Tacoma needed a thicker weather seal and they sent it out right away. Quick and easy customer service is always a big plus!
Step 2. Line Up Front Portion Of Cover

When pulling the tri-fold cover from the box it will be buckled closed. You will need to lift the entire cover onto the bed of your Tacoma. Once that is done, you can unbuckle the cover and unfold it.
It's recommended two people do the initial lining up of the cover; one person is still possible, it's just much more difficult this way.
Make sure the buckled side is lined up facing up so that when you unfold and open it, it's oriented away from the truck cab and rear windows. Once lined up just below the window, you can adjust how close it sits to the truck cabin.
Step 3. Install Front Aluminum Blocks
Next, you'll want to take the provided aluminum blocks and slide them into the bed rails on both sides of the bed.
There are 4 blocks in total, 2 on each side. When you slide them into the rails, you want to make sure the blocks are lined up with the latches on the tri-fold cover. Two of the blocks are used to keep the front of the cover attached to the bed and two are used to hold down the back.
Once you're happy with the alignment, take the included Allen wrench tool and tighten the blocks into place. If you find that the blocks need more adjustment, you can loosen them and move them forward or backward until you have a good fit.
Step 4. Front Mounted Latch + Block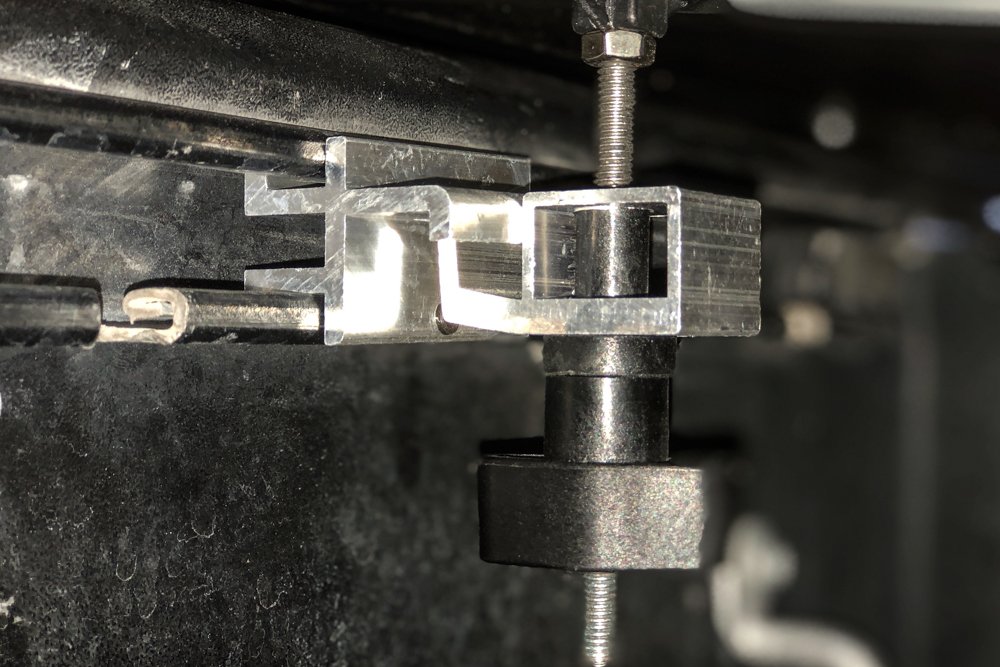 Pictured above is the front latch which is not movable and holds down the tonneau cover firmly to the bed. This latch and block are found towards the front of the bed.
Once the latch is lined up with the aluminum block you installed earlier, clamp it down and tighten it with the provided Allen wrench.
Then bring the latch down, securing it to the block and proceed to tighten the connection. Do not overtighten the latch but make sure it secure enough to keep cover in place while at speed.
Step 5. Install Rear Aluminum Blocks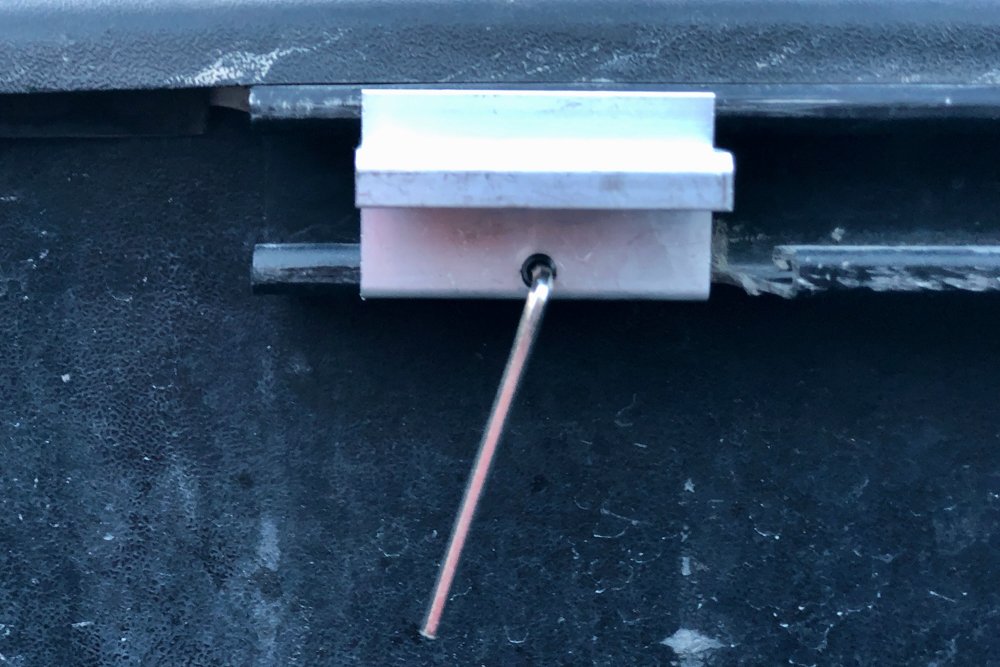 The rear aluminum blocks will be installed with the same method as the front-facing ones. Again, do this on both sides.
Slide both rear aluminum block into the bed rails and line them up with rear latch. Once again, when they are in the proper orientation, tighten them down. Once that is done, unfold your cover completely so that it sits flush with the bed.
Step 6. Rear Locking Handles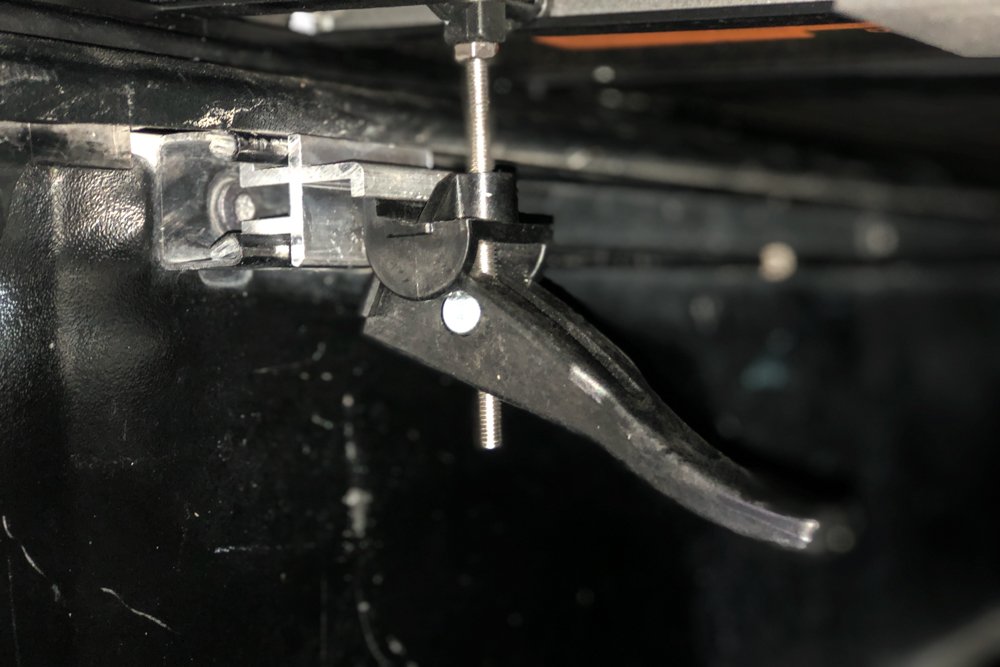 Open the rear latches and slide them back. The rear latches adjust up and down, adjust them where they need to be and tighten.
Be careful when adjusting, if you make the latch too short, they either won't line up or you won't be able to properly clamp them down. The latches are unique as they slide back and forth and secure into place. Do this on both sides.
Initial Test Fit & Re-Align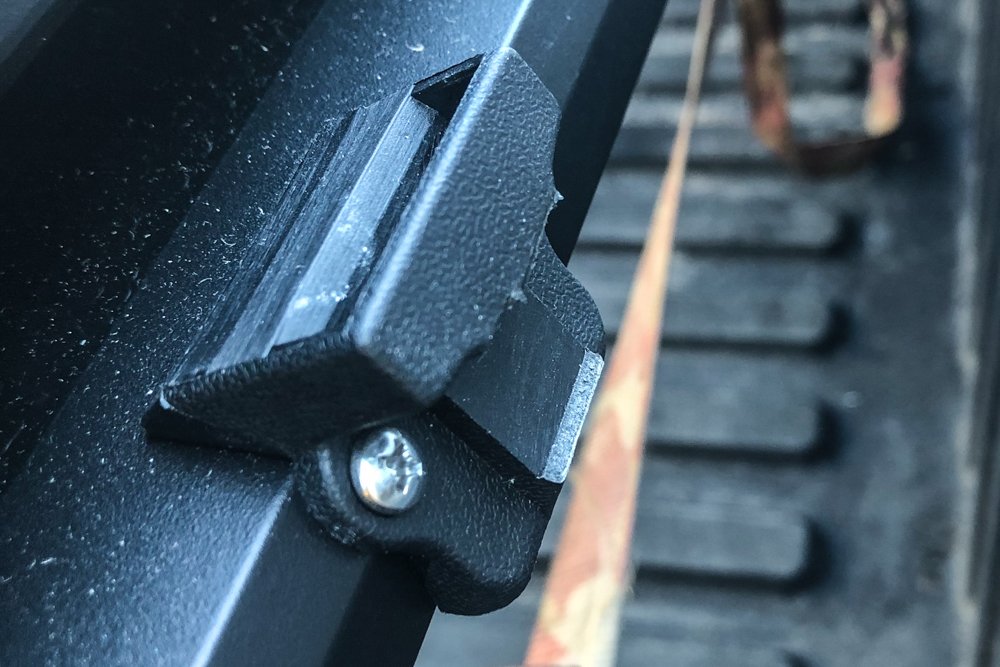 Before finishing, you definitely want to make sure the tri-fold cover is properly lined up to the desired location.
The RDJ cover fits really well but I did want the back end of the cover to sit a little more flush.
I did make some minor modifications for a preferred fit which is pictured above. The modification was primarily to the latches which are used to hold down the cover when it's completely folded up.
I cut some of the outer plastic off the buckle latches to get the front of the cover closer to the rear cab. My main reason for doing so was purely aesthetic. The cover fits great, but I wanted it to overhang a little bit less off the end of the bed. This by no means is a fault of the manufacturer, I just wanted a slightly different fitment. This part is completely optional. Most people might not have even noticed.
The reason I preferred this cut is that the cover did hangover over a tad over the end of the bed.
For reference, above you can how the cover slightly sits beyond the end of the truck bed. This occurs because the latch comes into contact with the cab. Again, super minor.
The before and after difference is only about half an inch.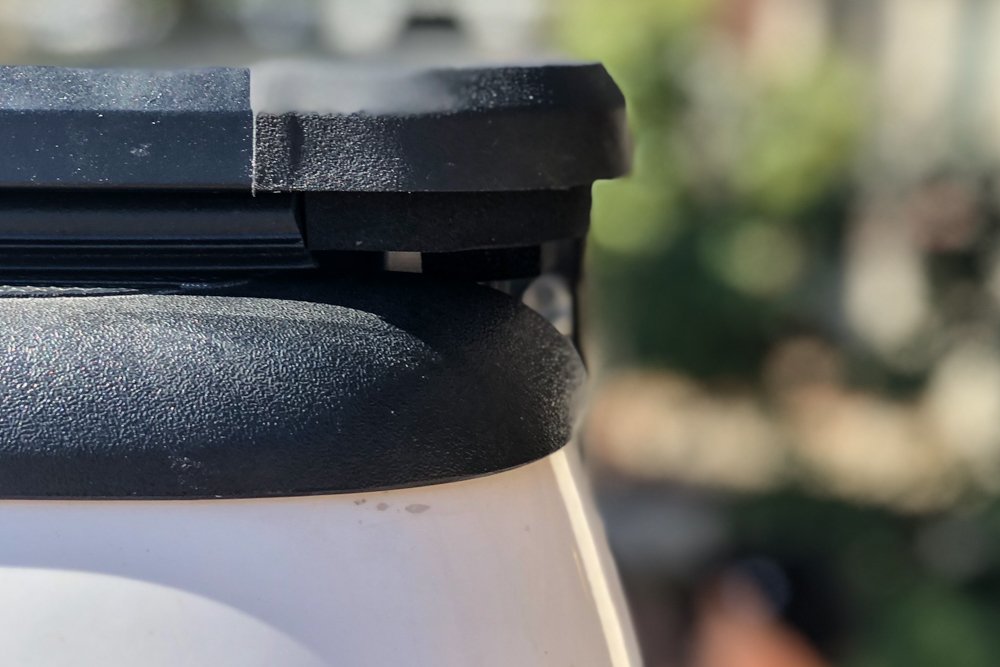 The finished fit after I performed the cut can be seen above.
Note: This modification does not jeopardize the buckles or being able to secure the cover when it's fully open.
If you decide to do the same, cut at your own risk. You don't want to damage your brand new cover.
Final Thoughts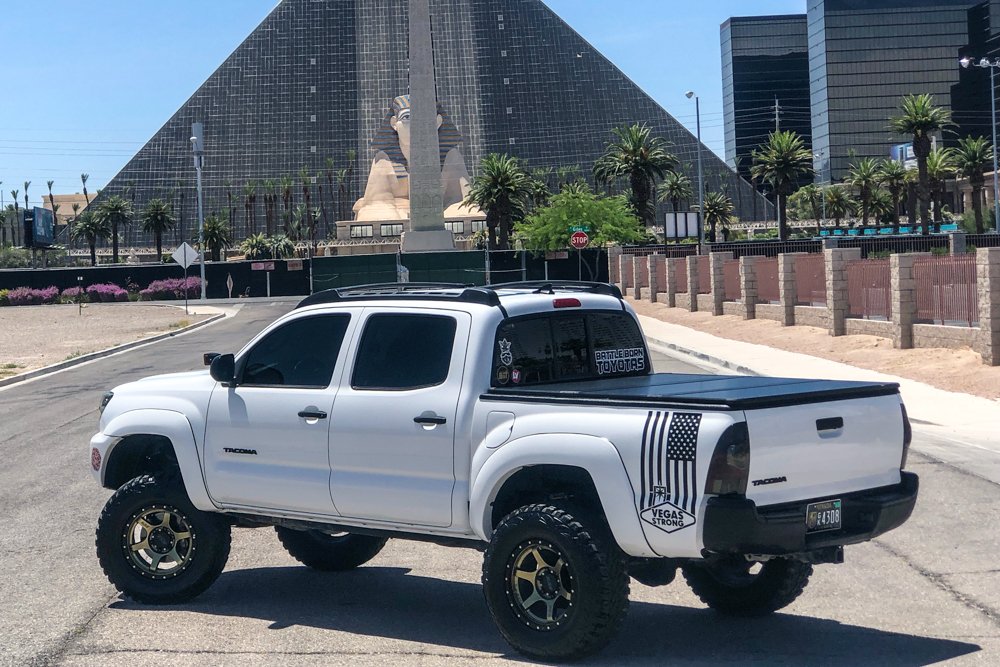 This bed cover is worth every penny. Not only does it give your truck an awesome look but its super functional.
It's great to be able to go out to the lake and not to have to worry about anything flying out of the bed. It definitely helps to provide a stress-free adventure having a covered bed. Having a family of four, the tri-fold cover gives extra storage in the bed while freeing up cabin space for you and your passengers.
You won't have to worry about limited space in the cab anymore. You can simply throw all your stuff in the bed and close it up. The design also gives you peace of mind and increased security, as you might get with an SUV.
If you're looking for a tonneau cover, the RDJ Trucks is a great choice. The quality is there and the installation was quick and painless. I've owned a few kinds of tonneau covers over the years but this one is absolutely my favorite thus far. Well done RDJ Trucks – this is a really nice piece of equipment that I consider a staple and must-have for my specific needs.