A Guide To Choosing Camper Shells, Bed Racks – 5 Years Experience of Running It All
Two of the most popular options for the Tacoma and many other truck platforms, alike, are camper shells and bed racks.
If you are considering a bed rack, the odds are you are going to run a tent. If you are thinking about a camper shell for sleeping, and have a short bed Tacoma, just stop reading now; you don't want to sleep in a 5-foot bed, it's brutally uncomfortable.
If you are someone who does a lot of offroading, fiberglass shells aren't as durable as one might hope for but they are great for securing your gear and keeping it clean and dry.
What you are about to read is long-winded, but I hope you find the information to be useful in assisting you in making the choice that is right for you. The decision really depends on what you intend to use your truck for and the budget you have.
Looking for a more complete post on campers or camper shells? Check out the following…
Camper Shells Vs Bed Racks Vs. Campers
Background and Experience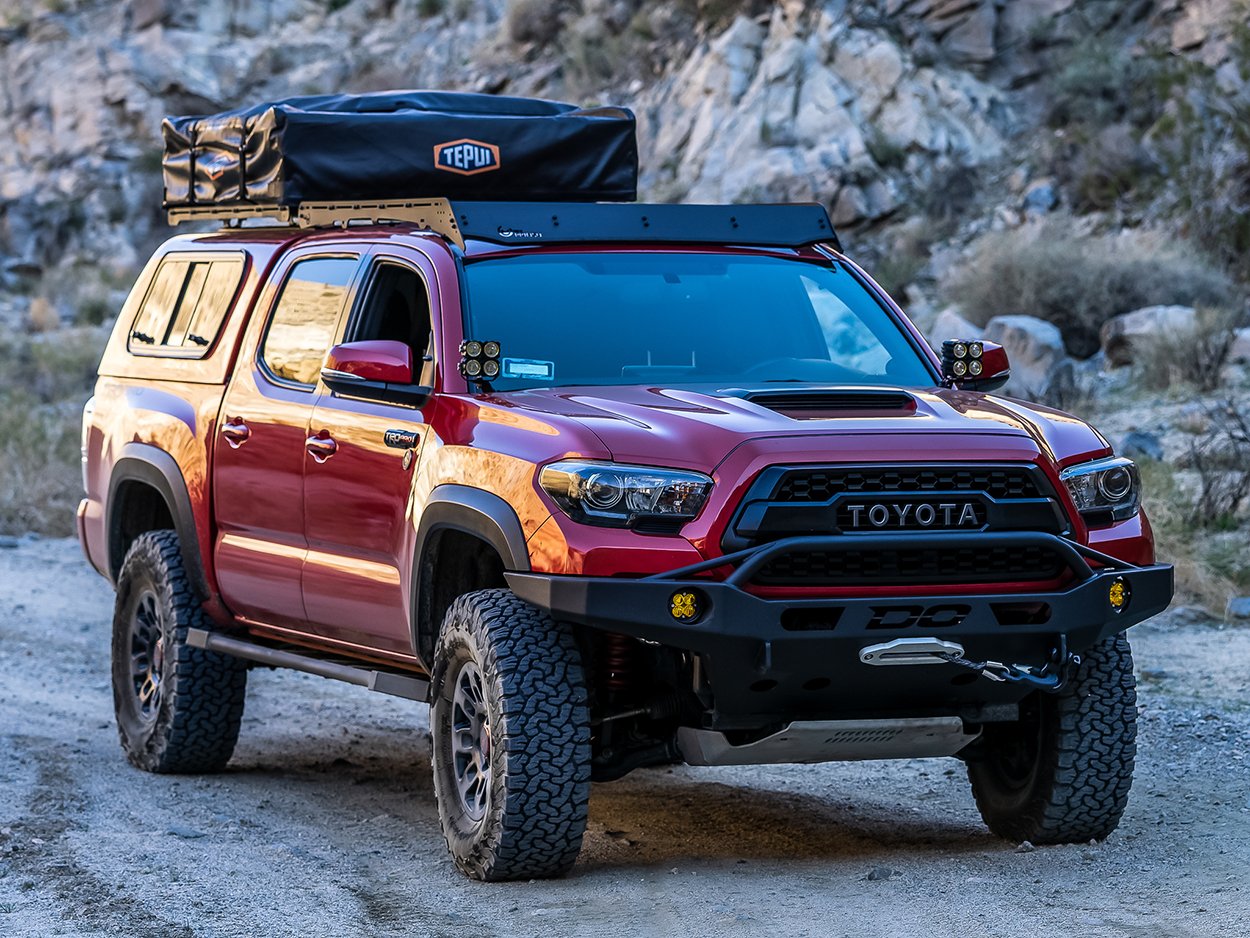 I've had a traditional fiberglass camper. I have had simple crossbars. I have had a decked storage system with both, and I now have a Go Fast Camper.
Each has its pros and cons. I guess if you are reading this, you would probably like to know about both. So here we go!
I drive a 2017 TRD Pro Tacoma. I got into the off-road/overland hobby a few years ago and I loved the idea of a rooftop tent integrated into a camper shell. The first integrated option I saw was the AT Habitat by Adventure Trailers. I couldn't imagine spending $9000 dollars on that kind of setup.
Started With A Camper Shell
I initially settled for a Snugtop Rebel HD.
I got the sportsman package because it includes a reinforced roof and wind doors. These are doors that pop up on the sides to allow you to reach in the bed and easily access larger items, they also slide and have a screen. The reinforced roof was big for me, and ultimately, became a deal-breaker when compared to some of the options out there.
Who Needs A Reinforced Roof?
Someone who plans to store some heavy stuff up there or who plans to sleep in a tent. Finding accurate numbers for static load vs dynamic load is difficult. I feel like the manufacturers do it on purpose to avoid some sort of liability.
Ultimately, I just wanted to get the strongest option available so I wouldn't have to worry about having my 65lb roof rack, with my 135lb tent and then 300+ pounds of humans asleep on top of a fiberglass shell.
Fiberglass Camper Shells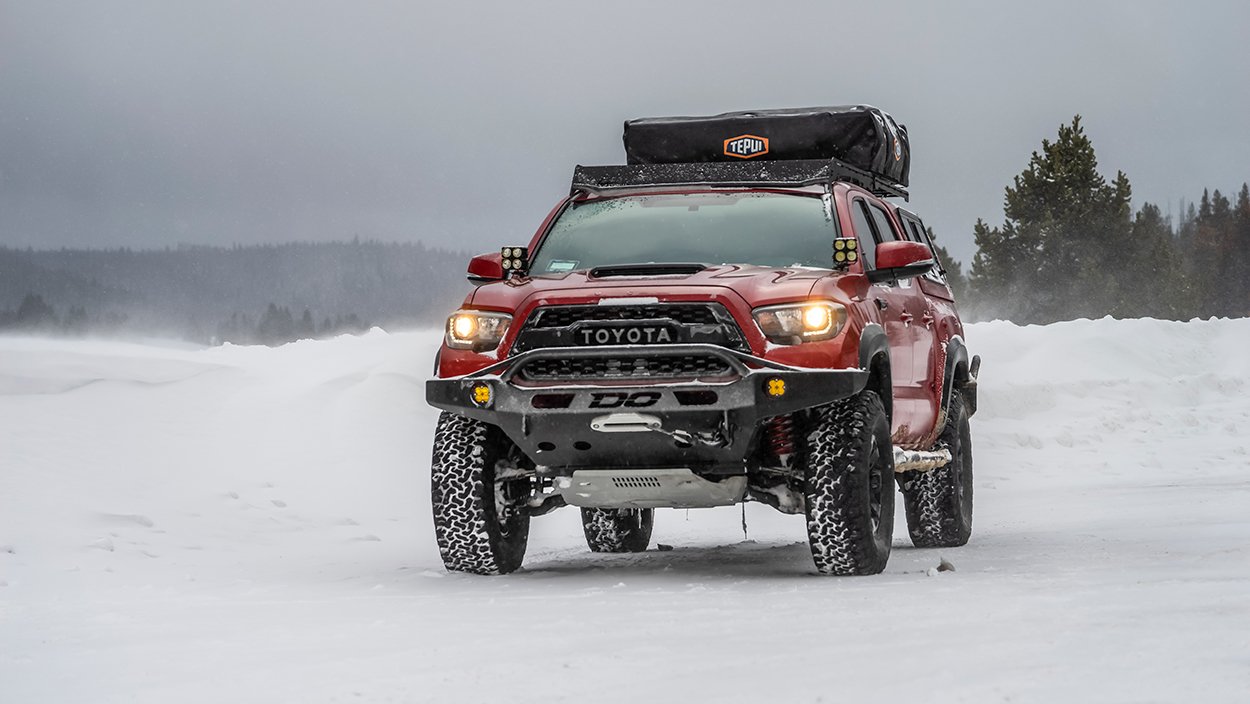 Then came a trip to Black Bear Pass in Colorado.
I took a tough line and had a spotter that had never been off-roading before. I ended up dropping down about 20" off of a ledge. The Snugtop slid forward and cracked the rear edges of the camper and broke my back window of the truck.
I was able to get home and it wasn't too bad, but a rear window costs a couple of hundred bucks. On a more positive note, Snugtop fully covered the cost of the repair to the shell. They said that they could tell it had been damaged from off-road and indicated they would not repair it again in the future.
Reinforcement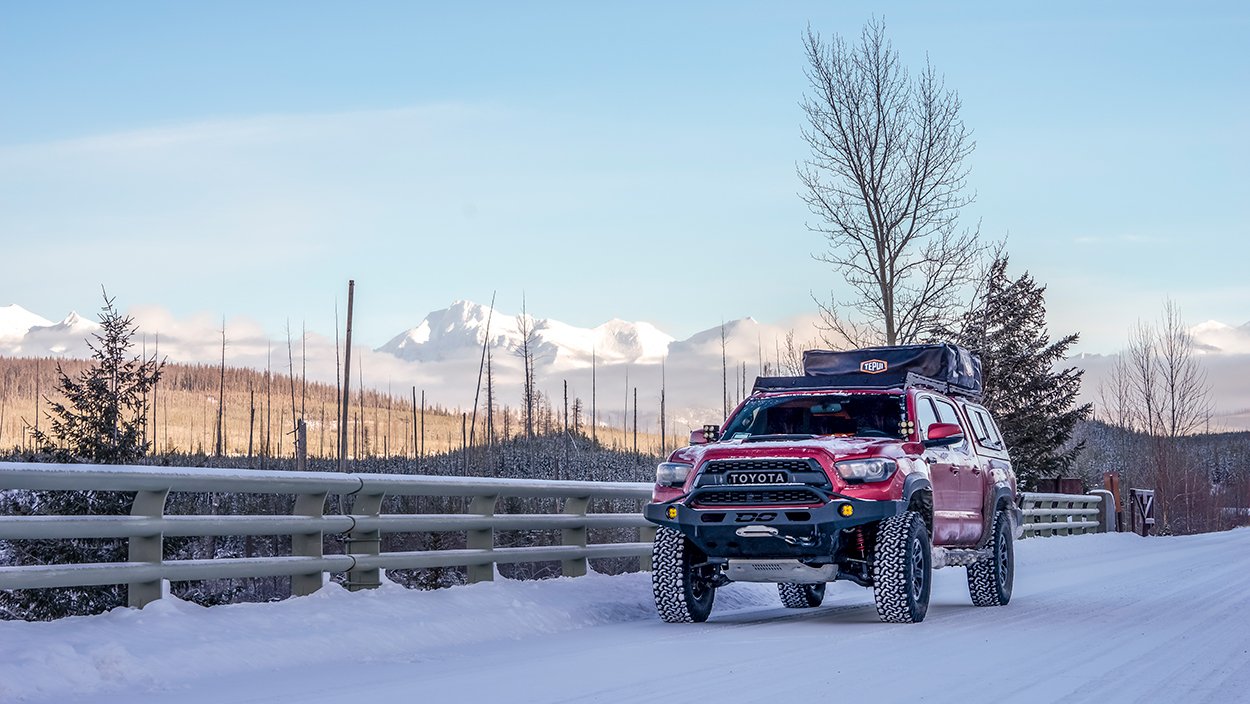 We ended up drilling a hole through the camper and the bedrail so it would never happen again. From there, I decided that now was the time to sell. The camper was basically brand new and I knew what I wanted to do.
I wanted to put my money down on a Go Fast Camper (GFC) and started the long wait time. GFC has a really long waiting list. Once you put down a deposit, be prepared to wait anywhere from 12-18 months, so get in line. You can head over to their website and put down a deposit here. With that timeframe in mind, I knew I wanted something in the meantime, and there are many other options to run.
Storage System + Bed Rack
At one point the truck had the following: 310 + Decked 210 + Prinsu Rack 65 + Tepui Tent 135 = 720 pounds.
That was with no gear! Add the gear and a rear steel bumper and the truck was an absolute slow driving death trap. It handled horribly and the braking was concerning.
The plan when I ordered the decked system was to use it with a bed rack. I wanted to keep my storage dry and secure, and the decked system is amazing at that. But then you add the weight of the tent and the bed bars, and it starts to get really heavy.
I will say, bed bars with a Decked system is pretty awesome. You keep your center of gravity quite low, and you have secure and dry storage.
The downside of a Decked system: it weighs a lot (210lbs), you lose a ton of depth in the bed, and then depending on how low of a bed rack you get, you end up with very little room to store things on top, between the tent and the platform of the Decked.
Weight is the Enemy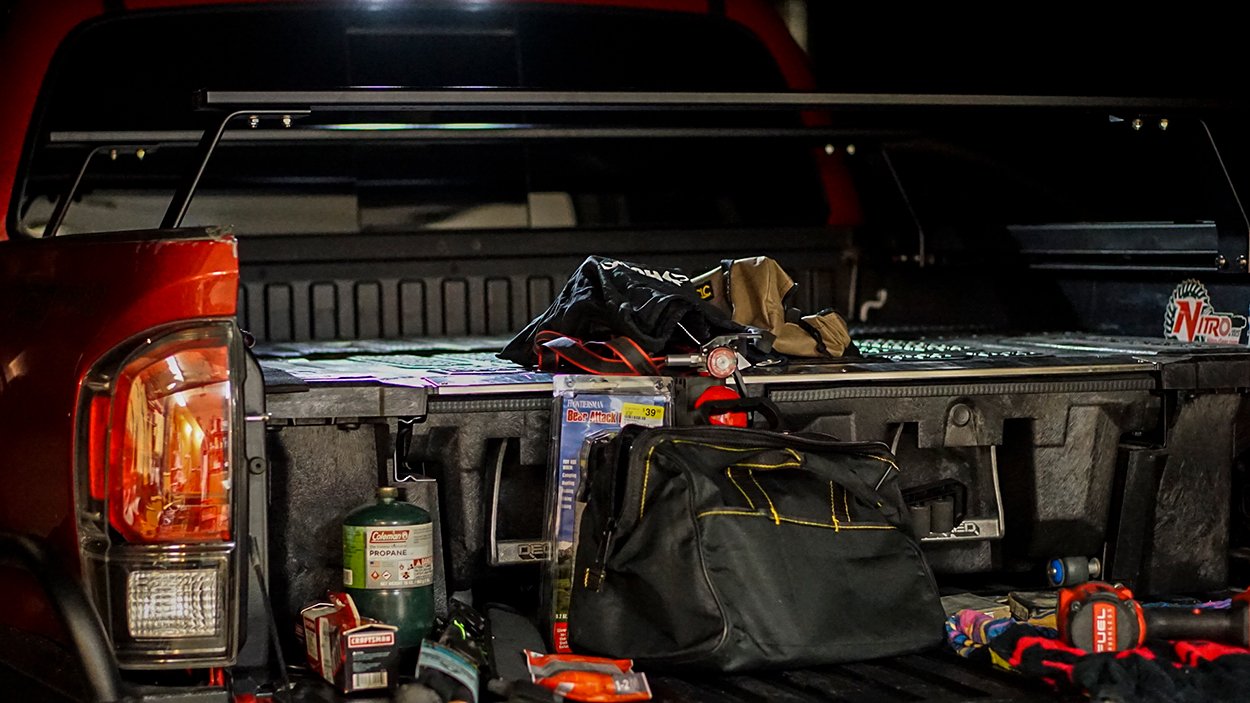 Are you starting to notice how often I bring up weight?
That's because it was and is one of the biggest misjudgments and misunderstandings of the Tacoma. Yes, it's a truck, but it's not a 2500 Cummins. Our trucks do not drive well when loaded up. Poor acceleration, poor braking, poor handling, poor MPG, and then, there's the plastic bed.
That's right, our bed is made of fiberglass. It's going to flex, bend, and spread apart. Especially when you start adding weight to the bed bars. A little bit of advice, invest in some bed stiffeners. There are a few companies out there that make them. My personal preference is the Total Chaos bed stiffeners. They extended the furthest up on the bed that they can, and I think that portion of the bed is critical.
Alright, at this point, the truck is equipped with a Decked storage system, Front Runner crossbars, more to come on these, and a 160 pound 3-4 person tent. This setup worked well, and I ran it for about 6 months. But I still wanted the truck to be lighter.
I ditched the decked system and decided to lighten the load even more. The truck drove so much better, I got most of the depth of my bed back (the tent still limited the height), but I no longer had secure storage. Every time I went to the gas station, I had to worry about some of my stuff being stolen from the bed. And it happened. During a trip, I ran inside to grab a pizza and when I came out my buddy heater was gone.
Not having secure storage in your bed is a real pain, and something you should consider if you intend on truck camping at all or find yourself hitting multiple stops on off-road trips. For reference, Truck Vault makes some really high-end security solutions for full-size and mid-size trucks like the Tacoma.
What's Best For You?
This leads me to my main point.
Which is a better option? A camper shell or a bed rack?
Better is relative, it really depends on how you intended to use your Tacoma. I can share with you that I have had experience with both and will give you an overview of each.
Bed Racks and Bed Cross Bars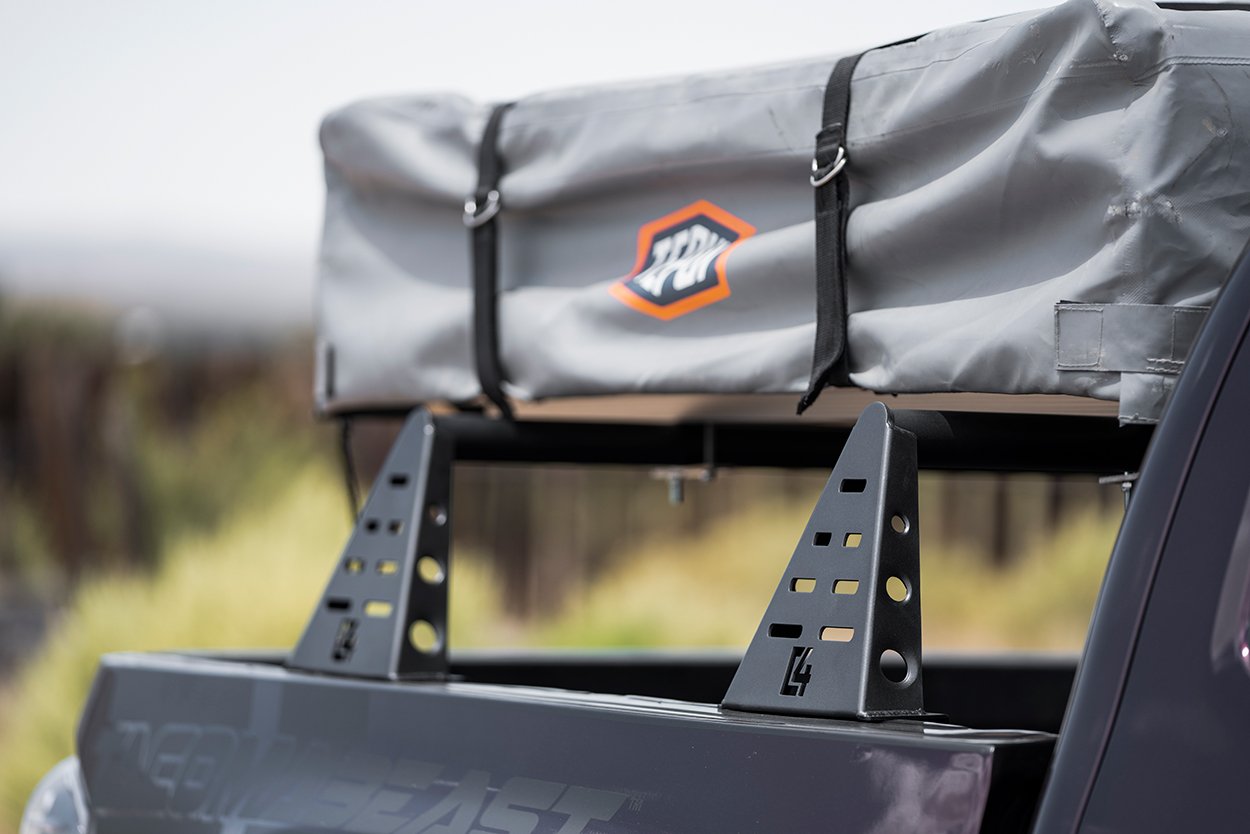 Pictured above is the C4 Fabrication Bed Bars for the 3rd Gen Tacoma.
Bed racks and bars are great for the type of driver who is looking for the most inexpensive option to mount a rooftop tent and some accessories, but may not need secure/dry storage.
The durability of the rack or the bars will not be an issue, but they will likely put pressure on your bed in a manner that will be tough on the truck, for example, pushing the bedsides further apart. That can be partially solved with some bed stiffeners, but also with the correct rack.
Leitner Designs makes a high-end bed rack they call their Active Cargo System that distributes a lot of the weight to the bed and also has built-in bed stiffeners. They also make some storage containers that mount to the sides of the rack. Remember to be mindful of the weight of the containers and how high up the weight of those items will be.
Bruteforce Fabrication out of California also builds a steel rack that mounts directly to the bed bolts. Wheel Every Weekend, another company out of Southern California, also makes billet aluminum security mounts that are compatible with most rack/bar systems. These will secure your tent with special hardware that can't be easily removed, can you say, theft prevention? They also secure your tent to the rack and prevent vibrating and rattles.
Bed racks, on the other hand, can create challenges if you are looking to have dry secure storage for your bed. You don't have any off the shelf plug and play options for a tonneau cover that will be compatible with a rack. You can go with the Decked option and some simple crossbars, but now you are pushing weight and not giving yourself much room in the bed.
Pros
Often lightweight
Easy to remove
Ability to add accessories/customize
Cons
Lack of secure storage in the bed
Lack of dry/dust-free storage in the bed
In summary, if you are looking to try a rooftop tent on your truck and want something that is removable, low cost, and secure, consider some bed bars from Relentless Fabrication or Front Runner Outfitters, with some Wheel Every Weekend security mounts, and some Total Chaos bed stiffeners.
If you are wanting to add some secure storage and have the budget, check out the Leitner Designs rack, Truck Vault systems, and their storage pods.
Weight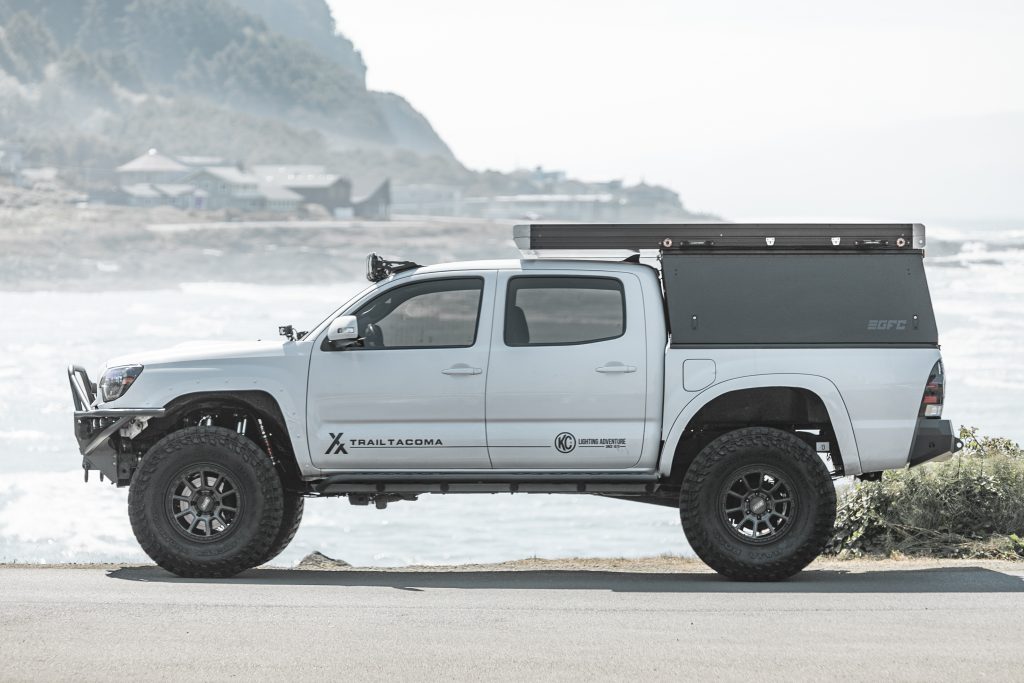 The lightest weight option that I have found is the Front Runner crossbars. They weigh 17.4lbs. These are going to struggle to hold larger tents, but for a 1-2 person tent, they work great.
If you want to beef things up a bit, check out the Relentless Fabrication bed bars. These weigh 45lbs, each bar is 15 lb, and are much sturdier.
You can also go with the modular and Leitner Designs Active Cargo, which weighs 85lbs, without any accessories. Add on the Gearpod XL, 48lbs, or a Gearpod 18lbs and it is a bit heavier but offers a few great storage options.
Durability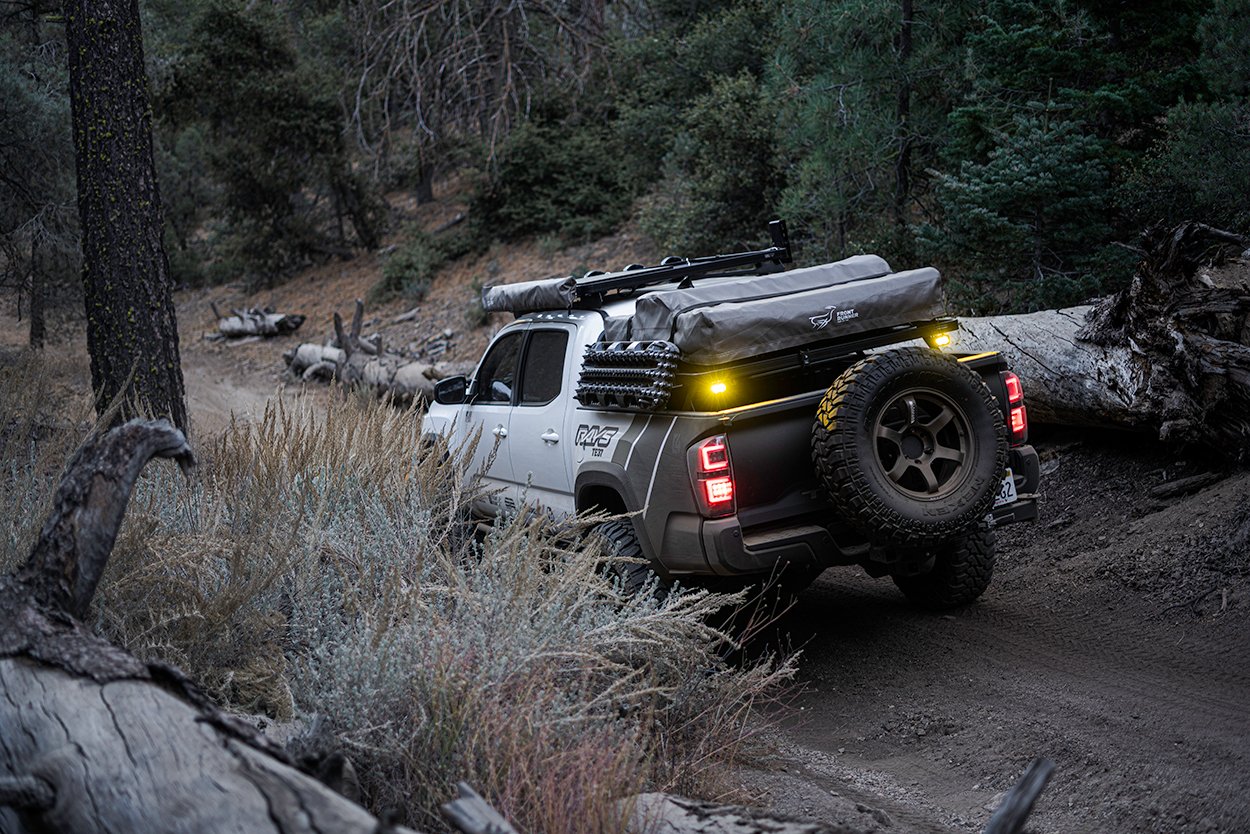 When thinking about the durability of a bed rack, it is quite simple.
Steel is strong and there is a smaller chance of failure, although welds can fail. You then have lighter options like aluminum. Again, very durable, not as durable as steel, but a slim chance of failure. That being said, it also depends on how much weight you are adding to the bed rack.
When I ran my Front Runner bars with 150lb tent, the aluminum flexed more than I would like and resulted in rattles on the trail. Steel won't have this issue. Additionally, consider the durability of the truck itself, and how the bars are mounted. Something that distributes weight to both the bed, bedside, and bed rail will be less harsh on your vehicle.
Cost
The cost can be all over the place, but you can find off the shelf solutions from $200.00 for a set of two bars, all the way up to nearly $2000.00 for the high-end racks.
The difference is typically associated with building material and expandability. The lighter material, aluminum, is going to cost more than steel, so just expect that difference. The more expandable the system is, like the Letiner Design option, the more expensive they will be.
Final Thoughts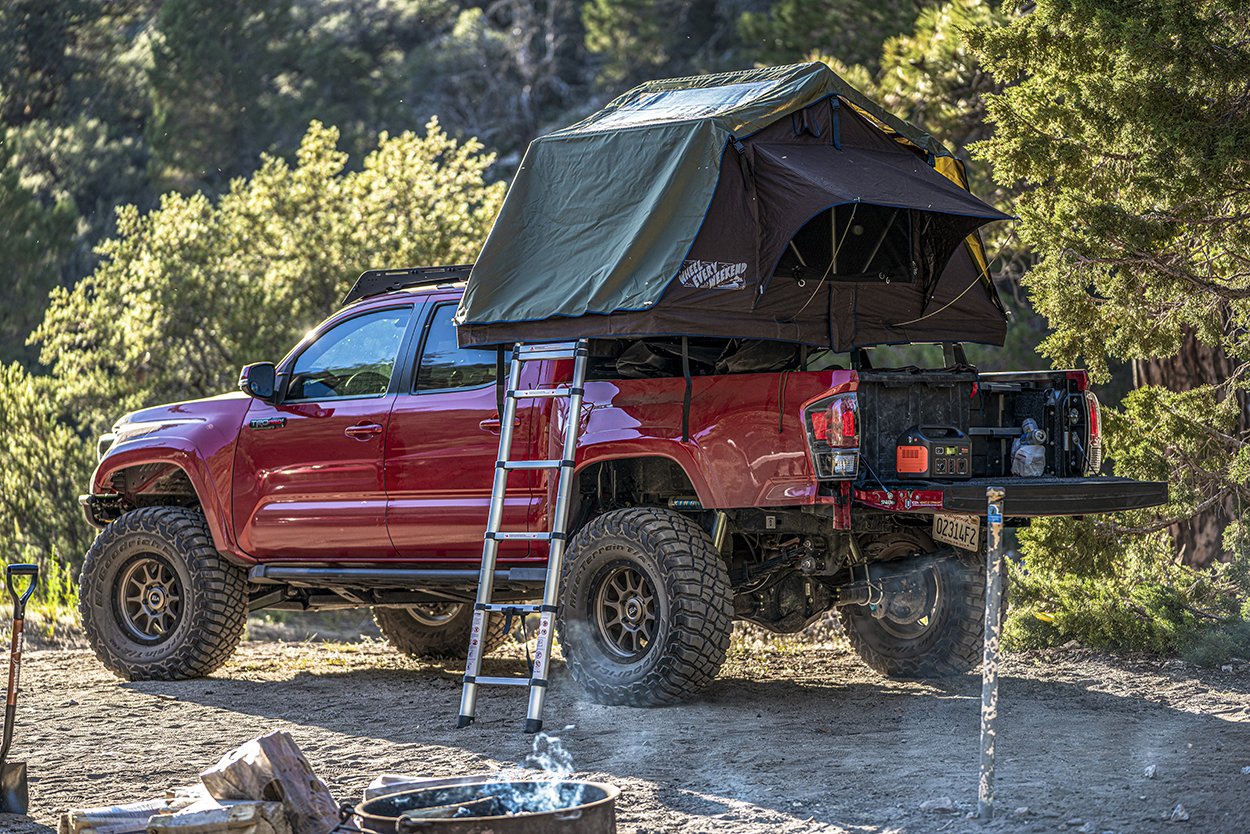 When running a bed rack I really liked the security hardware designed by @wheeleveryweekend.
These mounts are a little pricey, but that is because they are made of billet aluminum. These mounts are available for many bed rack options and styles and will not only make your tent very difficult to steal but its a much better fitment than any option out there. If you have ever hit a trail with a tent that squeaks like a turkey being choked, you know what I am talking about.
Lastly, while I was waiting for a Prinsu roof rack to arrive, I temporarily planned to use some Yakima bed crossbars.
These bars were on my truck for about 4 months before catastrophically failing, losing my tent and damaging my fiberglass camper. Yakima requested I send in the parts that I still had and determined that there was a failure on their end. They cut me a check to replace the tent, repair the camper and fully refunded me for the bars I had purchased. Impressive customer service!
Campers & Camper Shells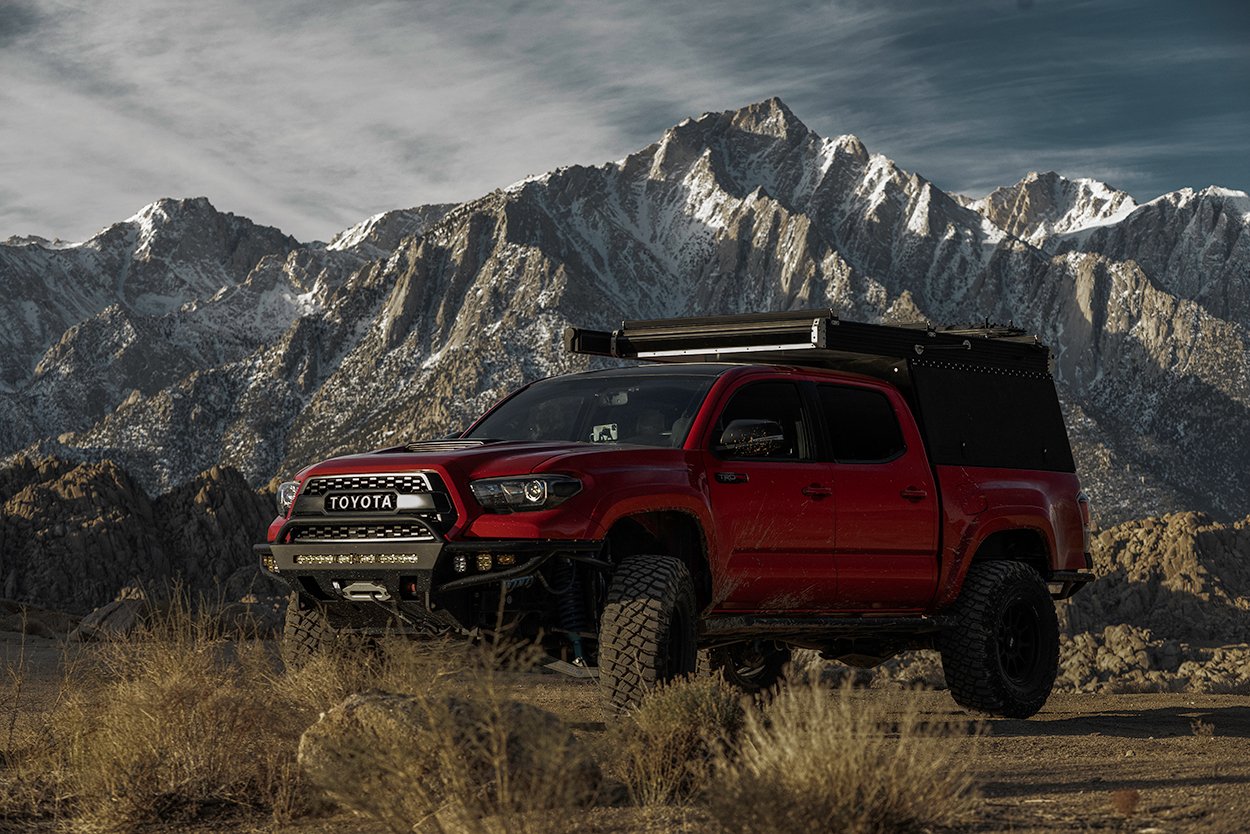 Similar to bed racks, you have a lot of choices for campers and camper shells. For the purpose of this article, I will stick to some of the more traditional options as well as some of the more innovative solutions on the market.
Weight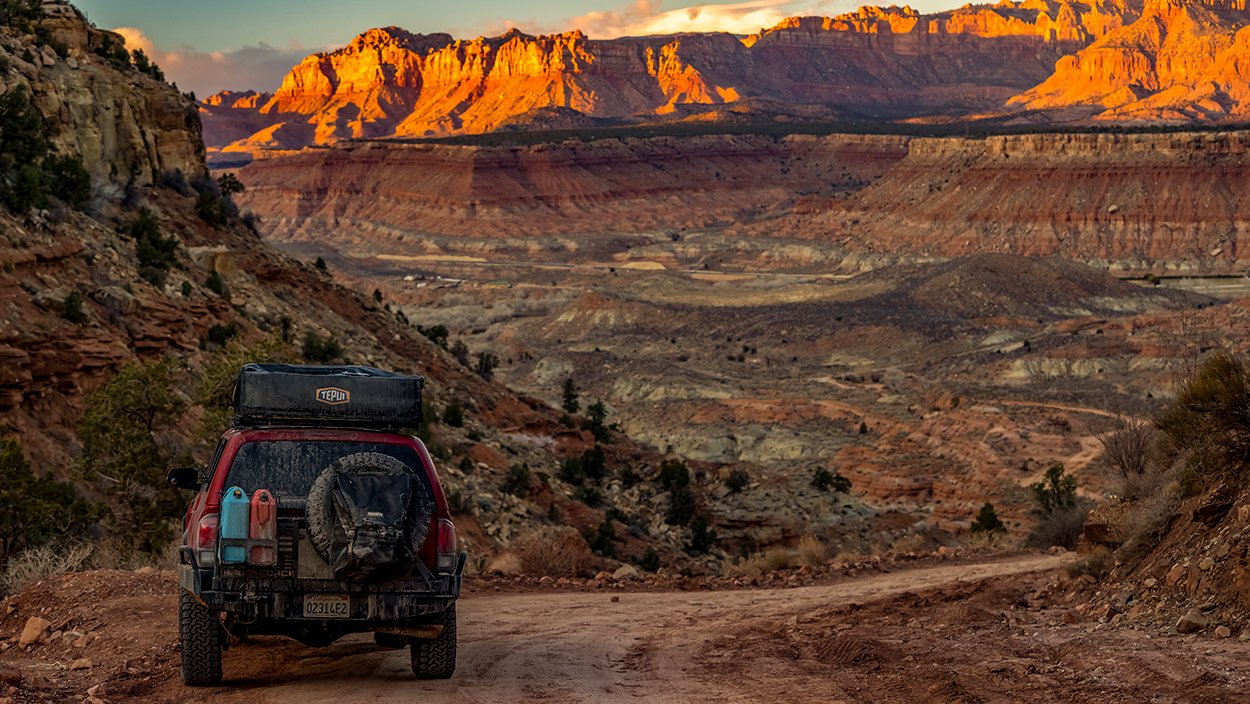 You've made it this far and here we are again, talking about weight.
A lot of the weight depends on the material of the camper you choose and if you go with a livable camper, the buildout that goes along with it. Most traditional camper shells will be fiberglass. There is also aluminum and the rare and elusive stainless steel. With all of these, you will also have a variation in price. Windows will usually add additional weight, as do accessories and roof racks.
Here are a couple of examples of each:
| Model | Material | Weight | Notes |
| --- | --- | --- | --- |
| RLD Design's | Stainless Steel | 165 lbs Short Bed / 185 lbs Long Bed (provided by manufacturer) | Unique in that it is stainless steel. Built very well with great seals |
| Alu-Cab Explorer Canopy | Aluminum | 125.663 lbs (provided by manufacturer) | If you are good with the aesthetics of this one, it would be my recommendation. It's lightweight and built well. |
| Snugtop Rebel w/ Wind doors and reinforced roof | Fiberglass (Honeycomb roof reinforcement) | 310 lbs (provided by dealer) | The shell I originally ran. I loved everything about it but the weight. |
| GoFastCamper | Steel Skeleton, Aluminum, Honeycomb | Weight 275 lbs (provided by manufacturer) | Checks off a lot of boxes for someone who intends to camp with their truck Long waiting list. |
| Vagabond Drifter | Aluminum, Honeycomb | 325 lbs | Like the GFC, Checks off a lot of boxes and is still lightweight. A little more expensive, but shorter weight list than GFC. It also has room for you to stand in while the bed is deployed. |
| Alu-Cab Canopy Camper | Aluminum | Weight 462.971 lbs (dry) / 551.156 (kitted) | Pricey at around $12,000 delivered but you are getting something that you can live in. Great quality and the additional weight is slightly offset by the replacement of the tailgate. |
| 4 Wheel Campers Fleet | Aluminum | Weight 1025 (dry) | Mansion for your truck bed. These things can be built out to have everything you would need to go full-time VanLife in a truck. #trucklife – HEAVY |
With a few examples above, you can see that weight varies dramatically depending on your selection.
Obviously, with durability and capability, you are going to find different weights as well. The main thing to consider here is what your intentions are for the vehicle. If you are looking to just camp and do some moderate offroading, any of these works. If you want to push the truck hard, go fast, maybe jump it a bit, you are going to need to lean towards something aluminum or stainless steel.
Durability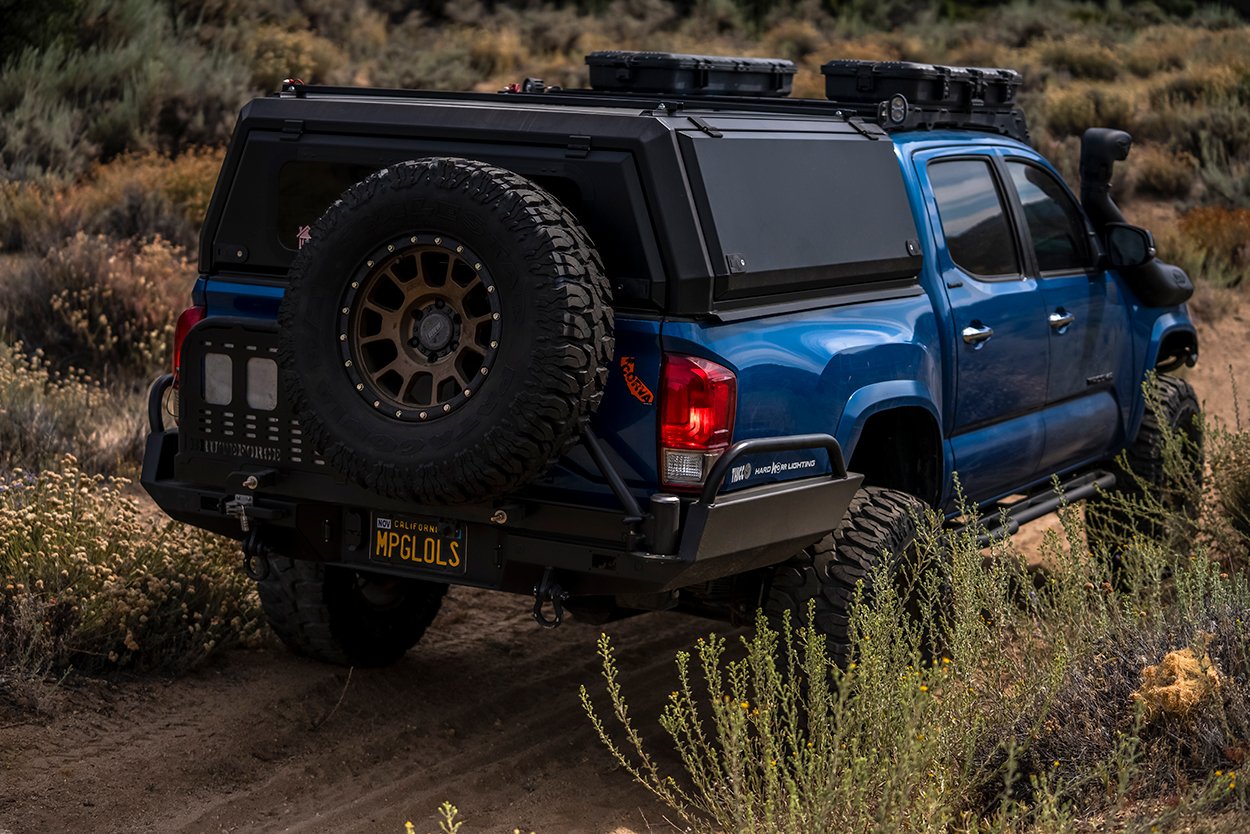 When it comes to the durability of campers, I have already shared with you my experience on a Snugtop. If you are cruising around at low speeds and not going over large drop-offs all of the options I mentioned above will be plenty durable.
If you are someone who thinks you may get into rock crawling or going fast, I would consider something other than the Snugtop, if you decide to put a tent on top.
I actually think that is one of the reasons my shell broke was because I added about 200 pounds on top of it, which I think the combination of the harsher driving and the weight is what ultimately caused it to fail. Plenty of people have done tough trails with all of the campers mentioned above and have been fine, but I don't want to worry about a camper shell while I'm going 50 mph over whoops or jumping the truck. I want to focus on other things that keep me safe and allow me to just focus on the action.
Cost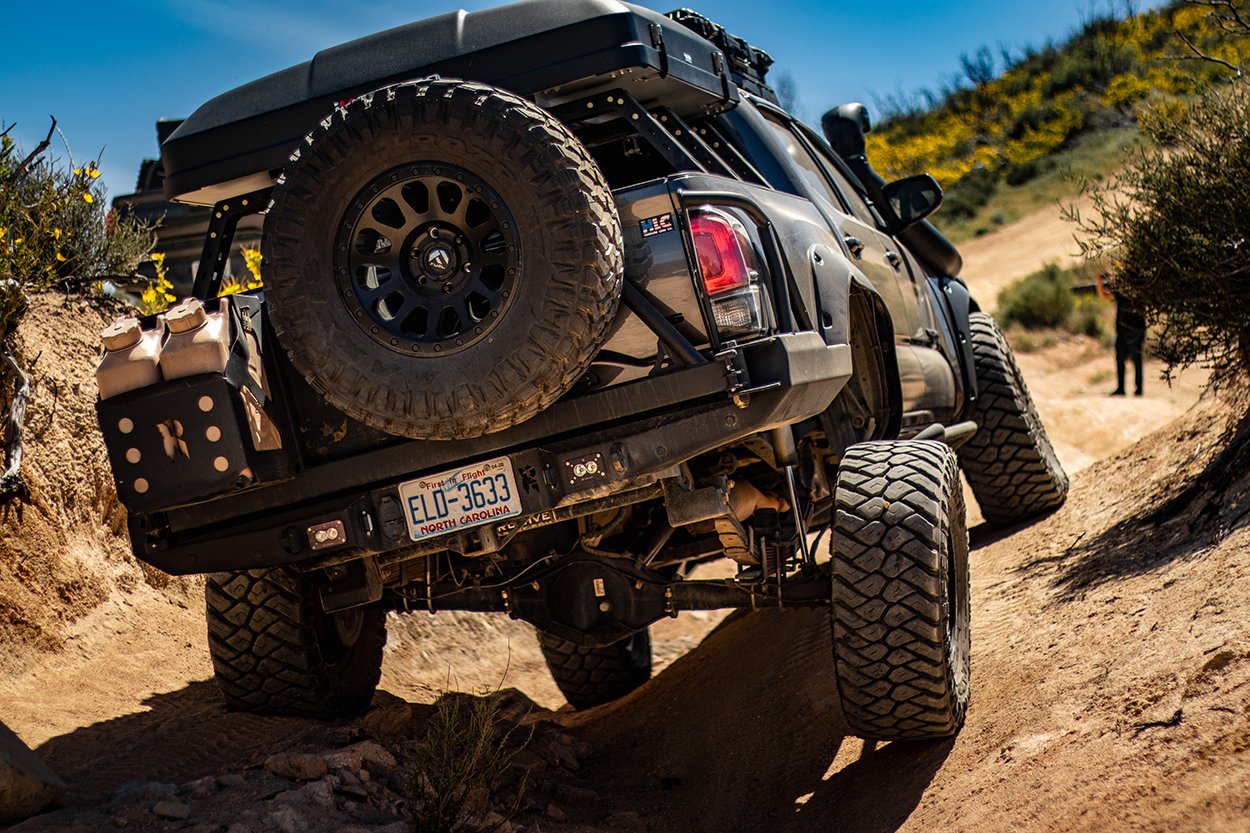 When I am negotiating deals at work, I often start with cost. I think it ends up being the most important thing when a purchase is made.
I don't care if the product cooks me a perfect omelet or gives my truck wings, if I can't afford it – it doesn't matter.
Traditional campers are going to be sold from about $1500.00 to $2500.00 on the high end with some of the nicer options. Once you start integrating tents, you start to get expensive. A GFC is around $6500.00 with no options, Vagabond about $7500, Alucab Canopy Camper $11,000 and a 4 Wheel camper is north of $15,000 and nearly $30,000 if you go full baller edition.
All of these prices sound crazy, but when you go for a Snugtop, buy a rack for it, and a tent, you are in the area of GFC pricing, which is what ultimately got me to purchase a GFC.
Final Thoughts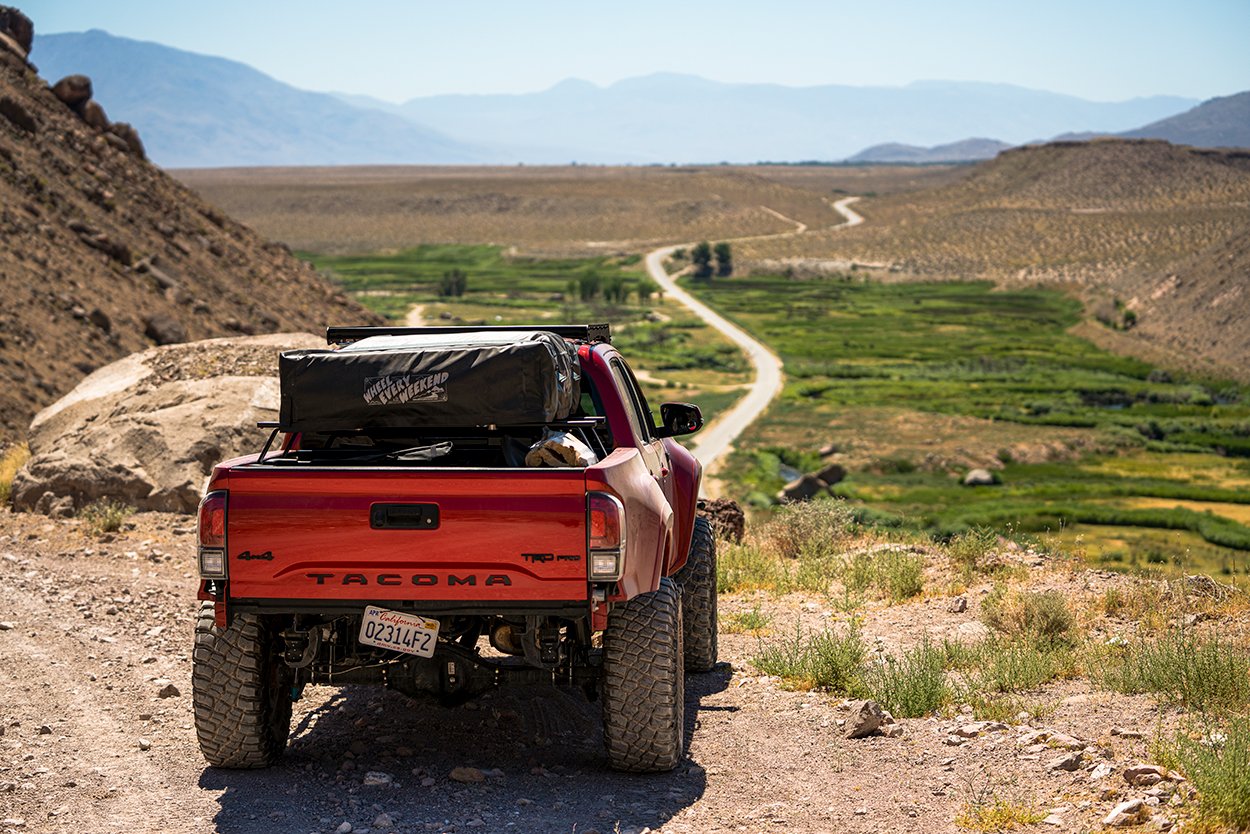 TLDR (Too Long; Didn't Read): If you want dry storage, a camper is a great place to start, but don't plan to sleep in it if you are average height or taller.
Be ready to spend a lot of money if you want something that is lightweight and durable, as the materials to build those campers cost more. If you don't need a camper, a set of load bars will do the trick.
I hope that helps some of your decide between camper shells, bed racks, and campers for your Tacoma. If you have any questions let me know in the comments section below.