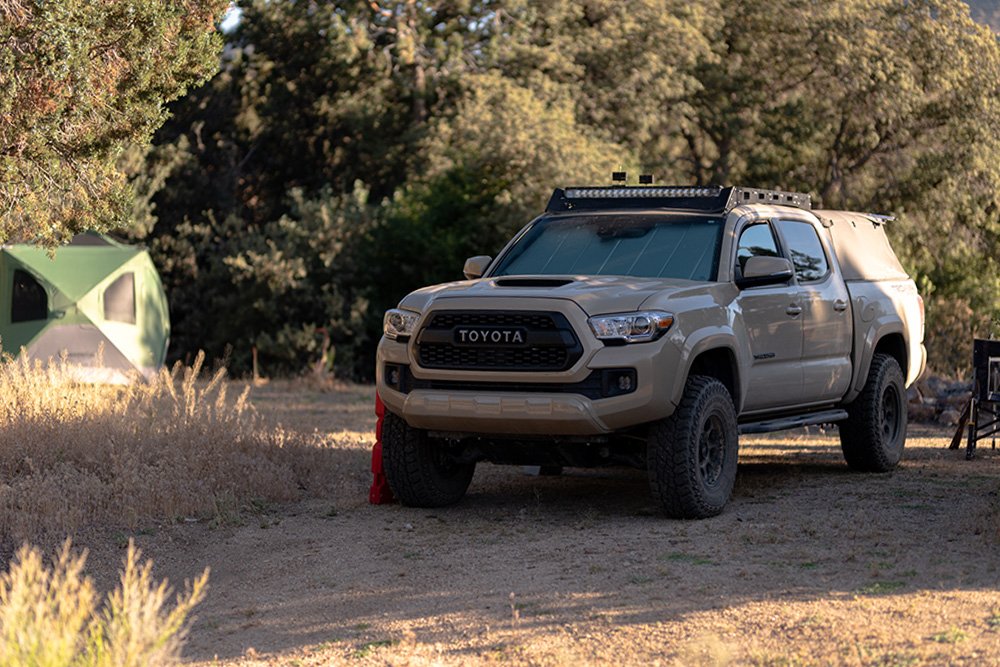 Softopper Soft Top Canopy Review for the 3rd Gen Tacoma
So you're looking for a good way to utilize your truck bed.
If you're still exploring the many ways to do this, you should also check out my article on the most popular ways to cover your Tacoma's bed. Also, Daniel wrote an in-depth article (Camper Shells vs. Bed Racks vs. Campers) on some of the options as well.
If you're settled on a soft top for your bed or are simply interested in how it works, keep reading. This is a detailed review of my experience with a soft top.
Options for Soft Top Bed Covers
There are a few soft top options out there (Softopper, Bestop, Fas-Top) and each provides something slightly different. I went with a Softopper for no other reason than I didn't know about the others at the time. But from my experience, and what I see from others now, I don't regret my decision or plan to change it.
The competitors don't seem to offer anything substantial in comparison to the Softopper. I personally dislike the windows on the Bestop, and the Fas-Top is $100 more expensive for seemingly no reason. But you can get a tonneau cover and soft top package from Fas-Top that work in conjunction. That might be a big plus for some.
I am going on two years of ownership with my Softopper and during this time it has been through quite a bit. From long highway trips to rough off-road excursions, from the blistering Las Vegas sun to freezing temps in the mountains. Despite all of this, my topper remains in perfect condition. It's a bit dirty but none of the trees or bushes that pinstriped my truck has managed to tear the topper.
Also, if you know nothing of the deserts in the Southwestern United States, the plants are out to kill (destroy your paint). Ultimately, the seams remain unfrayed, the zippers continue to zip, and the buttons still button.
Find It Online
Pros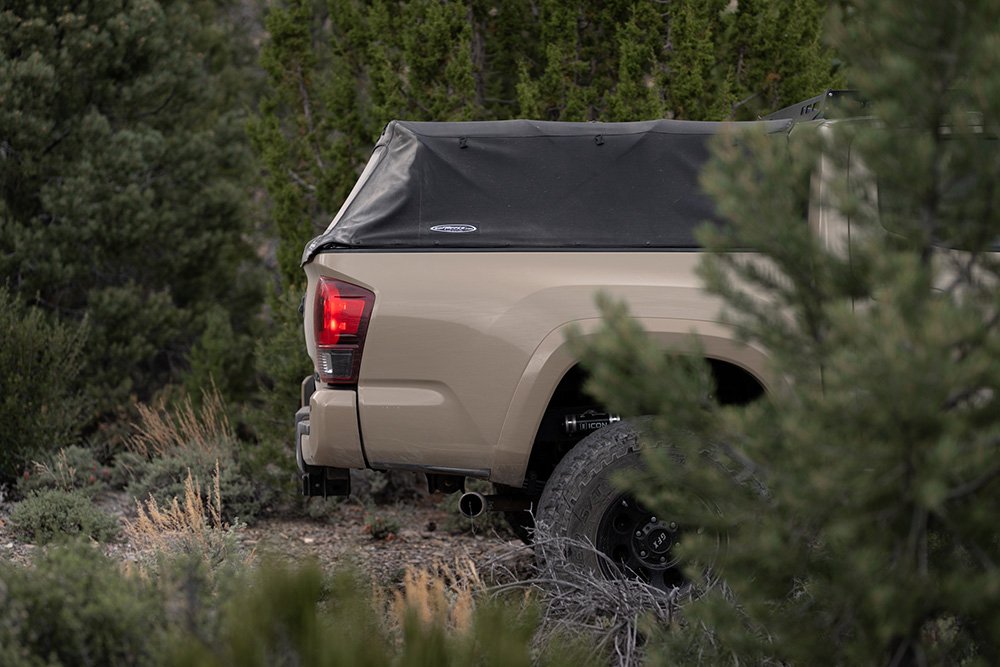 Let's go over all the advantages of a Softopper.
To start, the price point of any soft top is fair. They're less than most tonneau covers out there and offer more storage space. They're also a fraction of the cost of a new hardtop with just about the same gain in utility.
The Softopper is offered in black, tan, and grey. So no matter the color of your truck you'll be able to find something that suits it. The Softopper isn't just for Tacoma guys. They make a model that fits almost any manufacturer that produces a truck. Even the Ridgeline!
The quality of the Softopper is amazing as it's made from the same material as convertible car tops, so you know it's able to withstand the sun and inclement weather. It's meant to handle high speeds on the freeway as well. I've gone up to 90 mph and the topper has never budged. I will admit, the first time I put it on I was skeptical and a bit nervous. I even grabbed the Softopper and pushed it back and forth and the truck rocked with it as if they were welded together. No movement at all. I still do this every time I install the topper just to reassure myself.
As tough as they are, things happen and stuff breaks. If something were to happen to your topper there is no need to buy a new one. They sell individual replacement parts on their site. Along with that, you can find the mesh and tinted panels to replace the clear one it came with. They also offer accessories to transform your Softopper into a tent. Pretty rad.
Speaking of tents, if you're planning to go with a rooftop tent (RTT) and you're scratching out the idea of a Softopper because you think it won't accommodate, well, you're partially wrong. The Softopper itself won't support a tent. But there are a few companies that offer bed racks that work with your Softopper. One I want to mention is the soft top compatible UpTop Overland bed rack.
I don't personally own this bed rack (yet) but I've been looking at it a lot. It completely changed my mind from going to a hardtop to instead, keeping my Softopper and partnering it with an UpTop Overland rack. This way I can have the utility of a bed rack and the Softopper. Best combo since the A-10 and GAU-8.
Finally, the fabric of the Softopper is made in the United States and the canopies are cut and sewn in Boulder, Colorado. Boulder is also Softopper's base camp. Support local and U.S. made products!
CONS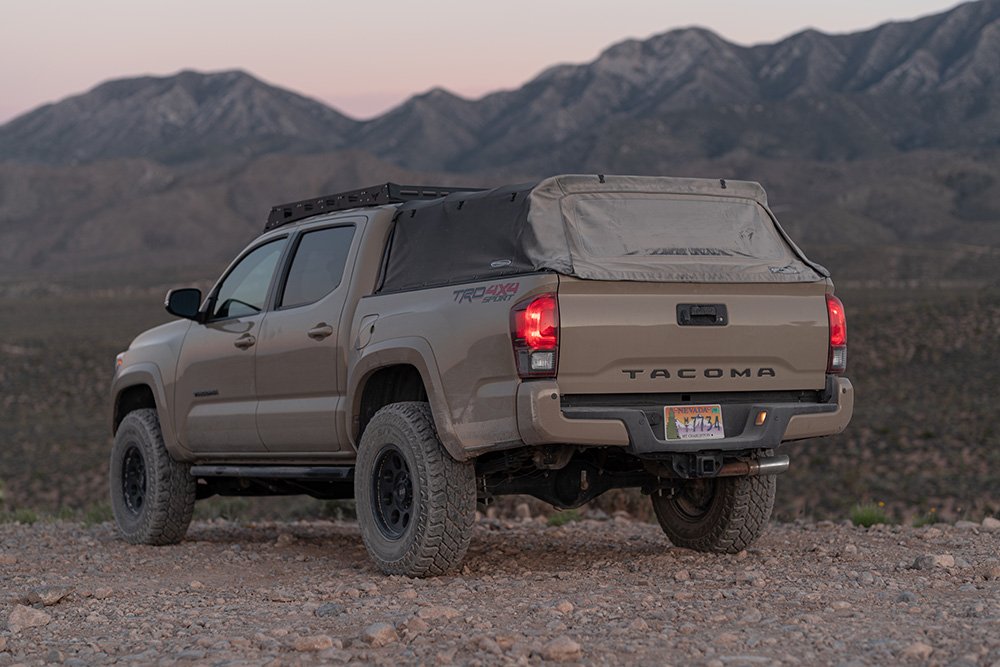 There are cons to a Softopper but they're few and far between.
For starters, it's clearly not as durable as a hardtop. The canopy can rip or tear, the edges can fray and there are a couple of other parts on it that experience wear and tear. Next, The topper does not weather seal your bed. That might be obvious, but it still needs to be pointed out. Some water will get in your bed but it's a very small amount. As long as the contents of your bed aren't susceptible to a bit of water, they will be fine.
On the subject of weather sealing, the strips of weather seal that come on the Softopper aren't that great. It's a foam strip and within a few uses, the foam completely flattened out and didn't do the job as well as it did when I first installed it. However, the fix for this is easy. I went to Home Depot, got a rubber weather seal strip, some Goo Gone, a razor and some Gorilla Glue.
I removed the factory weather sealing with the razor. Then, I took off all the sticky gunk left behind with the goo gone. Lastly, I applied the rubber strips of weather seal with the gorilla glue. I've had it like this for 6 months now and it's much better. That is the only improvement I have made to my topper.
The last con on my mind is security.
As with a tonneau cover or any soft covering for a vehicle, there's a risk for theft. There's no way to lock and secure a Softopper, and even if there was, all it takes is a sharp object to gain entry. To help a little bit, I lock my tailgate. Most of the stuff that goes into my bed is bulky. Unless the thief knows how a Softopper works, they will be spending some time trying to figure it out. It's my hope that this will be enough to stump them and move on to an easier target.
Obviously, it's not impenetrable though.
Final Thoughts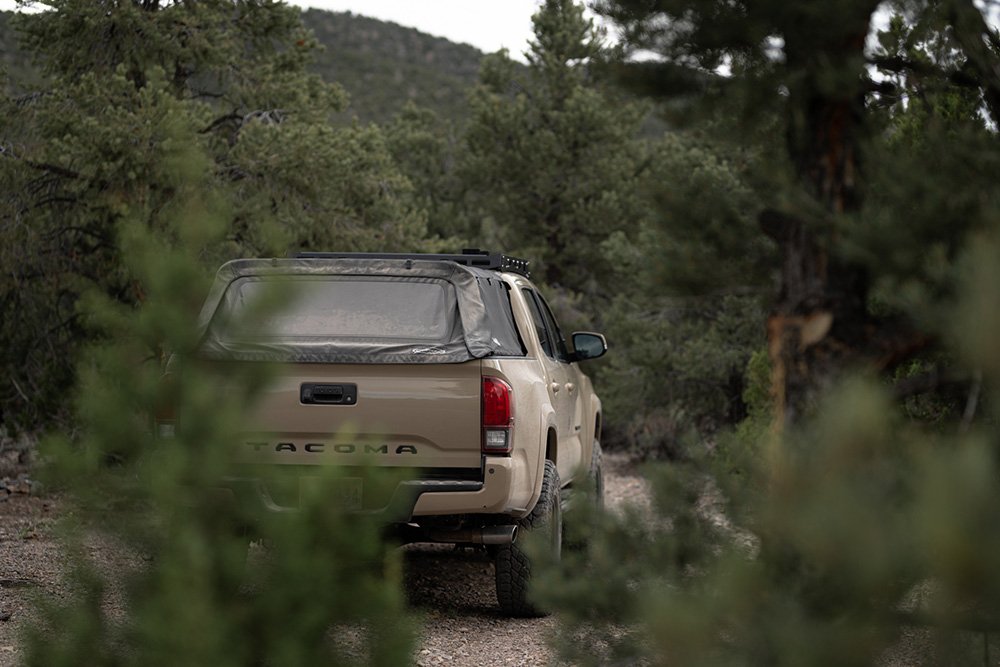 In summary, the Softopper is a fantastic product.
I absolutely love it, I recommend it to any of my truck friends thinking of ways to utilize their bed, and I am recommending it to you now.
I personally think it's the best option to gain the functionality of a cab height cover for the bed while keeping the truck lightweight and nimble.