Let's Face It. Your 2nd/3rd Gen Tacoma's Bed Needs More Light! Meet Matt Gecko's LED Bed Light Kit
Lights are arguably one of the most popular modifications for our trucks.
From upgrading headlights to adding light bars, ditch lights, rock lights, and more, almost all of us have done at least one lighting upgrade to our rig. Each of these lights serves a purpose, but also, they just look plain cool. One lighting upgrade that I think is often overlooked is bed lighting.
The stock cargo light works, but barely. It's dim, hardly noticeable in daylight, the switch is inconveniently located in the cab, and it does absolutely nothing if you have a tonneau cover or bed rack that's in use.
My solution to this problem is the LED Bed Light Kit from Matt Gecko LEDs. The kit provides three LED strips that install under the rails and are hooked up to a switch in the bed. It has been extremely useful as I have the factory tonneau cover on my truck. Having installed this kit, I can easily say, it has been one of my favorite upgrades.
Even my wife loves it! It provides all the light I need, regardless of the time of day, all at the push of a button right inside the bed! So whether you have a bed rack, tonneau cover, or a wide-open bed, I'd highly recommend adding this to your list of upgrades.
Find It Online
2005-2020 Toyota Tacoma Matt Gecko LED Bed Light Kit: Check Price
What Included With the Kit?
The kit comes as a plug-and-play setup with just a little bit of extra hands-on work that needs to be done. It is a project that even the most novice DIY person could complete in just a couple of hours.
Although I installed this kit on a 3rd Gen Tacoma, there is no difference between the 2nd and 3rd Gen. The parts and install are identical.
Kit Contents
Pre-Wired Waterproof 5050 LED Strips (x3)
28' of Wiring
Waterproof Switch
Inline Fuse & Fuse Cover
Heat Shrink Connectors
Adhesive Squares
Zip Ties
Install Overview
This may seem a little daunting for a beginner, but trust me, the in-depth instructions and installation video lead you through each and every step. The best advice I can share is to give yourself time. Other than that it's just drilling a couple of holes and connecting some wires. Pictured above, you can see the waterproof push button switch, which I mounted next to the outlet in the back of my truck be for easy access.
I made sure to take my time lining up the LED strips so they were perfectly centered on the rails, but I'm a very particular person when it comes to detail. Wiring everything together and grounding it all under the bed was very cleared spelled out and the kit is designed so that the installer has very minimal 'wiring' to do.
The most time-consuming part for me was running the power wire up under the truck into the engine bay. It was very tedious to feed the power wire along the existing wire loom. Maneuvering the coil of wire around the frame and other parts, zip-tying it, all while lying on my back under the truck and holding a flashlight was not an easy task.
My second piece of advice, try to get your hands on a mechanic's creeper! The final step was running the wire around the engine bay and getting it connected to the battery. All in all, it was a very fun project and really can be done by the most beginner DIY-er.
Pros & Cons
Pros
My truck has a tonneau cover on the bed 90% of the time, so the little cargo light does zilch for providing me with adequate light when I need it. This kit does everything I need from a light source in my truck bed.
The lights are always hot, meaning that they have power all the time whether the truck is on or not. I don't have to worry about turning the truck on auxiliary or replacing batteries. The plug is conveniently installed in the bed so you can turn it on without going to the cab. The best part is that these lights are low profile. They fit right into an area that is always out of the way but still provides adequate lighting for the whole bed.
These lights are super bright, and I even went with the warm white look. You might even say they are too bright, but who am I kidding. Can lights ever be too bright?
Cons
None! Seriously there is nothing that I don't like about this kit.
I was a little nervous that I was wiring it up on my own but I trusted they were telling the truth when they said anyone could do it.  If you have any reservations on whether you think you could tackle this job make sure to check out the install video linked below.
Final Thoughts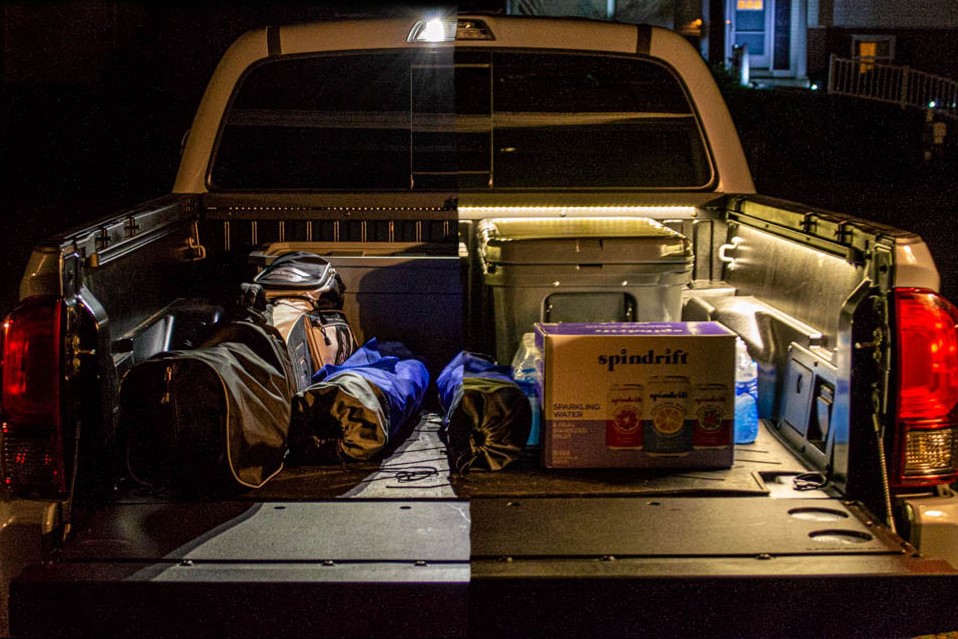 If you are in the market for some additional lighting for your truck bed, this would, hands down, be my top pick. Above, I combined a before and after images to give you a better idea of the difference between the OEM bed lights and the new Matt Gecko kit. Huge difference! It's even more noticeable in person.
I love that the switch is located in the bed. I've had my bed packed full with the tonneau on and I can still reach the switch. The install was actually fun to tackle and was well within my ability since they make the kit super simple to install. I promise this project is doable no matter your skill level.
By the way, did I mention the lights are super bright? There isn't one nook or cranny in the bed that isn't lit up when they are on. In my opinion, you will get plenty of use from these lights whether you use your bed for everyday chores or hauling gear for a weekend in the wilderness. I use mine every chance I get!
Install Video