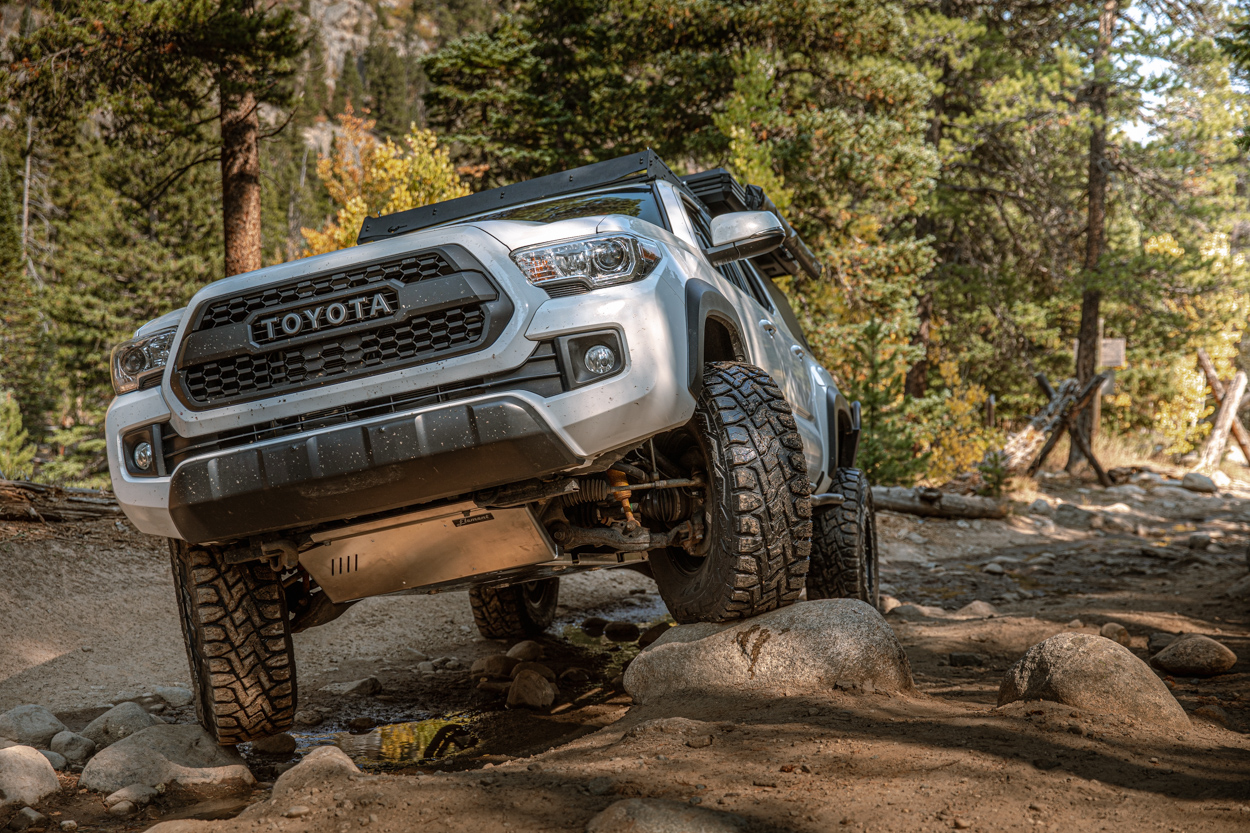 Top Skid Plate Options by Style, Design & Material Types for the 2nd & 3rd Gen Tacoma
If you're anything like most of us, you've spent some time exploring various armor modifications for your Tacoma. It's likely you've spent quite a bit of time going through posts literally weighing (steel vs. aluminum) your options. With skid plates, like many other mods, it can be difficult to explore all of your choices in one place.
We've put together this buyer's guide so all of the best and most popular skid plate options could be easily found and compared in one place. No more spending hours online, struggling to determine what's best for your specific Tacoma build. The main purpose of this guide is to make your life easier.
The various options for Tacoma skid plates can be a bit overwhelming. This article should help to educate you on the different types of skid plates and materials available for the 2nd & 3rd Gen Tacoma. In case you didn't know, 2nd Gen refers to Tacomas from 2005-2015 and 3rd Gen to Tacomas from 2016 to 2022 and beyond.
Determining what type of skid plates you need for your truck will vary from person to person. Will your truck see mild off-roading, will you hit big rocks, are you dragging metal across big obstacles? Maybe you're more of a weekend overlander or car camping explorer who likes to go the distance and won't necessarily be abusing their truck as much.
From complete undercarriage skid plate packages to ABS sensor guards, this article will help prepare you for making the tough decision of which skid plate setup works best for you, your Tacoma build, and your style of off-road travel. We'll cover materials, prices and more. Not all companies offer skid plates for both generations of Tacoma, but we've made sure to link to all the relevant websites.
Let's get started by breaking down the material choices.
Choosing Materials
Now that you've decided you're going to invest in some skid plates for your Tacoma, it's time to decide what material is best for your build and the type of off-road travel you'll be doing. The two main options to choose from are steel and aluminum. Check out this post – steel vs. aluminum skid plates.
Before deciding what company to go with, you want to decide what material you'll want to use. Unfortunately, not every company offers both materials. It might be wise to choose a material, and then figure out which companies you will or won't be able to buy from. This will allow you to weed out the options that won't work in your scenario.
The following two sections will briefly outline your choices and the differences between the two metals.
Aluminum
We'll begin weighing in aluminum.
The lightest of the two types of materials as well as the more expensive of the two. One of the biggest advantages of aluminum is weight savings. Aluminum skid plates can weigh up to half the weight of their steel counterparts and that is one of the biggest factors to consider, especially when looking at a complete skid plate package.
Weight
Weight is a huge factor because when you start adding armor, gear, or otherwise, the pounds quickly start to add up. The idea is simple, the more weight you have, the tougher it will be for the driveline to handle the weight, and this will ultimately affect driving characteristics and handling both on and off-road.
The main idea with keeping the weight down is to not exceed the Gross Vehicle Weight Rating (GVWR) of your Tacoma. The 3rd Gen has a GVWR of 5600lbs and the 2nd Gen 5000-5500lbs. The closer you get your Tacoma to this number, the more you significantly impact the performance of your Tacoma. Ideally, you want to be well under the GVWR and aluminum skids are one way to do so. Keeping the overall weight down also keeps the gas mileage up. That's just logical. The less strain, the less fuel consumption there is. Aluminum is much more economical in that sense.
Strength
A big question you might frequently hear about aluminum is strength. It's no secret that steel will hold up better to abuse on the trail. The real question is how much abuse are you planning to subject your skid plates to? If you're an occasional weekend wheeler, you'll stick to mild to moderate trails and service roads, and you don't plan on bashing your skids repeatedly, aluminum is more than likely enough for your situation. There's no need to carry around all of the excess weight if you're not going to use it. Keep in mind that one big hit with aluminum can and more than likely will destroy your plates. Aluminum skid plates are not designed for guys who wheel hard and often.
Application
The second issue, again, refers to those who are wheeling super hard. Aluminum is a softer metal; it's much easier to deform than steel. In that case, aluminum is also at a disadvantage because impacts tend to "stick" more with aluminum than with steel. What that means, in simple terms, is that aluminum skid plates, due to their softness, grab onto rocks. There's more friction when compared to steel. In contrast, steel skids don't bite as much, they slide over big obstacles like rocks. This is super advantageous when you're, say, crawling through a big rock garden. The increased friction between the rock and the aluminum could reduce momentum and ultimately make it more difficult to traverse an obstacle.
Now, this isn't meant to indicate that aluminum is weak. It is still plenty strong for mild very mild off-roading, and even the weakest aluminum skid plates are better than the ones that are factory, which are made from very thin steel. As I said, unless you're beating on the truck on a routine basis, aluminum will do just fine. Finally, aluminum is much more resistant to corrosion than steel. Even left bare, you won't experience much corrosion if any.
If you do decide to go with aluminum, know that skid plates retain their value fairly well and that you should be able to get a good price for your old skids if you ever do decide that you need more robust protection.
Pros
Lightweight
Less impact on MPGs
Corrosion-resistant
Cons
Typically pricier
Not as strong
Increased friction over obstacles
Softer material compared to steel
Steel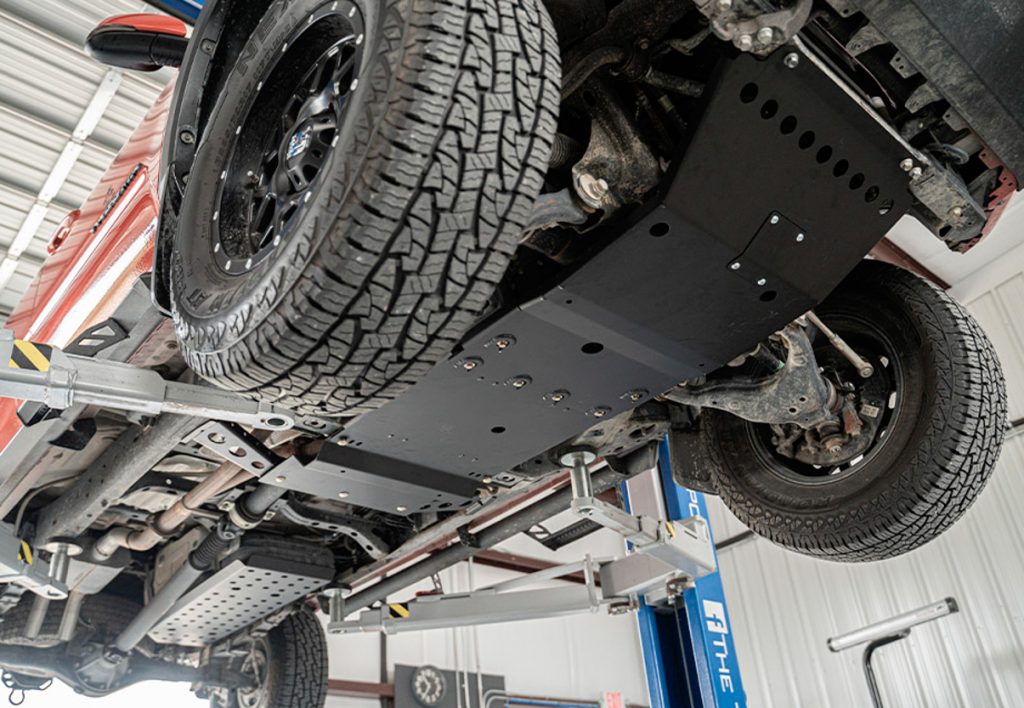 Pictured: Cali Raised LED Complete Skid Plate Collection
Now onto the steel option. Some of this may be a repeat of the information above.
Weight
Compared to its counterpart, steel is the heavier of the two. Again, the biggest factor here is exceeding your GVWR, reducing MPGs, and potentially needing to upgrade your suspension. We already touched on the GVWR and MPGs, but not on the weight capacity of your suspension.
As you might know or have seen, by the time you add a bigger battery, a front bumper with a winch, lights, drawers, bed racks, sliders, and full skid plates, your suspension will begin to sag. That will ultimately affect your ride height and comfort. This will likely mean that you'll need springs that are better suited to handle the extra weight. Something to think about. As you can tell, weight is a subject that you really can't get away from. Weight is often one of the more important items everyone should consider.
Strength
If you're someone who is super friendly with the skinny pedal or just looking to wheel your Tacoma suer hard, steel is the option for you. Steel skid plates can take one heck of a beating without deforming and they give you peace of mind. Steel is undoubtedly the choice if you're looking for maximum protection and minimal worry.
We touched on MPGs, but I do want to clear something up. Will the excess weight really affect MPGs that much? The simple answer is not really but possibly. If you're not careful, the weight adds up faster than you think, and most people forget to account for not only the weight of their armor and accessories but also their gear. If you're packing your truck for a long trip and to be self-sufficient off the grid, you can easily be over the GVWR.
Application
Finally, a downside to steel is that it rusts. No secret there. Now, steel skid plates tend to be 3/16″ thick, which doesn't rust as quickly as you might imagine. The key here is proper preparation and coating, whether that be a DIY project with rattle-can spray paint or a professional powder coat. Just be aware that steel skid plates require more maintenance or at minimum, good preparation. If you're interested in painting your own metal parts, we did a detailed guide for prepping and painting raw armor.
All of that being said, you should be prepared for making the right decision for yourself and your rig.
Pros
Usually cheaper
Stronger than aluminum
Less friction, slide better over obstacles
Cons
Much heavier
Expect some sort of corrosion or rust
More impact on MPGs
Skid Plate Types – 2nd & 3rd Gen Tacoma
Front/Engine
Transmission/Mid
Transfer Case
Gas Tank
Rear Differential
Lower Control Arm
Rear Shock
ABS Sensor
E-Locker Motor
Front/Engine Skid Plate
Top Brands: 
The front skid plate, otherwise known as the engine skid plate, is one of the best places to start. It's no secret that the engine and the oil pan are some of the most vital components of your truck. If one of these gets damaged, there's no fixing it on the trail – and that can get costly, quick.
The front skid is another one of the low points of the undercarriage, and because of that, it's the most likely to take damage. That being said, do not overlook the importance of upgrading your front skid plate. The factory skid plates do the job if you're going to stick to the pavement, but they're very thin and crumple easily under loads that you might see on the trail. The coverage from an upgraded skid plate is usually better than the OEM option, so you can be sure any and all debris will have a deterrent from entering your engine bay.
If you have to pick just one skid plate, we recommend that you get a front skid. It's the best place to start and will give you the most vital protection out of all the skid plates on this list.
| Brand | Material | Steel (LBS) | Aluminum (LBS) |
| --- | --- | --- | --- |
| Front/Engine | | | |
| C4 Fabrication | Steel | 62 | N/A |
| RA Motorsports | Aluminum | N/A | N/A |
| CBI Off-Road | Aluminum & Steel | 85 | N/A |
| RCI Metal Works | Aluminum & Steel | 47 | 22 |
| Victory 4×4 | Aluminum & Steel | N/A | N/A |
| Expedition One | Steel | 50 | N/A |
| All Pro Off-Road | Aluminum & Steel | N/A | 22 |
| M.O.R.E Off-Road | Aluminum & Steel | 61 | 29 |
| 4x Innovations | Aluminum | N/A | N/A |
| Mobtown Off-Road | Aluminum & Steel | 64 | 28 |
| Ricochet Off-Road | Aluminum | N/A | N/A |
| OK Expedition | Aluminum | N/A | 28 |
| TRD Pro | Aluminum | N/A | 27 |
| Armor Tech Off-Road | Aluminum | N/A | N/A |
Mid/Transmission Skid Plate
Top Brands: 
The middle part of the belly skid plate puzzle is the mid, or more commonly known as the transmission skid plate. Almost always extending from the front skid plate, it protects the transmission area between the engine and the rear transmission cross member right before the transfer case. The sole purpose of the transmission skid is to protect vital transmission components as well as the pan from any potential damage from the trails.
Having a damaged transmission on the trails can be detrimental and will most likely lead you you being stranded or at the mercy of a difficult recovery. On the lower end of the pricing spectrum of skid plates, it is a smart idea to get yourself a transmission skid and pair it with the front skid as well as the transfer case, completing the full body undercarriage. That will leave you to not enjoy your day on the trails without worrying about major damage.
Note: Some companies forego a mid/transmission skid plate, which would be one piece of a complete three-piece package, and instead, they make a full package that only consists of two. So depending on which company you go with, there might only be two pieces instead of the typical three.
| Brand | Material | Steel (LBS) | Aluminum (LBS) |
| --- | --- | --- | --- |
| Transmission | | | |
| C4 Fabrication Rear Skids | Steel | 94 | N/A |
| RA Motorsports | Aluminum | N/A | N/A |
| RCI Metal Works | Aluminum & Steel | 35 | 18 |
| 4x Innovations | Aluminum | N/A | N/A |
| Ricochet Off-Road | Aluminum | N/A | N/A |
| Mobtown Off-Road | Aluminum & Steel | 45 | 18 |
| All Pro Off-Road | Aluminum | N/A | N/A |
| Victory 4×4 | Aluminum & Steel | N/A | 18 |
| OK Expedition | Aluminum | N/A | N/A |
Transfer Case Skid Plate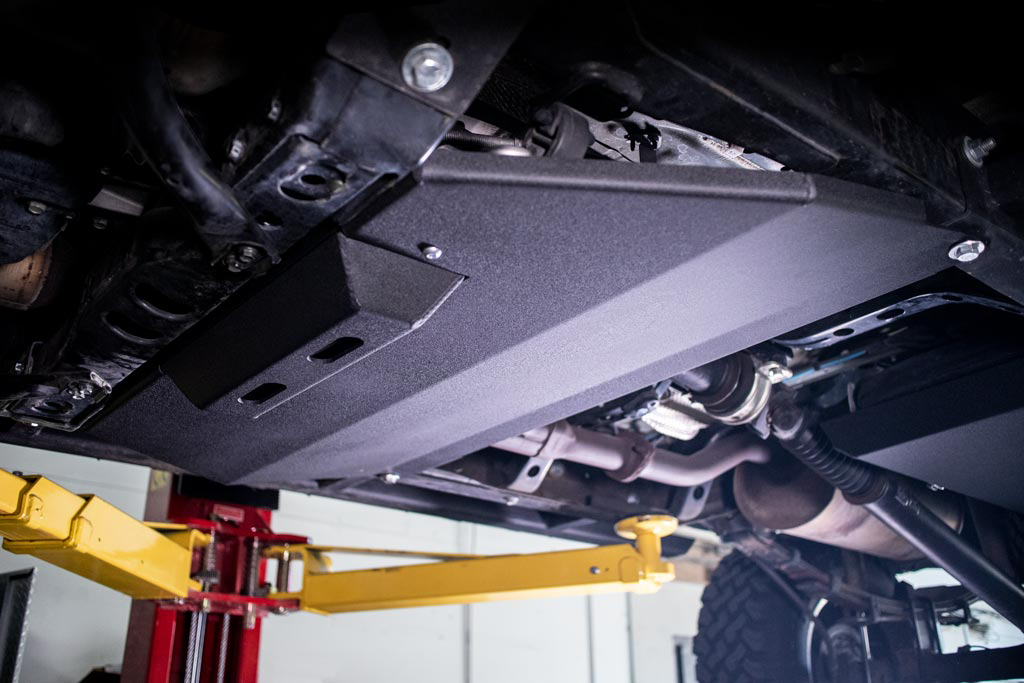 Top Brands: 
The final piece of the complete skid plate puzzle is the transfer skid plate. This will usually attach to the front transmission cross member and then to the rear of the frame which will be behind the transfer case. This skid plate will protrude out and away from the frame, acting as an additional cross member. This protects not only the transfer case but the low-hanging portions of the exhaust in the middle of the truck.
Adding this skid plate to your build will complete the full undercarriage coverage which will ensure less stress when it comes to unwanted damage. It will create a nice sleek and smooth design on the underside of your truck which will help when sliding or rubbing up against rocks.
Picking yourself up a matching set from front to back will not only look awesome, but it will also keep it sleek and universal so you won't have to mismatch different company skids and worry about the fitment.
| Brand | Material | Steel (LBS) | Aluminum (LBS) |
| --- | --- | --- | --- |
| Transfer Case | | | |
| C4 Fabrication Rear Skids | Steel | 94 | N/A |
| RA Motorsports | Aluminum | N/A | N/A |
| RCI Metal Works | Aluminum & Steel | N/A | N/A |
| Victory 4×4 | Aluminum & Steel | 60 | N/A |
| M.O.R.E Off-Road | Aluminum & Steel | 45 | 20 |
| 4x Innovations | Steel | N/A | N/A |
| Mobtown Off-Road | Aluminum & Steel | 45 | 24 |
Gas Tank Skid Plate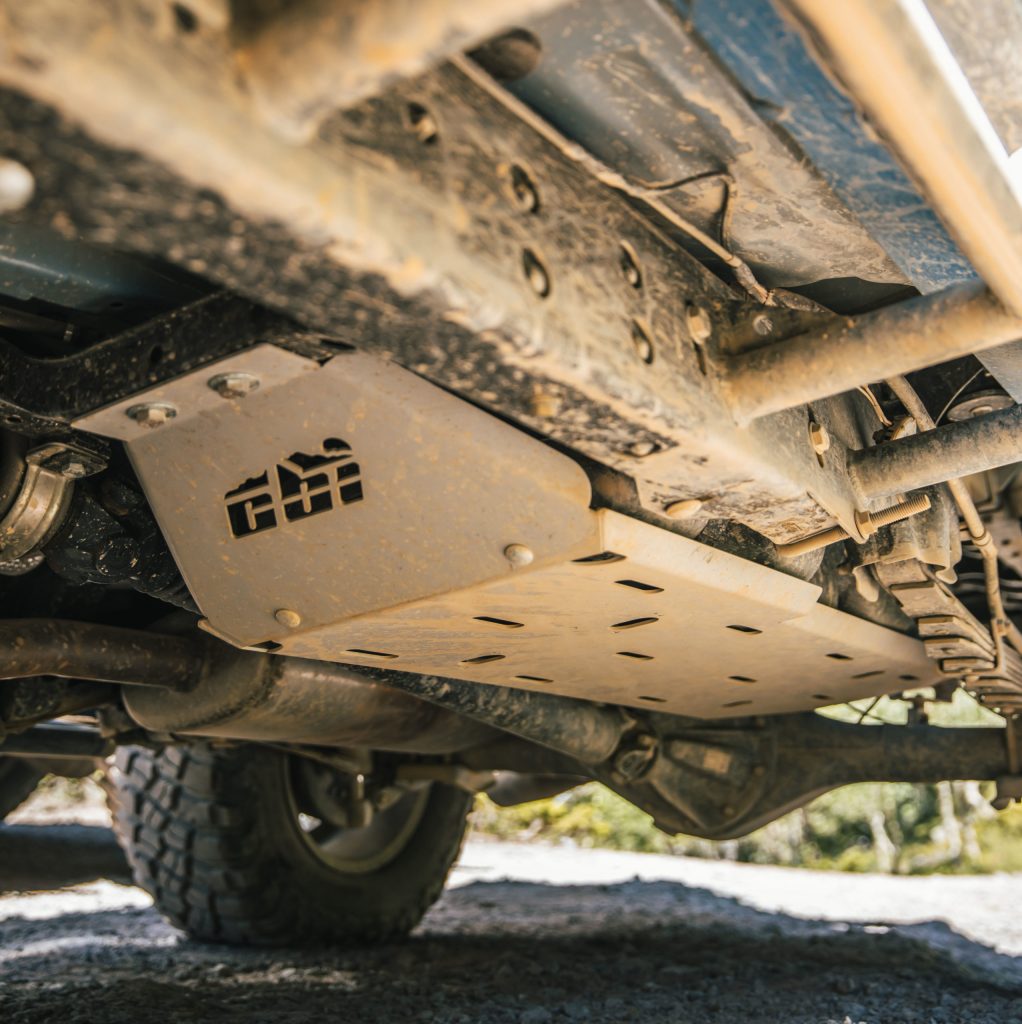 Top Brands: 
Ah, the infamous gas tank.
Another crucial and vulnerable component of the undercarriage, which leads me to my next point. Can anyone explain why most Tacoma trims don't come with a skid plate? Certain ones do, but even so, the factory skid plate is plastic and doesn't offer much protection. Not sure what Toyota was thinking there.
With that being said, picking up a gas tank skid is necessary, even if you aren't going to go off-road very frequently – an aluminum option is a perfect choice here. But if you are going to spend a fair amount of time on the trail, all the more reason to pick one of these up.
Varying with manufacturers, most gas tank skids will have a wrap-around edge design to help protect all corners of the gas tank from any sort of potential harm. Some mount strictly to the gank tank strap bolts, while others utilize frame mounting points or a combination of both.
Nobody wants to be stranded out on the trails because of a punctured gas tank, so do yourself a favor and invest the money into a gas tank skid and you will be glad that you did.
| Skid Plate | Material | Steel (LBS) | Aluminum (LBS) |
| --- | --- | --- | --- |
| Gas Tank | | | |
| C4 Fabrication | Steel | 53 | N/A |
| Cali Raised LED | Aluminum & Steel | N/A | 37 |
| CBI Off-Road | Steel | 80 | N/A |
| RA Motorsports | Aluminum | N/A | N/A |
| RCI Metal Works | Aluminum & Steel | 35 | 20 |
| Victory 4×4 | Aluminum & Steel | 50 | 27 |
| Ricochet Off-Road | Aluminum | N/A | N/A |
| M.O.R.E Off-Road | Aluminum | N/A | 24 |
| Rago Fabrication | Aluminum & Steel | 65 | N/A |
| SOS Off-Road Concepts | Aluminum | N/A | 25 |
Rear Differential Skid Plate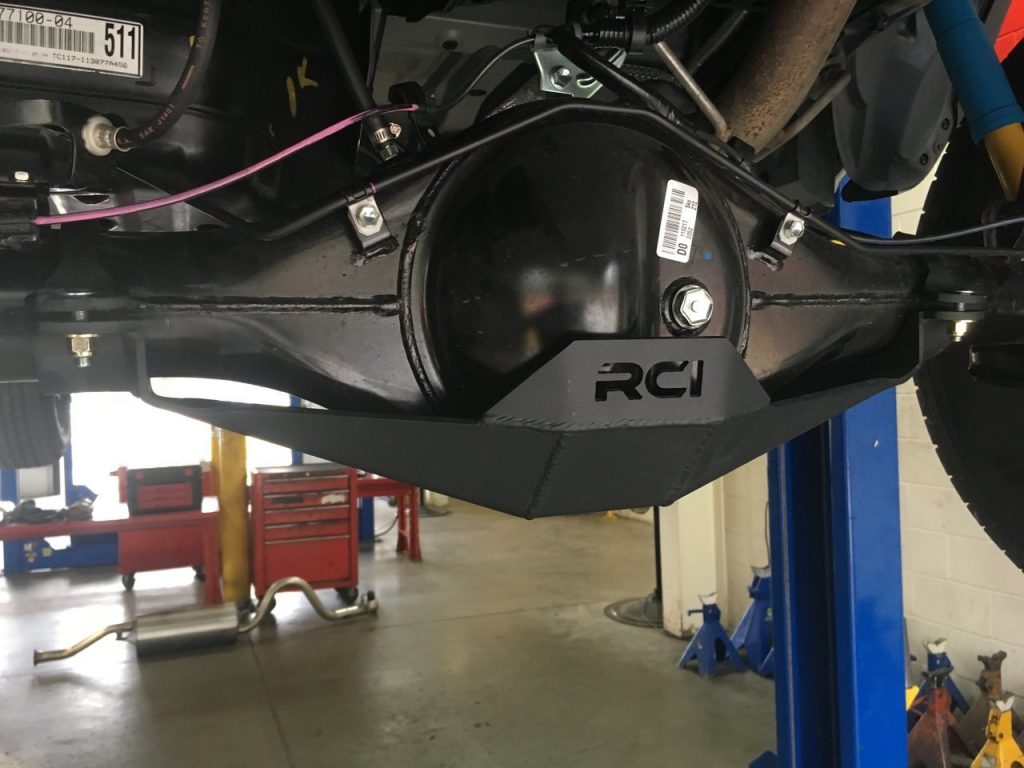 Top Brands: 
If you have taken a peek at the underside of your truck, you've probably noticed the lowest hanging part of the driveline. What you're looking at is often referred to as a 'pumpkin' – but the technical term is the rear differential. If you've seen any kind of off-road trails, even the more milder trails, you've likely hit or at least seen someone hit their differential on a rock or otherwise.
As the lowest part of the truck, you can bet you'll hit your diff at one point or another. Due to its shape, the differential can also get hung up on rock and trees. A good skid plate on your differential will help to alleviate the issue of getting your diff caught on various objects. This is due to its shape, which is angled, and slides easier over rocks. These are all reasons why adding a rear differential skid is important. The rear axle and differential are pretty strong, but it's always better to be safe than sorry.
Smashing the differential casing can lead to pretty dramatic damage since that is a crucial portion of the driveline. Differential skid plates might look a bit pricey, but their design not only helps to protect your diff, but it also helps with technical spots where you might get hung up on your differential. We definitely recommend that you add one of these to your truck.
| Skid Plate | Material | Steel (LBS) | Aluminum (LBS) |
| --- | --- | --- | --- |
| Rear Differential | | | |
| C4 Fabrication | Steel | 22 | N/A |
| R4T | Steel | N/A | N/A |
| RCI Metal Works | Steel | 22 | N/A |
| Bay Area Metal Fabrication | Steel | N/A | N/A |
Lower Control Arms (A-Arms) Skid Plates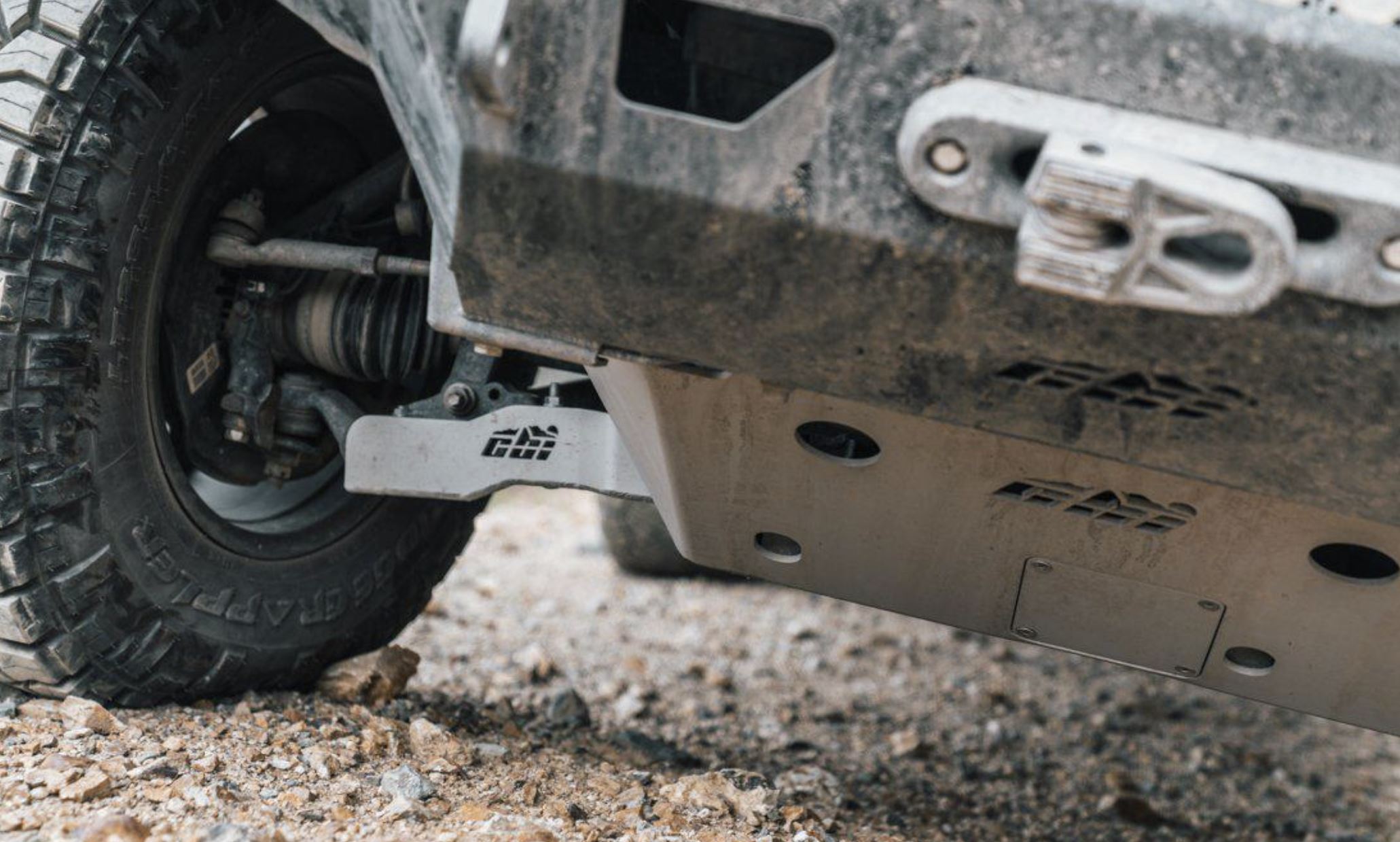 Top Brands: 
Cali Raised LCA Skid (2005+): Check Price
Runnin4Tacos LCA Skid (2016+): Check Price
RCI A-Arm Skid (2016+): Check Price
The LCAs are another very low-hanging part of your truck that is susceptible to a fair amount of beating. Lower control arms are the point that connects your shock and whole spindle, hub, and brake assembly to the truck.
So as you might already imagine, they are a crucial suspension component part and are not cheap to replace if damaged. Hitting your lower control arm can potentially lead to suspension issues, alignment issues and other problems that are not fun to deal with out on the trails.
Since they are one of the most low-lying parts, you can bet that they can take a fair amount of hits, especially on more difficult and rocky trails. Most manufacturers build LCA skids to protect the alignment cams as well, further ensuring that you make it back on the road, and back home, without having to take a trip to the wheel alignment shop. Almost all options are made to completely wrap the lower control which ensures all sides are protected.
Investing in a set of lower control arm skids is a great idea if you plan on doing any sort of technical offroading.
| Skid Plate | Material | Steel (LBS) | Aluminum (LBS) |
| --- | --- | --- | --- |
| Lower Control Arms | | | |
| RCI Metal Works | Aluminum & Steel | N/A | 18 |
| CBI Off-Road | Aluminum & Steel | 25 | N/A |
| Victory 4×4 | Steel | 22 | N/A |
| 4x Innovations | Steel | N/A | N/A |
| Total Chaos | Aluminum | N/A | N/A |
| Runnin4Tacos | Steel | 22 | N/A |
| Rago Fabrication | Steel | 23 | N/A |
| Cali Raised LED | Steel | 14 | N/A |
Rear Shock Skids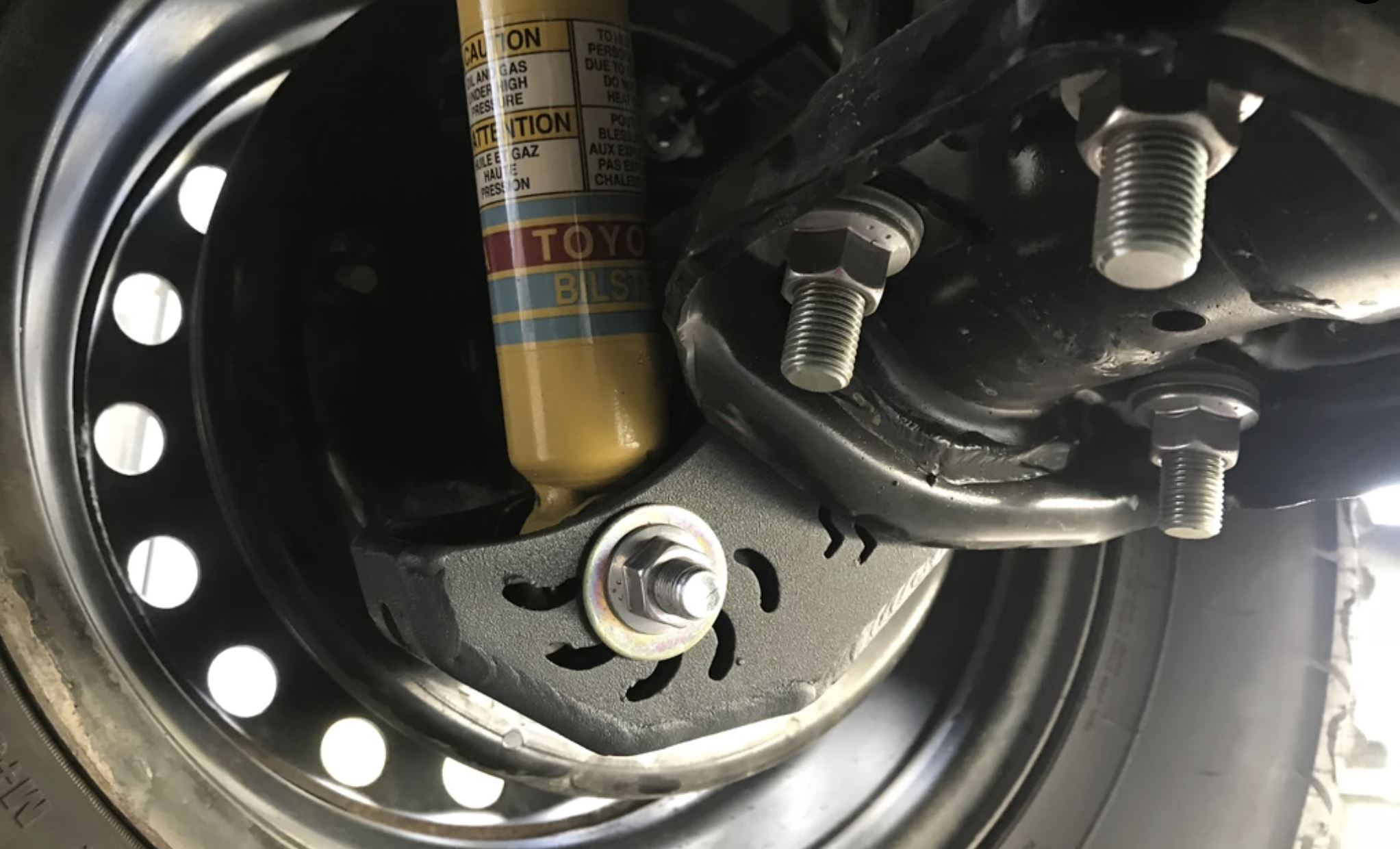 Top Brands: 
Cali Raised Rear Shock Skid (2005+): Check Price
Sticking with the theme of low-hanging points on the truck we can't help but mention the rear shock.
The lower assembly of the rear shock is connected with a series of bolts and brackets that protrude out and are exposed to the elements and potentially susceptible to damage. The shock skid is a fabricated piece of steel and is bolted over the lower assembly protecting the mounting points. This ensures that when you smack your shock or mounts you won't break or damage anything.
The position of the rear shock is fairly exposed and it is almost inevitable to not smack it one of these days. Fortunately, they are the cheapest skid of the bunch meaning this low-cost investment, which makes the purchase a no-brainer.
| Skid Plate | Material | Steel (LBS) | Aluminum (LBS) |
| --- | --- | --- | --- |
| Rear Shock Strut | | | |
| Rago Fabrication | Steel | N/A | N/A |
| P&P Engineering | Steel | N/A | N/A |
| RCI Off-Road | Steel | N/A | N/A |
| Cali Raised LED | Steel | N/A | N/A |
ABS Sensor Guard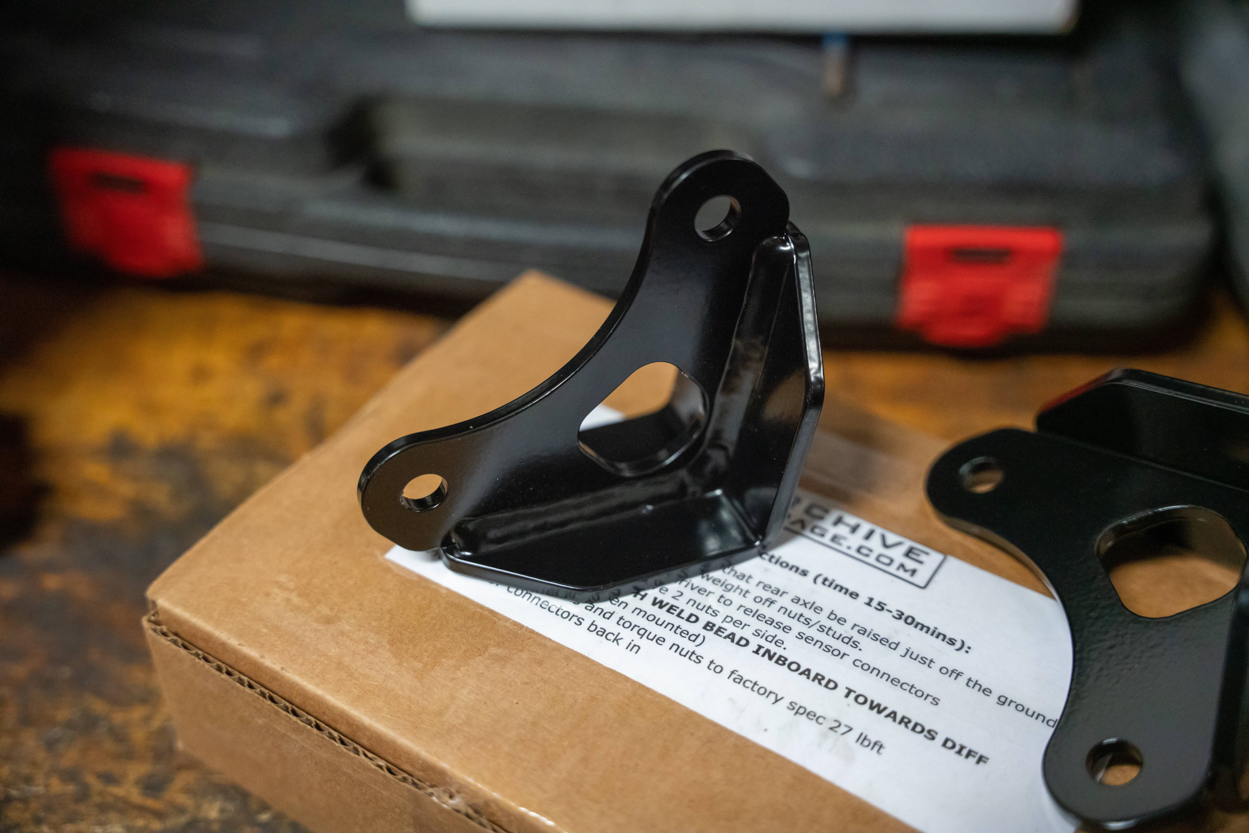 Top Brands: 
Jomax Customs: Check Price
SDHQ Billet ABS Guards: Check Price
This next skid plate is one that isn't as well known – the ABS sensor skid guard. For those who are unfamiliar, ABS is a system on modern-day vehicles that prevents the wheels from locking up under hard braking.
The ABS sensor is located right above the lower control arms and on the rear axle. Wheels with big offsets often expose the ABS sensors and they're always vulnerable to being hit by something like a stray branch. The ABS sensors are vital to the traction system and can be a costly fix if damaged. Furthermore, if damaged or destroyed this will have a significant impact on the breaking abilities, not to mention a whole lot of error lights on your dash.
Picking up a full set of bolt-on ABS skid guards is great insurance for your ABS sensors. Most companies who offer them, make them out of aluminum, and they're super simple to install. If you want to learn more, Konrad covered the Jomax Customs option – you can read that post here.
| Skid Plate | Material | Steel (LBS) | Aluminum (LBS) |
| --- | --- | --- | --- |
| ABS Skid Guard | | | |
| SDHQ USA | Aluminum | N/A | N/A |
| SNS Custom Designs | Aluminum | N/A | N/A |
| Jomax Customs | Aluminum | N/A | N/A |
| Archive Garage | Steel | N/A | N/A |
E-Locker Motor Guard
If you have a newer 3rd Gen Tacoma in a TRD Off-Road or TRD Pro, then you have the electronic locking rear differential. Simply put, the Tacoma has an open differential which can be detrimental in situations where traction is hard to come by. The locker essentially forces the entire rear differential to spin together and by doing so, it increases traction.
With that being said, the motor module for the e-locker hangs right alongside the rear differential. As previously mentioned, the rear differential is located in a vulnerable spot for damage, with the motor module being right next to it, it is susceptible to the same damage as the rear differential itself.
Multiple companies have seen the issue and broken modules before and have created a solution to the problem. E-Locker Motor skid guards are hands down one of the best budget skids you can add to your truck. Coming in at sub $100 dollars, this doesn't hurt the wallet and will protect the motor from any damage that may be ensued while out on the trails.
| Skid Plate | Material | Steel (LBS) | Aluminum (LBS) |
| --- | --- | --- | --- |
| E Locker Motor Guard | | | |
| Low Range Offroad | Steel | 3 | N/A |
| Marlin Crawler | Steel | N/A | N/A |
Notable Mentions – Ironman 4X4 & ARB
A couple of the originals in the world of off-roading and overlanding, Ironman 4X4 and ARB, both sell complete steel belly skid plate sets.
Both of these companies offer full coverage (front/engine plate, mid/transmission plate, transfer case plate) options. From what we've seen, you can only buy these skids as a set. I wouldn't say that's a bad thing though. Relatively speaking, these are very competitively priced. Especially Ironman 4X4, which comes in at $699 and has free shipping. Now that is a great price! Adam covered a complete install, review and overview – you can read that post here.
Even though they may be less popular, they're more affordable, they come from long-standing trustworthy brands and the protection they offer is enough for most off-road and overland enthusiasts.
Find It Online
Ironman 4X4 Premium Underbelly Skid Plates for 2nd & 3rd Gen (2005+) Tacoma: Check Price
ARB Under Vehicle Protection (Skid Plates) for 2nd & 3rd Gen (2005+) Tacoma: Check Price
Final Thoughts
Deciding what skid plates to purchase is a lengthy and time-consuming process.
We hope that this guide made things a bit easier for you. There are so many choices out on the market, but not to worry, you really can't go wrong with any of them. There are minor differences between the various skid plate options, so be sure that you understand what they are and choose a skid plate that looks great and works best for you.