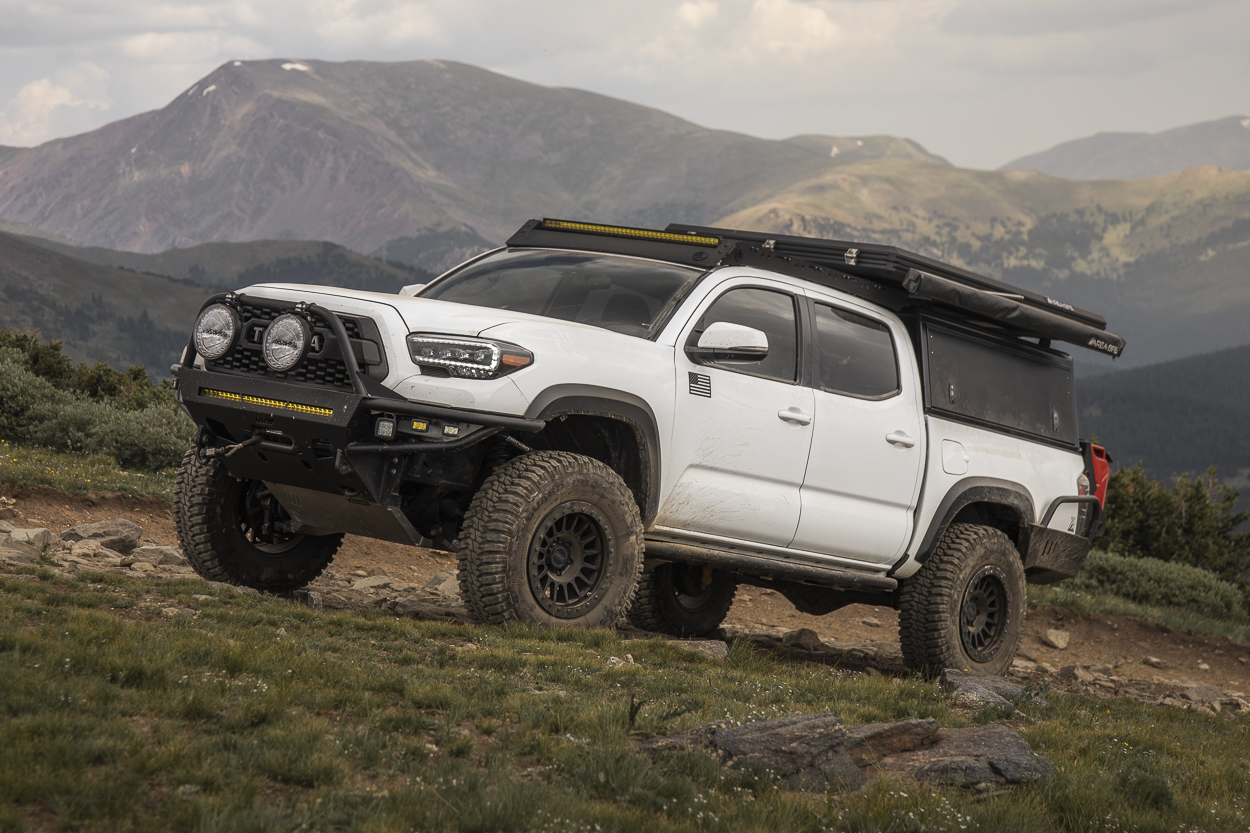 Buyer's Guide: The Best Affordable Suspension Lift Kits for 2nd & 3rd Gen (2005+) Tacoma: Bilstein VS. OME VS. Eibach VS. Dobinsons
The Toyota Tacoma is known for its durability and capability on and off the road. A stock Tacoma can take you down many trails with little to no problem, but for those who wish to experience more advanced off-roading, you'll need to think about lifting your truck via the suspension.
Loads of Aftermarket Support
Lucky for you, Tacomas have some of the best aftermarket suspension component support, especially when compared to other vehicles. The only downside to this is that shopping for your new lift kit can be quite overwhelming with all of the different brands and prices out there.
In this article, I'll break down some basics you need to know about suspension lift kits. Ranging from different prices, shock lengths, spring rates, and more. By the time you finish reading this article, you will hopefully have a broader understanding of all the aspects of each kit and know what you are looking for.
Lift Kit Guide for 2nd & 3rd Gen (2005+)
If you're looking for something even more complete, check out another recent post on top lift kits for the Toyota Tacoma. That post will have pretty much everything you might want to learn specifically, and a few more options.
Affordable Lift Kits – 2nd & 3rd Gen Tacoma
Shocks and Travel – What to Consider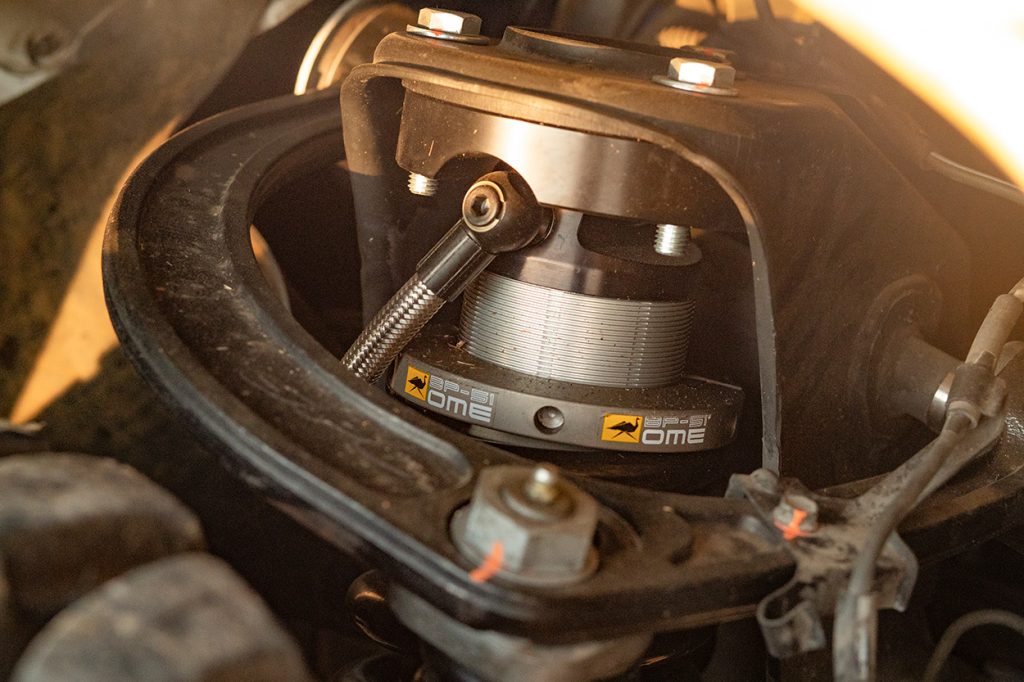 When shopping online for complete suspension lift kits for your Tacoma, you'll find that the majority of front suspension lifts are coilovers. As their name suggests, coilovers are coils (springs) mounted over a shock-absorber.
Some coilovers can be equipped with a ride-height adjustable feature like the BP-51 lift kit pictured above that uses a threaded plate to accommodate your desired ride height. Other coilovers can also include shocks that have adjustable dampers to allow for either stiffer or softer ride quality over obstacles.
Shock Lengths
One thing to consider when researching lift kits is the shock lengths offered. The length of the shock is important because when off-roading, you usually put your Tacoma in positions that require your suspension to flex. To accommodate for the angles you put your tires at, the shocks will travel up and down a certain length to try and keep the tire on the ground and absorb impacts. Putting too long of a shock without the recommended ride height will bottom out your shock because of the amount of compression needed for it to completely cycle.
Using too short of shocks will cause the shock to be fully extended more often while flexing, resulting in your tires being off the ground more frequently, and stressing the shock/coilover itself. Finding the right shock height comes down to the type of build you plan on doing with your Tacoma. If you plan on sticking with mild to advanced off-roading, using the shocks in the following kits is your best bet if you don't want to go overboard.
Looking for Something Better?
However, if you plan on putting your Tacoma to the test with extreme trails and rock crawling, skip this article and check out more involved kits, such as extended travel shocks with reservoirs, suspensions with compression + rebound adjustment, or long travel with extended coilovers. This post is aimed more towards someone who is either new to the hobby or just wants to get their truck off the ground the quickest way possible.
Leaf Packs – What to Consider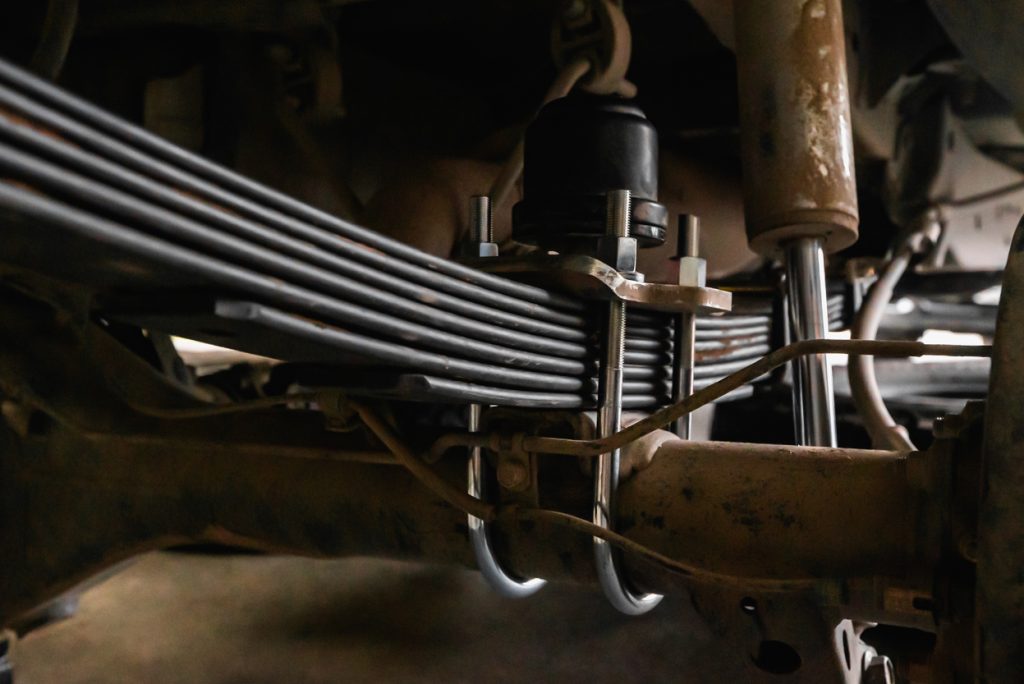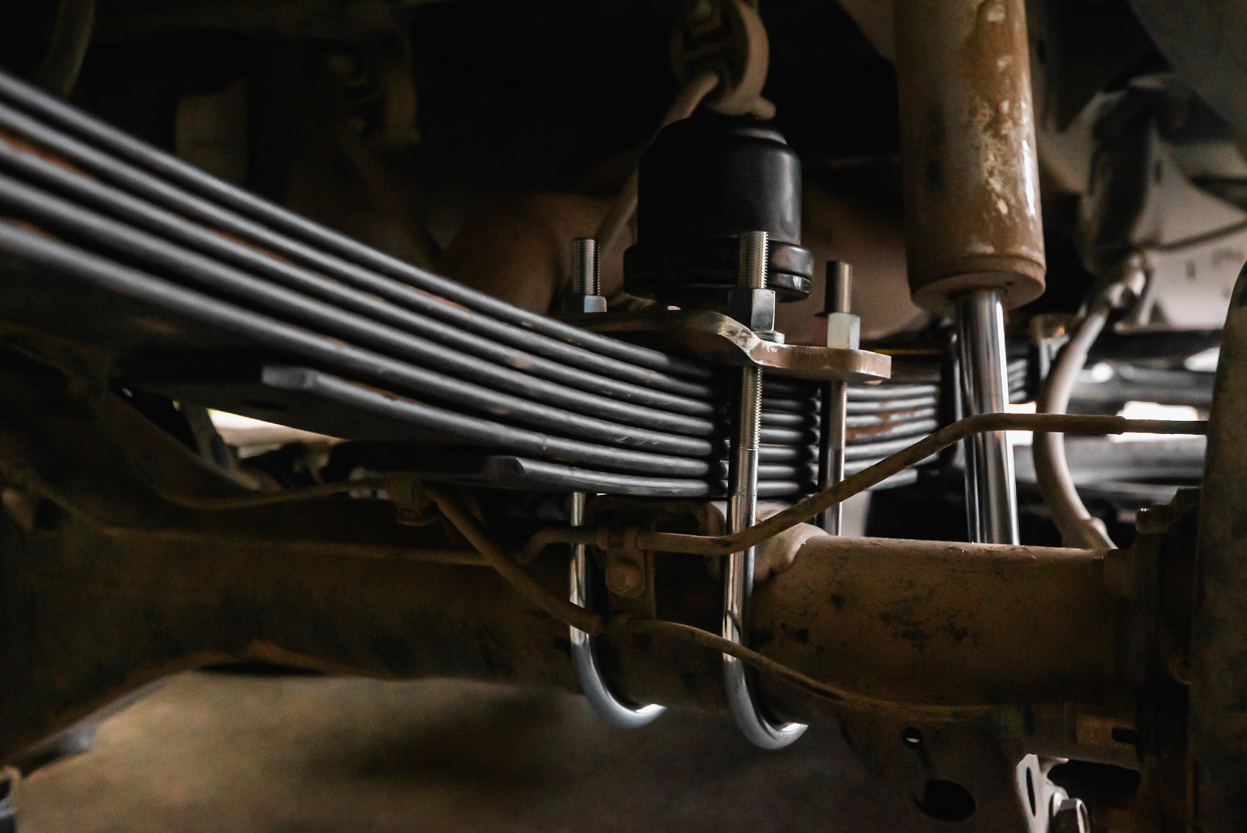 Add-A-Leaf
Toyota Tacomas are equipped with a leaf spring suspension set-up in the rear, which can be lifted one of two ways. The first option when doing a rear suspension lift is using an Add-A-Leaf (AAL). AALs are added to your existing leaf pack to provide a 1.5-2.5 inch lift in the rear. AALs are designed to handle close-to-stock loads and shouldn't be used if you plan on carrying heavy gear and bumpers.
Replacement Leaf Pack
The second option for a rear suspension lift is a new leaf pack. These leaf packs are designed for heavier loads and can add anywhere from 100-300+ lbs depending on the leaf pack you decide to go with. However, due to their design, the ride quality will be significantly reduced from the already rough stock quality to an even stiffer ride without a load in the rear to weigh them down. If you plan on doing any overlanding or equipping your truck with heavy-duty bumpers, leaf packs are the way to go to handle the load while still maintaining your desired ride height.
1. Bilstein Stage 1 Lift Kit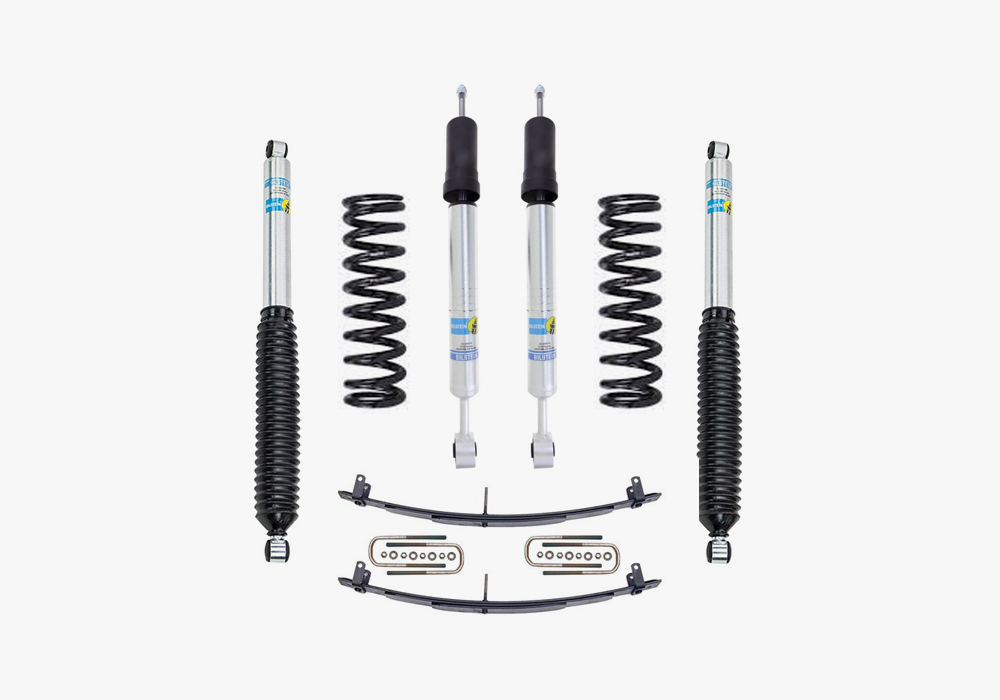 Find It Online
One of the most popular names you will hear researching suspension kits is the Bilstein 5100.
For the price and performance, they could be called the ultimate budget-friendly lift on the market. In this kit, you'll receive two height-adjustable 5100 shocks ranging from 0″ up to 2.5″ in increase ride height up front.
Check out our 2nd Gen Tacoma Install, Review & Overview.
Adjusting Lift Height
To adjust the height, the coilover must first be disassembled, then you can raise or lower the bottom spring clip into the desired notch on the shock. With the purchase of this kit, Bilstein offers two different coil ratings: 2.5″ MEDIUM DUTY or 2.5″ HEAVY DUTY. It is recommended that you should only run heavy-duty springs if you plan on lugging around a bunch of weight – like a bumper and winch. This is to allow the ride quality to become much more comfortable and without the weight up front to compress the springs, the stiffness of the coils won't absorb as much bounce and you'll have a rougher ride.
Adding UCAs
When lifting your truck, you alter the mechanics of factory parts, that aren't designed for that new height. One of these parts being your upper control arms (UCAs). UCAs are vital to your truck's handling when you lift your front end. After adding a lift, the angle of your UCAs is no longer optimal and affects performance. Without new UCAs, you'll find your Tacoma has poor handling, difficulty with alignments, and potentially increased tire wear. The best way to correct this is by using aftermarket UCAs such as SPC (Specialty Products Company). With new UCAs you can correct any current and potential issues you may have. Lucky for you, this kit gives you the option to throw on aftermarket control arms.
Rear Lift Options
Additionally, this kit gives you two options for lifting the rear. The first being an AAL for lighter load builds and the second being a replacement ARB leaf pack for those wanting to carry rooftop tents and still have enough load capacity for gear. Companies usually make sure to throw in new bushings and longer U-bolts for an easy install.
With a new lifted rear end, brake cables will be stretched and should be extended for safer driving. You have the option to include a new 24″ long stainless steel braided brake hose to replace the shorter stock line.
2. Bilstein Stage 2 Lift Kit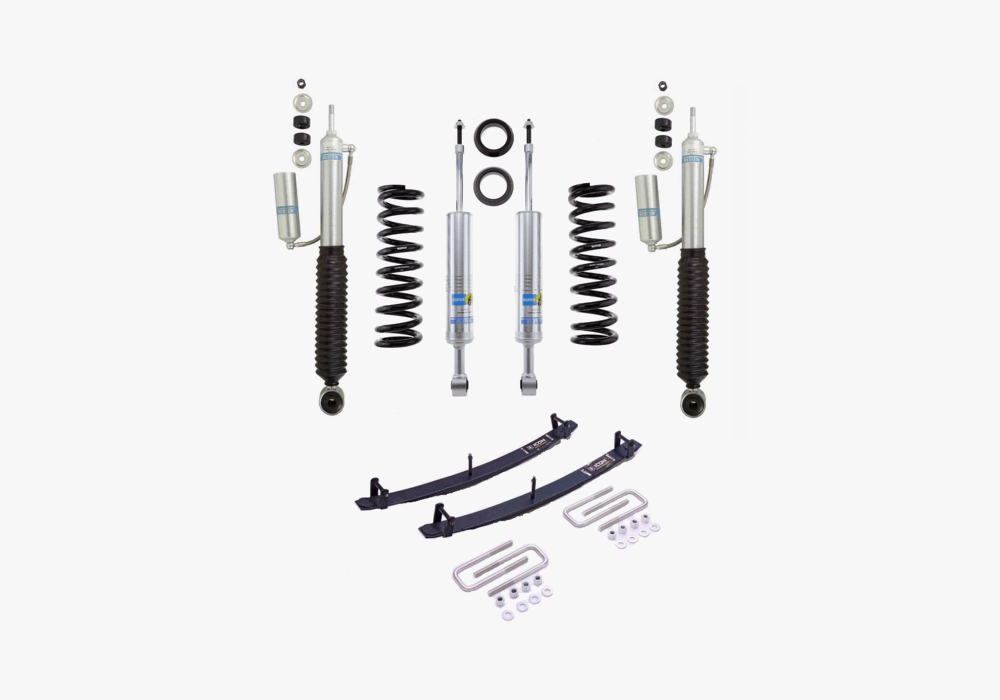 Find It Online
The second kit on the list is Bilstein's Stage 2 lift kit which includes bigger and beefier parts when compared to the previous Stage 1 lift. Equipped with the Bilstein 6112s upfront and the 5160s in the rear, Bilstein guarantees a smoother ride both on and off the road with this kit.
Stage 1 VS Stage 2
The Bilstein 6112s are heavy-duty adjustable shocks that are designed to heavy abuse off-road. Compared to the 5100s, the 6112s have a larger body size of 2.65″ to the 5100s 1.95″ and have a larger piston size of 14mm, meaning more shock travel. The height-adjustable feature allows the 6112s to range from 0″ to 2.5″ of upfront lift. The 6112s are paired with Bilstein's 600lb coils, to take the heavy weight of an aftermarket front bumper and winch. For the rear, Bilstein uses their new and improved 5160 shocks, equipped with an external reservoir for increased cooling and longer shock length for additional travel.
Rear Lift Options
You are given two suspension configuration options when building your kit. The first being the standard Icon Add-A-Leaf that already comes with the kit, or for a little bit extra you can have the Icon multi-rate RXT leaf spring pack. For an additional price of $100, the new heavy-duty leaf pack is the better way to go, allowing you to carry all your gear and still ride smoothly without a sagging suspension. You also have the ability to add or remove individual leafs based on your setup/load. If you want to save yourself the money and skip the leaf pack, the standard AAL will still lift your Tacoma to the same height but isn't designed for heavier loads.
Adding Aftermarket UCAs
Since this lift provided from this kit is only 2.5 inches, aftermarket UCAs are not required but still recommended. You are given two options for new UCAs with this kit. The first option is the SPC UCA and the other is Total Chaos UCA. Both UCAs offered are great options, the Total Chaos being slightly better quality, and for an additional $100+, you really can't go wrong with either one.
3. OME Nitrocharger 2-3" Lift Kit
Find It Online
The next kit on the list is the Old Man Emu 2-3″ suspension lift kit. OME is a renowned manufacturer in the off-road/overland community for its wide variety of options and part quality. This kit is completely customizable to suit the needs of you and your truck for a good price.
Check out our 2nd Gen Tacoma Install, Review & Overview.
Front Coil Options
OME offers three different coil configurations, each with varying designed load capabilities. The first coils are the OME light load 887s which are designed to take stock loads while providing up to 2″ of lift. If you are keeping your Tacoma light and going without an aftermarket front bumper or winch, these are the way to go. The next option is the OME medium load 888s which vary in load rating from 100-200 lbs of additional weight, and provide 2.5″ lift. The last coil option is the OME heavy-duty load 886s which are designed for weights exceeding 200+ lbs and can lift your front end 2.5″-3″.
Front Shock Valving
There are two options you can choose from for your front shocks. OME has their 90021 Nitrocharger Sport Shocks, which feature softer valving, and the 90000 Nitrocharger Sport Shocks, which feature firmer valving. The softer valving 90021 shocks will give a more comfortable ride quality while the firmer valving 90000 shocks will provide better handling on the road.
Rear Lift Options
Leaf packs are also given three different configuration options. The first being Icon's AAL, providing 1.5″ of lift and maintaining stock weight. The next option is the Standard Dakar Leaf Pack designed for medium loads and an additional 100-300 lbs of weight all while increasing your ride height by 2.5″. The last option is the Heavy Dakar Leaf Pack built for heavy loads of 300+ lbs and provides 2.5″ to 3″ of lift on your Tacoma.
Adding Aftermarket UCAs
With this kit, OME offers its own upper control arms or the SPC fully adjustable UCAs. Aftermarket upper control arms are important for lift kits like this because they reduce sidewall rubbing, allowing for larger tires, and improves on-road handling. They are not required for this lift kit, but it's recommended to add them for some peace of mind and performance.
4. Dobinsons Quick Ride Lift Kit
Find It Online
The fourth lift kit on this list is the Dobinsons 1.5-3″ Quick Ride lift kit. Similar to the OME kit, the Dobinsons lift is fully customizable with multiple different configurations and even color options. Dobinsons guarantees you will have great ride quality both front and rear, on and off-road.
Front Coil Options (Load Rating & Color)
In this kit, Dobinsons offers three different coil load and color options. The light load coil is designed for stock front-end loads and provides a lift of 1.75″ up front. If you are looking for a stock lifted look, this option is the one for you. The medium load coils lift the front end 2″ and provide an additional 50-110 lbs of load capacity up front. If you want to run just aftermarket front bumper, these coils are your best bet. The last coil option, is the heavy-duty coil, providing 2″ of lift and 110-240 lbs extra load capacity. I would pick these coils only if you plan on running both an aftermarket bumper and a winch because, without a load, the ride quality will feel very stiff. All three coils have the option to be either red, black, or teal.
There are two options for front shocks and only one option for the rear. The front shocks are both twin tubed and nitro charged however one is longer than the other, providing an additional 1″ lift up front, for a total of up to 3″ in the front. The rear shock is twin tubed and nitro charged just like the front. There are two different color options for the shocks: yellow or black.
Rear Lift Options
The rear end of your Tacoma is lifted using a lift block and extended U-bolts. The lift block is placed underneath your current leaf spring package and is bolted on using the extended length U-bolts given. There are two different block height options: 1.25″ and 2″.
5. Eibach Pro Lift Kit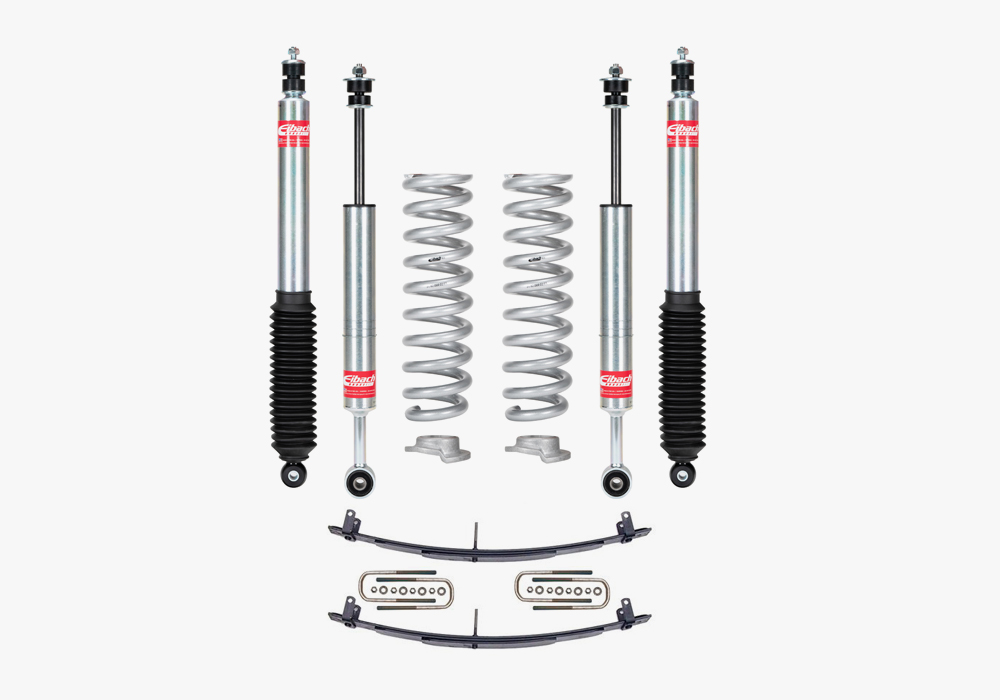 Find It Online
The last lift kit on this list is Eibach's 2″ Pro lift kit. This kit is the cheapest of the five but that is not to say it isn't a great option. Eibach is a well-known suspension manufacturer that takes pride in its quality parts.
Check out our 3rd Gen Tacoma Install & Initial Review + the 2,000 Mile Long Term Review.
Adjustable Front Suspension
The front end is lifted using Eibach's height-adjustable springs to allow for finely tuning your desired ride height. Eibach pairs their coils with heavy-duty custom application-specific valved shocks. Lift sizes can range from 1- 3″ in the front of your Tacoma.
Rear Lift Options
The rear of your truck is lifted using a 1″ lift block and extended U-bolts. Eibach claims to use a block-resistant design for a sag-free, consistent ride height with their technology.
Final Thoughts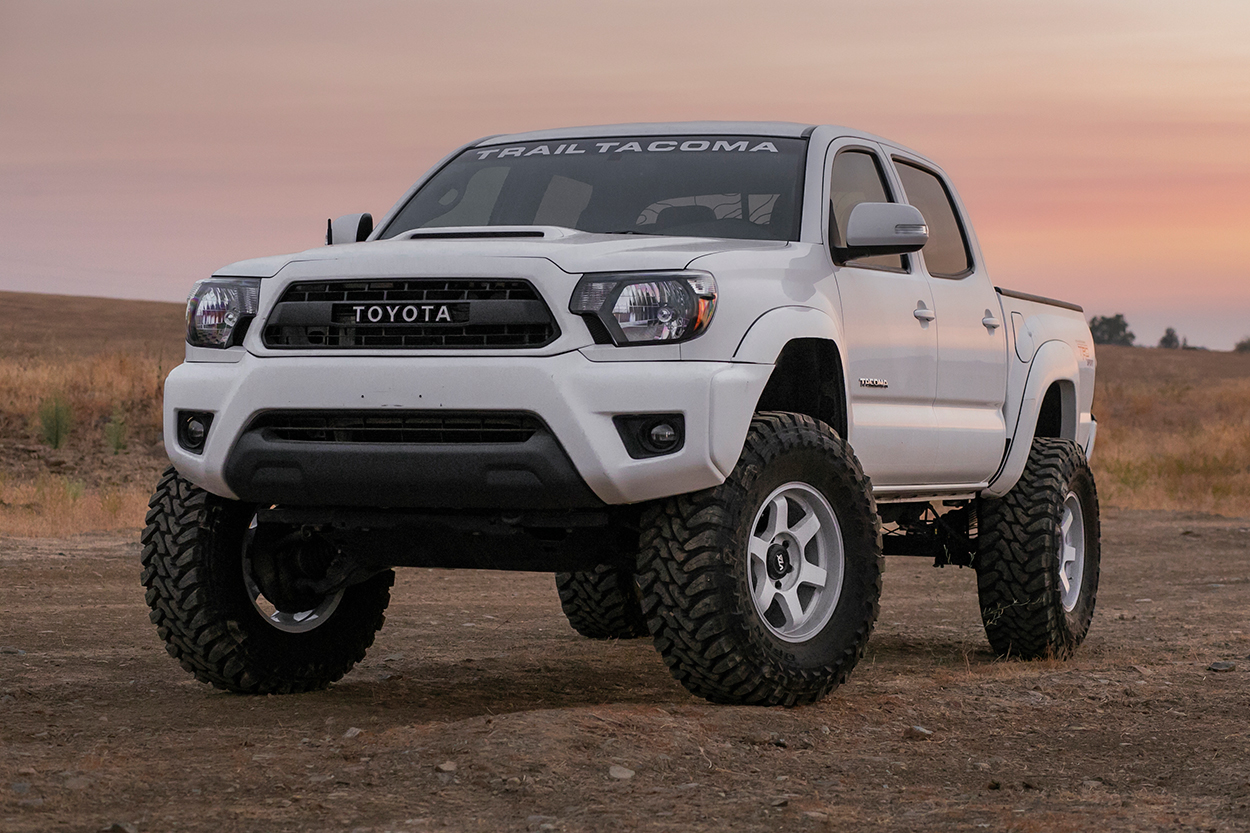 That just about covers it! Hopefully, this post gave you a better idea of where to start looking for quality and affordable lift kits.
If you're new to Tacoma, or you're looking for a quick and affordable way to get your truck lifted and out on the trail, all of these kits will get the job done.