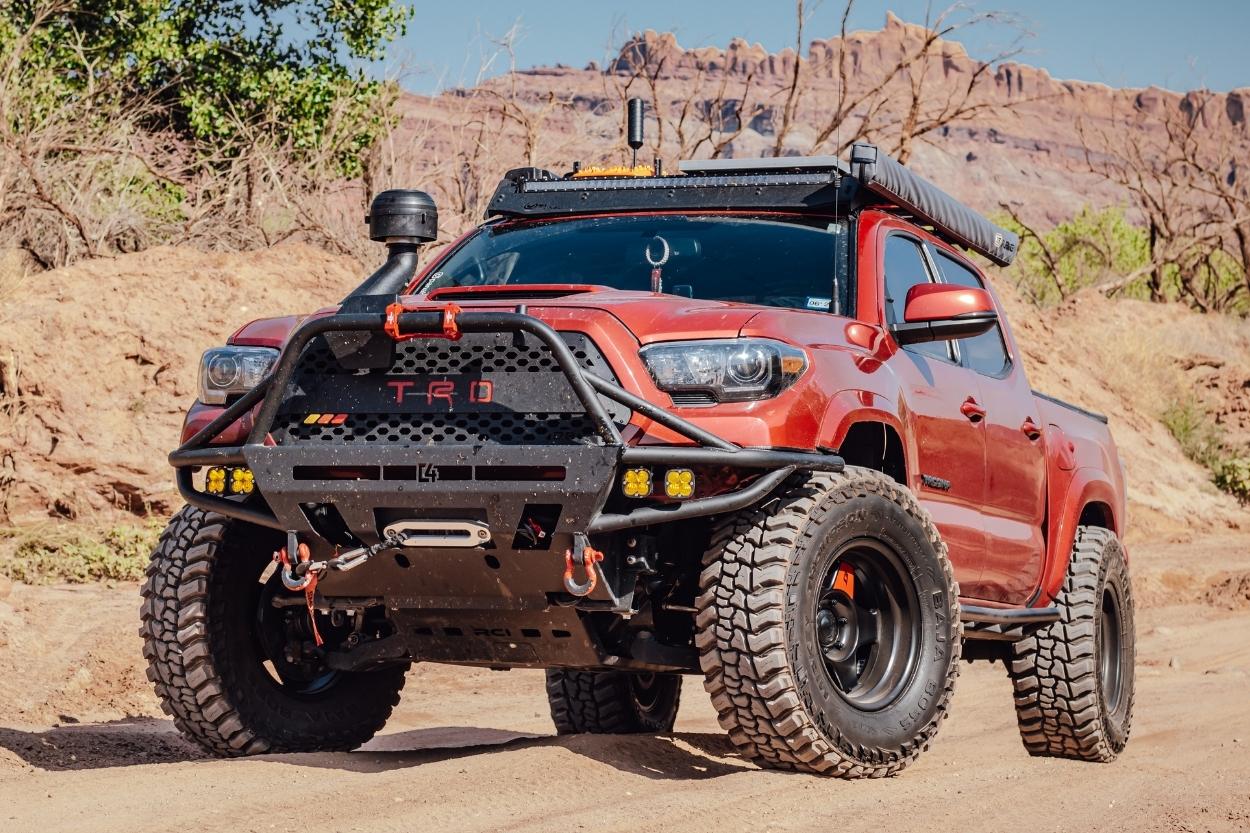 Pictured: James Panah (@panahrama) – C4 Fabrication Hybrid
8 Toyota Tacoma Metal Front Bumpers: A Selection of Steel & Aluminum Bumpers to Inspire Your Truck Build
Well, here we are with week two of Taco Tuesday! This week we're focusing more on a specific Tacoma accessory rather than the whole truck itself. Changing the front bumper out on your Toyota Tacoma grants you several benefits – other than just looking badass.
The first and obvious benefit is protection. For those who really demand the most out of their rig and need all the body protection they can get when facing the toughest of obstacles, the stock plastic bumper just doesn't cut it! The second benefit to a front bumper is tire clearance. This is mainly true for only full front bumpers (not so much with slimline/low-profile choices). The last major benefit you achieve from an aftermarket front bumper is the ability to house many accessories. Adding a front bumper allows you to put a winch, lights, and recovery points upfront where you may have been limited by the OEM bumper.
Below you will find a variety of brands and accessories that owners have added to their Tacomas. Along with this, we asked each owner what they liked about their setup. Check out their Instagram pages as well if you have some more questions regarding their builds.
This Week's Topic: Front Bumper Setups
This week, we are featuring 8 front bumper setups for the 2nd & 3rd Gen Toyota Tacoma to help guide you on your build path.
Aftermarket Metal Front Bumpers for 2005+ Toyota Tacoma
1.
Jake Ingolia 

(@w

andertaco

) – CBI Off-Road Fabrication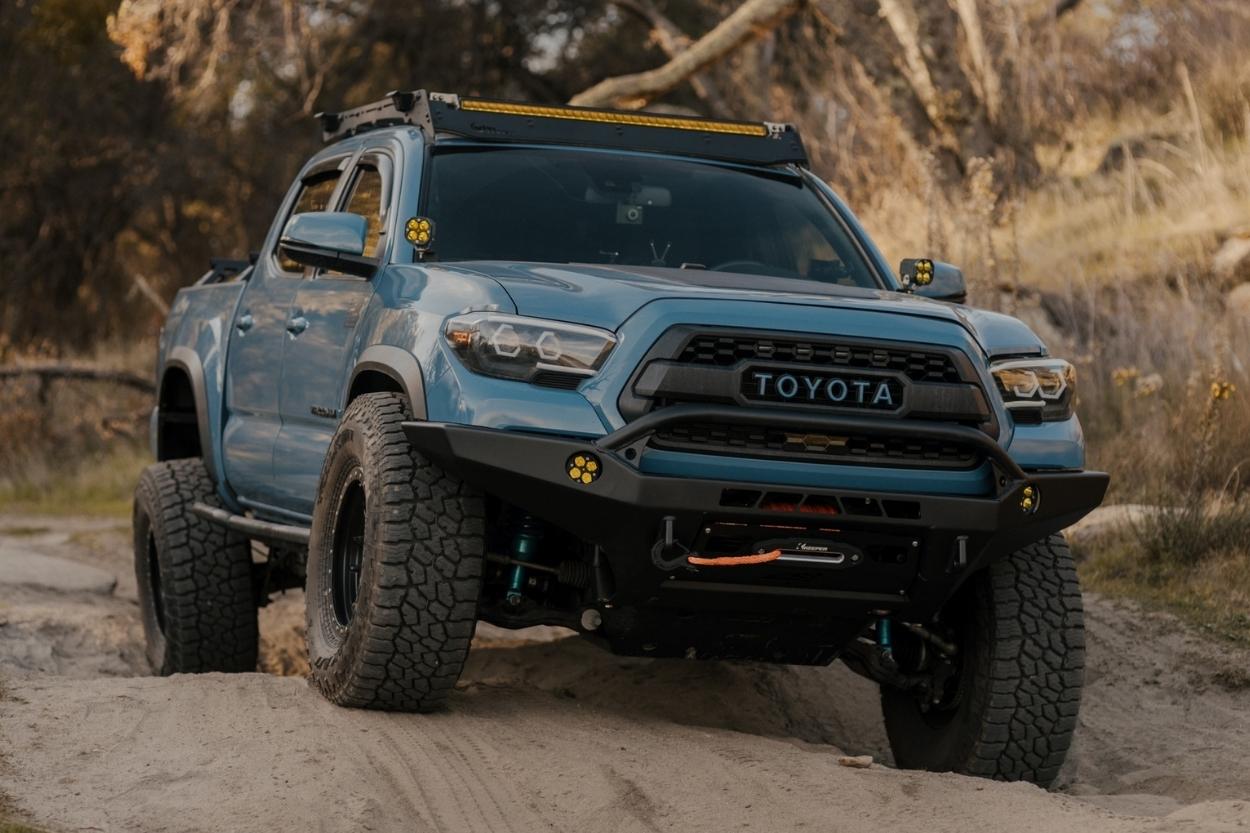 Bumper Details
Fabricator: CBI Off-Road Fabrication
Model: Baja
Material: Aluminum

 

Weight: 50 lbs
Price: $1,325 – $1,875
Accessories
Dark Defense Amber Pods
Keeper 9500 ES Winch w/ Synthetic Rope
Q&A – What Do You Like Best About Your Setup?
I think the weight plays a huge factor in this setup! Trying to build an overland rig that has the least amount of weight is hard, so if I can save weight in certain areas, I'm all for it! I'll be posting more about this setup on my YouTube: The Wander Taco.
Find It Online
2.
Brandon Chandler

(@

branchan_built

) – Lil B's Fabrication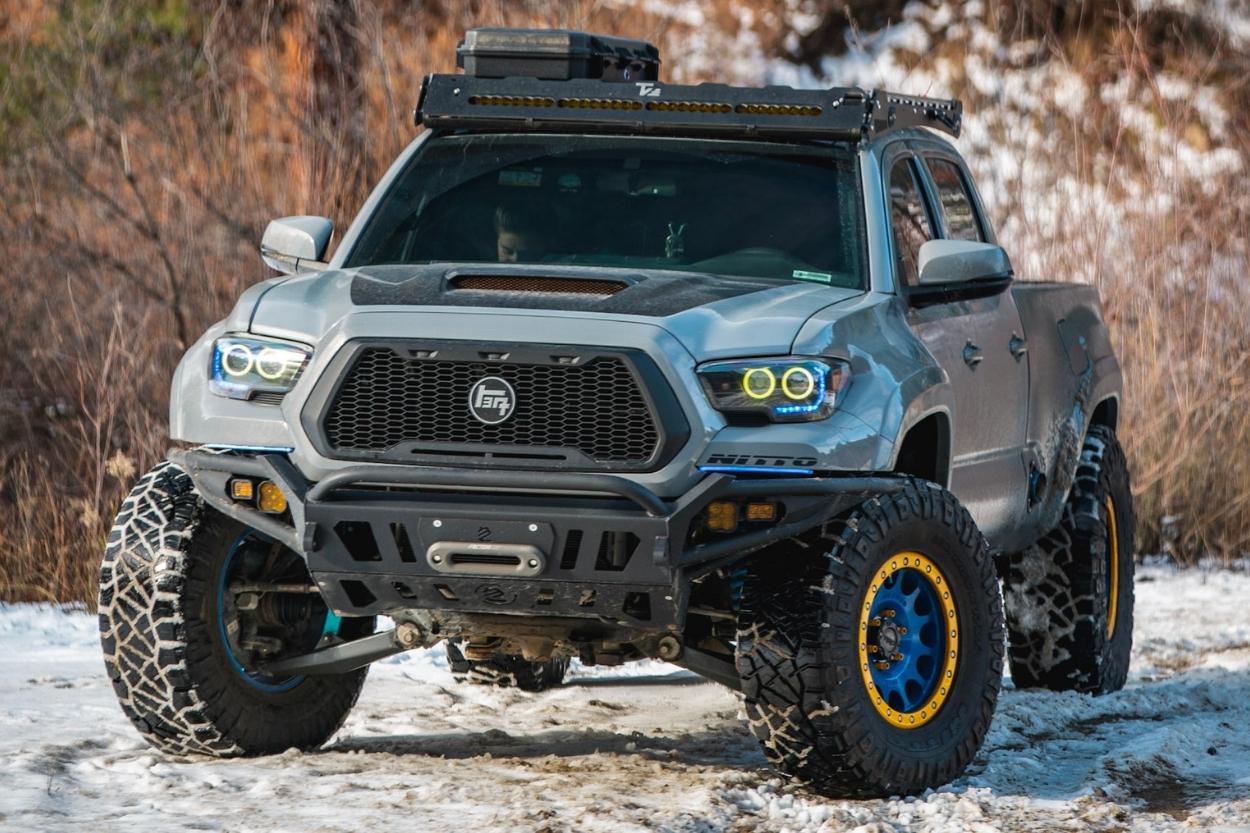 Bumper Details
Fabricator: Lil B's Fabrication
Model: Hybrid Bumper
Material: Steel

 

Weight: 105 lbs
Price: $1,399 – $1,699
Accessories
Diode Dynamics Pods

Factor 55 Winch Accessories
Q&A – What Do You Like Best About Your Setup?
I love this bumper due to how aggressive it looks. The spikes near the grille add a cool aspect and work well with the truck. As opposed to different bumpers, you can remove the grille without scratching or bashing it as you remove it. This bumper was an easy install and there is plenty of space for a winch of your choice.
Find It Online
3.
Chris Brothers

(@

tacomaadventure

) – C4 Fabrication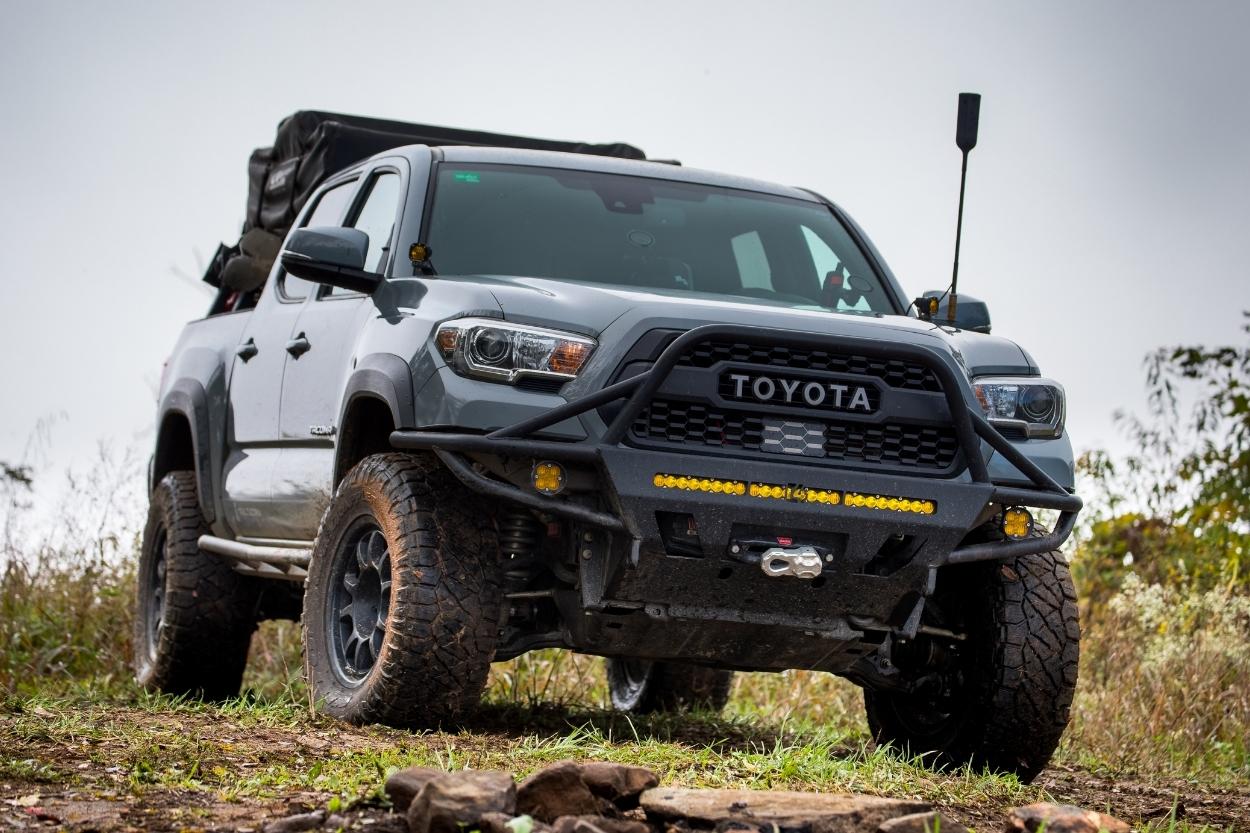 Bumper Details
Fabricator: C4 Fabrication
Model: Hybrid Bumper
Material: Steel
Weight: 125 lbs
Price: $1,454-1,629
Accessories
Warn VR EVO 10S Winch – 65 lbs
Baja Designs 30″ S8 Light Bar
Baja Designs Squadron SAE Fog Lights
Agency 6 Winch Shackle

 
Q&A – What Do You Like Best About Your Setup?
Let's start with the bumper. One thing I was concerned about was weight. So I looked at the options for hybrid bumpers. I decided to go with C4 Fab for a few reasons. One, I really loved how their hybrid bumper looked compared to other hybrid options. Secondly, I wanted the full hoop. I wanted full grill protection because when I just got the truck, I took it on a snow run with some friends and slid it very slowly into the back of my buddy's Jeep. His spare tire went right over my bumper and into my grille. Now my bumper will stop me before I damage anything.
Next up is the winch. I went with the Warn because I know it'll work forever. My family has some old ones they use for moving trees around their property. They never let us down. So when it came to my Tacoma, the answer was simple. The VR EVO 10S had the power I wanted, synthetic rope, and a wireless remote. I was sold. I picked up the Agency 6 winch shackle because I wanted a closed system for winching. I also like that it has a rope guard integrated into it, saved me some money.
Now for the lights. I just like Baja's amber color. Ok, it's more than that. I went with the Squadron SAE fog lights because I was gonna use them on the street and didn't want to deal with any hassle if that ever came up. I went wide pattern for those, but I'm thinking about changing it to the combo pattern, just to get a little more light right ahead of me. I picked up the 30-inch S8, in amber, of course, because I loved the Baja Fog lights and wanted more Baja Designs. It also helps that the C4 Bumper was designed for that light bar. The three sections on the bumper cutout lineup perfectly with the light bar sections in the S8. And, I love Baja's amber color.
Find It Online
4.
Chase 

O'Loughlin (@

knightacoma

) – Backwoods Adventure Mods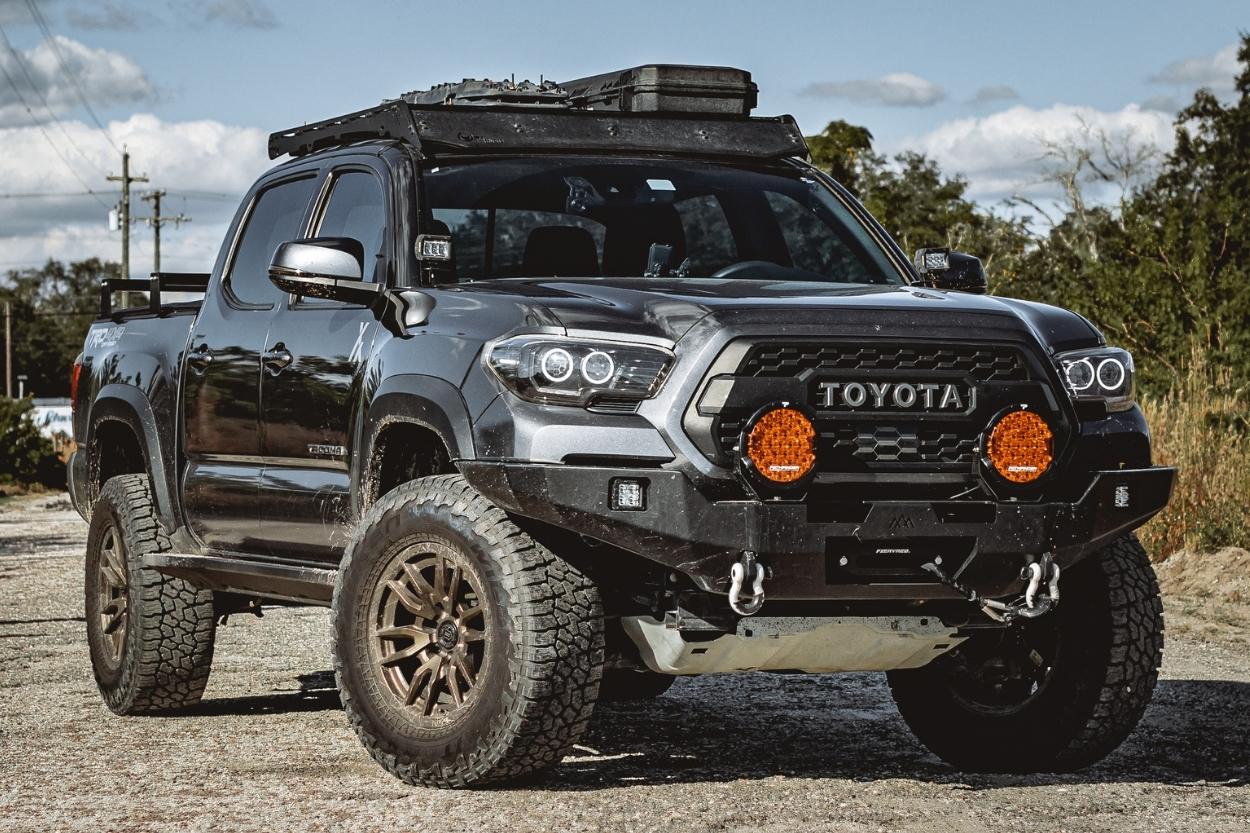 Bumper Details
Fabricator: Backwoods Adventure Mods
Model: Hi-Lite – No Bull Bar
Material: Combo Steel & Aluminum

 

Weight: 80 lbs
Price: $1,600-2,500
Accessories
Pathfinder 2″ Surface Mount Amber Spot Lights
Pathfinder 9″ PROWLR "True Amber" Driving Lights
Q&A – What Do You Like Best About Your Setup?
The hybrid construction. It's super nice to be able to remove the lightweight outer shell when working on the truck as opposed to taking off a full, heavy bumper. Also, not having to remove the heavy winch is major. Check out my full install guide for more details! 
Find It Online
5.
Tyler Johnston

(@c

oastal.tacoma

) – Coastal Offroad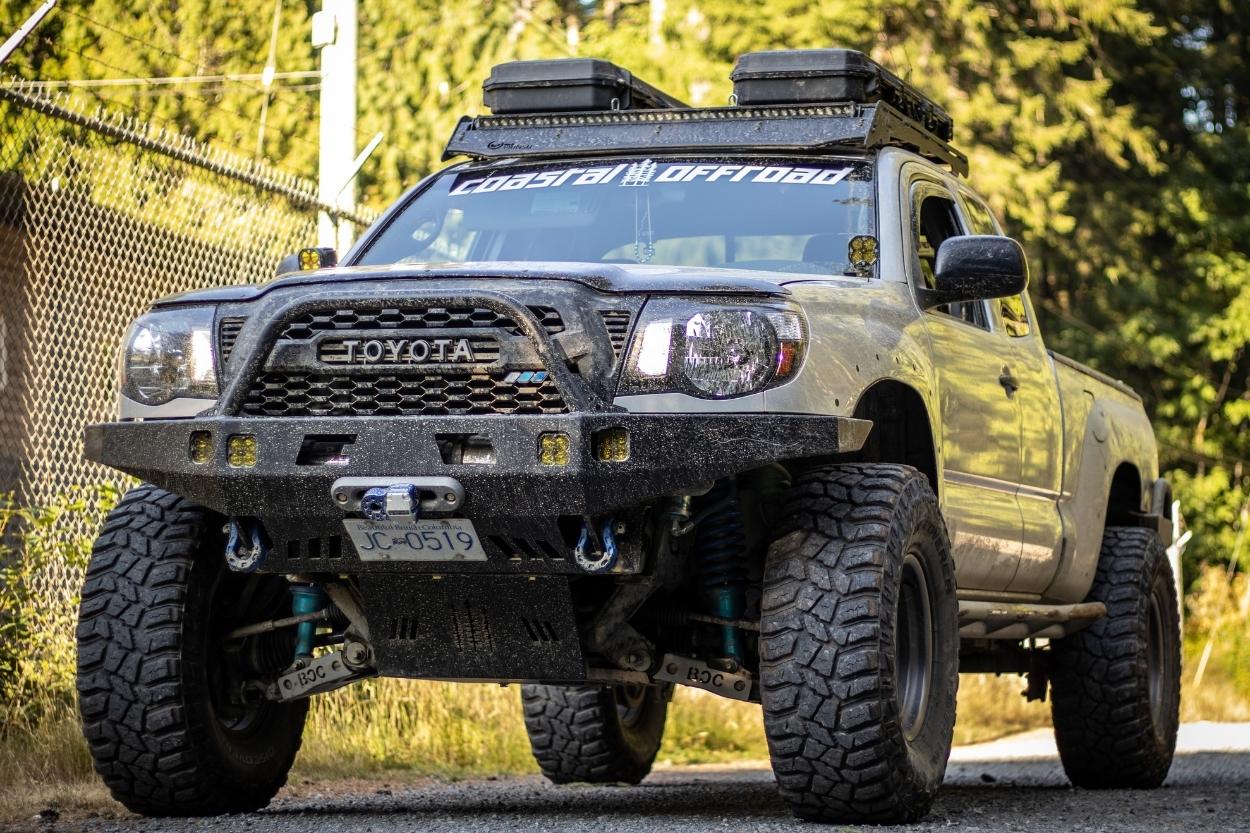 Bumper Details
Fabricator: Coastal Off-Road
Model: Extreme Clearance Plate Bumper Kit
Material: Steel or Aluminum

 

Weight: 98 lbs or 49 lbs
Price: $720-1,984
Accessories
Vivid Lumen LED Lights
Rugged Ridge Winch
Factor 55 Fairlead & Winch Shackle
Q&A – What Do You Like Best About Your Setup?
I honestly love everything about this bumper. I ran Coastal's regular high clearance bumper for a couple of years before getting this one and it was also great. But after talking with Brandon, I wanted to get more clearance and approach angle. Brandon redesigned the original bumper kit and came up with this one. Brandon used my truck for the measurements and the first kit for this bumper. It turned out even better than I could have imagined! This is most likely the BEST clearance and approach angle bumper available on the market right now for 2nd gen Tacoma's.
I do believe they have this available for 3rd gen Tacoma's as well! Aesthetically, it looks awesome and very aggressive. It's built strong, and with the weak factory cross member removed and replaced with a much stronger one, winching is easier now too. It's very functional, I've been putting it through abuse for the past 5 months dragging it through some pretty gnarly trails here on Vancouver Island and it's held up and performed flawlessly. I could not be more impressed with the quality of this bumper kit, the overall durability, and how aesthetically pleasing it is.
It should be noted this bumper kit does require cutting out the low-hanging factory front cross member. By doing so, and welding in a new, stronger cross member directly between the frame rails this bumper gains over 4.5" of clearance compared to other aftermarket bumpers! If you aren't wanting to cut the factory cross member out, Coastal's normal high clearance front bumper kit is also a fantastic option. I ran that one for a couple of years as well.
Find It Online
6.
Luong

(@

asap.tac0

) – C4 Fabrication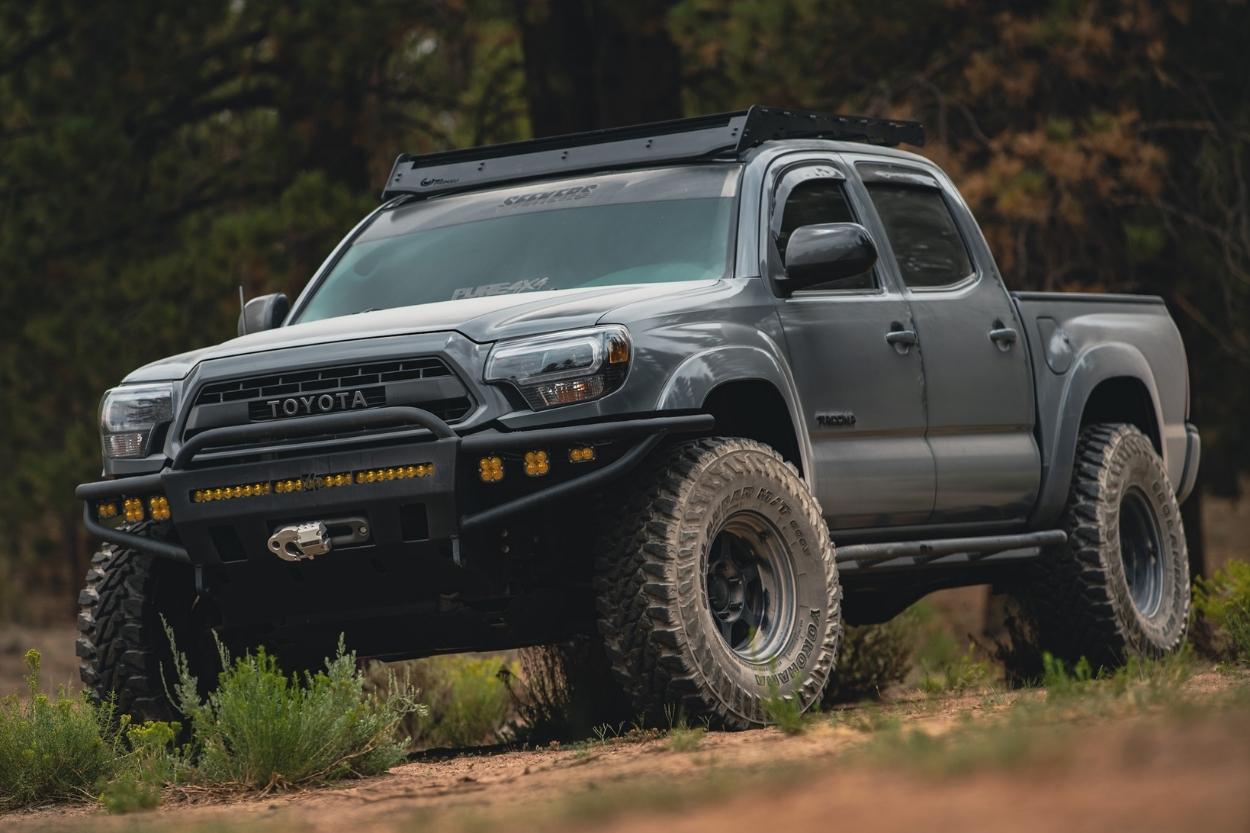 Bumper Details
Fabricator: C4 Fabrication
Model: Hybrid Bumper (2nd Gen)
Material: Steel
Weight: 125 lbs
Price: $1,403-1,629
Q&A – What Do You Like Best About Your Setup?
My Tacoma is featured here with the 2012-2015 C4 Fabrication's Hybrid Front Bumper. This steel bumper is 100% bolt-on, with cutouts in the front to allow access to a winch rope and clutch lever, and will accommodate most 8-12K winches. Based on your preferences, it can weigh 125 lbs without a bull bar, 130 lbs with a mid-height bar, and 13 7lbs with a full-height bar and side tube gussets. It is designed to fit a Baja Designs S8 30" light bar, but will also work with other brands such as Extreme LED or RIGID.
Quality is key with any build and C4 Fabrication brings that to the table with each and every piece that they put out. The styling and design are both aesthetically pleasing and functional, which provides me with guaranteed protection against any obstacle, while offering multiple options on how I want to utilize additional equipment, such as after-market lighting.
Find It Online
7.
John Seda

(@j

seda1

) – Southern Style OffRoad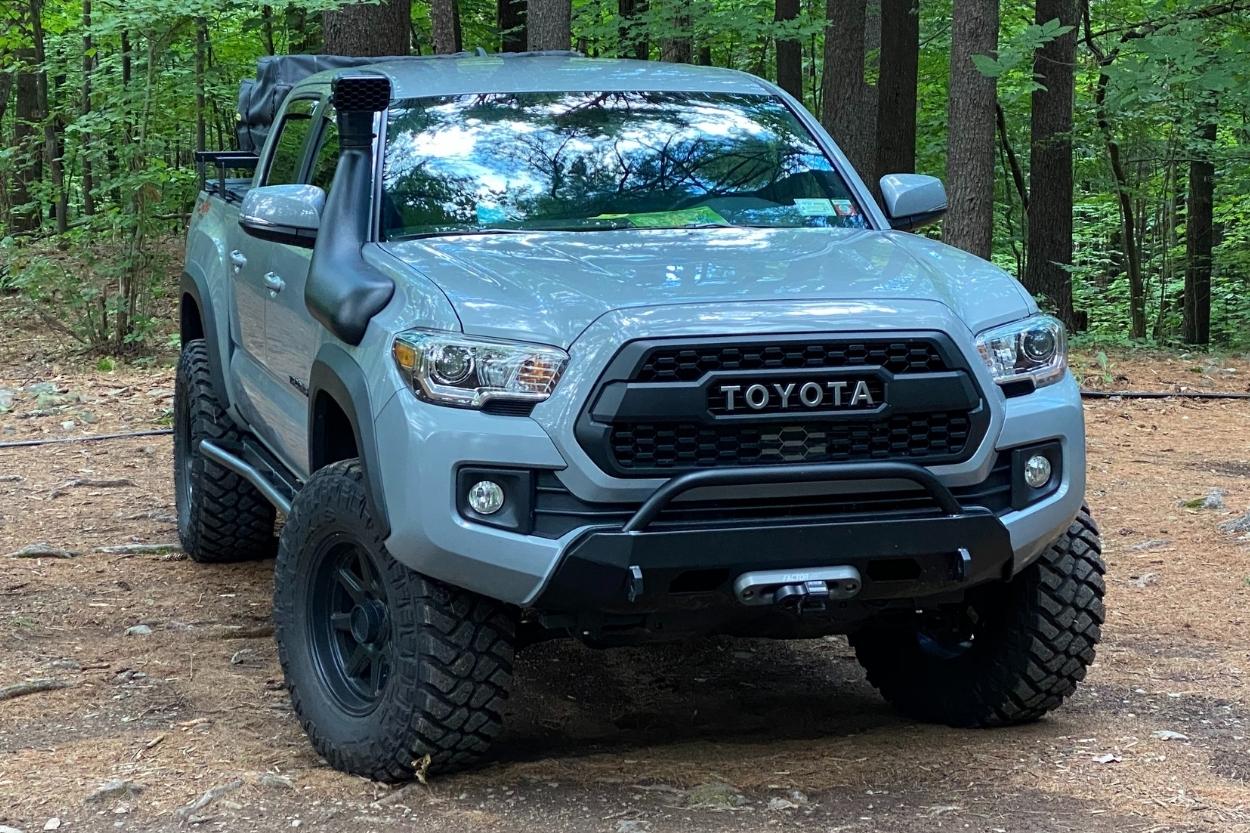 Bumper Details
Fabricator: Southern Style OffRoad
Model: Slimline Hybrid
Material: Steel
Weight: 35 lbs
Price: $769 – $988
Accesories
Q&A – What Do You Like Best About Your Setup?
Southern Style OffRoad slimline front bumper. MADE IN THE USA. Mounts my Smittybilt x10 winch nice and neat behind the front bumper. Install was super easy. You will have to trim but it's part of the game. The winch and bumper combined are under 100lbs, so it's not beating on the front end. The recovery point welds are nice and clean as well, they have done their job on more than one occasion. It's very beefy for not being a full bumper. I'll have the high clearance sides and they will be going on soon. It's a nice, clean look and the winch is mounted perfectly.
Find It Online
8.
James Panah

(@

panahrama

) – C4 Fabrication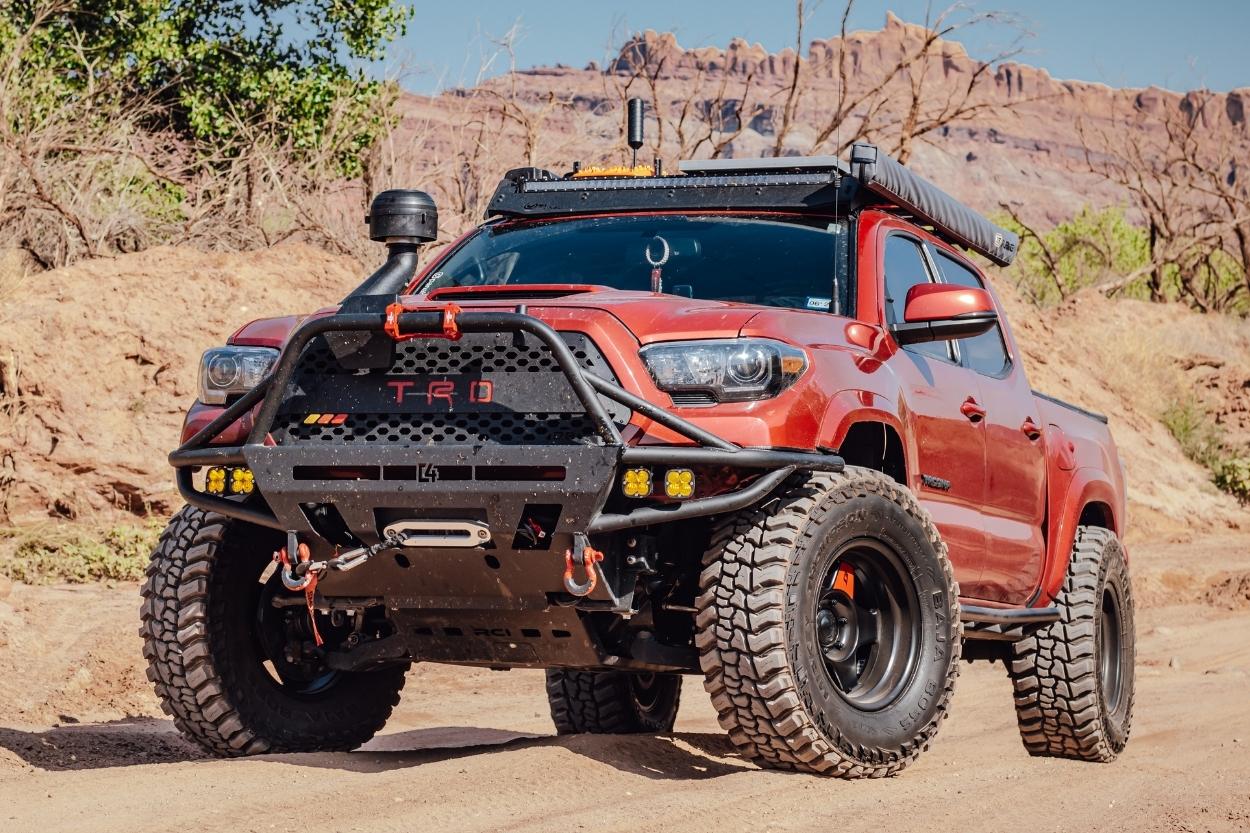 Bumper Details
Fabricator: C4 Fabrication
Model: Hybrid Bumper (3rd Gen)
Material: Steel
Weight: 125lbs
Price: $1,454-1,629
Accessories
Q&A – What Do You Like Best About Your Setup?
This is the cleanest designed tubular high-clearance bumper on the market (in my opinion). It's super aggressive and sleek. The bumper allows you to run larger tires with ease, as well as give you all the clearance upfront for obstacles on the trails. Not to mention, there are a ton of mounting options for lights! I've always been a huge fan of the tubular-style bumpers. The bumper ties in flawlessly with my RCI rock sliders and my Outgear Solutions Tubular High Clearance Rear Bumper.
It will fit most 8k-12k winches on the market, and the large cutouts on either side in the front allow for winch lever access. You can opt to have a front cut out for a 30" single row light bar. There are also 3 mounting plates on both driver and passenger sides (6 total) to mount lights. The bull bar can be customized to either full height or mid-height depending on your preference.
Find It Online
Final Thoughts
There are a lot of options out there when it comes to front bumpers and accessories. I hope this compilation of various trucks helps you out in your decision-making process. Front bumpers definitely aren't cheap, but they are 100% worth it if needed.
Each week, we will be choosing a different topic. Some weeks it will be very generic like Cement Grey Tacoma Builds and other weeks, we will get more specific like Suspension Setups. Regardless, everyone with a Tacoma can submit their truck to be featured here on Trail Tacoma.
If you want to be featured for Taco Tuesday on 12/21, submit your build through TrailTacoma.com/Feature. Next week's Taco Tuesday will cover Wheel/Tire Setups. We're looking for awesome rigs to showcase. If this is you and you love your setup, send in your rig and details because we want to see it.
Thanks for reading guys, I'll see you next week!