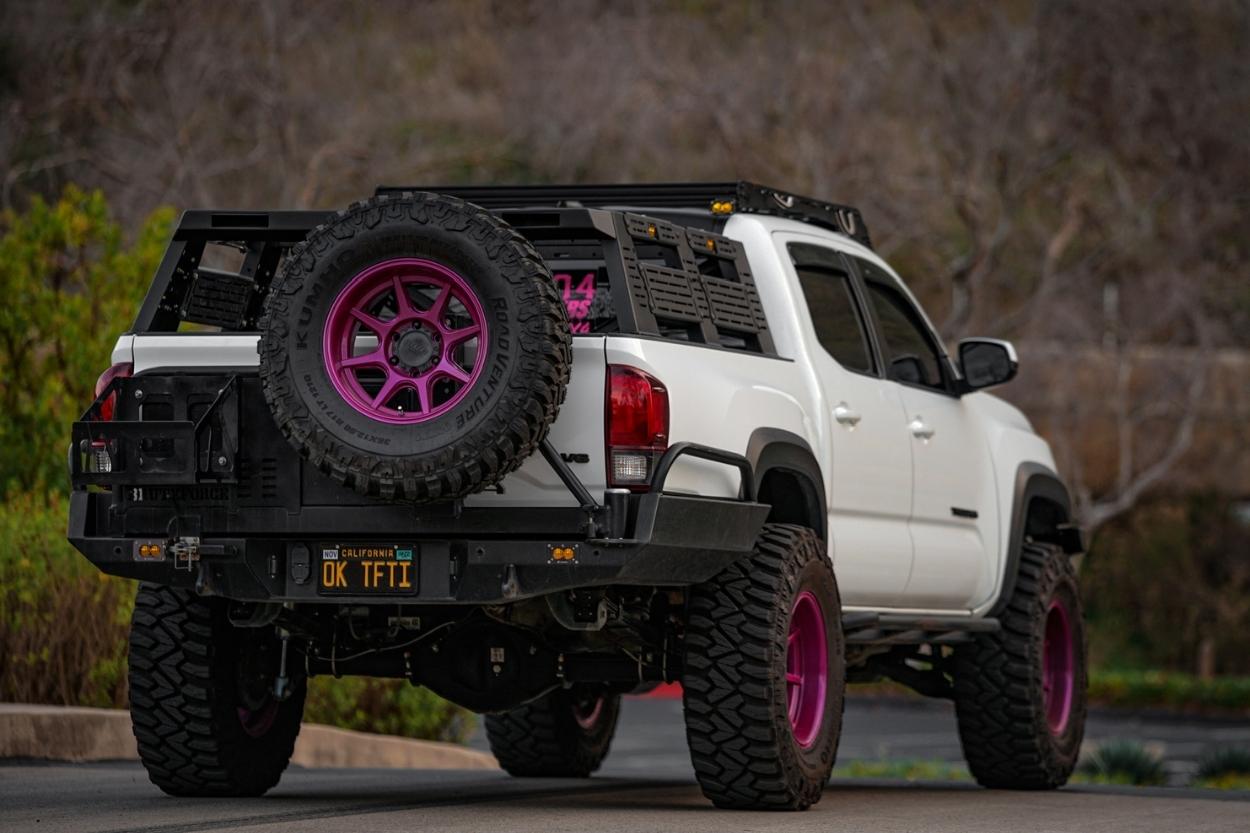 Pictured: Laurence Pimentel (@1904_4x4) – Brute Force Fab
12 Aftermarket High-Clearance Rear Bumper Options for Toyota Tacoma – Inspiration Compilation to Consider When Adding Armor to Your Truck
This Week's Topic: Rear Bumper Setups
What's up, guys? Welcome back to another Taco Tuesday! I hope you all are having a great week thus far.
This week we are covering rear bumpers to help you decide what best suits your rig if you are in the market for a new rear-end setup. Rear bumpers offer more than just looks and protection. A major benefit to adding an aftermarket rear bumper to your Toyota Tacoma is improved departure angles and ground clearance. Another big benefit is that most rear bumpers allow you to add and mount more accessories, like additional lighting, recovery points, rear tire swing-outs, cooking stations, RotopaX and more. Upgrading your rear bumper provides an awesome functional upgrade for your rig.
Below, you'll find a variety of rear bumpers ranging in both price and weight. These are two BIG factors when considering a rear bumper. We all know that the Tacoma is a bit underpowered, so if you add a super heavy rear bumper and still have accessories to add on, that may snowball into needing a new rear heavy-duty suspension… and a possible re-gear for the added weight. My motto is – always build as your budget allows. So, definitely do your research when it comes to big purchases like a rear bumper.
1.
Eric Cho

 

(@

choyota

) –

Relentless Fabrication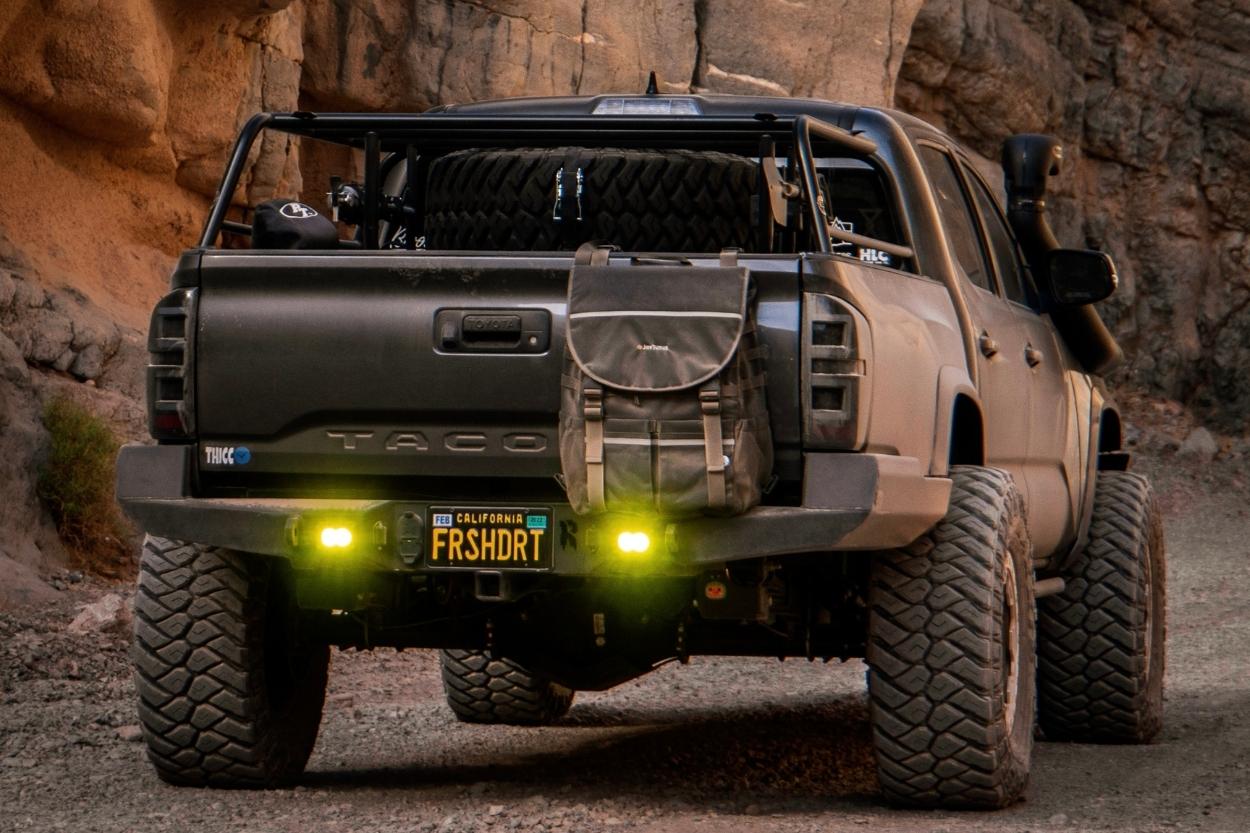 Bumper Details
High-Clearance
Price – from $1,369.00
Weight – 150 lbs
Customization – Low
Q&A – What Do You Like Best About Your Setup?
I like the bumper because it's visually appealing and offers great ground clearance and departure angles on the trail.
I opted for the non-swingout version, as I'm not a fan of weight at the rear of the bumper, and prefer the weight of the spare tire on top of the rear axle. Relentless Fabrication has a great reputation for the quality of its armor. Take a close examination and you'll see why.
2.
James Phillips

 

(@

rompin_taco

) –

At The Helm Fabrication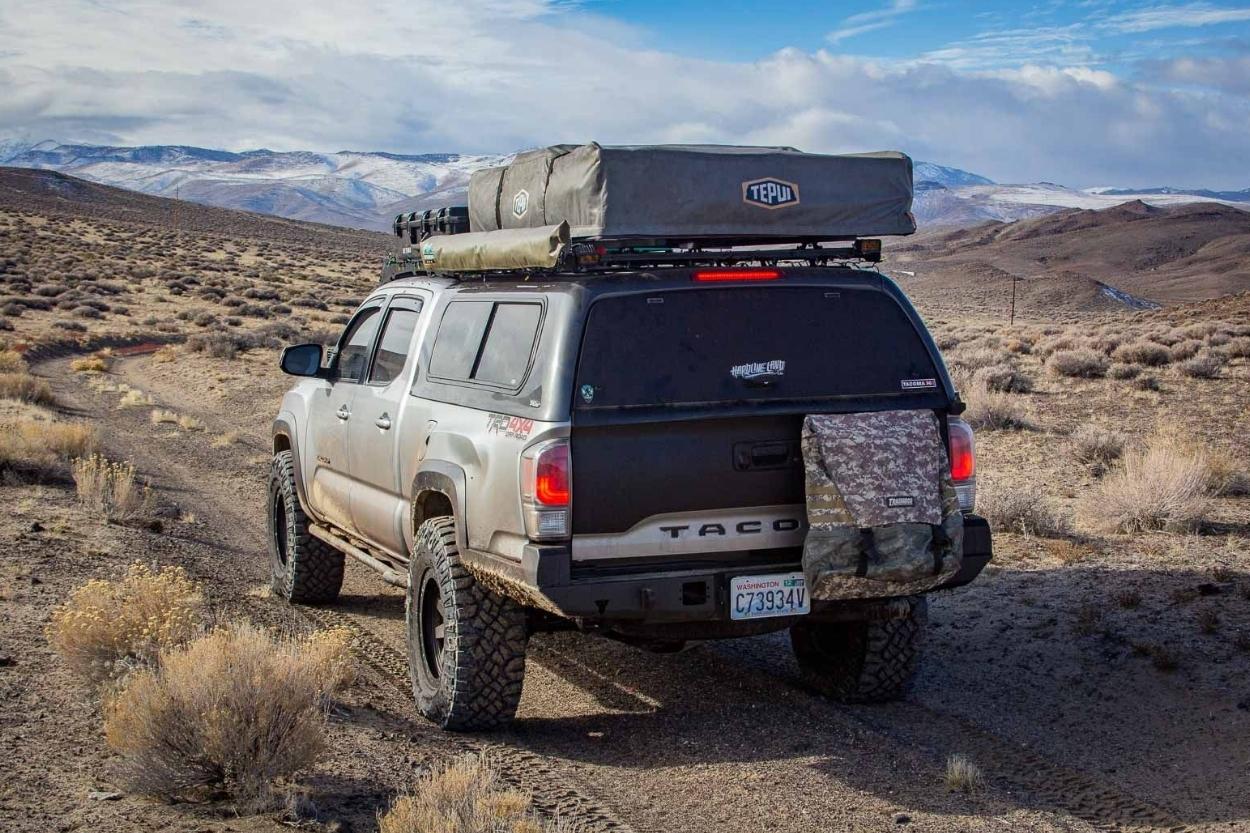 Bumper Details
Price – from $1,295.00
Weight – 200 lbs
Customization – Medium
Q&A – What Do You Like Best About Your Setup?
What I like most about this bumper is its clean and simple look, yet it is still beefy.
It's a high-clearance style, so you get an improved departure angle over the stock bumper. It comes with Hi-Lift jack point cutouts which sets it apart from others. This bumper keeps you protected with style.
3.
Anthony Monacelli

 

(@

tacochip_2016

) – 

Bay Area Metal Fab (B.A.M.F.)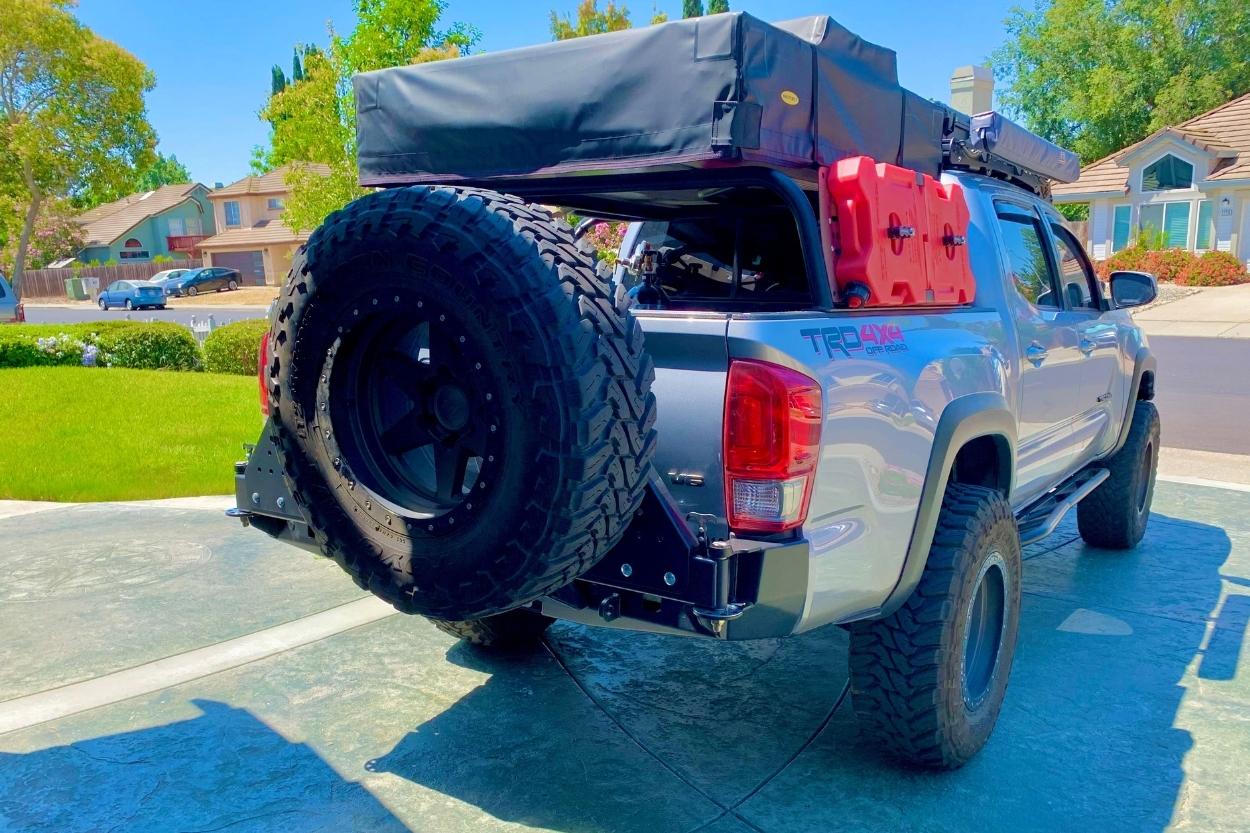 Bumper Details
Dual Swing Out (no bed cutting)
Price – from $2995.00
Weight – 250-400 lbs
Customization – Medium
Q&A – What Do You Like Best About Your Setup?
This bumper from B.A.M.F. is a direct fit with no cutting involved. Remove your rear bumper and bolt this one right in place. You gain ground clearance because the receiver hitch is now behind the license plate.
The bumper is made in America by a rad company. It is powered coated and trail fixable, meaning you can heat the powder coat and it will mold back together with ease. On big gouges you can sprinkle a little more powder, heat it up and it's like new. I recommend this bumper to anyone looking for more clearance and a nice design that will hold up to the elements out on the trail.
4.
Laurence Pimentel

 

(@

1904_4x4

) –

Brute Force Fab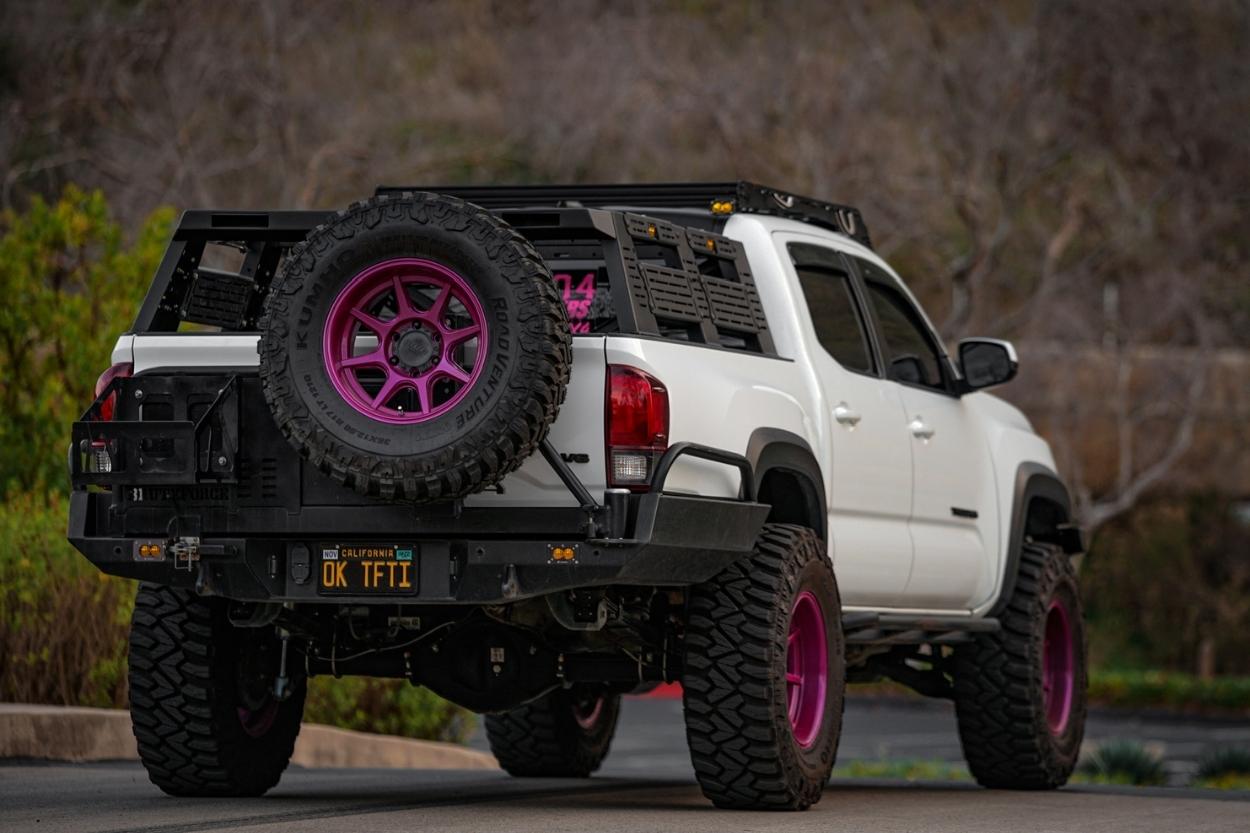 Bumper Details
High-Clearance Dual Swing Out
Price – from $1,410.00
Weight – 240 lbs
Customization – High
Q&A – What Do You Like Best About Your Setup?
The Brute Force Fab high-clearance bumper is one of the highest quality bumpers you can get, at such an amazing price point. The first time I saw the bumper in person, I knew it was the one I had to get.
The protection and clearance you get with this bumper are outstanding, plus the bumper includes bedside protection tubes that have saved my tail lights and bedsides from damage. I picked the swing-out because I like having my spare mounted on the back and the single-arm swing-out features the option for a very handy aluminum camping table and universal mounting plate on the driver's side for accessories. For the price point and options offered by Brute Force Fab, there are not many bumpers that can compete with it.
5. Marcel Masoumi (@squeaky_taco) – DIY Rear Bumper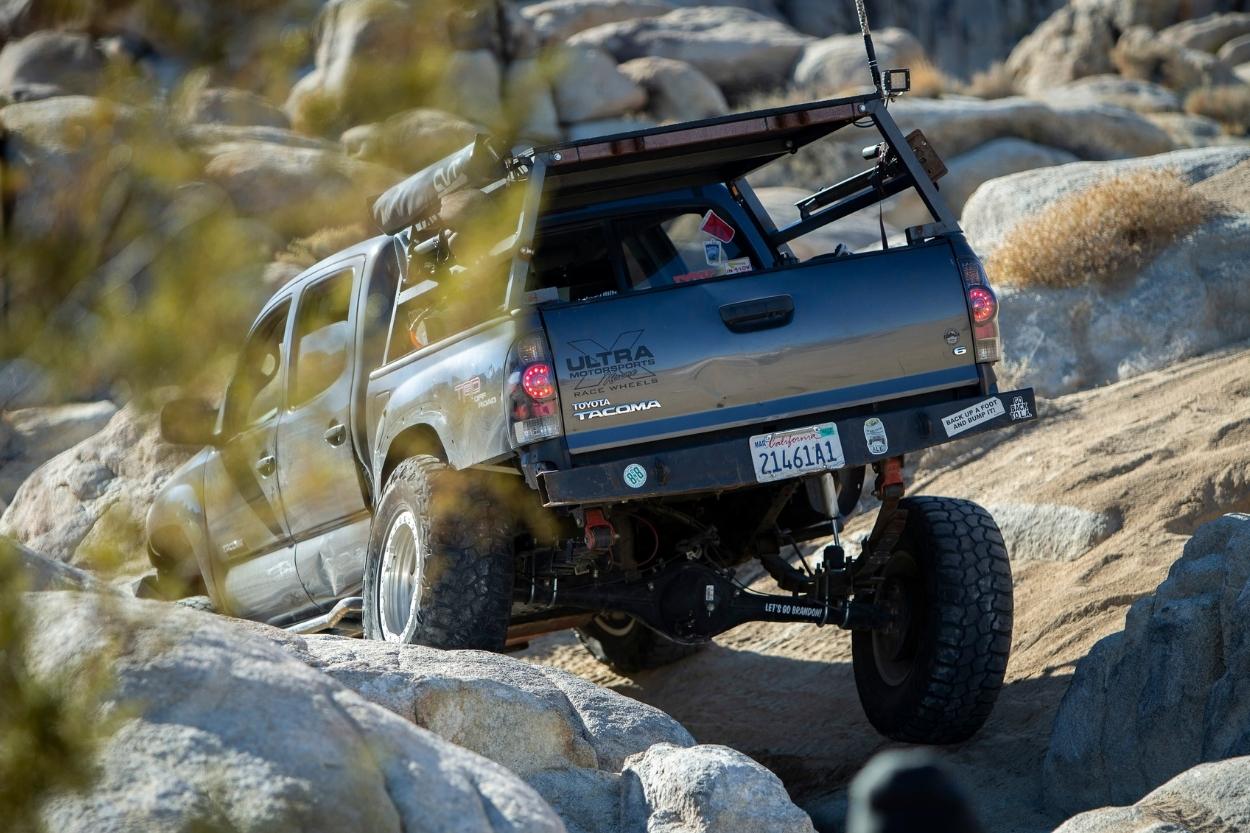 Bumper Details
KISS (Keep It Simple Stupid)
Price – $150ish
Weight – 80lbs
Customization – DIY
Q&A – What Do You Like Best About Your Setup?
Me, Myself, and I. K.I.S.S (Keep It Simple Stupid) mentality is what got this bumper done quick and cheap. 4×4 square tube, 4×6 rectangle tube, and 3/8″ flat stock all from the scrap pile at the local metal supply. You don't need to be a rocket scientist or rich to come up with something that you can beat on time and time again.
There are great memories of why I had to make the bumper real quick. I got invited to hit some easy trails with a group of dudes (which is @hardlinelandco) in Big Bear, CO. Well, one of those trails was John Bull, and boy oh boy, was that interesting. I had just got a set of sliders on and some 33's and I was eager to use them. Sure enough, I bent the life out of the factory bumper to the point that I couldn't open the tailgate. That wasn't going to be ok. I was a week away from leaving on a road trip to Montana and I need to use my bed. A quick trip to the metal supply shop and I had what I needed to bang out this Frankenstein beauty.
6.
Pao Ramos

 

(@

satx_taco

) – 

At The Helm Fabrication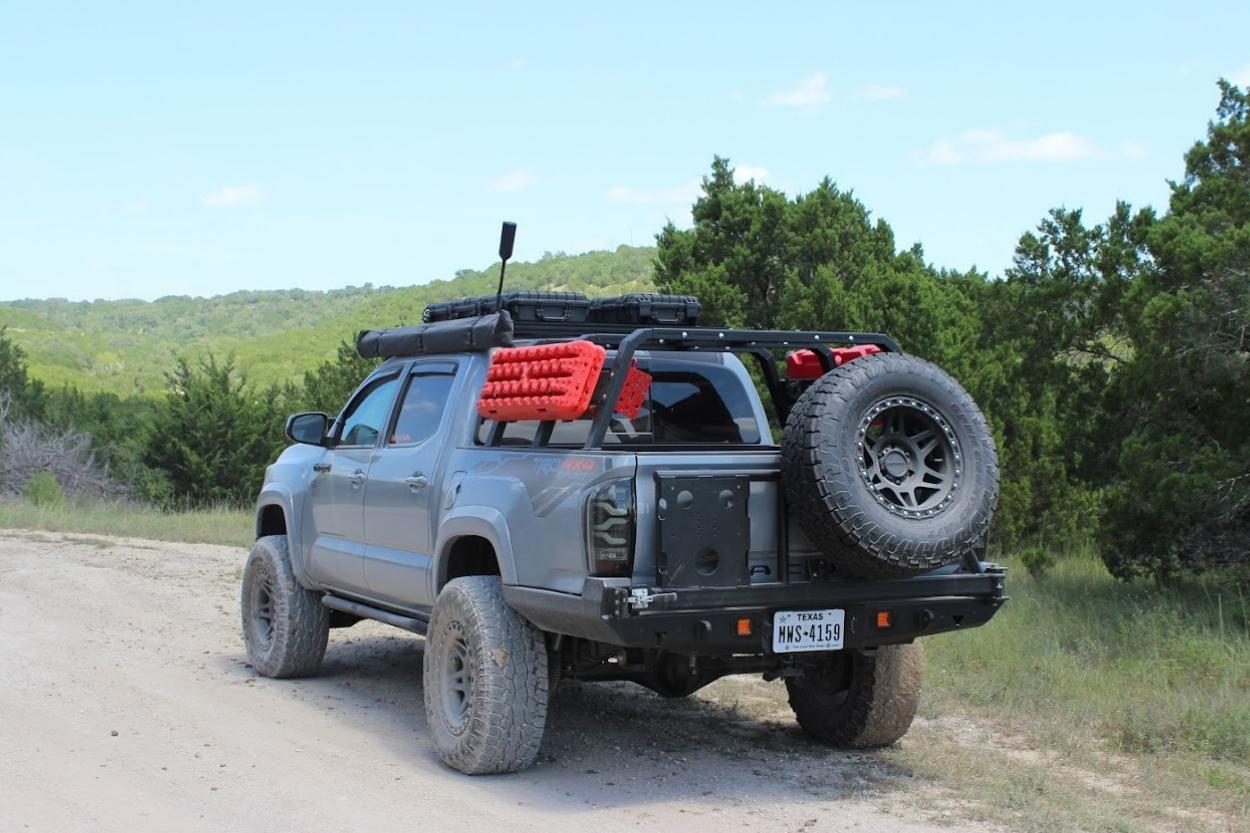 Bumper Details
High-Clearance w/ Swing Out
Price – from $2,065.00
Weight – 175 lbs
Customization – High
Q&A – What Do You Like Best About Your Setup?
When you are crawling a rocky area, do you have faith in your departure angle to wheel out with no body damage? Have you given any thought to how to protect your back end with a solid piece of armor? There are many options made available to the off-road/Tacoma community. It comes down to your desired options, size, shape, and functionality of a solid metal rear bumper. A rear high-clearance bumper is a great choice to protect your rig while indulging yourself in an expensive hobby.
I will be discussing a specific bumper option from At the Helm Fabrication. A piece of armor completely customizable to my style and look of choice, a bumper molded to my Taco's body shape with a multitude of options for my application. I can outfit this bumper with a wide range of gear based on my usage.
Constructed from 3/16" HRPO steel plating and 1/4" on all mounting points, this product screams durability. As a consumer, I was in the market for the most bang for my buck. The price point (currently between $1,295 and $2,065) is comparable to basic builds and cheaper than most of the popular brands on the market. Coming in at a modest weight of 175 lbs for a full build, this fits perfectly into my rear heavy-duty suspension setup. Of course, this weight will increase when you start adding accessories.
A built-to-order bumper, I had the pleasure of speaking with the owner before construction to discuss my options and, if able, small changes to fit my liking. The customer service and attention to detail were outstanding. This far exceeded my expectations and the business earned a customer for life.
The bumper added that ruggedness and trail-ready factor to my rig, right out of the gate. Although the bumper comes bare metal, you have the option to color match the rig or coat it the color of your choice. I opted to go with a traditional matte black powder coat to match all other armor. A complete bolt-on application made for a relatively easy installation. If you are not comfortable cutting your bedside and splicing wires, it's highly recommended to get it professionally installed.
Important characteristics which solidified my choice in this bumper are the standard features. The cutouts to install flush mount LED pods to meet my reverse, chase, or floodlight needs in the back. Being out on the trail can be unpredictable, so knowing I have slots available for a solid and safe lift point to use a Hi-Lift jack gives me ease. Opting to have the hitch receiver hidden behind the license plate provided an additional 2-inches of departure angle. No more rock crunching and getting hung up on the factory receiver.
Not all brands and models come with or have the option for a swing-out. This was one feature that was important in my rig build. I found what I was looking for in a bumper. With the addition of a swing-out, I'm able to mount a spare tire (up to 35") for those quick flat tire swops. Gas is important to a long trail ride spanning over several days where fuel stations are scarce. Having an option of additional mounting locations for fuel was a plus for my needs. To take it a step further, you can mount various fuel containers (RotopaX, jerry can). Once I found out a jerry can holder was available, I did not hesitate in adding it after the bumper was installed.
Overall, I am extremely pleased with my purchase.
7.
Andy Vang

 

(@b

roke_yota

) –

Bay Area Metal Fab (B.A.M.F.)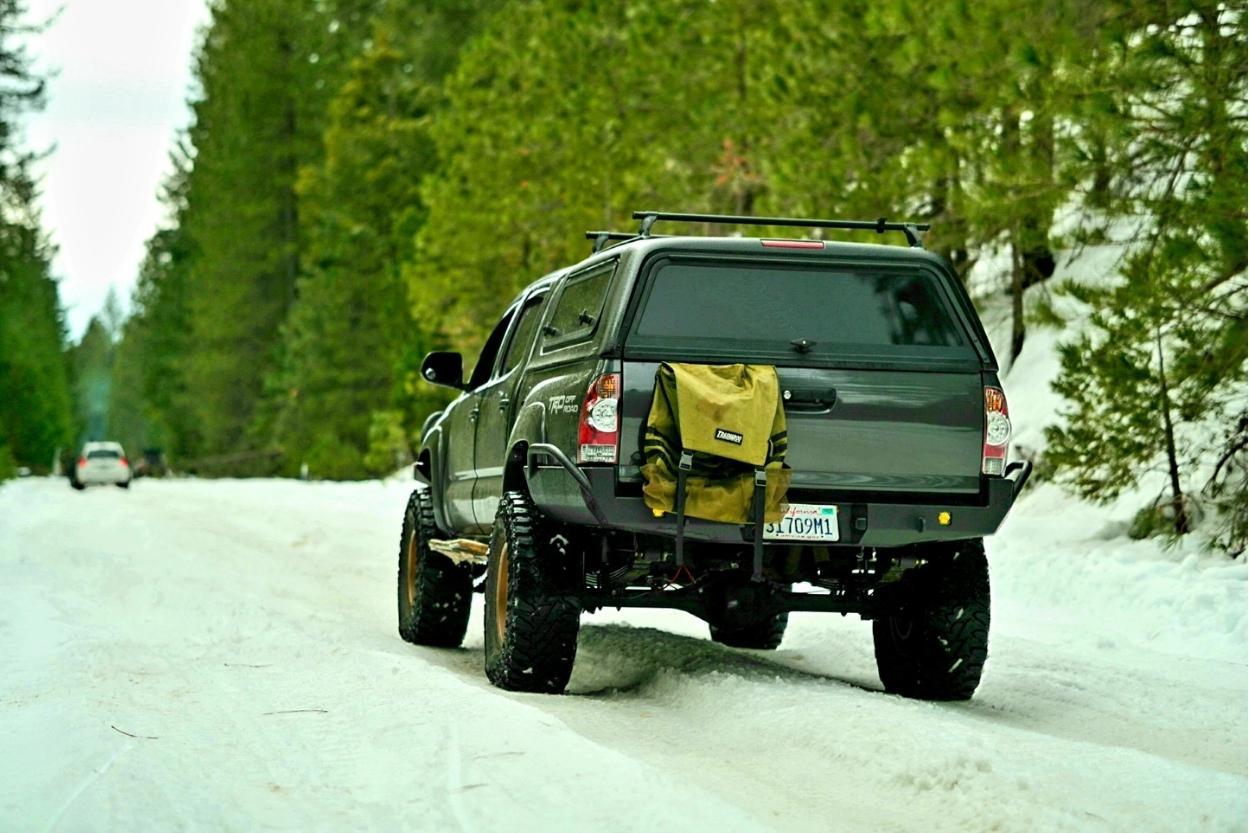 Bumper Details
High-Clearance No Swing Out
Price – from $1,495.00
Weight – 175 lbs
Customization – Low
Q&A – What Do You Like Best About Your Setup?
The BAMF high clearance rear bumper offers superior clearance and a hidden hitch behind the license plate. Also, the hoops provide extra protection and can be used as a step to reach into the bed of the truck or items on a bed rack.
The bumper has a second plate towards the rear wheel if you need to trim to fit bigger tires. No additional welding is needed.
8.
David Creighton

 

(@

darthtaco.trd

) –

Outgear Solutions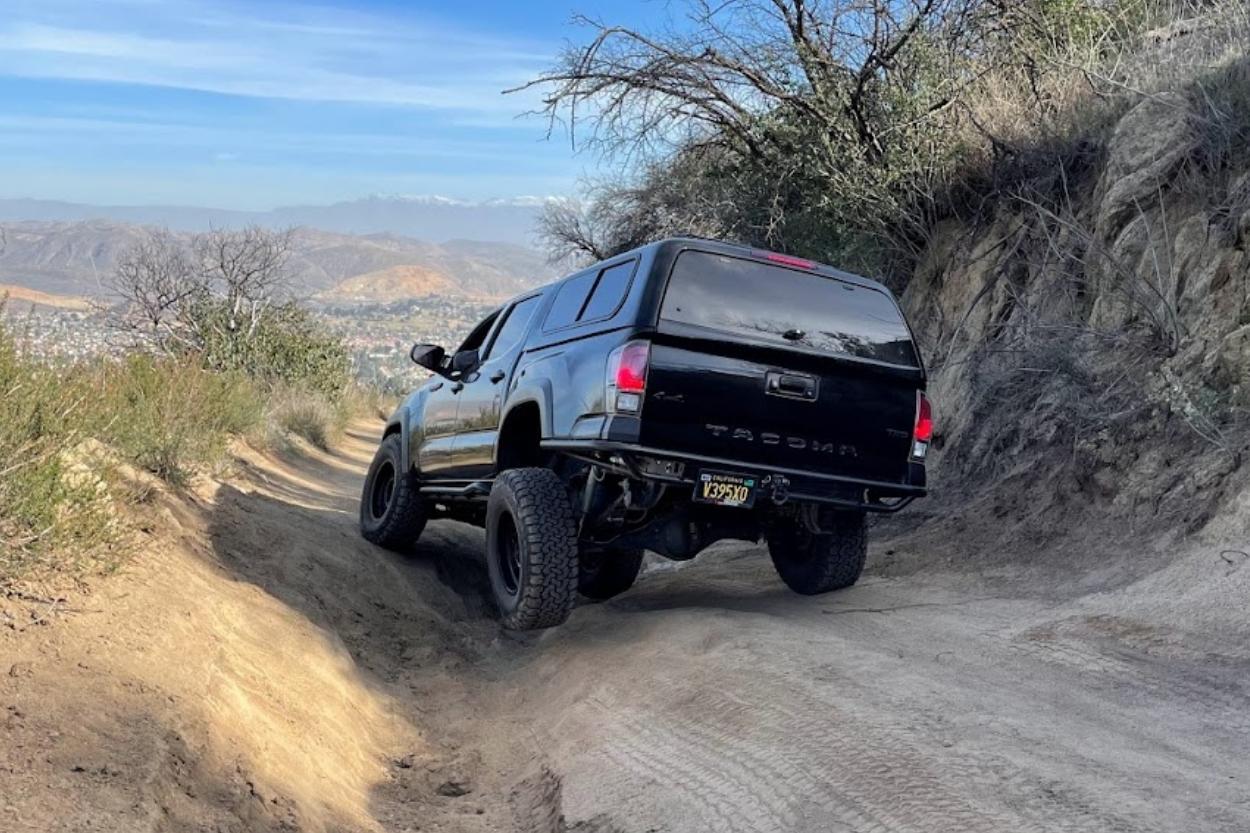 Bumper Details
Price – from $985.00
Weight – 85 lbs
Customization – Low
Q&A – What Do You Like Best About Your Setup?
It's hard to say what I like most so here are three things.

The bumper is by far the lightest option on the market (about 85 lbs). Joe from Outgear Solutions says there is almost no weight difference between it and the Tacoma stock bumper.




The addition of 7″ of clearance is awesome to have.




The look obviously wins me over compared to other options on the market.
9.
Dillon Wimer

 

(@

tacomooose

) –

WarFab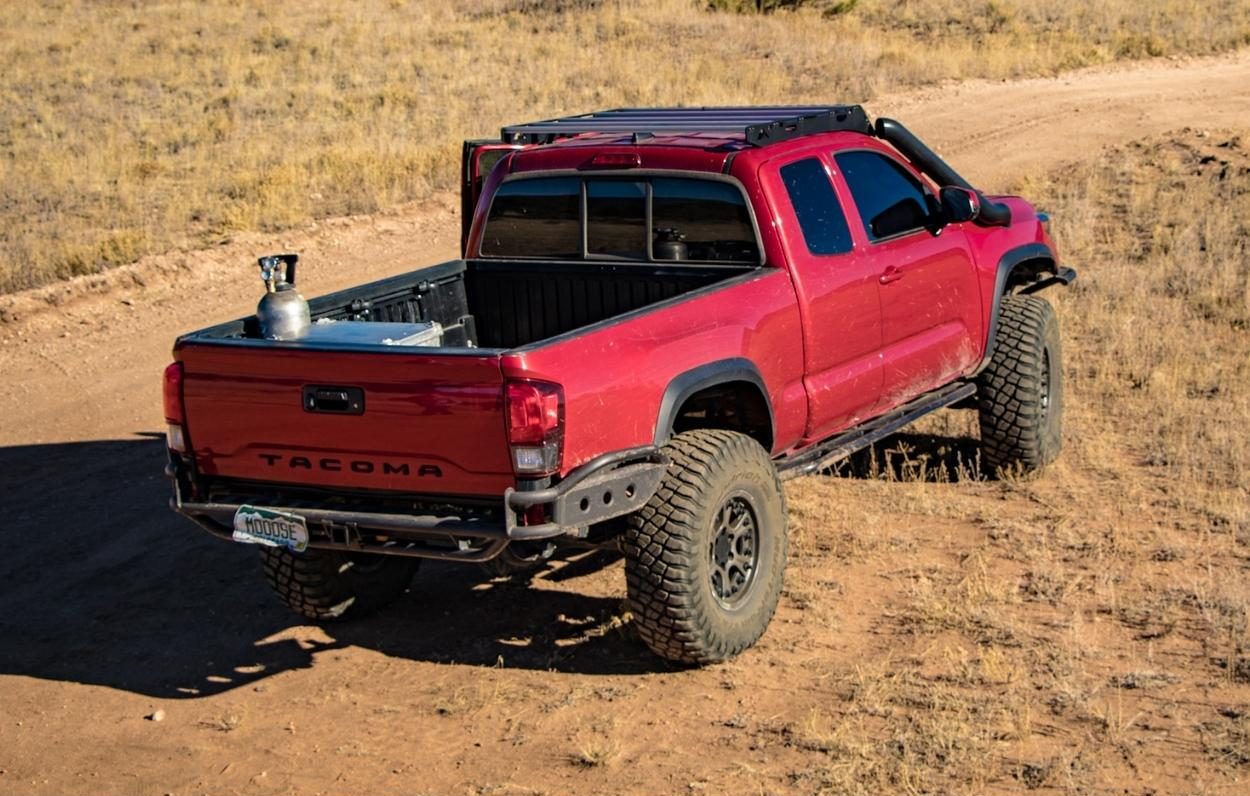 Bumper Details
Phantom High-Clearance
Price – from $810.00
Weight – 100 lbs
Customization – Low
Q&A – What Do You Like Best About Your Setup?
This bumper is one of the cheaper high clearance options. The tree savers have helped a ton with keeping my bedsides intact. It still drags all over the place like a factory Tacoma bumper but looks a little bit better in doing so.
I have a swing-out kit for the bumper but could never get all the parts sent to me so I will likely be scrapping it with the bumper when I build something new.
10.
Tyler Johnston

 

(@

coastal.tacoma

) – 

Coastal Off-Road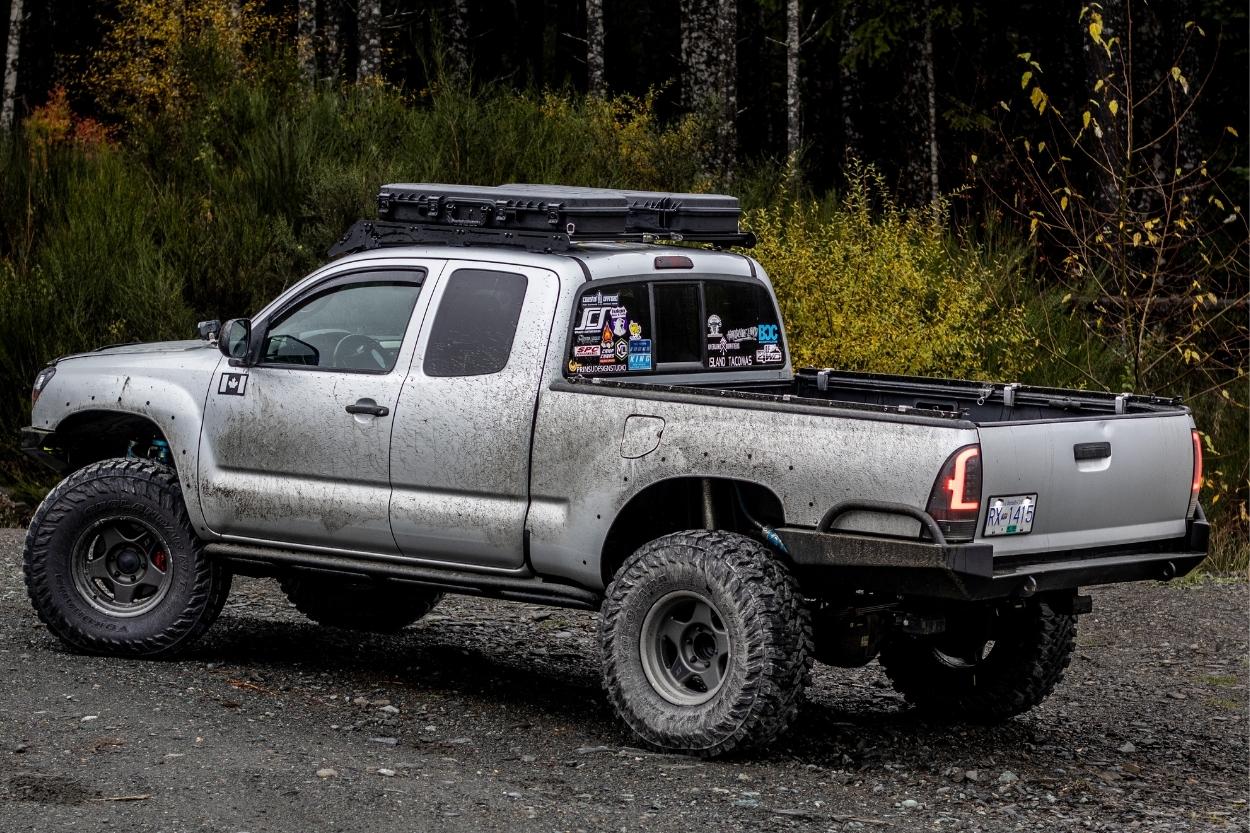 Bumper Details
High-Clearance
Price – from $633.00
Weight – 120 lbs Steel – 59 lbs Aluminum
Customization – High
Q&A – What Do You Like Best About Your Setup?
I love how simple this bumper kit is to put together. Coastal Offroad does a fantastic job of making their kits as easy as possible to weld up yourself (or have a fabricator do it for you) with easy-to-follow instructions.
The clearance gains are HUGE compared to the stock bumper and are better than most other aftermarket bumper options out there. The clean and simple lines are great but still give off a very aggressive and strong-looking bumper. It has held up great to all the abuse I've put it through in the past 2.5 years. I've dropped it onto some massive rocks and it's still solid and holding strong!
11.
Rodell Esteban

 

(@

pnwx.taco

) – CBI Off-Road Fab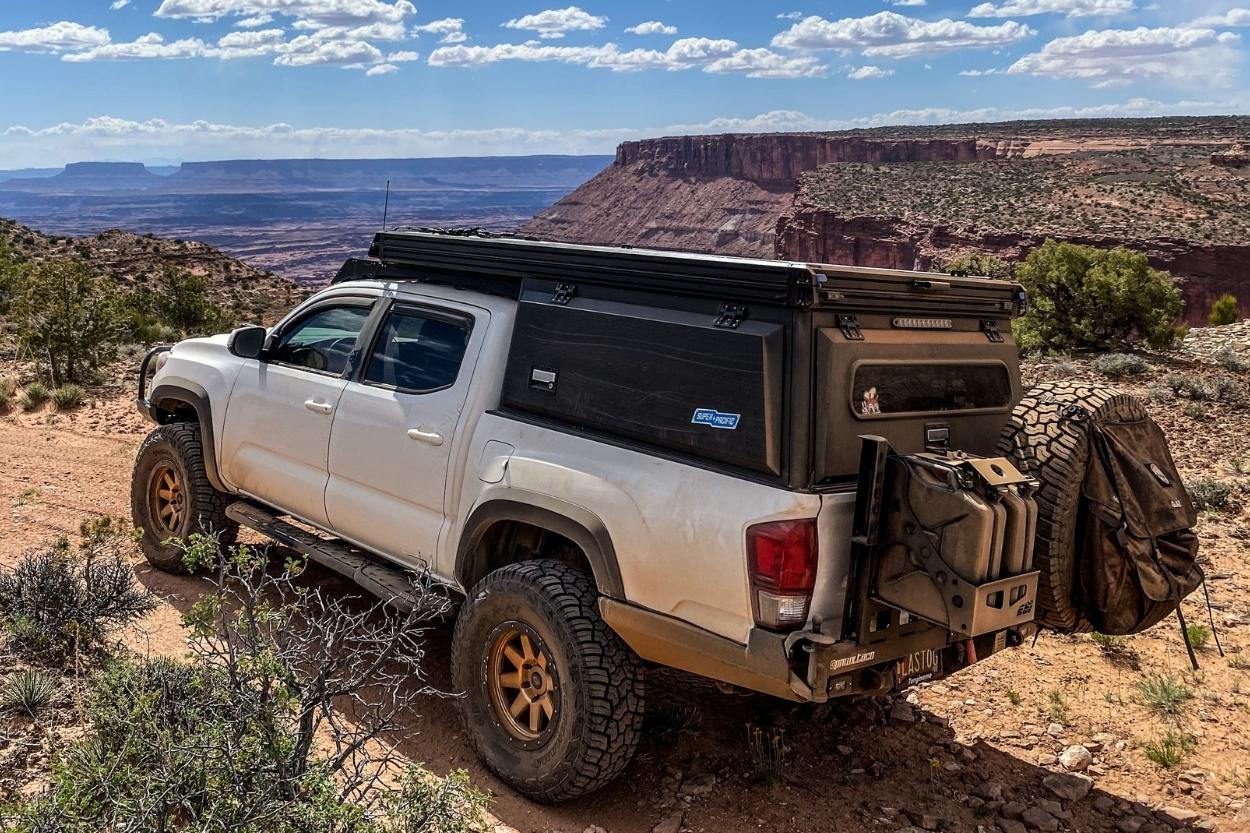 Bumper Details
T3 High-Clearance
Price – from $3,100.00
Weight – 200lbs
Customization – High
Q&A – What Do You Like Best About Your Setup?
The full CBI armor for protection on the trails comes in clutch all the time.
The 35" Yokohama tires for extra clearance and grip on the trials help me conquer any terrain I throw at this rig. The ADS suspension for the comfortable ride on and off-road. The CBI rear bumper allows me to have not only rear-end protection but additional storage as well for an extra full-size spare. Lastly, the Super Pacific X1 camper lets me camp anywhere I want.
12. Brenan Greene (@Trail4R) – C4 Fabrication
Bumper Details
C4 Fabrication Overland Rear Bumper
Price – from $1,499.00
Weight – 100lbs
What Do You Like Best About Your Setup?
The C4 Fabrication Overland bumper is a light weight option to run for a bit more protection in the rear, although doesn't offer nearly the amount of protection the high clearance does. I really like the look of this bumper but will be upgrading to the high clearance bumper soon.
Final Thoughts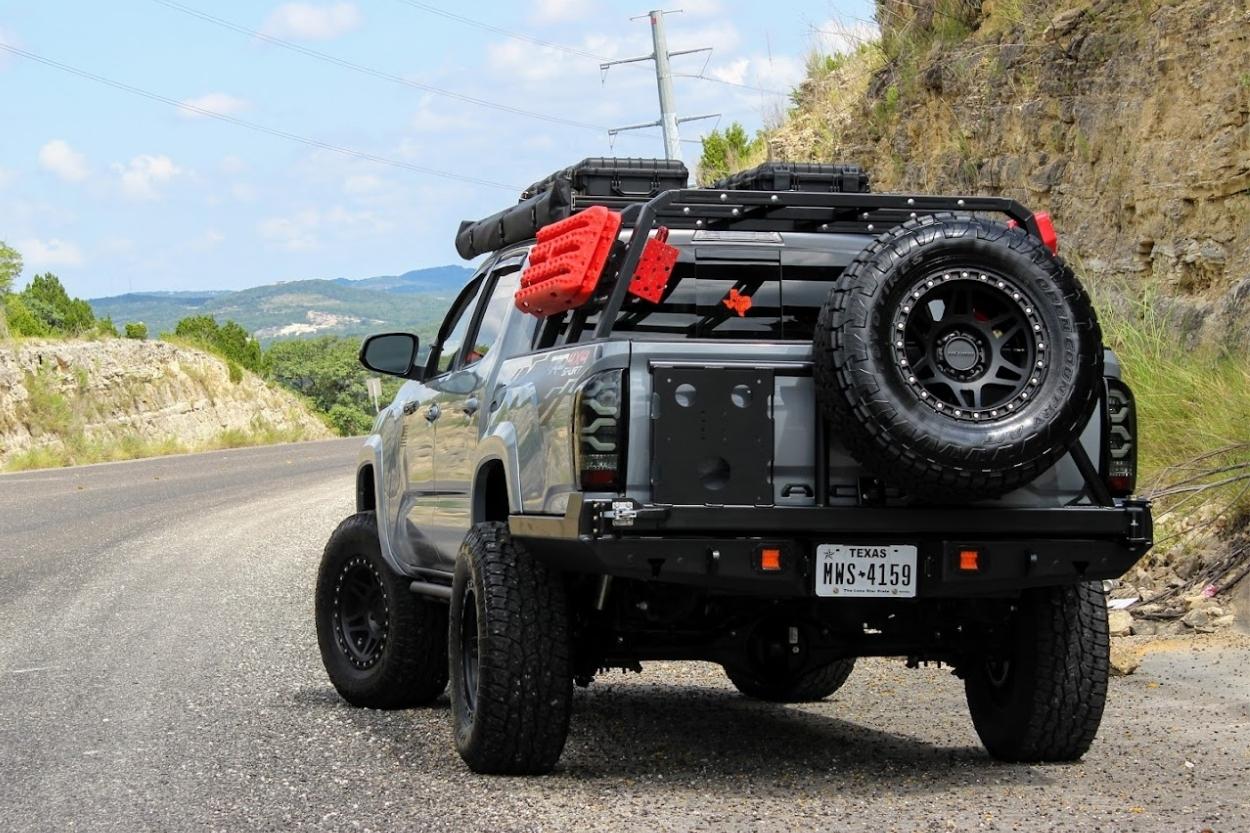 Pictured: Pao Ramos (@satx_taco) – At The Helm Fabrication
Hopefully, this week's Taco Tuesday post can give you good direction on what rear bumper options exist and best fits your build needs. There are tons of options to choose from and the prices can range, as mentioned earlier.
Each week, we will be choosing a different topic. Some weeks, Taco Tuesday will be very generic and some we dive deep into items like Super White Tacoma Builds. Regardless, everyone with a Tacoma can submit their truck to be featured here on Trail Tacoma.
If you want to be featured for Taco Tuesday on 1/25/2022, submit your build through TrailTacoma.com/Feature. Next week's Taco Tuesday will cover TOP 5 TACOMA MODS. We're looking for awesome rigs to showcase. If this is you and you love your setup, send in your rig and details because we want to see it.
Thanks for reading guys. I'll see you next week!