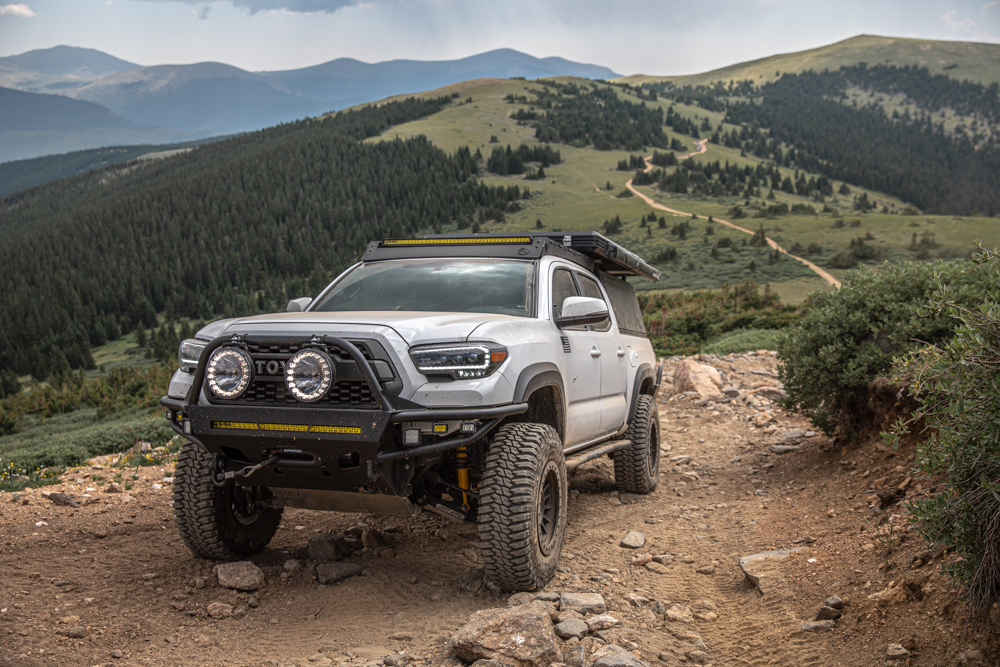 5 Epic Lifted Super White 3rd Gen (2016+) Tacoma Builds – Inspiration Compilation for Your Rig
This Week's Topic: Super White Builds
What's up, guys? Welcome back to another Taco Tuesday! I hope you had a great holiday and are ready to crush it in 2022.
We have five unique and different Super White Toyota Tacoma builds this week to help get you inspired, just in case you're unsure where to take your build next. Even though we only have five Tacomas to feature this week, the variety is still here! We have a double cab long bed, a long travel TRD Pro, a full bed camper setup, and lastly, a rig that will turn darkness into light. Oh, and we can't forget the flagship Trail truck. The Tacoma is a great platform for whatever build path you want to take your truck down.
Seeing these trucks this week gets me super excited to get some modifications onto my new build. I have lights, a roof rack, and some bed modifications coming. These five trucks are definitely an inspiration to get my build going! I hope you all enjoy this week's Taco Tuesday!
5 Must-See Super White Toyota Tacoma Rigs
1.
Adam Margaris

 

(@

redrocktaco

) – 2019 TRD Off-Road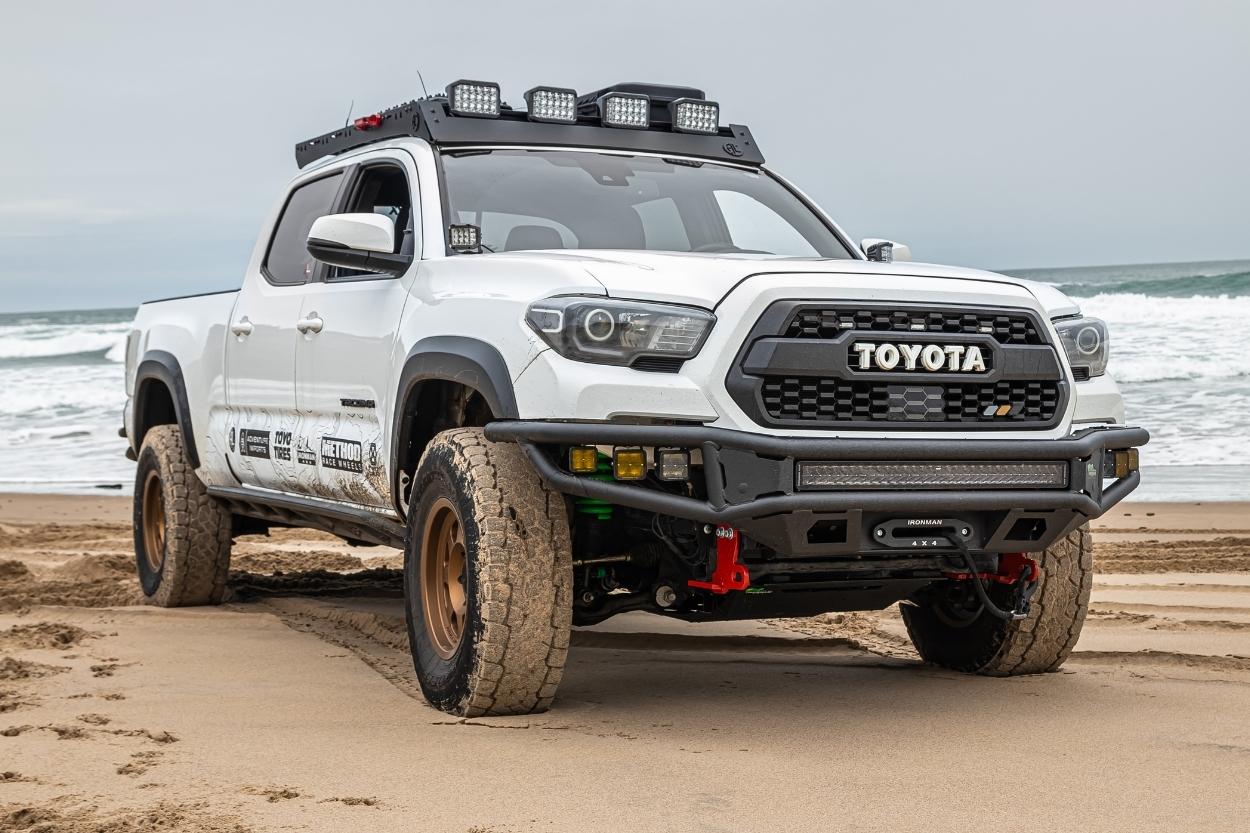 MODS LIST
Armor
Ironman 4X4 Raid Series Armor Package – Includes front and rear bumpers, front and rear lighting pods, front light bar, Tacoma skid plate kit, 9,500lb synthetic winch
Rago Fabrication DCLB DOM Rock Sliders (discontinued)
Suspension/Wheels/Tires
Lighting
Retrofit Headlights w/ Morimoto LED Halos and Bulbs
Performance
Appearance
Custom Topographic Wrap from MyGarage
Custom Decals
Miscellaneous
Q&A – What Do You Like Best About Your Setup?
In its current state, the truck handles like a dream on the Ironman Suspension. The new Raid Series bumpers are seriously slick and have plenty of room for the winch and all the new lighting I've added to the truck. The 33″ tires clear with no rubbing after some plastic trimming, but 35s may be in the near future.
The AT3s have performed perfectly in all conditions and look too good with the Bronze 701s! I also love the custom touches around the truck, like the red accents, grille badge, retrofit headlights, and the decals/wrap. In just a few weeks, the bed area will get some love with the new Xtrusion Overland bed rack, an Ironman 4X4 Nomad RTT, and a 270° awning!
2.
Rodell Esteban

 

(@

pnwx.taco

) – 2016 TRD Sport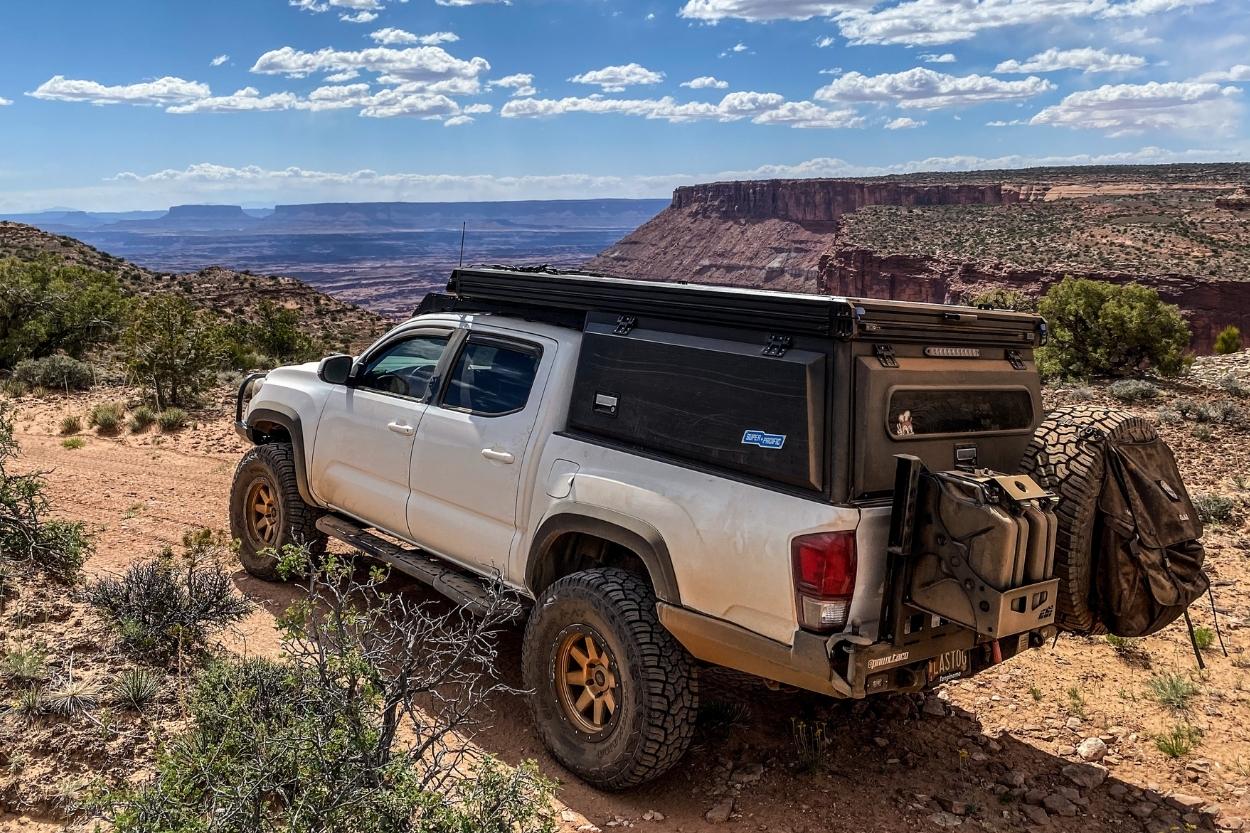 MODS LIST
Armor
CBI Front & Rear Bumper

 

CBI Skids Plates

 
Suspension/Wheels/Tires
ADS Front & Rear Shocks
Camburg UCAs
SCS SR8 17" Wheels

 

35" Yokohama X-AT
Lighting
Rigid Industries Lighting
Performance
AFE Intake
Magnaflow Exhaust
Camping
CVT Shower Room

 

4 gallon Yakima Road Shower
Roam Awning
(2) Renogy 100W Flexible Panels
Miscellaneous
Q&A – What Do You Like Best About Your Setup?
I like the full CBI armor for protection on the trails. Their armor really gives me confidence for any terrain.
The 35" Yokohama tires for extra clearance and grip on the trials really stand out as well. The ADS suspension provides for a comfortable ride on and off-road. The Super Pacific X1 camper is the best; it lets me camp anywhere.
3.
Christian Mckay

 

(@

__tacochris

) – 2017 TRD Pro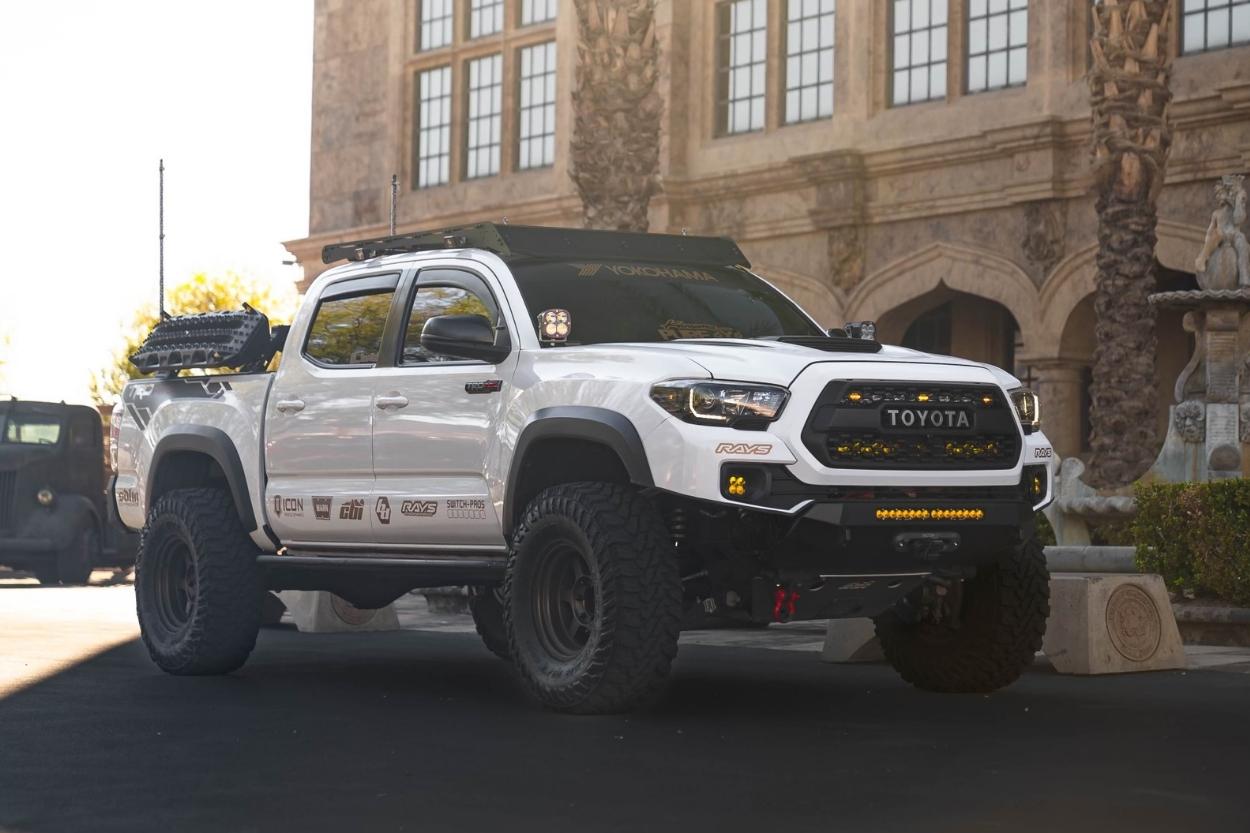 MODS LIST
Armor
RCI Rear Bumper
CBI Off-Road Skid Plate
Billet ABS Guard
Suspension/Wheels/Tires
ICON Stage 9
Billet UCA
ICON Stage 3 S2 Secondaries
ICON Rear HYD Bump Kit
Volk Racing TE37x -20 Off Set
35" x 12.5 R16 Yokohama Geolander
Lighting
Baja Designs

(2) 30" onX6 Amber White Behind Grille
20" S8 In Bumper
(4) S2 Sports Scene Lighting On Rack
(8) Baja Rock Lights
Xl80 Ditch Lights
(2) S2 Pro Chase Lights
(2) S2 Sports Reverse Lights
(2) Squadron Pros Chase Lights
 Squadron Sport Fog Light Kit
Appearance
Custom Seats
Custom Steering Wheel
Miscellaneous
MaxTrax Mount
Hi-Lift Mount
Warn 10s Platinum

 

Pelfreybilt Group 31 Battery Cage
X2 Power Group 31 AGM battery
Pelfreybilt group 31 battery cage
Switch-Pros OEM Key Pad Mount
Q&A – What Do You Like Best About Your Setup?
Everything to be honest. This is the perfect setup in my eyes.
It's clean, mean, and functional, which I've been going for. Night trailing requires lots of light; I got that covered with my array of Baja Designs lights to turn night into day with a press of a button on the Switch-Pro.
4. Konrad Chojnowski (@trail_tacoma) – 2017 TRD Off-Road
MODS LIST
Armor
RRW Front Bumper
C4 Fabrication Rear Bumper
Suspension/Wheels/Tires
Wheels
TreadWright Guard Dogs – 285/70/17
Spidertrax 1.25″ Wheel Spacers
Lighting
Miscellaneous
Q&A – What Do You Like Best About Your Setup?
This truck serves as a test platform for many products that we test/review for Trail. It's always changing, and I've got some massive plans for a complete overhaul in 2022.
In terms of what I like best? Man. It's tough to say! The RRW products are super rad, the Lightforce LEDs are absolutely next level (especially those HTX 2s), and the AluCab and the RTT are probably the most functional mods I've added to any build to date. I love where I'm at, but it's time to make some big changes.
5.
Dimitri

 

(@t

rdpro_pugz

) – 2017 TRD Pro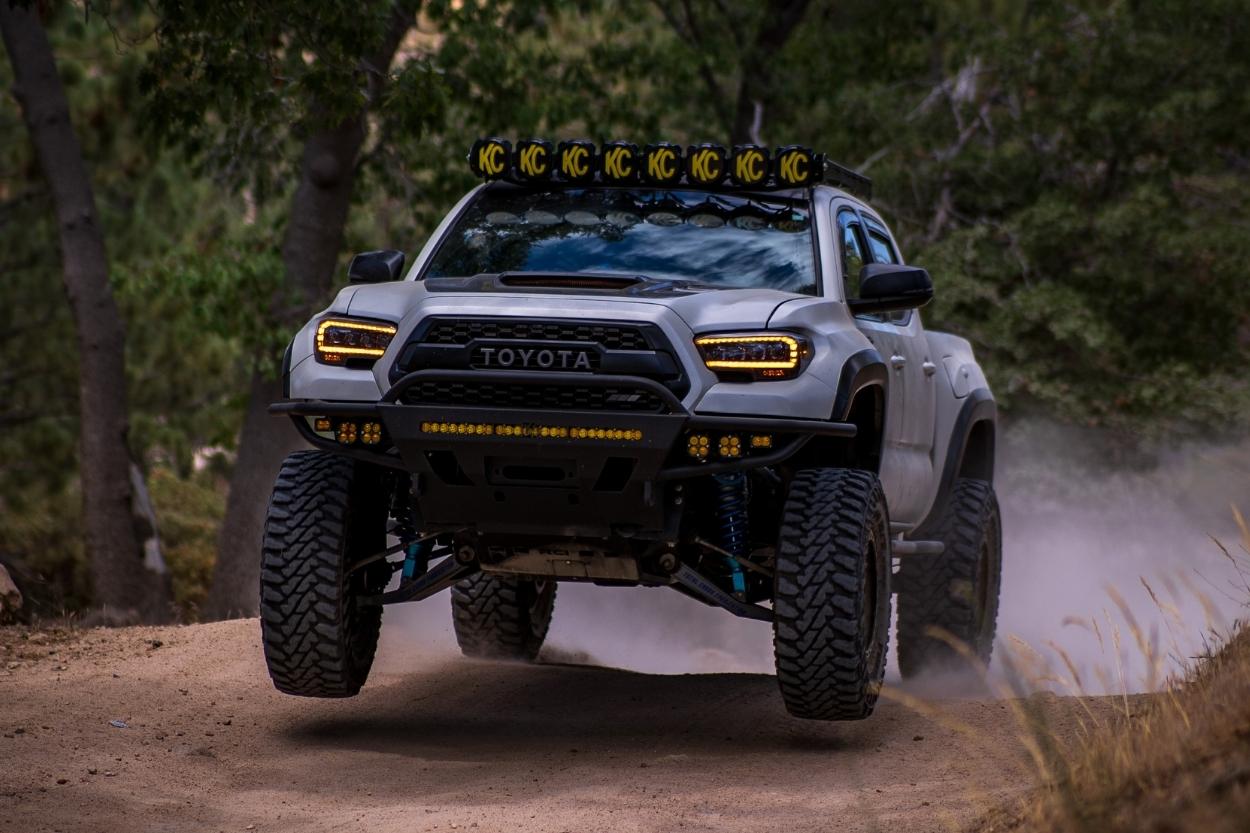 MODS LIST
Armor
C4 Fabrication Front Bumper
Outgear Solutions Rear Bumper
RCI Off-Road Skid Plates
Suspension/Wheels/Tires
Front

Total Chaos Fab +3.5 *Long Travel Race Kit*
2.5 Diameter Total Chaos Spec King Shocks w/ Adjustable Compression
TC Spec Second 8″ King Triple Bypass

Rear

Archive Garage Shock Relocation Kit
Hammer Hangers w/ Shackles and Crossbar
King 12″ Triple Bypass
Stage 1 Deavers Leaf Springs
Wheels
Yokohama Geolanders 35 x 12.5 17
Lighting
Roof Rack Lights – KC Hilites Pro6
Bumper Pods From Desert Armor UltraXs
Bumper Center From 30″ Baja Designs S8
Performance
ECU tune by @sibi.built
Rippsuperchargers Ignition Coils
4.88 Nitro Gears
Appearance
Satin White Pearl Wrap
Carbon Fiber Seibon Hood
Miscellaneous
McNeil Racing Fiberglass Wide Body Kit
Q&A – What Do You Like Best About Your Setup?
It's a truck that's a jack of all trades. It's also a master at being crap at everything.
It can do anything but just worse than other vehicles. The only thing I like about it is it fits in my garage.
Final Thoughts
For such a basic color, these five Tacomas truly knocked it out of the park with their builds. I like how each truck was built specifically for each owner's purpose, and they were all so functional as well. As I do more and more of these Taco Tuesdays, I get more and more ideas to build my Tacoma. I hope you all did too.
Each week, we will be choosing a different topic. Some weeks it will be very generic like this Taco Tuesday or we will dive deep into items like Wheels/Tires Setups. Regardless, everyone with a Tacoma can submit their truck to be featured here on Trail Tacoma.
If you want to be featured for Taco Tuesday on 1/4/2022, submit your build through TrailTacoma.com/Feature. Next week's Taco Tuesday will cover Rear Bumpers. We're looking for awesome rigs to showcase. If this is you and you love your setup, send in your rig and details because we want to see it.
Thanks for reading guys. I'll see you next week!