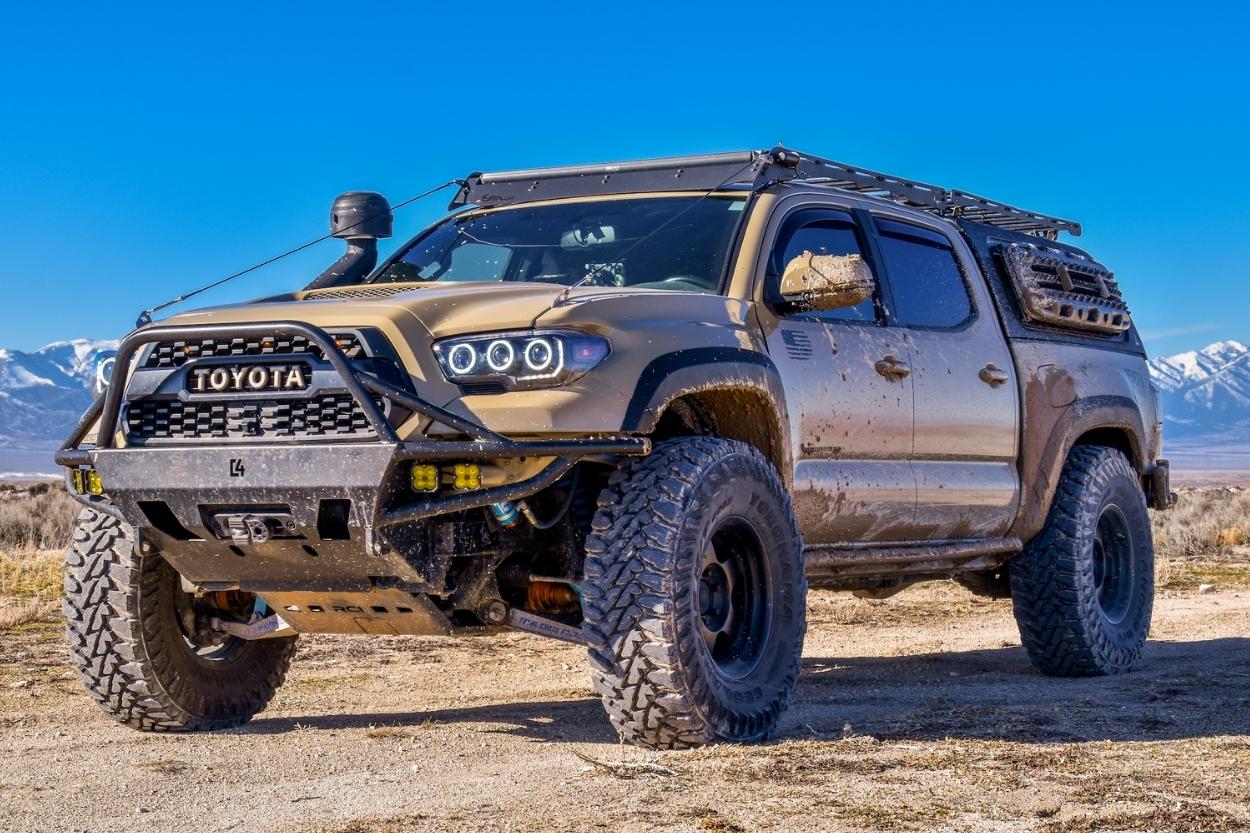 Pictured: Tarren Evans (@desert.recon) – 2017 TRD OR
Top 5 Favorite Tacoma Mods for Overland & Off-Road: 8 Examples of Tacoma Setups & What Their Owner's Like Best About Their Trucks
This Weeks Topic: Top 5 Tacoma Mods
Welcome back to another Taco Tuesday! We have something a little bit different to show you this week. We asked the Tacoma community what their 5 must-have Tacoma mods were. We actually ran with the same topic last week over on Trail 4Runner for Feature Friday and the submissions were awesome!
So instead of focusing on one particular item (or a full rig build), we will be checking out what each owner recommends as a must-have modification for their Tacoma. Since we have 8 submissions, there are 40 examples of must-have mods for you to read below.
I truly enjoyed doing this for Taco Tuesday because it shows what modifications perform for individuals and which ones are more for show… or they're just there to somewhat help out either on the trail or for daily driver use. Items like suspension kits and tires are common throughout the post. Towards the end, you might be thinking "Well dang, I do need some new tires…" We hope this compilation of trucks helps guide you to your next Tacoma mod purchase!
Enjoy guys.
1.
Brian LeBlanc

 

(@

taco_978

) –

2019 TRD OR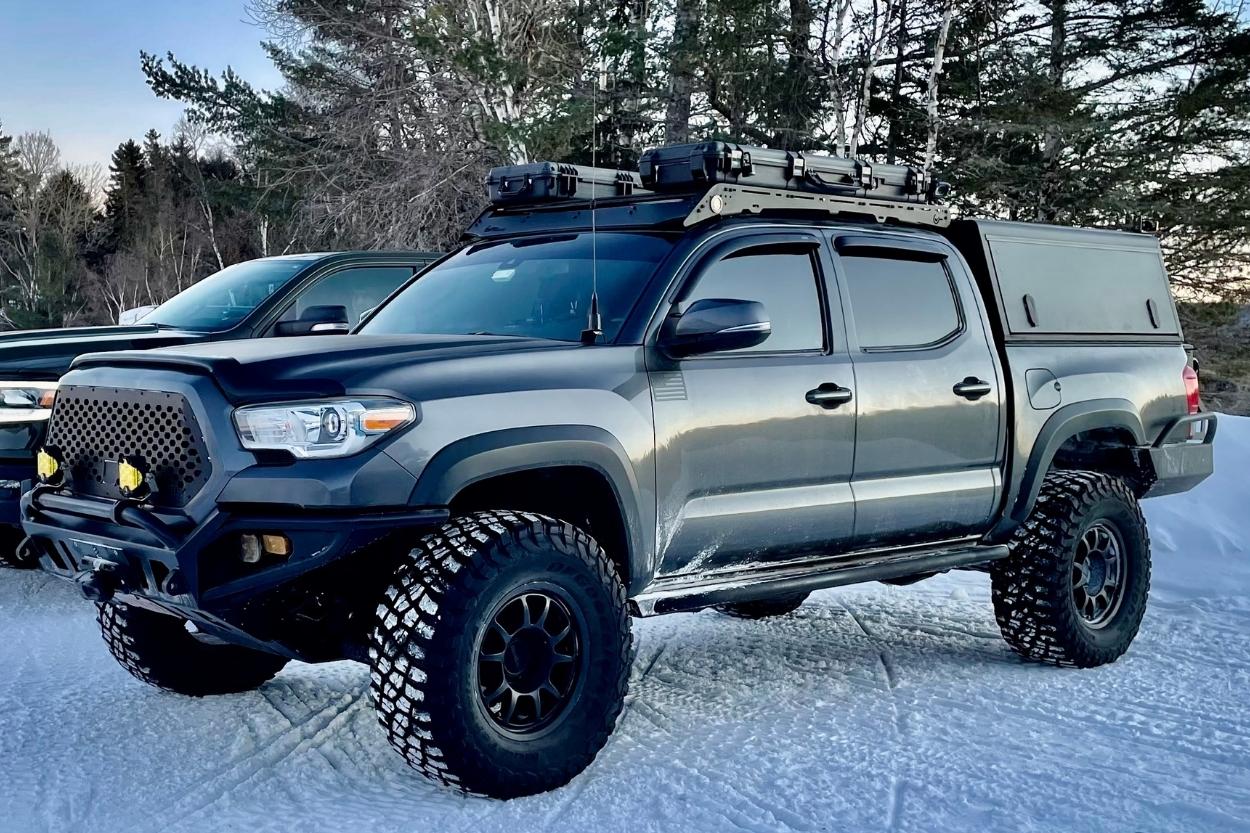 Brian's Top 5 Mods
Brute Force Fab High Clearance Rear Bumper with Swing-Out

SPOD Switch Panel
Alu-Cab Explorer Canopy
Archive Garage Hammer Hangers
Expedition Essentials TPAM Powered Dash Mount
WHAT DO YOU LIKE ABOUT YOUR SETUP?
There has been a lot of trial and error, but the truck is pretty dialed in.
Recently, I went to 35s, and wow… what a difference in mud and snow! The SPOD makes wiring and controlling lights super easy and the TPAM mount has been amazing. The recent addition of a canopy has dried in the bed and allows for future installation of bed storage and fridge.
Richie's Top 5 Mods w/ Bonus
Rigid Industries 40″ Adapt Bar 

Retrax Rolling Bedcover 

ADS Racing Shocks

Saints Offroad Front & Rear Bumper 

Nitro Gear 4.88s
WHAT DO YOU LIKE ABOUT YOUR SETUP?
This setup allows me to venture anywhere I want. Being able to lock and hide my gear away while keeping my tent low is a huge benefit.
I've been able to work firsthand with every company on my truck and I wouldn't change a thing. My Rigid lights impress me more with every night run and no matter what environment I'm in, I'm never left in the dark.
3. Daniel Alexander (@dasmurftaco) – 2019 TRD Pro
Daniel's Top 5 Mods
Kenda Klever RT 35×10.50R17LT

King 2.5 suspension front and rear with adjusters
Safari Snorkel with Snorkel Upgrade Sy-Klone series
Stealth Custom Series Br6 Wheels -38mm offset with the Blaze Bronze Lip
WHAT DO YOU LIKE ABOUT YOUR SETUP?
What I like the most about this setup is how simple it is to get camp set up and broken down.
The GoFastCamper is a complete game-changer. The snorkel is one of my favorites personally; the precleaner Sy-Klone Series Snorkel Upgrade makes the coolest sound when it's working its magic. The stance is something I love too, however it came at the cost of trimming a lot and getting the cab mount chopped aggressively. Overall, I am really happy with how it sits. The Kenda 35s are by far the nicest tire I have run. Smooth, quiet, and super soft off-road.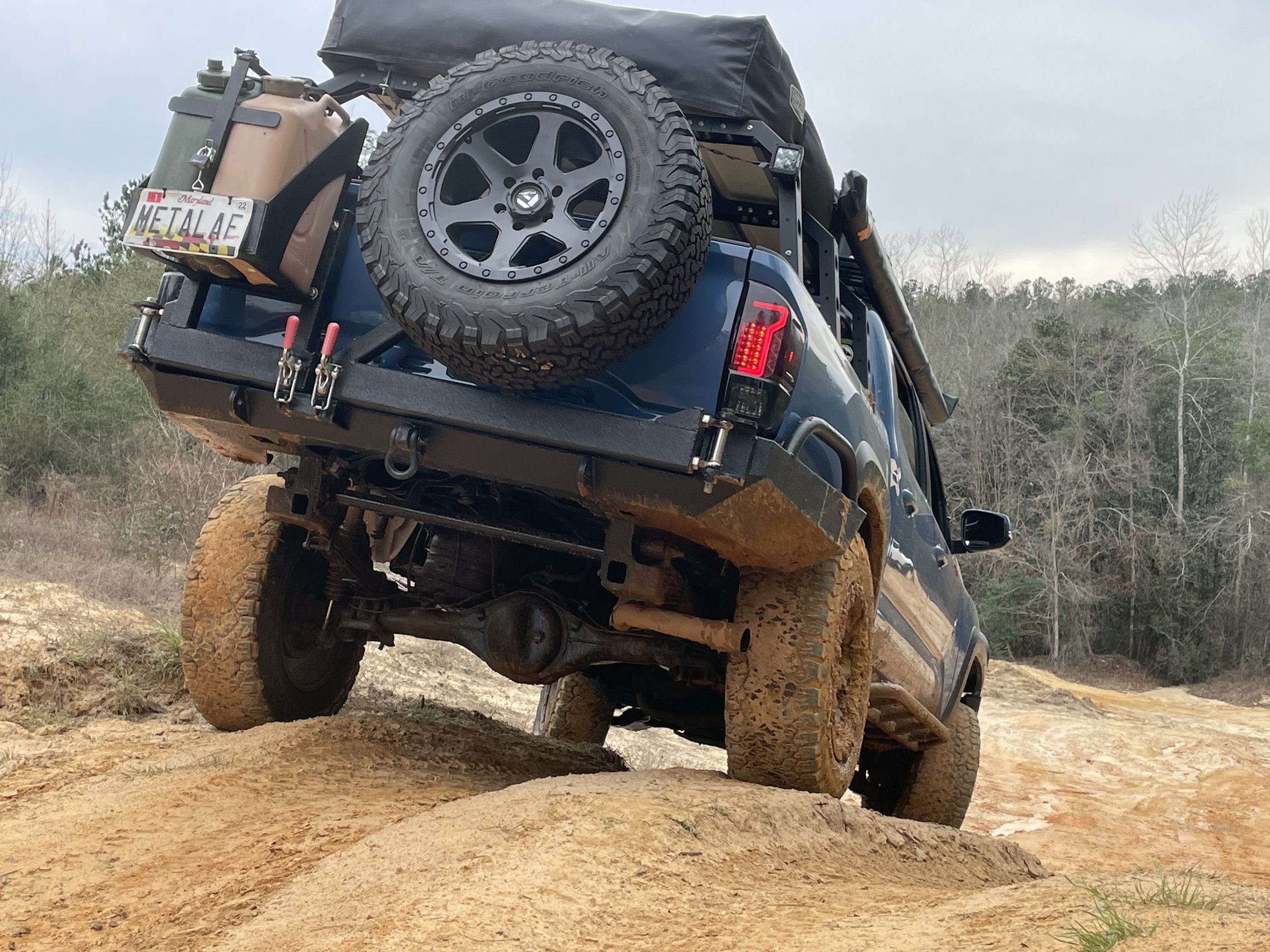 Joe's Top 5 Mods
BAMF HD Hangers, Shackles & Cross Member

Paint Correction and Ceramic Coating

URD Supercharger

RAVE Off-Road Modular Roof Rack

Custom Rear Seat Delete
WHAT DO YOU LIKE ABOUT YOUR SETUP?
The BAMF HD Hangers, shackles, and cross members are some of the most favorable mods to do on a Taco. The OEM hangers are flimsy and will bend. Yes, this happened to me, so I upgraded to the BAMF HD and it made a night and day difference. The rear end feels so much more planted when on the trails, as well as on the highway.
One of the first mods I did on my truck was paint correction and ceramic coating on the paint and wheels. This is singlehandedly the most important mod on my truck. Mud and clay rinse right off and it also protects the paint from deep pin striping and scuffs that come from wheeling. I had it done 3 years ago and it's still holding up. So, it's definitely worth the $600+ investment.
The URD Supercharger has drastically increased the drivability and enjoyment of my truck. The low-end torque gain is immense and is especially useful when in 4-Hi or 4-Lo going over technical obstacles. The truck is 6,200lbs dry on stock diff gearing and 33s and can go 80+ on the highway easily (and that's with me feathering the gas). If you were to give it more gas, the truck could easily go much faster. Honestly, I feel as if the truck should come from the factory like this!
I was fortunate to get one of the first RAVE Off-Road modular roof racks to leave their factory. This rack is great and is super modular. I currently have Hi-Lift, Smittybilt traction boards, a ROAM Case filled with recovery gear, an 8-foot awning, and a 43-inch light bar mounted on the rack using 1/4×20 carriage bolts and flanged wing nuts. I previously had Kayak J-hooks to haul my kayak mounted up there and it held up nicely.
One of the first mods I did was remove the rear seats in order to make room for storage. I can't take full credit for this since a fellow Toyota enthusiast built it, but it is one of my favorite mods on my truck. Storage in the rear cabin is so much more efficient now with the platform installed.
5. Kevin Shanahan (@kevshanagins) – 2019 TRD OR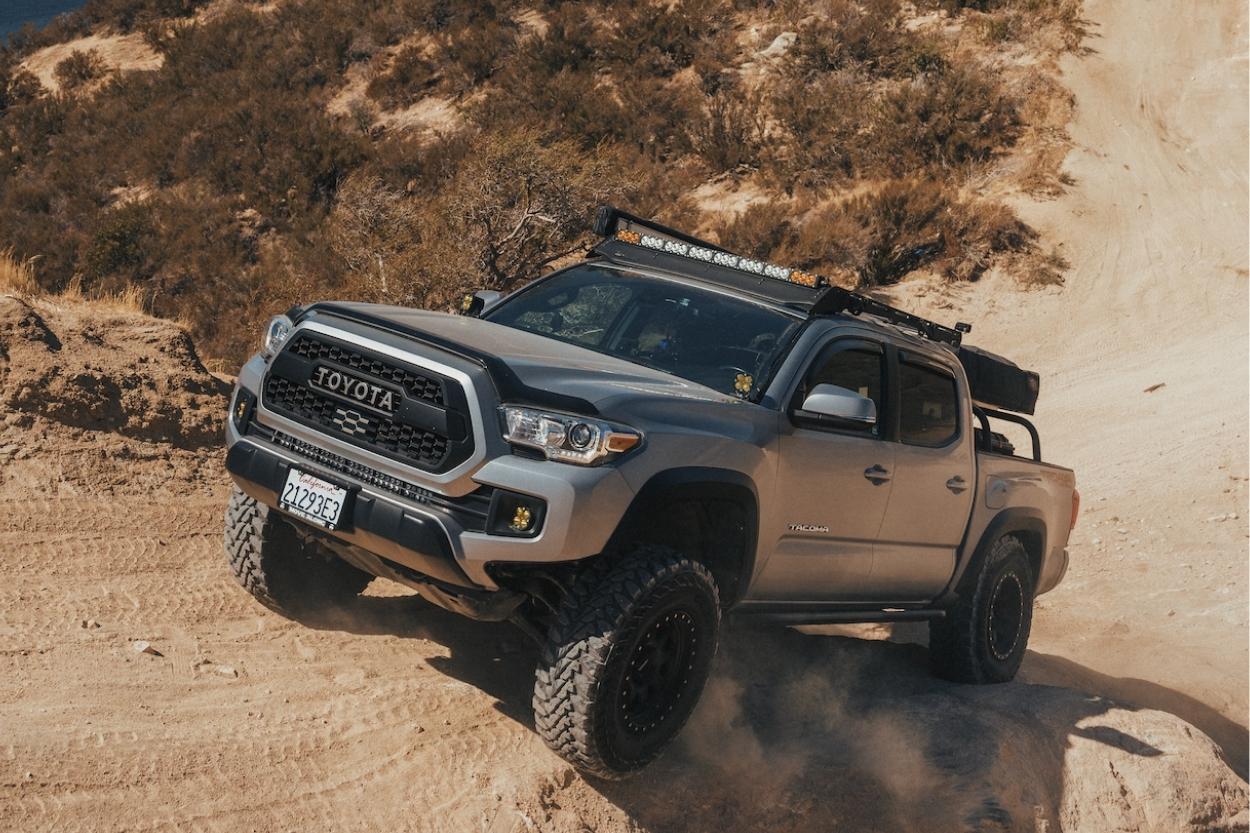 Kevin's Top 5 Mods
Revolution Gear and Axle 5.29 Gears

Custom 91 OV Tune by Sibi Built (SibiTune)

Yokohama Geolandar MT tires

Decked Drawer System

Prinsu Designs Roof Rack
WHAT DO YOU LIKE ABOUT YOUR SETUP?
I am building this truck to be tough enough to handle challenging trails and obstacles on day trips with my crazy friends but also comfortable and capable enough to go on long camping trips with my 5-year-old daughter.
Regearing is something that everyone puts off due to the high cost and nuisance of the break-in period but if you run bigger tires and strap heavy armor and gear to your rig, you're destroying not only your MPG but your transmission for the sake of "saving money". REGEAR!
I also love my custom 91 OV tune done by Jason Sibilio and the incredible team at Sibi Built who have done all of the shop work on this truck. The Decked drawer system is another expensive addition but extremely useful for securely storing expensive gear and tools on long trips. My Prinsu Designs roof rack allows for my TuffStuff Overland awning (recommend highly), mounted Pelican case, RotopaX, and traction boards with room to spare (I'm leaning towards solar panel for the empty space). Simple and sturdy Allpro off-road bed bars with a Tepui (now Thule) Low Pro 2 roof tent provide a solid camp setup and home becomes anywhere you park it. The next modification up is the front bumper and winch.
More detailed build specs on my IG posts and always happy to answer any questions by DM.
6.
Tarren Evans

 

(@

desert.recon

) –

2017 TRD OR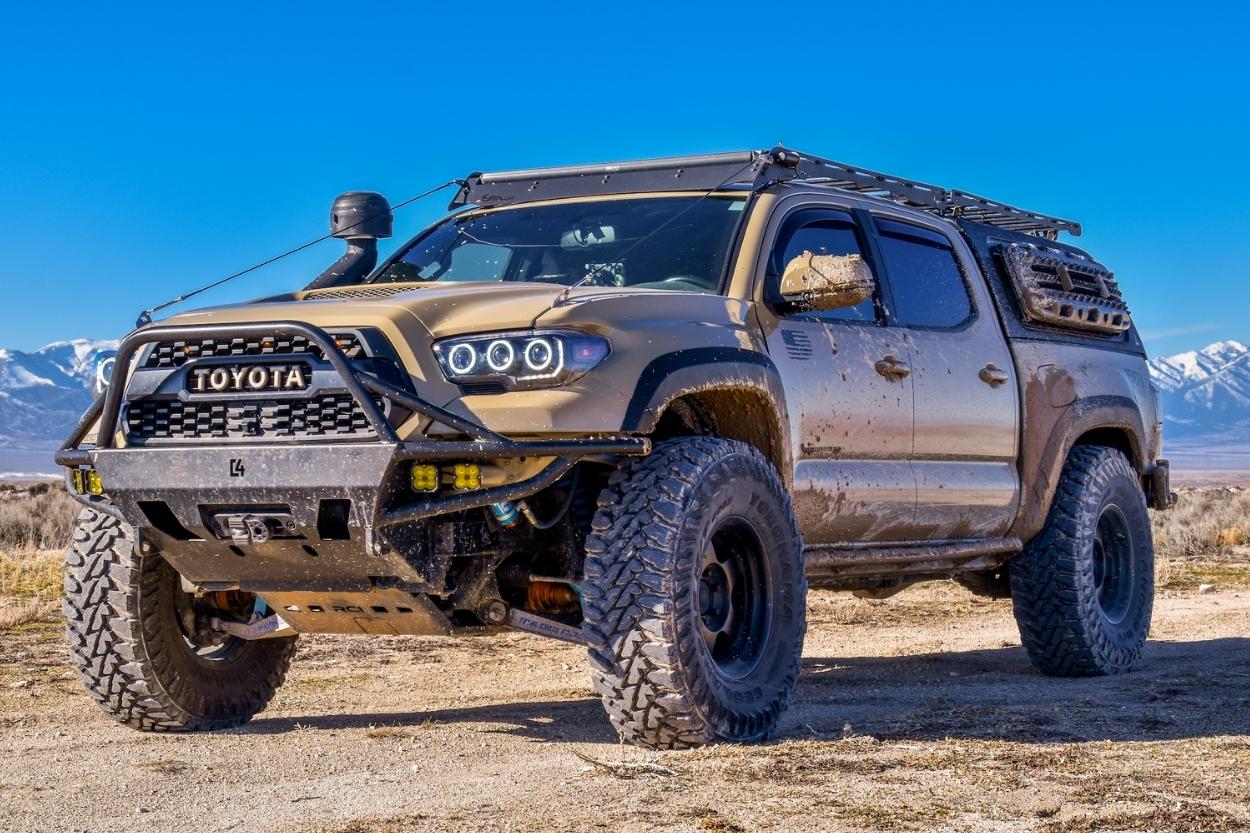 Tarren's Top 5 Mods
Total Chaos +3.5″ Urethane Bushing Long Travel Kit paired with RCV Performance CV Axles

Toyota Tacoma Magnuson TVS1900 3.5L V6 Supercharger System Paired with ECGS 5.29 Gear Swap

McNeil +3″ Bulge Fiberglass Fenders and Bedsides

Remora Off-Road Topper Windoor and Sliding Window Auxiliary Equipment Racks

WarFab High Clearance Rear Phantom Tube Bumper with Dual Swingouts
WHAT DO YOU LIKE ABOUT YOUR SETUP?
The Total Chaos long travel system enabled me to really dial in the travel numbers and comfort of my weekender pre-lander build while increasing strength and dependability both on and off-road without needing to include custom and excessive fabrication time. The Magnuson Supercharger and ECGS 5.29 regear returned and added some much-needed power back into the vehicle as I added more accessory weight and rotating tire inertia; either one by itself is not enough in my case. The McNeil 3″ bulge fiberglass brings both form and function into the build, bringing on a more aggressive look than stock and wide enough bulge to cover most of the increased track width up front. This helped make the widths somewhat more proportional overall.
As I switched from a mid-height bed rack to a topper, I was in desperate need of maintaining internal bed space. At this time, I started my own company to resolve this issue for both myself and many others, by designing off-road accessory racks that integrate into various shells on the market. The WarFab High Clearance Phantom rear bumper buttons up the build and enables me to mount multiple RotopaX gas cans, a full-size spare, increase departure angle and maintain a lighter weight even with a custom width to match the rest of the vehicle.
7.
Julian Cedillo

 

(@k

reaky63s

) –

2021 TRD OR
Julian's Top 5 Mods
ARB Safari Snorkel




JmFabGarage V1 High Clearance Bumper




JmFabGarage Tire Carrier




Archive Garage Shock Relocation w/ 14" DSC Fox Shocks




Chevy 63s Leaf Spring Swap
WHAT DO YOU LIKE ABOUT YOUR SETUP?
The ARB Safari snorkel gives me peace of mind when out in the trails with whatever terrain I encounter. The JmFabGarage V1 High Clearance Bumper gives me peace of mind and the protection I need from rocks when out on the trails. I highly recommend it if you'll be doing any rock crawling.
Additionally, the JmFabGarage Tire Carrier gives my rear end an aggressive and PreRunner look and it's definitely an eye-catcher!
Lastly the Archive Garage Shock Relocation w/ 14" DSC Fox Shocks is a must along with the Chevy 63s leaf swap. It gives me a great amount of flex and amazing ride quality. It's a must if you like taking the hard lines out in the trails and looking for a smooth ride!
8.
Jonathan Valerio

 

(@

yota_tico

) –

2017 TRD OR
Jonathan's Top 5 Mods
Tires: Yokohamatire Geolandar 35×12.5×17

3″ Lift: Fox Suspension Racing series 2.5″

Wheels: Stealth Custom Series 17×8.5, F5's, -10offseat

Roof rack: Prinsu

KDMax Tune
WHAT DO YOU LIKE ABOUT YOUR SETUP?
The Fox Suspension is top-notch, great for off-road, and feels smooth on-road. The Stealth Custom Series F5 is one of a kind type of wheel and they go great with the 35″ size tire. The Yokohamas MTs make the truck look more aggressive and combined with the lift, the truck sticks out from the ordinary.
Finally, the roof rack makes the final touch to the aggressive look. I like the Prinsu since I can mount so many different things on top; it's very functional.
Final Thoughts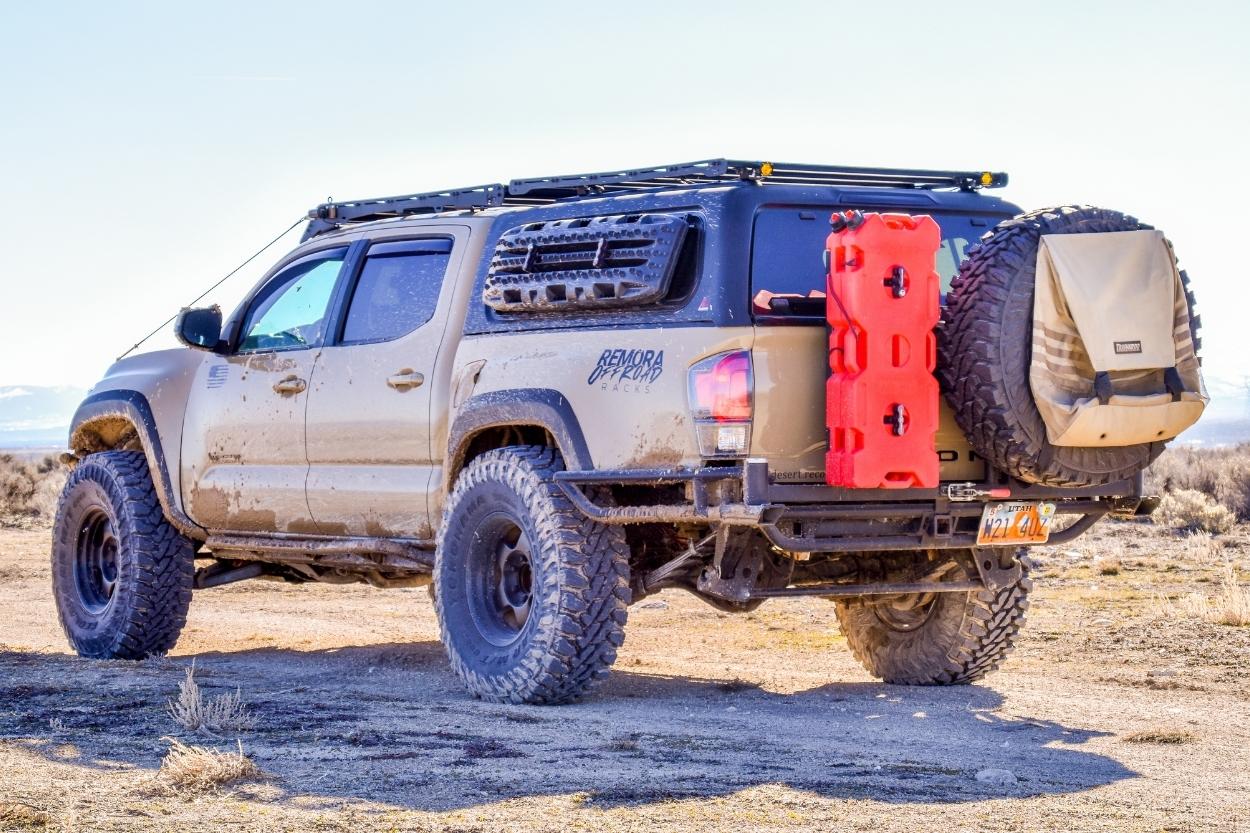 With a top 5 list from these 8 owners, you now have 40 solid modification options to purchase next for your Tacoma build!
Each week we'll be choosing a different topic. Some weeks, Taco Tuesday will be very generic and some we dive deep into items like Rear Bumper Setups. Regardless, everyone with a Tacoma can submit their truck to be featured here on Trail Tacoma.
If you want to be featured for Taco Tuesday on 2/1/22, submit your build through TrailTacoma.com/Feature. Next week's Taco Tuesday will cover Voodoo Blue Tacomas! We're looking for awesome rigs to showcase. If this is you and you love your setup, send in your rig and details because we want to see it.
Thanks for reading guys. I'll see you next week!