Meet an Incredible Product Category for Off-Roading, Overlanding & Camping: The Truck Bed Camper – 6 Unique Camper Setups for the Toyota Tacoma
This Week's Topic: Truck Campers
Have you ever heard of the term Glamping? Well, if you haven't, you'll have a better idea of what the word means by the end of this Taco Tuesday post. We have six prime examples of camper setups for the Toyota Tacoma for this week's features. Now, these setups aren't your run-of-the-mill Leer 100R Truck Cap or SnugTop Super Sport Topper. No, these are the kind of trucks that bring the creature comforts of home out onto the trail with you, including (sometimes) even the kitchen sink…
So why would one need to spend $7,000-20,000+ on one of these overland mobile hotels? Well, they are a lot more than just truck bed covers. These campers will turn your Tacoma into a functional home away from home. If you're serious about spending time off the grid, or even in cases where you want a little base camp for those winter ski runs, a camper might be the best option for you.
Let's talk about the integrated tent/sleeping area. A solid RTT will run you close to $3,500+, but you still need a camper shell or a bed rack to mount one. At that point, you're halfway in terms of price when looking at a GFC Platform Camper, with only your tent. In addition to the sleeping area, you are getting lockable storage and retaining your Tacoma's bed for utility purposes. Optimizing your truck experience is important, and if you've ever spent any extended amount of time traveling on the road, or off the grid, you know how valuable organization and time is. The possibilities for campers are almost endless when it comes to function. There are many products on the market that help dial in your truck bed, and a camper provides an excellent base to start with.
But let's jump the price up a bit.
We have a feature below that was around $20,000 retail!
WHAT!? That's nuts. But when you step back and think about it, under the right circumstances, when it comes down to your needs, imagine how much it would cost to go from hotel to hotel for an entire year… Not cheap, and certainly not the same outdoor experience.
Now we know there are simpler and cheaper ways to camp. But, why not live a little, especially if you see a camper that will suit your particular needs and truck goals. Lastly, if this list doesn't satisfy your camper itch, check out Konrad's post – Top Truck Bed Campers for Tacoma, a complete buyer's guide for popular camper setups.
Enjoy!
6 Toyota Tacoma Camper Builds
1. TJ (@trd_timmeh17) – Go Fast Camper V1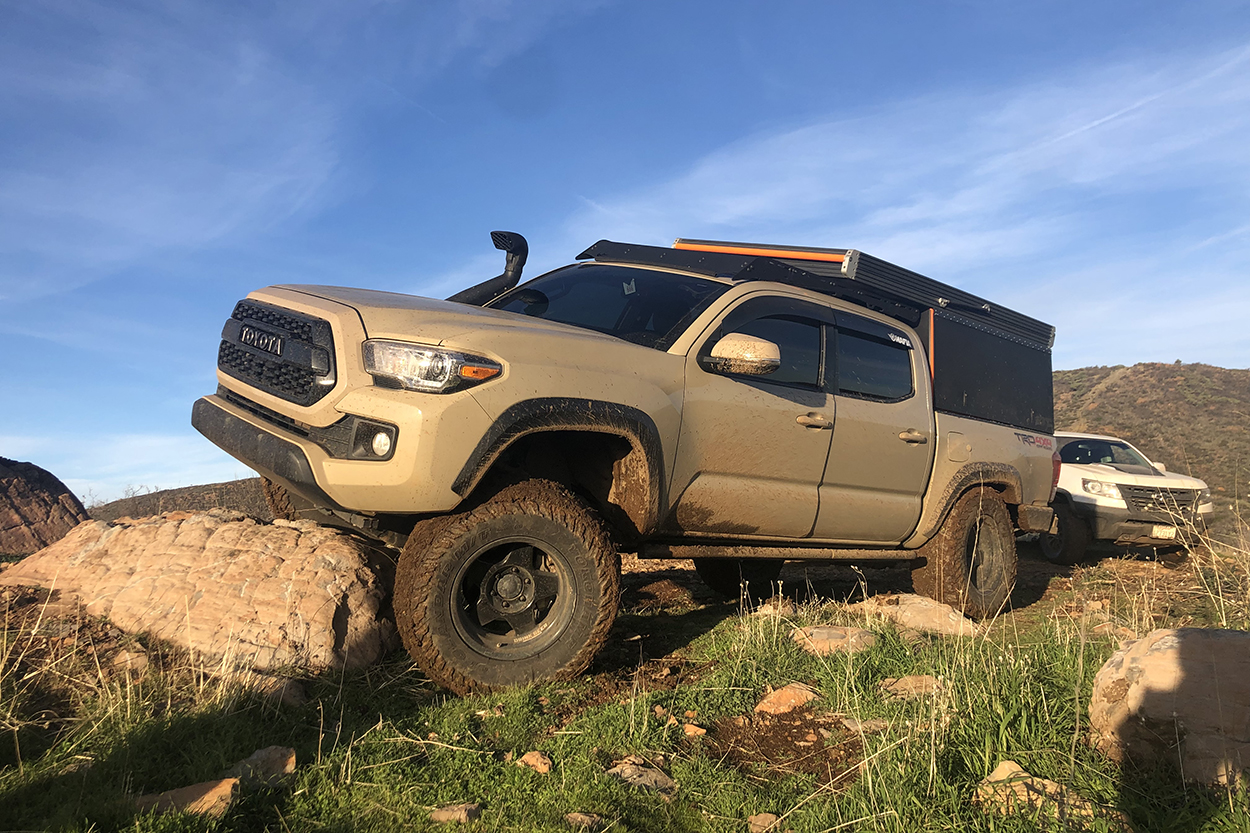 CAMPER DETAILS:
GFC V1
Base Price $7,700
Sleeps 2
Weight = 255lbs
Black anodized aluminum pop-top camper assembly
Black anodized aluminum space frame
Operable, locking, powder-coated hard-sided panels
Installation kit designed specifically for your vehicle
WHAT DO YOU LIKE ABOUT YOUR SETUP?
I love the ease of setting up my tent with my Go Fast Camper. It typically takes about 60 seconds or less to set up the tent, genuinely remarkable!
I love the look of the orange bars when it is cabana mode. Another great benefit of this camper is the added security it provides for everything in the bed of my truck.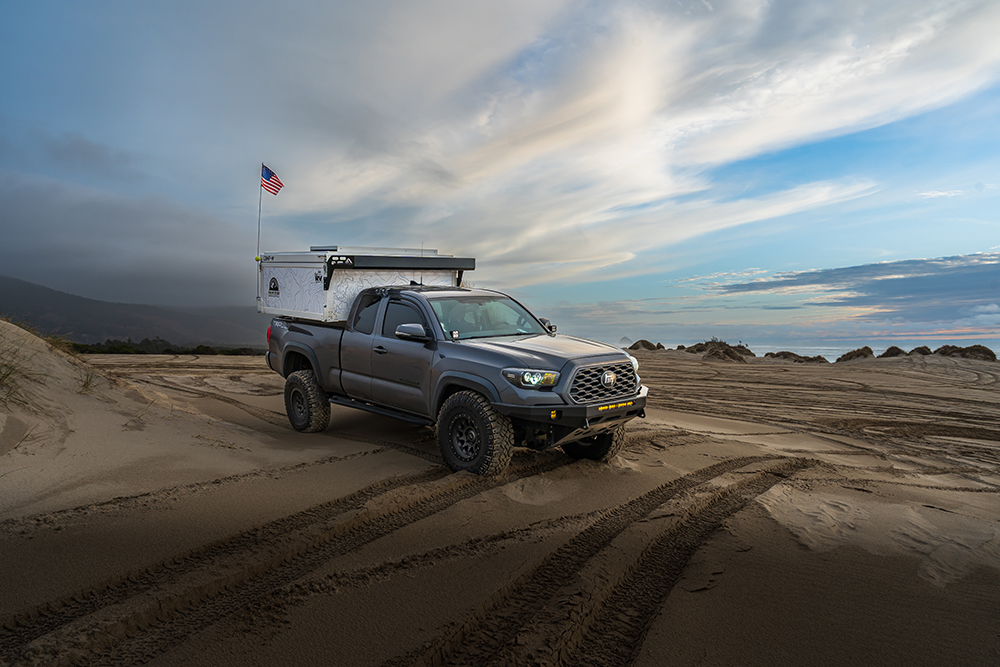 CAMPER DETAILS:
In mid-December of 2021, I purchased the Lite Industries Camp-M. The camper was marked well below market value at only $18,900.This shell is a mid-sized pop-top truck camper that offers high comfort levels while being under 1000lbs dry. It also offers a smaller fold-down sleeping platform as well.
The camper is loaded with options like a Truma 12k BTU gas furnace, Truma Aqua Go (an on-demand gas hot water heater), Dometic 65L 12v fridge, Dometic flush mount sink, and a two-burner stove. It also offers a Maxx air vent fan on the ceiling with integrated interior lighting. This camper also offers a Redarc battery manager 30, 190w solar panel on the roof, and a 100ah AGM house battery.
It also offers shore power hookup for regular campsites and an additional exterior solar panel input for the more nontraditional campsites. The Camp-M holds 20 gallons of fresh water and also has an outdoor shower that you can use all 20 gallons of hot water, if your heart so desires.
WHAT DO YOU LIKE ABOUT YOUR SETUP?
The best thing about the Camp-M is its compact size and ease of use. I can have this camper on or off the truck in a matter of 30 minutes. Having the ability to remove it solo in under a half-hour is so awesome.
It's a fully loaded, self-contained unit that provides high levels of comfort with minimal effort. Having a 12k BTU furnace with a thermostat is also a game-changer. It can be 17 degrees outside and it will be a comfortable 65 degrees inside the camper.
3. Konrad Chojnowski (@trail_tacoma) – GFC V2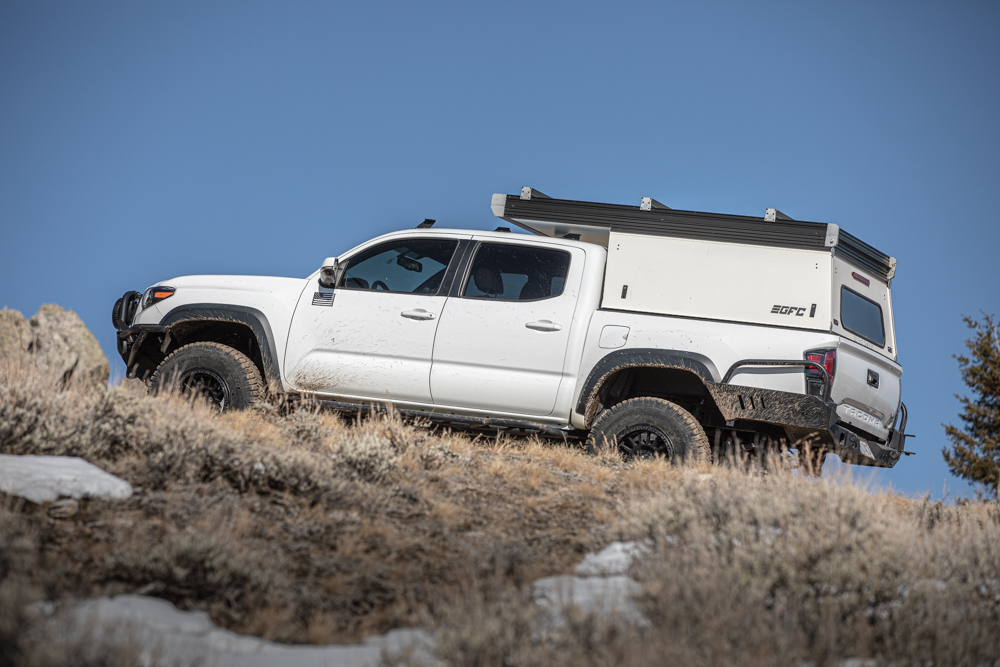 CAMPER DETAILS:
GFC V2 Platform Camper

Front & Rear Windows
Tent Side Doors
Solar Panel Tray
Quilted Sheets
Mantis Claw + Ladder
Assorted Accessory Mounts

My Configuration: ~$9900
50″ x 90″ Sleeping Area
WHAT DO YOU LIKE ABOUT YOUR SETUP?
If you follow along with Trail Tacoma's IG page, you might have seen that I just came back from a bit of adventure out to GFC. I live in Illinois, and we made the haul out to Montana to check out the entire GFC operation, and of course, grab our new camper.
Since we haven't been able to get the weather and our schedules to cooperate just yet, we haven't had the chance to really put this camper to use. However, just from what I've been able to take away thus far, I'm super impressed. Not just with the camper, but the entire GFC operation. It was incredible to see the inner workings of a company like GFC. Wheeling season is coming, so we are beyond excited to really spend some quality time in the GFC and get the entire bed platform dialed in. Stoked!
4. Paige & Tyler Winterfield (@wanderingwinterfields) – Four Wheel Campers
CAMPER DETAILS:
This is a 2020 Four Wheel Campers Fleet Shell model custom ordered in 2019 for $13,500.
Our living space was completely constructed by my wife and I. The space includes a sink, fridge/freezer combo, dinette with swivel table, toilet, queen-sized bed, and tons of storage. These campers are pop-ups, giving them plenty of clearance while driving and tons of headspace while inside.
WHAT DO YOU LIKE ABOUT YOUR SETUP?
We built raised dinette seating which provides an abundance of storage below the seats and the dinette floor.
We heard someone say, "headspace is wasted space in a pop-up," and built our dinette around that concept. We can still see out of our vinyl windows so we can enjoy the view even if we are inside.
5. Daniel Elo (@seekoutbeauty) – Alu-Cab Canopy Camper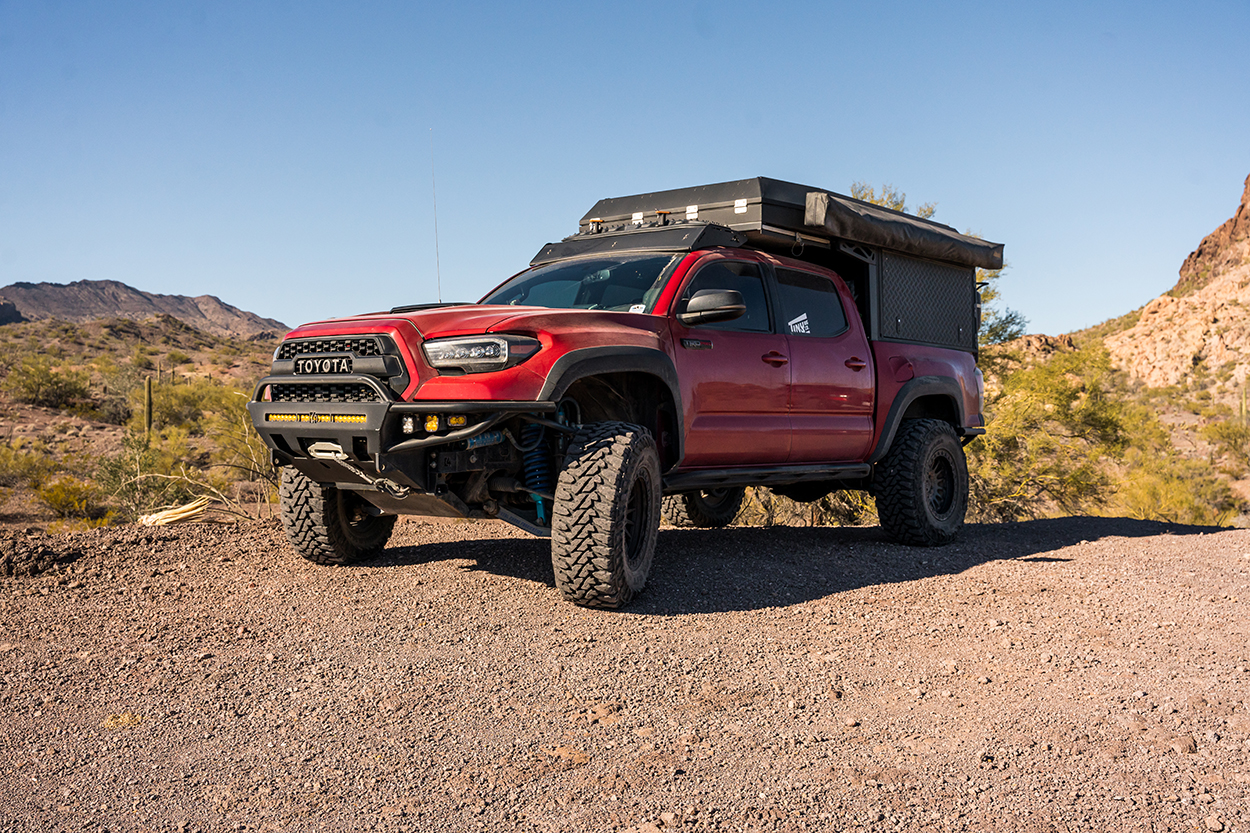 CAMPER DETAILS:
Alu-Cab Canopy Camper
Starts at $13,000
Sleeps 4 with Goose Gear Sleep Platform
Keep all of your camping gear in the truck at all times
Endless 12v power
WHAT DO YOU LIKE ABOUT YOUR SETUP?
The entire system, when built out with options, is truly a dream. While it is a bit more pricey than some of the other camper options, it just works super well for us. Nothing ever breaks; everything just works.
Never having to pack the truck with gear makes taking a weekend camping trip with the wife and dog easy. We just grab food and clothes and just take off to wherever we want to go. This camper is strong enough to take the abuse of Baja, but comfy enough to sleep a 60-year-old retired couple.
6. Thomas Rhines (@tsrhines) – Go Fast Campers V2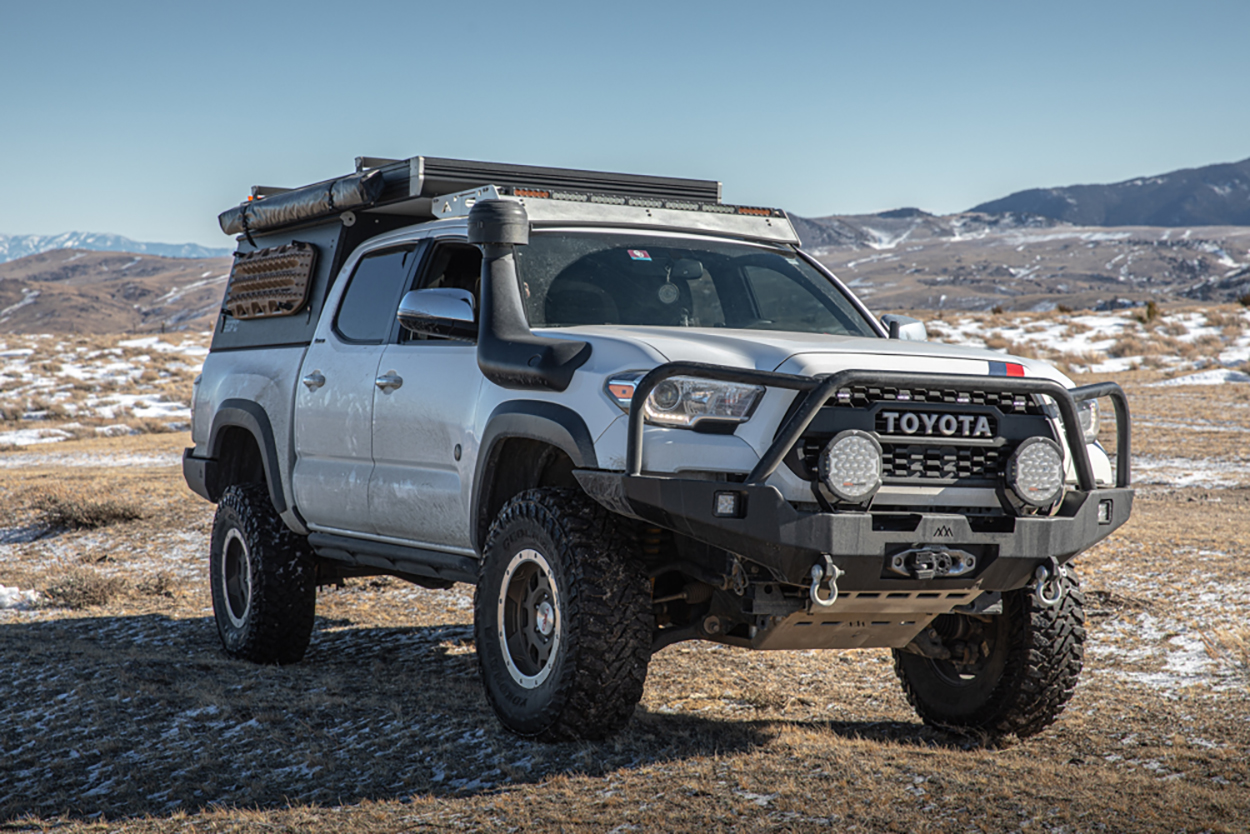 CAMPER DETAILS:
This is the V2 Platform Camper with added windows and tent doors. As for cost, I think it's around $8,625. With the beef racks and awning brackets, this thing is easily a $9000 unit.
WHAT DO YOU LIKE ABOUT YOUR SETUP?
I love the modularity of the Go Fast Camper V2. It allows you to keep the functionality of a truck by leaving the bed completely open.
I can use my truck for truck things, or use the camper to sleep in when needed. With the GFC, I don't feel like I am paying for a ton of extra stuff I don't need either. It's the perfect setup for my needs.
Final Thoughts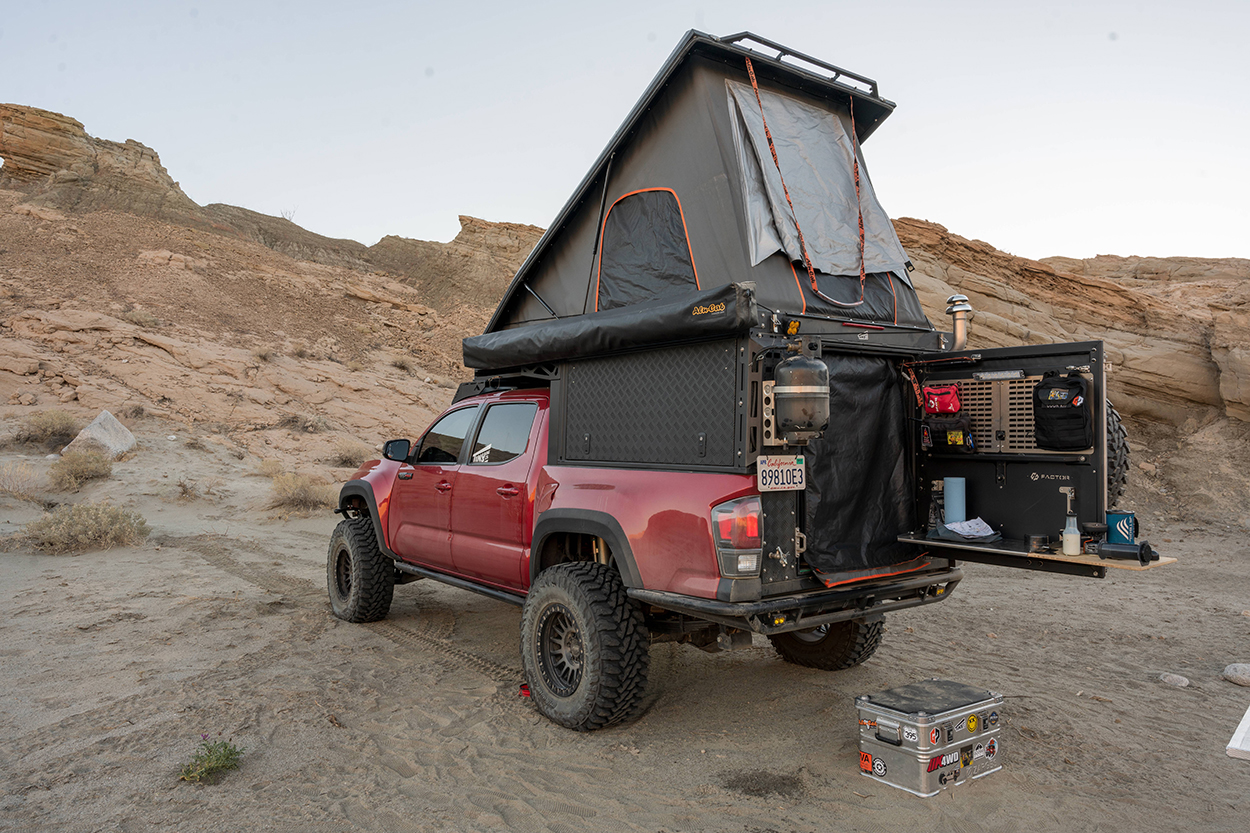 What an awesome set of Tacomas for this week's features! A full camper set up like these would 100% be the direction I'd go with my Tacoma build if a budget was no option. Having a camper setup like this is the best of both worlds, you have tons of room to sleep and you are protected from the elements. How could you complain about that? You can't go wrong with any of these brands, it seemed like the owners were more than happy with their setups.
If you want to be featured for Taco Tuesday, submit your build through TrailTacoma.com/Feature. Next week's Taco Tuesday will cover Midnight Black Tacoma Builds. We're looking for awesome rigs to showcase! If this is you and you love your Midnight Black setup, send in your rig and details because we want to see it.
Thanks for reading guys. I'll see you next week!