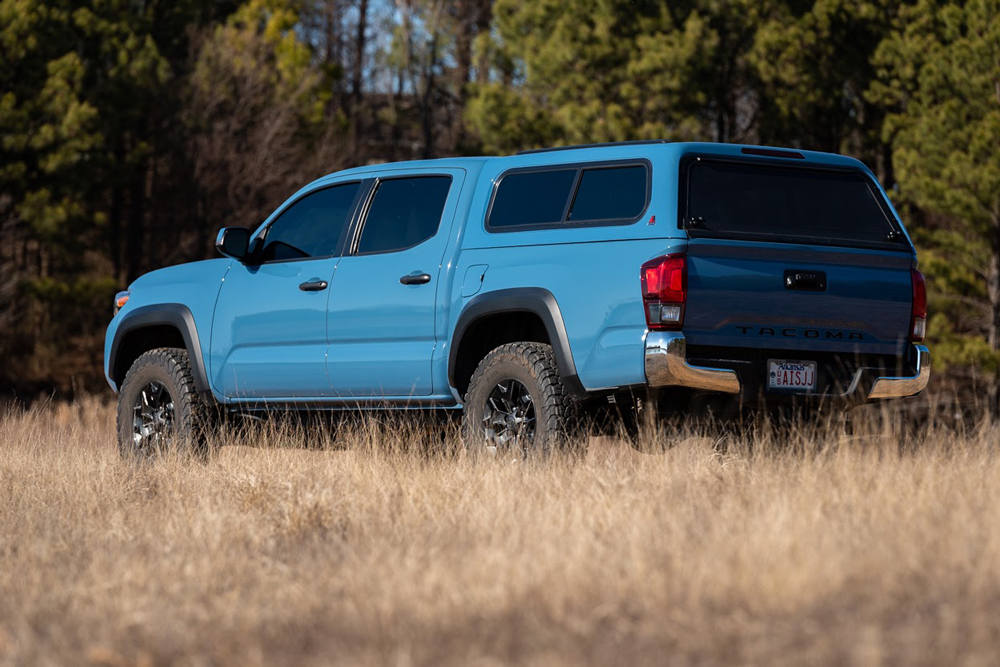 Leer 100R Fiberglass Truck Cap for 3rd Gen Tacoma – Everything You Need to Know Before Buying
If you've done any amount of research on fiberglass camper shells (aka truck toppers/truck caps), then you're probably aware of the cost and know that they aren't exactly cheap.
However, there are a variety of options that can add or reduce the cost of a particular shell. I like to refer to my LEER 100R as a "grandpa shell" – it's nice, but not too fancy and thus far has suited my needs perfectly.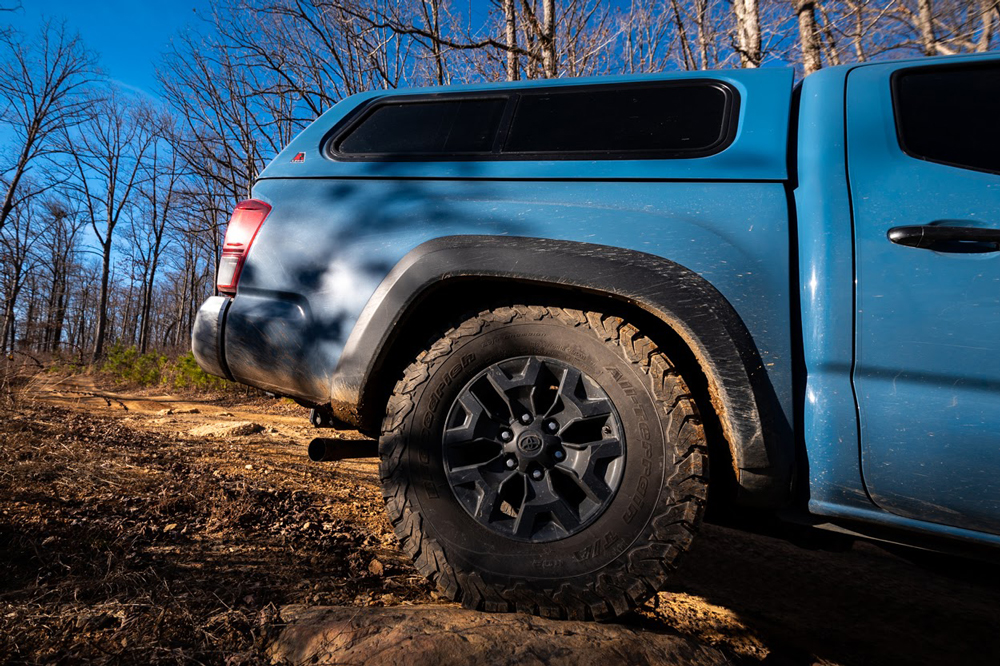 Coming from Toyota SUVs (FJ Cruiser & 4Runner specifically), I knew when I bought my Tacoma that I would want a camper shell for several reasons. The main reason being I wanted the extra space to keep things dry and secure. That's probably the biggest downside to a truck bed, the lack of protection from the elements and potentially secure storage.
My truck is a daily driver so I haul things like groceries, equipment for work (photography), my dogs, and anything I may need for a project around the house.
Find It Online
It's important to note that you will have to contact your local dealer for pricing as LEER doesn't provide that information online. 
Leer 100R Price Range?
In general, you can expect a base model to run about $1800 and a fully and completely outfitted shell to run around $3500.
Looking other camper shell options? Check out – camper shell and bed toppers for Tacoma.
Features
The features and available options of the LEER 100R (or any camper shell) are where your personal budget and/or needs come into play the most.
The LEER 100R might be considered the base model in the lineup of LEER options, but the cost can add up quickly when you start looking beyond the standard features.
If you are lucky enough to have a dealer near you, then I recommend paying them a visit to explore the different options you may be interested in and seeing them in person.
I didn't have that luxury myself. I did a lot of my own research looking for opinions and photos of a variety of camper shells and made several calls to the dealer that I ultimately ended up ordering mine from.
Standard Features
These are all the features that each and every LEER 100R with come with at a minimum.
Standard Features
Custom Fit Design
Rear Framed Door with Double T-Handle Locks
50/50 Sliding Side Windows with Screens
Skirted Sides
Interior Dome Light
Insulated Roof
Dark-Tinted Glass
Recessed LED Third Brake Light
Frameless Fixed Front Window
Fiberglass Base Rails for Structural Integrity
J-Clamp Installation Pockets
Installation Bulb Seal
Axalta Color-Matched Paint (includes touch-up paint)
Limited Lifetime Color & Structure Warranty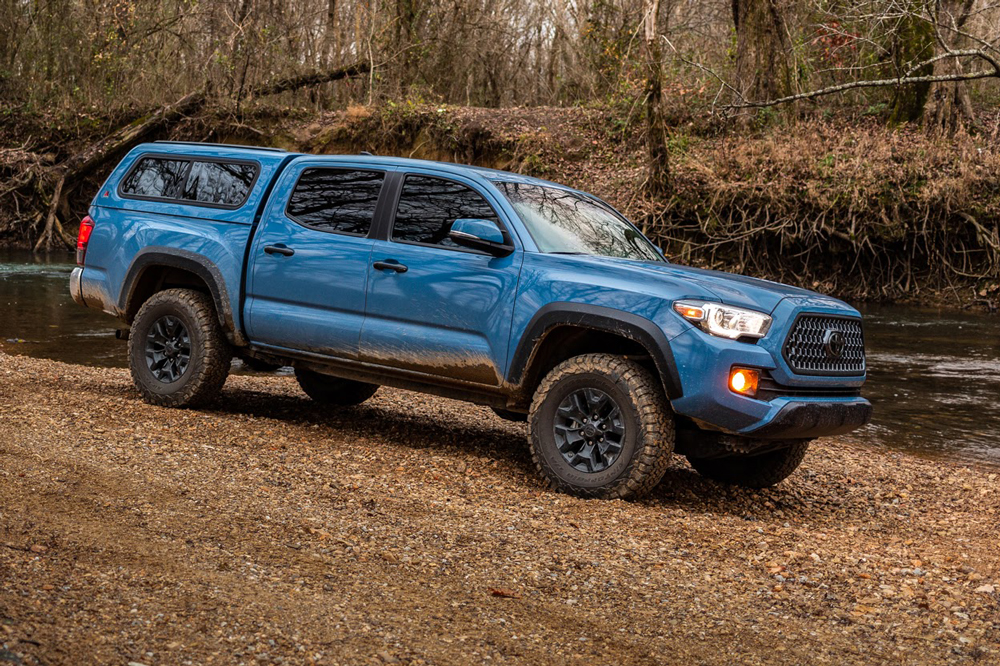 Remember, the features listed above come standard on the LEER 100R.
Additional features will add to the cost of the camper shell, but may also make the shell more desirable for yourself or a future owner if you ever decide to sell it.
Optional Features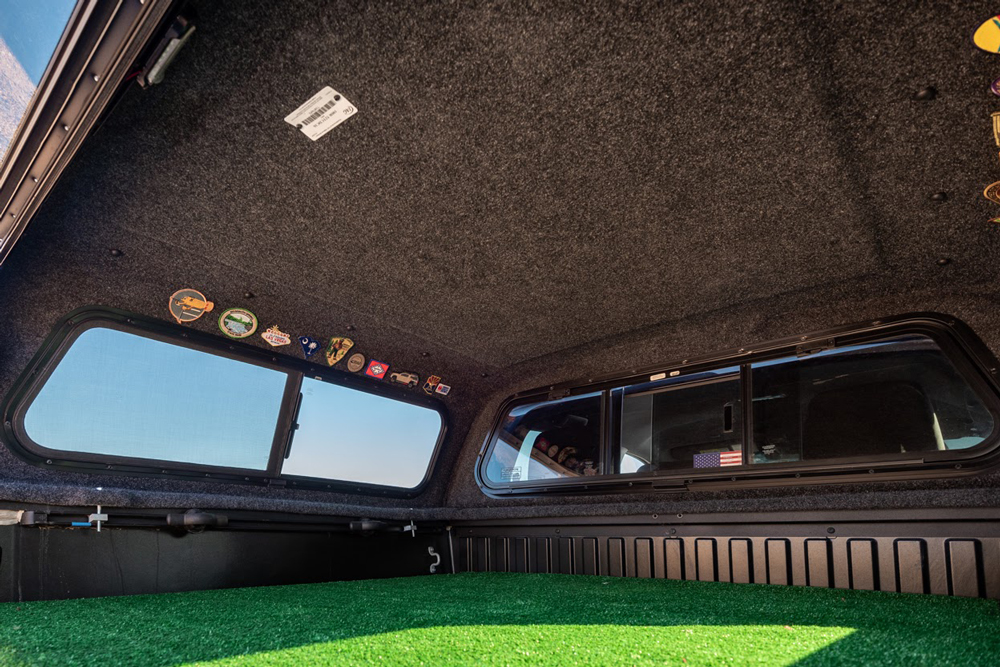 There are a variety of additional features to choose from which I will list below. I will also breakdown the specific options I decided to go with for my personal needs.
Optional Features/Accessories
Carpeted Interior
Roof Rack Tracks
Removable Front Sliding Window
Removable Front Window (without slider)
Pet Screens for 50/50 Sliding Side Windows
Windoors
Foldable Clothes Hanger
Fishing Rod Holder
Overhead Cargo Net (requires Roof Rack Tracks)
Optional Feature Breakdown
Carpeted Interior
I opted for the carpeted interior over the bare fiberglass because I think it makes the shell look more complete as a whole unit. It should also help a little bit with insulation for when me and the dogs sleep in it.
Roof Rack Tracks
The reason I went with roof rack tracks is basically that I would rather have them and not need them than vice versa. One important thing to note: opting for the roof rack tracks when you order your shell means having them installed at the factory, therefore your structural warranty isn't negated and you don't take the risk of damaging the shell by installing them yourself.
As you can imagine, there are almost unlimited possibilities of how you can outfit the roof of your camper shell. For example, you could install crossbars or a canopy rack for a rooftop tent or haul mountain bikes, kayaks, or additional gear for extended camping trips.
Removable Front Sliding Window
LEER was offering a coupon to upgrade the standard fixed front window to the removable front window (with a sliding center section) when I ordered my camper. This was a FREE upgrade, so of course, I had to get it.
The sliding portion of the window provides plenty of airflow especially when you have the side windows open as well. This is a huge bonus for my dogs (when I actually make them ride back there) and myself for camping. The other big benefit is being able to remove it for cleaning both the rear of the truck cab and windows along with the camper shell window itself. Do yourself a favor and make sure to ask your dealer if a promotional coupon is available when you order your LEER camper.
Pros & Cons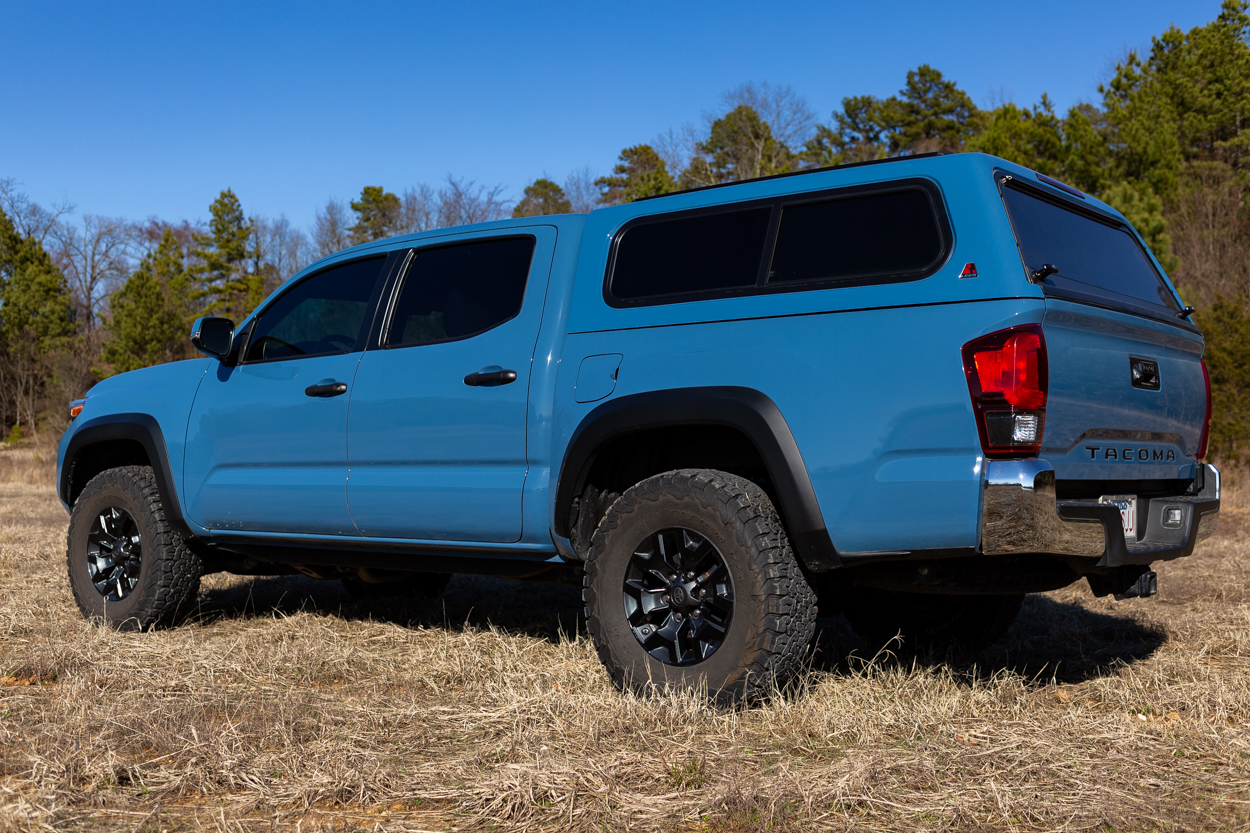 As with many aftermarket parts, there are always good and not-so-good features. Of course, these are subjective so your mileage may vary.
Pros
Aesthetics/design
Excellent color match
Simplistic and useful
Dry and secure cargo space
Versatility
Cons
Cost
Wait time (8 weeks for mine)
Limited hauling capability due to height
Weather-sealed, not waterproof
Fiberglass is subject to scratches/chips
Side skirts slightly touch/cover the top of the bedside decals
Final Thoughts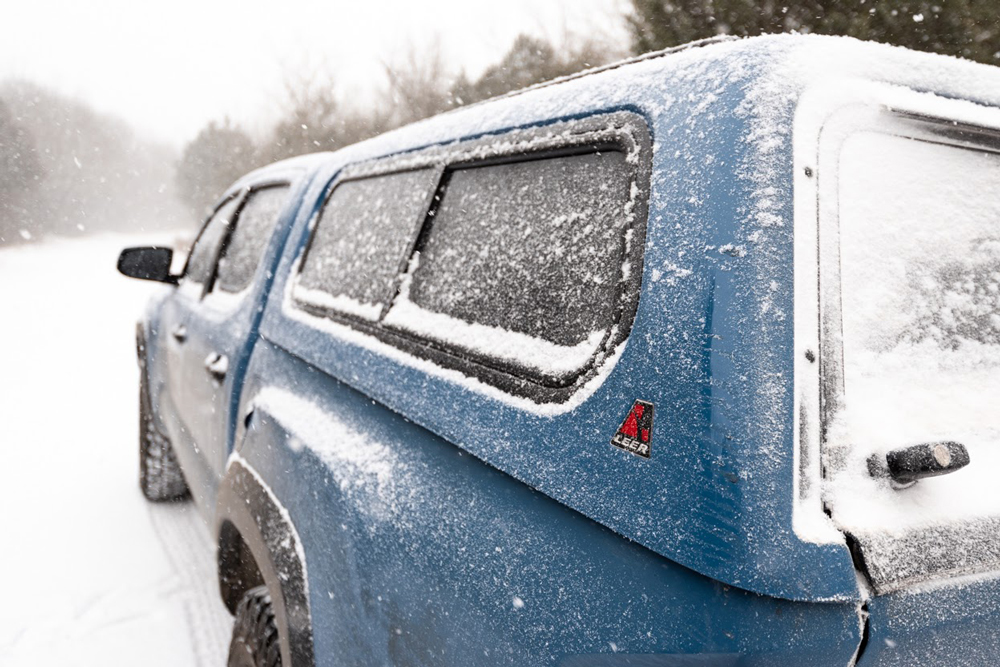 Although there are some drawbacks to purchasing and owning a camper shell, I do believe that the positives outweigh the negatives. I didn't want, nor could I afford, a "fancy" or more high-end camper shell.
I wanted an affordable option that would get the job done and look good doing it. Whether I'm camping out of it, hauling photography equipment for work, or just letting the dogs ride in it, the LEER 100R has been a great fit for me thus far.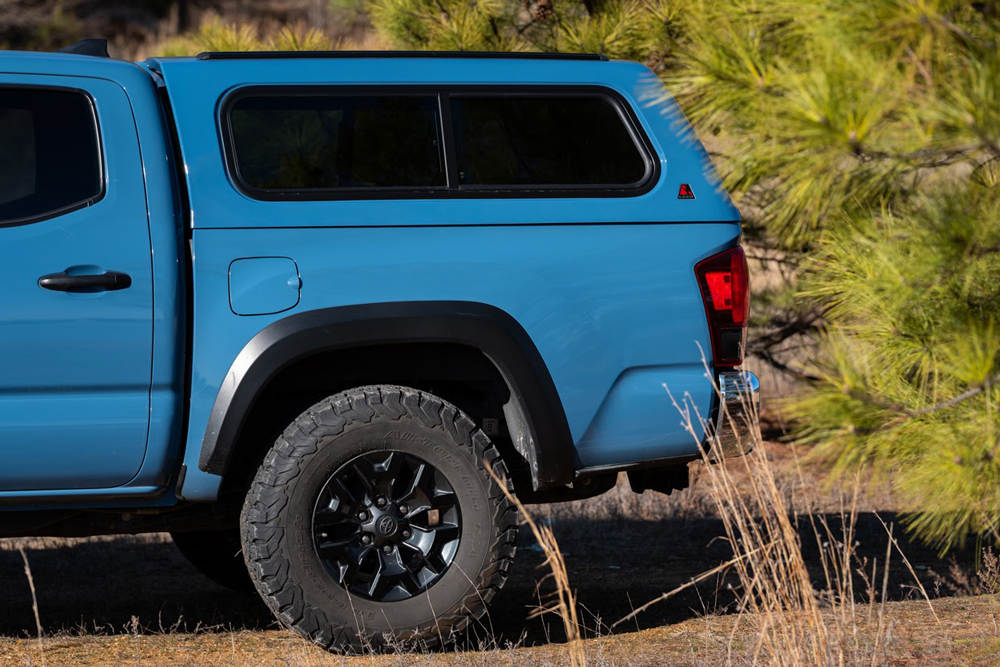 As far as bed toppers go, there are several other options and opinions out there, like the SnugTop Super Sport Truck Cap and the Softopper Soft Top Canopy. You can also go down the rabbit hole of camper shells, bed racks and complete campers here. With all of those choices, it's really important to find something that will suit your needs for the present time or the near future.
Hopefully, I was able to answer some questions you may have had about this particular setup, or at least give you a good starting point to help make your buying decision a bit easier!