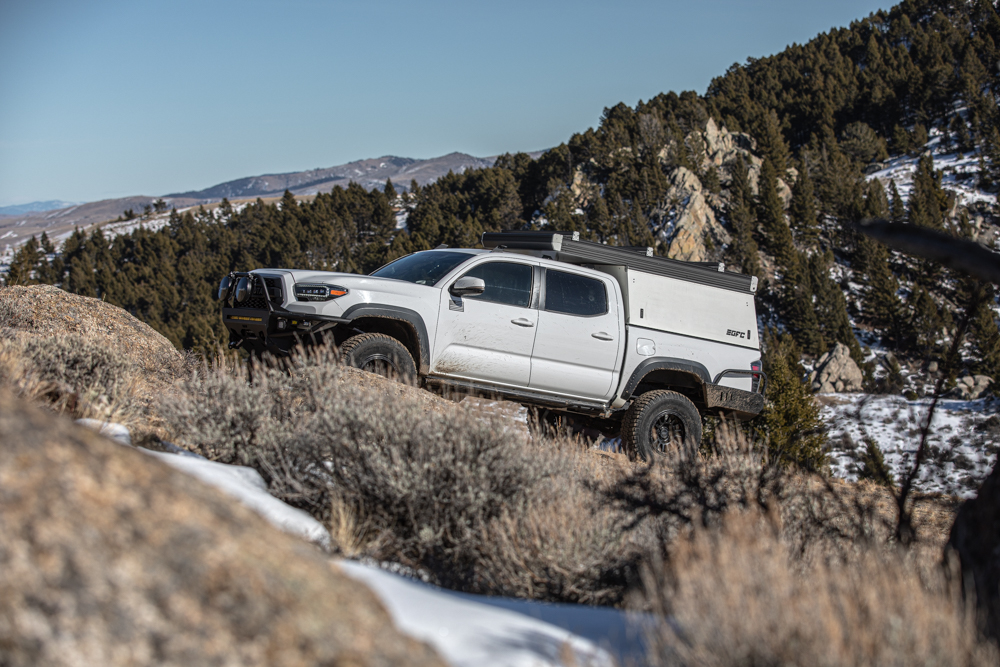 A Cross Country Winter Road Trip To Pick Up A GFC Camper For My 3rd Gen Toyota Tacoma – Detailed Travel Log & Experience Journal
Ever wonder what it's like driving to pick up a Go Fast Platform Camper? In the middle of winter? I got you. You've come to the right place.
About a month ago, we drove from where we live in Illinois, in the suburbs of Chicago, to the GFC headquarters in Belgrade, Montana. It was an incredible experience, and I thought I would document it to show you the trip logistics and give an in-depth look at the installation process, the GFC facilities, and some epic spots in Montana.
We allocated about a week for this trip since the drive was almost 1,400 miles one way, around 20 hours spent in the car from start to finish. This gave us plenty of time to experience the surrounding town(s) and area and not feel like we were being rushed or pushing the limits of our stamina on the road.
The other unique part of this trip was that we did it in the dead of winter, although we had some seriously uncharacteristically good weather. Almost 50 degrees during our install day and a few warmer days after. This made everything a little bit more bearable, all the roads were open, and we got to see a lot of terrain without it being completely covered in snow. Also, winter might seem like a bad time to go, but many locals say that Montana is the most pretty in the winter. I agree that it's beautiful, and we had a great time, but I'll stick with summer, haha.
I have been following along with GFC ever since they launched, and with the new lead times, around ~10 weeks (you heard that right), it was time to join the GFC family. I had run a few different bed and tent setups, and I knew that the camper life was the one for me. With the V2 camper, I was confident that this was the natural next step for my truck. So we started planning…
Anyway, this post will be pretty detailed, so let's jump right into it.
A Road Trip To Go Fast Campers
GFC Road Trip – Illinois To Montana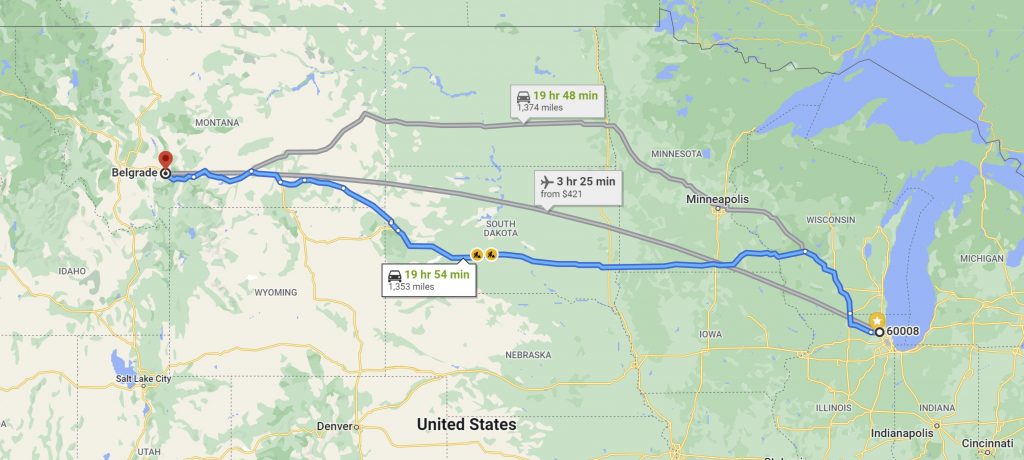 So. This is what our journey looked like. 1,400 miles. Twenty hours in the truck.
We're no strangers to taking long road trips. Ever since we built out our 4th Gen 4Runner, we started driving all over the Western United States as often as we could. We've been pretty much everywhere except the Pacific Northwest (that's coming, eventually). We like to just knock any long-distance drive out all in one go. We start in the evening, drive through the night, and even on a more extended trip like this one, we arrive the following morning or early afternoon. It might sound like a lot, and it is; you definitely need to be mentally prepared to do that kind of distance, especially when driving the majority during the night.
This saves us the most time and ensures that we don't lose another day just on driving. We took seven days total for this trip, so we had five full days in Montana with this strategy. Not bad at all. Our journey took us through Wisconsin, Minnesota, a bit of Wyoming, and eventually, Montana.
Was it worth it? Totally!
Even though there are times when a long-distance drive can be stressful, the experience and memories made are what you ultimately remember, not the driving. My wife always comes with me, so I typically start the drive; she sleeps into the early morning, and then we switch when I wake up from a quick nap and finish out the remainder of the drive. Works well for us.
Hitting The Road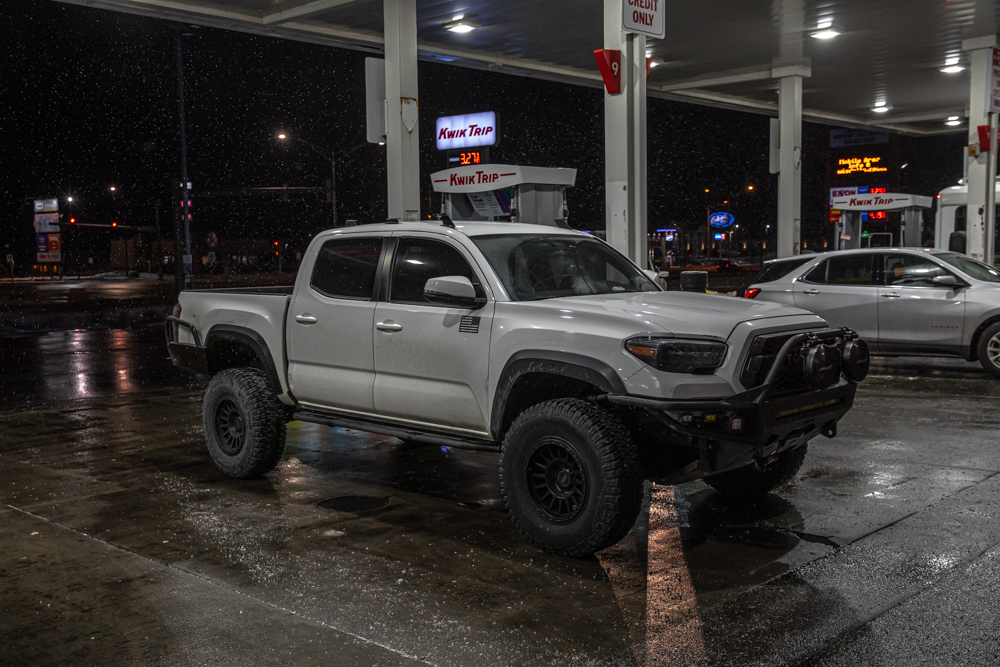 We left in the evening and planned to drive into Belgrade the next day in the early afternoon. As you might imagine, we stopped a lot for gas. Look at those gas prices. And I thought they were bad then… But enough about gas. This is not a rant about gas. But above was the first fill-up when we stopped in Wisconsin.
The first half of the trip is pretty uneventful. There really isn't much to see or do, even during the daytime, at least not anything like you see in Colorado and farther out West.
Lots Of Empty Highways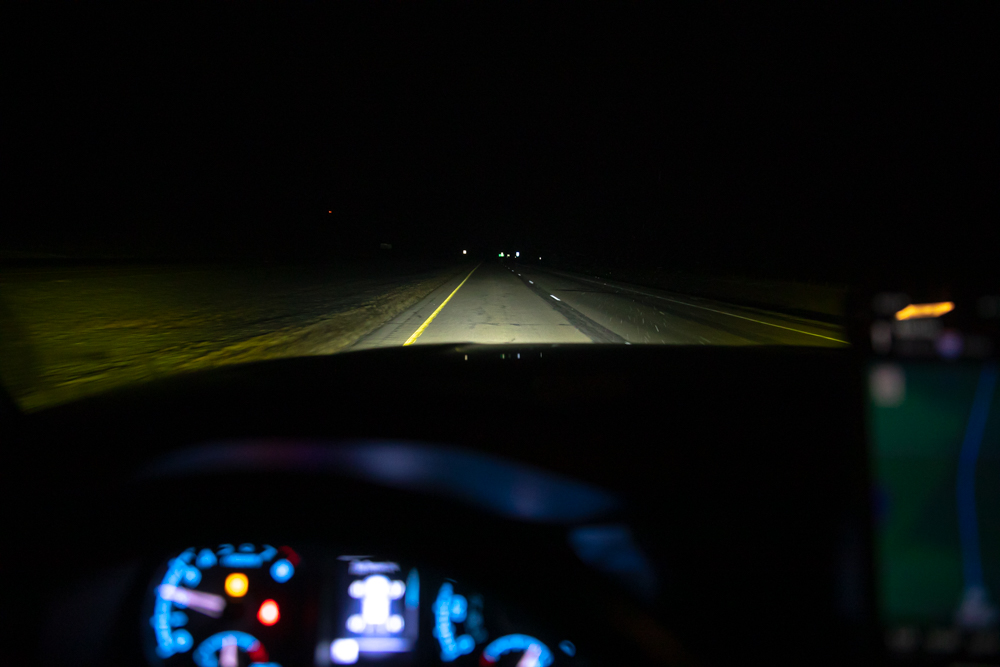 This was our view for the majority of the night – lots of rolling hills, all in pitch black. You can see my Lightforce ROK 20s (with yellow Lamin-x) lighting up the sides of the road.
Again, nothing too exciting. You just need to be careful and keep an eye out for deer. Otherwise, it's pretty uneventful.
Pulling Into Rapid City, South Dakota At Dawn
With the wife driving, I woke up to the sight of Rapid City at daybreak. We didn't stop here, but it was cool to see civilization.
Rapid City is a bigger town for the area, but still relatively small, especially compared to Chicago. We'll have to come back some time in the summer. I've wanted to wheel in the Black Hills area for a long time now.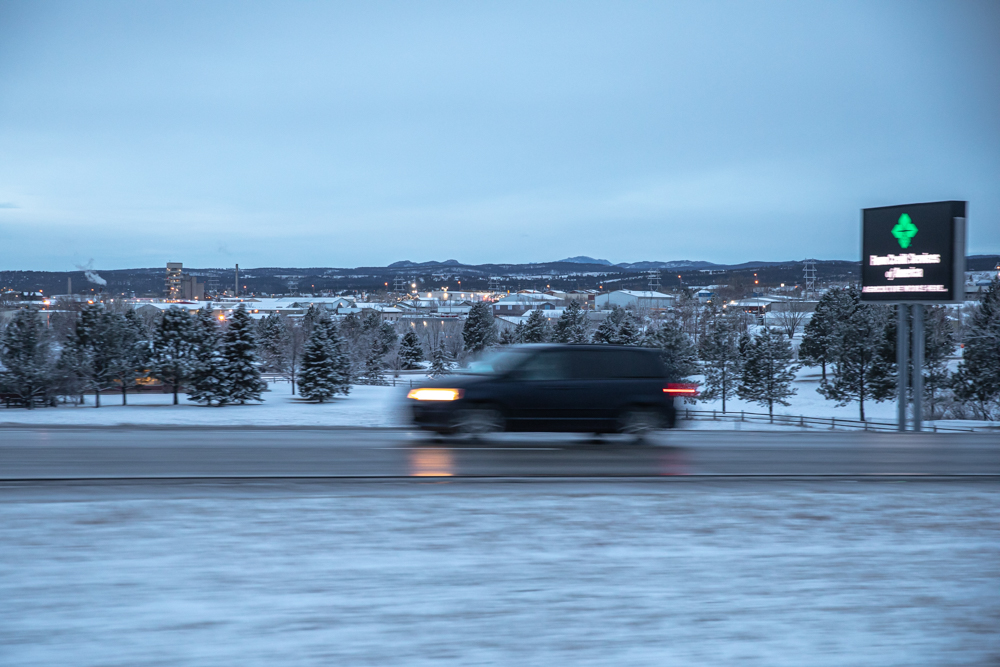 I snapped this shot as we rolled through. Nothing spectacular, but I thought it was a cool little shot of the town waking up for the day.
Near The Border Of South Dakota & Wyoming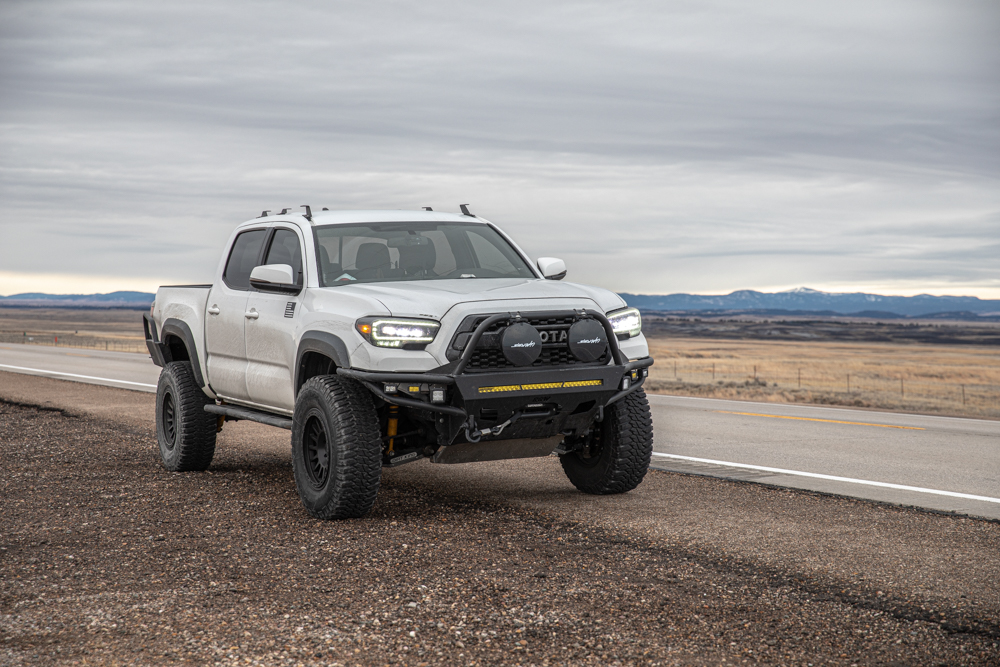 Once we headed north, away from Rapid City, there was less and less snow, and the terrain started to open up into hills and mountains in the distance. I grabbed the shot above as we approached the border between South Dakota and Wyoming.
Man. The truck looks good without a topper. I had initially bought my Tacoma with an Alu-Cab Explorer Canopy, and these few days were the only time I've ever seen the truck in this form. Not that I would ever let that discourage me. I was on the way to get my GFC!
One thing to note. With the wildly fluctuating temperatures, the wind out here was outrageous. It was some of the strongest wind I have ever felt. Even with a high shutter speed, taking a crisp photo was tricky. High-speed continuous shooting for the win!
Crossing From Wyoming To Montana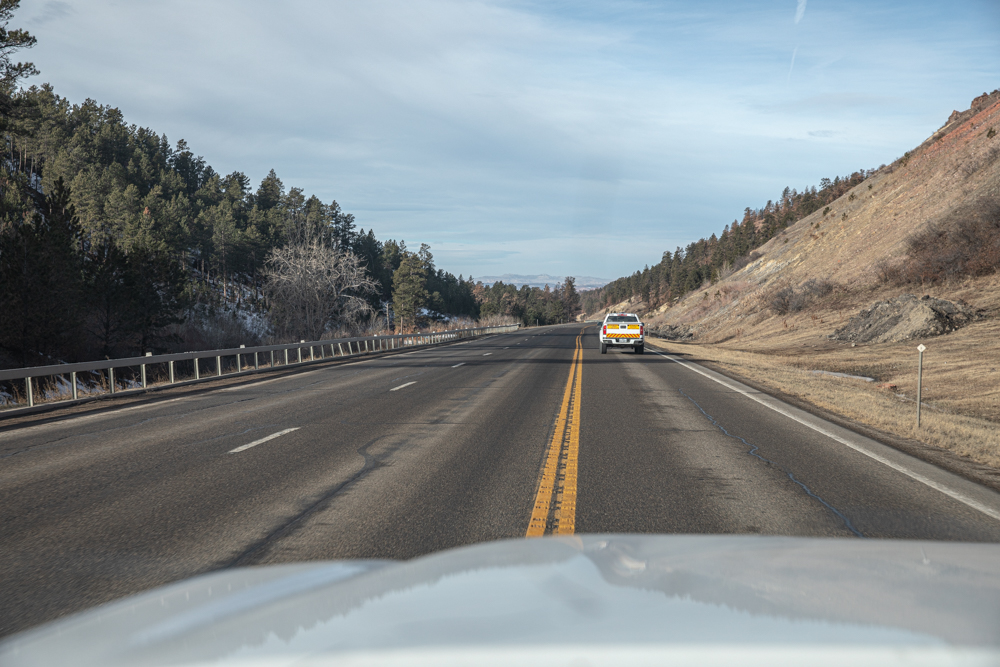 After a super brief stint through Wyoming, we crossed into Montana. A few steeper grades, and we finally saw some more prominent mountains in the distance. You can see them next to the work truck in the shot above.
Views For Days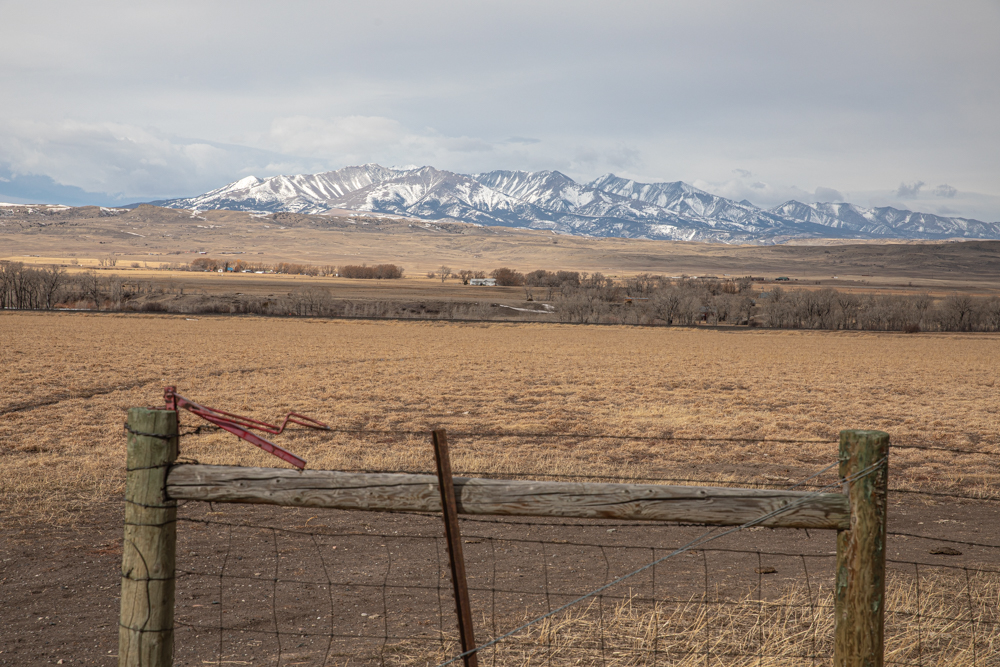 Montana is super epic, even in this time of year. I could have stopped every 10 minutes, maybe less.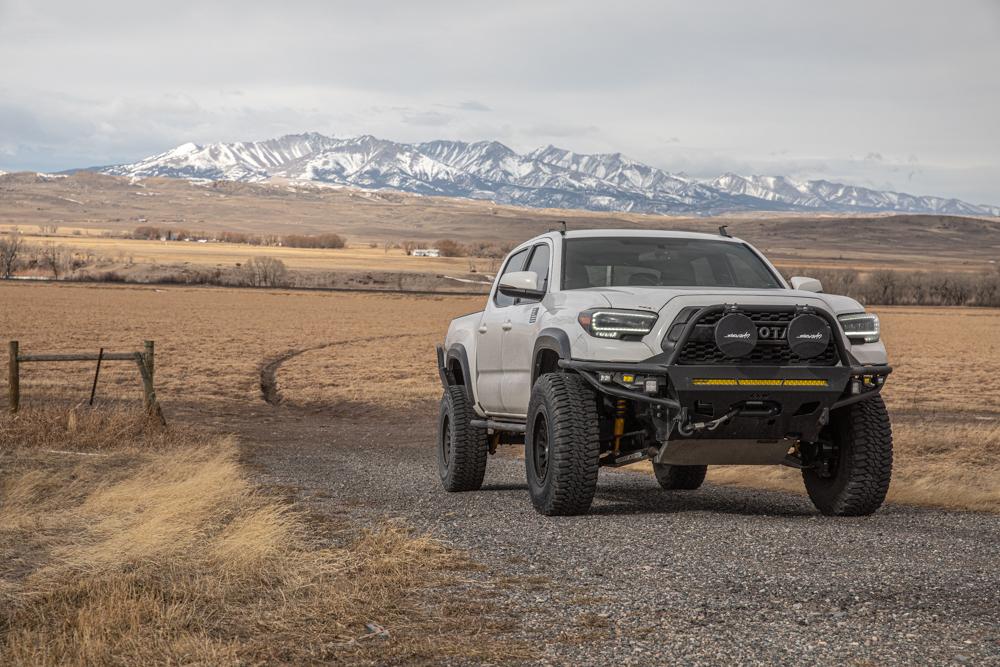 I saw this particular spot, and I knew I had to take some shots. So good. Man, I really like this little truck.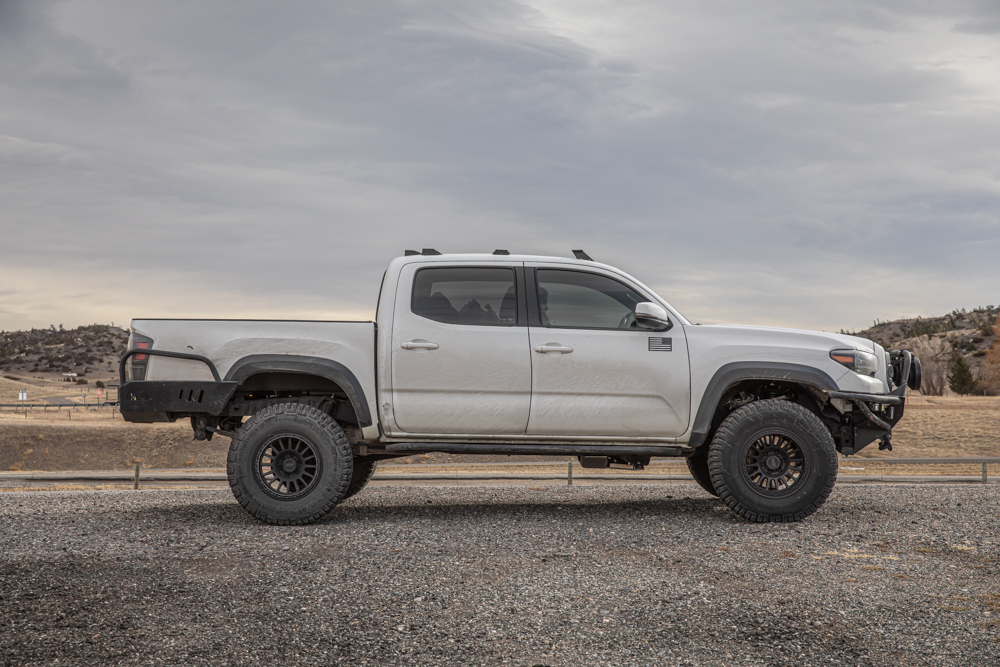 One last shot for good measure. This one came out super moody – pretty much a perfect image in my eyes. But this one was of the last few hours that this truck would look like this.
At this point, we were super close to Belgrade. After a couple more hours, we pulled into the parking lot of our rental unit. All in all, not a bad drive, especially not towards the end when we started to see some serious elevation. We planned the trip out, so we landed a full day before the installation, so we could rest before running over for our installation.
GFC Camper Install Day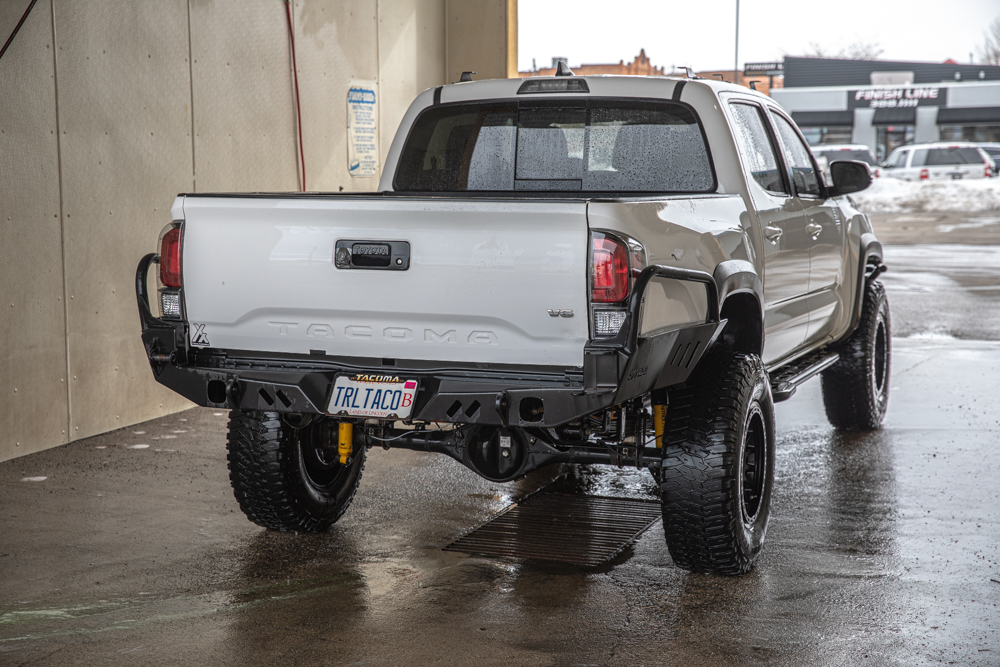 I slept in a bit the following day, got all my stuff ready, and picked up my buddy, John. He came from Denver to meet us out in Montana to hang out, explore the area, and see what all the GFC hype was about. John has a Jeep Gladiator 40″ Mickey Thompsons, and now that I was here, I had to start pushing him more and more to get his own GFC. Naturally.
Before we headed over to GFC, we made a quick stop at the DIY power wash bay down the road from GFC. It's super conveniently placed. I quickly cleaned the truck to ensure I got all the junk off; we needed some good photos here! But seriously, while I did want good photos, I think it's good courtesy to the install team not to bring your vehicle in super dirty. Also, you don't want to install a fresh new camper on top of a bunch of dirt. At least, I wouldn't think so.
This was the last time the truck bed would be uncovered, so I snapped a quick shot. Notice how much lift I have in the back; that's a heavy OME Dakar leaf pack, with a one-inch spacer underneath it and literally zero weight in the bed. There was a little bit of driveline vibration on the way up. Oh well, haha. Looks cool, though! Needs bigger tires.
GFC's Installation Facility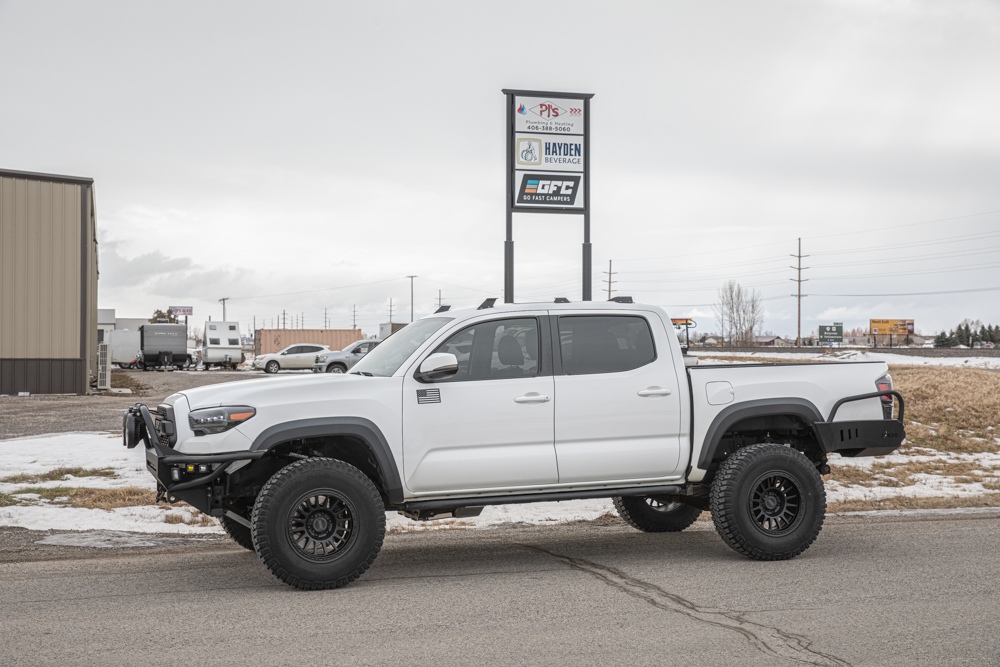 After taking a quick drive to dry the truck off, we were finally on location. I snapped a quick shot while parked outside. You might be wondering… Where's the roof rack? Well, GFC asks that you remove your rack just in case. They don't want any unnecessary damage to occur, and some roof racks are a VERY tight fit. I'll touch on that in a different post.
Checking Out The Installation Bay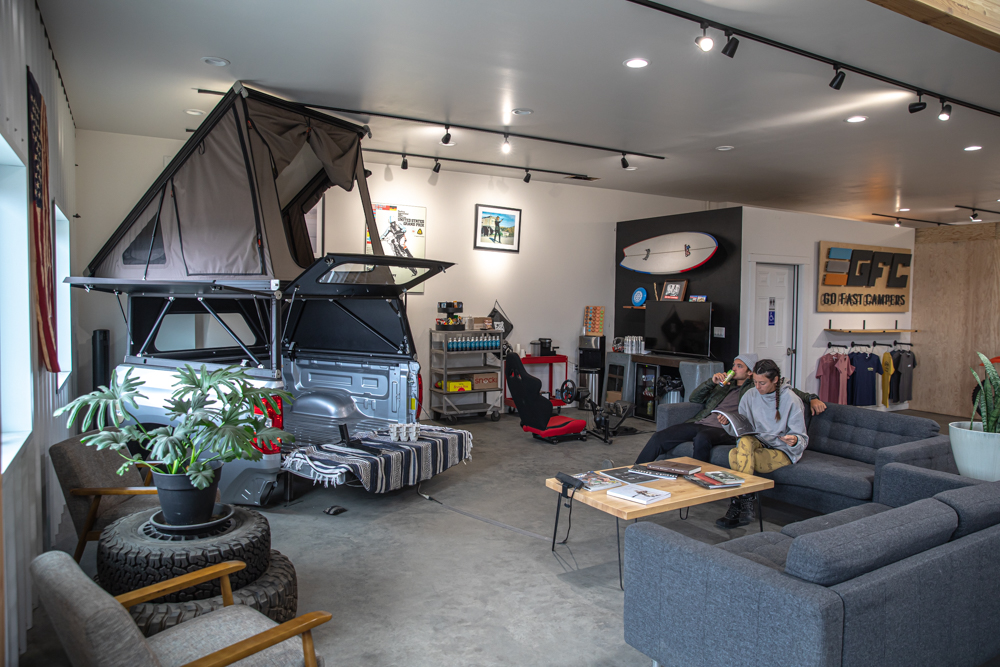 We said a quick hello to the team working in the installation bay and snapped a couple of interior shots. Pretty neat little area to hang out while you wait for your camper.
Did I mention there's a cooler with refreshments and a bunch of snacks? Grab a drink and kick back while the guys install your camper or RTT with a blistering pace. They are supposed to be fast, after all.
Here you can see the other end of the shop. The huge crane setup lifts the tents and campers into position while the vehicle is brought in.
I find this stuff super neat – what a great work environment. Things move fast, but the overall atmosphere is super chill.
A Quick Tour Of GFC's Entire Operation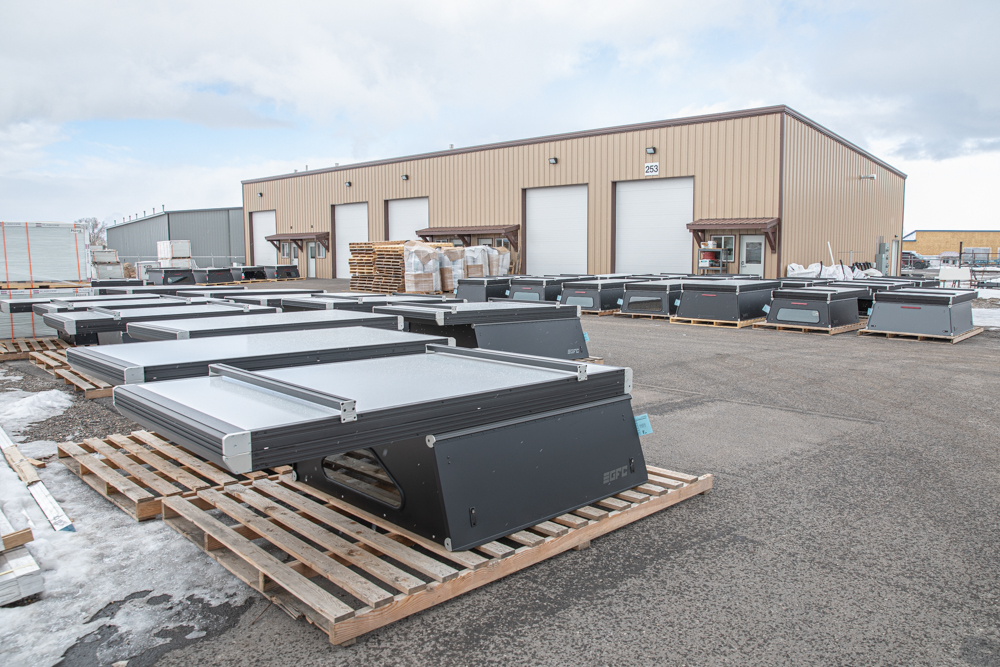 Throughout the process, and while we were on location, we spoke with Thomas. Thomas deals with sales and customer service. If you'll be ordering anything from GFC in the near future, it's likely that you'll talk with him. He's pretty chill too. And he's got a rad 3rd Gen Tacoma, and he took us out the next day. More on that later.
Thomas gave us a quick tour of the different buildings GFC manufacturers in. If you didn't know, GFC is a completely vertically integrated company that sources and builds everything right here in the USA.
This is a company and a product that executes differently, with an intense passion for the industry, loads of powerful creative thinking, a dialed manufacturing process, and drive to produce the absolute best. What more could you ask for?!
There is a ton of fascinating stuff happening here, and we were stoked to get a closer look. Above, you can see a part of the end of the process. All of these campers are done and being organized and prepared for the customers.
Here's a quick look at the inside of FabricTown. This is where all the fabric magic happens. Loads of tent material, all carefully handcrafted. Even the fabric building was fun to take a look at.
There was much more, but as you might imagine, there are some proprietary aspects of the product and the process, so we didn't get to shoot too much in the other buildings. Understandably so. But I'll say again, so dialed!
A GFC Relic – The Very First Prototype Camper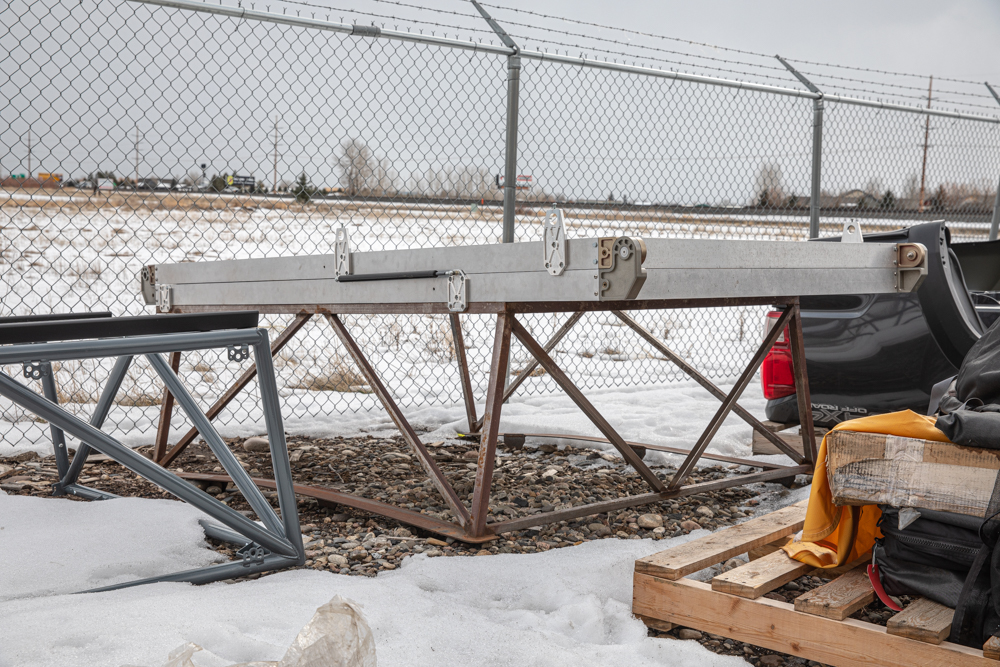 There's a fantastic piece of Go Fast Camper history in this particular lot at GFC.
From what I understand, this is the very first camper. Literally, THE V1. What started it all. Wild to see where the product has come from and how unbelievably dialed the current V2 is. It just goes to show that these guys are constantly pushing to innovate. I'm sure there's already a V3 in the works!
One Install After Another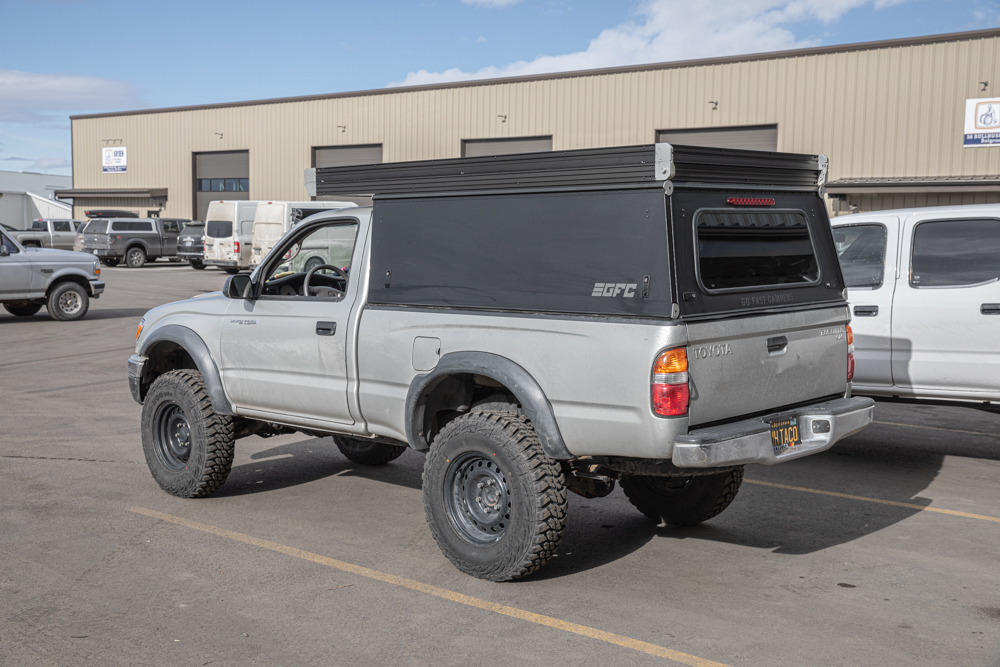 Like I said before, these guys are pretty efficient. We saw several installs go down since we spent a solid half-day exploring and learning everything we could.
The 1st Gen Tacoma above sure caught a lot of attention. Single cab, it was a manual too, and it had the four-cylinder motor (I believe, don't quote me). The owner, just like everyone else, left with a massive smile on their faces. It's quite the experience when your vehicle rolls out with a new tent, but even more so with a new camper.
Time To Install My Camper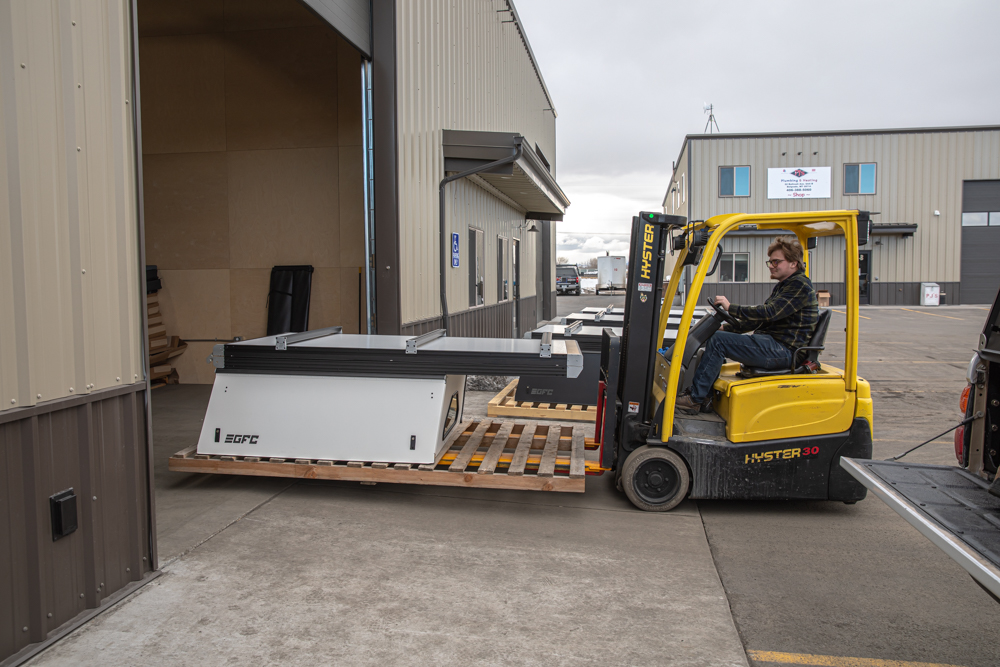 The team was ahead of schedule, so they snuck me in for a quick installation before my slot. The campers all come on pallets, so they're brought into the install bay with a forklift.
Prepping Camper For Install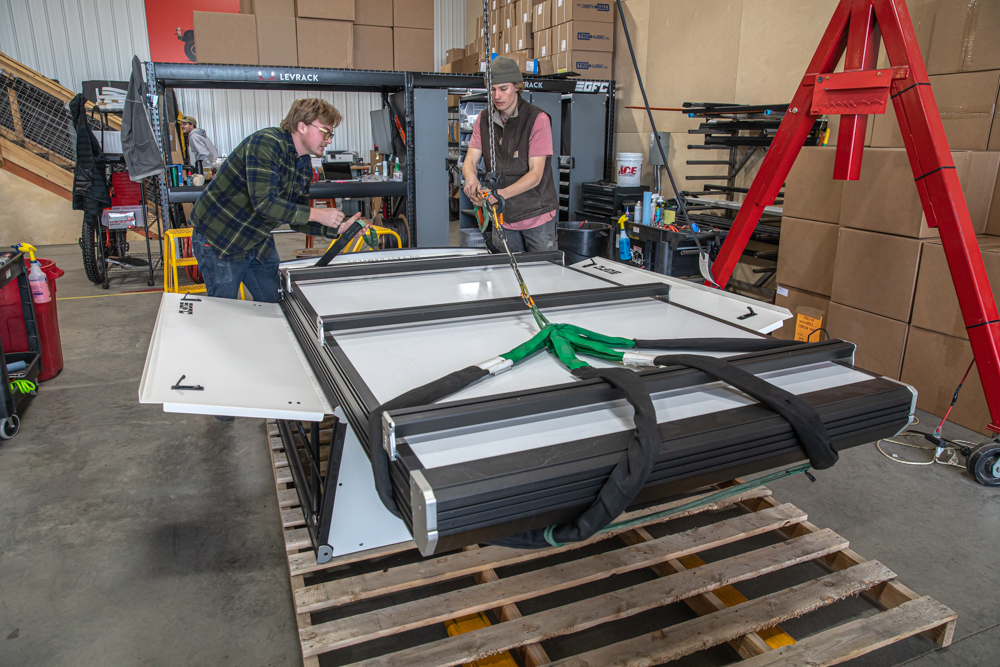 Once the camper is brought inside, the guys work fast to strap it to the crane and hoist it high into the air. Yes, the camper is more than strong enough to be lifted in this way, all ~275 lbs of it.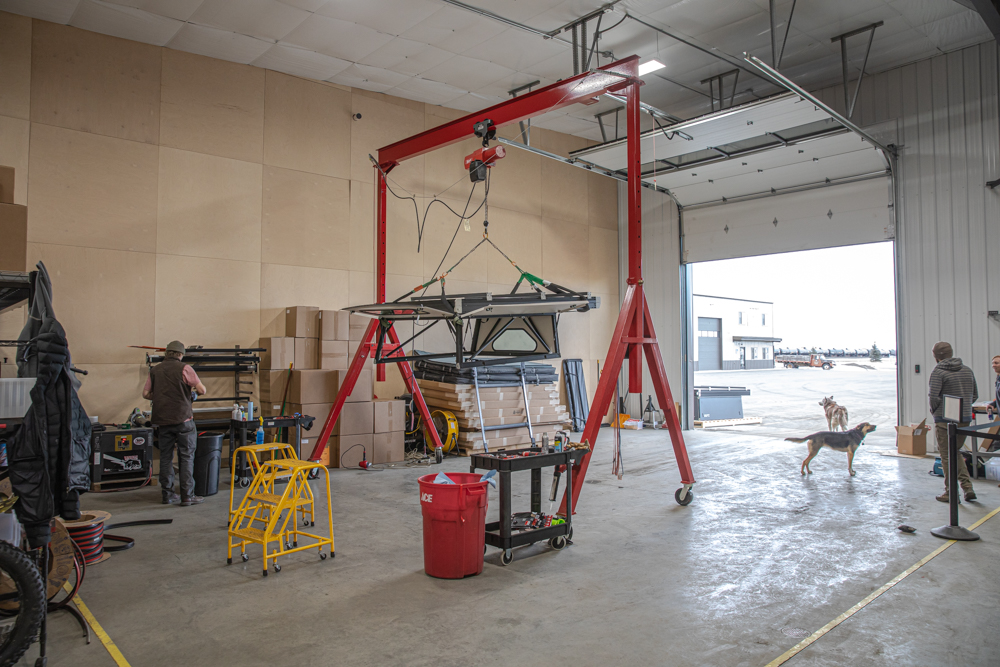 After a quick cleaning, the camper is ready to go. Time to pull the truck inside and get this thing on!
Mounting The Camper
My truck was backed in, and after laying down the bed seals, it was time to lower the camper onto the truck. This all happens very quickly, so don't blink or you'll miss it.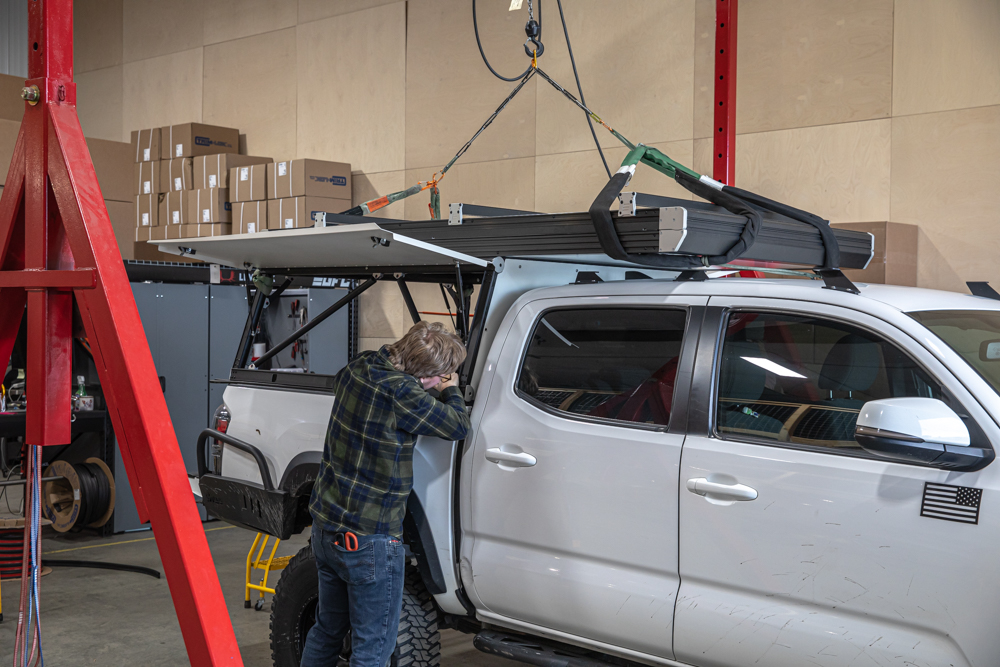 The shot above was immediately after the camper landed on the Tacoma for the first time. Pretty surreal moment and the hype was still building.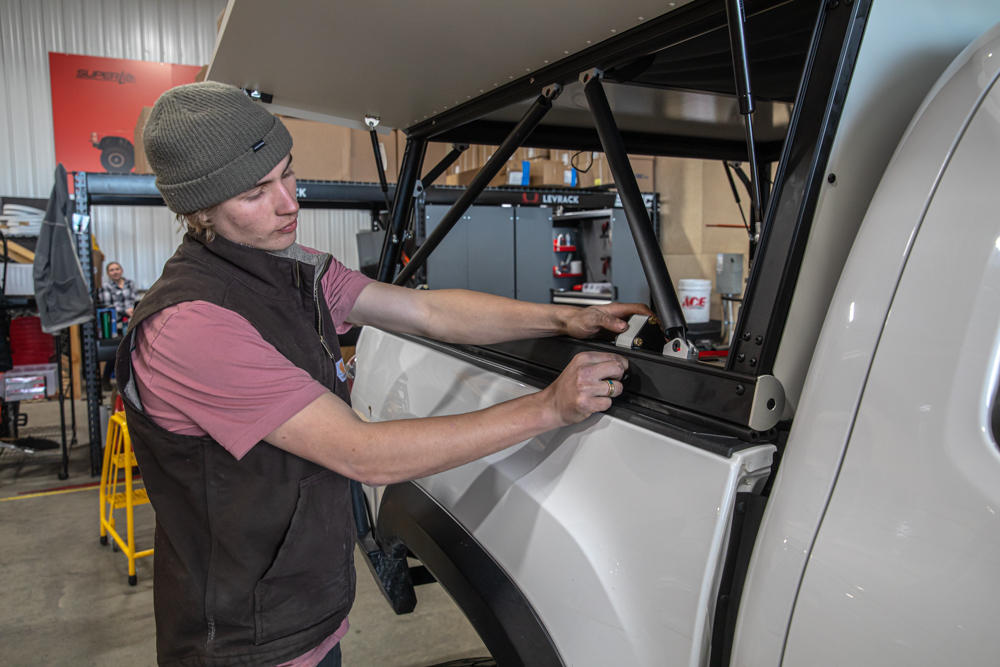 Vehicle-specific brackets going on. GFC assures me that these four custom brackets are more than enough to keep the camper from moving around.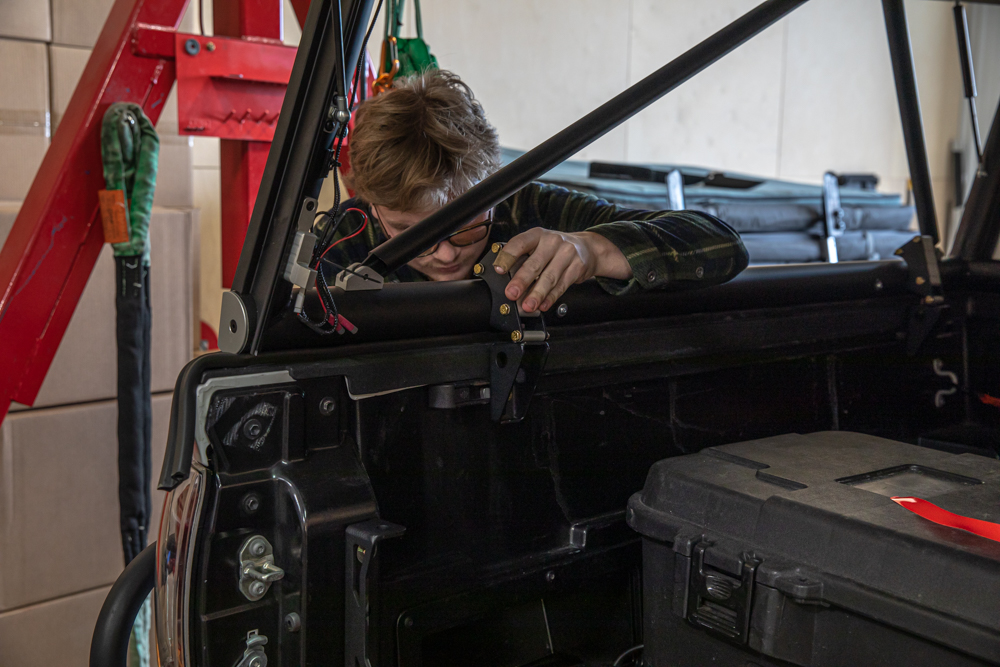 The mounts are a fascinating design. They're super beefy and seem to handle the camper weight well.
The Final Product
And just like that, maybe what, 10 minutes later? The camper is completely installed. And I had them stop a few times to grab photos. Everything minus the LED 3rd brake light is left to the customer and is pretty easy since the light is prewired.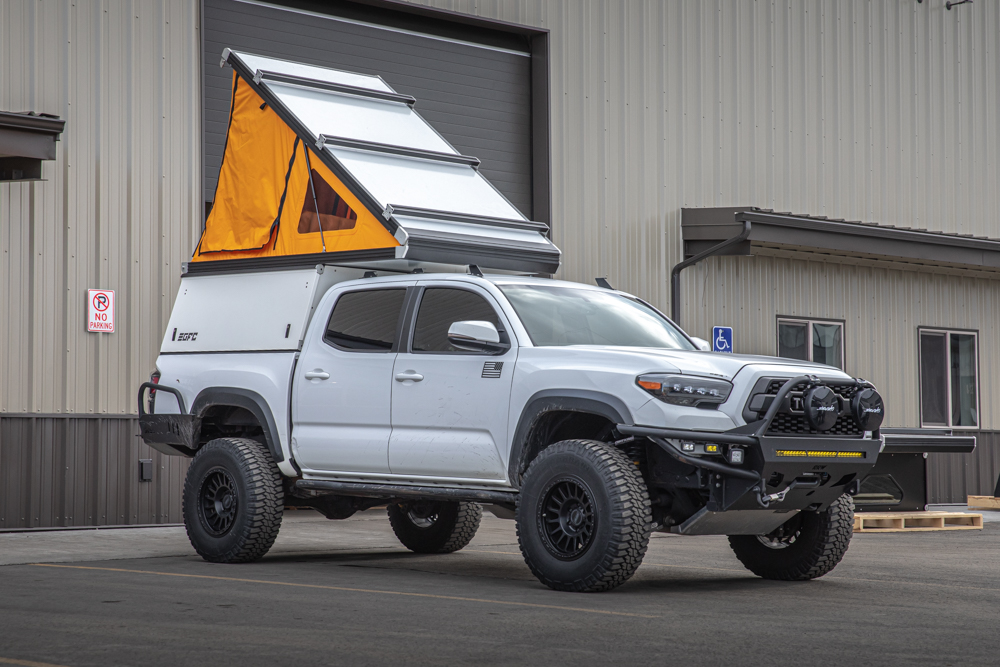 We pulled the truck outside, parked it, and immediately opened the tent to see that incredible orange color – Tangerine Dream.
White on white was absolutely the right move. And the pop of orange is perfect, in my opinion. If you have the opportunity to match your truck to the camper, I highly recommend it. It's a great look – the best look if I say so myself.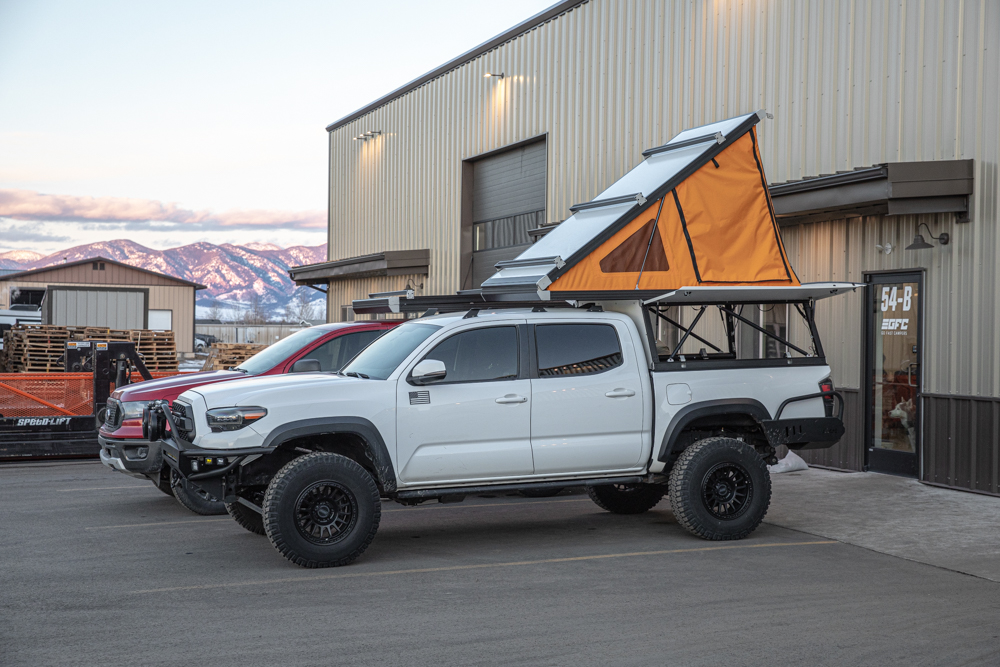 I absolutely love this camper. I'll get into a detailed review in a separate post, but wow. Just wow.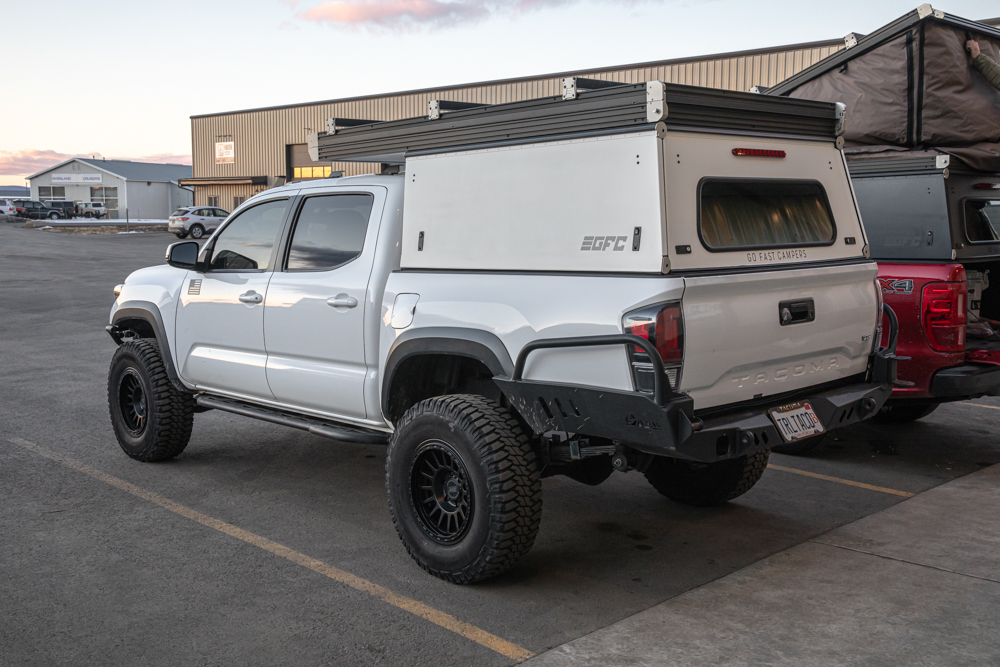 Rear quarter angle shot. With the frame being black, I think this is the perfect mix of black and white, considering the color scheme I have going.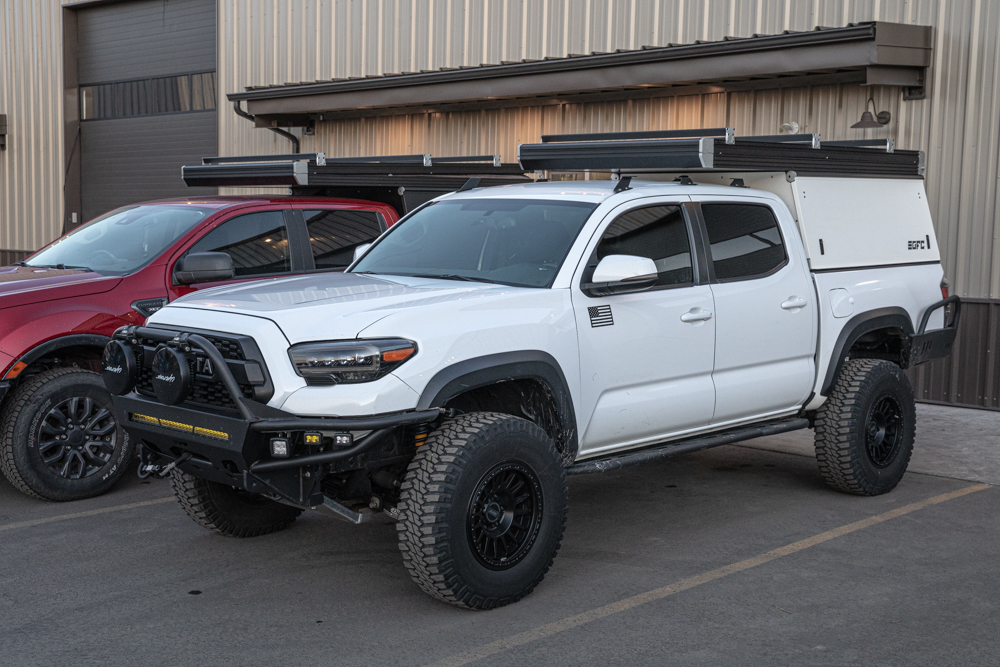 One final shot for this section. The stoke is real. The hype is real. GFC is the real deal. Enough said!
Felt creative – what an excellent experience. I would do it all over again! Thanks to GFC for an exciting day.
Now… it was time to do some wheeling and see a little bit more of the Montana backcountry.
Off-Roading In The Montana Mountains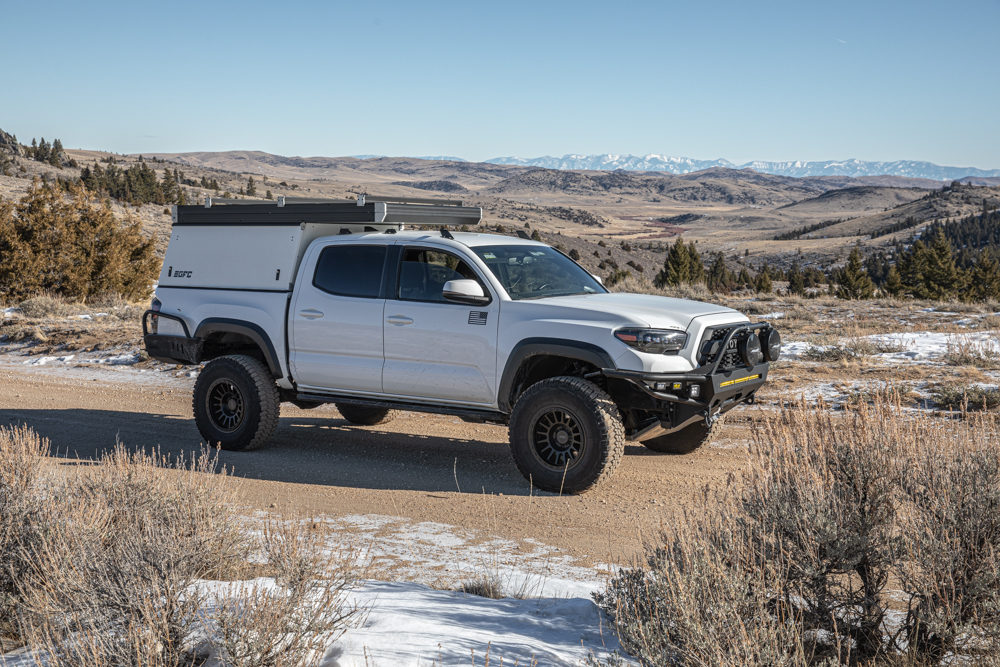 As promised, we got the camper installed on Friday and hit the trails on Saturday. Thomas found a new place for us to explore, and we all headed about an hour south from Belgrade and found a trail system with relatively little snow.
As soon as we pulled off the main road, the views were stunning. Almost 360-degree views of hills with mountains in the far-off distance. I think it was something like 45 degrees this day, so we got to see a lot of terrains that would typically be deep under the snow.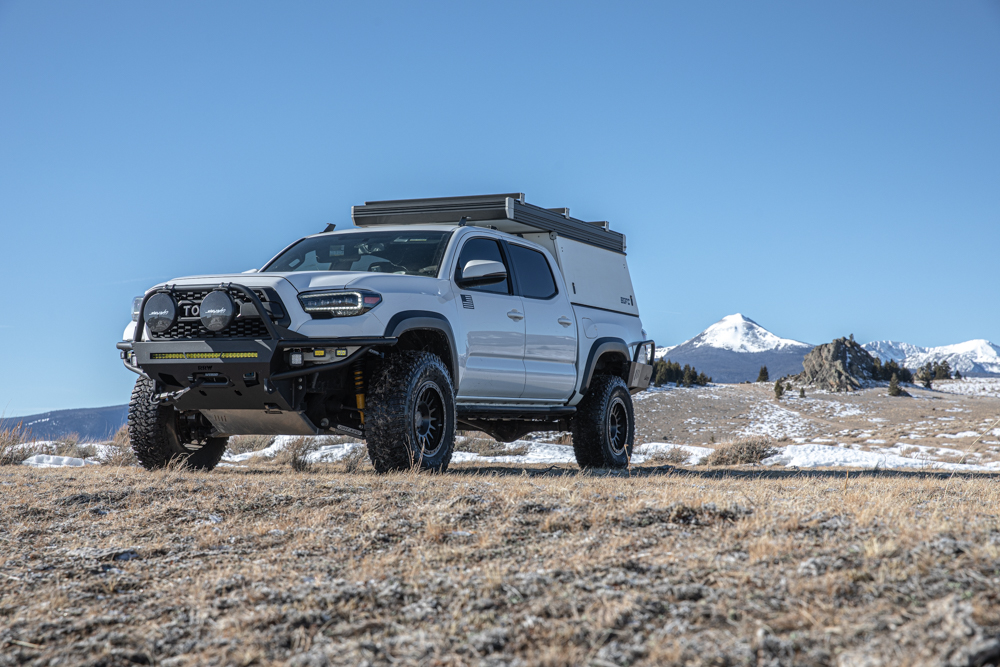 More views. Snow-capped peaks for days!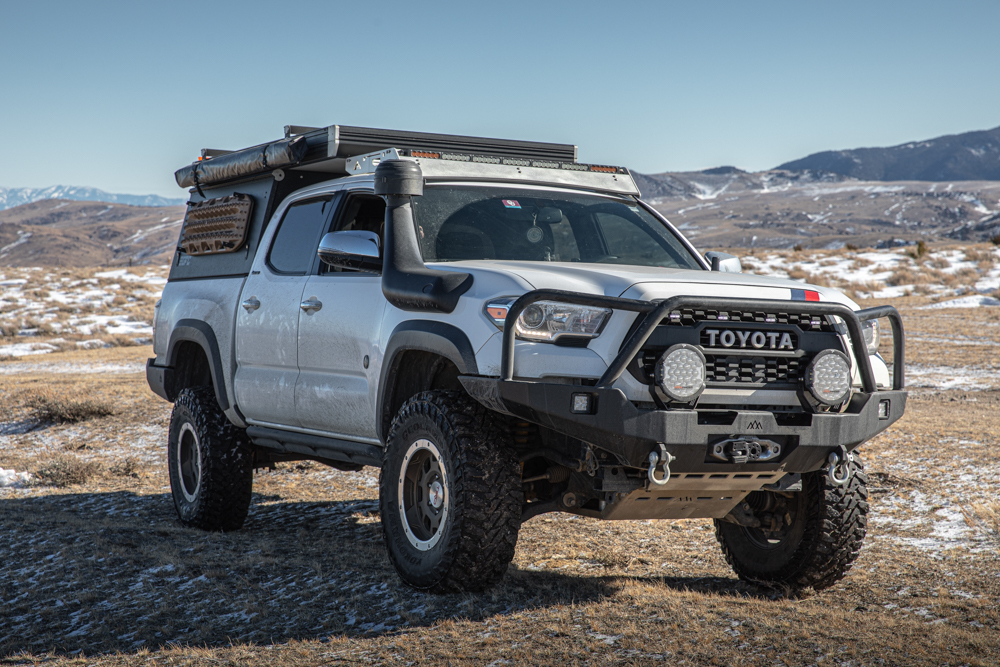 I have to show some love to Thomas' 3rd Gen too. Similar to build to mine, at least in color. He's got a Backwoods Adventure Mods front bumper and a few other modifications. A clean rig that has seen some miles. And, of course, the black V2 GFC. He was our impromptu guide as we zoomed around this trail system.
Just another camper shot. So stoked on the white on white!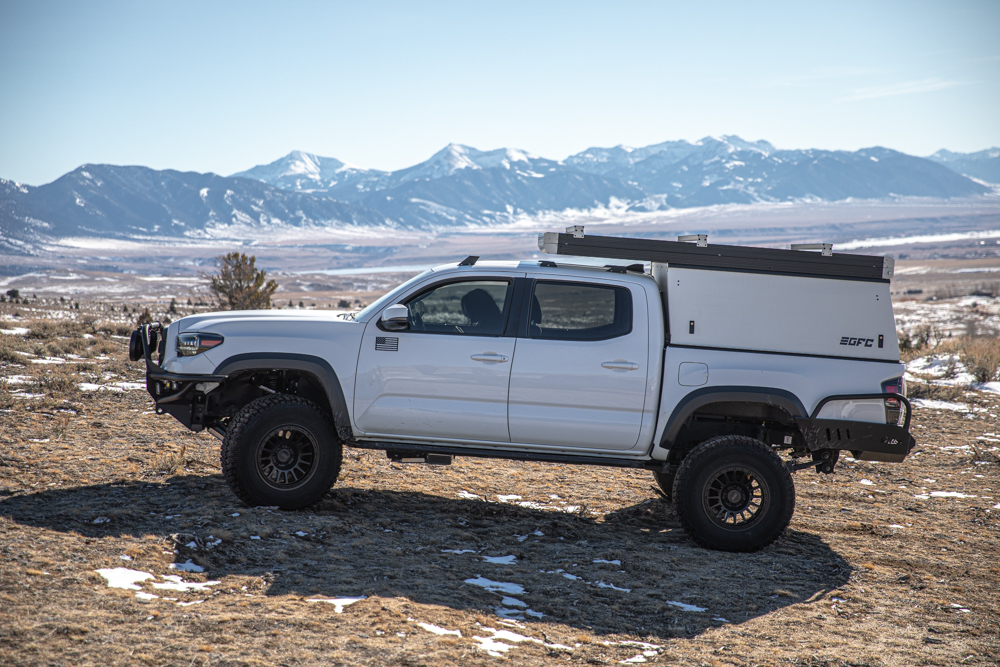 This might be one of my favorite shots of the trip. It came out exactly as I imagined. And those Relations Race Wheels RR6-Hs! Man. I love this setup. One of the reasons I even got this shot was because we took a wrong turn and hit a dead end, and had to turn around. Worth it!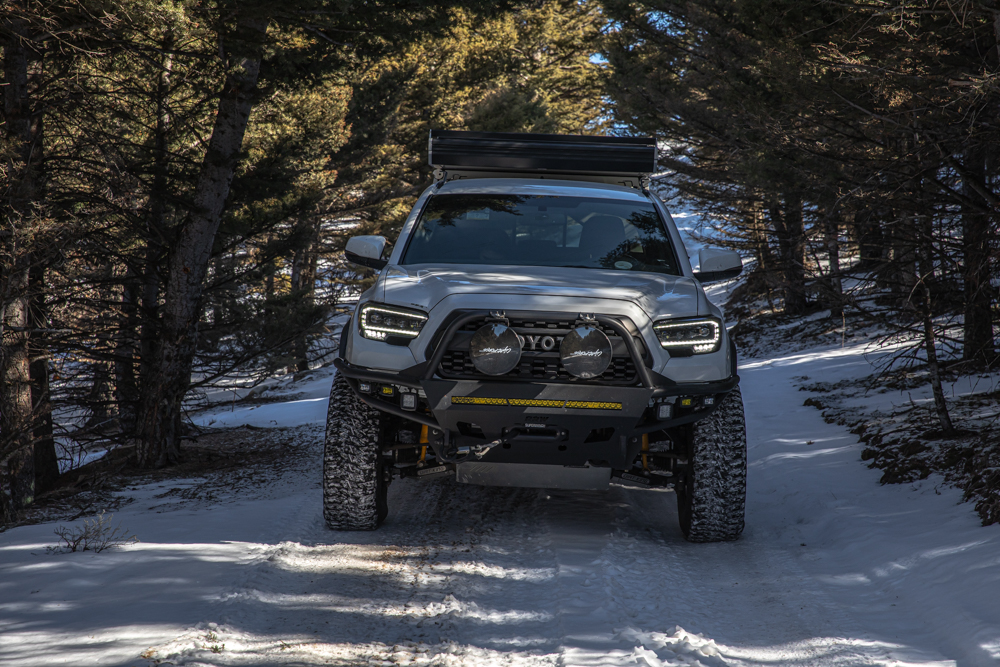 Ultimately, while we were happy to find dry land, we wanted to hit some snow. We found a little side trail with some snow cover in the shadows – stopped to snap a quick photo here too. Lots of photo stops.
And probably of the most epic shots I've taken. In his Gladiator (which I didn't get many pictures of, sorry, John), my buddy John found a snow and mud-covered hill, and he was determined to get to the top. After he made it up, I knew I had to try it. Especially since I saw that this was a photo opportunity I didn't want to miss. It also looked worse from a distance than it did in the driver's seat.
Once I made my way up, I ran back to the opposite hill, grabbed my 70-200mm lens, captured this shot. I'm happy that John made the initial effort to get up here. Otherwise, I might have passed on this one.
I saw a few other incredible landscapes from where the truck stood, like the one above. With the cool winter air, dormant vegetation, clear blue skies – this whole place was super moody. The air was crisp, and there was a beautiful blue hue to everything. I guess I can see now why the locals love this place in the winter.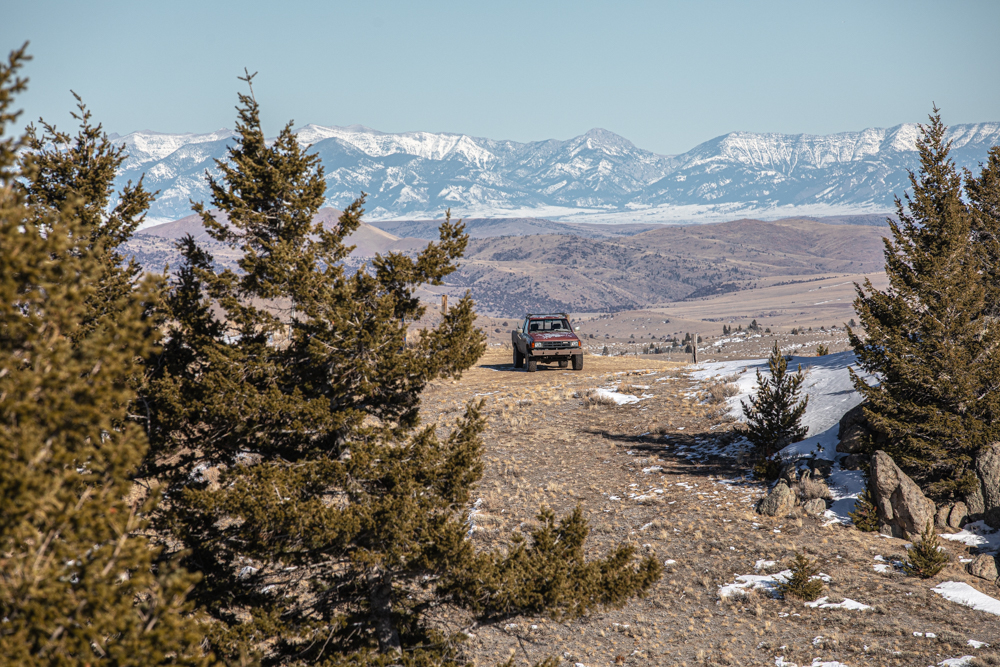 I turned to the left and snapped a shot from where I had grabbed the shot of my truck parked at the top of the hill. Of course, a retro Toyota pickup truck was parked at the top. It only makes sense, haha. Looks pretty sweet in this shot, if I might say so.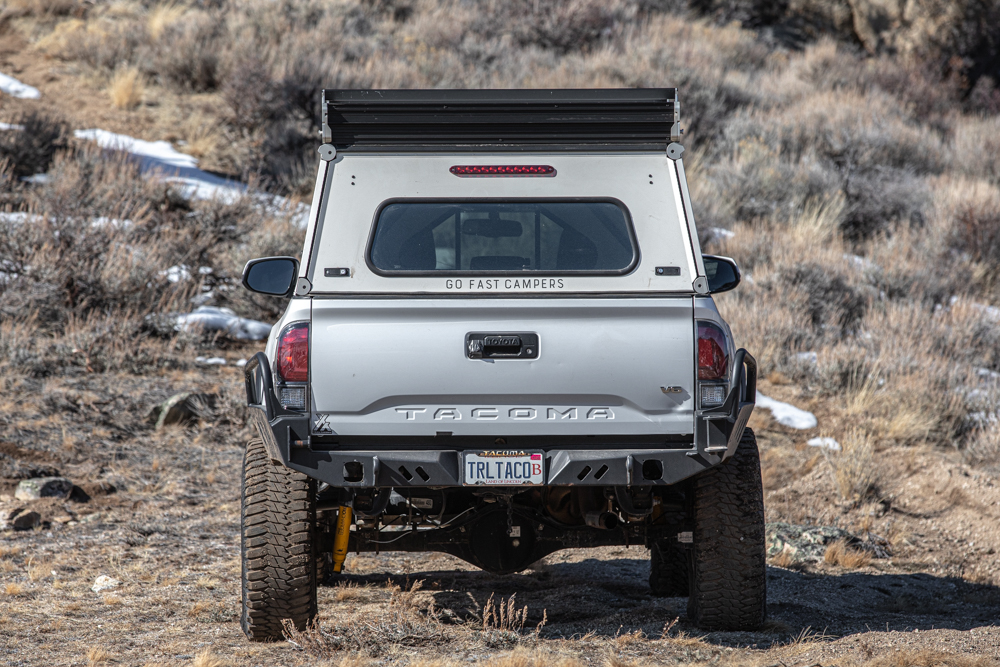 And… another camper shot. I took many photos here. Again, glad I decided to get up to this spot.
Another one.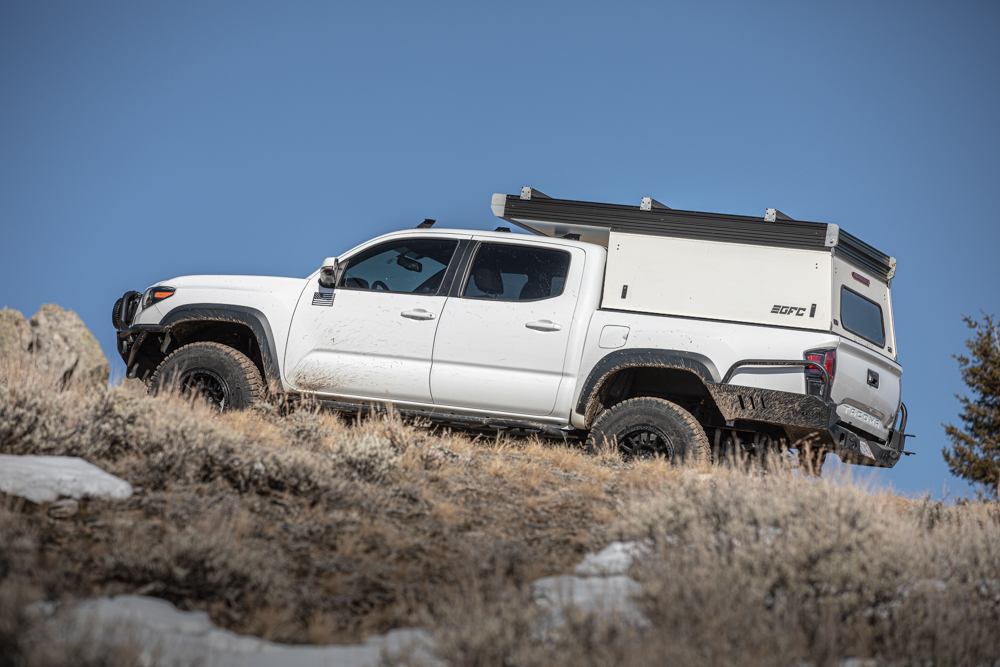 And another one!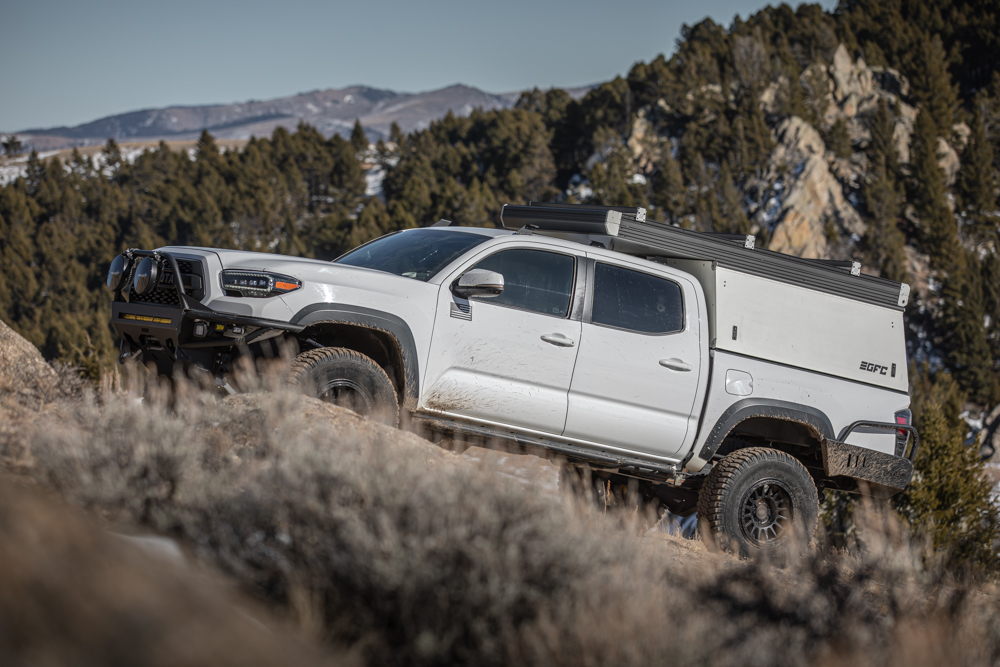 Ok. Last one. For now…
Snow Wheeling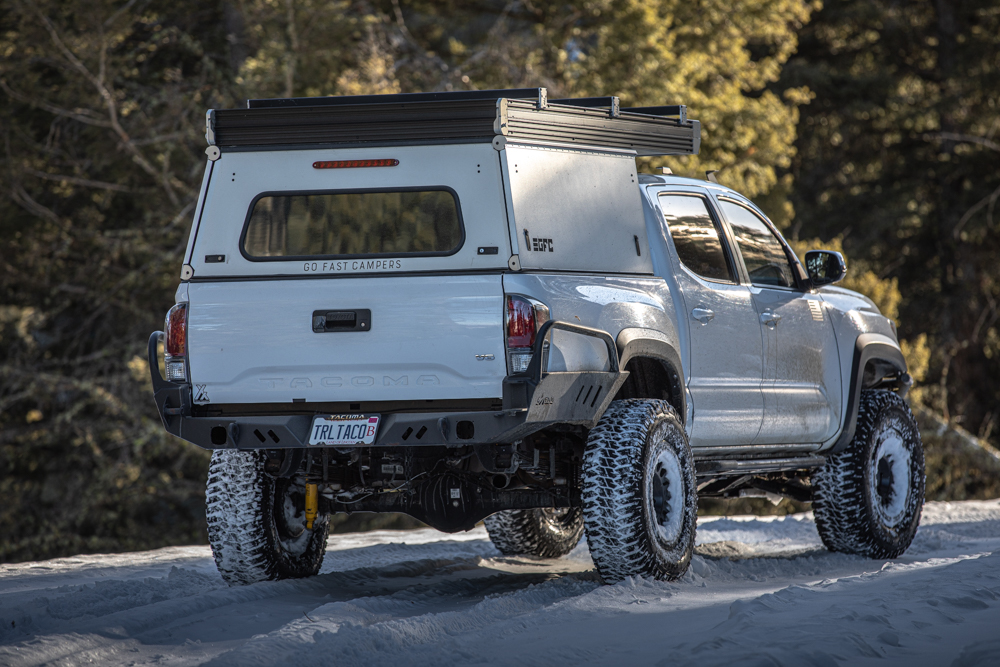 Eventually, after exploring for a few hours, we finally found snow. It was my first time really snow wheeling, which is kind of chaotic, so I didn't take a ton of photos. Me and Thomas also got stuck like ten times, so that eats up a lot of time and energy, and I forgot to get extra photos and videos. But I did get a few good ones. See above!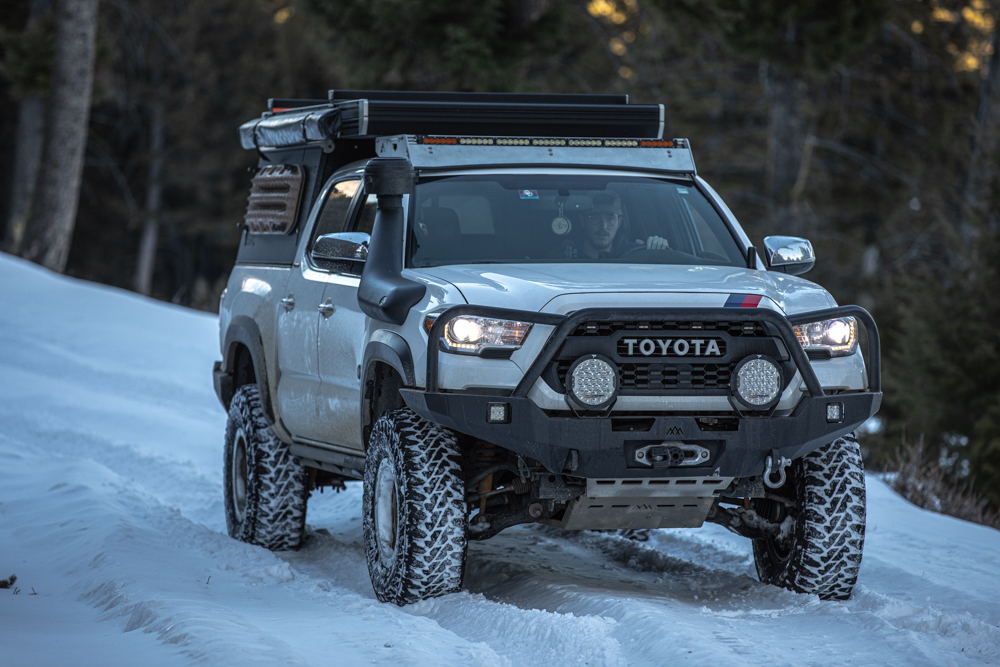 Thomas. Probably deep in thought about how much he was hoping that neither one of us got stuck… again.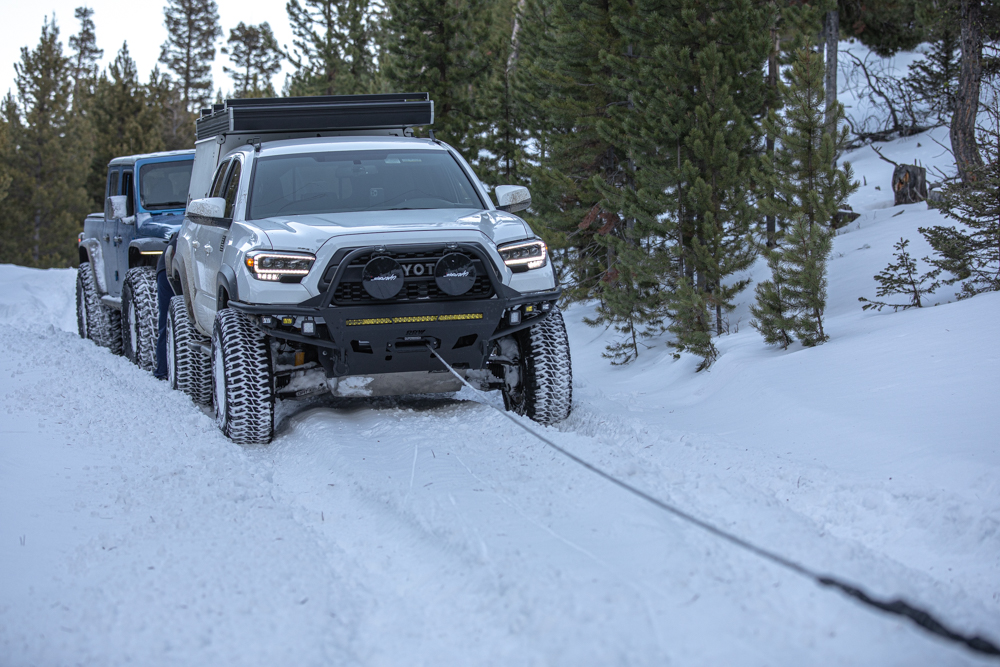 I did grab this shot, though. I was using my Superwinch SX10. This thing does, and did, work! Eventually, as we got close to the other end of the trail, the snow got too deep, even for John's crazy heavy foot. We made a quick U-turn, and headed back to Belgrade.
Dude. Such a fun day. Everyone was stoked. Even though we got stuck more than we would have liked. All good!
Final Thoughts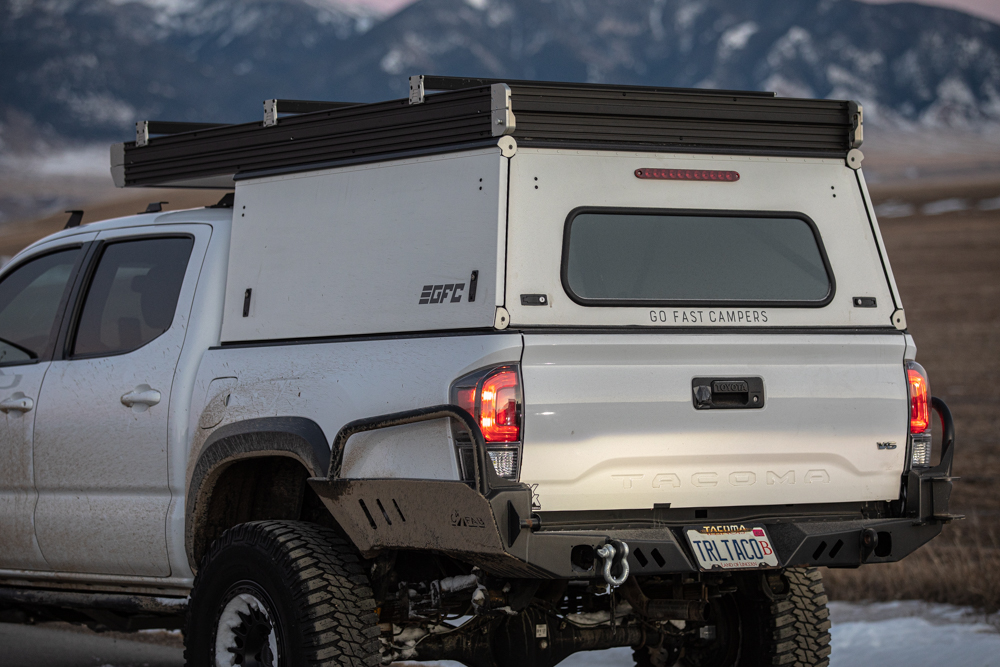 Another super favorite of mine above. I grabbed this shot when we had gotten back to pavement to air up and talk about plans for the rest of the night. As you can tell, the lighting was absolutely perfect, and the camper was looking extra dope.
Alright, I know that was lengthy, so if you made it to the end, thanks for sticking around! This was indeed an experience to remember, and I cannot tell you how much I'm looking forward to this year's wheeling season. It's only March, and we've got plenty of time left in the year to really put the V2 Go Fast Camper to work. I'm thinking Wisconsin, Michigan, Colorado, Utah, California… and maybe even Baja Mexico.
On a final note, if you read this post because you were considering making a similar trip, I highly recommend that you do. It's very doable. You'll definitely want to stay in the area for a few days, at the least. There's a lot to do, no matter the season. It's a great experience, and if you like road trips, this is one for the books. If you wanted to go all out, Montana is a perfect gateway into the PNW or really anywhere in the West.
Stay tuned for a few more posts on this camper, including a massive, detailed review, an accessory overview, an overview of aftermarket support, and other posts, like if you can still run a roof rack with your new GFC.