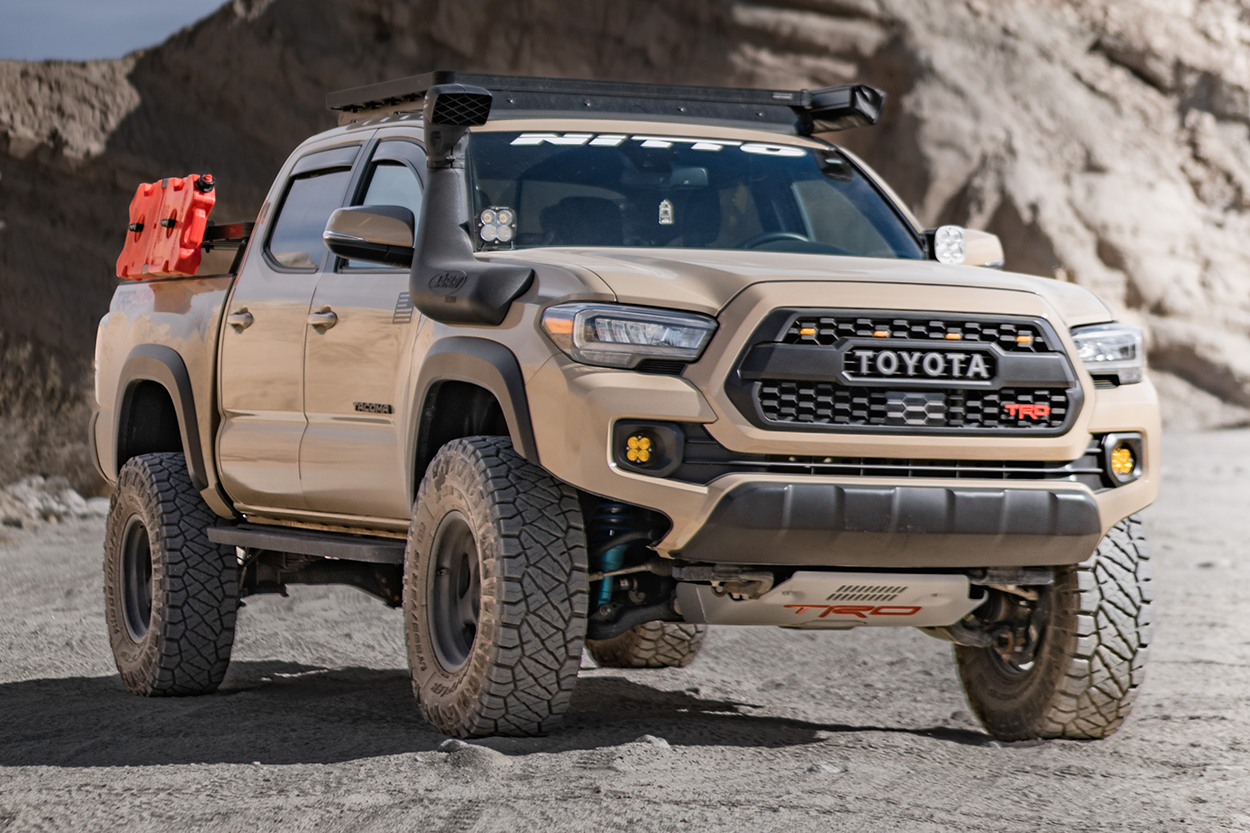 Off-Road & Overland Tire Options for the 3rd Gen Toyota Tacoma – 7 Unique Tire Setups & Upgrades to Improve Traction & Grip On The Trail
Hey guys, welcome back to yet another Taco Tuesday! If you missed last week's TT, we asked Tacoma owners what their choice of armor was for protecting a Tacoma out on the trail.
This week we are taking a look at a variety of tire brands and models that you should consider when upgrading to beefier off-road tires for your Tacoma.
If you're looking to learn more about the basics, check out our post on choosing tires for the Tacoma. If you're on the fence about tire sizing, we got you there too. Take a look at this post on largest tire size for the Tacoma.
Why Buy Off-Road Tires?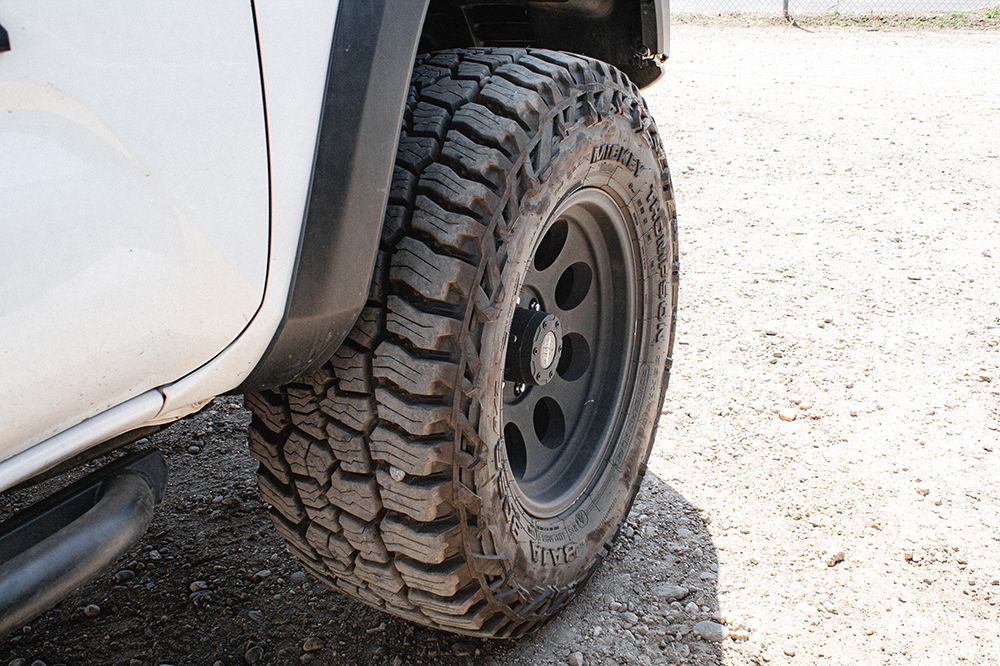 When you buy a Tacoma, you aren't just buying America's #1 best-selling mid-size truck. You are buying one of the most capable off-road trucks that are available in today's booming truck market. This is a pretty impressive statement considering the fact that Toyota doesn't really equip these trucks with proper off-road tires. The tires that Toyota provides with new Tacomas are really geared towards better on-road comfort and the best MPG possible. They do offer some tame all-terrain tires on their TRD Pro and TRD Off-Road trim levels, but they are nowhere near the caliber of tires that you will find listed below.
By upgrading tires, you open the door to a vast array of various tread patterns and sizes. The type of tread pattern you should get truly depends on what type of driving terrain you take your Tacoma on. Getting a proper off-road tire will result in massive gains in traction on the trails that your truck was severely lacking on stock tires.
The majority of consumers will opt for an all-terrain (A/T) tire due to their daily driver compatibility while retaining excellent off-road traction.
When purchasing new tires, you may want to consider increasing your tire size as well. A stock Tacoma will be limited to how big of a tire you can actually fit without a lift, but this upgrade has a few benefits. Increasing your tire size will help you achieve a bit more ground clearance without needing to spend money on a lift or leveling kit for your truck. The improved ground clearance will also increase your approach and departure angles as well. You also achieve improved traction on the trail with a larger contact patch by being able to decrease your PSI with the larger sidewalls.
Let's check out some of the reasons why these 7 Tacoma owners are stoked on their tire upgrades.
1. Garrett Kinser (@trd18_kinser) – Mickey Thompson
Tire Specs:
Model: Baja Boss
Size: 33×12.5R17
Price: ~$350 each
What Do You Like Most About Your Setup?
I chose these tires because they were the best aggressive A/T tire that I could find. They are snow and ice rated which is nice for Colorado weather. They've gotten me through anything I could throw at them and where I need to go with no issues.
Mickey Thompson is also a well-known, reputable brand, so I knew my money was well spent and that these tires would last. These tires also don't have much road noise to them, which is nice for those long road trips.
2. Kevin Gomez (@ghost_trdpro) – BFGoodrich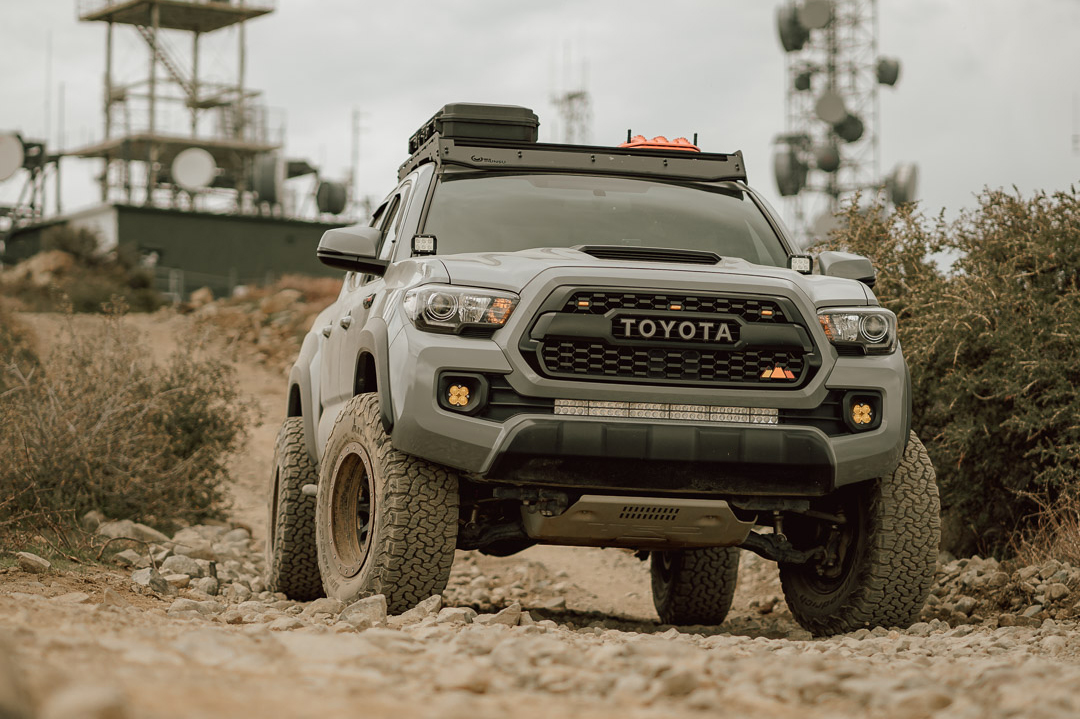 Tire Specs:
Model: KO2
Size: 285/70R17
Price: ~$265 each
What Do You Like Most About Your Setup?
The BFGoodrich KO2s are highly capable all-terrain tires. I've used KO2s since 2016 and have never had any issues with wear and tear. I had these tires on my 2004 Tacoma before buying my 2017 model. They don't make any noticeable road noise and are beefy-looking. I've put these tires to the test on hot desert roads in Arizona, through snow showers in Utah, and rocky switchbacks up near Mammoth.
My experience with them has been nothing but positive. For me, it comes down to quality and longevity. I highly recommend these tires for anyone looking for a solid tire option that will last 50k+ miles.
3. Reilly McCarthy (@subzero_taco) – Toyo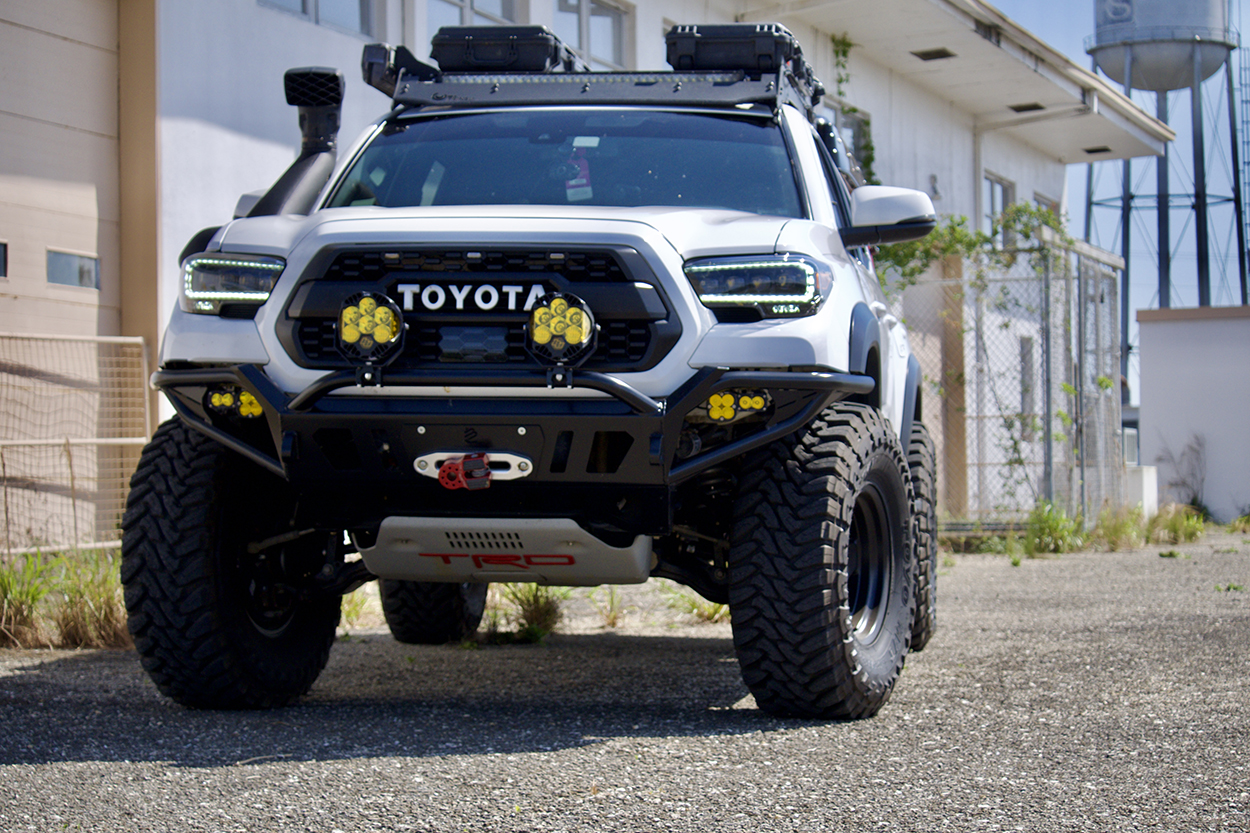 Tire Specs:
Model: Open Country MTs
Size: 315/75R16
Price: ~$370 each
What Do You Like Most About Your Setup?
These are the first set of Toyo tires that I have purchased and am extremely impressed with how they have performed both on and off-road for the last 7,000 miles that I have owned them.
The Toyo Open Country MTs have awesome traction in any weather condition. Living in Florida calls for lots of rain and muddy/swampy trails; these tires have yet to disappoint me. I also love the aggressive tread pattern of the tire.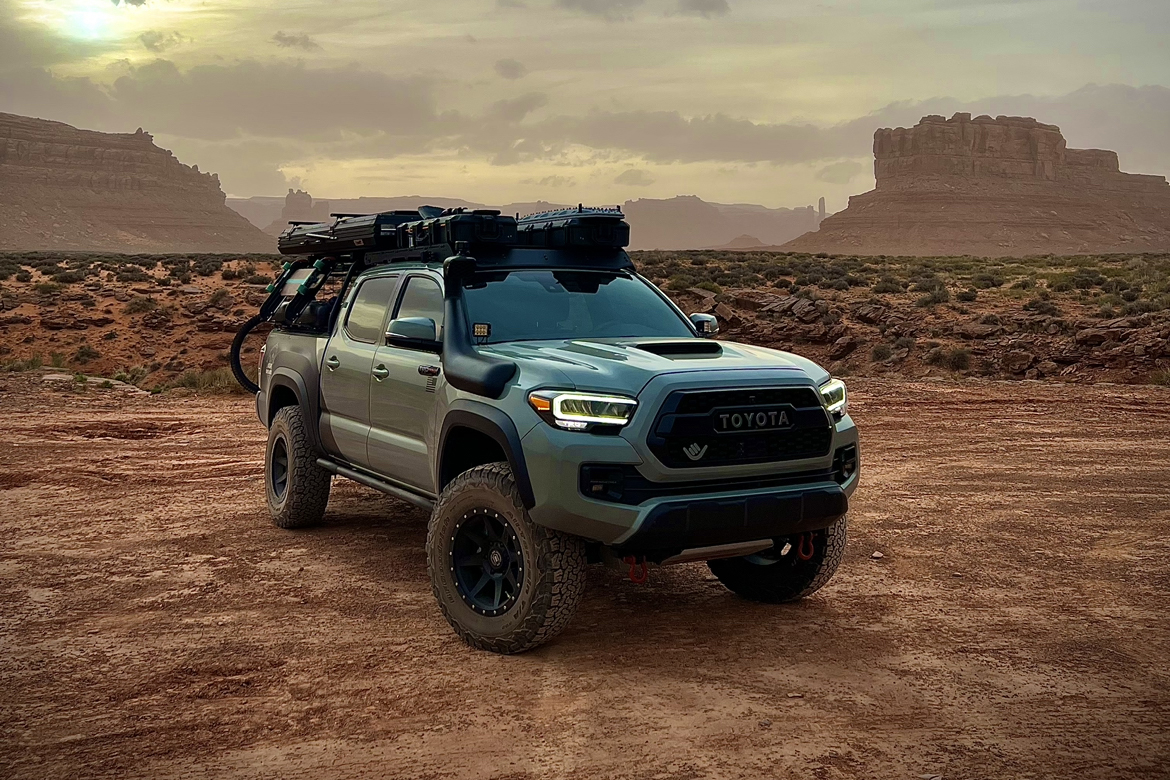 Tire Specs:
Model: KO2
Size: 285/70R17
Price: ~$280 each
What Do You Like Most About Your Setup?
I enjoy my KO2s because where I am from, we get all 4 seasons. I spend a lot of my time winter camping and snowboarding, so I know I can fully depend on my snow-rated KO2s.
In the summer, I travel many miles both on and off-road looking for the best mountain bike trails and epic campsites and these have remained reliable. On the highway, my KO2s are quiet and smooth and when it's time to hit the dirt, they allow me to get rowdy.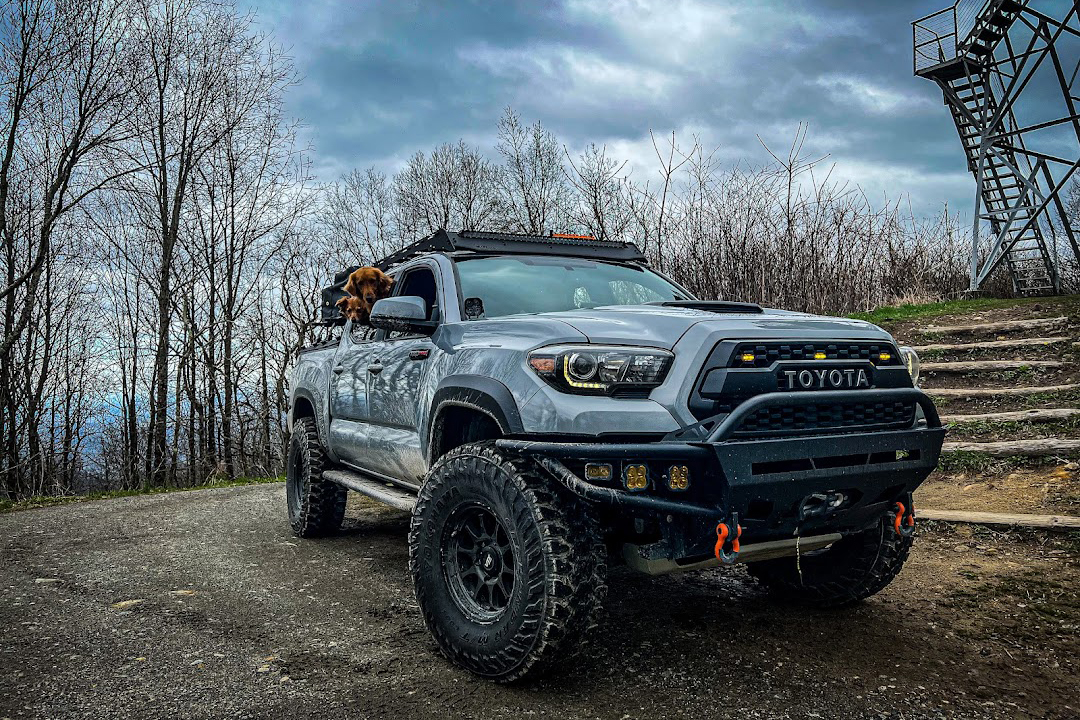 Tire Specs:
Model: Geolandar G003 M/Ts
Size: 315/75R16
Price: ~$320 each
What Do You Like Most About Your Setup?
I switched from the BFG KM3s to these Yokohama Geolandar M/Ts and couldn't be happier. The Yokohamas are quiet on-road and provide excellent traction off-road. My favorite thing about these tires has to be how light they are compared to other similar tires on the market. The 315/75R16 size only weighed 69lbs/tire which is around 5-10lbs lighter than other leading brands.
My BFG KM3s wouldn't stay balanced and as a result, started wearing unevenly. This is ultimately why I made the switch to the Yokohama Geolandar M/Ts.
6. Jack Clelland (@mellowtrd) – BFGoodrich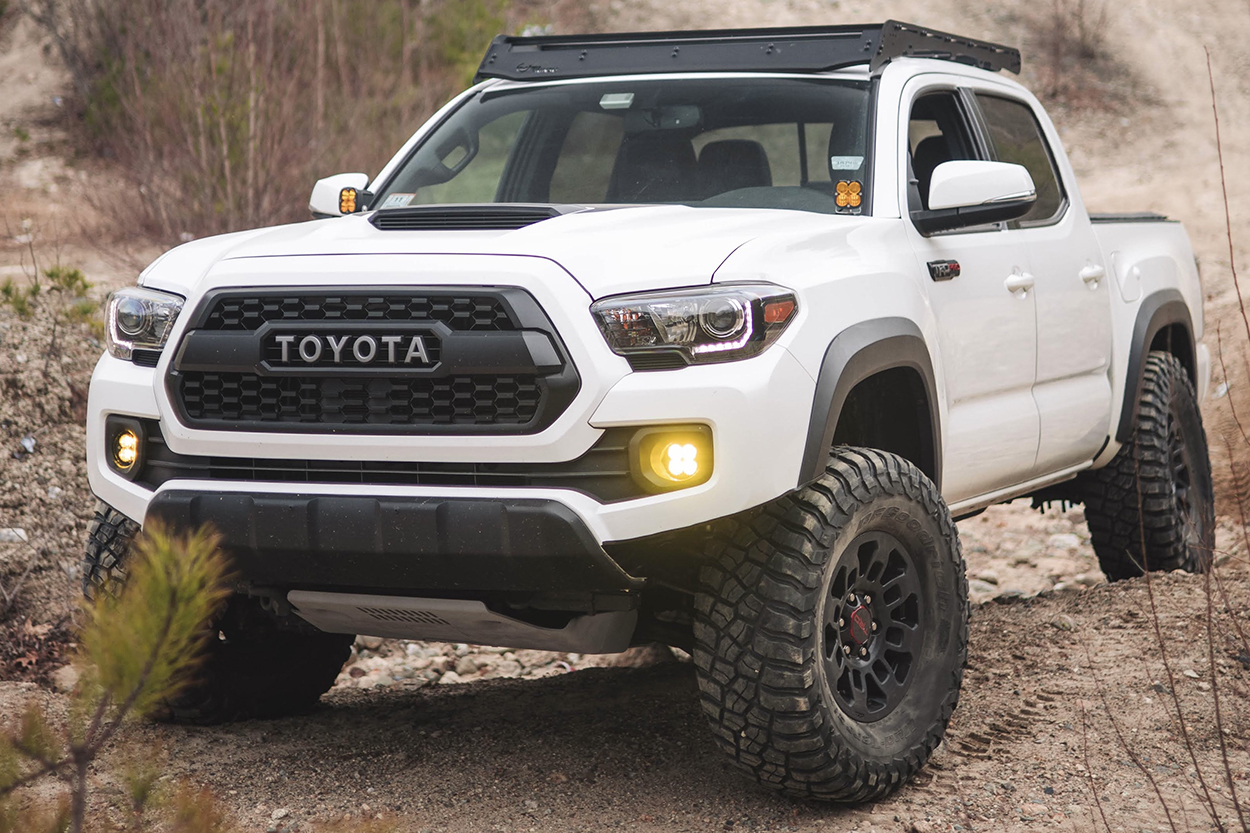 Tire Specs:
Model: KM3
Size: 305/75R16
Price: ~$309 each
What Do You Like Most About Your Setup?
These tires are just simply awesome! They are great for both daily driving on-road and they are excellent off-road. They have a super aggressive tread and an even better-looking sidewall. I have had this set for about 5,000 miles and they are still looking top-notch.
I will be upgrading to 35×12.5R17 this summer and I can't wait!
7. Sary Ven (@yotaflame) – Nitto
Tire Specs:
Model: Ridge Grappler
Size: 295/75R16
Price: ~$280 each
What Do You Like Most About Your Setup?
At first, I wanted mud-terrain tires. I was looking at a couple of brands but then realized that I drive on-road more to work than I do off-road. So, why do I want mud-terrain? After doing some research, I got hooked on the Nitto Ridge Grappler.
The Ridge Grapplers are a hybrid tread that looks good but above all else, fits my needs. I don't off-road every weekend but when I do go, I know that the Ridge Grapplers will take me to my destination. Next time, I will definitely go bigger in size!
Final Thoughts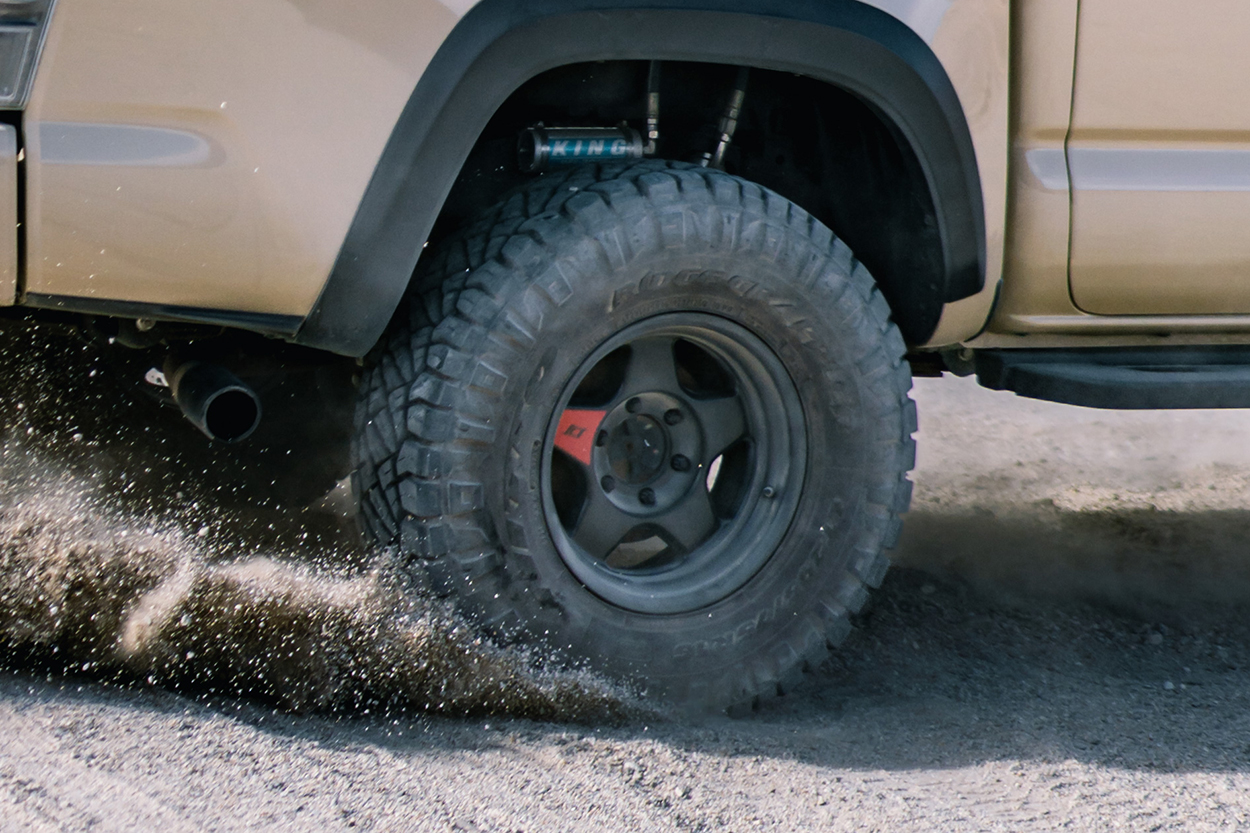 What a great group of Tacomas! I hope that you got a solid idea of how upgrading your tires can really benefit your truck's performance. Improvements like added ride height, better on and off-road traction, increased stability, and more likes on Instagram are all some added perks to upgrading the tires on your Tacoma.
If you want to be featured for Taco Tuesday, submit your build through TrailTacoma.com/Feature. Next week's Taco Tuesday will be featuring BLACK WHEELS that Tacoma owners are running and what they like about them. We're looking for sweet rides to showcase! If this is you and you love your setup, send in your details because we want to see it.
Thanks for reading guys. I'll see you next week!