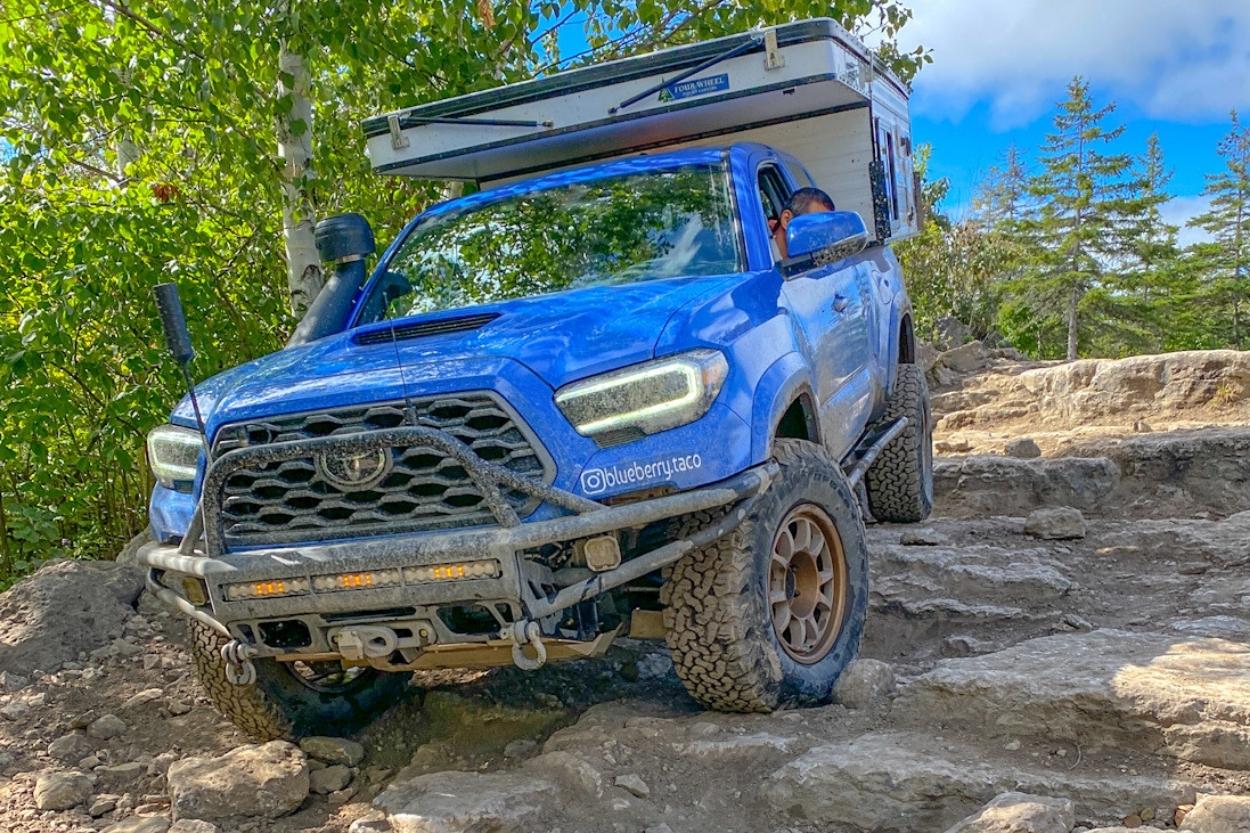 We Asked 6 3rd Gen Toyota Tacoma Owners What Aftermarket Front Skid Plate They're Running & What They Like Most About It: Here's What They Said!
This Week's Topic: Aftermarket Front Skid Plates
Welcome back to another Taco Tuesday! If you missed last week's TT, we looked at winch options for the Tacoma. This week, we will be looking at several aftermarket front skid plate options for the 3rd Gen Tacoma.
A front skid plate is one of the most crucial armor components you can buy for your Tacoma. It takes the brunt of rock bashes, impacts when bottoming out, and general abuse when off-road. 
Obviously, getting a full skid plate package is the most effective way to protect the underbelly of your Tacoma. Some of the rigs featured below have full skids but we focused on just the front skid plate. The only downside with a full skid setup is that it can get a bit pricey and heavy. A full skid plate package can range in price and weight depending on the material and brand used.
Typically, if you are off-roading on a budget or only traverse mild trails, then going with only a front skid plate replacement is the best bang for your buck in terms of undercarriage protection.
Aftermarket front skid plates range in price from $250-600+. Relatively speaking that's much less than full underbelly protection. It's a worthwhile investment as it only takes one big hit on a trail obstacle to damage a crucial component.
The OEM front skid plate on the 3rd Gen Tacoma is geared more towards very mild off-roading. This is because Toyota uses very thin plastic and sheet metal materials to essentially just cover up a few main components. Factory skid plates simply won't cut it on more technical terrain. Upgrading to an aftermarket front skid plate offers much better front-end undercarriage protection.
An aftermarket front skid plate will help protect more than just a couple of high-dollar parts. It protects everything including the front cross member, oil pan, front differential, and in some cases, bits of your transmission. In comparison, the thin sheet of OEM-stamped steel won't cover as much or withstand bigger hits on obstacles.
If you need several more options than those listed below, then take a look at our complete guide to Tacoma skid plates.
We also have a variety of both aluminum and steel skid plates featured below. While perform better than OEM plates, there are some distinct pros and cons to each. If you want more on those comparisons then check out our steel vs. aluminum skid plate article as well.
As always, feel free to DM the owners on IG to ask any additional questions about their setup if needed.
Enjoy!
Top Products Featured
1. Brian Caito (@b_taco603) – RCI Off-Road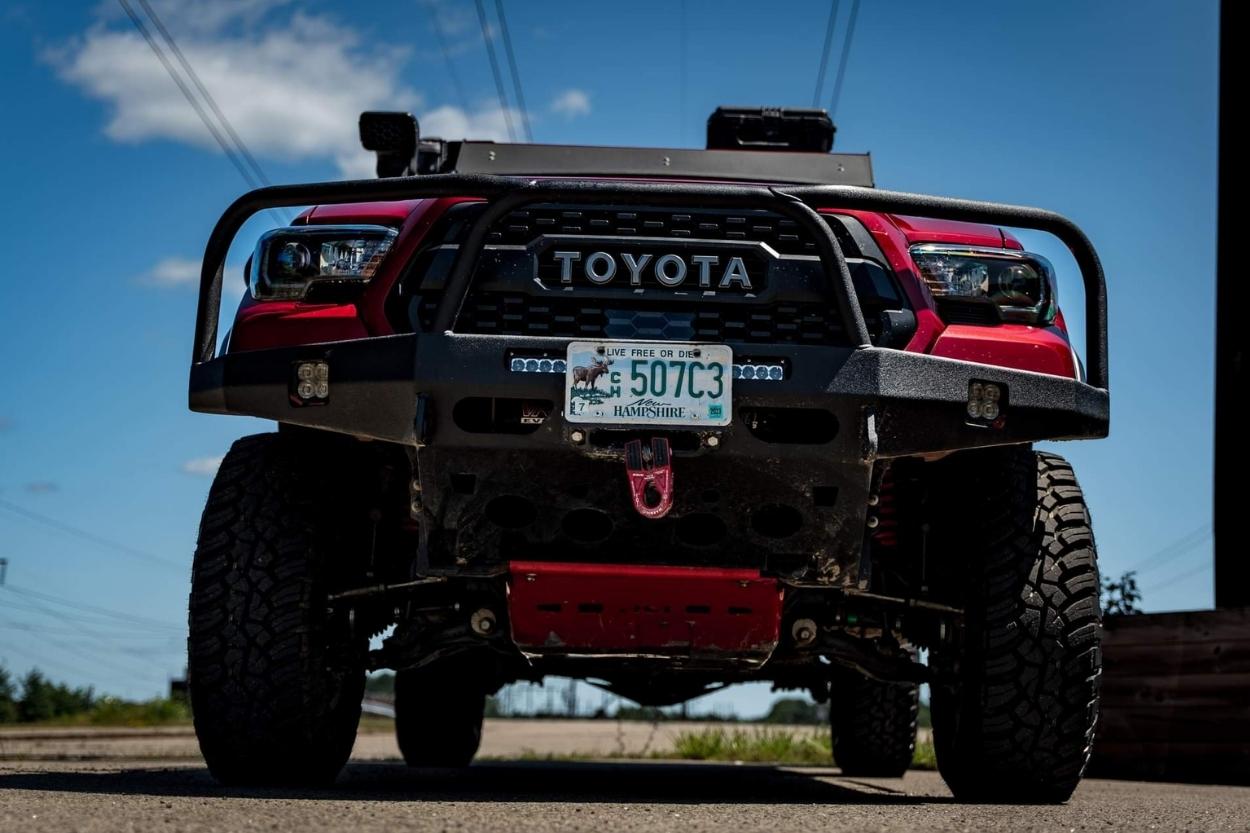 Skid Plate Details
Model:

Front Skid | Aluminum

Price: $420
What Do You Like About Your Setup?
I have to say that I honestly can't remember the exact reason I chose RCI for my front skid plate. It was simplistic, yet rugged for what it had to offer at the time.
I paid $345 for raw aluminum back in 2019 and it looks like it costs about that now for just the steel version. 
2. Jon Gangloff (@trd.jon) – LFD Off-Road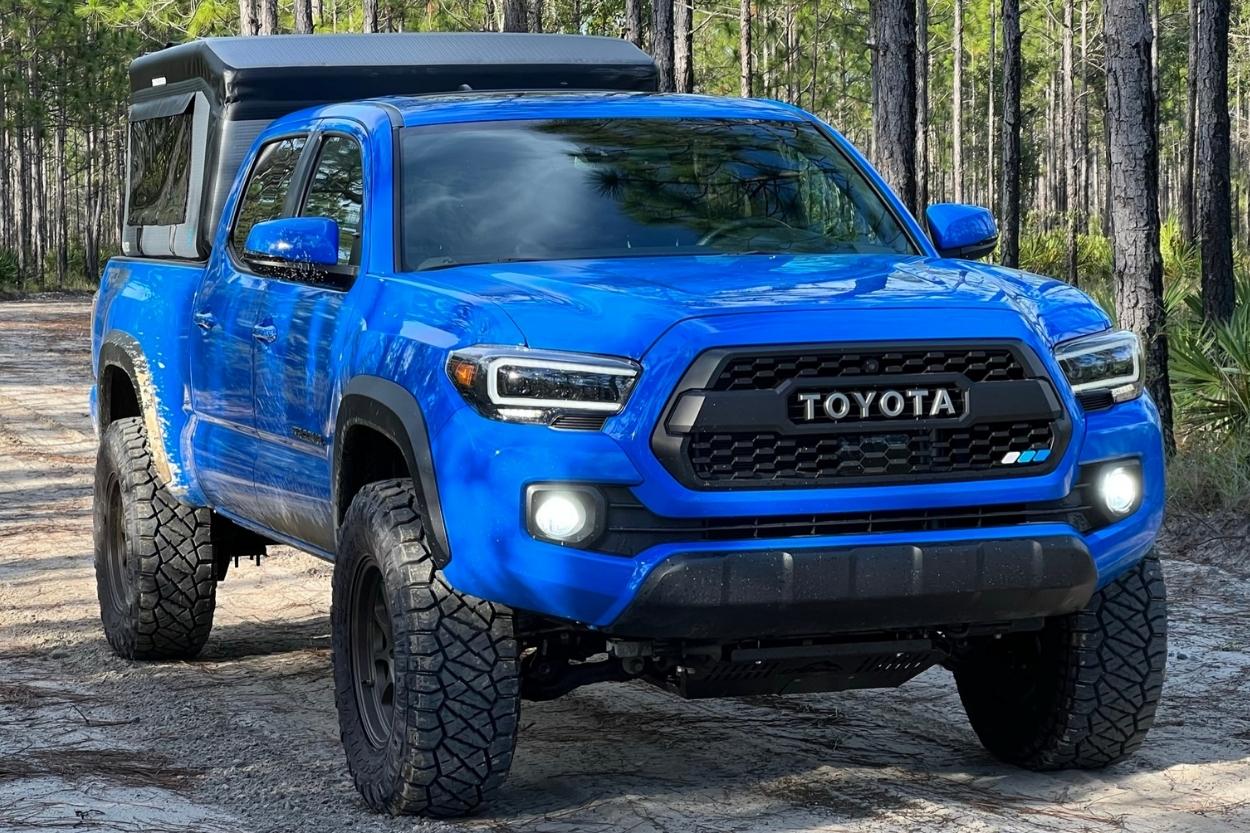 Skid Plate Details
Model:

Front Skid | Steel

Price: $300
What Do You Like About Your Setup?
I'll be straight up with you all, LFD Off-Road actually sent me out this skid plate for review when they found out that I got a new Tacoma TRD Off-Road. I was super happy to test this product because of my experience with their company's quality and the customer service I experienced with them when I ordered my LFD Off-Road 7/8 roof rack for my 4Runner. 
Their front skid plate comes unfinished for $300 or powder coated for $370. It's a super beefy front skid plate and covers many crucial components up front for my Tacoma. It also has a cut-out for when it is time to change the oil.
The skid plate has held up super well to our Florida terrain and I have bashed it on a few rocks with no visible damage. I'd highly recommend this skid plate to anyone looking for an inexpensive option to protect the front of their truck.
3. Jesus B Dela Cruz Jr (@tacodobowrx) – RCI Off-Road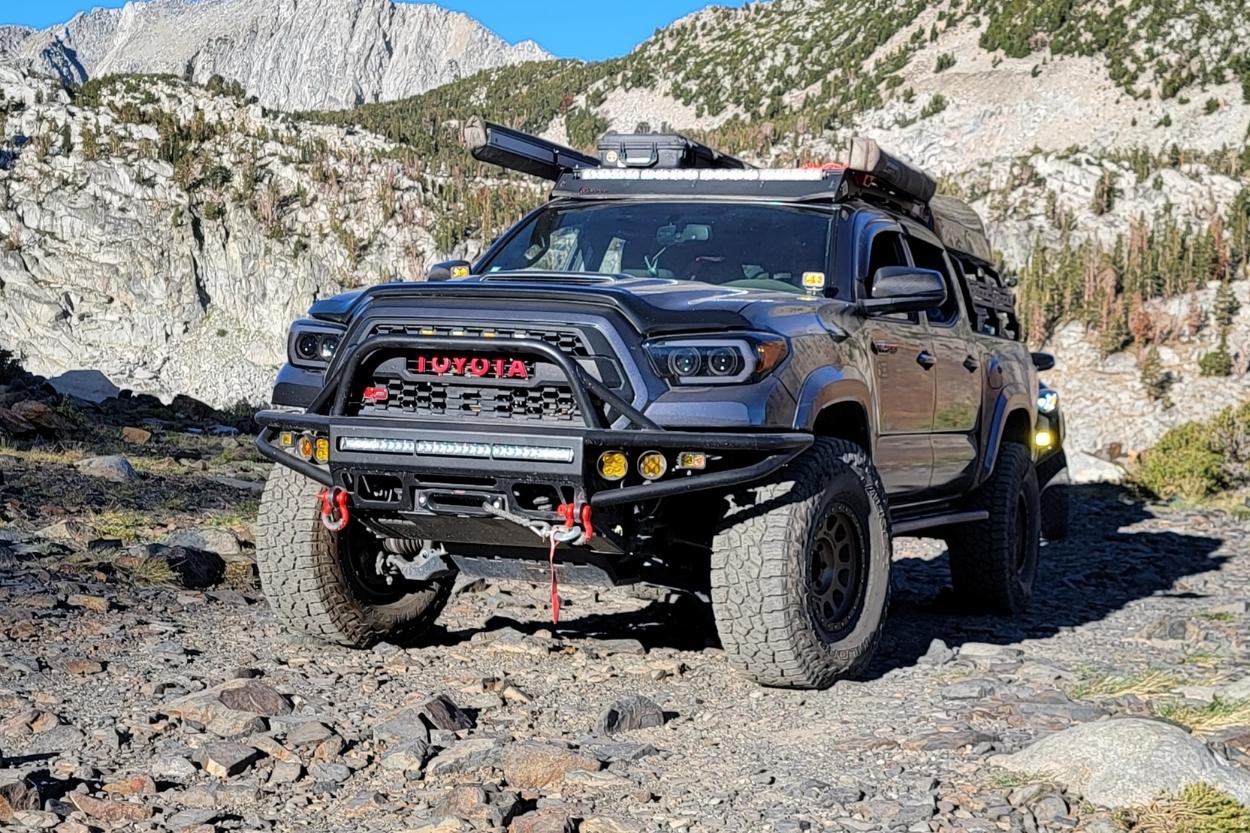 Skid Plate Details
Model:

Engine Skid Plate | Steel

Price: $350
What Do You Like About Your Setup?
I chose RCI because they have quality-built products with great fit and finish. I chose the steel version for the best protection when I take my Tacoma on the trails. The fact that they made service openings for oil changes without having to remove the skid plate is a huge plus.
I just feel more confident and safe knowing that I have a skid plate that will protect me from rocks and other hazards.
4. Steve Roberts (@tacosteve85) – Coastal Off-Road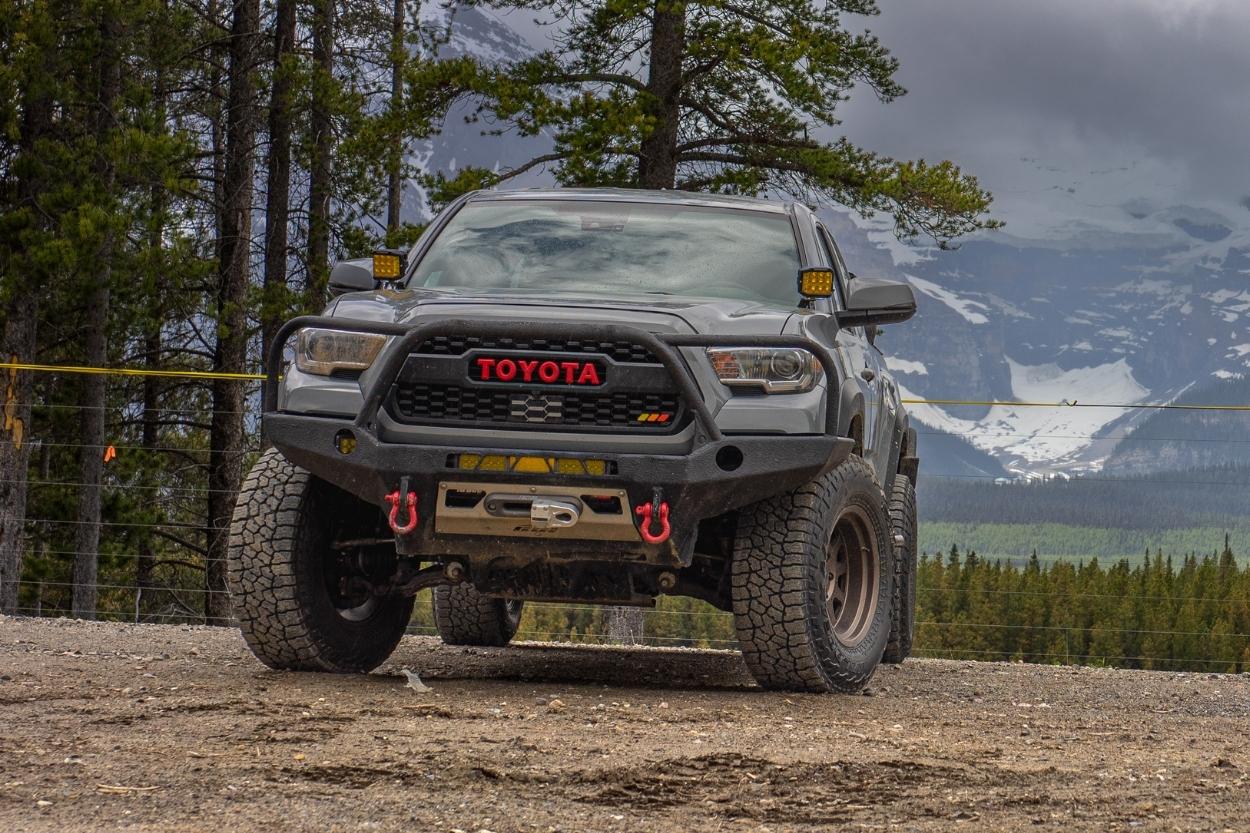 Skid Plate Details
Model:

Weld Together Kit | Steel

Price: $445
What Do You Like About Your Setup?
After using my aluminum skid plate for a couple of years, I was frustrated that that plate was dented and the welds were all failing so I decided to get the Coastal Off-Road skid plate at the same time I ordered their rear bumper.
I had a pretty sweet coupon at the time and I'm glad I went with it. This 3/16" steel plate is built like a tank and can handle anything that I throw at it.
5. Javier Hinojosa (@cheeto_taco) – Victory 4×4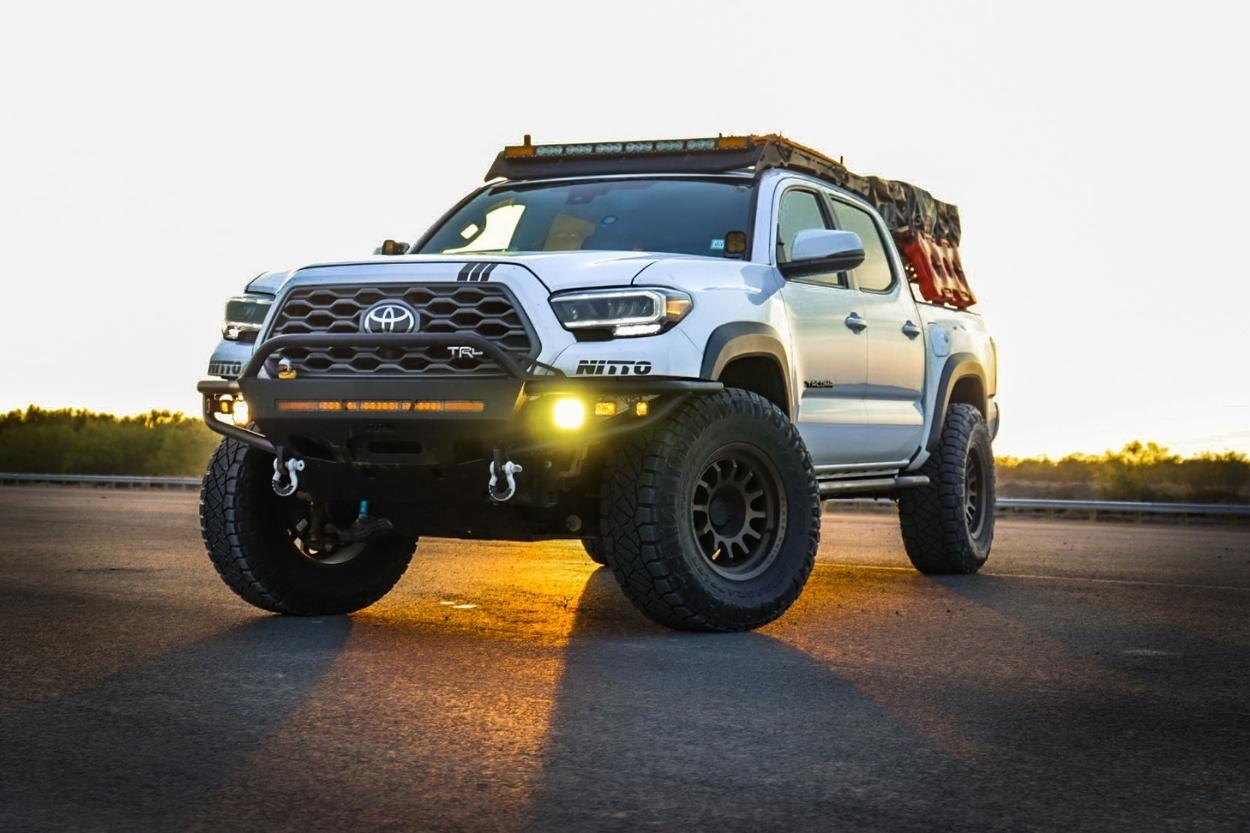 Skid Plate Details
Model:

Front Skid | Steel

Price: $420
What Do You Like About Your Setup?
I went with Victory 4×4 because it was available when I needed skids and because they had skids that went all the way to the transfer case of the Tacoma. The best thing about the Victory 4×4 skids is that you don't have to remove the skids to change your oil because it has a removable oil filter panel and oil drain hole.
The other thing I like about these skids is that they are pretty thick plates and can withstand hard hits at the trails, that's the reason why I chose steel. Another great thing is that it protects the transfer case pretty well and gives me peace of mind that I can drive on trails and not worry about damaging anything.
6. Ryo O. (@blueberry.taco) – Ricochet Off-Road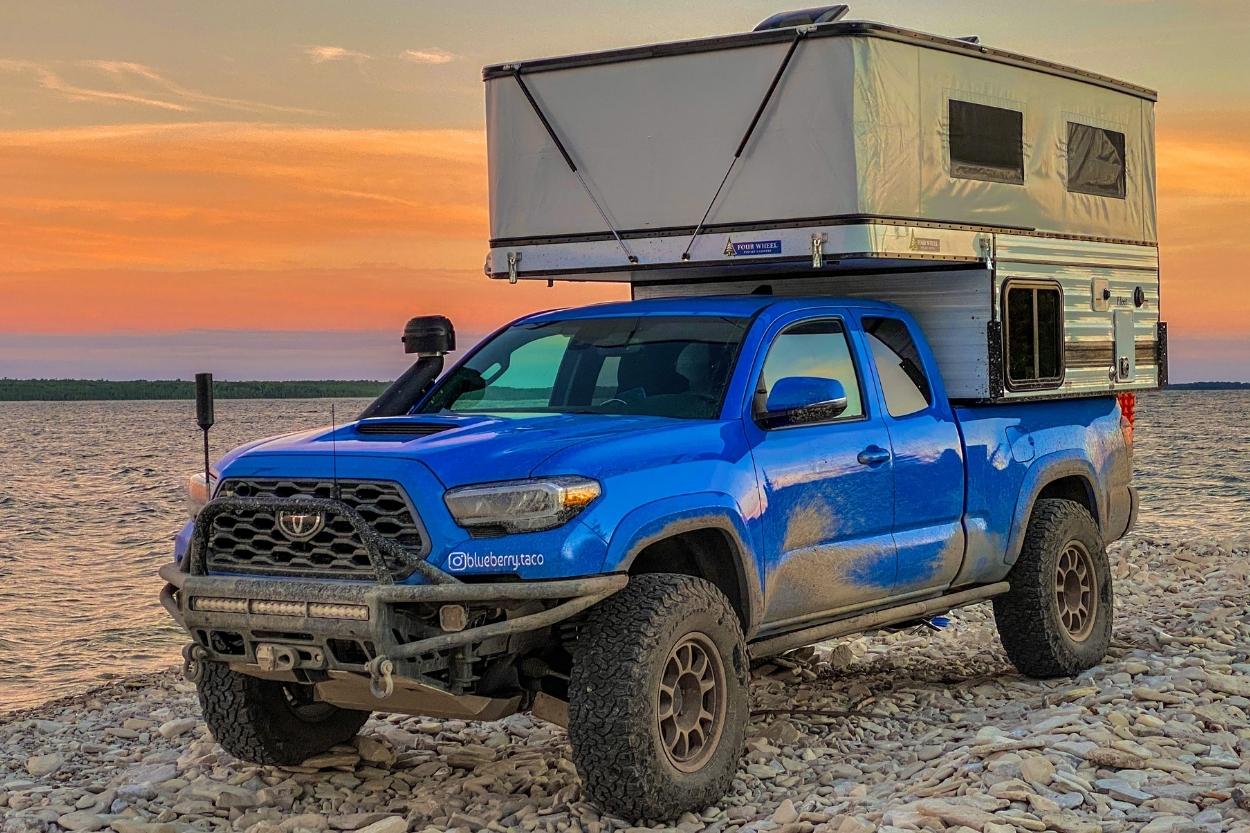 Skid Plate Details
Model:

Front Bash Skid | Aluminum

Price: $485
What Do You Like About Your Setup?
Ricochet has been making skid plates for a long time and is a well-known brand. Plus, the price was definitely the most competitive for a full skid kit.
I wanted to get a full aluminum skid plate set, and as I can fab/weld modifications to suit myself, minimal markup from raw material cost was the most important factor. I definitely had to spend more time rewelding the cracked welds and reworking the entire front interface than I had originally expected. However, for $500 for the whole kit, along with excellent customer service (hence all the refunds), I have no complaints about their product.
The structural design and load paths are sound. Clearances and bend/weld quality seem reasonable in most areas, with some outliers which required rework.
Due to weld issues (cracking) prior to installation, I received a $250 refund. During installation, there were massive fitment issues so I was refunded another $200 on top of that, so I ended up with a final cost of 50% of the list price. Albeit, I needed to do some fabrication to make it work.
There were no drain holes originally in the kit. If you are in the Midwest/East Coast and see mud as I do, I highly recommend drilling some good drain holes to avoid packing it full of mud and defeating the purpose of going aluminum to stay lightweight.
The original design requires pulling the entire skid plate to change the oil filter, while there is a hole for accessing the drain plug. A little modification to the internal gussets allows for tight, but possible filter changes from the side without pulling the skid plate.
So far, I've smashed them into and dragged them across rocks and logs. While showing the expected gouges and scratches because they are aluminum, there has been no structural damage at all.
In summary, I highly recommend these to the fabricator who wants a head start compared to starting from scratch. These are definitely best for someone who has experience using and making/modifying skid plates to know what is best to change. The price is great and the company is great, but I don't recommend them for the first-time off-roader hoping to get the cheapest setup to work well out of the box.
Final Thoughts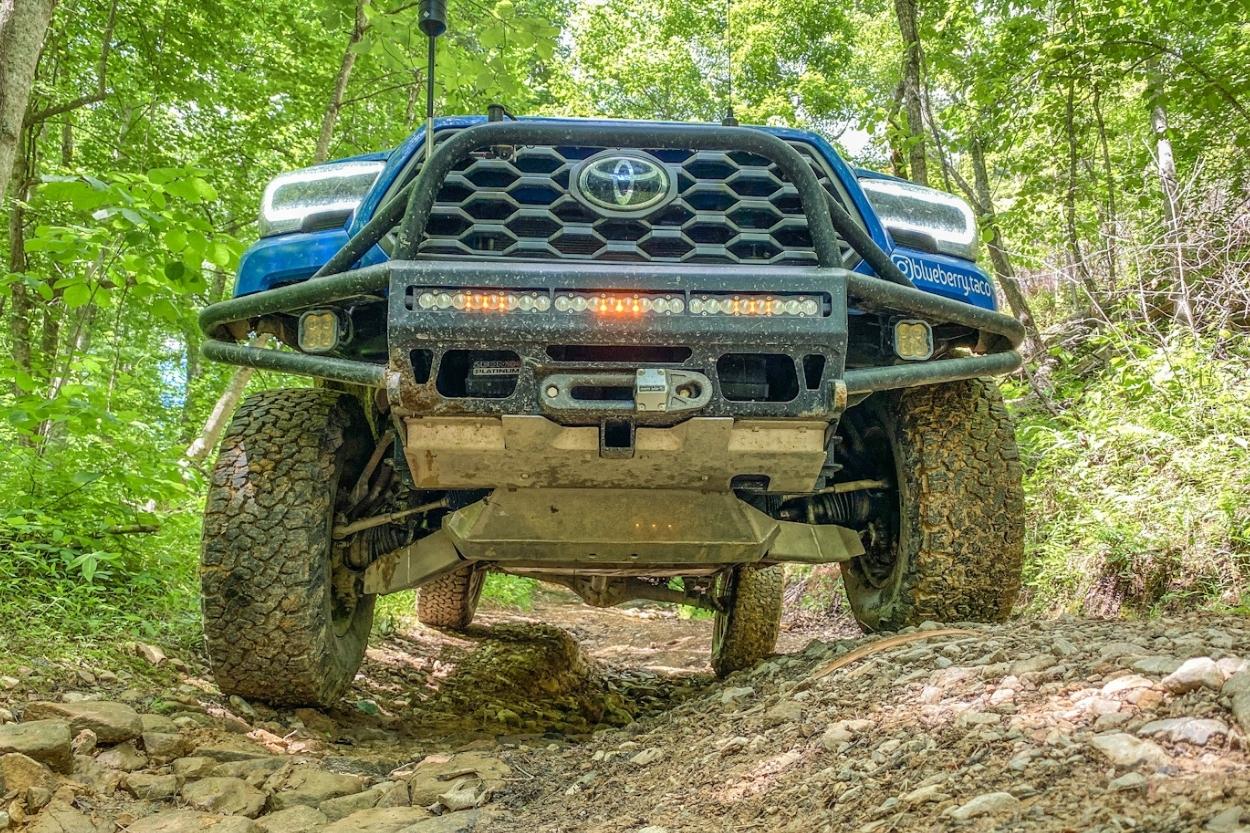 Which aftermarket skid plate are you running on your Tacoma? Are you in the market for one? If so, I hope this his week's Taco Tuesday article helped you out with your future purchase. Leave us a comment letting us know what brand you went with and why.
If you want to be featured for Taco Tuesday, submit your build through TrailTacoma.com/Feature. Next week's Taco Tuesday will be featuring Tacomas With Window Tint. that owners are running and what they like about them. We're looking for sweet rides to showcase! If this is you and you love your setup, send in your details because we want to see it.
Thanks for reading guys. I'll see you next week!