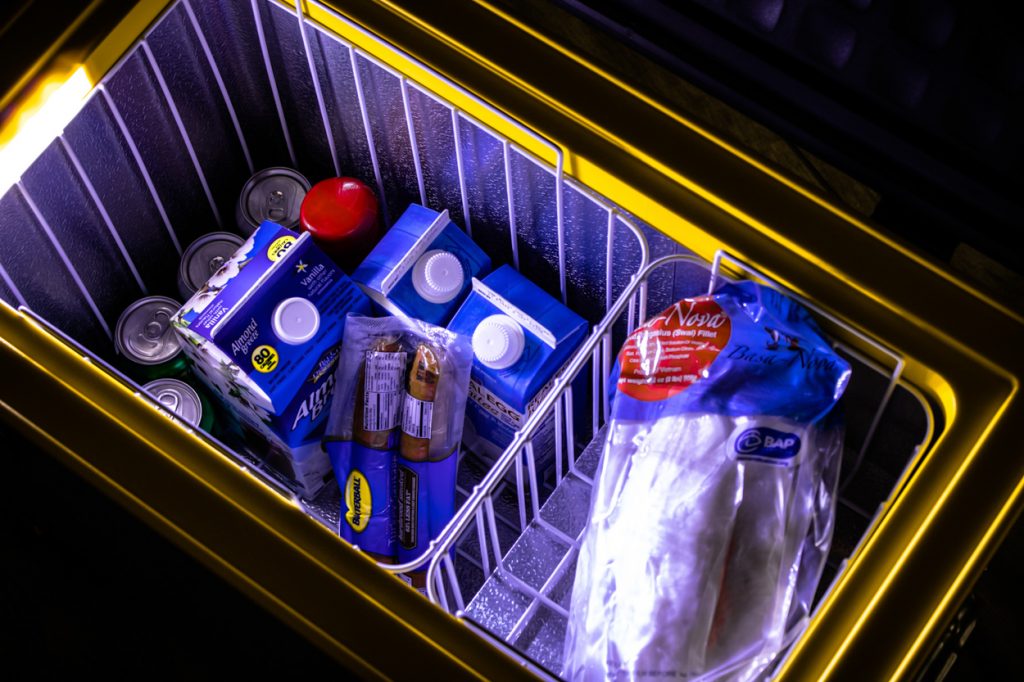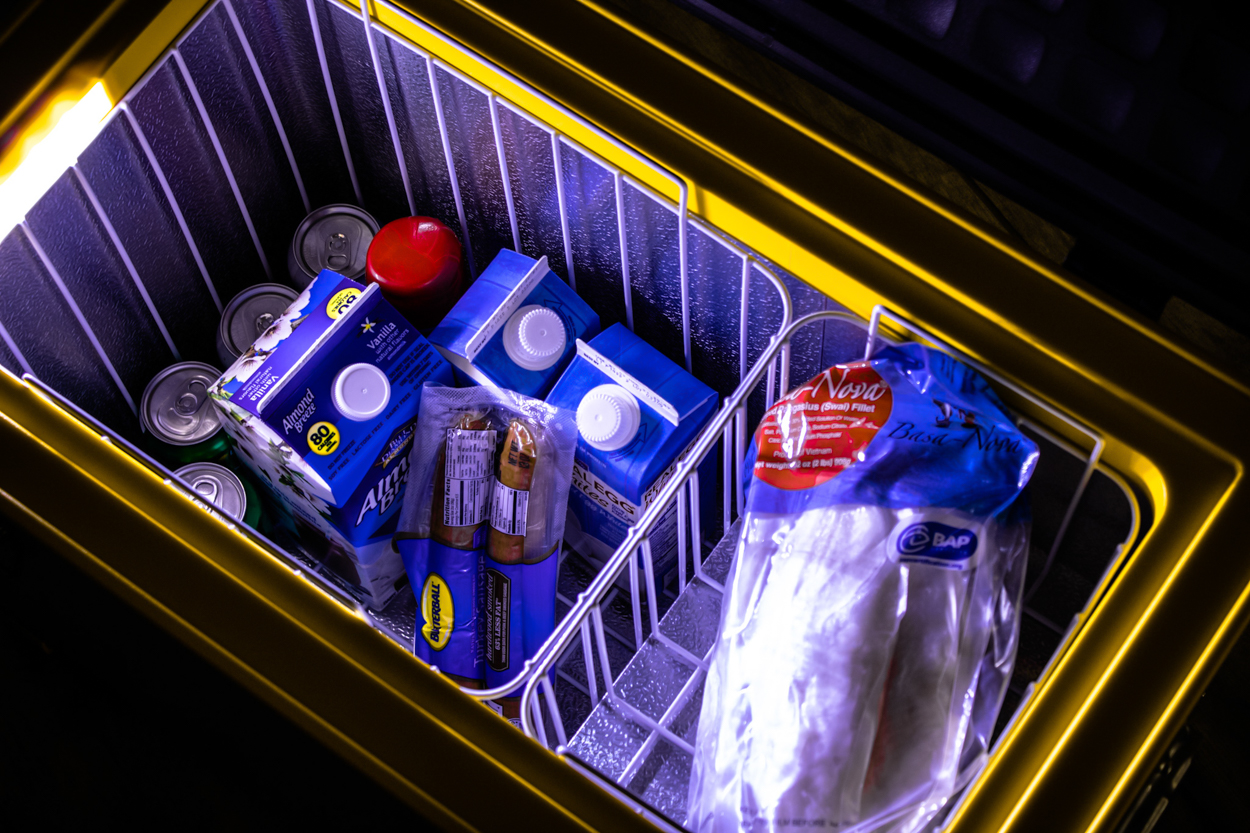 Ditch The Ice & Soggy Food + Improve Your Camp Experience With A Portable Fridge/Freezer Setup – 3rd Gen Tacoma Owners Discuss Their Coolers
This Week's Topic: Portable Fridge Setups
Welcome back to an all-new Taco Tuesday! We hope you enjoyed our post last week about recovery board setups. This week, we're diving into the world of portable fridge setups. We'll look at why and how investing in one can take your camping adventures to the next level.
With a portable fridge, you can truly unleash your culinary creativity and plan delicious meals for your entire adventure. You'll never need to worry about ice melting or running out of space like with a traditional cooler.
These little wonders are designed to fit perfectly in your Tacoma, making "installation" a breeze. So, you can hit the road with confidence, knowing that you're fully equipped to embrace spontaneity and create unforgettable memories with every bite.
Top Brands Featured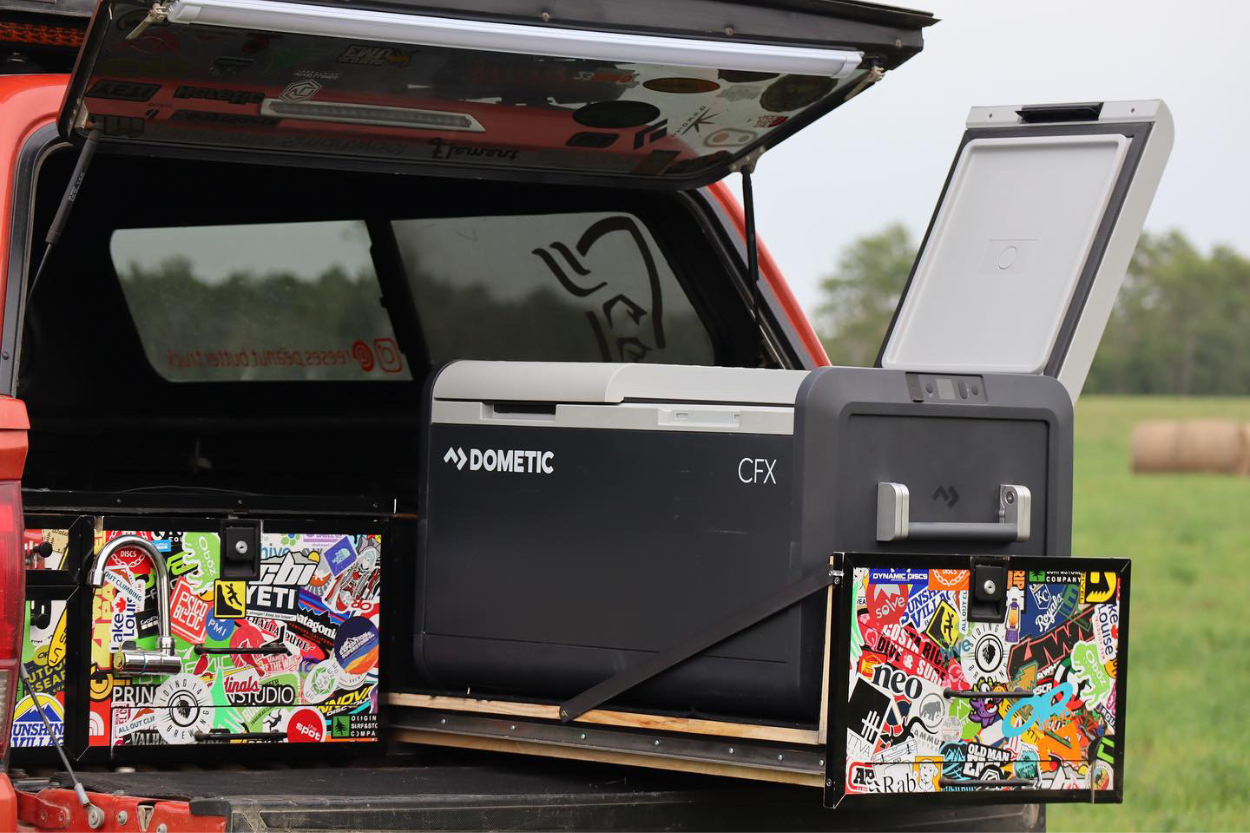 Portable Fridge
Tell Us About Your Setup
I have a Dometic CFX 75DZ, and I absolutely love this thing! I haven't had it for long but it has exceeded my expectations already.
I picked this fridge because of how reputable Dometic is. The quality of all of their fridges is also really great. We picked the 75L DZ because we are a family of four, so we wanted to have the space to keep all of our food, so a bigger fridge was the better choice for us, and having the dual zone is a nice option to have a freezer section in case we want to bring ice cream or frozen food along.
I use the fridge for grocery shopping fairly often to bring food home so not having to worry about how fast I get home before food spoils in the truck, is a nice bonus! On a typical outing, you'll find fruits, stuff for taco salad (go-to camping meal), eggs and bacon, along with a few other goodies tucked away in the fridge, and maybe a bottle of whiskey and a couple of cokes.
Currently, I have the fridge sitting on my home made drawer slide to make accessibility that much easier to get into the fridge or putting it in or taking it out. The drawer slides are made out of angle iron and skateboard bearings, so nothing fancy but they work and do the trick!
Portable Fridge
Tell Us About Your Setup
I love the Dometic fridge! It is the perfect setup for my needs.
Dometic was an easy decision in terms of brands. I know that they are a great brand that is also very reputable. And with a solid warranty and pretty good power consumption, this was a no-brainer.
I ended up going with the CFX3 55 because I loved the look of it and the size was perfect. I knew I wanted to have a fridge that could stay in the Tacoma so finding one that would fit was a necessity. The 55 did just that. It provided me with all of the space to fit food and drinks while not taking an excessive amount of space in the truck.
Currently, I have the fridge mounted in the back seat of the Tacoma. I actually made a video for a custom mount for this fridge.
Usually, I'll store my favorite drinks and of course the food for camp in the fridge. My favorites include Coke Zero, Canada Dry (no sugar), Bullet Bourbon, and our food for camping. Thankfully I don't need to compromise on anything as the fridge can carry everything that I need.
Overall I think it's totally worth it and I am super impressed with the fridge.
3. Jermy Macareno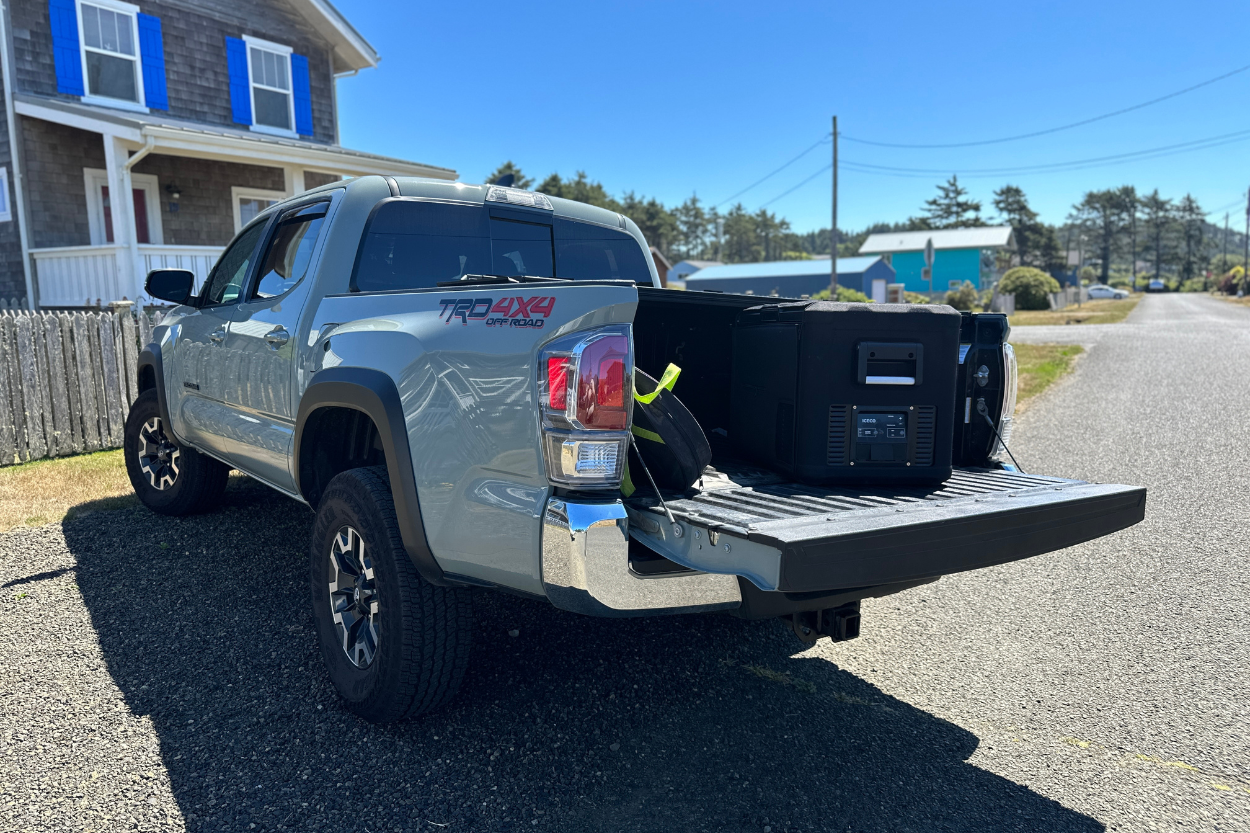 Portable Fridge
ICECO 47.5 qt VL45 ProS Single Zone Portable Fridge Freezer
Tell Us About Your Setup
My partner and I share the ICECO fridge between both of our trucks and it has been a great addition to our overlanding and off-roading adventures.
We opted for the single-zone fridge from ICECO because we don't do a lot of extended trips. We didn't have the need for getting a bigger, dual-zone version with a freezer section. The amount of space is perfect for when we go on weekend trips with the family or just day trips out in the mountains. I also love how it can serve as either a fridge or a freezer. So, if I wanted to enjoy some ice cream at 6,000 feet elevation, I could.
Currently, the fridge is not permanently mounted anywhere in the truck. I'll either strap it down in my bed or keep it inside the cab depending on what I think is easier.
All in all, I think it's a great fridge to do short getaways with the family and I am pleased with how it has benefited us on our adventures.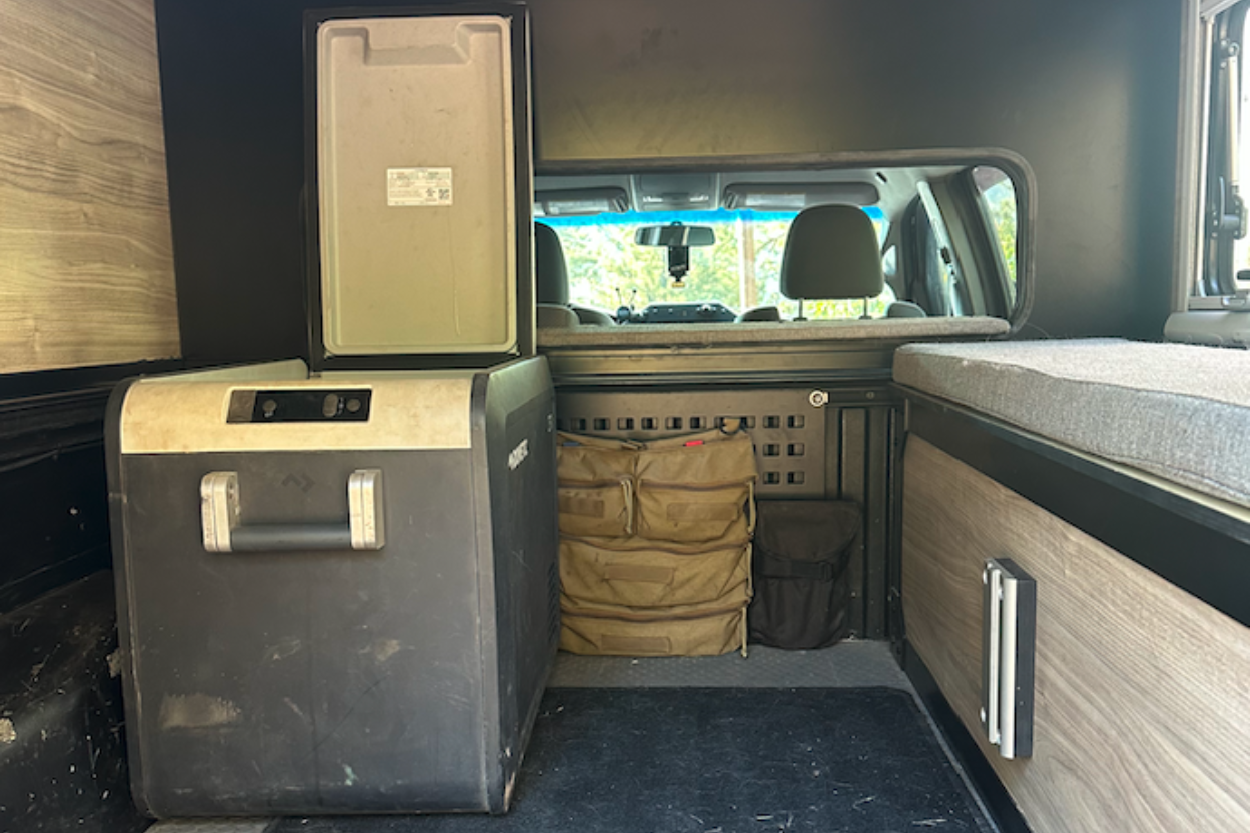 Portable Fridge
Tell Us About Your Setup
We have a Dometic CFX3 45 fridge in our camper because it meets all our needs for creating indoor spaces in wild places. We love the luxury that the Dometic fridge provides by keeping food cold and easy to access without the mess of an ice cooler.
Another cool feature about our Dometic fridge is that it can double as a seat, which is vital for our space-conscious campers where every inch matters. The Dometic CFX3 45 is perfect for multiple weeks on the road or an action-packed day requiring cold beverages.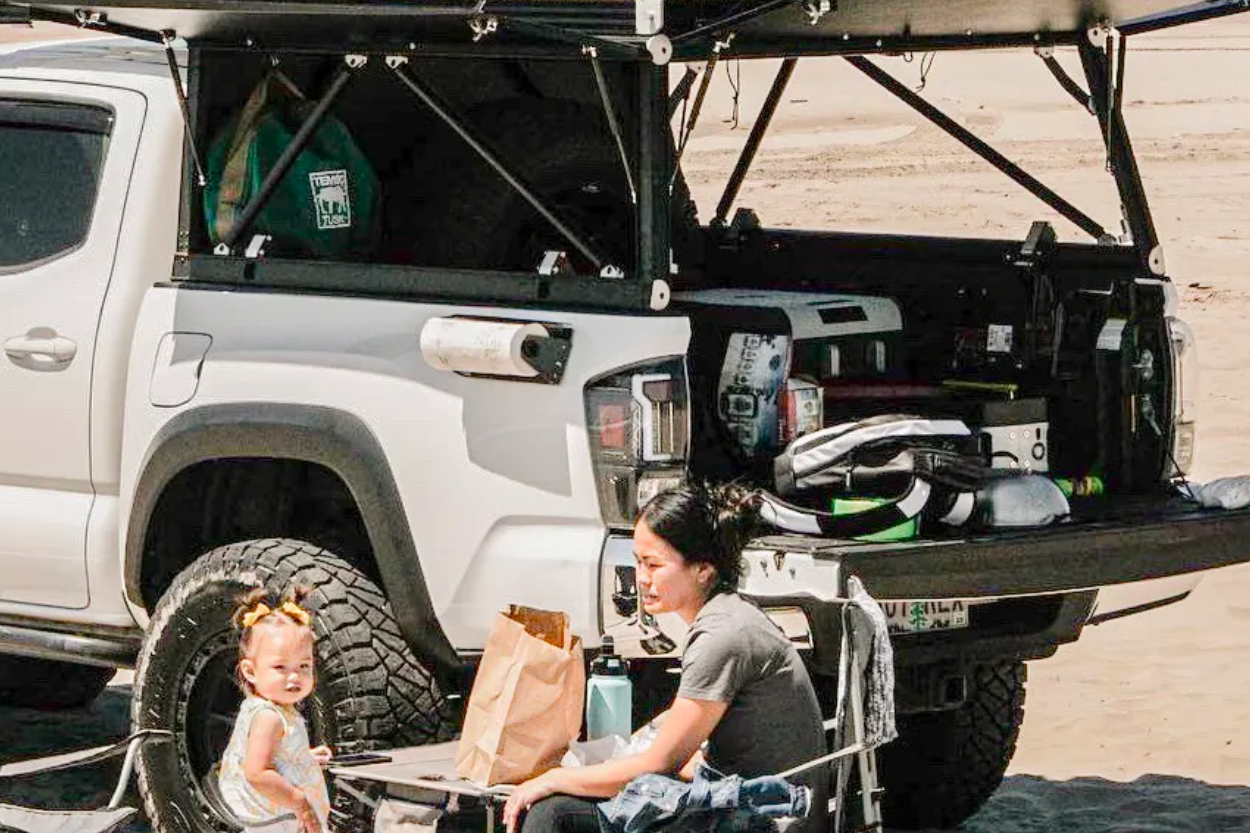 Portable Fridge
Tell Us About Your Setup
The reason I chose Dometic over other companies is because I knew I was getting a quality product. They are well known in the Sprinter van, RV, and boat scenes. Now, they're gaining traction in the off-road community. So, choosing Dometic was an easy choice to make. The greatest thing about them is they have all different sizes and feature sets depending on your needs. From the more basic CD models to more feature-packed CFX models, there's one for everyone.
I like how compact mine is for my style of travel. With a wife and a 1-year-old, it made packing so easy for us. It's small enough that I can have it in the cab or in the truck bed. People with kids know that organizing your space to fit not only your gear but the kid's gear is everything. I can't forget my favorite thing, no more ice bags and soggy snacks/food!
When out traveling, I like to pack the fridge with all kinds of drinks, fruits, yogurt, etc. I also need to pack anything that's planned for lunch or dinner, which ranges from steaks to shrimp. Having the luxury of a fridge allowed us to make crazy meals that we'd probably only make at home.
When people think of camping, they imagine hot dogs and burgers. We are able to make dishes like garlic shrimp and pizza from scratch. A portable fridge allows us to enjoy our favorite meals anywhere.
In terms of mounting, I don't really have a dedicated spot. Our loadout is different every time depending on where, who's coming, and how long we are going for. I usually have it in the back seat or in the truck bed strapped down and being powered by my Goal Zero. This gives me the flexibility to easily move around the fridge as needed.
When it comes to portable fridges, my advice is to choose one that works for your needs and budget. There are tons of options out there and more money doesn't always guarantee better for your uses.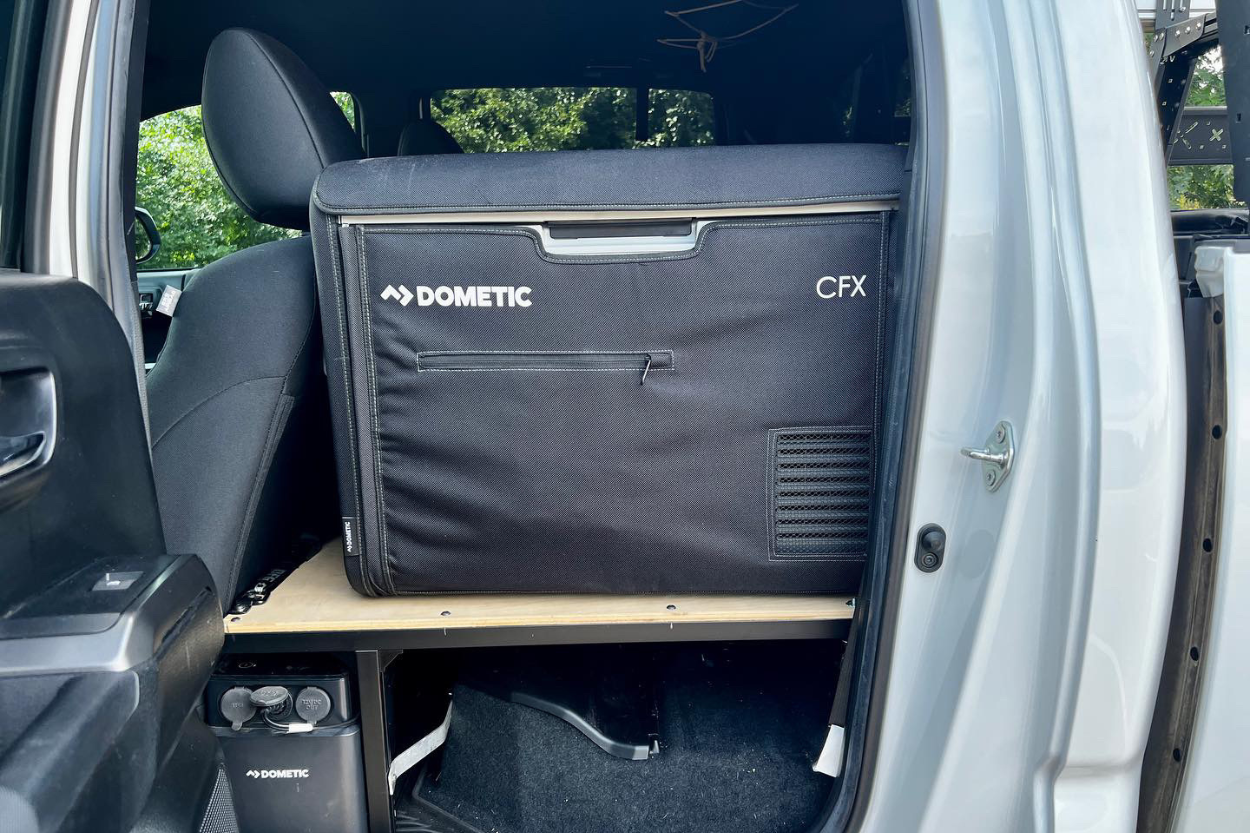 Portable Fridge
Tell Us About Your Setup
My fridge setup is a Dometic CFX3 55IM fridge, with the Dometic cover over it. It's powered by the Dometic PBL40 battery that's wired to charge when the Tacoma is running.
I picked this setup for ease of use, Bluetooth connectivity to the fridge so I can control it and check on it from the campsite, as well as many positive reviews on the fridge. I also like that it's large enough for three people for a week-long trip, but not too big that it takes up all the room in a Tacoma. As a bonus, I can make ice in it if needed, but I usually take the extra room and put sodas in place of the ice maker.
As for food, the sky is the limit. Having this fridge allows me to cook a nice steak at camp, or make some delicious tacos with all the fixings. Foods that were once a lot harder to keep in a cooler are now an option at camp!
Lastly, it's mounted on a home-built platform behind the driver seat of my Tacoma. I deleted the 40% seat and built this platform out of aluminum extrusion and plywood. Overall this setup is the perfect option for me.
Final Thoughts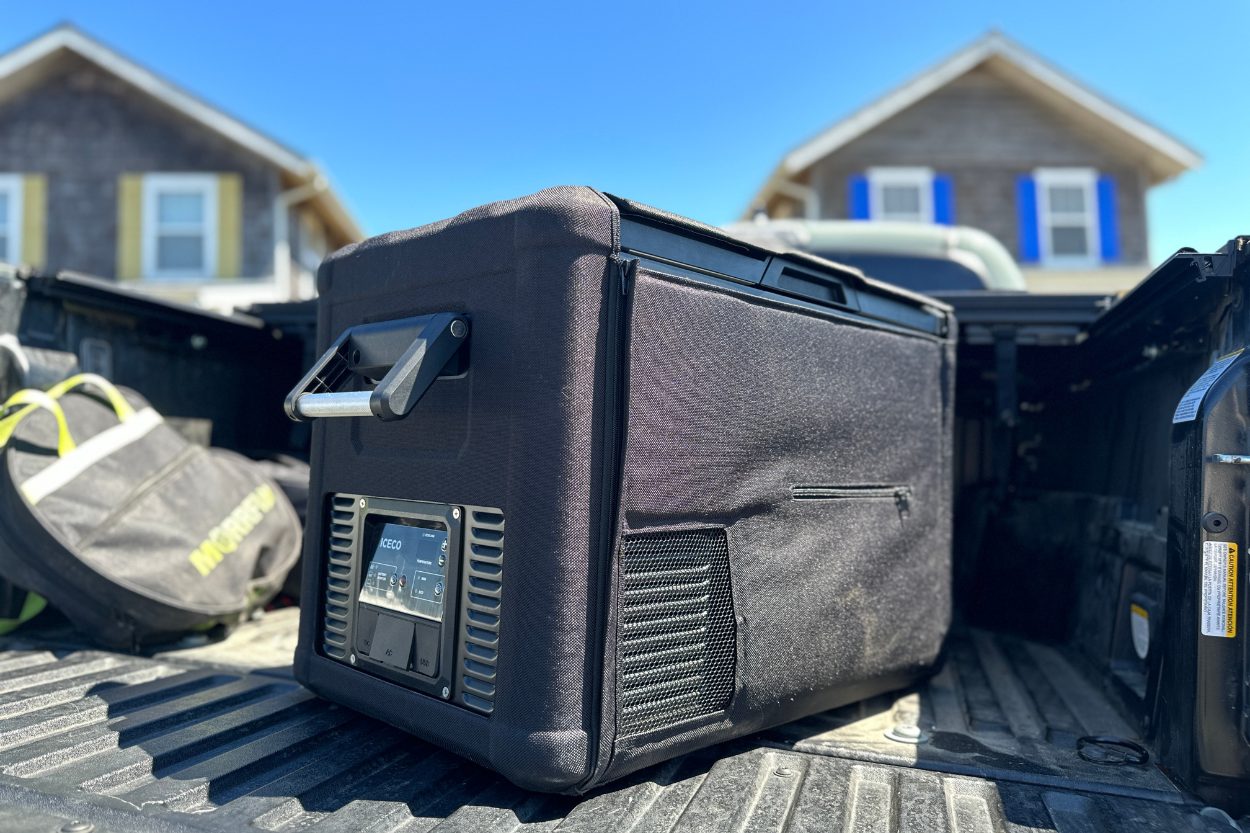 That wraps up this week's Taco Tuesday!
While a portable fridge may be a more expensive investment, it's worth it if you camp a lot or need to transport temperature-sensitive food. The hassle you avoid is the best. What fridge are you running in your Tacoma? Comment down below!
Next week, we will be featuring roof rack accessories for the Tacoma, so be sure to come back!