67 Designs TacoRail Low-Profile Dash Accessory Mount For 3rd Gen (2016-2023) Tacoma – Organize Your Phone, Radio, Navigation Tools & More
When it comes to outfitting you Tacoma with essential accessories, a phone mount or accessory mount is go to first option.
In today's world, our phones are an integral part of our driving experience, handling everything from navigation to music and more. As such, it's crucial to have a phone mount that is both functional and stylish. The 67 Designs TacoRail immediately stood out as a beautifully designed and highly adjustable accessory  mount that I can use for more than just my phone.
Find It Online
Design & Specifications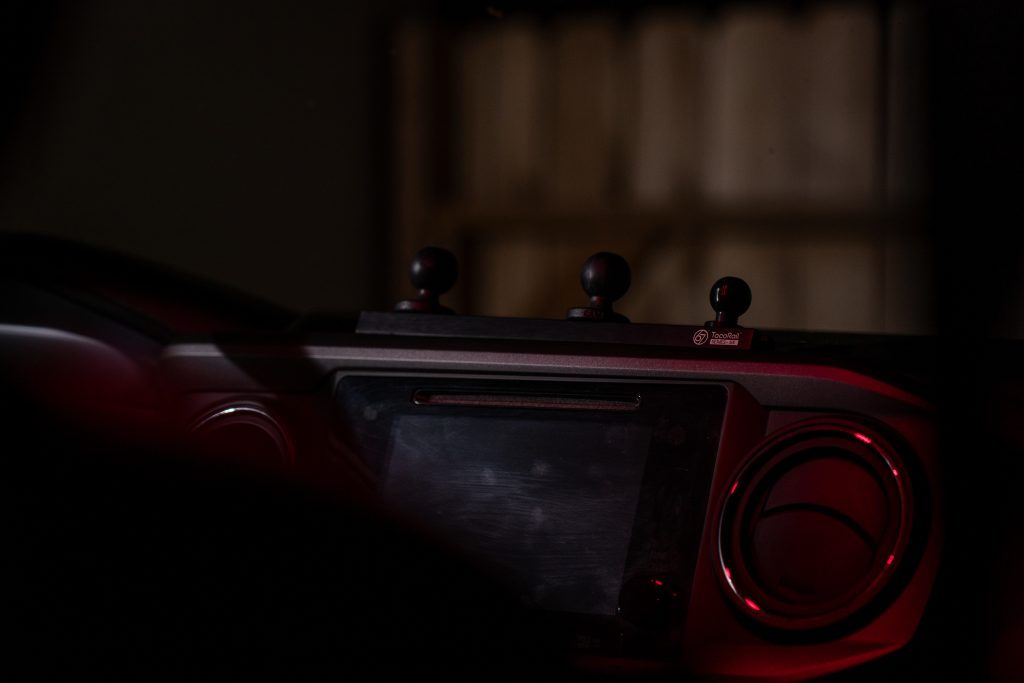 The 67 Designs TacoRail is a well designed T-track mount. It seamlessly integrates with the lines of your dashboard. The CNC-cut aluminum construction boasts exceptional precision. Also featuring a brushed matte mil-spec black anodized finish and a discreet logo on the right-hand side. This is a crucial aspect for those who want to pass the truck onto the next owner without sacrificing its original features. As well as carrying on and OEM+ look to the interior.
The trackball system can accommodate balls from other companies as well. This provides you with more flexibility in terms of mounting multiple devices. What's more, the trackballs can be positioned anywhere along the track, enabling you to fine-tune the placement of your accessories to your liking.
Having unlimited adjustability allows you to positions items to not obstruct your view of the windshield. Overall, the 67 Designs Taco Rail is an exceptional phone mount that offers unlimited flexibility and an elegant design that enhances the overall look and feel of your truck's interior. As well as proving its worth with the functionality and adjustability.
Specifications
Weight: 8oz
Size: 9.125in L x .5in H x .825in W
Two Mounting Holes
9.125in T Track Length
Installation Tips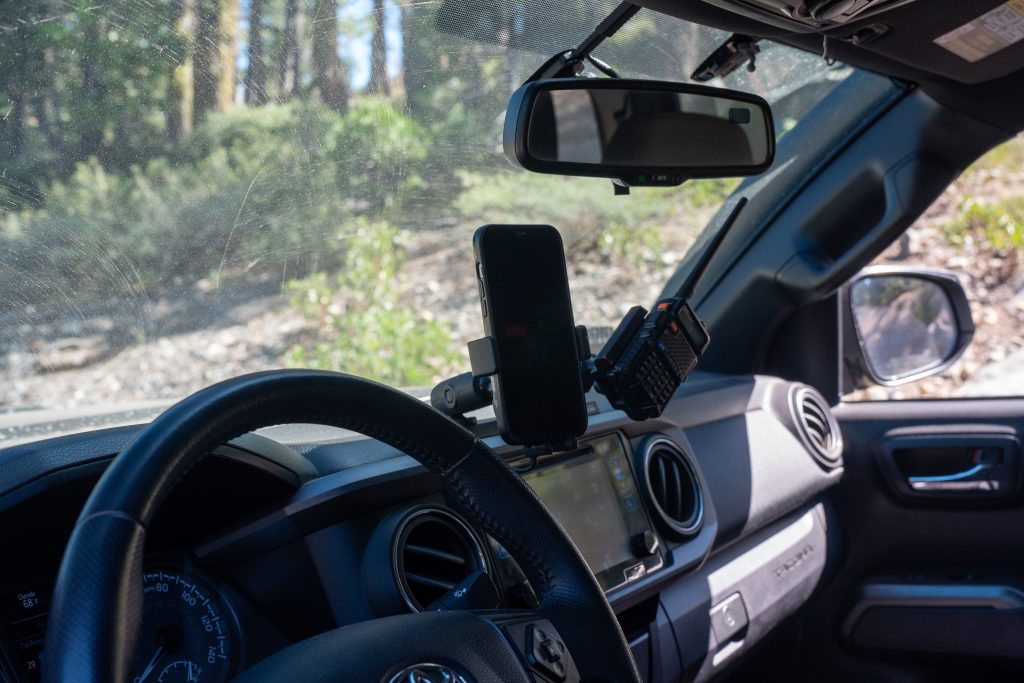 After using this the 67 Designs TacoRail for some time I have had a few improvements I have made for a better experience both on road and off-road. Some of the things I have done is use double sided tape for mounting, added RAM mounts for items, and routed cables cleanly down the dash. The details to these improvements are listed below.
Use Double Sided Tape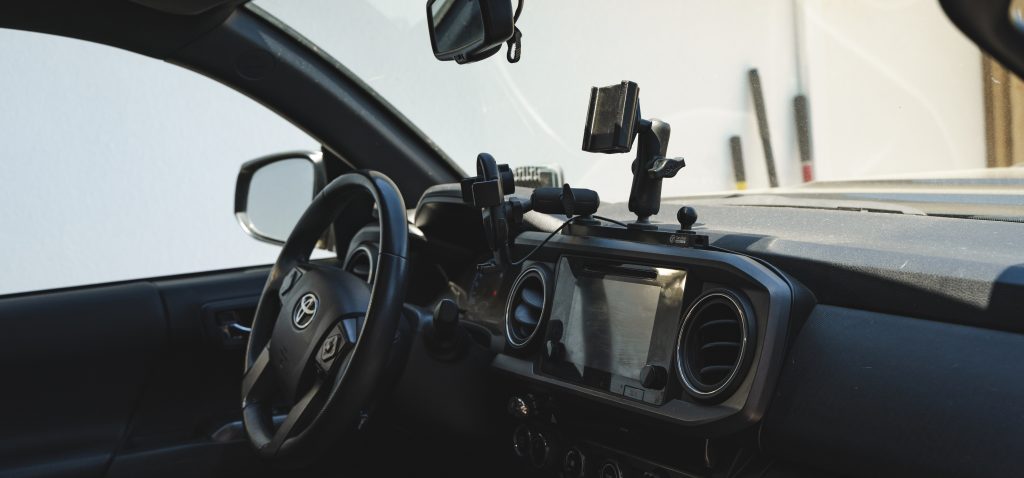 Installing the TacoRail is straightforward with the provided instructions. However, using industrial double sided tape you are able to provide additional strength to the hardware used to mount the TacoRail. As well as minimizes vibrations and sound coming from the mount while on the dash.
Placing two strips of tape along the channels of the mount and trim the excess with a razor blade. Then, thoroughly cleaning the dash with alcohol wipes before installing promotes good adhesion. Despite the tape being slightly visible underneath the mount, I have not had any issues with peeling or mount moving.
3rd Party Accessories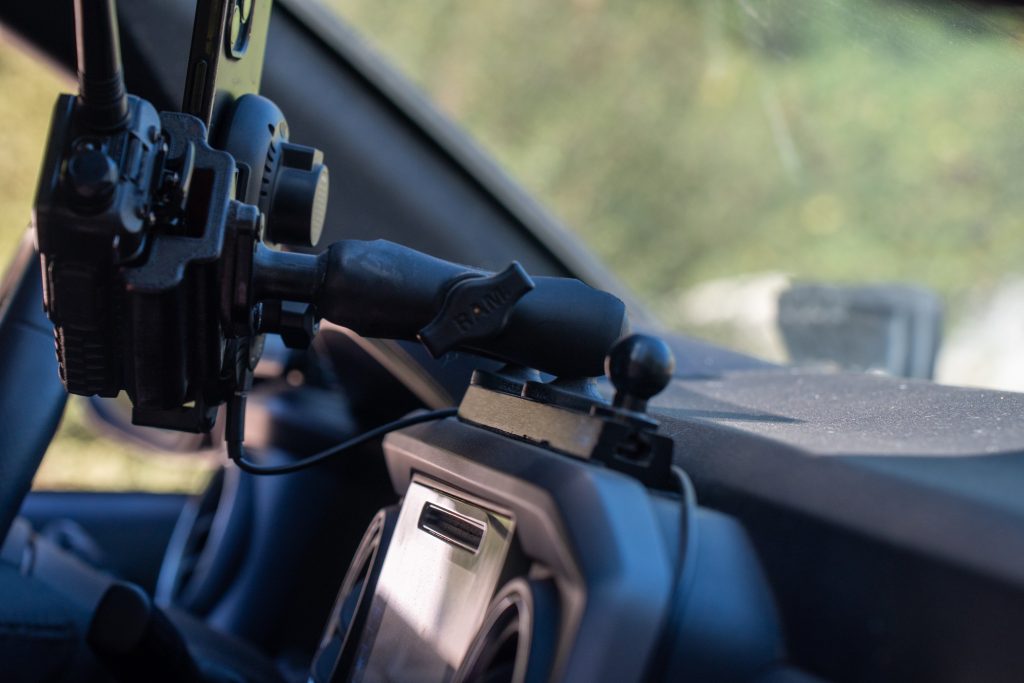 Luckily RAM Mount balls are compatible with some modification. This provides the option to utilize a variety of different mounts and solutions. RAM Mounts specifically expand the options when it comes to phone and radio mounts. The RAM Mount T-nut may need to be trimmed down to fit in the TacoRail.
To maximize the functionality of the TacoRail, it is discovered a step-down ball adapter can accommodates a wide range of wireless chargers. The charger cable can effortlessly tuck behind the TacoRail and descend down the dashboard into the glove box for a sleek appearance.
Cable Routing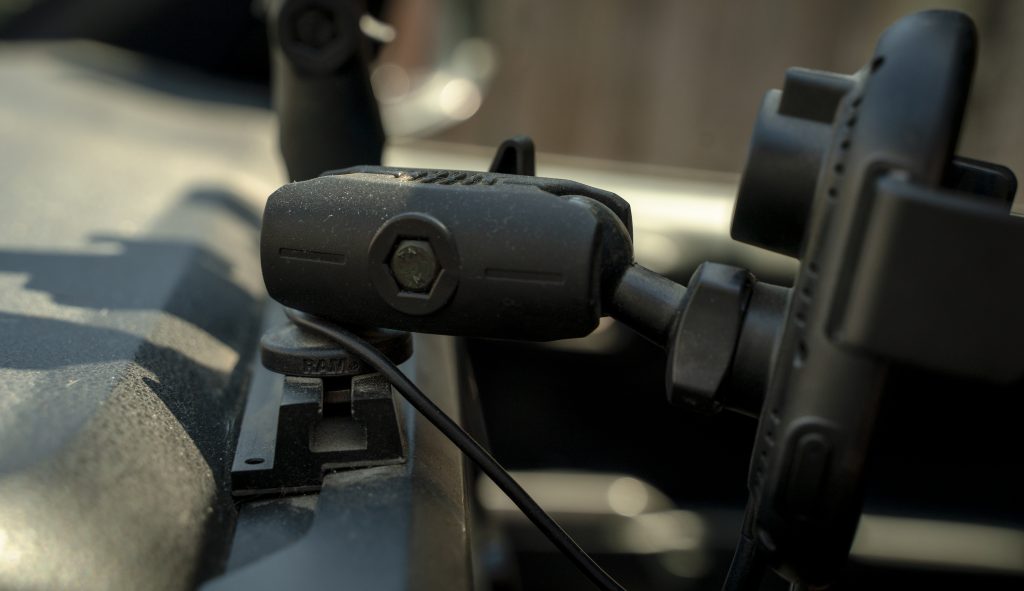 If preferred a small hole can be drilled in the dash surround to route cables in and out behind the head unit. But, you are able to run the cables cleanly behind the mount and tuck them down the side of the dash. From there they can be routed into the glove to be hidden. A power adapter can be added inside of the glove to further hide the cables and provide power.
Review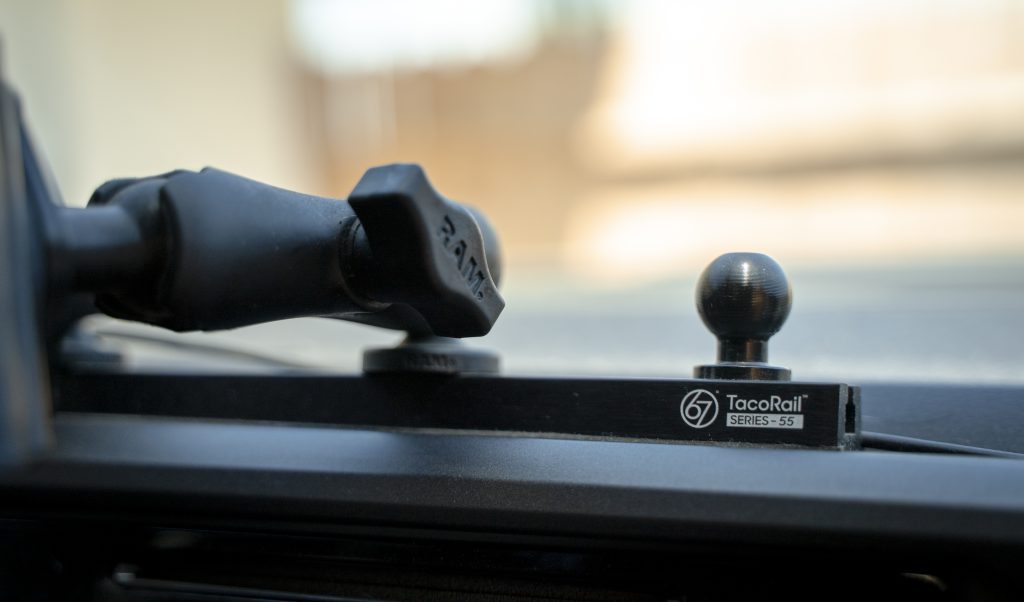 The 67 Designs TacoRail stands out as an exceptional minimalist mounting solution. Its most notable feature is its ability to maintain a sleek and seamless appearance within the vehicle. Unlike other mounting options that might obstruct the driver's view more, the 67 Designs mount maintains a low profile.
It not only facilitates the straightforward mounting of multiple devices but also boasts a trackball mounting system that provides versatility in positioning along the rail. Adjustable arms allow you to achieve the optimal distance and location for your accessories.
The TacoRail's cross-compatibility with other products, such as RAM Mounts, provides added flexibility and adaptability to your needs. 67 Designs also offers a range of accessories and add-ons, allowing for further customization.
The TacoRail's high-quality construction and ability to blend seamlessly with the vehicle's interior make it an ideal mounting solution. I would not hesitate to purchase from 67 Designs TacoRail again for future projects and accessories, such as their GoPro mount with a 360 Degree camera.
Additional Options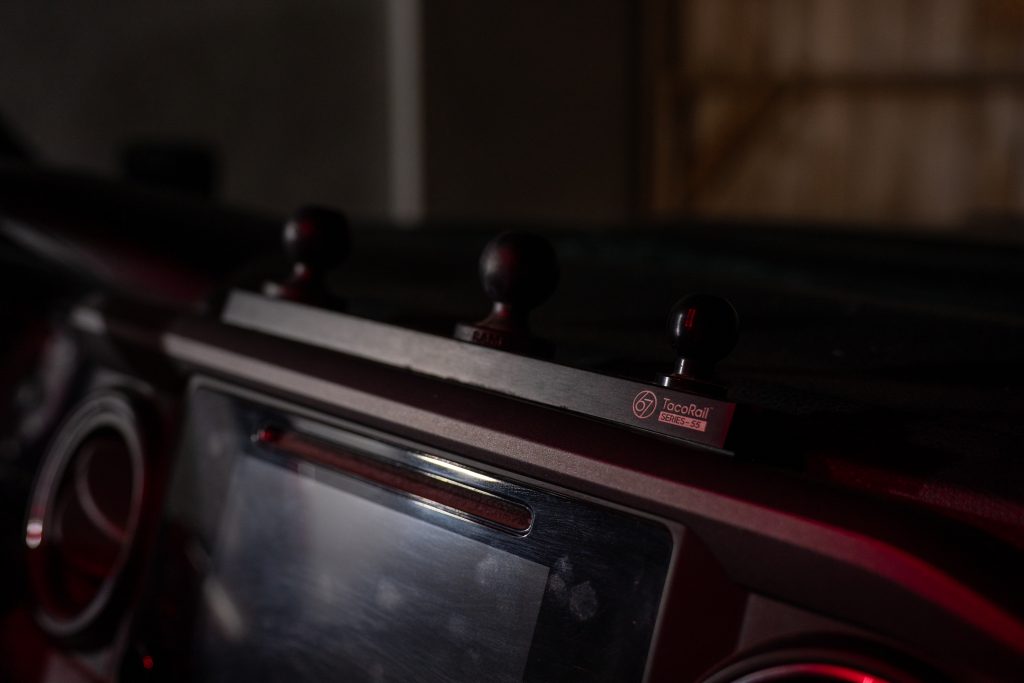 Additional Track Balls
The TacoRail comes with one trackball. However, you have the option to purchase up to two more when configuring. It is best to purchase the two additional at $10 each because these CNC balls are $20 each if purchased later.
Phone Mounts
You have the option to add either a universal phone mount or a magnetic phone mount made by 67 Designs. The universal phone mount is a clamping style design attaching onto the side of your phone, while the magnetic phone mount comes with adhesive metal pads to install on the back of your phone.
Both mounts will also include an adjustable arm and adapters to install them on the TacoRail.
GoPro Mount
The last option is to add a GoPro mount. This is a specially designed mount by 67 Designs to adapt your GoPro to the trackballs used on the mount.
This offers an easy way to record your off-roading sessions. Or, it can make for an easy dash cam setup.
Final Thoughts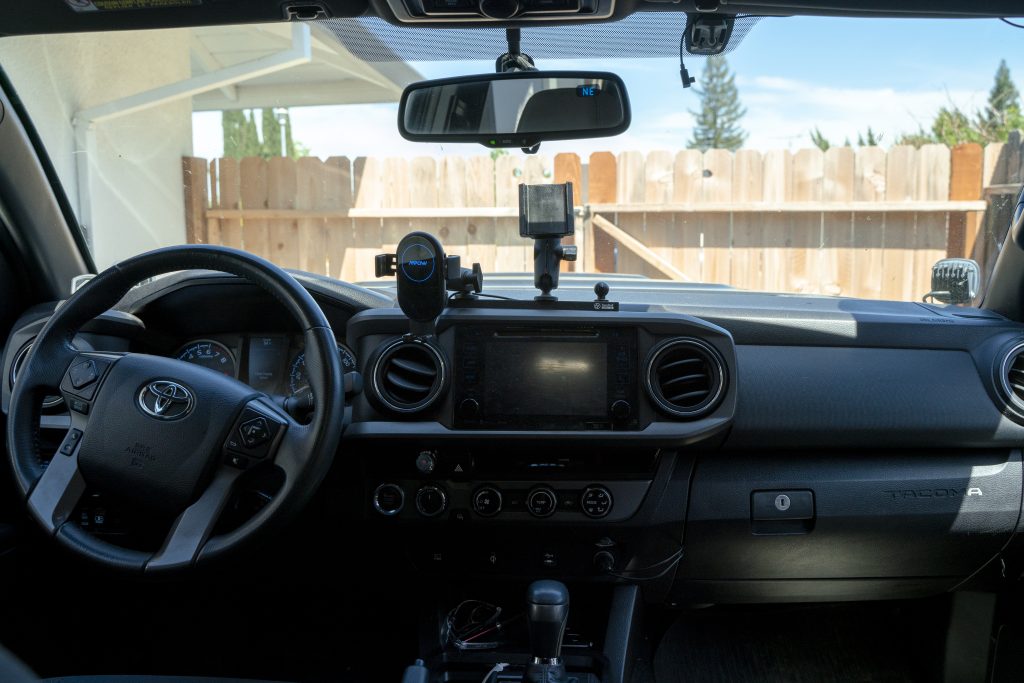 When shopping for a for a phone mount I wanted something low profile, easily adjustable, and allows me to mount more than one thing. The 67 Designs TacoRail was able to check all the items off of the list for me. With the addition of the wireless charger and the use of RAM mounts for further expandability I would highly recommend this low profile accessory mount to other Tacoma owners.
If you have any questions about accessories, Ram Mounts, or the TacoRail please leave a comment below or connect with me via social.