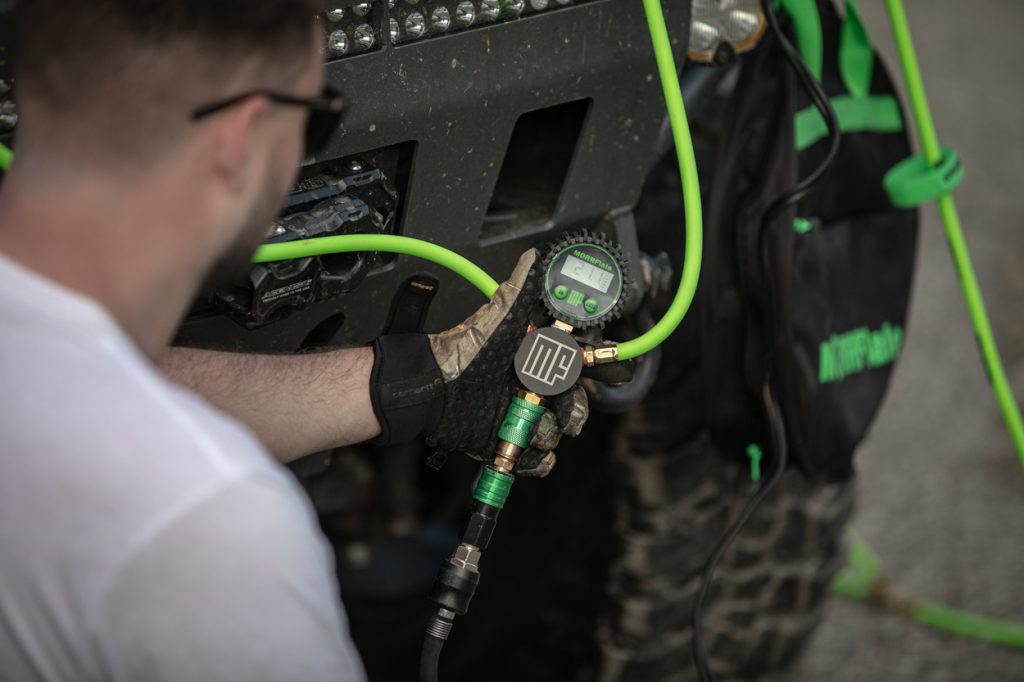 What's The Best Portable Air Compressor For Off-Roading & Overlanding? Here Are The Most Popular Options (2023)
To air down or not to air down? That is the question. When you're off the beaten path, the answer is almost always yes. Airing down your tires will not only make your ride smoother and create more traction, but it can also be better for your tires in the long run if done correctly.
After ripping through the trails and before getting back onto the pavement, it's important to air back up to the proper PSI. Although you can technically air up at the nearest gas station, air compressors are not always readily available. And I don't know about you, but all the ones at the gas stations are usually non-existent, hard to use, or broken. In any case, you want to be the guy/gal with a compressor. Not just for you, but to potentially help others.
This post will help you decide which is best for your needs because, let's be honest, we all use our gear differently (some more than others).
Looking for more information on tire pressure? Check out the link below.
Portable Air Compressor Buyer's Guide
Why Buy An Air Compressor?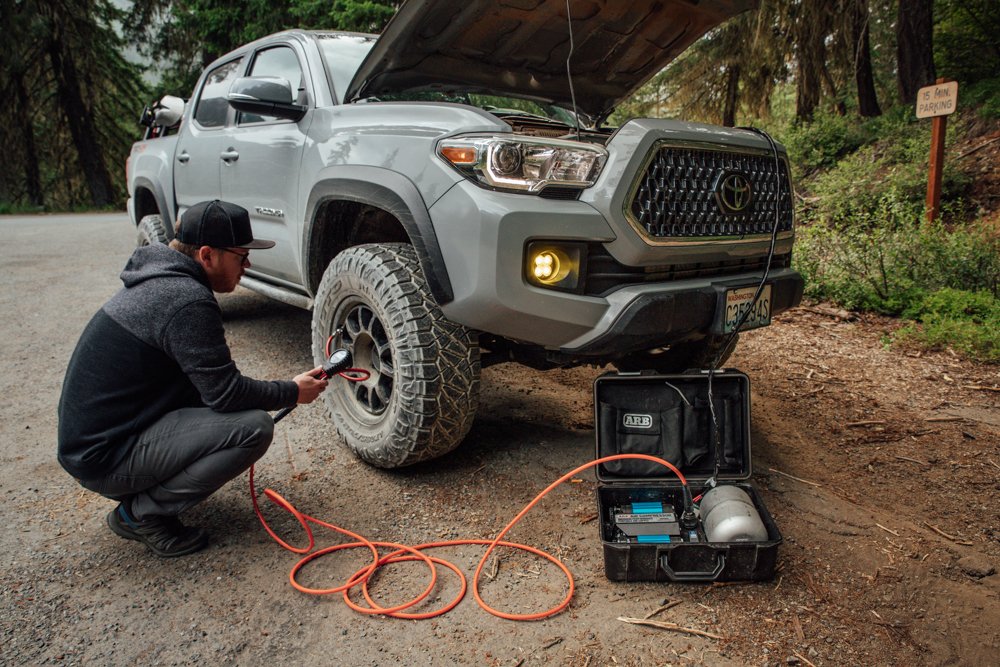 Do You Really Need One?
Do you need an air compressor? The answer will depend on who you ask. If you plan to take your rig on sand, rocks, gravel, dirt, or snow, being able to deflate and inflate the tires makes a difference. Deflating the tire increases the surface area patch of the tire touching the ground, creating more traction on loose surfaces. Furthermore, the tire's flotation ability when aired down, serves as your potential first line of shock absorption, improving your ride over rough terrain.
Why Should You Air Up?
Airing up the tires is also important. Running at lower PSI on pavement isn't safe, and compromises your handling and emergency responses. If you drive on aired down tires for too long you can prematurely wear your tires. Keeping tires properly inflated and equalized keeps the TPMS sensors happy and the truck driving properly.
Valuable Alternative Uses
Notably air compressors can be used for more than just inflating your tires. While surely many of us only need it for this reason, it helps to know all the benefits of having this tool on hand. From inflating tires, bicycle, paddle board, kayaks, water tank systems, even running air tools. A good compressor is adaptable to many things both on and off-road. Often the price points of a quality unit comes with its perks.
Not Just For Off-Roaders
Even if you don't off-road… having a portable air system can save you time and headaches. Having this tool on hand is beneficial for everyone, and they're relatively simple to use.
Important: The limiting factor to airing up/down (for the set-ups below) is the valve stem. A valve stem is rated for around 1.8 CFM and most units do more. It is recommended using a multi-hose tire kit with many of these systems for increased longevity and best performance.
Portable Compressors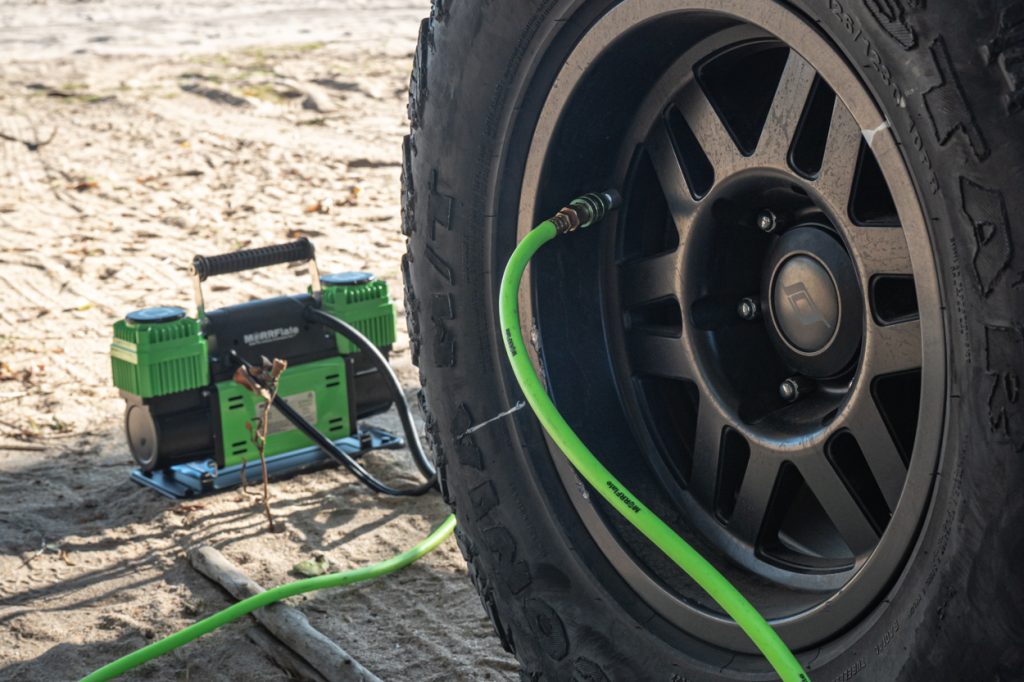 Serving as a easy entry point to the world of off-road tire inflation, portable air systems are often a first purchase. These units can be the same ones used as an onboard/hard-mounted kit but housed either in a carrying case or a easily transportable bag/container. These types of kits either plug into the truck 12V plug but often clamp directly to the truck's.
These tend to be more budget-friendly, and simplify adding portable air without buying additional brackets and having to wire. One negative is that they may be less secure and more prone to clunking around your bed/cabin.
Hard Mounted (Onboard Air) Systems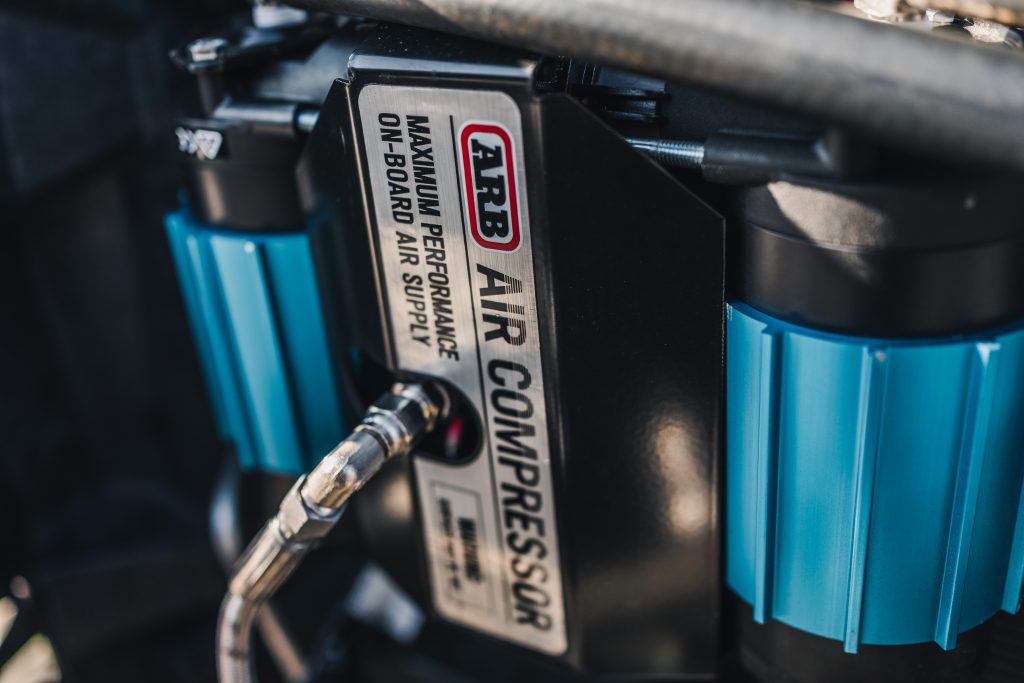 In comparison to more mobile setups, there are options to have compressors hard-mounted (Onboard Air), wired, and plumbed in a truck more permanently. These types of units can be installed in places like the engine bay, under the seat, or in the bed.
The upside to hard-mounted compressors is the setup and take-down time. After it is wired and air chucks are mounted, using the unit is simply connecting your air hose and pressing the on button. Hard-mounted systems are often used for other purposes such as air lockers, especially those from ARB, which are designed with their ARB air lockers in mind.
You can run air lines around the vehicle to make different systems work, beyond air lockers. For example, you can add an airline and pressure switch to your water tank to maintain a pressure of 30 PSI. You could also install an air chuck in each wheel well to use small 3ft air hoses from the air chuck to the valve stem. Finally, you can place a small compressed air tank under the truck for quick access. You could use it to supply an air gun (for dust) or air tools, etc.
The convenience of these systems is hard to beat.
1. MORRFlate
Find It Online
MORRFlate Portable Air Systems
The iconic neon green MORRFlate line has been on the market for quite some time now. They've continued to improve their lineups with the new PSI Pro series. They have taken one of the highest CFM-rated compressors and made it even better.
The new line allows you to set the PSI on the screen and go – from there the compressor will handle the rest. As automated as it gets. They also offer multiple price points allowing you to choose what works best.
It's best to pair their compressors with their multi-tire inflation/deflation kit. This kit will allow you to use the most of your CFM rating. Sending the output to multiple tires cuts down on time as well as reduces back pressure and decreases operational heat to ensure a long-lasting product.
Specs (TenSix)
Max Pressure: 150 PSI
Duty Cycle: 50%
Volts and Amps: 12v, 90amp peak, 50amp running
Size: 14″ x 7″ x 9″
Weight: 20 lbs.
CFM: 10.6
Warranty: 1-year
2. ARB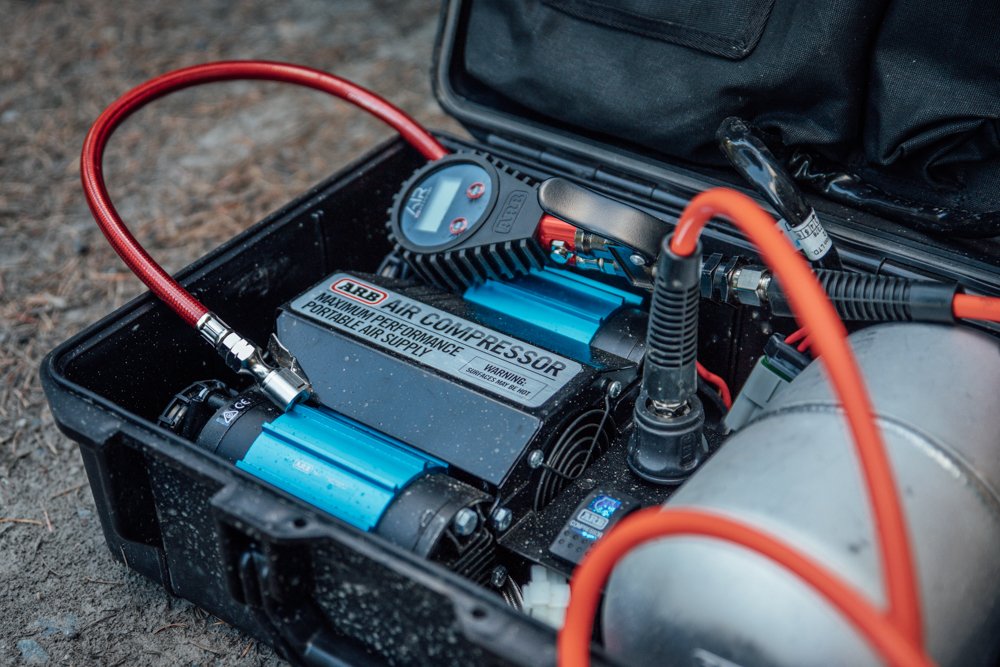 Find It Online
Whether you're new to off-roading or not, you've probably heard people talking about ARB. ARB is a trusted brand in the off-road community – and for good reason. Their products are built for the harsh conditions of the Aussie outback and they have decades of experience.
ARB has two main compressors. There is the  ARB "single" as well as the ARB "twin". The most notable difference between the two is (of course the size and output) but the bigger unit has a 100% duty cycle. Essential shutting off one side of the tool to cool down while the other side stays running.
Something to note – ARB also offers a portable ARB twin compressor.
Specs (Twin)
Max Pressure: 150 PSI
Duty Cycle: 100%
Volts and Amps: 12v, 90amp peak, 50amp running
Size: 19.69 X 10.24 x 4.72 (inches)
Weight: 21 lbs.
CFM: 6.16
Warranty: 3 year
3. Smittybilt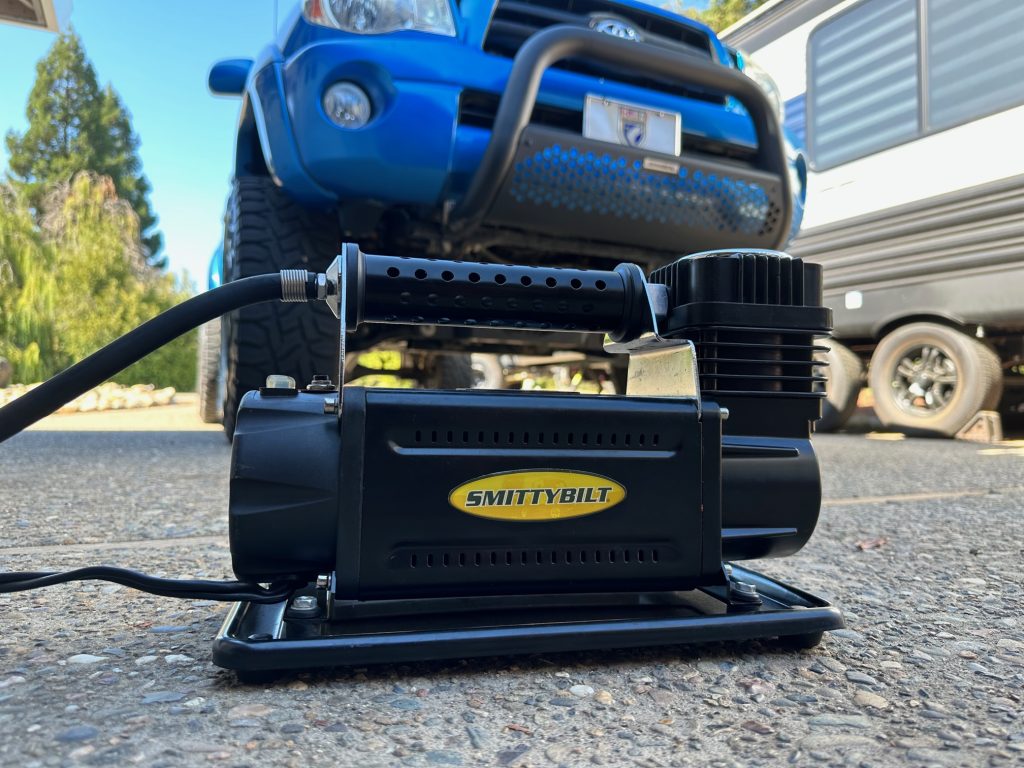 Find It Online
Smittybilt, established in the 1950s, is renowned for its distinctive bumpers, armor, and winches. Over the years, they have expanded their product range to include more than 2,000 items, including portable air compressors.
This kit includes a nylon carry case, a quick-release 24ft coil hose, battery clamps with a 10ft power cord, a 30 amp inline fuse, and a 3-piece tip kit for various uses.
While being one of the most affordable units in Smittybilt's lineup, it doesn't compromise on power. However, note that it doesn't come with mounting brackets, making it best suited for portable use.
Specs (5.65 CFM)
Max Pressure: 150 PSI
Duty Cycle: 40Min
Volts and Amps: 12v
Size: 15.5″L x 9.5″W x 7″H
Weight: 15lbs
CFM: 5.65
Warranty: Smittybilt Advantage Warranty
4. VIAIR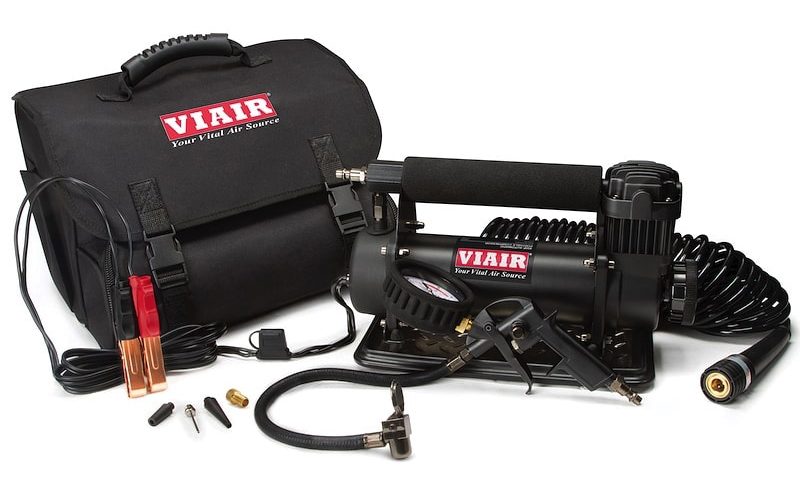 Find It Online
Viair is a trusted brand known for its wide range of options, both portable and otherwise. Here, we'll be focusing on their 450P-Automatic portable compressor.
If you dislike constantly monitoring each tire's pressure while filling, this unit is perfect for you. It comes with an automatic shut-off feature; you can set your desired PSI, and once reached, it will shut off automatically. This compressor also includes a thermal overload protector, a vibration-resistant diamond-plate sand tray, a 30ft quick-connect extension hose with a heat shield, and a gas station-style inflation gun.
The kit includes a carry bag, a 3-piece tip kit, a 40 amp inline fuse holder, and dual battery clamps with an 8ft power cord.
Specs (450P)
Max Pressure: 150 PSI
Duty Cycle: 100%
Volts and Amps: 12v, 23amp
Size: 12.4″L x 5.8″W x 7.5″H
Weight: 13.05 lbs.
Flow Rate: 1.8
Warranty: 1-year
5. Sherpa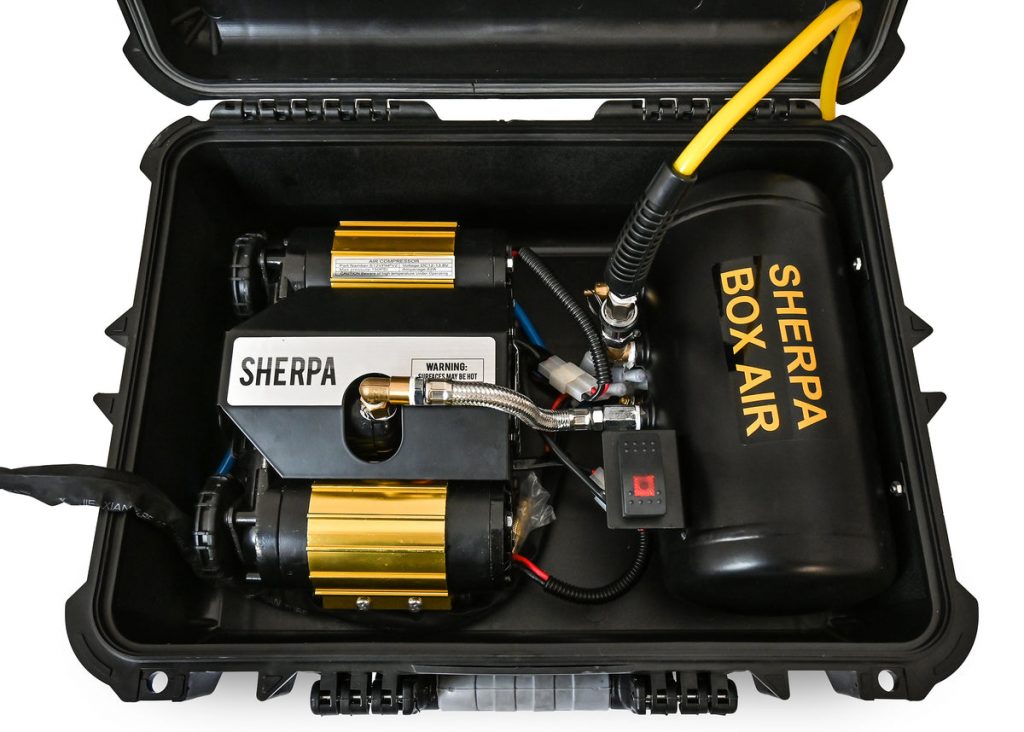 Find It Online
Sherpa Winches is a reputable manufacturer based in Australia, known for their robust and extensively tested products in the Outback. The Sherpa Portable Box Air unit features a powerful dual-head capable of reaching up to 180 PSI. The Big-Air is designed as a standalone unit but can also be hard-mounted in a vehicle.
Both the Box-Air and the Big-Air are high-quality, high CFM built to tackle the trails. Additionally, the prices listed on the website include shipping within the USA.
Specs (BIG-AIR)
Max Pressure: 180 PSI
Duty Cycle: 100%
Volts and Amps: 12v, 100amp peak
Size: 383x140x275mm
Weight: 13.5 kg
CFM: 10
Warranty: 1-year
6. Desert Armor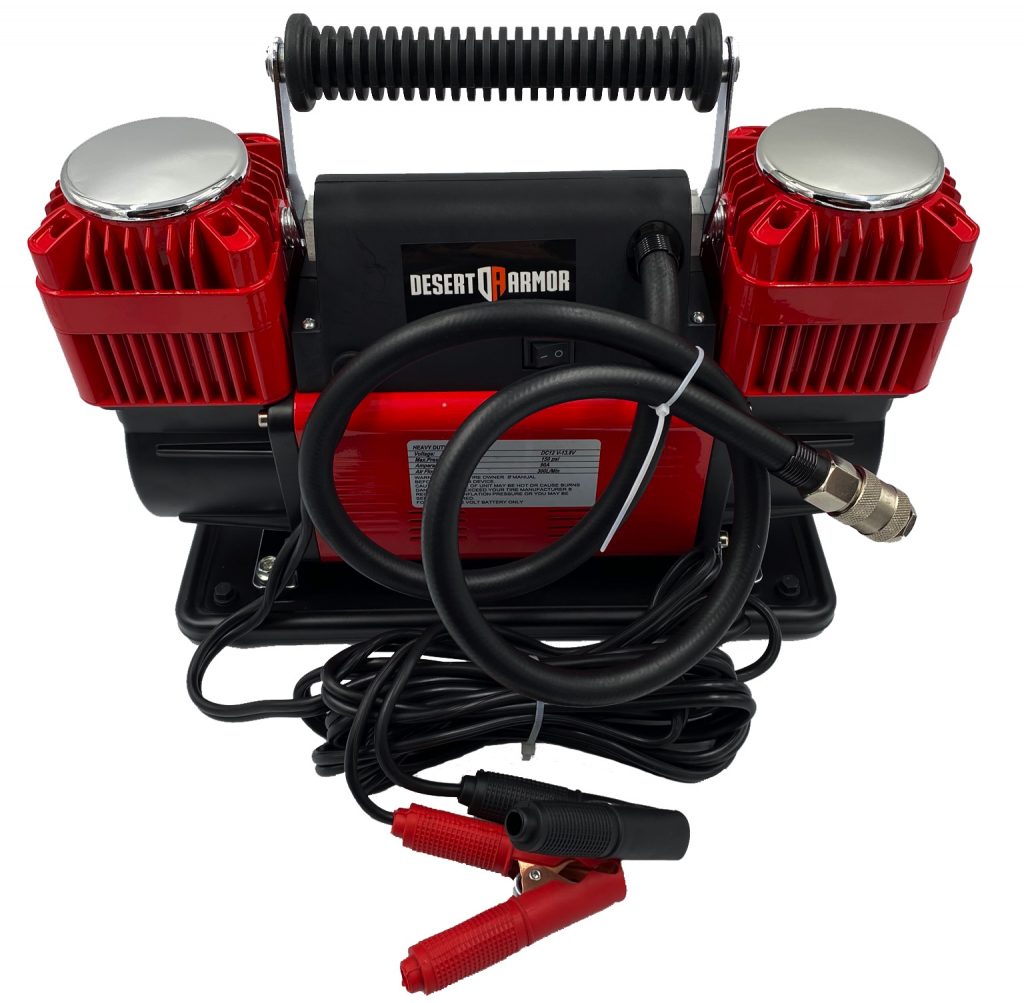 Find It Online
Although Desert Armor is a newcomer to the off-roading market, this local company doesn't compromise on quality or customer service. The Beast V2, although slightly heavier than some at 23.8 lbs., is still easy to transport thanks to its heavy-duty gripped carrying handle.
This portable kit includes a nylon carry bag, a 12ft power cord with dual battery clamps, a 17ft extension hose, and a 3-piece tip kit. If you're seeking something powerful without compromising on portability, you can't find a better deal.
Specs
Max Pressure: 150 PSI
Duty Cycle: 40 minutes (max)
Volts and Amps: 12v, 90 amp
Size: 14 x 3.15 x 9in
Weight: 23.8 lb.
CFM: 5.56
Warranty: 1-year
7. 75Built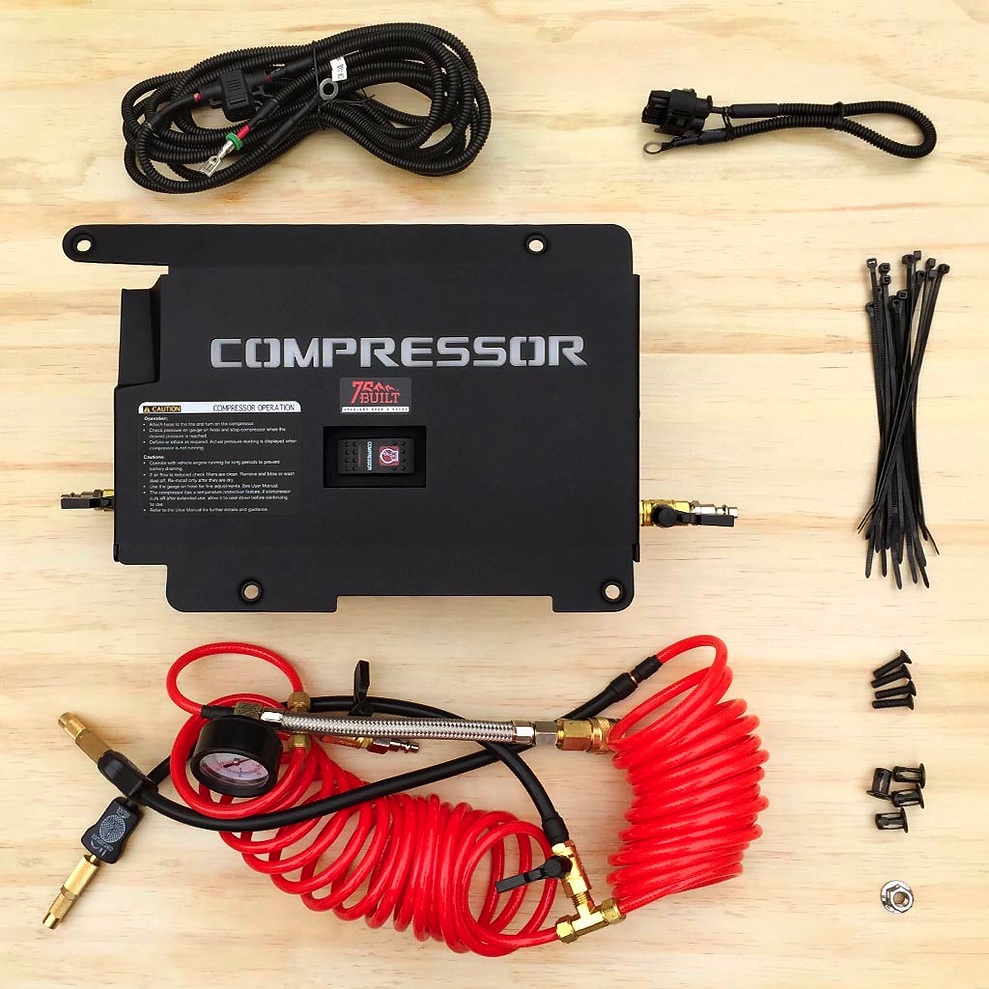 Find It Online
75Built is a company based in San Diego. They offer a wide range of accessories for your adventure vehicle of choice. Collaborating with other local vendors, they create innovative solutions.
The Tacoma under-seat compressor fits neatly in the double cab's under-seat storage, keeping everything hidden and stored in one place. It has two output connections, allowing you to inflate two tires simultaneously. This unit comes with everything you need to install and hardwire it to your Tacoma's 12V battery.
However, please note that this system is specifically designed for the 3rd Gen Tacoma with a double cab. For you 3rd Gen double cab owners, though, you'll never forget your compressor again!
Specs
Max Pressure: 50 PSI
Duty Cycle: 33%
Volts and Amps: 12v, 23amp
Size: 11.5″L x 7.25″W x 4″H
Weight: 15.02 lbs.
CFM: 2.54
Warranty: No expressed warranty (75Built states they cover reasonable claims)
8. Pittsburgh Automotive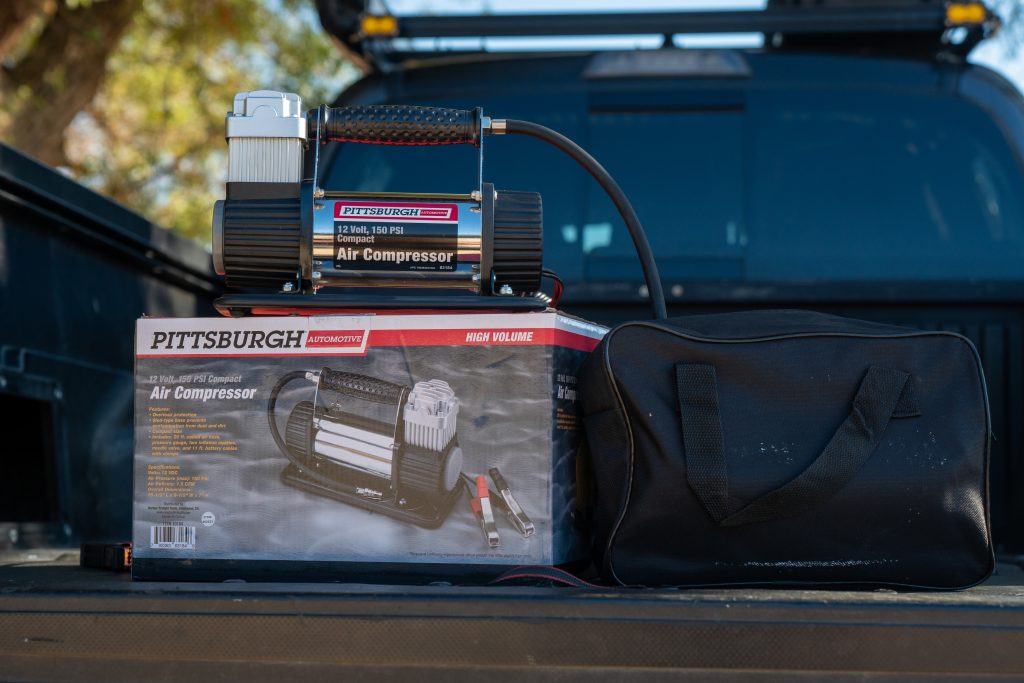 Find It Online
Harbor Freight has been producing this portable compressor for years, making it a quick and easy go-to choice for many. This option is small and lightweight, offering excellent features such as temperature shut-off and a generous extended warranty.
When purchasing this from Harbor Freight, you have the option to get the extended warranty. Opting for this means you can receive a full replacement in any condition for up to two years. This is great because if you ever experience a failure, you can go to the nearest Harbor Freight and easily swap it out.
Specs
Max Pressure: 150 PSI
Duty Cycle: Not listed
Size: 15.5″L x 9.5″W x 7″H
Weight: 11.5 lbs.
CFM: 1.35
Warranty: 90 days or 2 years extended
Final Thoughts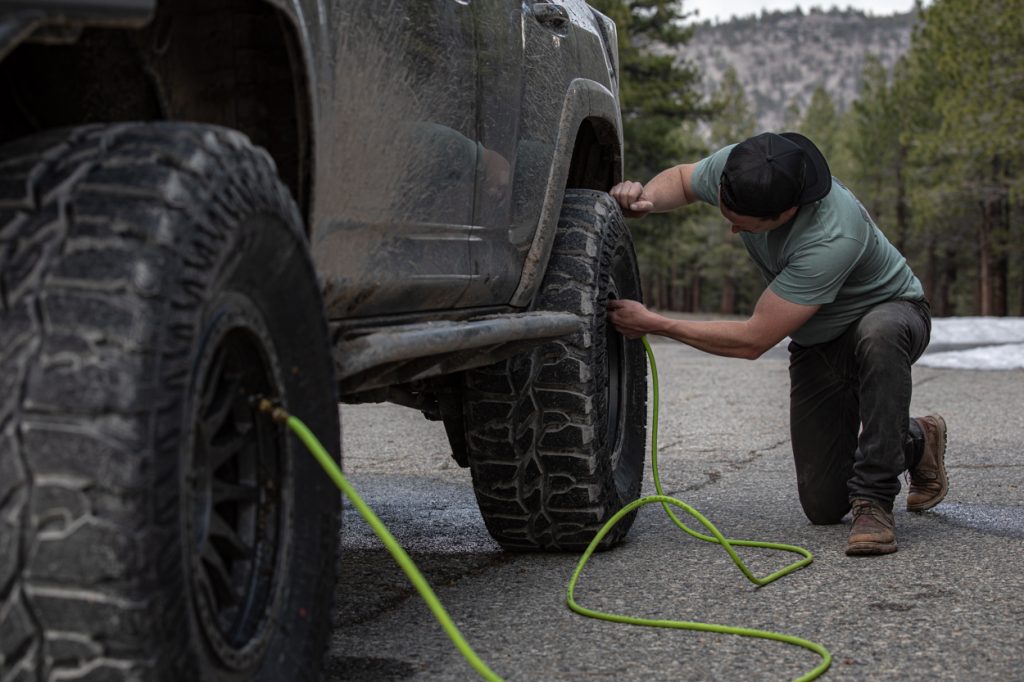 If you frequent the trails and would like a smoother ride and better traction, a portable compressor can be a godsend. Having the option to quickly deflate and inflate is a benefit with big impacts. Whether you are solely using it to inflate your tires or have alternative uses, they are game changers.
While most portable and onboard air will get the job done, your choice ultimately depends on how long you are willing to wait for your tires to inflate, how much you are willing to spend, and if you want to be able to hard mount it or keep it more mobile. With tons of options to fit your budget and needs, a portable compressor is a mod to consider.