BillieBars: Minimalist Bed Cover Compatible Bed Rack System that will work For 2nd Gen and 3rd Gen Tacoma
Camping, overlanding and bed racks are pretty synonymous in today's world. Once you start to use your truck on the trail, you quickly realize that you'll need more function, storage and utility out of your Tacoma.
Traction boards, shovels, axes and rooftop tents are just a few of the items that you might see on a variety of Tacoma builds. Those things are great, but you need somewhere to mount them. Before you start mounting a bunch of offroad gear, there might be another issue.
A lot of guys run tonneau or bed covers for bed security and to keep items out of the elements. Before now, there really weren't too many options. Especially not a simple, minimalist design. Not everyone needs or wants a bed rack. For those who want the best of both, there's a new product to look out for.
Enter the BillieBars Bed Bar System.
In this article, we'll be doing a complete install guide for the bed bars and accessory MOLLE panel mounts, as well as our initial impressions.
Find It Online
Company Background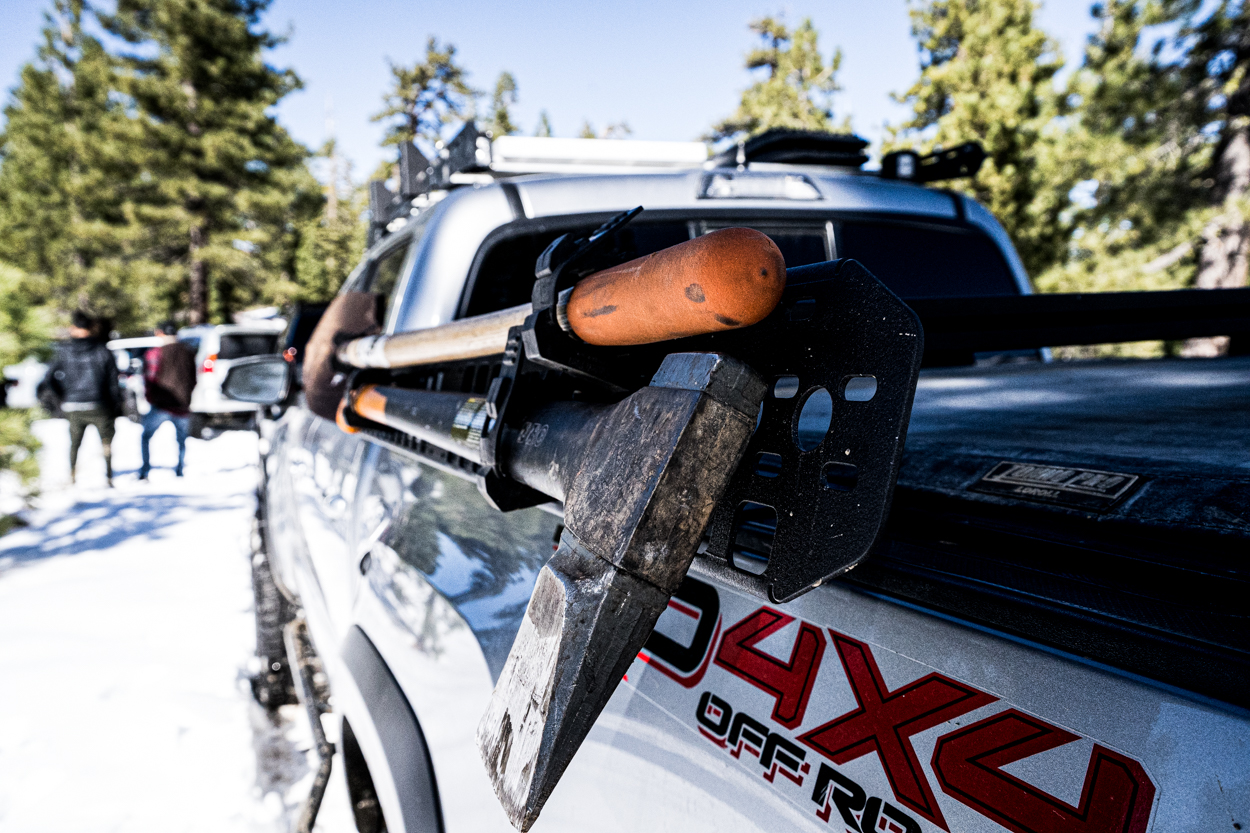 BillieBars were created out of necessity. The founder, Bill, was tired of buying expensive bed bars that were poor quality, difficult to install, and often couldn't hold the gear he needed them to.
Being a life long truck enthusiast, and an expert engineer, Bill decided to make it his mission to create bed bars that could actually get the job done.
BillieBars Features
Made in America
Helicoil inserts so the threads on the bars don't wear out (you can take them on and off as much as you'd like)
High strength steel brackets that are black wrinkle powder-coated (RTV in hard-to-reach places to prevent rust)
Black anodized aluminum bars with a T-slot configuration
Compatible with most tonneau covers
Low to truck bed so tents, bikes or cargo aren't above the roof
Easy installation (achievable by one person)
Lightweight – Total system weighs 46-49 pounds (depending on the model)
Unboxing
The BillieBars came nicely packaged and all items came in great condition.
Mounting Feet/Risers
Hardware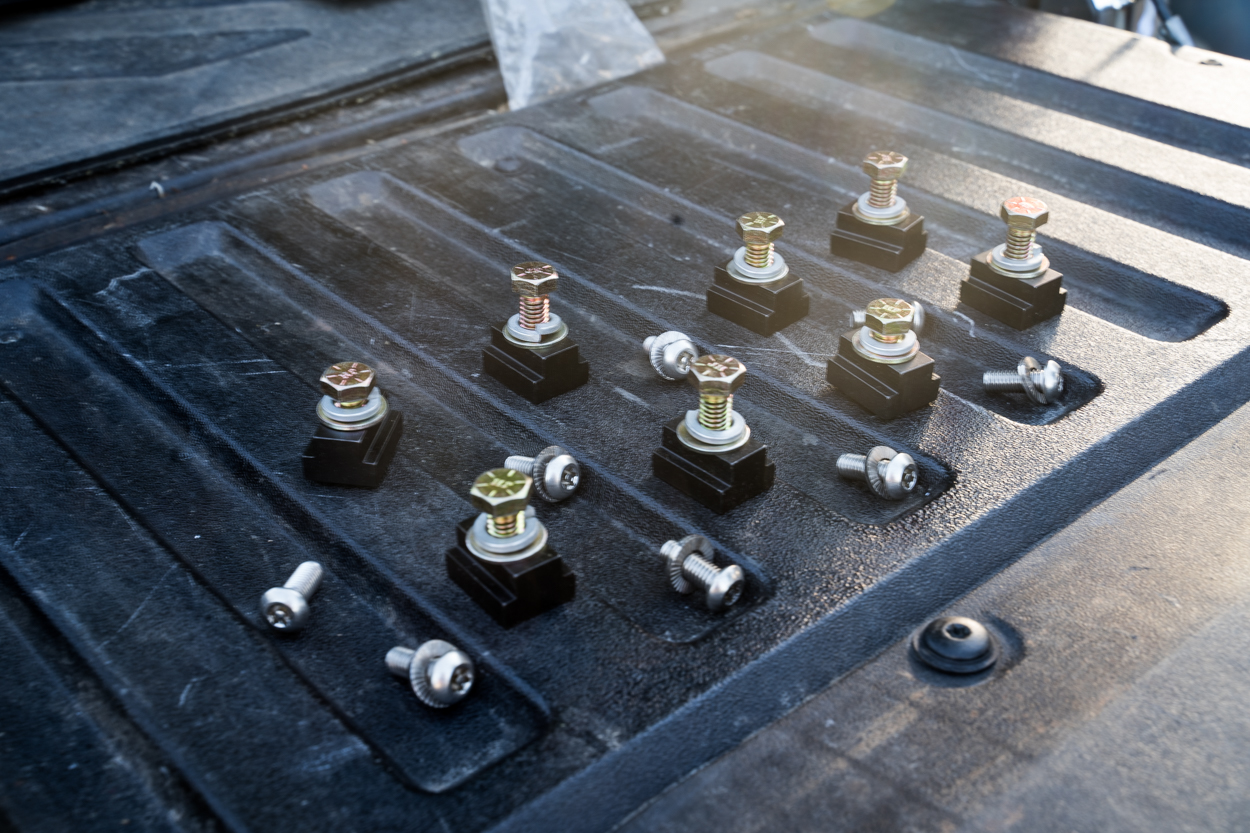 Step 1. Remove Tonneau Cover
This step, of course, only applies to someone who has a bed cover installed on their truck.
Step 2. Choose Mounting Location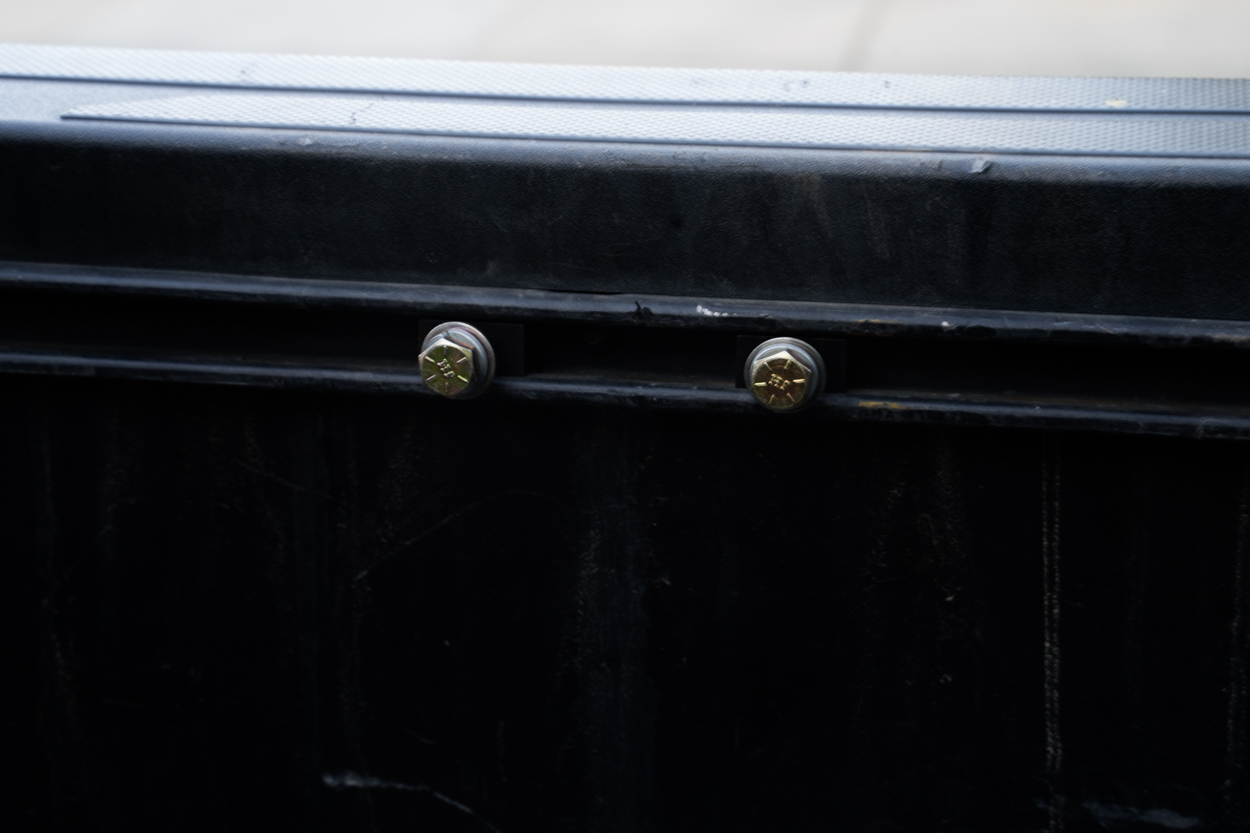 Insert the in channel nuts and bolts into the t-slot on the side of the bed.
This is purely to help visualize where you'll mount the system.
Step 3. Attach BillieBars Bed Mounts
Take one of the feet and loosely secure it to the bed rack rail.
Do the same thing with the remaining bed mounts. Make sure they are properly lined up before moving to the next step.
Mounted Feet/Risers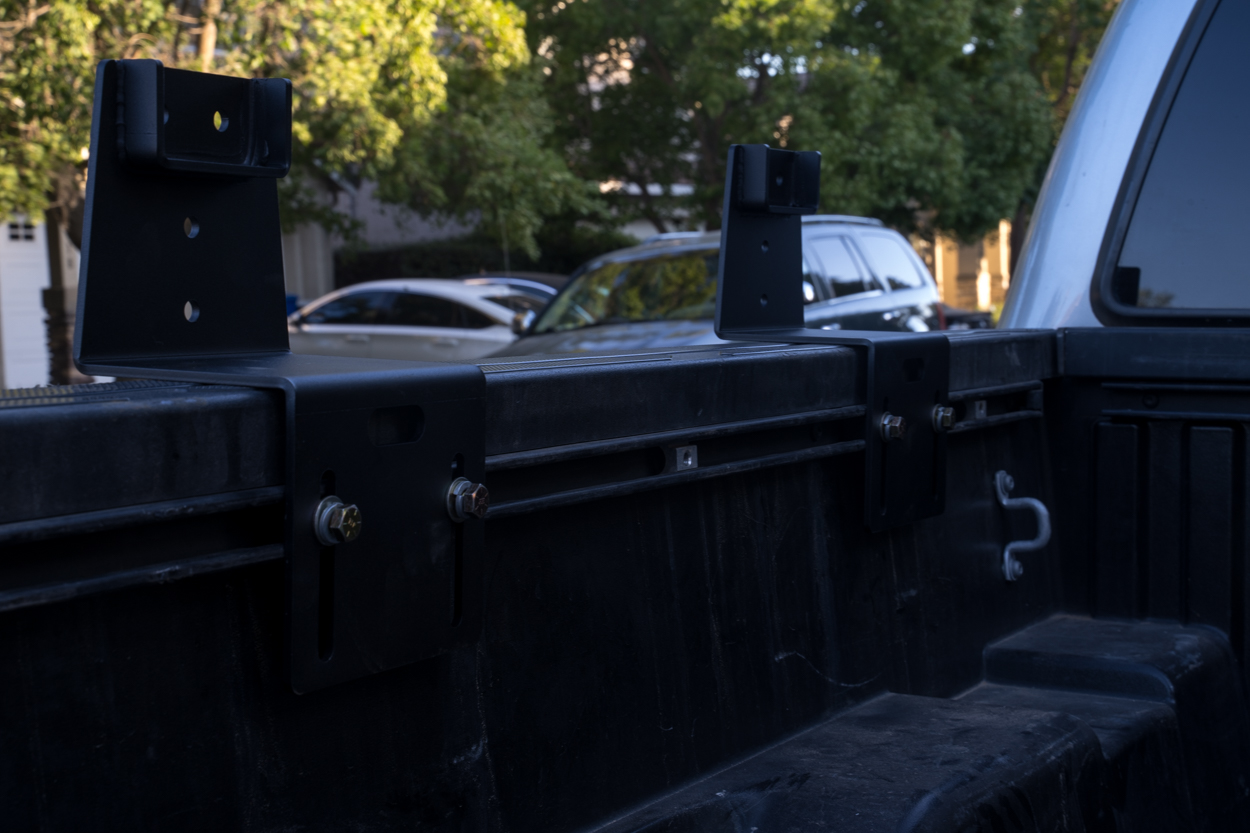 Step 4. Install Main Crossbar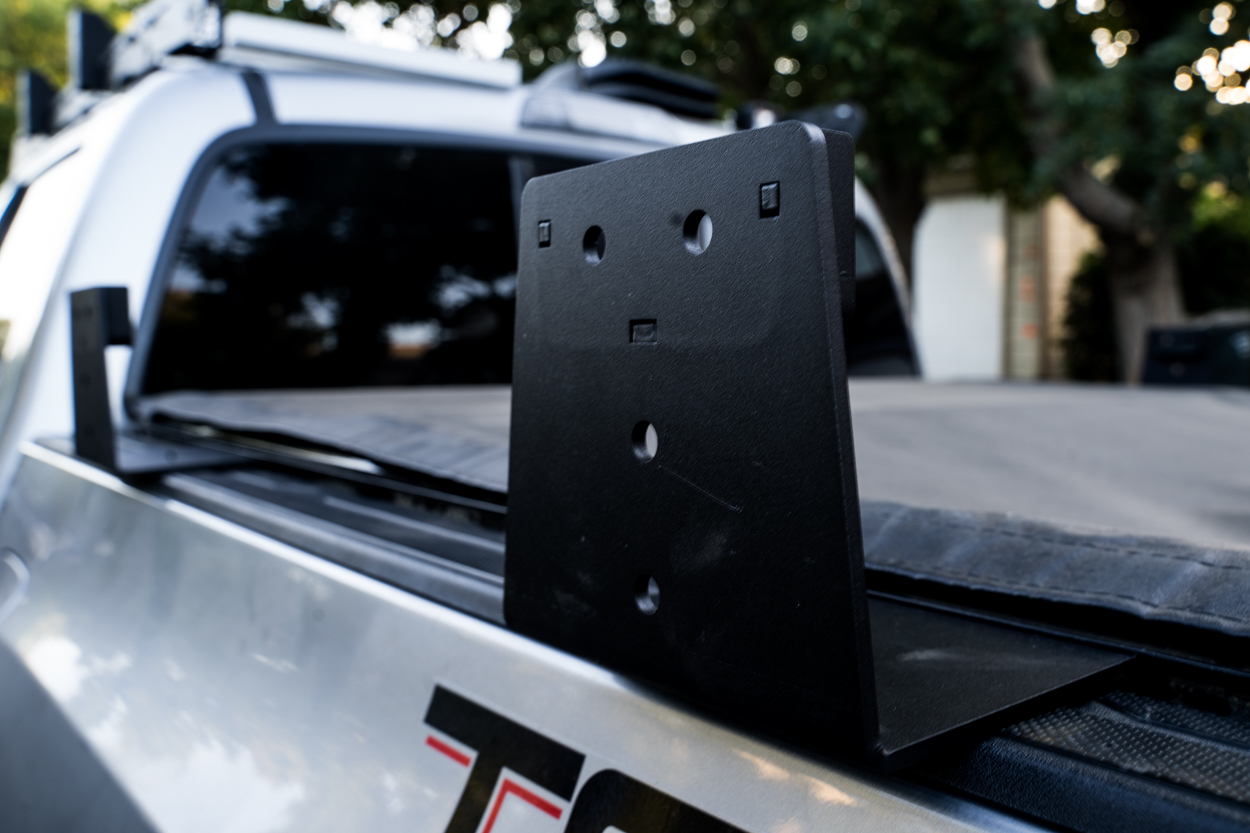 The two holes that are on top of the feet are to secure the bar and the 2 vertical holes on the bottom are for the BillieBars accessory Panel.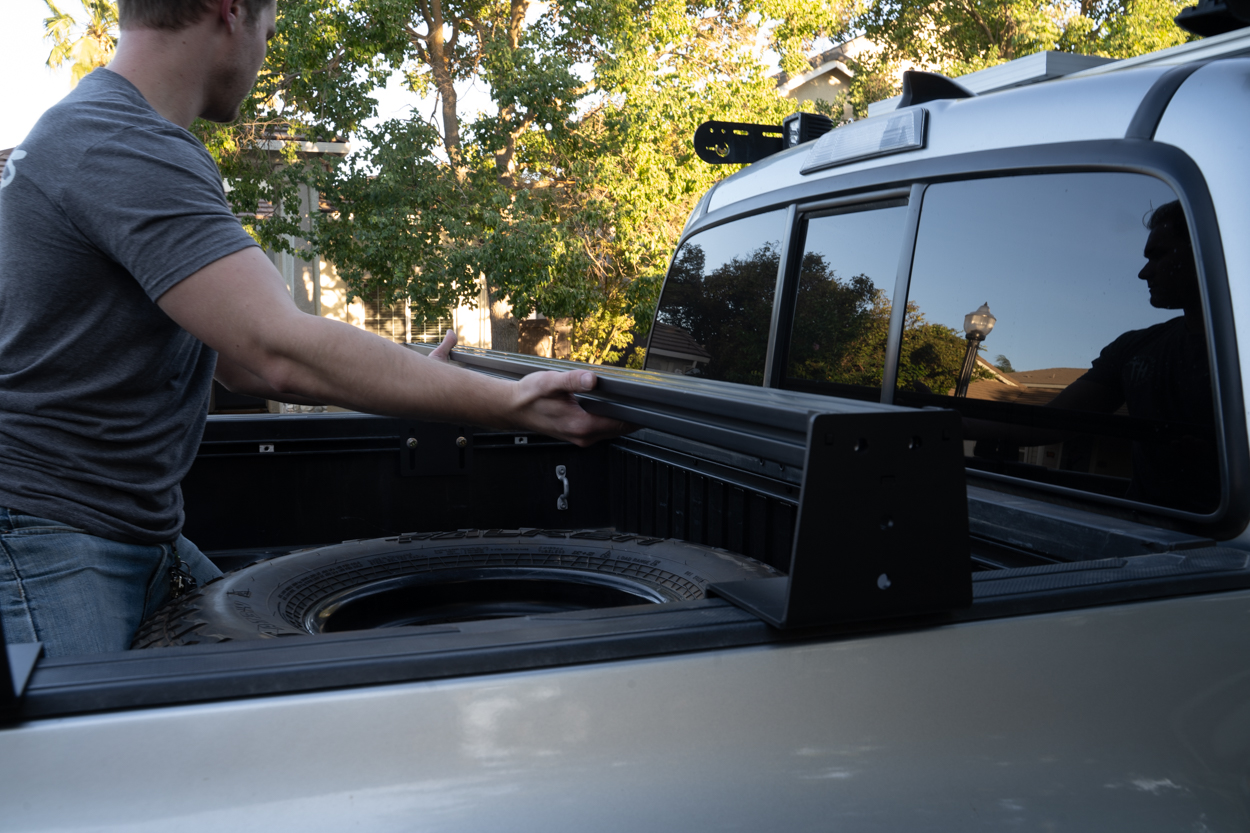 Install the main crossbar and double-check that the feet line up correctly.
Important Note: If you have a tonneau cover, do not secure the bars onto the feet till you re-install your tonneau cover. Otherwise, you'll have to take everything apart again.
Finished System Mounted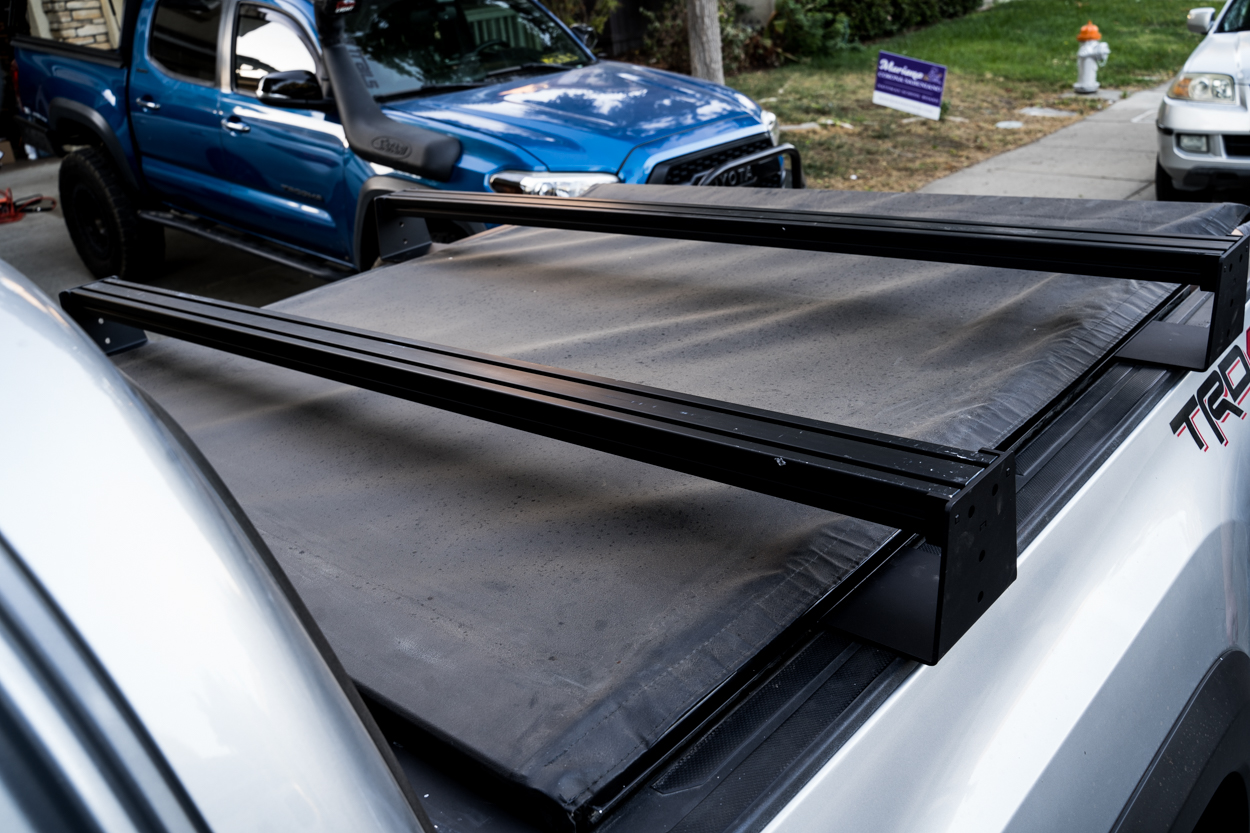 Molle Panel Accessory Mount
We also got a pair of these sweet MOLLE Panels. We felt that this is the option most users will go with in addition to the bars themselves.
Features
Measures 52 inches long and 5.25 inches tall, the panel is mounted with brackets that attach to the BillieBars
Designed to carry recovery boards, high lift jacks, gear bags, roto-pax and more
Flexible design and angled profile for ease and accessibility
Made from powder-coated aluminum – Rust is not an issue!
3-Year Bracket Guarantee
Find It Online
Accessories Continued
MOLLE Panel Install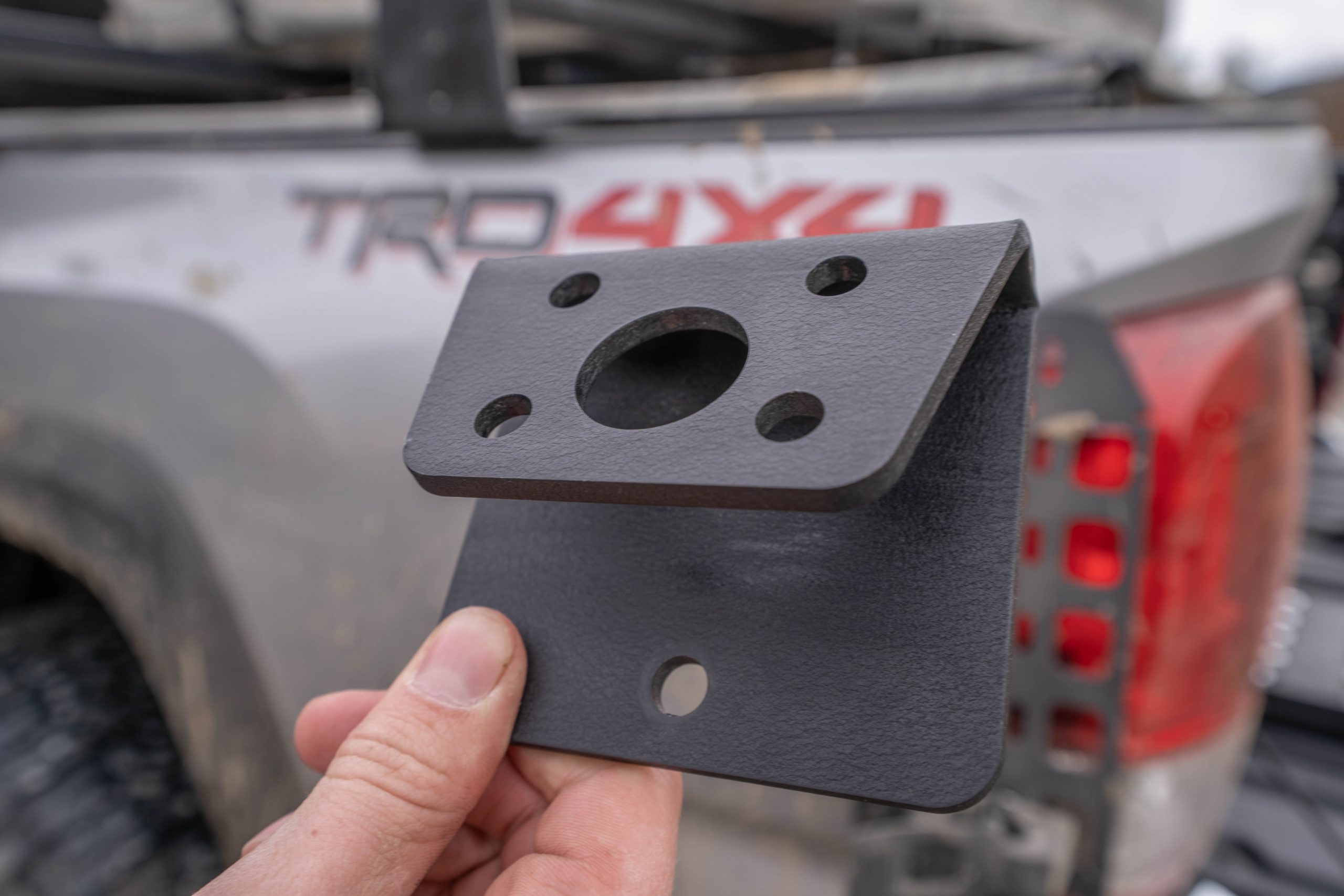 Step 1. Mount Molle Panel Bracket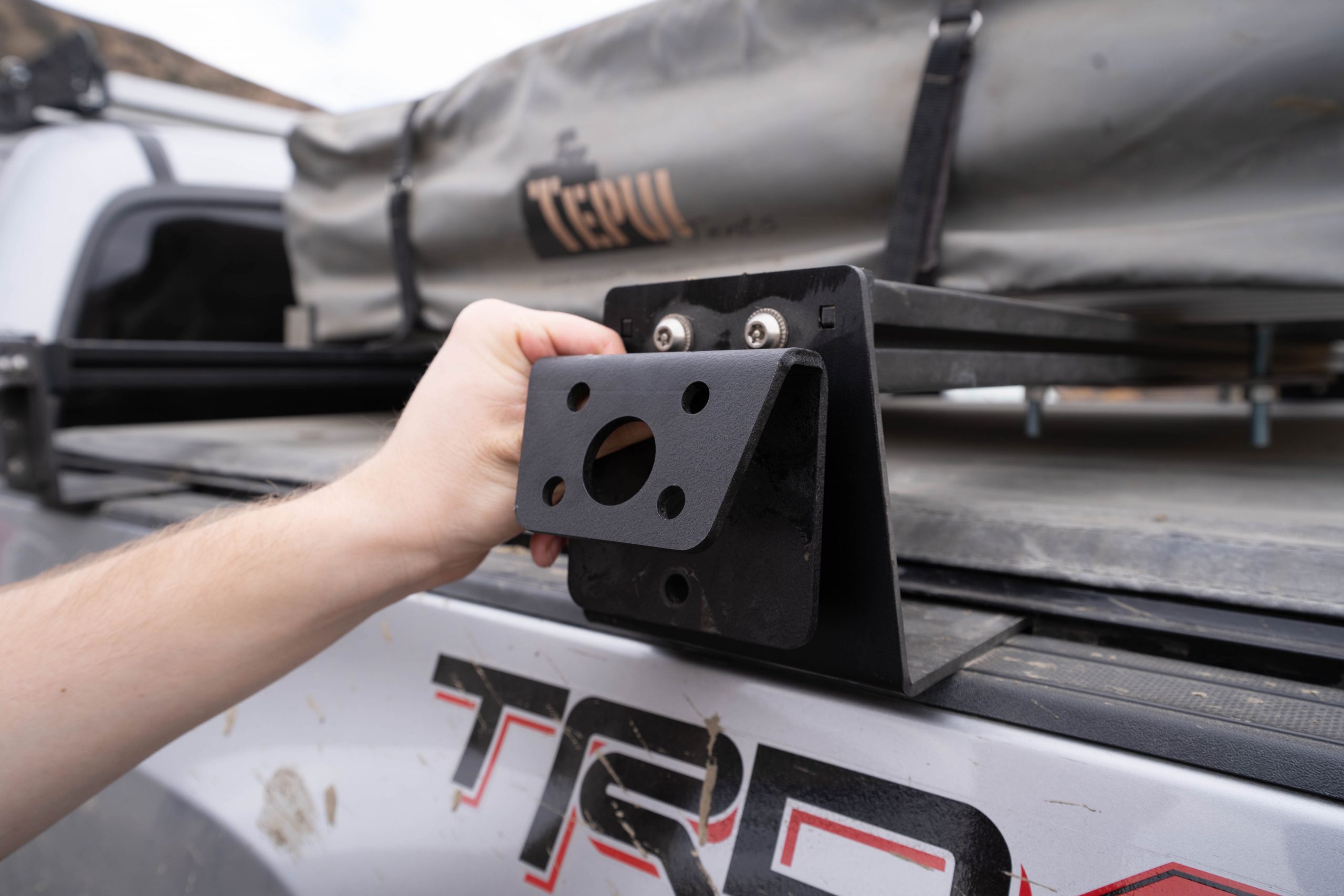 The bracket will be placed on the BillieBar Mounts like so.
Line up the security bolts and use a hand tool or an impact to put the bolts in.
You will need a corresponding socket or wrench to hold the nut/washer on the backside to prevent it from spinning.
Step 2. Mount Molle Panel
We preinstalled some Quick Fist Rubber Clamps on the molle panel before we mocked it up on the brackets.
BillieBars gives you the option of how high or low you want the panel to be; we decided to do it in the middle and only used 4 security bolts total to bolt the panel in on both sides.
It's totally up to you on how many mounting holes you want to use to add extra security or rigidity. Of course, for the strongest setup, use all of the provided screws.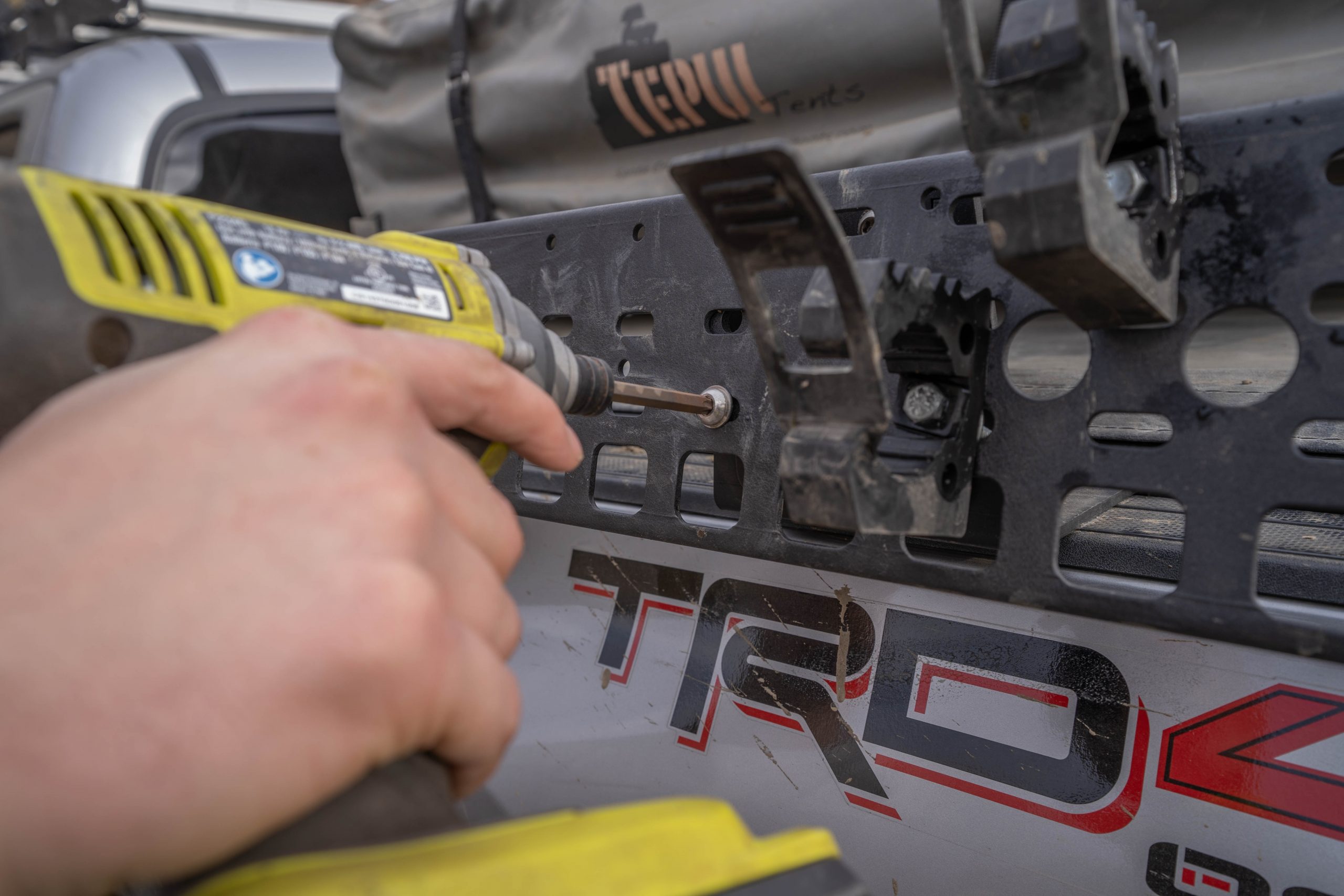 Secure the security bolt onto the brackets by using a hand tool/impact.
Molle Panel Mounted
Do the same process on the other bracket and you are done! One heck of a system.
This is an extremely modular setup for the weekend adventurer. Above you can see the Molle Panel mounted onto the brackets of the BillieBar.
The panel fits on either side of the truck for accessories. Pictured here are the shovel and ax combo.
You can basically put anything you want on the side access including RotopaX storage, recovery boards, water systems, etc.
One more angle.
If you like simple, functional designs, this product is for you.
Final Thoughts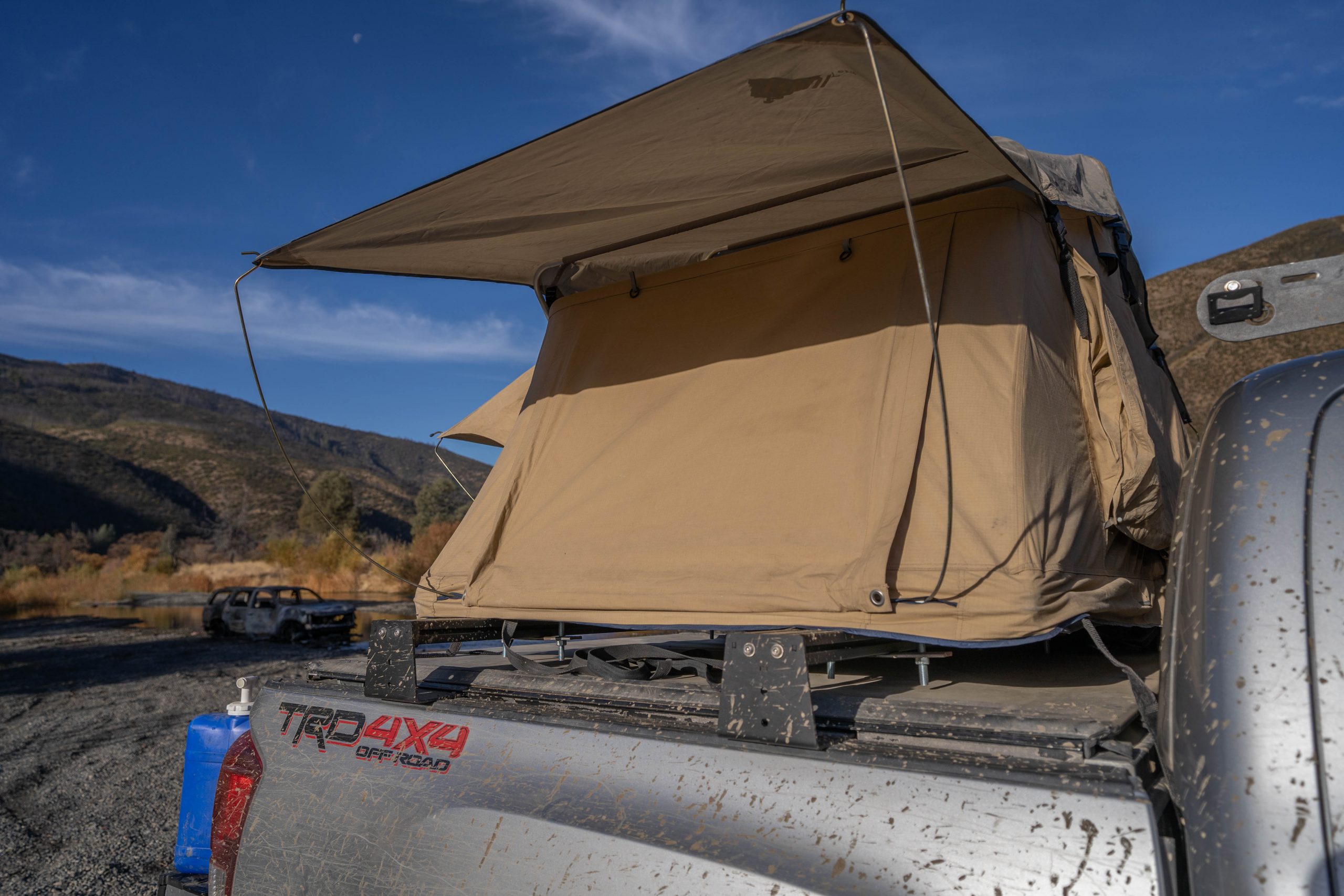 Unique Solution for Bed Storage
The main purpose of the system is to be able to have a modular bed rack/accessory rack for your Toyota Tacoma. The BillieBars system being compatible with almost all tonneau/bed covers is a huge plus of the system. This type of system works best for people that still want to be able to use their Tacoma as a regular truck with having full access to the bed when needed.
The whole system comes off in less than 5 minutes and can be reattached pretty quickly as well. So for the weekend warriors that may use their truck for cargo or work on the weekdays, this is a great solution. It is not heavy, nor does it require a lot of work or even another person to take off.
Some bed racks are meant to be mounted on a truck permanently but may not always be needed when someone is not camping or carrying cargo. So for the occasional adventurer or even someone that is trying to keep the weight down on the truck when it is not being used for camping trips, this is an amazing system!
Compatibility
Basically, this system is compatible with everything. BillieBars have a black anodized bar with a T-slot configuration. A carriage bolt or a hex head bolt is enough to mount anything to these bars.
The possibilities are endless with this system. BillieBars can even be modified to fit different types of brackets depending on what the user intends to use them for. This is a super universal and functional bed rack option.
Mounting Ideas
RTT mounts for hard shell or soft shell tent
Mountain bikes
Snowboards
Cargo baskets/trays
Recovery gear – HiLift, MaxTrax, etc.
Build Quality
The bars are extremely sturdy. We stood on the bars to check for rigidity and strength (I am 5'7 and 180lbs) and there was barely any deflection on the bars themselves. This was only on one bar, so something mounted to both of them is really secure.
Per BillieBars, the system has a max dynamic weight load of 500lbs and a max static weight load of 1000lbs.
Final Thoughts
The install is effortless, and it took less than 10 minutes for the bar to go on. It probably took longer to put the tonneau cover back on the truck than it did to install the BillieBars. These bars are extremely utilitarian and adaptable.
For people that daily drive their trucks and don't necessarily need all their gear on all the time, this is a great choice. You can still use it simultaneously with your cover to protect items in the bed as well. The price point is also very good; a lot of people can afford this as the first modular bed rack for their Tacoma.
We actually installed some of the parts of the rack on the trail. That's how easy it is to remove and add anything to this system. The bars feel very stable when the truck is on the highway and wheeling; there doesn't seem to be any type of deflection or rattling.
Overall, it's a great system, and we think it's worth a look!