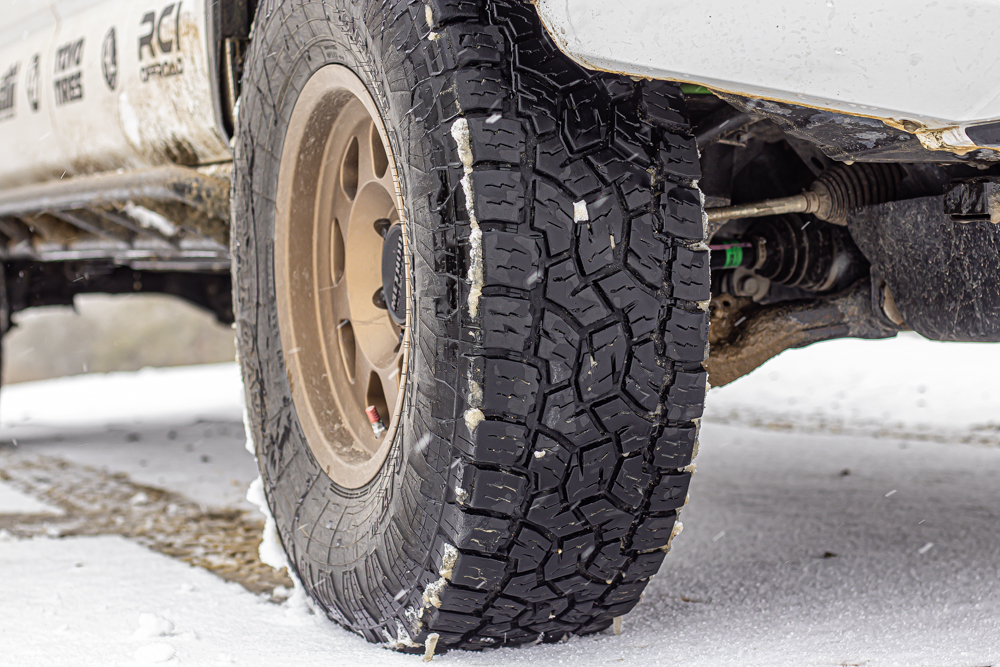 Toyo Open Country A/T III All-Terrain Tire 5,000 Mile Review On the 3rd Gen Tacoma: Everything You Need To Know
Perhaps nothing makes more of an impact on the capabilities of your Tacoma than a good set of tires. Whether you're hitting the highway or the trails, you rely on a capable set of tires to get you all the way to your destination, and then all the way back home.
For most Tacoma owners, a set of all-terrain tires best fits our balanced on and off-road needs. With all the available all-terrain tires on the market, here's why you should consider a set of Toyo's new AT3 tires. This article will cover my experiences with the tires over the past few months through a variety of terrains and conditions.
Find It Online
Overview
Toyo's previous all-terrain tire, the A/T II, was a solid performer and one of the most popular all-terrain tires on the market. The unique S-shaped center tread pattern cut back on road noise while creating more biting edges for tough off-road use. Their next generation of A/T tire, the Open Country A/T III, takes this legacy of performance and reliability to the next level.
Toyo re-designed the A/T III tire from the ground up, with an emphasis on wet and snow handling. The tires are made using a new compound that lasts longer and performs better in the rain and snow. With more evenly distributed void spacing, these tires will throw snow, mud, and rocks more easily without chunking or excessive wear.
The S-shaped pattern in the center of the tread makes the tire quieter on the highway while putting more rubber on the ground, making these tires grip better, especially in off-road applications. The large shoulder lugs on the outside of the tread provide excellent grip in mud and sand as well. In the snow, these tires are simply unstoppable. I've been blown away by the places I've been able to go in my Tacoma because of the capability of these tires.
These particular tires also have a 50,000-mile treadwear warranty and the Toyo limited warranty. Not to mention, Toyo Tires offers a 500-mile, or 45-day, satisfaction guarantee. If you don't love them, they'll take them back.
Features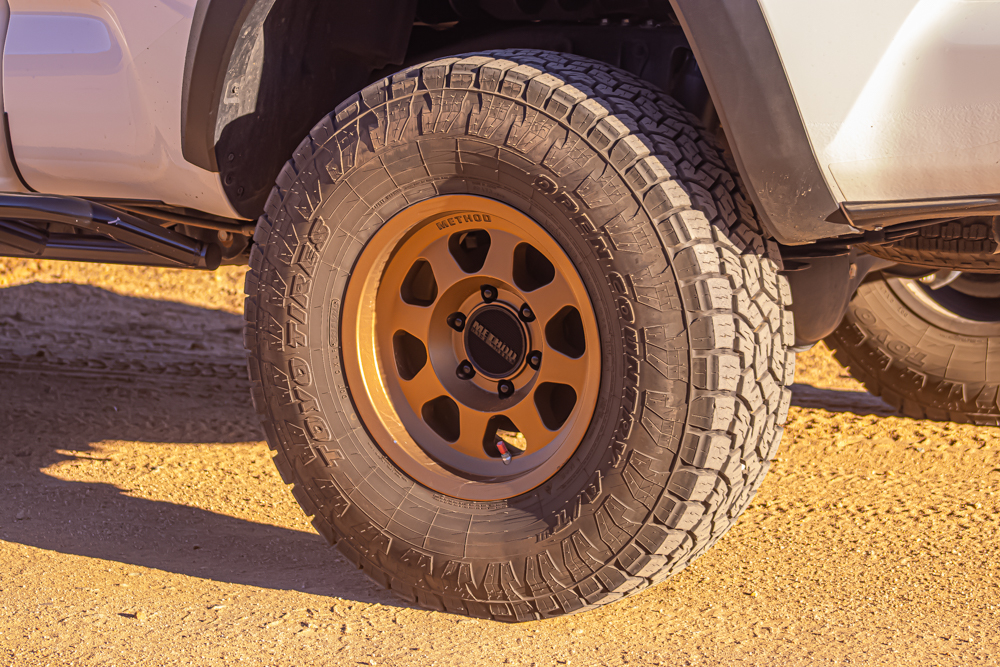 These new all-terrains have some unique features that make them stand out from other companies.
New Tread Compound & Design
Great wet braking and handling
Cut and chip resistant
Excellent off-road traction
Peaceful and comfortable ride
Evenly Distributed Void Area
Increased on and off-road traction
Better tread block rigidity
Great stability and better handling
Even wear throughout
More Lateral Grooves
Better traction on all surfaces, including snow and wet conditions
3D Multi-Wave Siping
Awesome wet and snow traction
Ensures even wear
Staggered Shoulder Lugs
Improved off-road traction
Stone-Ejecting Blocks
Initial Thoughts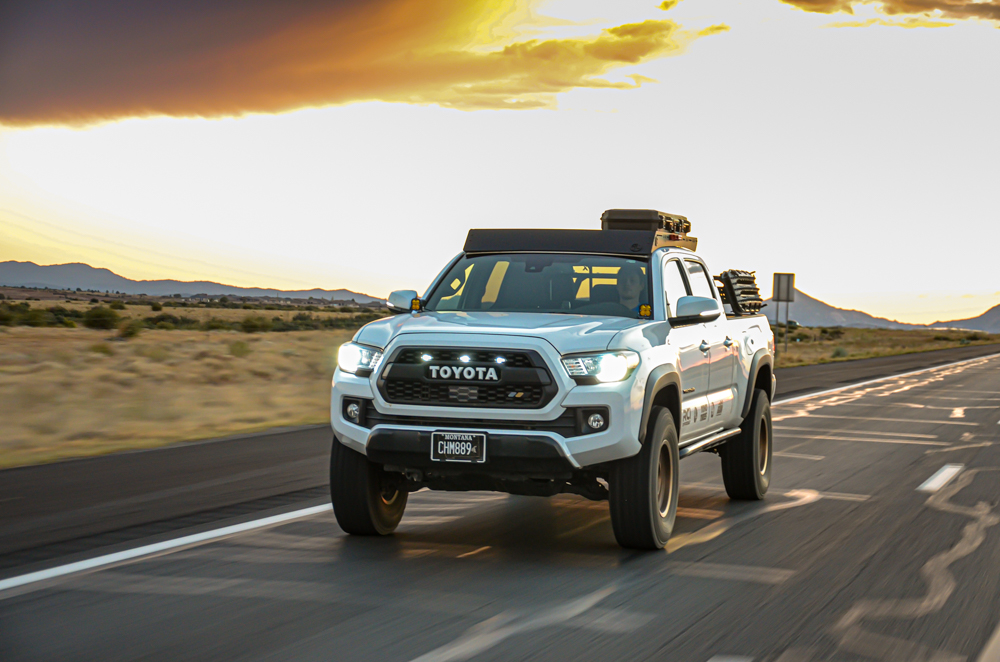 I've owned these tires for just shy of 5,000 miles now. I purchased a set in a 285/75R16 size. I cannot emphasize how big of a difference I noticed moving to these tires from the stock Goodyear Wranglers. The difference was truly night and day.
I was afraid these tires would make the on-road handling stiff or rough, and I was surprised to find they ride better than my stock tires and give me better handling and grip. They corner well, even in the rain, and handle long, hot highway drives with no problems.
Road Noise
While they're marketed as quieter tires, so it's important to note you can still hear them inside the cab over 35mph. With that said, they are by no means obnoxious or droning like more aggressive Toyo Open Country R/T or M/T tires.
My AL Offroad roof rack, which is very quiet as far as roof racks go, makes more noise in the wind than these tires make on the road – turning your radio on to quiet volume will cover up this noise nicely. Let's face it though, if you're driving a truck like a Tacoma and looking for a quiet ride, you're in the wrong vehicle.
Performance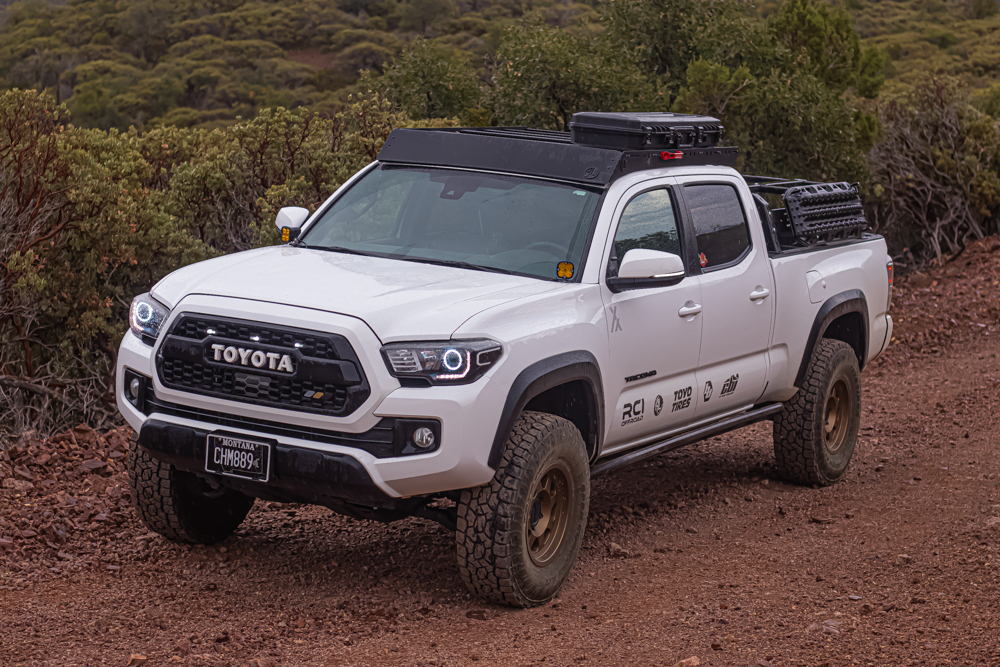 Off-road performance is what you're likely here to see, so let's break it down.
I've rock crawled on jeep trails, sped down dirt roads, driven through deep sand, hit the occasional mud hole, and even managed to find some seriously deep snow in Arizona. These tires never missed a beat in all these conditions or any part of the pavement in-between.
Dusty rocks at Broken Arrow? No problem. Sharp, rocky river beds in Box Canyon? Nothing to it. Twelve inches of fresh snow on the road? Be prepared to be the recovery vehicle!
What to Consider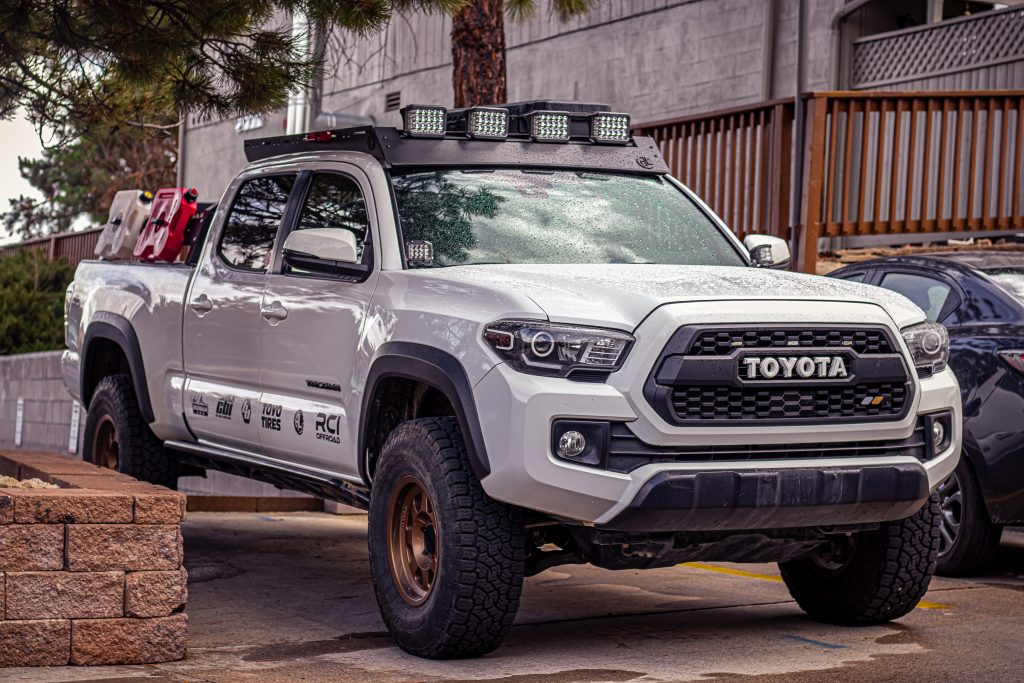 I genuinely haven't found a scenario where these tires showed any flaws. They especially shine in the snow, outperforming any other tire I've come across. They were able to get traction where no other tire could, helping me recover multiple vehicles in the deep, wet snow.
Nothing on any other mid-sized or full-sized vehicle I recovered (all-terrain and mud-terrain) could compete with these tires. My only gripe is the stiffness; if you're taking these tires off-road, I would strongly recommend airing these tires down to 10-15 PSI, or whatever pressure you prefer. I have complete confidence that these tires can handle even the toughest trails while aired down.
Many people seemed to have a problem with the previous version of these tires wearing prematurely or unevenly. While I haven't owned these tires long, I can say they're wearing perfectly on all four corners after inspecting them on their first rotation. They also balanced very nicely, so you won't have to worry about excessive counterweights.
Tire Rating & Comparison Chart
We always find it good to include these charts from the Toyo Tires' website.
They make it easy to see all of the similar tire offerings side-by-side and can help you to make a more educated decision based on your tire needs.
Final Thoughts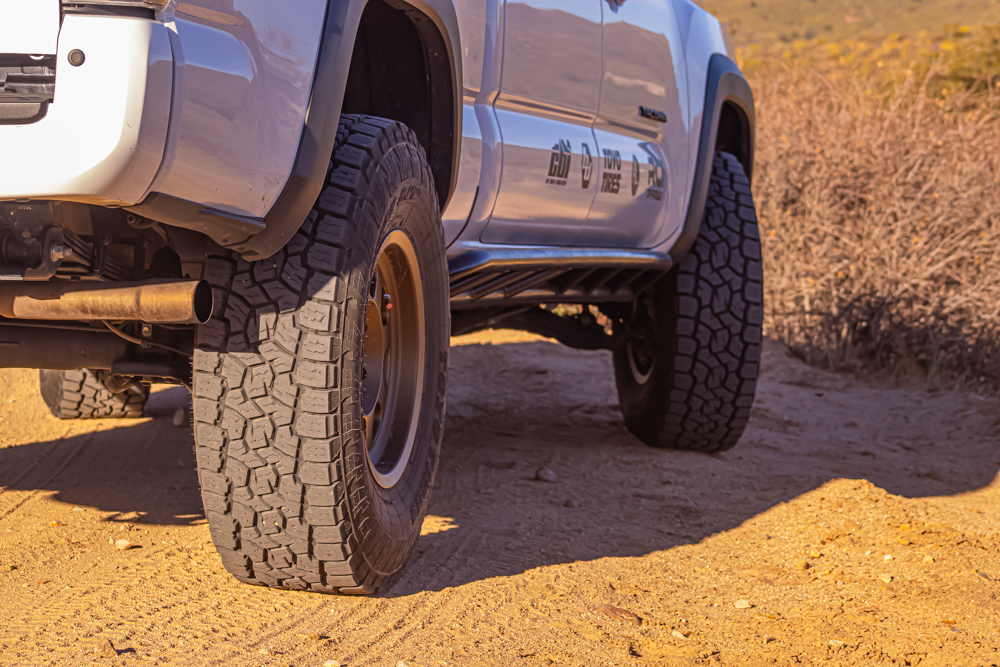 All-terrain tires aren't the best choice for every Tacoma owner. But, if you're looking for the perfect all-around tire that does especially well off-road and in winter conditions, these tires are a no-brainer.
Not many tires can handle everything you throw at them this well. I continue to be impressed with their capabilities in all conditions, but especially in the snow and on wet, icy roads. I would absolutely recommend these tires to anyone considering an all-terrain type tire for their Tacoma.