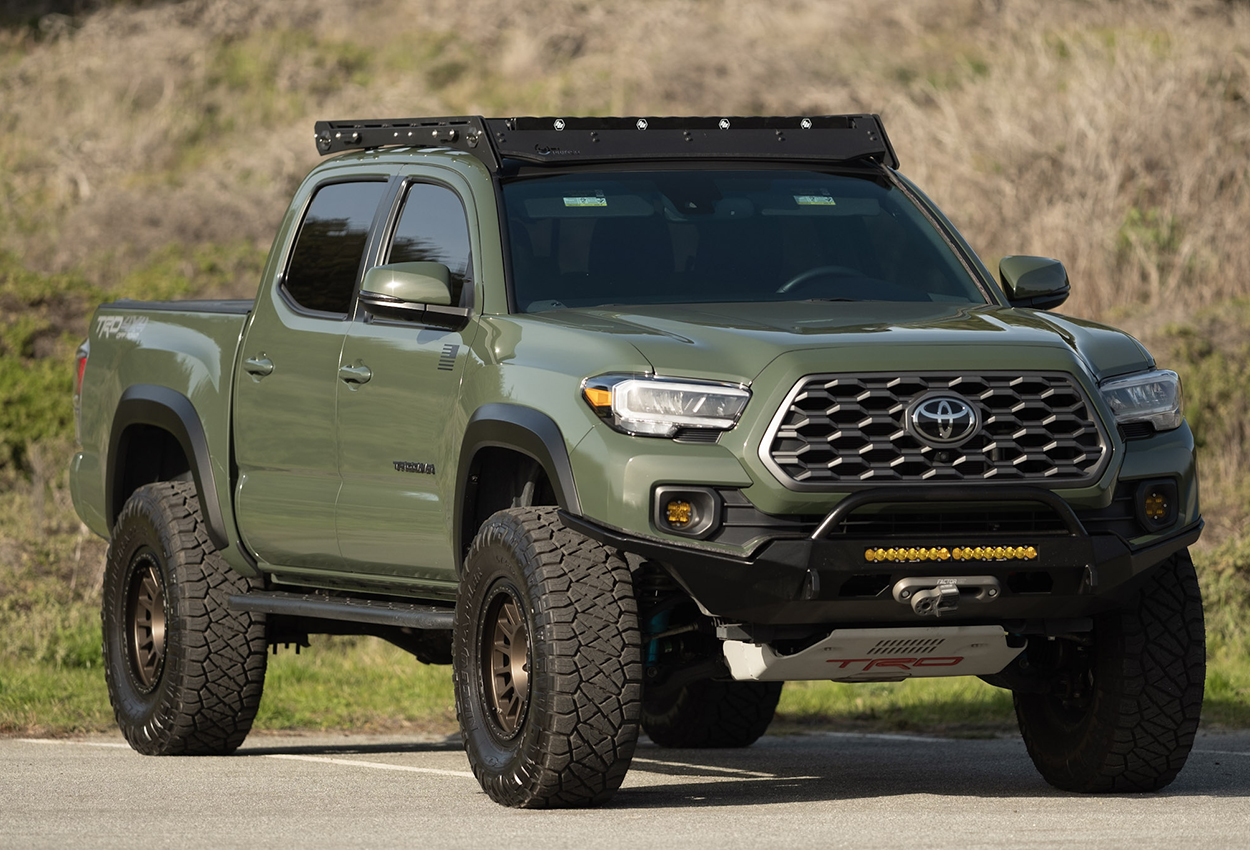 We Asked 6 Army Green 3rd Gen Tacoma Owners What Their Top 5 Modifications Were & Why – Here's What They Said!
This Week's Topic: Army Green Tacomas 
Welcome back to another Taco Tuesday! If you missed last week's TT, we looked at bug/stone deflectors for the Tacoma. This week, we will be taking a look at 6 awesome rigs in the ever popular Army Green color. We asked each owner below what their top 5 mods were, just in case you are new to the Taco scene and aren't sure where to get started with your build.
History Behind Army Green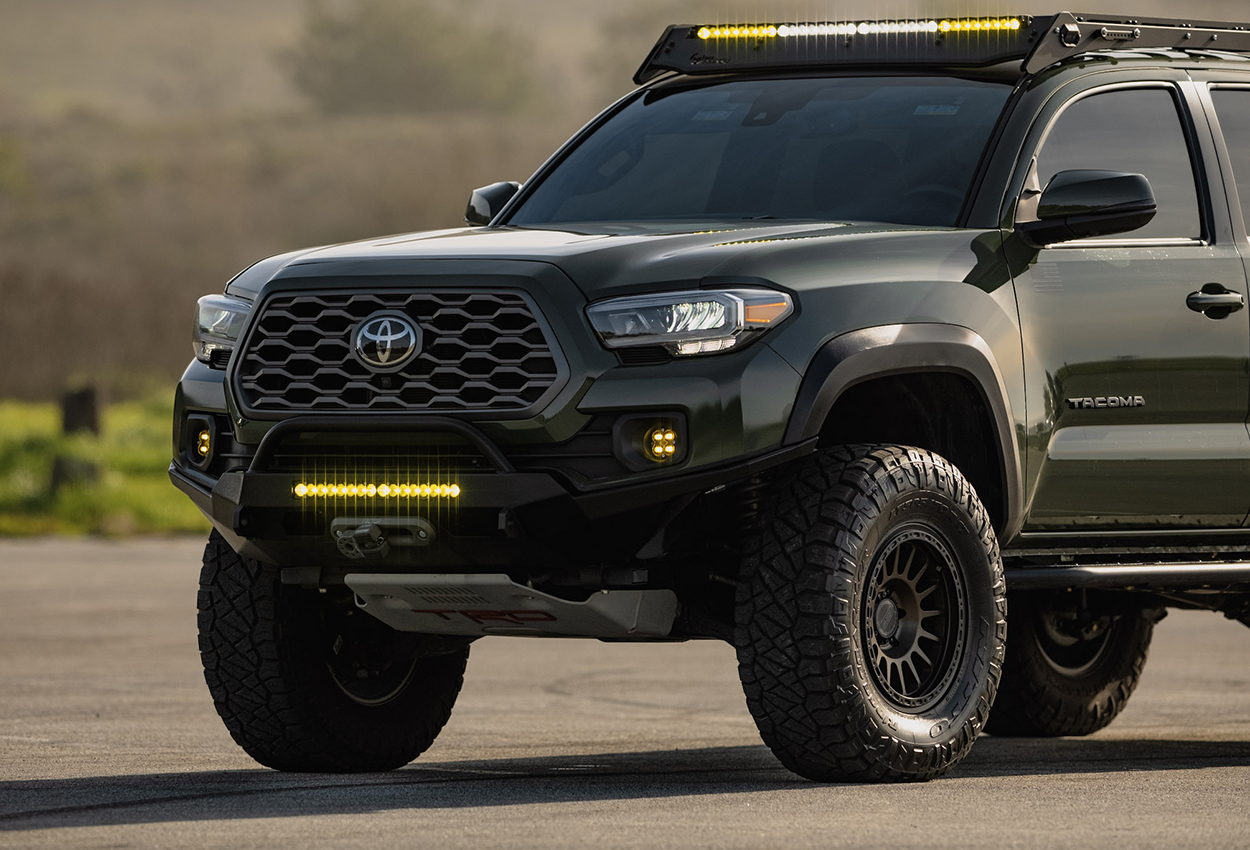 Army Green has been a fan-favorite color on Toyota off-road vehicles since the 2010 FJ Cruiser nearly twelve years ago. The color option was so sought after, that in 2011, Toyota offered it on the exclusive Trail Teams model FJ Cruiser. That made the color even more desirable for buyers looking to get their hands on a new FJC. Flash forward 10 years and Toyota once again offered Army Green as an exclusive color for their TRD Pro lineup.
This color was an instant hit for new Tacoma owners and has become a very popular color choice for TRD Off-Road & TRD Sport Tacoma models for 2021 and 2022. For the 2023 Tacoma model year, Army Green will be replaced by another green color, but this one is a bit bolder: Electric Lime Metallic.
Some quick math will show that Army Green was only available for 3 years on the Tacoma. The first year, you had to buy the TRD Pro to get it. I am curious if Toyota will have Army Green make a return with the 4th Generation Tacoma. Until then, let's look at these 6 amazing builds below!
Enjoy!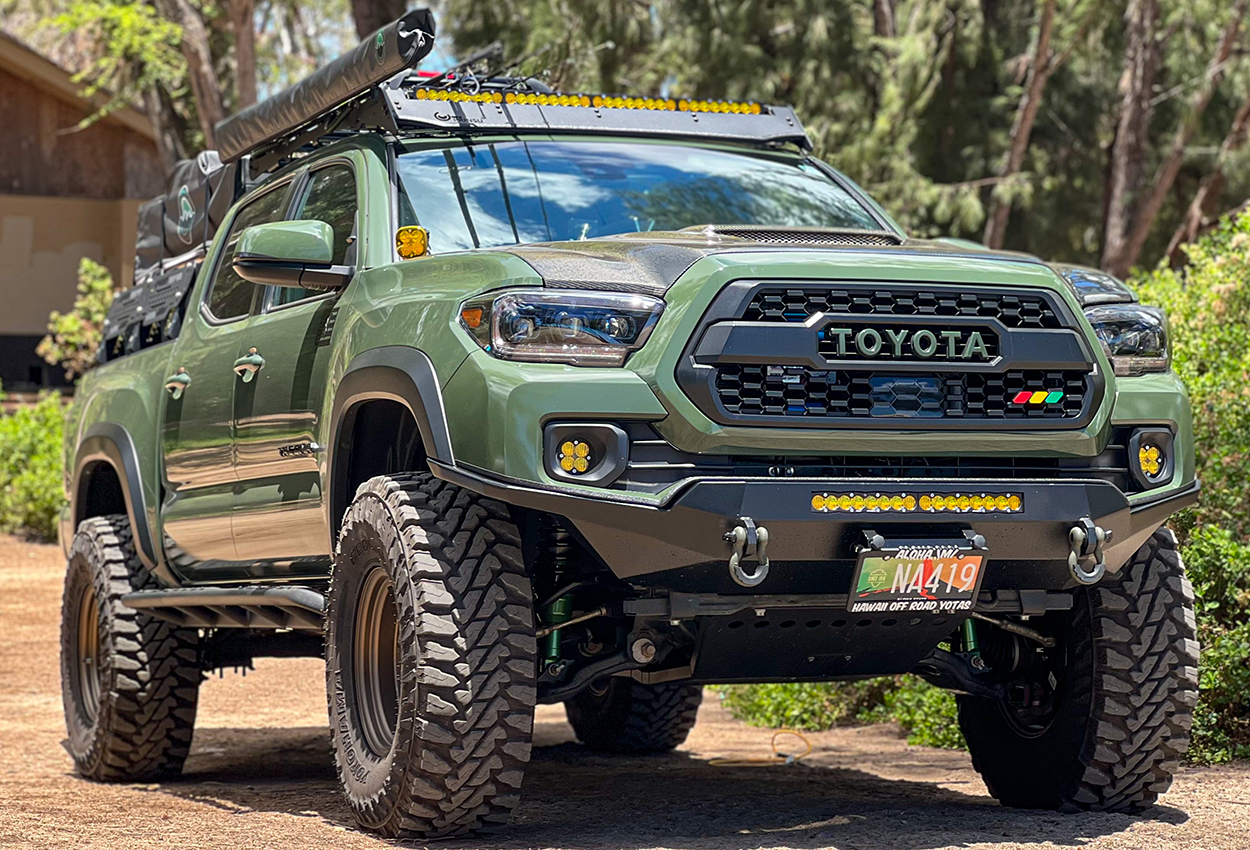 What Are Your Top 5 Mods?
Custom Green King Shocks 2.5 Extended Travel w/ Adjusters

Southern Style Slimline Full Plate Bumper

C4 Rock Sliders

Volk Racing TE37x Wheels w/ 35" tires

Uptop Overland Bed Rack
What Do You Like About Your Current Setup?
My sole purpose was to be equipped to go off-road and fish in remote areas. The secondary goal came in the form of camping and exploring more trails. Not only is my truck equipped for adventures, but it definitely has the looks to tie it all together! It is a one-of-a-kind Army Green Tacoma in my opinion.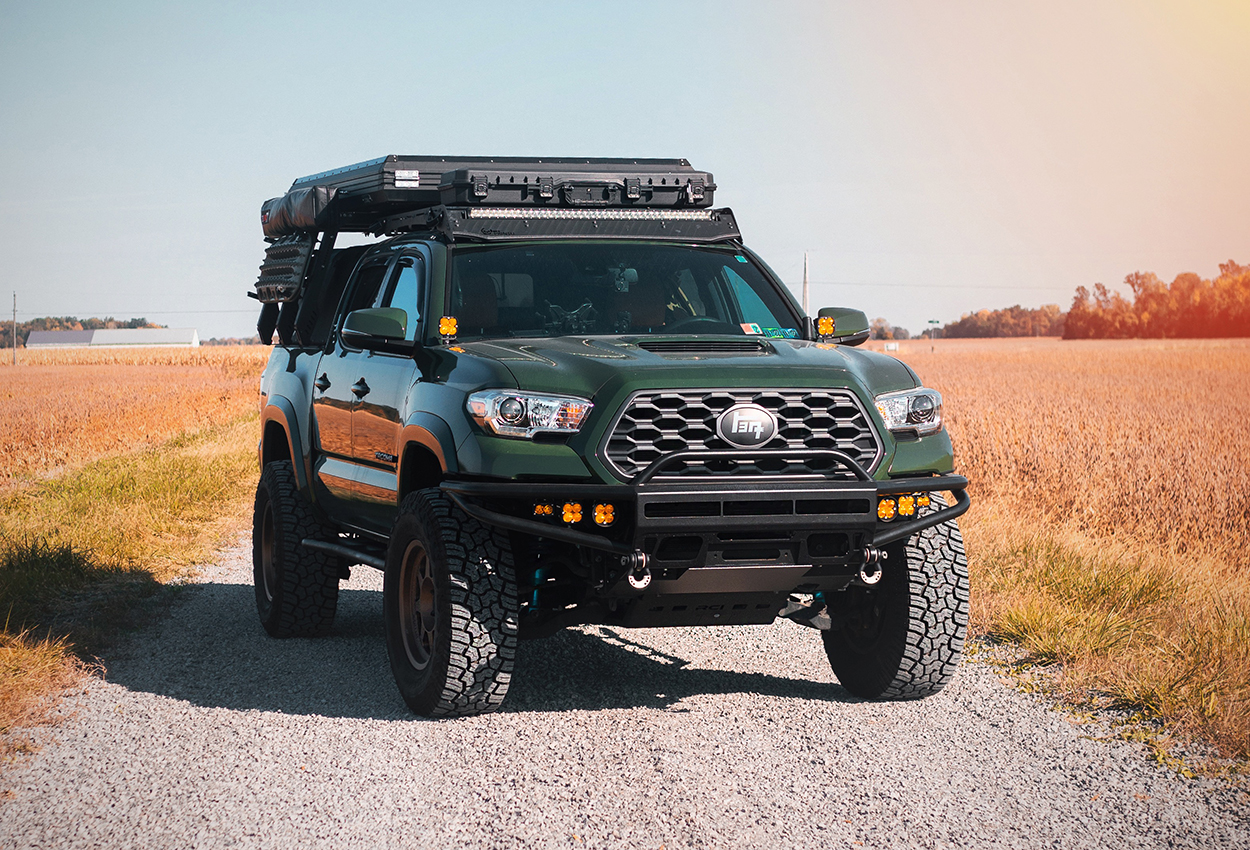 What Are Your Top 5 Mods?
King Shocks 2.5 Suspension




SPC Upper Control Arms

Bay Area Metal Fab Hybrid Front Bumper




upTOP Overland Softopper Truss Rack




23Zero Kabari Hardshell Tent
What Do You Like About Your Current Setup?
The thing I enjoy most about my setup is its functionality and ease of use. All of my camping equipment & recovery gear are able to be stored in my drawer system so I don't really have to pack anything. I can just grab my camera, and some clothes and hit the road.
The set-up and breakdown of everything usually only takes a couple of minutes, which is super convenient. Overall, my build has served me very well, both on and off-road. There's always more to do but I'm happy with how it has turned out so far!
3. Francis (@

matcha.yota

) – 2021 TRD Off-Road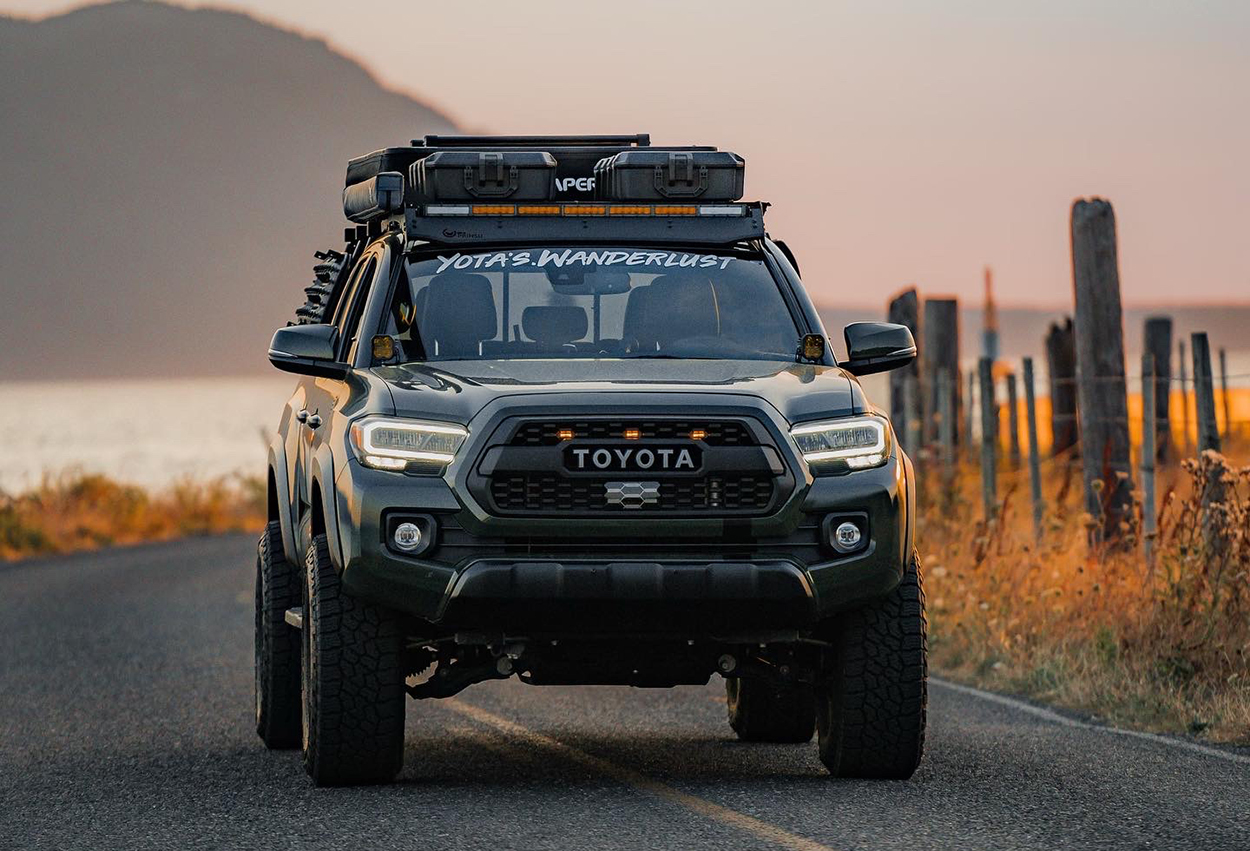 What Are Your Top 5 Mods?
Prinsu Roof Rack

upTOP Overland Bed Rack

Dobinsons MRR

iKamper X-Cover 2.0

Diode Dynamics SS 42″ & SS3
What Do You Like About Your Current Setup?
I like how convenient my Prinsu roof rack and bed rack is. They've given me so much flexibility by adding accessories that I need whenever I go camping/off-roading. Not only are these two racks convenient, but they also look sleek. Also, the quality of these racks and their construction make them really worth it.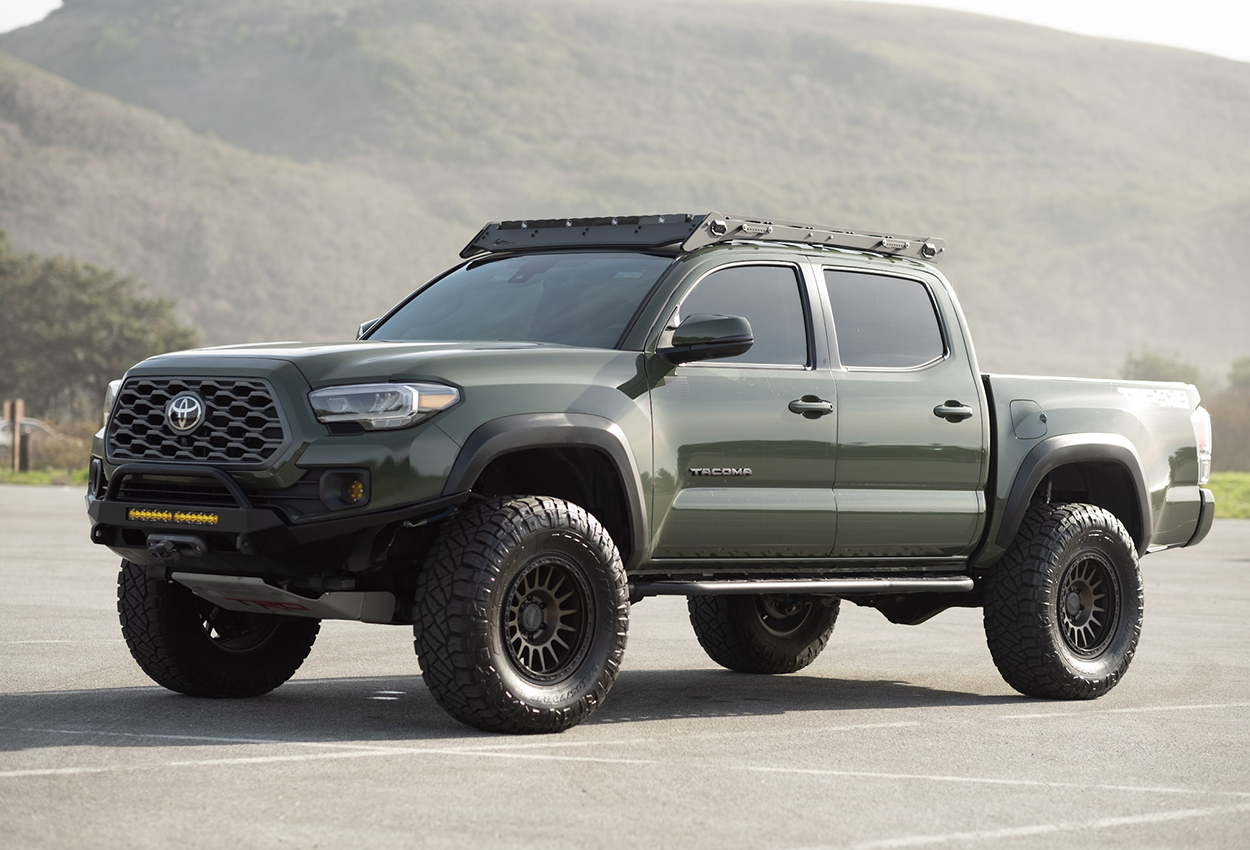 What Are Your Top 5 Mods?
Revolution Gears 5.29 Upgrade




Southern Style Offroad Slim Line Hybrid Bumper




Cali Raised LED Off-Road 0-Degree Step Sliders (Powder Coated + Rhino-X Lined Filler Plates)




King Shocks 2.5 EXT Front Coilovers & Rear EXT Shocks w/ Adjusters (Custom Tuned By Accutune Off-Road)




Prinsu Roof Rack w/ upTOP Overland AAP
What Do You Like About Your Current Setup?
Groot's setup was the result of close to a year's worth of research and hard work by industry professionals like Accutune Off-Road, Sibi Built, and Aiden James Customs.
The setup was specifically chosen to traverse both metropolitan city driving concerns (like parking in low-ceiling city garages & maneuvering in tight-knit areas) and to be a capable weekend off-road driver. It has seen its share of challenging trails and continues to be a joy to drive every day.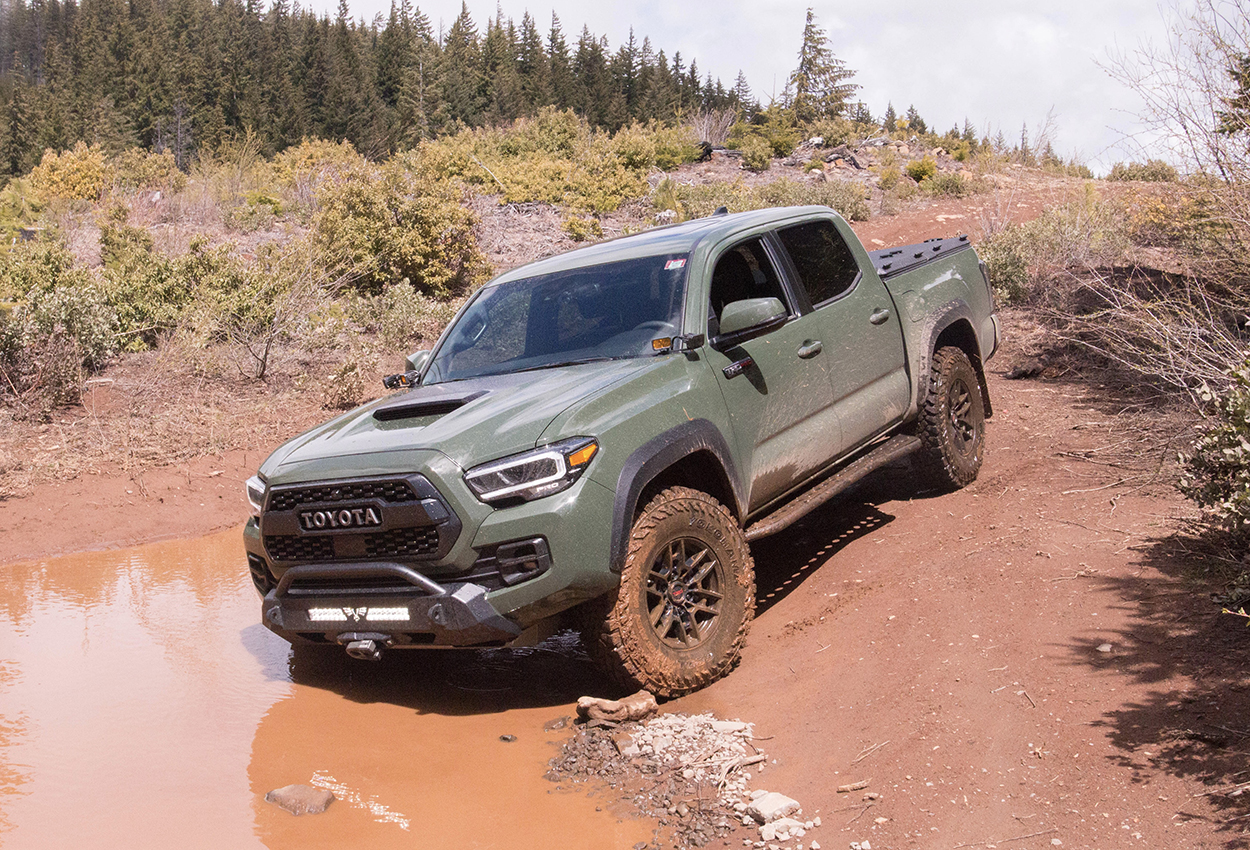 What Are Your Top 5 Mods?
Victory 4×4 Blitz Bumper w/ Warn Winch




Diamond Back HD Bedcover




Yokohama MTs 255/85R16




RCI Steel Skids (transfer, transmission, rear diff)




Cali Raised Rock Sliders
What Do You Like About Your Current Setup?
I just love the Army Green paint color. It looks awesome when it's covered in mud, or when it's clean and in full sunlight. The color changes a lot depending on if it is sunny, overcast, or nighttime. I haven't modified the stock Fox suspension yet because it has been great off-road so far. It doesn't squeak and provides a solid on-road driving experience.
6.
Charlson C.

(@

kuyastrucks

) – 2021 TRD Off-Road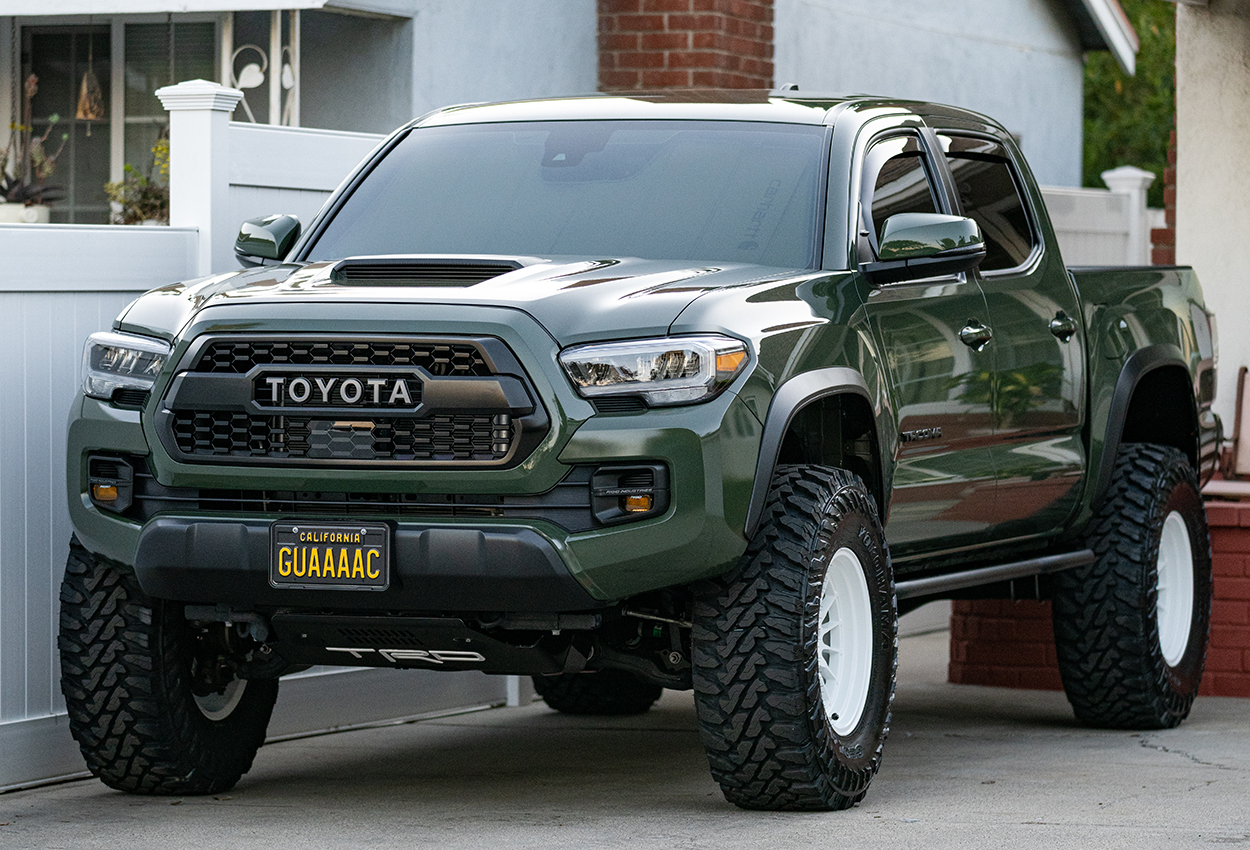 What Are Your Top 5 Mods?
Fox 2.5 Factory Series Coilovers/Shocks w/ Remote Reservoirs & DSC

Yokohama G003 Geolandars | 35×12.5/17

SSW Dakar Wheels | 17×9 | -25mm Offset

Specialty Products Company (SPC) Upper Control Arms

Revolution 5.29 Gears
What Do You Like About Your Current Setup
I love how simple my setup is. I wanted that OEM+ look, but with a lot of performance gain.
It is essentially a lifted truck with big wheels and good internals/components to support the modifications I've done to it, and I couldn't be any happier. This current phase my truck is in also allows me to add more accessories in the future as I see fit, without overdoing it.
For coilovers / shocks, I had a few different setups in mind from different manufacturers. They ranged in all kinds of features, but this particular setup stood out to me the most because of the Dual Speed Compression (DSC) adjustment.
The DSC allows me to adjust and fine-tune the high and low-speed compression of the front and rear shocks via the remote reservoirs. That allows me to have full control of how I want my shocks to perform both on and off-road. This makes the Tacoma enjoyable to drive on the road and insanely fun to wheel in the dirt. The difference is night and day compared to the factory Bilsteins my truck came with.
For tires, I went with the Yokohama G003 Geolandars (35×12.5/17). Before I even bought my Tacoma, I already knew I was going to put 35″ M/T tires on it, no matter what it took.
I love the aggressive look of these tires. The performance gains make it that much more worth it when compared to A/T tires. When aired-down while off-roading, the shoulders and the aggressive sidewall of these tires provide a lot of traction. They really allow my truck to traverse through multiple kinds of terrain. These 35″ tires required a lot of prep to be able to fit them, but I wouldn't have done it any other way.
For my wheels, I have SSW (Formerly known as Summit Offroad) Dakar Wheels powder coated in Gloss White. This is my favorite wheel design for the Tacoma. In my eyes, 17″ wheels paired with 35″ tires have always been the perfect wheel-to-tire ratio for the Tacoma. A 9″ width and a -25 offset give the Tacoma just enough poke to make it look more aggressive, but not outrageous.
These wheels are also only 23.5 lbs, making them fairly light. That was important to me and what I wanted to achieve with my truck's performance. They were originally finished in matte bronze, but I wanted my wheels to be different compared to everyone else's. I had them powder-coated in gloss white, which ended up being one of the most defining modifications I've done on my truck.
When I had my mind set on 35″ tires for my Tacoma, I knew I needed the right suspension components. This was to accommodate the bigger tire size I desired without compromising performance and reliability. The SPC UCAs allow for more travel and articulation with a greaseable ball joint that doesn't squeak. They also have a high caster adjustment that pushes my 35″ tires away from the body mount. This allows for maximum clearance and no rubbing, even when wheeling in the dirt.
The Revolution 5.29 Gears is currently the most expensive modification that I have on my truck. Despite its lack of presentation, the performance of my truck has improved a hundred times over with the re-gear. Fitting the bigger tires was one thing, but having to deal with the loss of performance after fitting the bigger tires was another problem.
Regearing (and tuning) my truck after installing a full suspension kit and fitting larger tires on it helped restore its factory feel and eliminate its sluggish performance. It has made driving my truck uphill less irritating and has made it even more enjoyable when going on road trips or wheeling.
Final Thoughts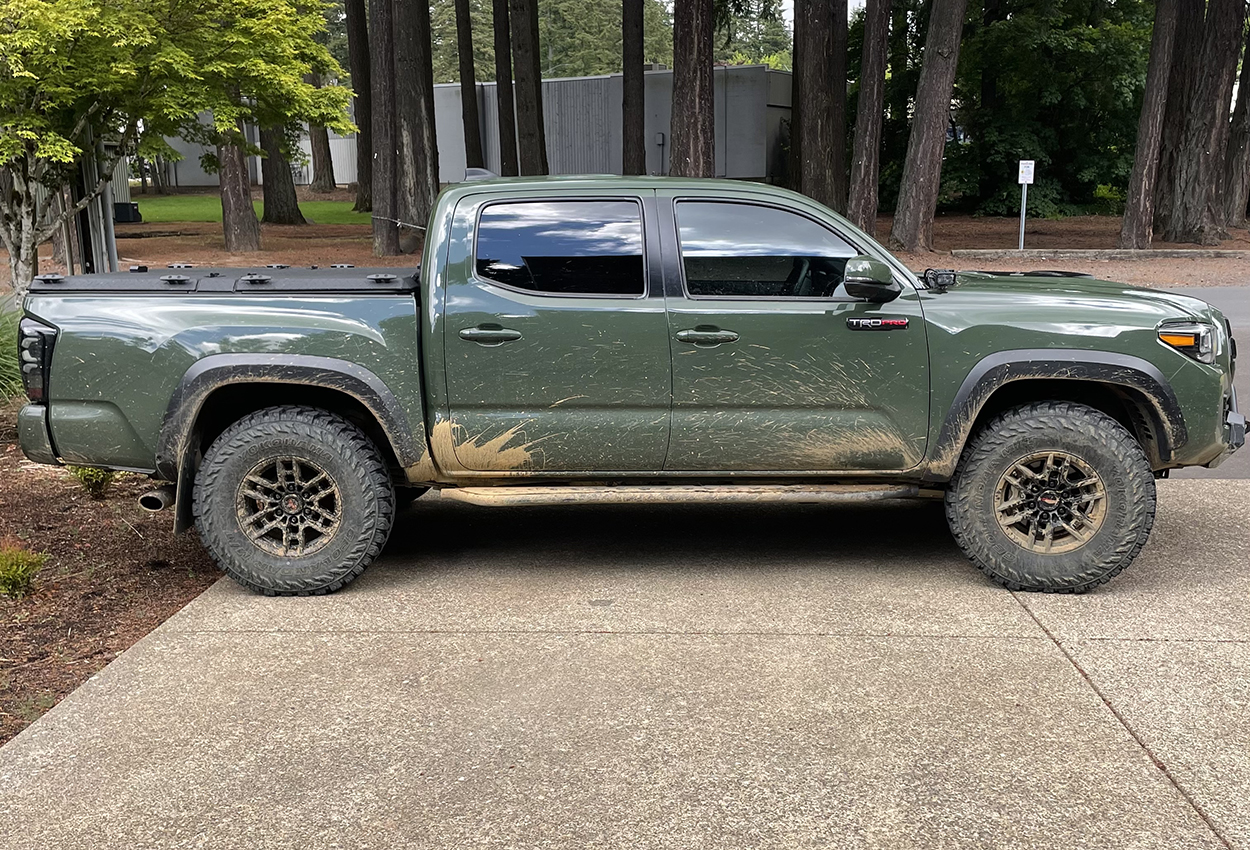 Man, isn't Army Green an awesome-looking color on the Tacoma? As you saw with our user submissions, the color truly does change a bit depending on the lighting. I personally don't like AG on the 4Runner, I'm not sure why. However, I really like it on the Toyota trucks and the FJ Cruiser Trail Teams. What is your favorite Tacoma color? Let us know in the comments!
If you want to be featured for Taco Tuesday, submit your build through TrailTacoma.com/Feature. Next week's Taco Tuesday will be featuring 0-degree rock sliders that owners are running and what they like about them. We're looking for sweet rides to showcase! If this is you and you love your setup, send in your details because we want to see it.
Thanks for reading guys. I'll see you next week!