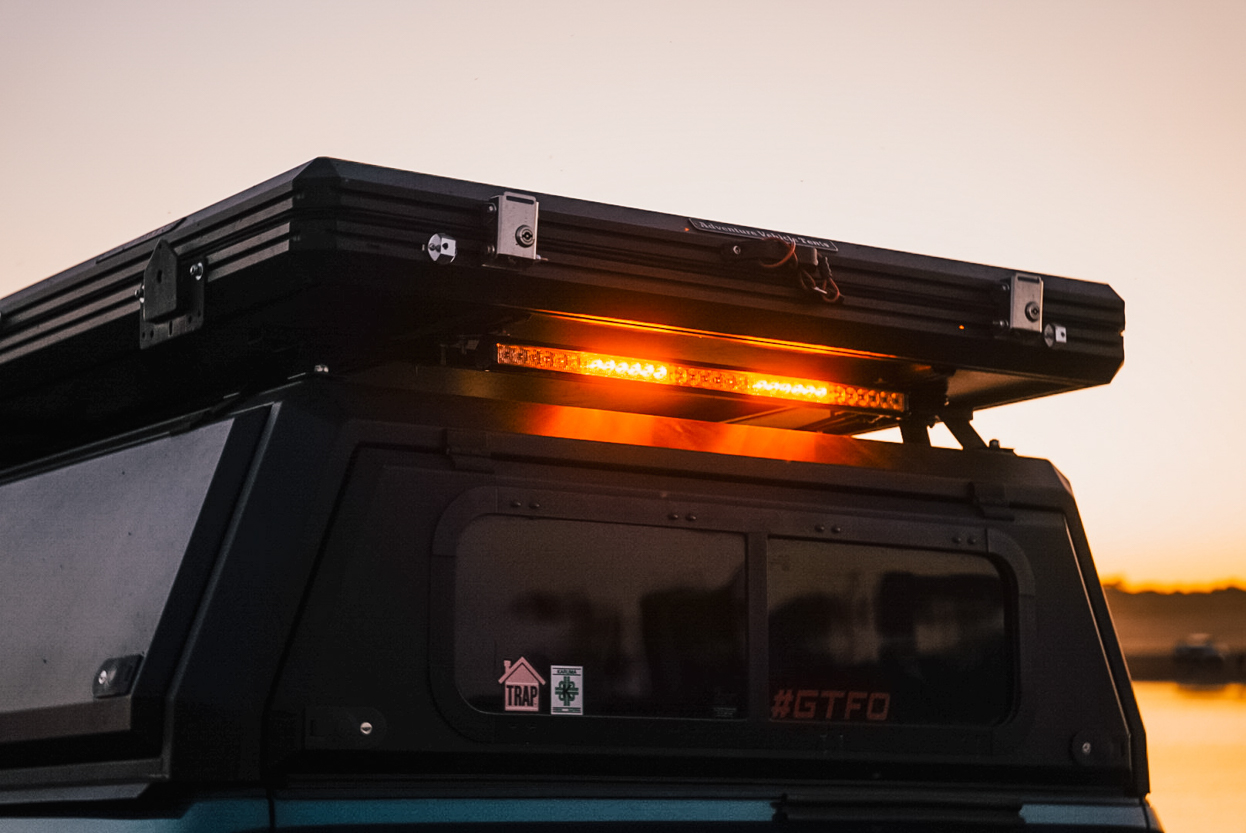 100% Plug-N-Play Rear Facing Chase Bar from Rear Light Bar – Mounted on AreaBFE Hardshell Rooftop Tent: Review & Overview on 3rd Gen Tacoma
There aren't that many dedicated chase light options in the off-road and overland world just yet, but the folks at Rear Light Bar (RLBStore.com) are here to completely change the game. RLB Specializes in the rear light bar chase light – and they are actually the founder of the concept. Whenever you hear of rear light bars or chase lights, you should think of Rear Light Bar.
These lights function to warn or inform the driver behind you that there is a vehicle ahead.
During trail runs or bad weather conditions, the visibility can vary, and these lights are a necessary safety item on the trail, plus… they look super slick!
I have seen many instances in the real world or on trails where vehicles are almost rear-ended because they don't have any marker lights or their brake and/or taillights are too faint. These lights can also be wired to function as an auxiliary brake, reverse light, or even turn signals.
We Expect More Builds to Run Chase Lights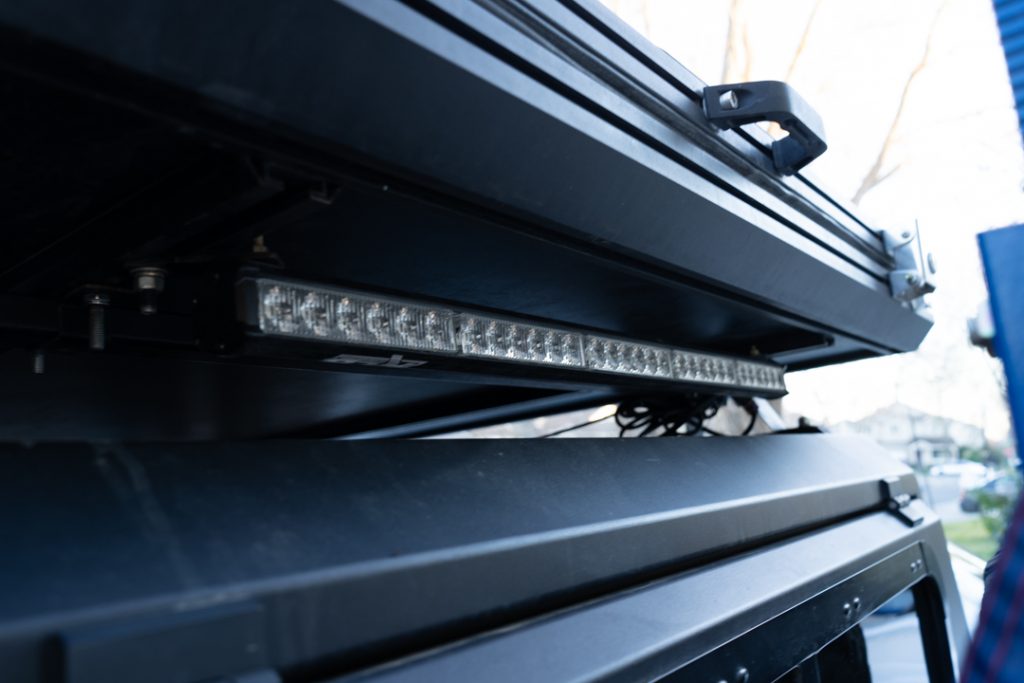 Usually, when you hear about chase lights, you might think of the more popular LED companies on the market.
As we move forward, expect to see more guys breaking into this genre. Outside of making sure your vehicle is well lit during those trail rides, day or night, the RLB LED Chase Lights look great on any rig.
Find It Online
Company Background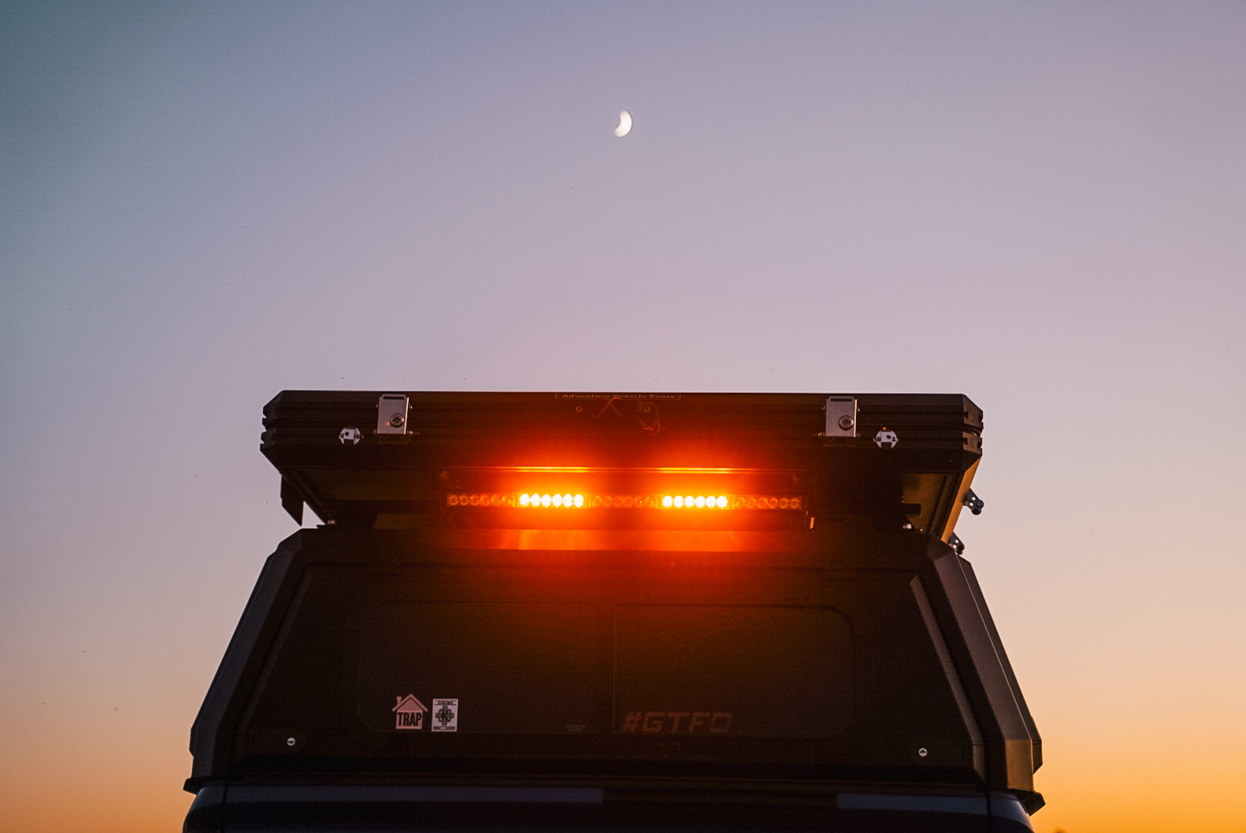 RLB was founded in 2014 by a native Mexicali resident and off-road racer, with a background in engineering. He designed the first all-in-one chase light as a solution to the DIY chase lightboxes and trailer lights everyone was using at the time. What started as a fun side project, eventually bloomed into Rear Light Bar.
From 2014 to 2018, Rear Light Bar evolved, and so did all the competition, copying and putting their own spin on the chase light. Baja actually copied the first rear light bar design from the company Rear Light Bar. If you do your research on when Baja released their first chase light, it wasn't until years after Rear Light Bar.
In November 2018, Rear Light Bar was sold to DeZert-Tek Inc. With a fresh set of eyes, Rear Light Bar was infused with a new team and had the goal to beat out all of the competition.
From that moment to today, everything about the company has been revitalized, revamped, and redesigned to capture the market back with upgraded and updated CREE LEDs, and much more. This included a complete re-branding of the company, a brand new website, and new dealer programs.
Light Bar Models
RLB has completely redesigned the chase lights making them completely plug-and-play. There have been 3 different models that have been introduced: Baja Sur, San Felipe, San Felipe Race Series. These bars cover all forms of off-road racing and recreational use.
As far as we know, RLB is the only company offering not only a plug-and-play chase light, but also the only dual-color, and dual-functioning chase lights. Also, RLB is offering these chase lights in 4 different sizes – 18", 22″, 30", and 36", to meet every race car and recreational user configuration out there.
Other Products & Accessories
On top of all the unique chase lights offered, they have designed and released additional new products including the Pro8 Electronic Programmable 8-Button Switch Panel, the highest quality LED Whips and Day Whips on the market, Cree LED Rock Lights, Plug & Play Pigtails, and Universal Mounting Brackets.
Speaking of rock lights, we've also covered those. Check out the article on the universal LED rock light kit from RLB.
RLB is continuously enhancing its current products as well as developing new products. Behind the scenes, these guys are working hard to develop front LED lighting, which like the chase lights, will be a unique new product with completely new technology. Not just another front-facing LED light bar. So much more to come in 2021.
RLB offers affordable pricing, backed by a lifetime warranty. RLB is passionate about off-roading, providing a high-quality product, and striving to provide excellent customer service is the foundation of their growth as a company.
San Felipe – Dual Function 30″ Rear Chase Light Bar (RAWAR)
The model that I Installed on my AreaBFE Black Series Rooftop Tent, on my 2016 Toyota Tacoma, is the San Felipe Dual Function Rear Bar. If you want to learn more about the tent, check out my initial review & overview here. Additionally, Konrad covered the step-by-step install and setup, as well as the complete long-term review and overview.
Each 20″ rear light bar includes two amber dust lights and red running/brake lights with blinker capability. What makes this light unique, is the ability to control the ON/OFF function of the center reverse/cargo white lights with the rocker switch. A great option for the baja racer, rock crawler, or overlander who wants rear lighting safety and the option for a white work light.
The RLB bars have unique plug-and-play pigtail harnesses for your application! RLB even offers several different sizes of mounts for your vehicle. On top of that, this bar is designed to be super lightweight! Much lighter than any Baja or KC light bar on the market. The majority of their market is for side by sides, and those guys despise weight more than we do. I really can get behind the design of this light bar.
If you are looking for a chase light or rear light bar option for your Tacoma – these guys nailed it!
Features and Specs
LED: CREE LED 50,000-hour life expectancy
vLENS: Hard Coated Optic Poly-carbonate
Housing: Powder-coated Aircraft Grade Aluminum
IP Degree: IP65 Waterproof Housing
Wiring: Sealed Deutsch waterproof connectors
THREE POSITION ROCKER SWITCH: BESEEN Rocker Switch with three positions

1. Strobes OFF (Bottom)
2. Strobes ON (Middle)
3. Dual – LED Color (Momentary Top – Quick press changes 7 different strobe patterns, long-press – 2-second hold, changes between the dual-LED colors).

BESEEN LED illuminated Rocker Switch to fit all factory-installed rocker slots
LED Strobe Light Selectable Functions: 7 functions in total (6 strobe, 1 solid)
Variable TRAC-MOUNT-SYSTEM: Aluminum housing providing a variety of mounting solutions. With 2 mounting slots running the full length of the light bar; 1 vertical (backside of housing) 1 horizontal (bottom of housing)
VOLTAGE REGULATOR: 5V voltage regulator for brake lights, RELAYS NO LONGER REQUIRED FOR POLARIS UTV MODELS
Universal for all vehicles with a 12V power Source
Lifetime Warranty
Power Consumption & Dimensions
30": 30 Watts
29.875″L x 1.750″H x 1.875″W
RLB San Felipe Product Shots – Rear Angle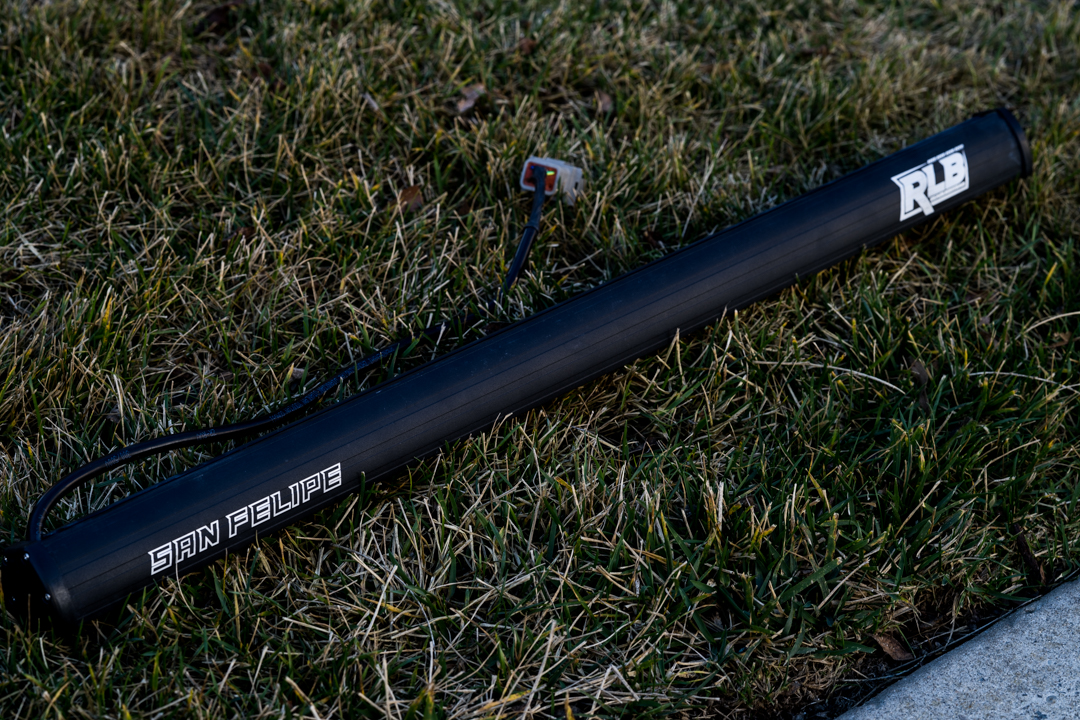 RLB San Felipe Product Shots – Front Angle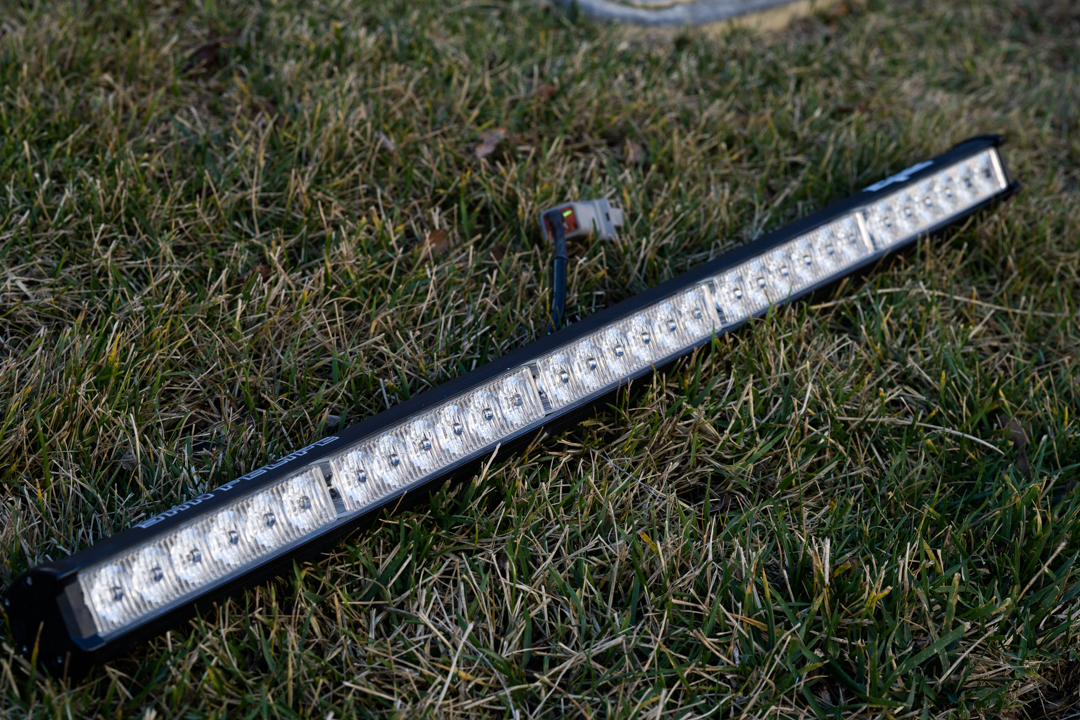 RLB San Felipe Product Shots – Close-Up #1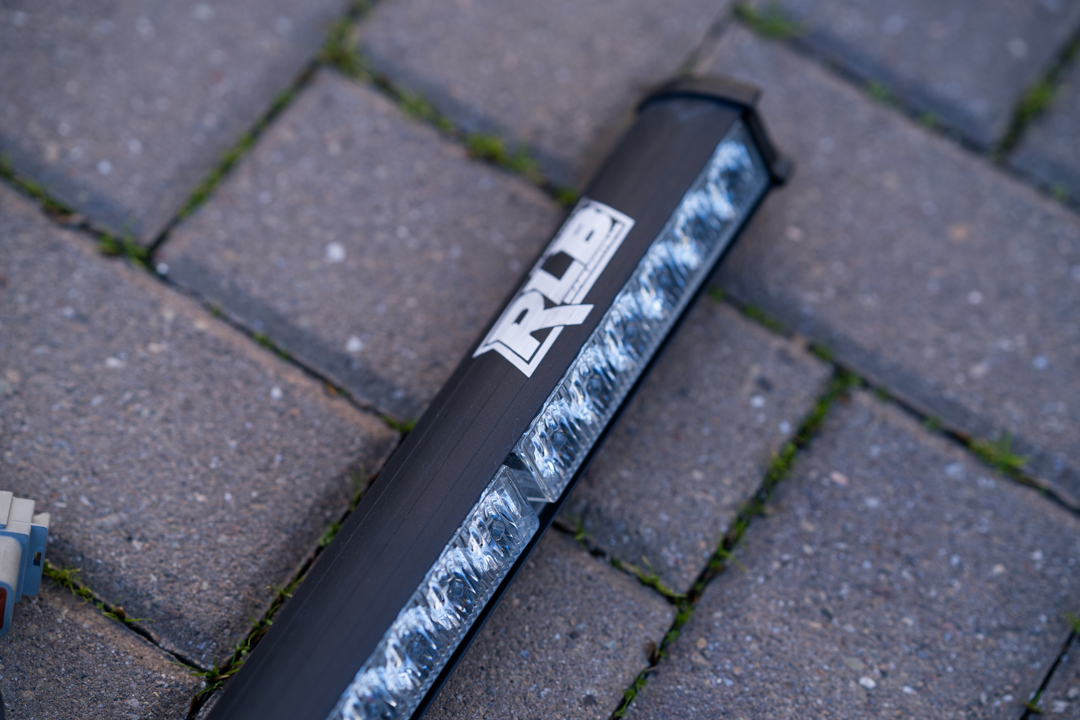 RLB San Felipe Product Shots – Close-Up #2
Final Thoughts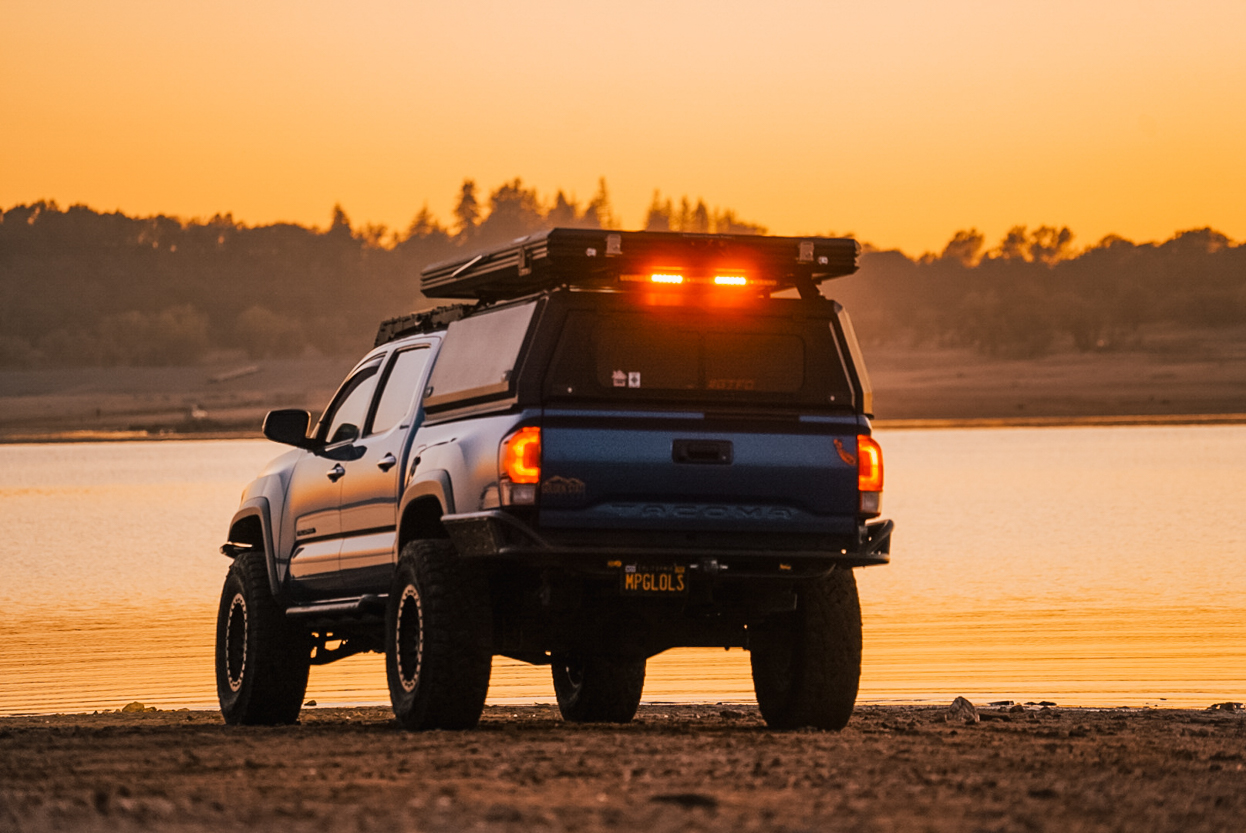 I originally wanted to do an install write-up, but the RLB is so universal and has so many options, that this install may not work for everyone. I was actually able to use the tracks underneath my tent as mounting points for the lightbar. For Toyota's, a roof rack or a bed rack may be the best option if you are trying to mount the bar on the rear of the vehicle.
The install was fairly easy but you may need to extend the terminals a bit to reach the battery depending on where you have it located. The switch also must be close enough so that you can mount it inside the cab. I ran it through the firewall to make sure I had enough slack, and then back down through one of the floorboard plug-holes, then to its permanent mounting point.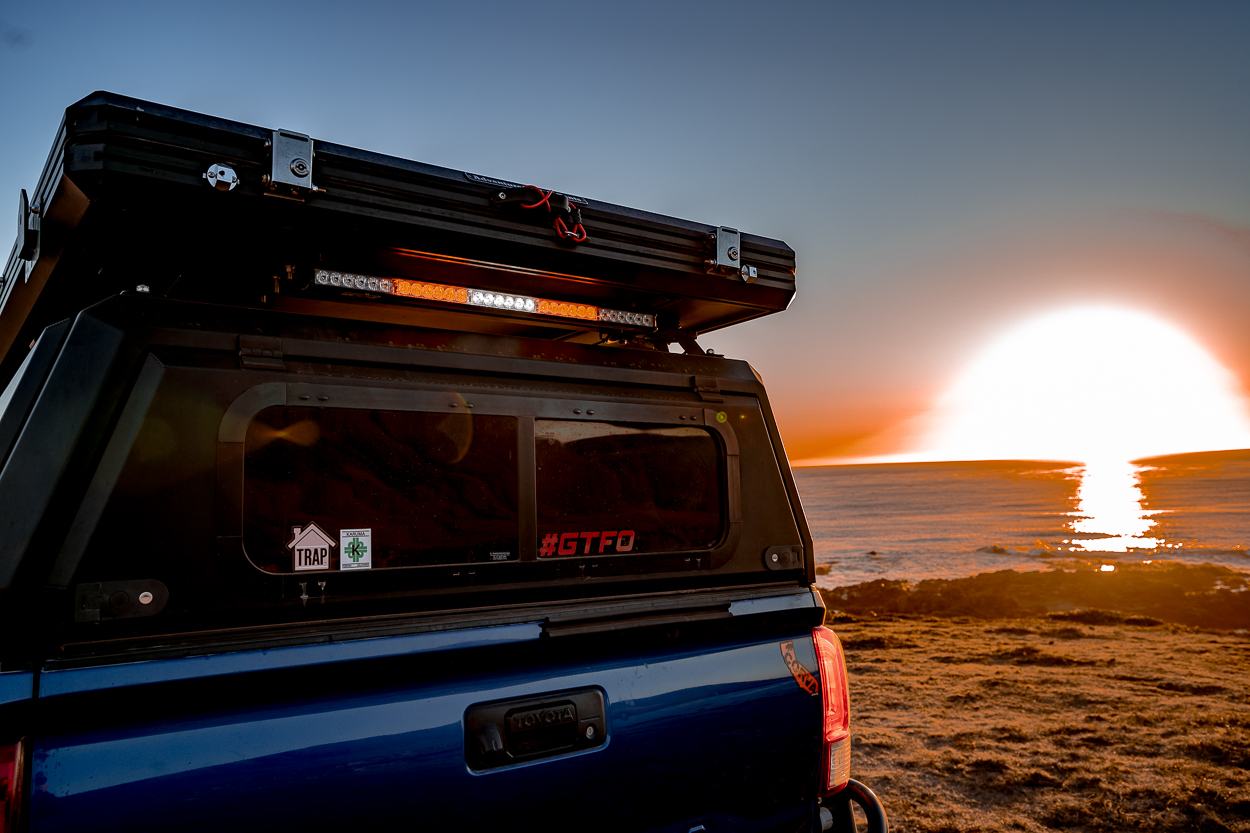 Since I Installed the bar it has been great, we took it to the deserts of Nevada, Big Sur, and most recently, Death Valley. Everyone is really impressed by the light output and functionality.
The light actually also plugs into my trailer pins so that the lights work with my brakes and turn signals. I have not installed it yet because I am trying to figure out the cleanest way to run the wire to the bottom of the truck, which may be on a follow-up article, down the road.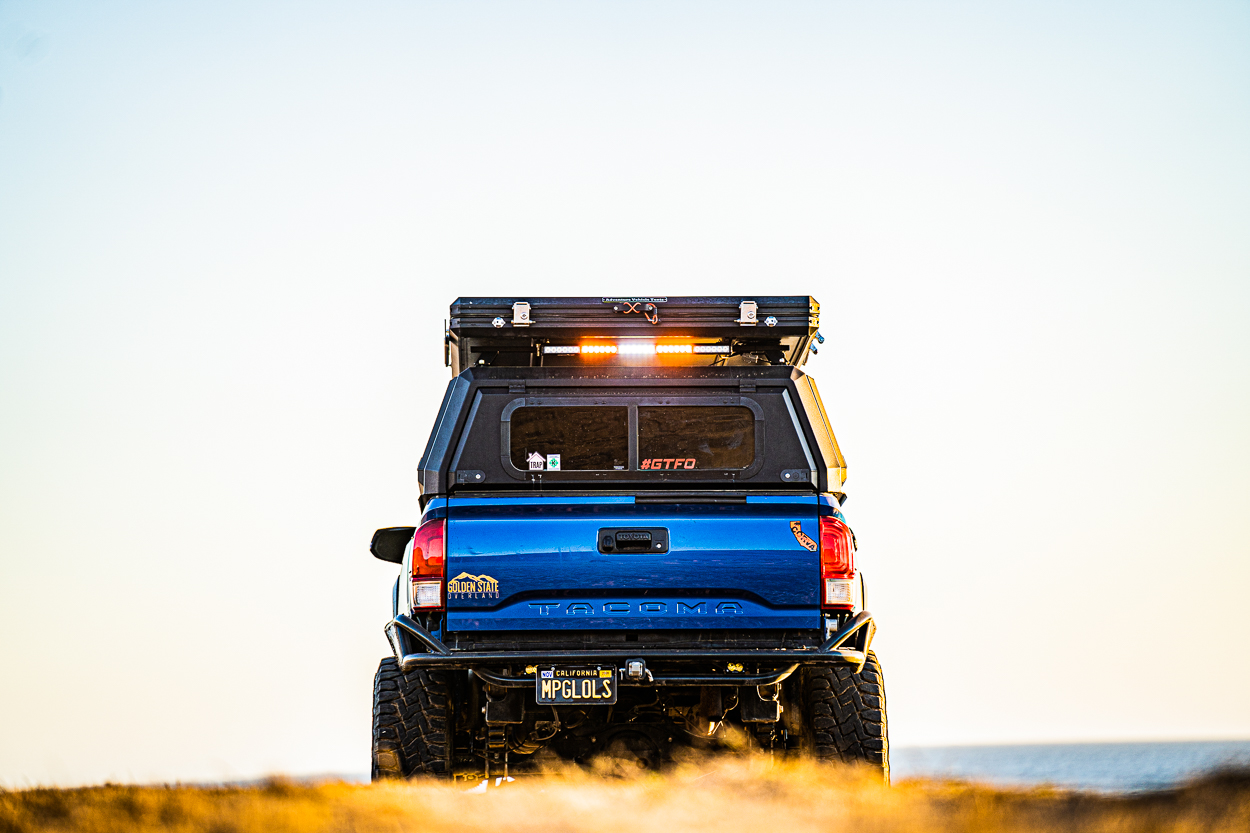 I can't say enough good things about this light, it has more features than similarly-priced competitors that only allow you to use white or amber chase light options. It's definitely a cleaner look than most chase lights available now as well. Knowing that RLB stands behind their product with the lifetime warranty they offer, you shouldn't hesitate to purchase this product!