Complete Aluminum Skid Plate Package from Element by RA Motorsports – Long Term Review & Overview For the 3rd Gen Tacoma
If you've been following along with the Trail Tacoma build, you already know that I'm running a full skid plate setup from Element.
If you're just tuning in, you can see the earlier coverage on these skid plates below: 
This article will cover my experiences over the past few months and give you, the reader, a super solid overview of the skid plates themselves, and how they performed throughout various climates, terrains, and off-road challenges.
I'll also be diving into a bit of company history for RA Motorsports. This should give you a better idea of who you're buying from and why these skid plates might be a great choice for you and your Tacoma build.
For reference, these skid plates are on my 3rd Gen Tacoma, but they will also fit a 2nd Gen Tacoma. So this review applies to both. Let's get started by learning a bit more about the team at RA.
Find them online:
DISCOUNT CODE
If after reading all of the associated articles, you're ready to pull the trigger on a set of these, RA Motorsports hooked us up. The team has extended a discount code good for 5% off any order on their site.
As of 9/22, these guys are offering $50 flat rate shipping on all US-based orders. This currently only excludes rock sliders due to weight.
Use code – trailtacoma – at checkout.
Company History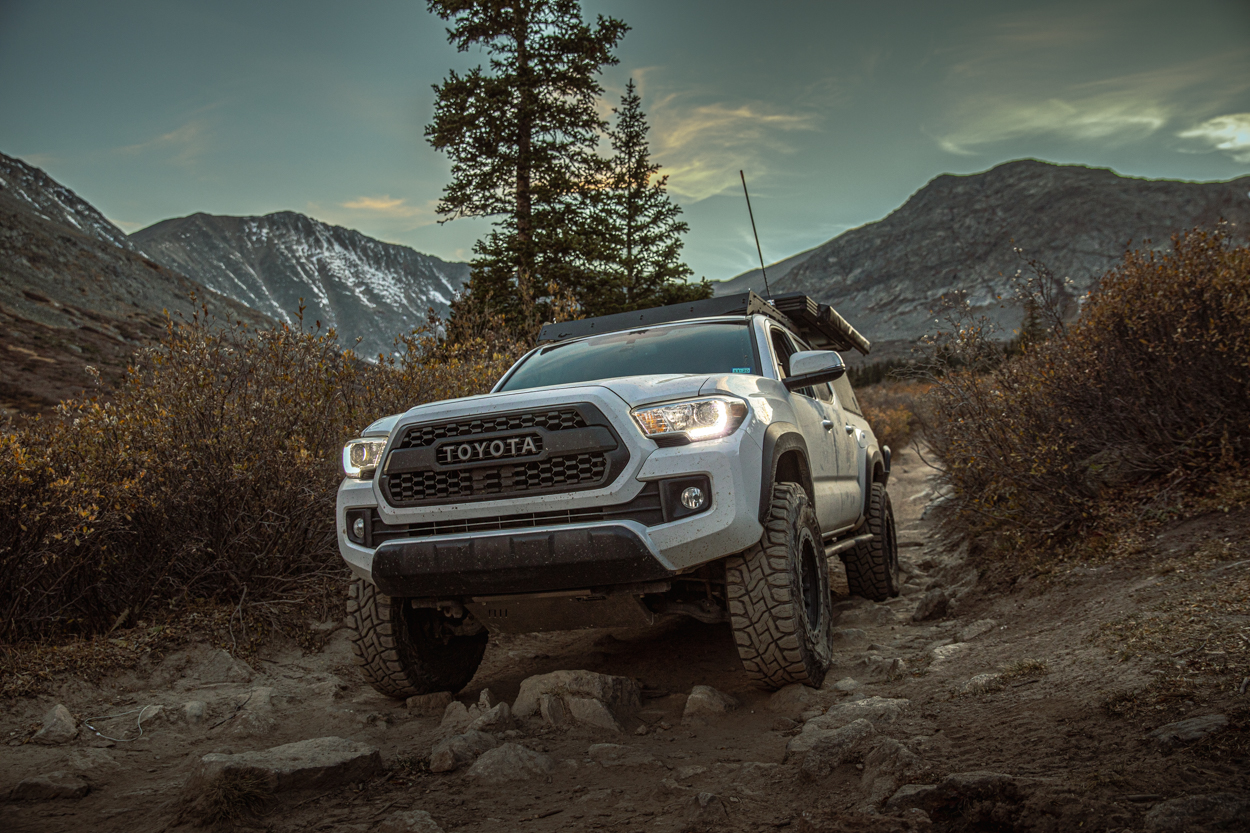 RA (Record Attempt) Motorsports is a company with humble roots.
The company was founded by Matt in 2007 while he was still in high school. The primary focus was on being a JDM vehicle importer. In 2008, Matt began to design skid plates, heat shields, and radiator shrouds for his personal Subaru. These products caught the attention of the community and blew up in popularity.
Matt is a self-taught designer and engineer. In the beginning, he was able to successfully work as a full-time fabricator on a part-time schedule. This was possible due to access to top-of-the-line and competitive facilities and resources from his family's metal fabrication shop.
This shop wasn't your standard mom-and-pop place. Matt had the ability to work out of a 25,000 sq ft shop with multiple breaks, CNC machines, welder and in-house powder coating. The possibilities were almost endless.
New Division – Element
The company's operations slowed as other life and job responsibilities set in. After a few years, in 2015, and a bunch of new friendships, the RA Motorsports brand was infused with a new addition in the form of Element. Laski joined the team, bringing years of experience from advertising and wrenching.
The interest in trucks and camping grew, and the duo quickly realized they wouldn't be happy until they designed their own options for the Toyota space. They started by building products for Laski's Tacoma and demand increase quickly and that blossomed into multiple clients and retailers. Both Laski and Matt were, and still are, obsessed with detail, creativity and real-world performance.
Today, RA is responsible for producing high-quality products for track and urban vehicles and Element has a strong focus on trucks and the outdoors.
Form & Function, No Compromise
The main goal is to produce parts for the car and truck enthusiast. The team aims to produce well-priced options that are first-rate. Being a local business, RA Motorsports tries its best to help support other local businesses and expertise.
A defining difference with RA from the beginning is the drive to create options that are strong enough, that can handle a good amount of abuse while maintaining clean aesthetics. Not gonna lie, I really like their designs. They're clean, simple and tasteful. Like this Flat-Pack Firepit… how rad is that?! Might need to grab one of these too.
Besides skid plates, Element also has a few other notable products: roof racks, canopy racks, rock sliders, bed crossbars and bed molle panels. And there's more! Check out their site to see their full line of products.
What's New?
In 2020, RA added another new member to the team, Cale. They also have a retail space and they're consistently burning the midnight oil to research and create new and exciting products. Positive customer service continues to be a focal point for the trio.
At the end of the day, the entire team is enthusiasts, first and foremost. Feedback is crucial to the model. The company tagline – "Escape With Us" – perfectly embodies the goal of the brands, which is to escape the daily mundane and hit the track or trail!
Specifications & Features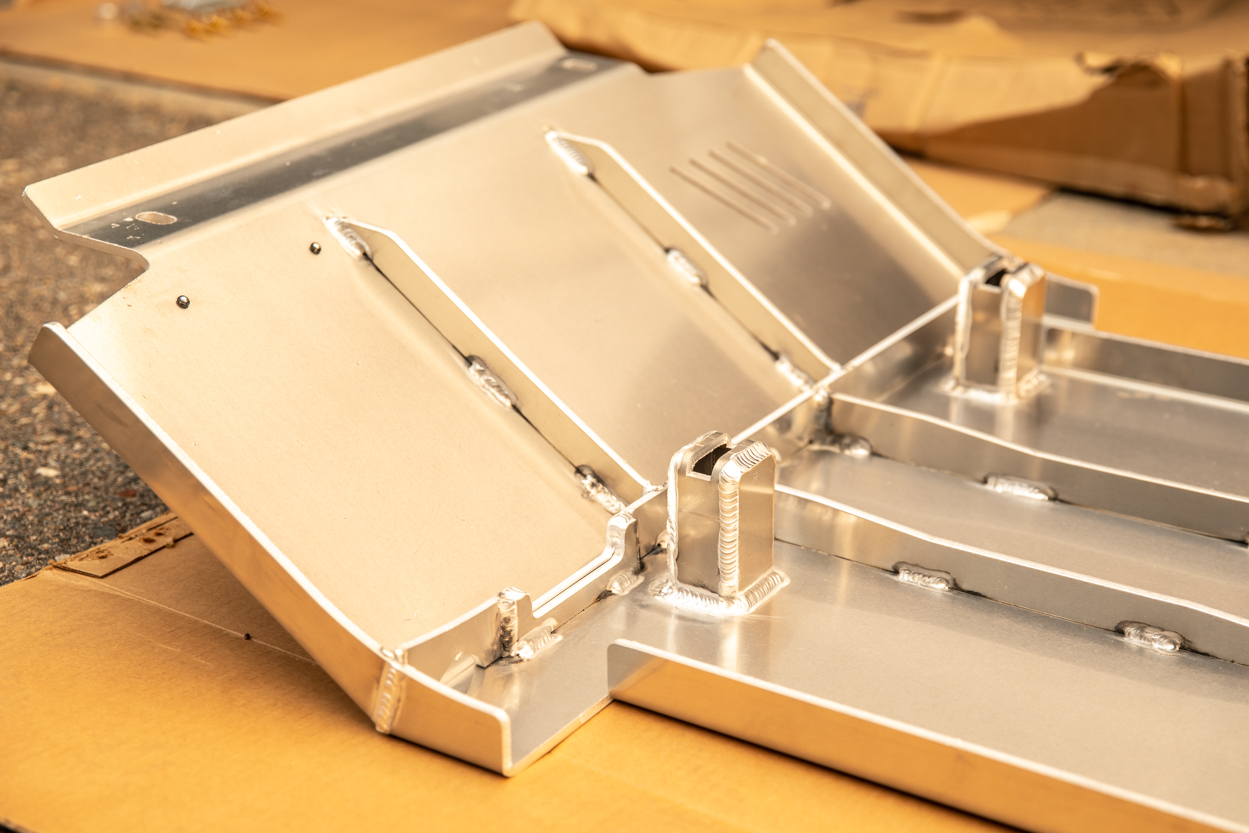 Element offers a couple of options when purchasing their skid plates. Let's go over these options.
Element Skid Plate Options:
1/4″ 5052 Aluminum
Fully TIG Welded
Flanged Hardware Included (Grade 10.9)
Compatible with Differential Drops
Quick & Easy 1-Person Installation
Flat Bottom Design (Seamless Plate Integration)
Purchase Raw Aluminum or Powder Coated
Medium Duty (Overland) Reinforced OR Heavy Duty (Moab) Reinforced
Those are some pretty impressive details. I opted to go with the raw aluminum, Moab choice. I had never run aluminum skid plates, and like most of us, I had heard stories that made me think twice and I knew I would be subjecting these skids to some serious abuse. More on their off-road performance soon.
The image above highlights the great craftsmanship and hard work that goes into building these skid plates. They definitely look good, the welds are super clean and the reinforcements are beefy. As for the gas tank skid plate, there is no Moab offering, but it has flanges on all four sides, which greatly increases strength and rigidity.
Seamless Integration Between Plates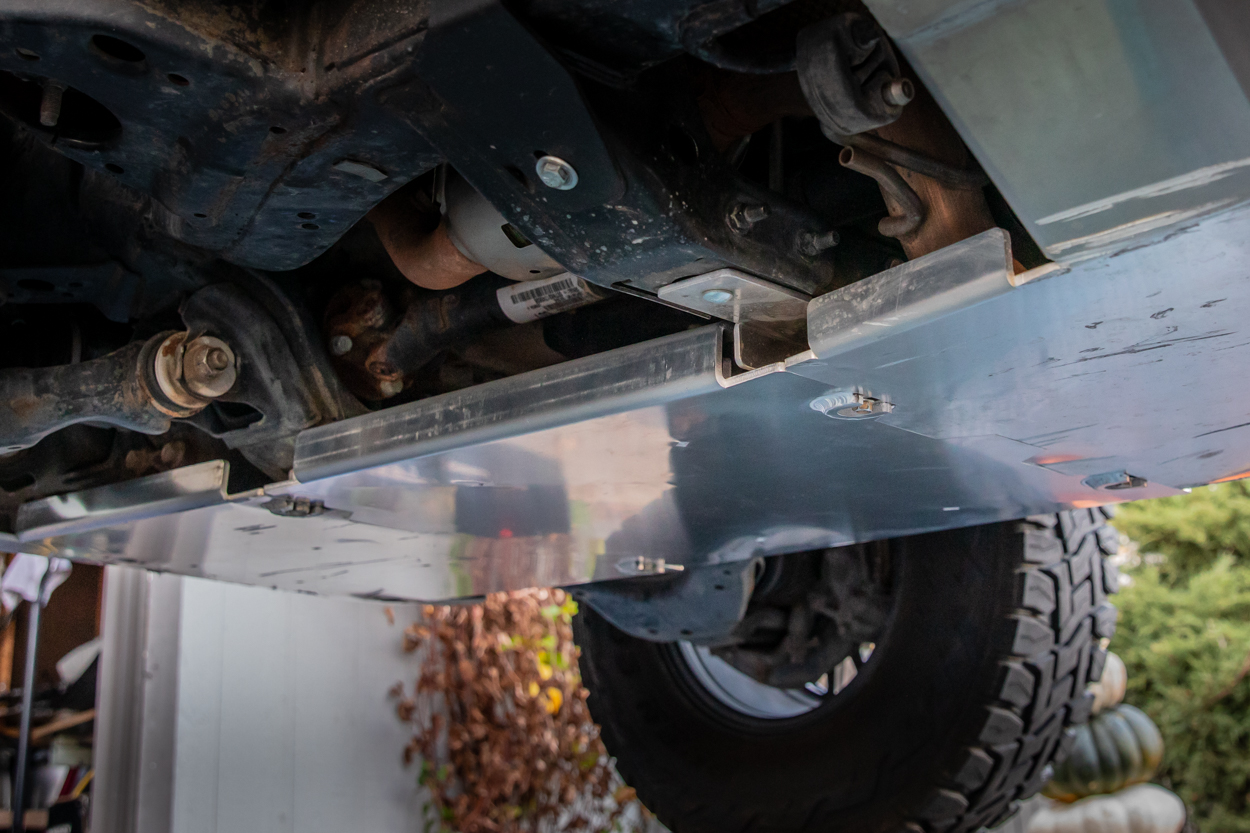 One feature really differentiates Element from the rest of its competitors.
The skid plates have large teeth that help to integrate each skid plate to the next, uninterrupted. There are no ledges as the skid plates overlap each other. This helps to create a smoother surface that shouldn't get caught up as much on obstacles. The result of this integration is a unique, sleek look that really gives these skid plates their characteristic appearance.
Installation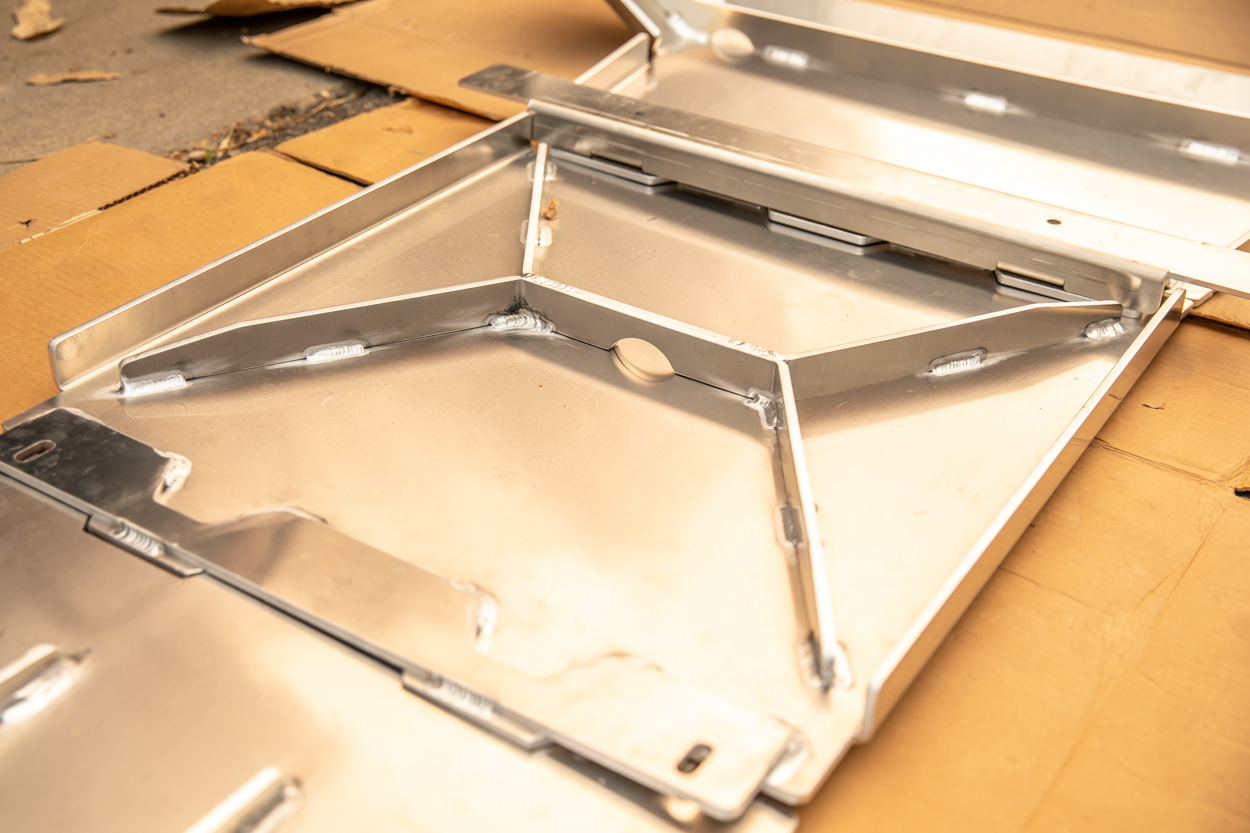 Since I linked the previous install articles at the beginning of the article, I won't go too deep into that process here.
Simply put, the installation is fairly quick and can be handled by anyone with basic tools. The fact that these plates are so lightweight means that you can easily put them on or take them off, even if you're solo.
Trail Report
Once I installed the skid plates, barely 12 hours had passed before we were rolling up to our first trailhead. I had just added new RRW RR6-H wheels, RRW rock sliders, some Toyo Open Country R/Ts, an AreaBFE rooftop tent, and, of course, the Element skid plates. It was time to put everything to the test.
Tough Trails
The first trail we hit was on the upper end of the Colorado difficulty rating used by the most popular local guide books. It was recommended to me by a friend who is local to the area and knew that I was looking for a challenge. I was well aware that all the new parts, and especially the armor, were going to be tested more than once.
The entrance to the first trail was a medium-sized rock garden and the skids got their first taste of boulder. The first few hits were minor, and outside of some minimal scratching, there was zero damage. We continued, banging our way through several more rock gardens, each one more difficult than the last. The skids took a few big hits, and everything seemed to be going well.
Bad News
Later that same day, I looked under the truck to check for damage and I found an issue… The mid/transmission skid plate? It was almost folded in half! I had no idea how that was possible and we still had a few days of trail riding left. Now, you might be thinking that these skid plates might not be the best choice. Don't lose hope just yet. The next section will really highlight what makes me trust the team and the products from Element.
We'll get back to the trail report after highlighting what could have been a very frustrating scenario.
Badly Damaged Skid Plate… Now What?
To be completely honest, I was shocked. I had heard that aluminum is weaker than steel, but I couldn't even recall the impact that caused this to happen.
As you can see, the skid plate was deflected a good four inches or so. It wasn't loose or anything, and I attribute that to the seamless interface between the individual plates. They sort of lock together. Anyway, we finished wheeling over the next few days, and we didn't have any other failures. But more on the rest of the trip in a moment. What happened when I got back was an excellent example of humility and the desire to consistently improve product performance.
Epic Service
I called RA Motorsports as soon as I got back home, and I explained the situation. I even sent over several images and videos, to outline the extent of the damage. The guys were super responsive. They told me this had literally never happened before, to anyone, like ever. There was a noticeable response right away. After seeing everything I sent over, Element went back to work almost immediately, and the engineering team redesigned the skid plate within two weeks.
Once the new design was finalized, I received a notification that a brand new, redesigned skid plate was heading my way. Now THAT is some serious commitment to being the best. Some companies are difficult to get ahold of for basic questions in such a short time frame – Element had a new skid plate at my door in under a month from when we first spoke.
I don't know about you, but I found that super impressive. How quickly the issue was resolved didn't even have me concerned about the inconvenience of the damaged piece of the belly skids. The new skid plate design basically beefed up the outside-facing portions of the skid. The team added a c-channel to address the weak point that had caused the mid/transmission skid to buckle.
Ahead of the Game
I think this is a good time to touch on something I observed while doing more research on aluminum skid plates. As far as I can tell, many companies that offer aluminum skid plates have a similar design to the Element mid/transmission skid plate. Worse, these other guys don't offer a reinforced option. With or without the reinforcement, I haven't seen a c-channel added to the sides for additional support. This means, that eventually, the other designs are likely to fail in the same way. And in that case, this whole experience puts Element way ahead of the game.
Trail Report… Continued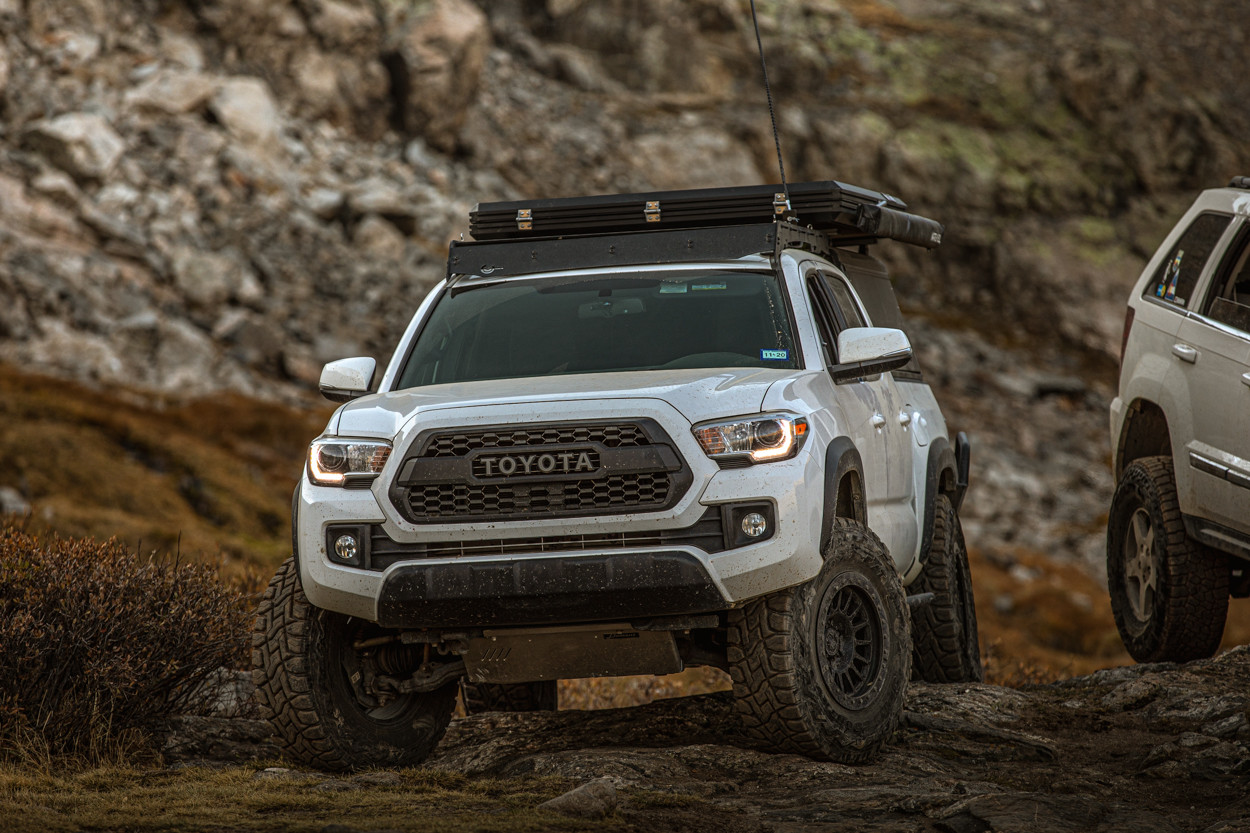 Alright. Now that we know about the dedication at RA, let's get back to the rest of the trail report.
Tough Day of Wheeling
The first two days of wheeling only caused the damaged that I had just addressed. There really wasn't too much to complain about. The rest of the skid plates did well. On our final day of wheeling, we went out with some of my local buddies to hit a trail that was more difficult than pretty much all of the trails any of us had run in the past.
No Time for Photos
I wish that I was able to get more images, but I was the main photographer for our group, and between spotting, driving and coordinating our next move, there wasn't a ton of time to snap photos. Not to mention, we had gotten a late start to the day and ended up driving the end of the trail in the dark. Bottom line… there were some big boulders and a ton of technical spots to navigate. The front skid took the brunt of the impacts and there were a couple of times where I thought I had broken another skid plate.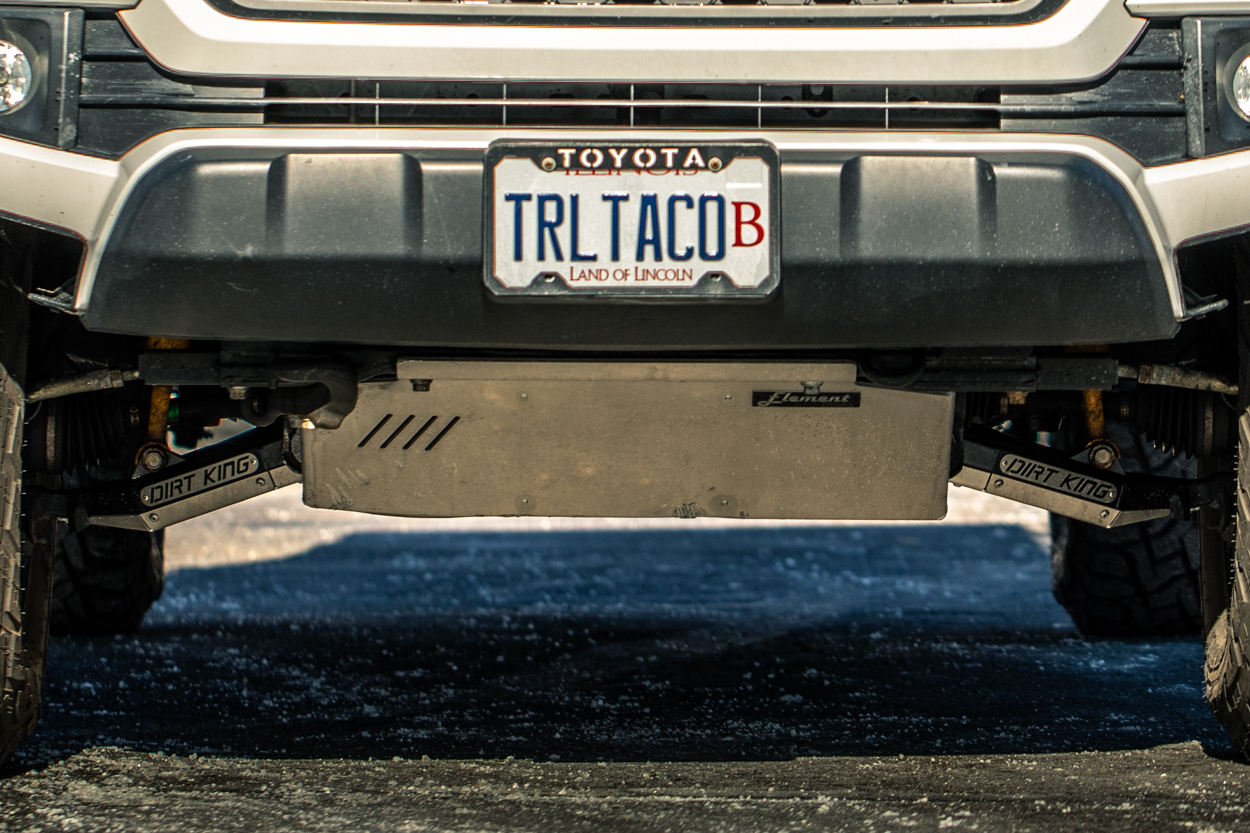 The biggest hit of the day can be seen on the left side of the image above. If you look closely, you can tell that the left side of the skid plate is a bit bent out of shape. Nothing crazy, but it is noticeable if you look closely.
A Huge Impact
The impact that caused that was pretty much my fault. I was leading our group, and while climbing over some big rocks, I didn't notice how close one of them was to the undercarriage. Essentially, I accelerated into a huge, protruding rock and the truck hit so hard that even my wife cringed in the passenger's seat. The skid plate caught the boulder in a funny way and it stopped the truck dead in its tracks.
That being said, I think that the skid plate held up incredibly well. The impact I mentioned was enough to damage even a steel skid plate. Besides the bending in the corner, there was no binding, cracking or damage elsewhere on the front skid plate. The damage did not affect removal or any of the mounting locations. I attribute that to all those beefy reinforcements that are visible towards the beginning of this article.
If the Dirt King lower control arms in the photo above caught your eye, you can learn all about those here.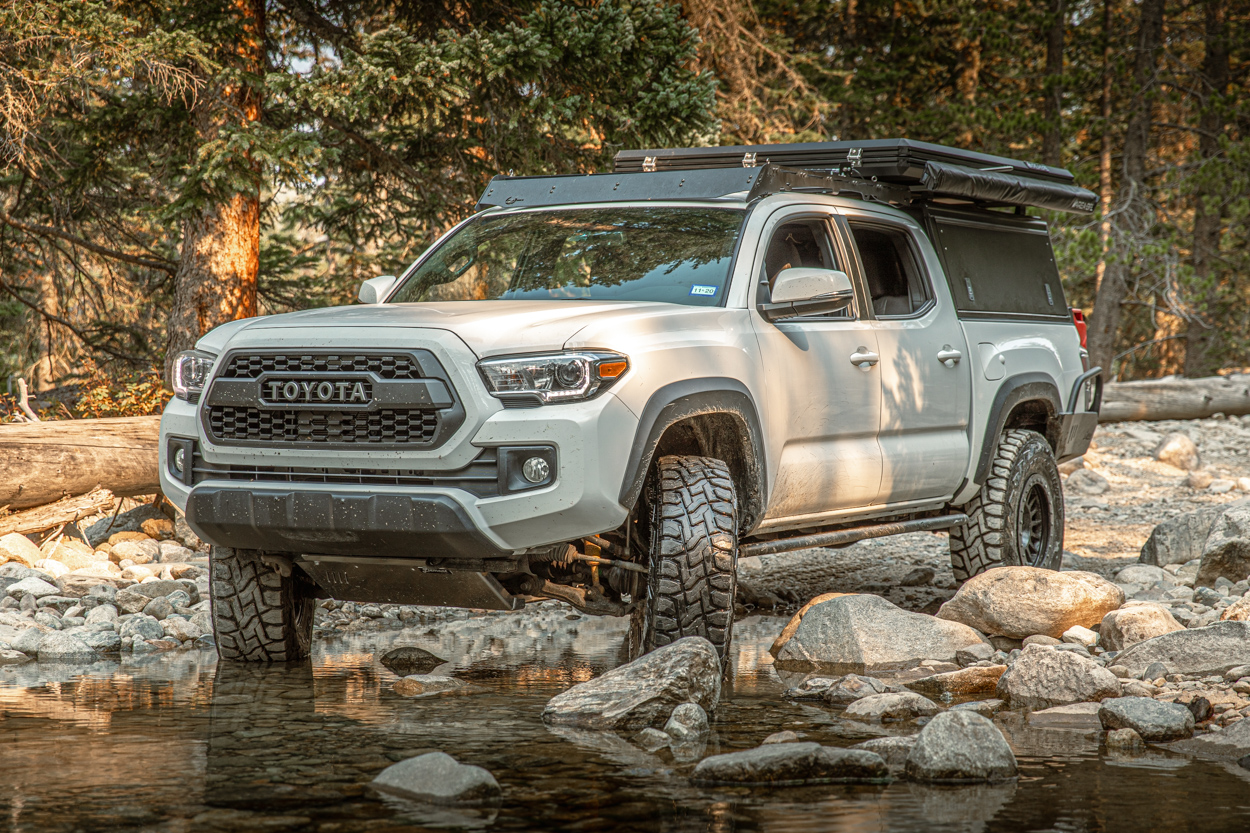 Ultimately, I would say that even under big strains, these skid plates will hold up well for 99% of Tacoma owners. If you're planning on absolutely beating on your skids, perhaps aluminum isn't the best choice for you. While eventually, I might upgrade to steel skid plates, I'll leave these on the truck for the upcoming wheeling season. I imagine they'll be subjected to quite a few more hits, but I'm confident they'll do their job.
More Friction
One downfall of aluminum skid plates that you may have heard was that the metal is less likely to slide over obstacles the same way that steel does. While yes, that is true, again, you really need to be wheeling your truck heavily for that to be of any notable concern. For the vast majority of Tacoma users, these will do just fine.
Don't Count Aluminum Out
As a final thought, if you still aren't convinced that aluminum would work for you – during this trip, I bent both of my spindles. We wheeled hard enough to bend two of those, one of which was VERY bent. Knowing that, consider the amount of abuse that the front skid plate might have taken if the wheels were hit hard enough to bend a spindle. Yeah, we had a small mishap, but that was addressed. The rest of the skids took an absolute beating and held up great.
Final Thoughts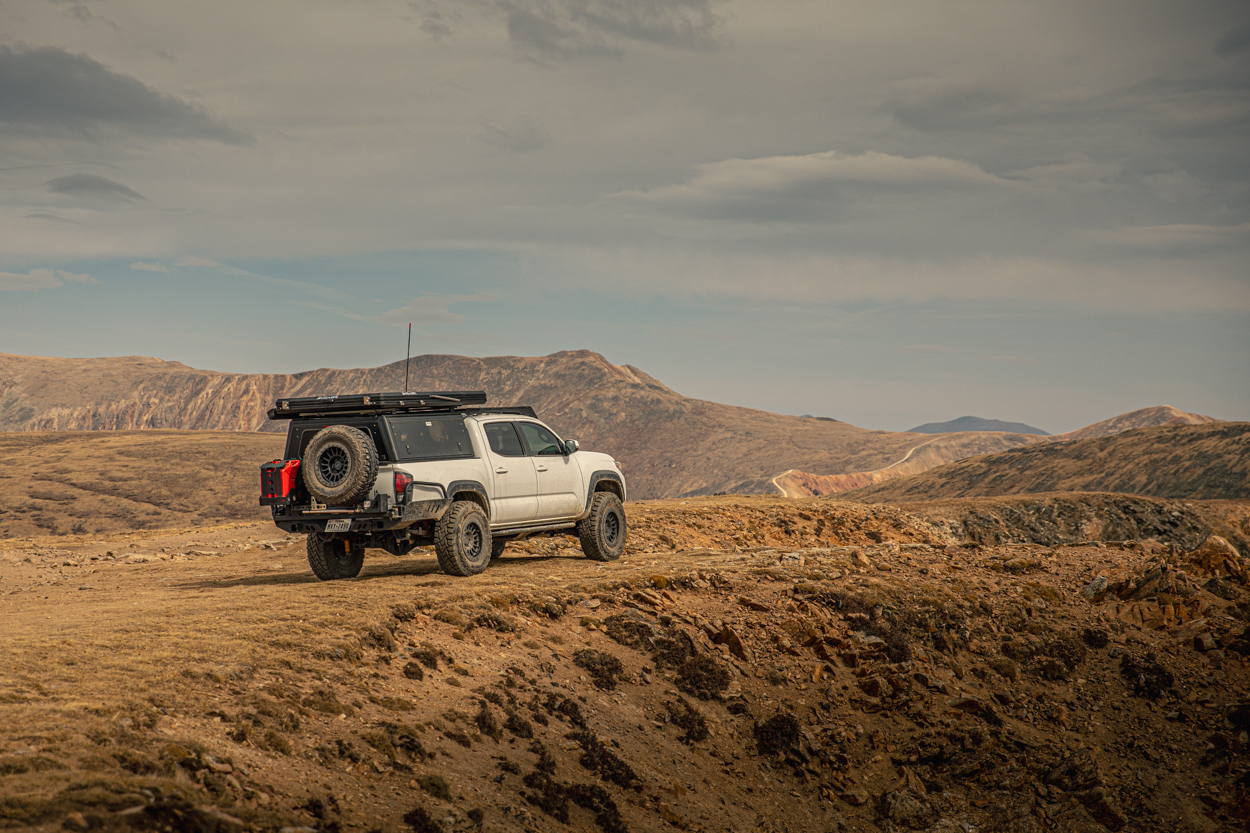 I'm pretty picky about the companies I support. Having built a few Toyotas, I knew that my current Tacoma would be the culmination of all of my knowledge and experience. This was going to be the build that tops all previous builds.
Even though I had a little mishap, I couldn't be any happier with the interactions and experiences with the team at RA Motorsports. The response times were excellent and I'm happy to run a product that supports an excellent small business. If you're in the market for skid plates, definitely give the ones covered in the article some consideration.