Buyer's Guide: Top 15 Aftermarket Front Bumpers For 2nd & 3rd Gen (2005-2023) Tacoma – Full Overview & Everything You Need To Know
An aftermarket bumper, or even aftermarket options for upgrading the factory bumper, is always a part of our Tacoma builds.
The reason for that is simple. The Tacoma has no factory options that provide its owners with a means to install a winch. And if you are using your truck to camp anywhere besides a campground with the average family minivan in the spot next to yours, you probably want a winch! A bumper also offers a great place to mount auxiliary lighting safely. And then there's the additional clearance and protection provided. The list goes on.
Aftermarket Bumpers: A Functional Investment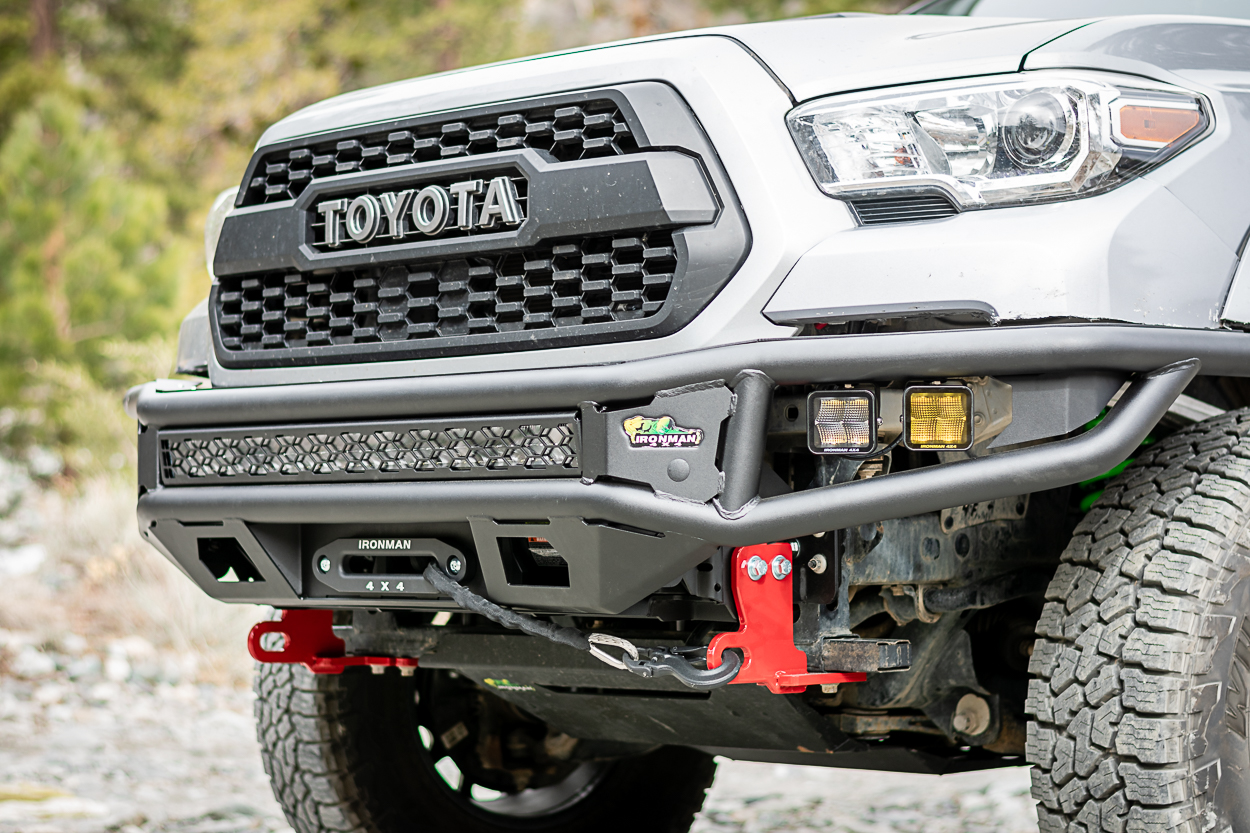 Of course, adding a bumper is quite an investment. Not only that, but it is a tough choice with all the different ones offered on the market. I have gone back and forth to decide on what I need while also meeting my goal of keeping my truck as light and functional as possible.
My personal truck has yet to have a winch or a bumper added to it. That is because I spent about a year thinking and researching what would suit my needs and what was within my price range. I am still without a bumper, without getting off-topic, but I'm close to deciding. But that does not mean I can't help my fellow owners determine what they may want! Doing your research is especially important when deciding on what aftermarket option to go with for your truck. That is why I am here to help. Here is what I've been able to come up with.
Do You Need an Aftermarket Bumper?
First things first. Aftermarket bumpers can come with a pretty serious price tag.
With that being said, do you need one for your Tacoma? Do the benefits outweigh the costs of one? Let's talk about it.
#1 – Winches
As I stated above, if you use your truck for off-road purposes, you most likely want a winch.
In my own opinion, you NEED a winch. Not only can you help other people with your winch, but it is one of the most significant additions to your recovery equipment that will keep you from becoming a liability on the trail.
#2 – Auxiliary Lighting
As with bumpers, lighting is another item on the list of aftermarket must-haves for Tacomas.
Most bumpers allow you to add a 20-30" light bar and often leave space for some light pods.
#3 – Protection & Clearance
Most of the options I will list here will provide some additional protection for the front end of your Tacoma. And some will provide additional clearance or a better approach angle.
Combined, these two things allow you to take on more complex and challenging obstacles. If that is not your goal, it provides quite a bit of peace of mind. A front bumper can also help protect the front end of your truck from animal impacts.
Are Metal Bumpers A Must-Have?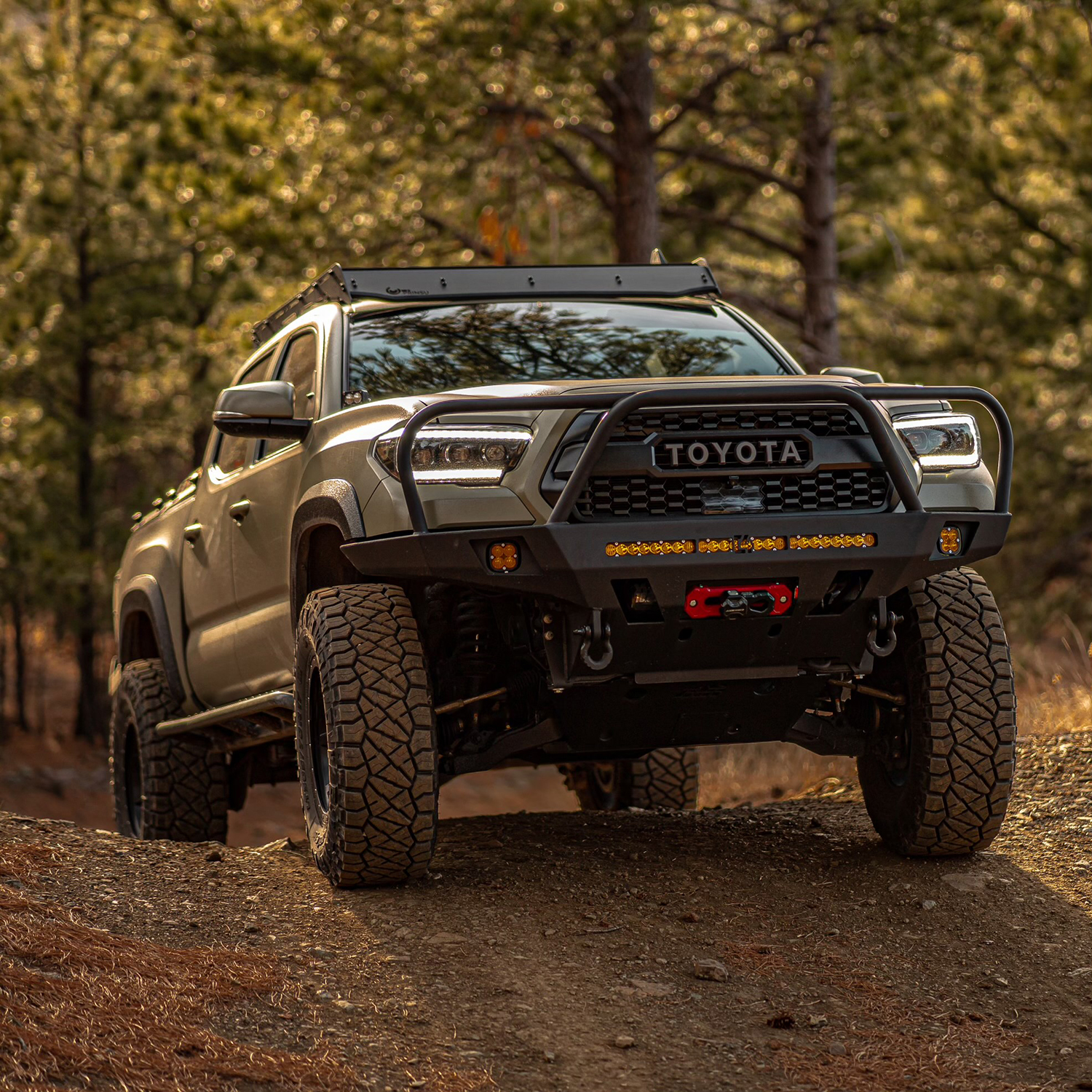 This article is directed at the off-road enthusiast. If you have not started going off-road with your truck but want to, go off-road first. This is the only way you will be able to determine what you really need.
Now, for the off-road enthusiast, yes, this upgrade is a must-have. The pros far outweigh the cons. When considering which bumper to go with, consider the material differences (steel vs. aluminum) that some manufacturers provide. Steel is the most durable, of course. Even if you happen to hit something hard enough on a steel bumper to cause a dent, it typically does not affect the strength of the bumper. With this added durability comes extra weight.
As for aluminum, you save quite a bit of weight, but at a cost. The price increase depends on who makes the bumper, but it is typically a few hundred dollars more expensive. An aluminum bumper can still take a beating but not nearly as much as its steel counterpart.
After deciding that you need a bumper, the next step is to determine what style suits you. Following that is finding the right manufacturer that makes one that fits all your needs and tastes.
Different Styles of Bumper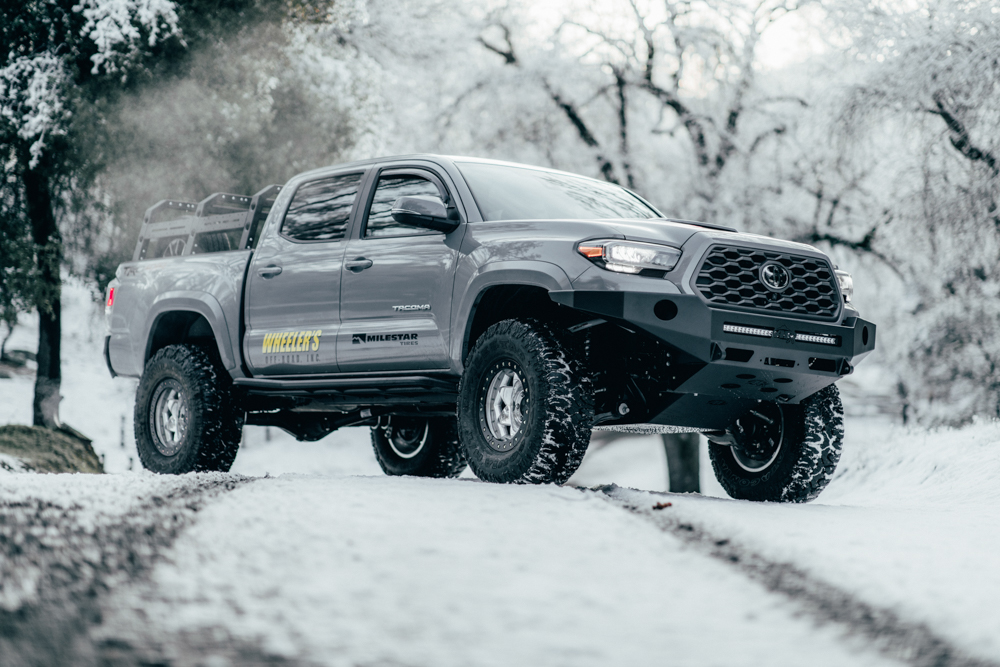 I will cover some of the pros and cons of each style of bumper as there is a lot in common – regardless of who makes the bumper. Throughout the article, I will list certain attributes that make a specific bumper unique. I do not doubt the quality of any of the manufacturers I have listed and each one mentioned here is popular in the overland community. Also, each option I'm going to list can add a winch.
#1 – Plate Bumpers
A true plate bumper is made entirely out of a steel (or aluminum) plate. These bumpers tend to weigh a bit more, and companies usually charge more because of the material used.
Pros
Strongest and provides the most protection of any of the bumper styles
Additional clearance/approach angle
Easier to fit larger tires
Cons
There is more material involved in making a plate bumper, so it will weigh more than a hybrid or low profile bumper
Generally can be more expensive than hybrid options
#2 – Hybrid Bumpers
Hybrid bumpers are called hybrids because they are made out of both tubes and plates. This allows the manufacturer to cut down on weight and the cost of the material.
Pros
Provides protection and is still a stout option when compared to a plate bumper
More lightweight considering the added versatility and adaptability that comes with a hybrid bumper
Typically around 100 lbs, depending on materials used
Additional clearance and approach angle
Easier to fit larger tires
Cons
Although they are stout compared to a plate bumper, they do not provide as much protection
Components are generally more exposed
#3 – Low Profile Bumpers
This bumper style is becoming increasingly popular because of the lightweight and low-cost options. Low-profile bumpers often replace just the center part of the stock bumper. This allows the owners to add a winch or other lighting accessories while protecting the front of the truck. Pair that with a high clearance viper cut, and you're in business.
Pros
Lightweight with most of the additional versatility of the hybrid and plate options
More affordable than the other options
Cons
Exposed lower outer portions of the factory bumper are still left unprotected
No additional tire clearance
Now that we have covered the basic pros and cons of each bumper style, we can do an overview of some manufacturers that each provide something unique. Also, I will list the starting prices for each bumper.
1. Cali Raised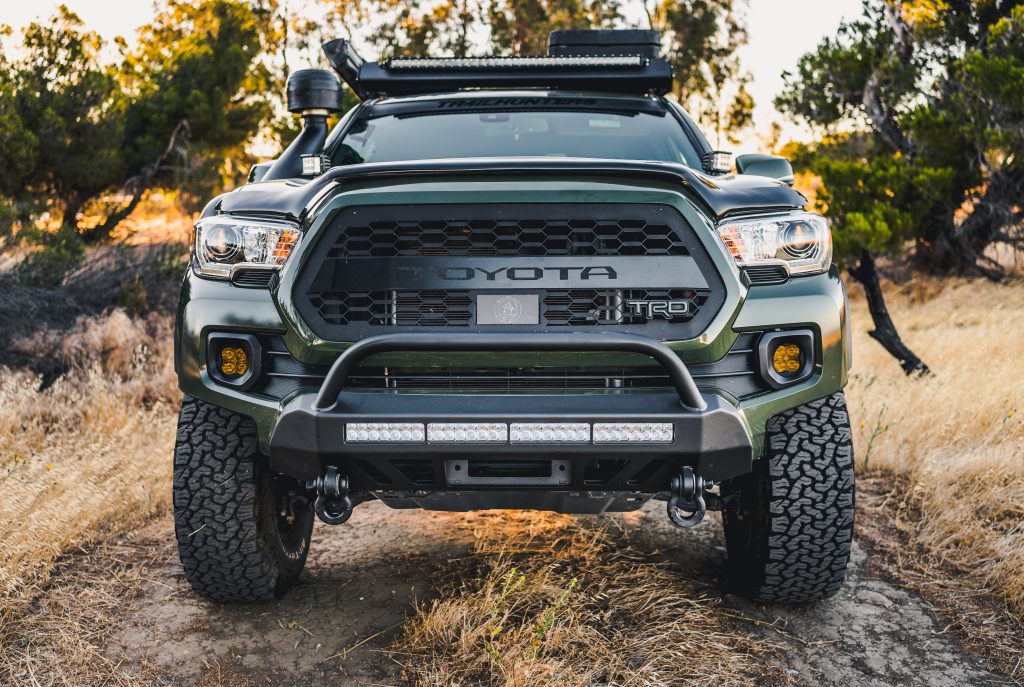 Find It Online
Cali Raised LED is no stranger to the Toyota off-road and overland market. It's likely that you've seen these guys before. They are super well known for a wide variety of quality products to add to your Tacoma like bed stiffeners, rock sliders, roof racks, and more.
With the release of this brand new stealth bumper, you can bet you'll be getting a quality product. This 100% USA made product has a 2-year warranty for peace of mind and all the support you'll ever need. Coming in at 77 lbs., this is one of the lighter low-profile bumpers on the market. The price point is pretty good too.
Compatible with most winches and Toyota Safety Sense (TSS), a slot for a 32″ LED bar, and bolt-on installation, we think these guys have hit this one out of the park.
Jon covered this bumper in an detailed post not too long ago. Check out the Cali Raised Stealth Front Bumper install and review here.
2. CBI Offroad Fab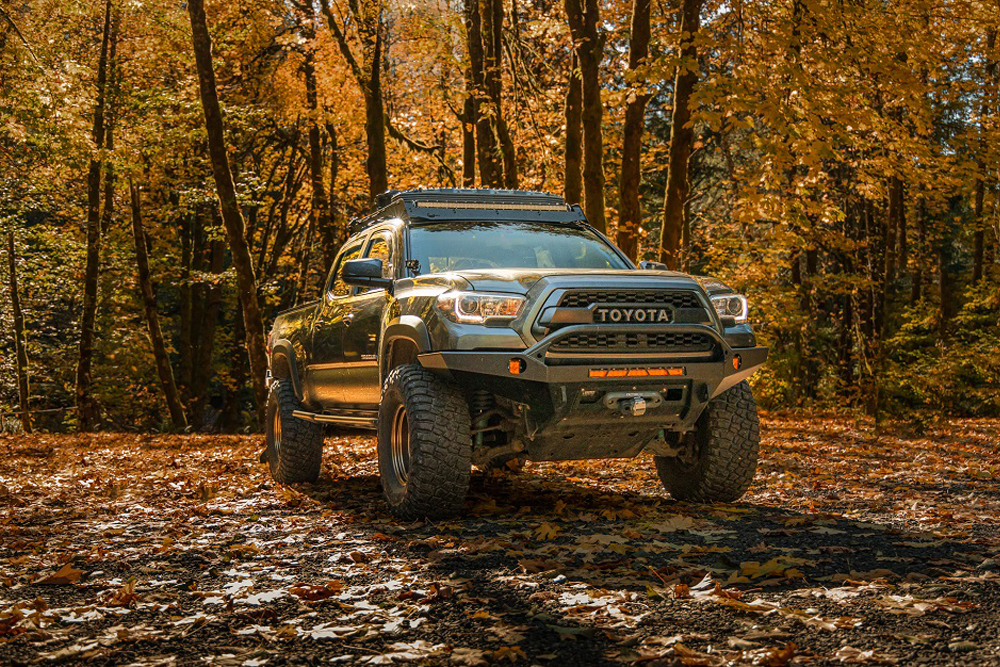 Find It Online
"Trail Proven – Adventure Ready!" The CBI motto. And with how long they have been in the Toyota game and how many generations of Tacomas have been rocking their armor, there is no doubt that it has been proven. Pumping out bumpers since 1999, they are one the most experienced craftsmen in this not-so-small list.
The plate bumpers provided by CBI are similar in price, design, options, and weight between both generations. CBI offers three different selections: no hoops, mid-height hoop, and full hoops.
A favorable detail with the CBI bumpers is they were designed to fit the factory fog lights. This is nice for people like me who may have upgraded their factory fog lights before purchasing a bumper and do not want to pay for another set of lights so that they can fit. However, the quality of CBI products is rarely questionable; their lead times for plate bumpers, whether steel or aluminum, have been a bit on the longer side in the past.
The CBI Covert option is CBI's entrance into the low-pro game for 3rd Gens. As of right now, CBI does not have a low pro option for the 2nd Gen guys. This bumper does come standard with a few options like a gusseted winch mount that can accept popular winches such as WARN and Smittybilt, integrated D-rings, a lightbar cutout, and powder coat.
3. Backwoods Adventure Mods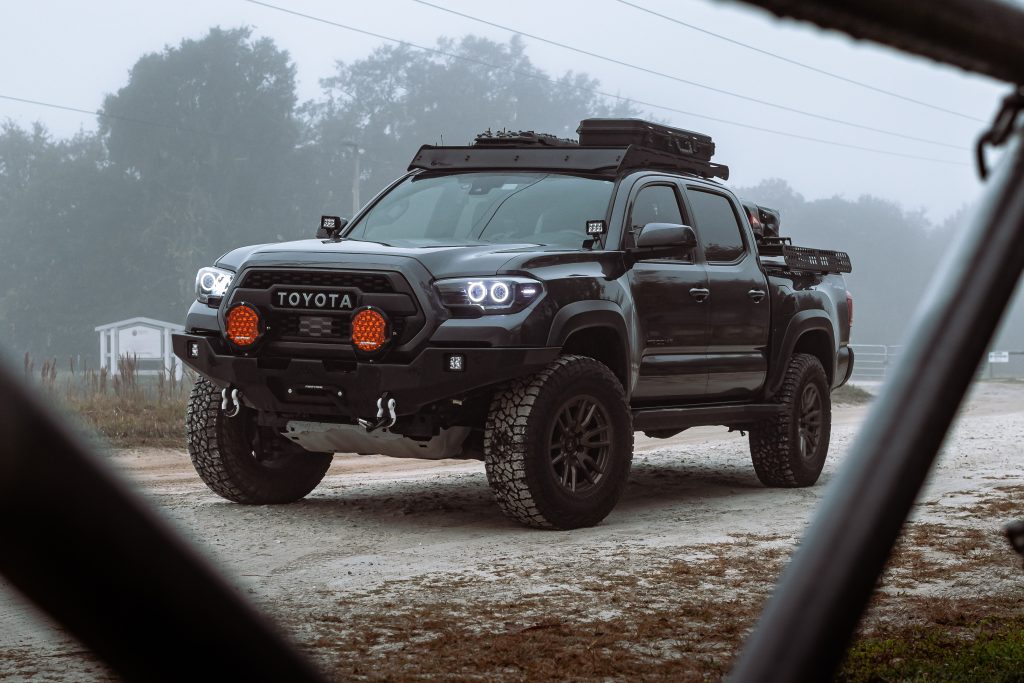 Find It Online
One of the newer front bumper manufacturers for the Tacoma, Backwoods Adventure Mods is one choice you definitely want to take a look at. Although these guys recently started cranking out Tacoma products, do not count them out.
One of the most notable items they sell is the Tacoma Hi-Lite overland front bumper. This bumper is unique because, unlike any other design that we've seen, this option is built out of two different materials – steel AND aluminum. A hybrid bumper of sorts. The winch cradle and the internal structure of the front bumper are made of steel, and the outside shell is made out of aluminum. This leaves you with strength where you need it all while staying as light as possible.
Chase covered a post on this bumper last year. Check out the install and review for the Backwoods Adventure Mods front bumper here.
4.  All-Pro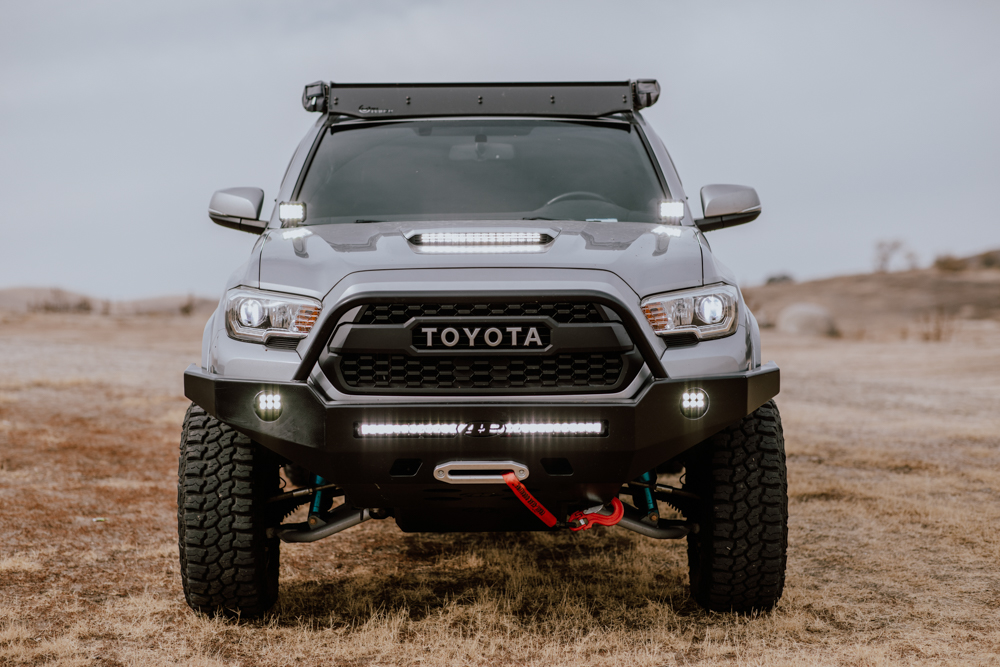 Find It Online
First open for business in 1996, you can bet All-Pro is doing something right. From the beginning they were referred to as the "Toyota Rock Crawling Specialist" – they made some seriously rad items in a time where rock crawling was just gaining popularity. Fast forward to today and All-Pro provides several complete product lines for the 2nd & 3rd Gen Tacoma. From bumpers, to skid plates, roof racks, and accessories, these guys are a great example of a one-stop-shop.
The lineup and bumper offerings for the 2005-2023 Tacoma offer A TON of options to choose from. Not only do they offer low-profile bumpers, plate bumpers, and a unique hybrid design, but they offer options for materials for almost all of them. You can pick aluminum if weight savings and corrosion resistance is top of your list. All-Pro also has several hoops to choose from.
Bumpers can handle most 8-12k winches and appropriately sized light bars. Powder coating is also available, and all products come with limited 12-month warranty.
5. C4 Fabrication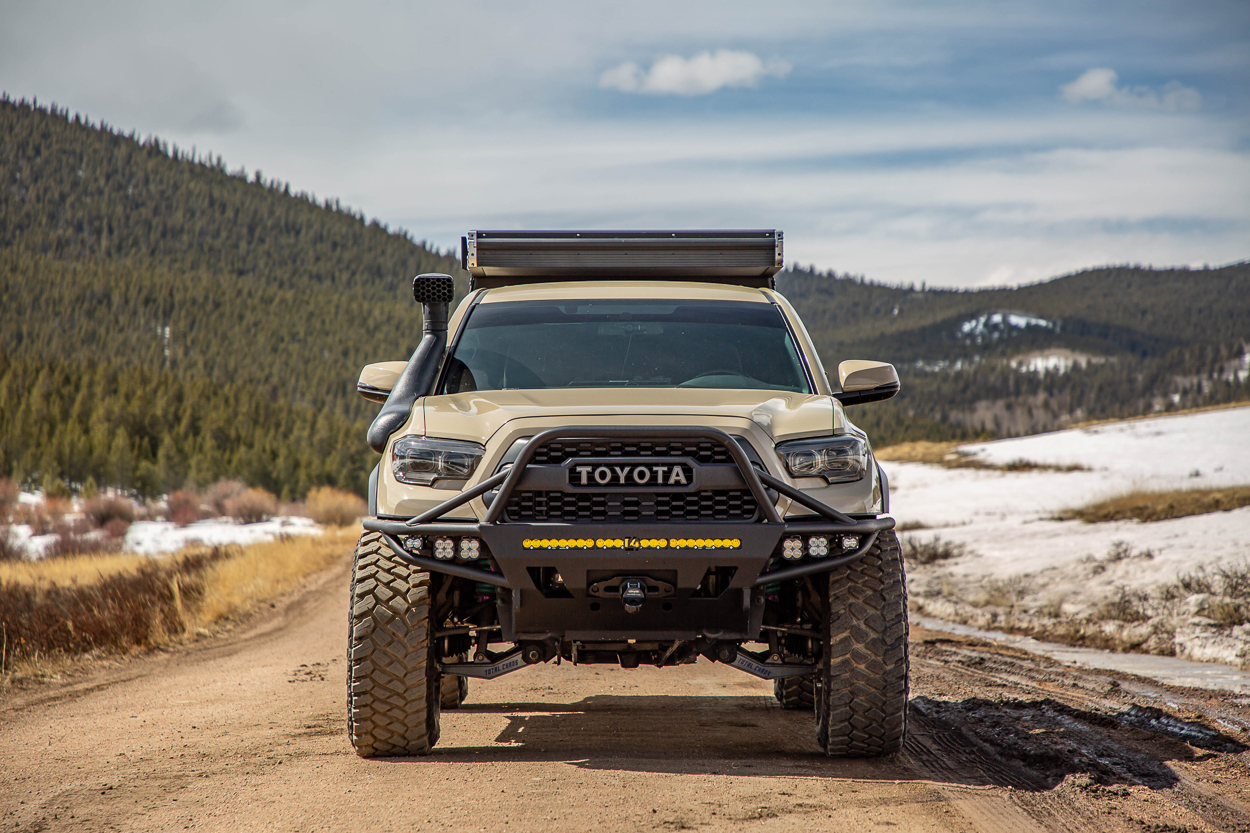 Find It Online
Another longstanding manufacturer in the fabrication of armor for Toyotas is C4. In the game for over 15 years, it is easy to trust their products. Although not an owner of any of their products, I cannot deny that they provide one of the most all-around, aesthetically pleasing armor designs on the market.
C4 offers a hybrid bumper for both generations that are close in price, options, and weight. Not the lightest hybrid bumpers being listed here, as they sit anywhere between 120-140 lbs. depending on how you option your bull bar. And, if you do plan on going with C4, be sure to have a source for powder coating, as C4 does not provide those services. Regardless of some of the downsides, these are possibly among the toughest hybrid bumpers on the list.
As with the hybrid, the plate bumper fits most 8-12k winches, and it is recommended to have a winch with the ability to relocate the electrical control box. The C4 plate (overland) bumper is designed to fit Baja Designs lights specifically, so if you have already upgraded your lights and do not have these, that is something to consider.
C4 offers low pro bumpers for 2nd and 3rd Gen. Like the plate bumper, C4's low pro option can support winches of the same spec. But they do additionally recommend a synthetic rope and a hawse-style fairlead for the low pro. This bumper is still designed to fit Baja Designs lights and weighs 75 lbs. For a little extra, you can add a bull bar, hawse license plate mount, and (not included like the other bumpers) you can choose to use the additional support brackets.
6. Ironman 4X4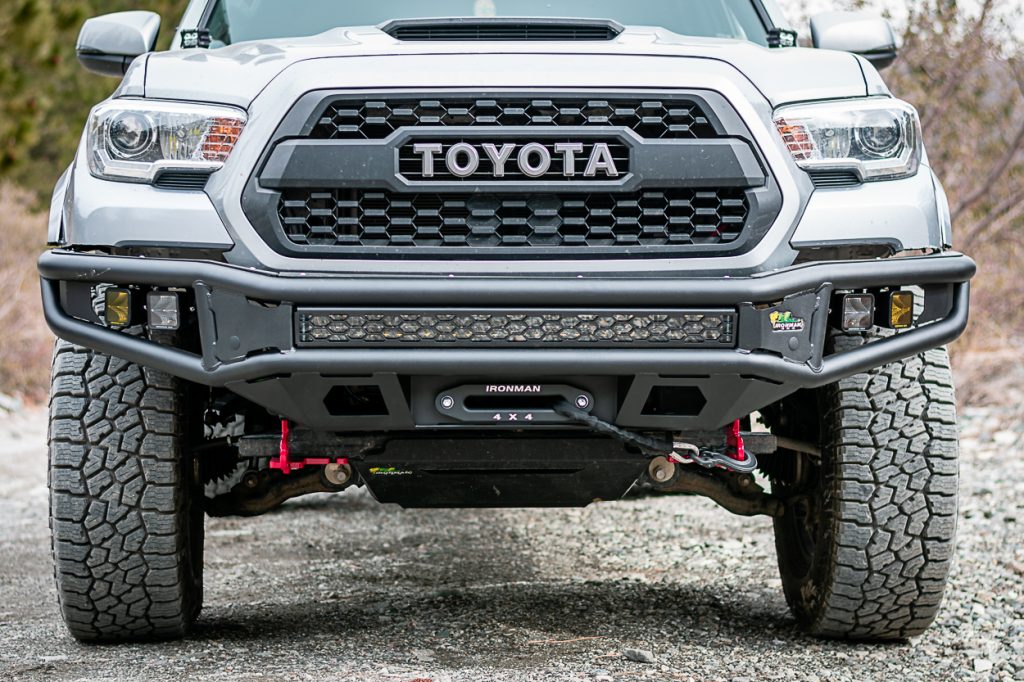 Find It Online
Next up, Ironman 4X4. These guys have their roots deep in the Australian outback and are well known for creating quality products with excellent customer support.
Until recently, Ironman did not have any options for a bumper for the Toyota Tacoma. That all changed after Ironman underwent a massive push for bumper support for the Tacoma, 4Runner, Tundra, and even Wrangler. The Raid Series front bumpers come loaded with features, and they offer some of the most complete off-road bumper kits on the market. If you're looking for a one-stop shop with absolutely everything you need to hit the trails confidently, the Ironman 4X4 lineup is one you should seriously consider.
Connor covered the front bumper in detail in another post if you want to learn more. Check out the Ironman 4X4 Raid Series Front Bumper install and review here.
7. ARB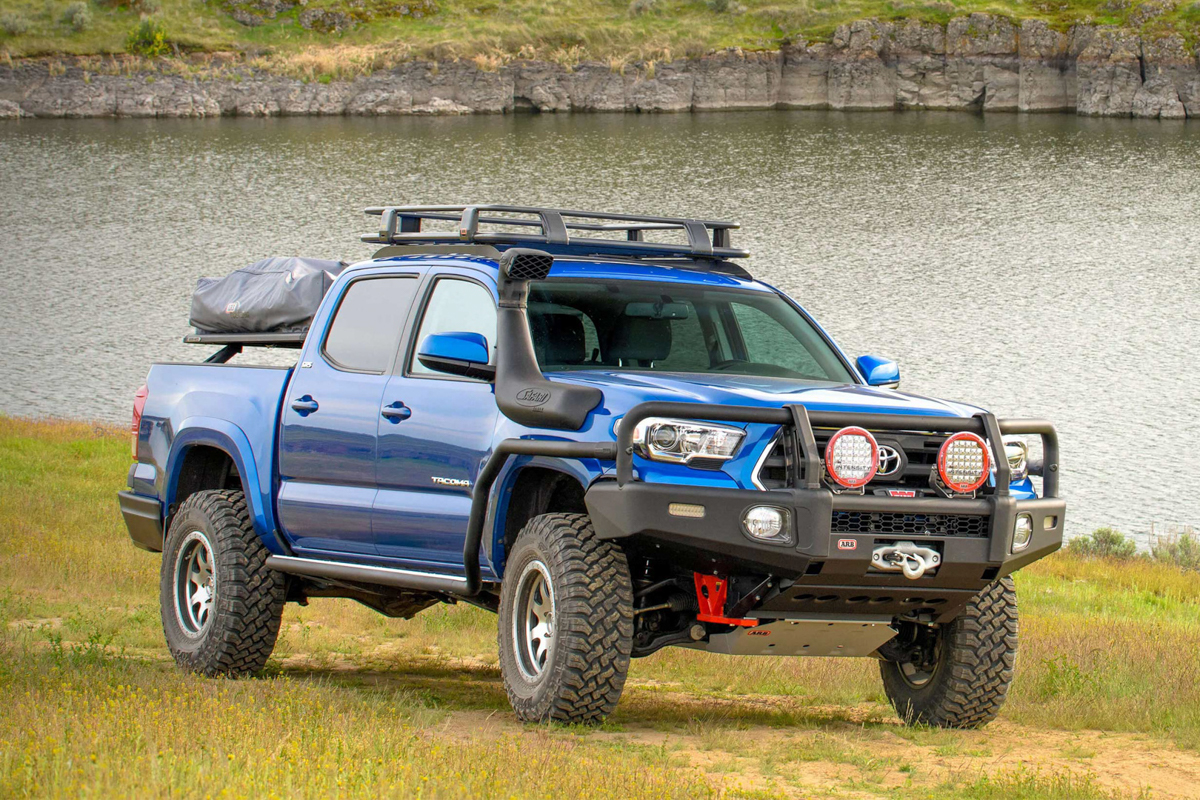 Find It Online
You have quite literally lived under a rock if you have not heard of ARB (all good if you have not, haha). Of course, this business started like many others. One guy in a garage with an innovative mind. In 1975, after a trip through Australia, owner Anthony Ronald Brown (ARB) had a goal to make products that addressed all the issues he had encountered on his journey. Today, ARB equips expedition vehicles through every continent on our beautiful Earth.
ARB makes many products for off-road use, and they make a bumper for many different vehicles. For the 2nd Gen owners, the price is $1,300. 3rd Gen owners are looking at a bit more of an investment at $1,800. ARB bumpers have a very distinct, beefy look shared between every vehicle. The bumper could weigh anywhere between 120-140 lbs, depending on your generation.
8. Southern Style Off-Road (SSO)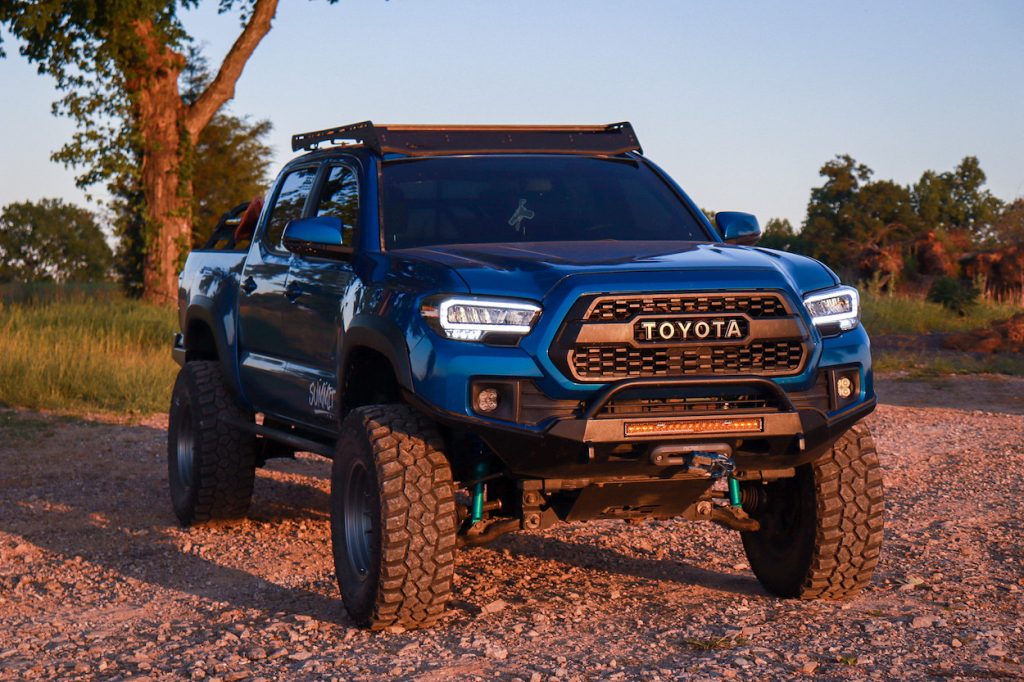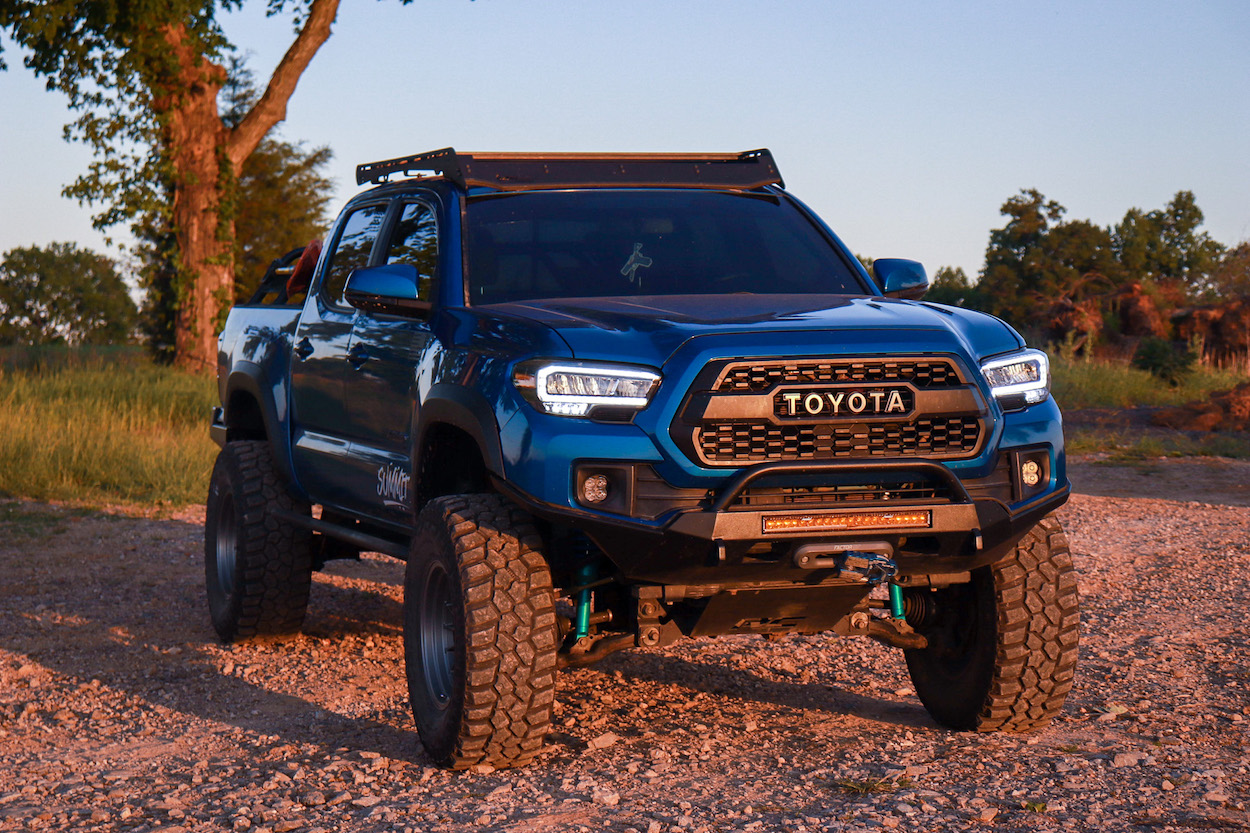 Find It Online
SSO is an innovative company that branches out from the typical bumpers others produce. They possibly provide the sleekest addition to the market for Tacoma front bumpers. For the owner that wants the added protection, clearance, and versatility of a full bumper while keeping a near factory look, go straight to SSO.
Their hybrid bumper is one of the cheaper hybrid bumpers on this list at right around $1,000 – without sacrificing quality. The hybrid bumper comes in at 70 lbs., which is lighter than some of the low-profile options I will be covering. The plated bumper weighs less than 100 lbs. and is available starting at around $1,300.
Although they look great, there is still a drawback to consider. Due to their low profile, both bumper options still lack protection for much of the front end of the Tacoma. Higher up near the grille (which rests in front of the radiator) and the headlights are largely unprotected. But that is what a buyer must sacrifice in return for a very lightweight, sleek, and affordable bumper.
Sadly, this option is only available for the 3rd Generation. Check out Nick's detailed review on the SSO front bumper here.
9. Relentless Fabrication
Find It Online
Relentless has been in the business for just about a decade now. The owner started in 2010 crafting parts for friends while attending college for mechanical engineering. His side hustle quickly became an established business and provided some fantastic products for our Toyota community.
Relentless offers hybrid bumpers for both 2nd and 3rd Gen, weighing about 110 lbs. One plus with Relentless is that what you see is what you get. There are few options to choose from, but the bumpers come standard with everything you will need except a powder coat. The only downside to the lightbar cutout is that you have no choice in brand as it is specifically designed for a 30" Baja Designs S8 bar.
Plate bumpers by Relentless Fabrication are offered for both generations and are at a similar price as the hybrid bumpers. Like the hybrid option, the plate bumpers come with all the standard options, and the light cutouts are specifically for Baja Designs. The plate bumpers weigh a reasonable 130-140 lbs. These bumpers have a standard winch mounting plate to support winches up to 10k.
10. Body Armor 4X4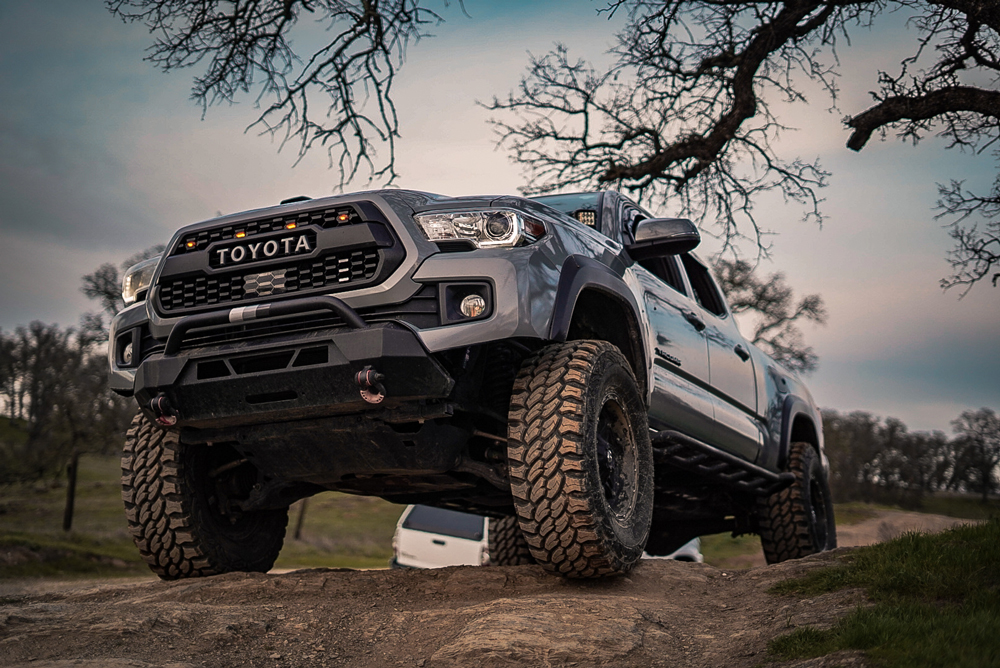 Find It Online
Body Armor 4×4 offers a wide variety of products for 2nd and 3rd Gen Tacomas. Anything from front and rear bumpers to bed racks and accessory panels. 3rd Gen Tacomas get the most available options, including 2 full-size bumpers and a low pro.
2nd Gens don't get that many options when it comes to choosing armor. Nonetheless, all of their armor is very reasonably priced, and the best part is they all come powder-coated. The 3rd Gen full-sized bumpers are around $1,000, while the low profile one is about $600, and the 2nd Gen bumpers are both around $900.
For more information, you can find Mike's installation and review of the Body Armor 4X4 Pro Series Bumper here. If you are more interested in the HiLine low profile option, see his install and review of the Body Armor 4X4 HiLine Front Bumper here.
11. Lil B's Custom Fab
Find it Online
Lil B's 3rd and 2nd Gen hybrid bumpers look incredibly clean. A pretty standard hybrid bumper designed to give you maximum clearance and give you the option to add auxiliary lights and a winch.
The 2nd and 3rd Gen bumpers get you a winch mount and a couple of different bull bar size options. These bumpers are pretty lightweight as they weigh roughly 105 pounds without any extras. The only downside is powder-coat can be pricey.
12. Demello Off-Road
Find It Online
Demello Off-Road has been manufacturing for the Toyota community for about 20 years. They provide similar style bumpers for the 2nd and 3rd Gen. Prices are similar between both generations.
Their bumpers come standard with a few things that other manufacturers provide options, like light bar cut-outs or winch access holes. Factory fog lights do not fit the bumper as is, but people have retrofitted them. The steel bumpers offered are average in weight at about 130 lbs. but, for some extra coin, the aluminum options weigh half that at 50-60 lbs.
13. RCI Off Road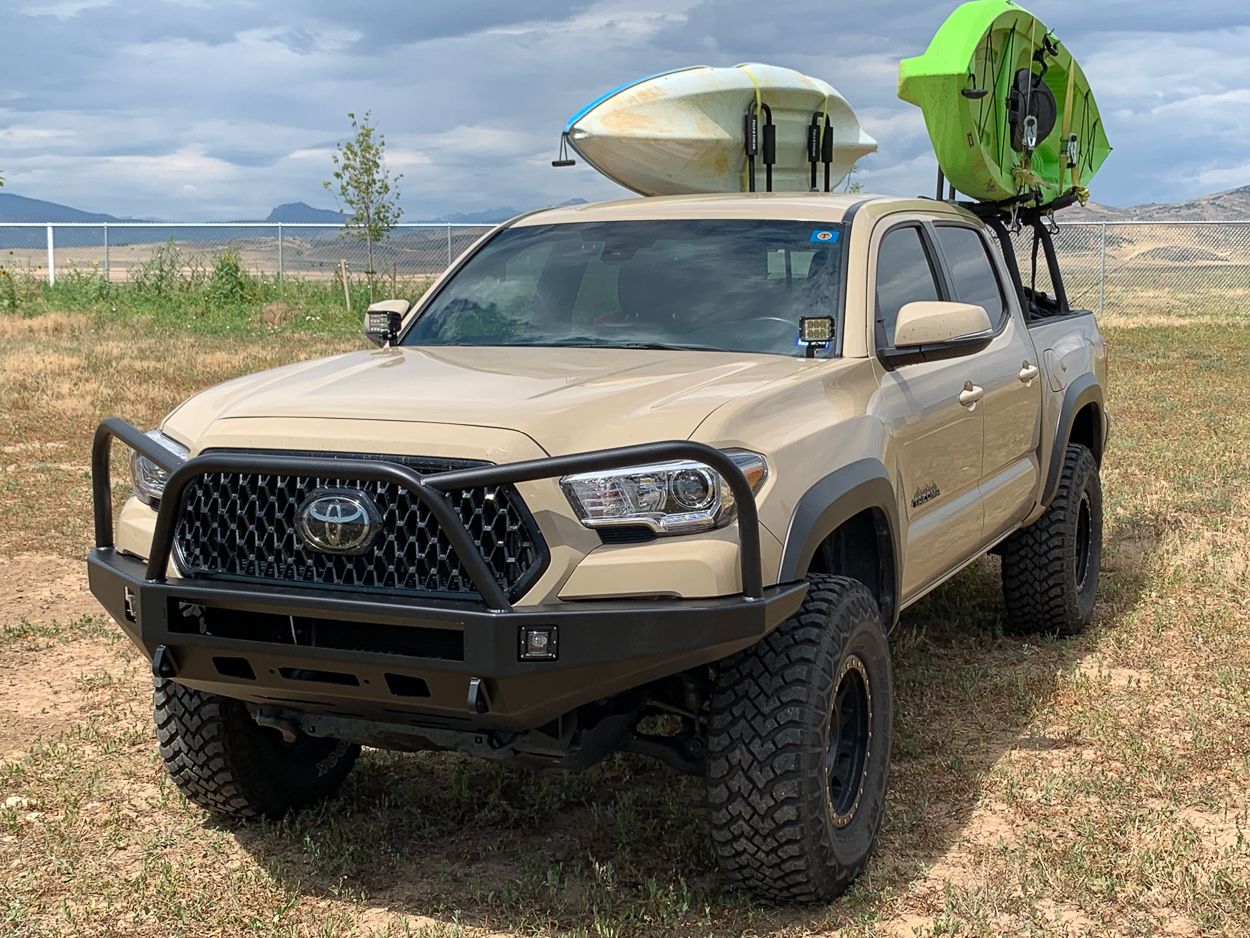 Find It Online
RCI is a Colorado-based company and gives 3rd Gen owners another option that deserves consideration. At the cost of $1,350, built with 10ga steel and weighing 112 lbs., this bumper can easily handle any off-road adventure. RCI gives their buyers the option of no bull bar, mid-height bull bar, or a full bull bar with hoops. Also available is powder coating, winch, and lighting options. This bumper accommodates winches up to 10k lbs.
Also, the lightbar cutout is designed for a Rigid 30" SR-pro light, while the fogs are cut for LED cube lighting with built-in mounting holes. Another notable plus is their flat rate shipping. Sometimes shipping these large, heavy mods can leave the question of shipping unanswered without taking further steps. With RCI, you have multiple shipping options with the cost of each listed.
14. Relations Race Wheels (RRW)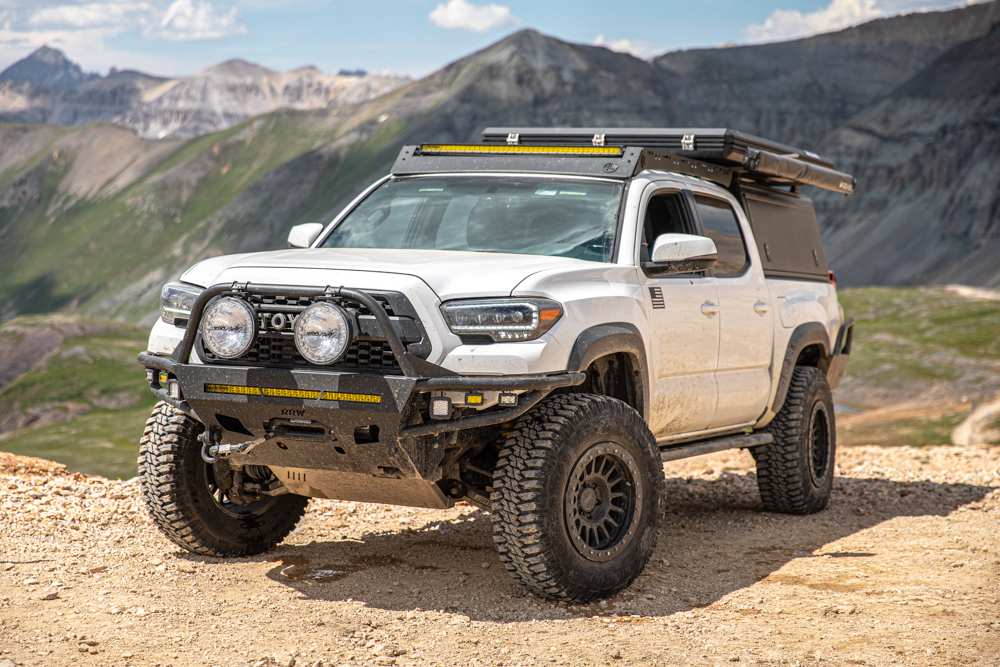 Find it Online
** At this time, the hybrid bumper is discontinued. ***
RRW is the newest company on the market in this list, founded in 2016. Not only do they make some beautiful wheels, but they also provide the Tacoma community with armor, specifically the 3rd Gen. Pictured above is their hybrid bumper with lightbar cutout, winch mount, and recovery points. They also allow you to choose between no hoop, low hoop, and high hoop options.
They also offer a hidden winch mount which is my favorite option for the weekender that does not want to add all the additional weight of any of the bumpers above. At an affordable $475, it can make anyone wonder why they do not already have it installed along with a winch. Don't forget it lacks nearly all the benefits of adding a plate or hybrid high clearance bumper. There is no additional approach angle, clearance for larger tires, protection, and durability for the front end. Despite this, I still think it is a very viable option for the weekend warrior.
15. Victory 4X4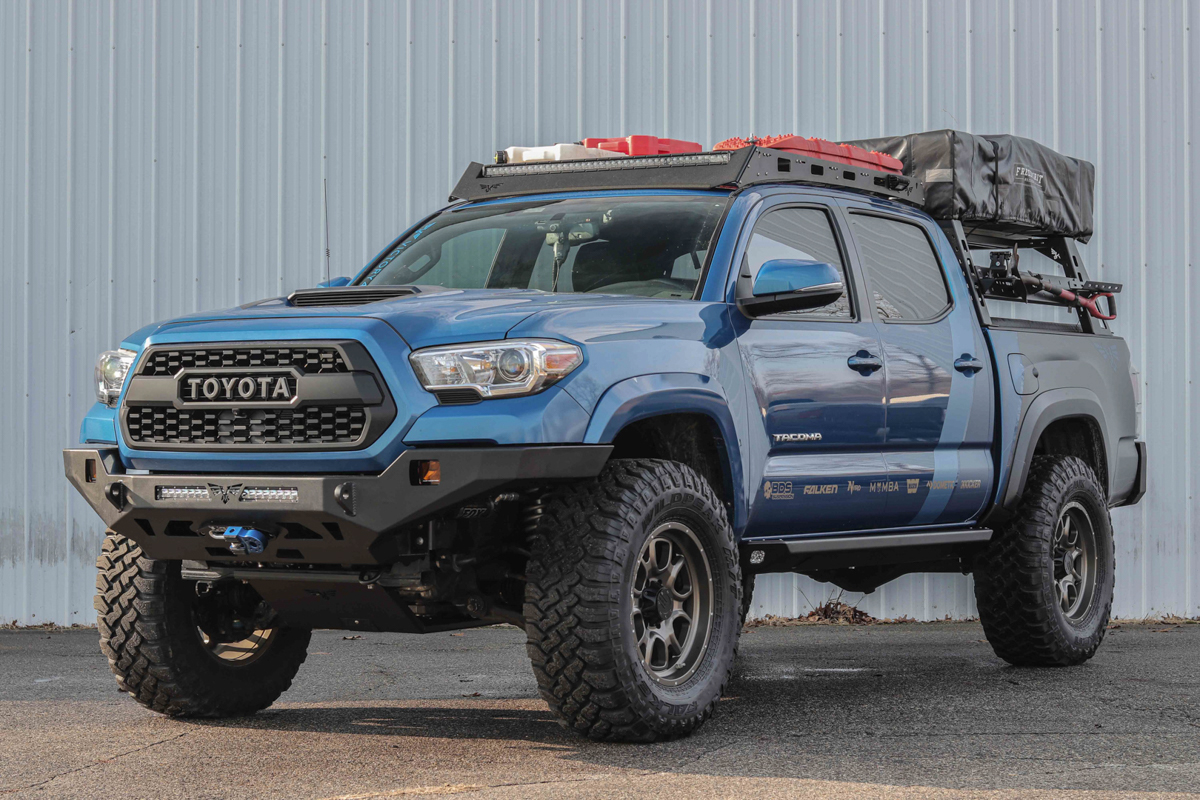 Find It Online
Victory is a bit newer to the Toyota game than some other manufacturers, but they are seasoned in the off-road community. They come from a background of rock crawling but bring an innovative and open mind to the overland community.
The bumpers I mention below are available for both generations. Like SSO, Victory has a big focus on weight. I had much consideration for Victory when choosing which bumper to go with.
The Victory plate bumper, known as "Strike", is a traditional full plate bumper. Unlike most of the other full plate bumpers on the market, it is super lightweight and still includes all the protection. A Victory Strike steel bumper with the full hoops weighs just 105 lbs. (and half that if you go aluminum).
Victory's low pro bumper, also known as "Blitz", is a recent and much-welcomed addition to the low pro bumper options on the market. The Victory Blitz bumper is not the cheapest, nor is it the lightest in weight, but it certainly has a lovely aesthetic to it. It integrates nicely with the lines of the Tacoma front end. Also, the high-quality materials and expert craftsmanship that comes with all Victory products are apparent on this piece.
Final Thoughts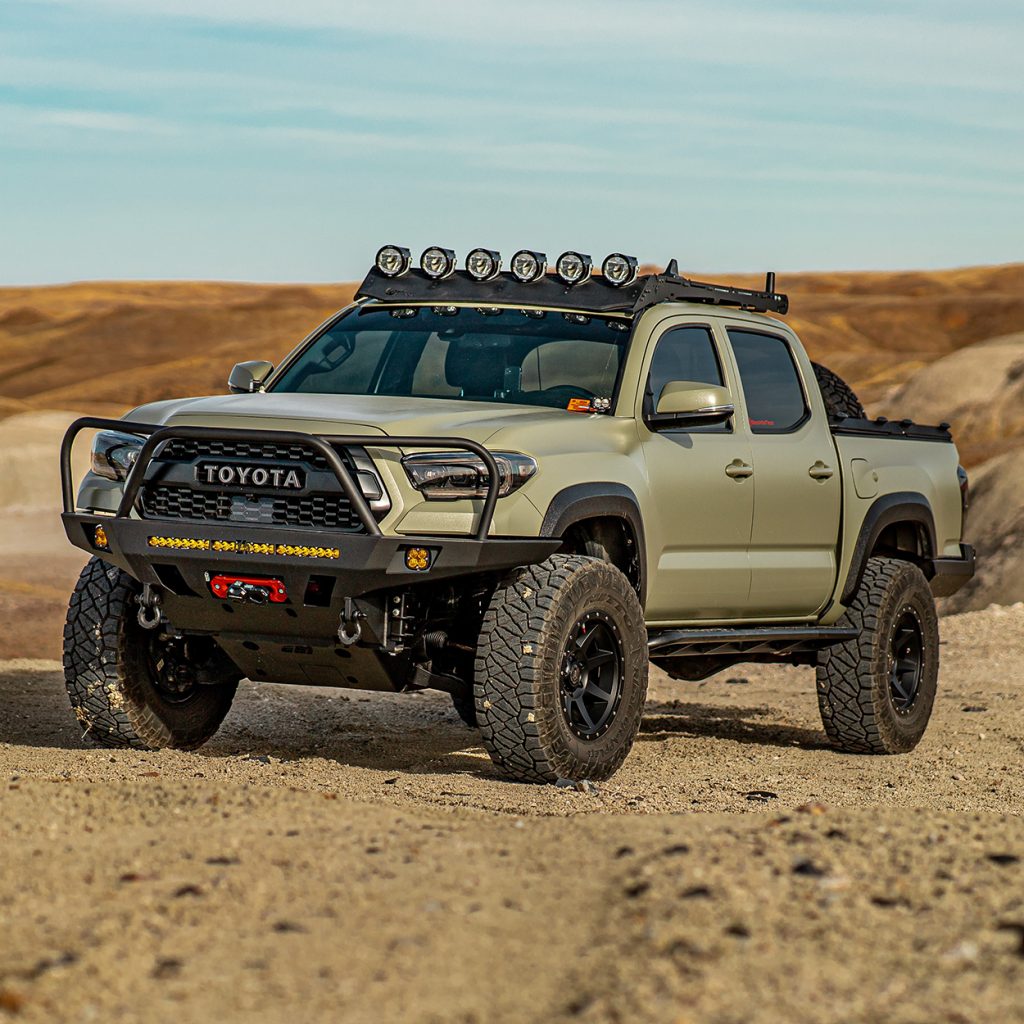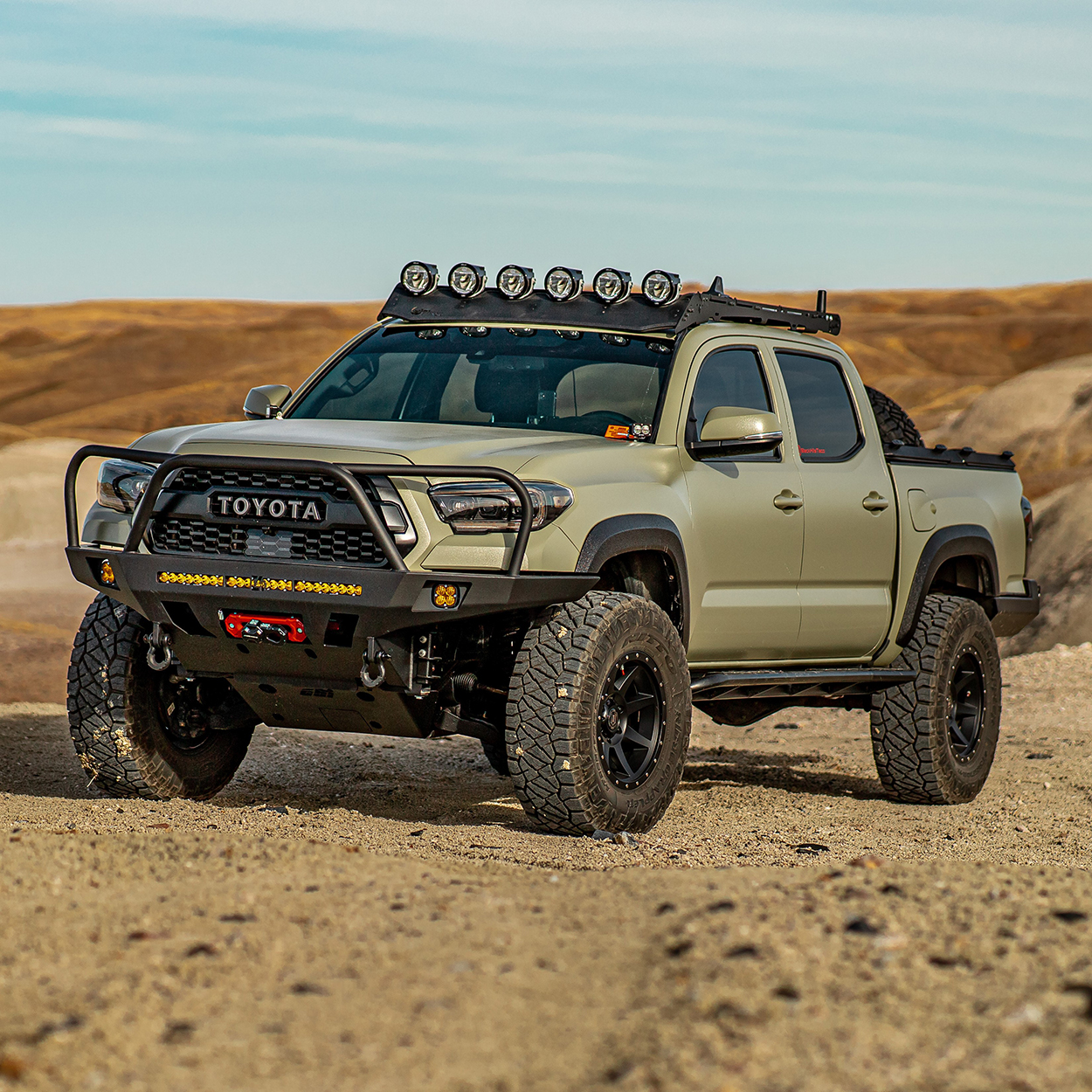 Even after this long list, there are more bumpers out there to consider. It may seem difficult to choose just one of these options, but that is because it is. It may take some thought and quite a few off-road trips to determine what will suit your lifestyle best. But I hope my list gave you more insight into specific options, exposed even more possibilities for you, and maybe even helped you come to a decision.
Again, the best way to find the best bumper for you is to off-road and figure out what you need. This is a significant investment so buy once, cry once definitely holds true in this case. Finding that perfect balance of functionality and aesthetic can be tough, but you won't ever look back when it happens.
If you'd like to see some builds with these bumper options, check out our Front Bumper Setups For Tacoma post.