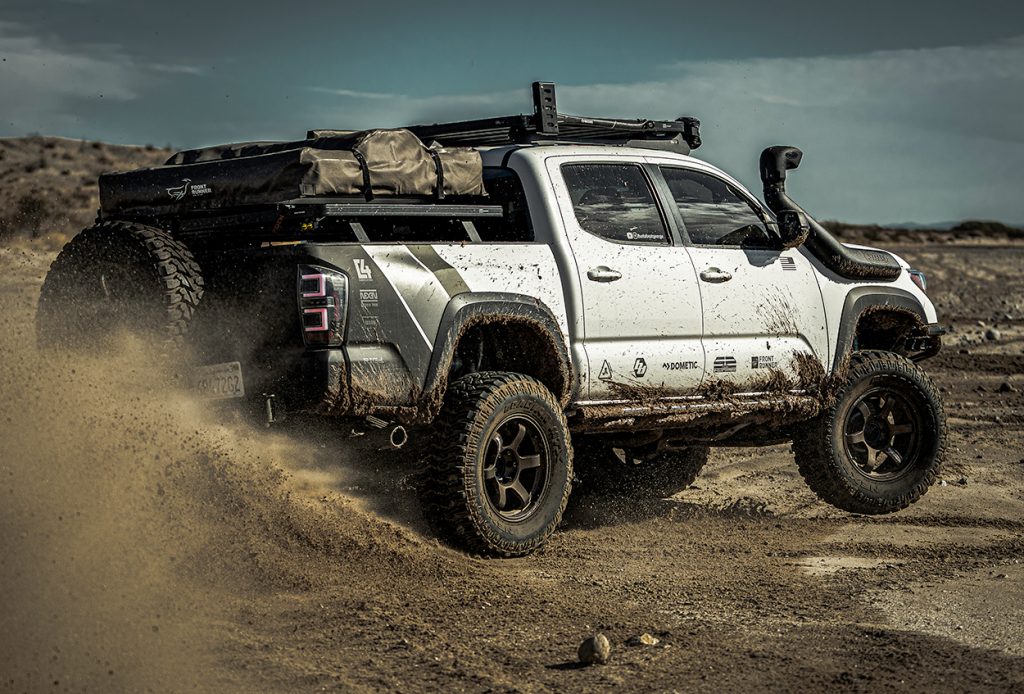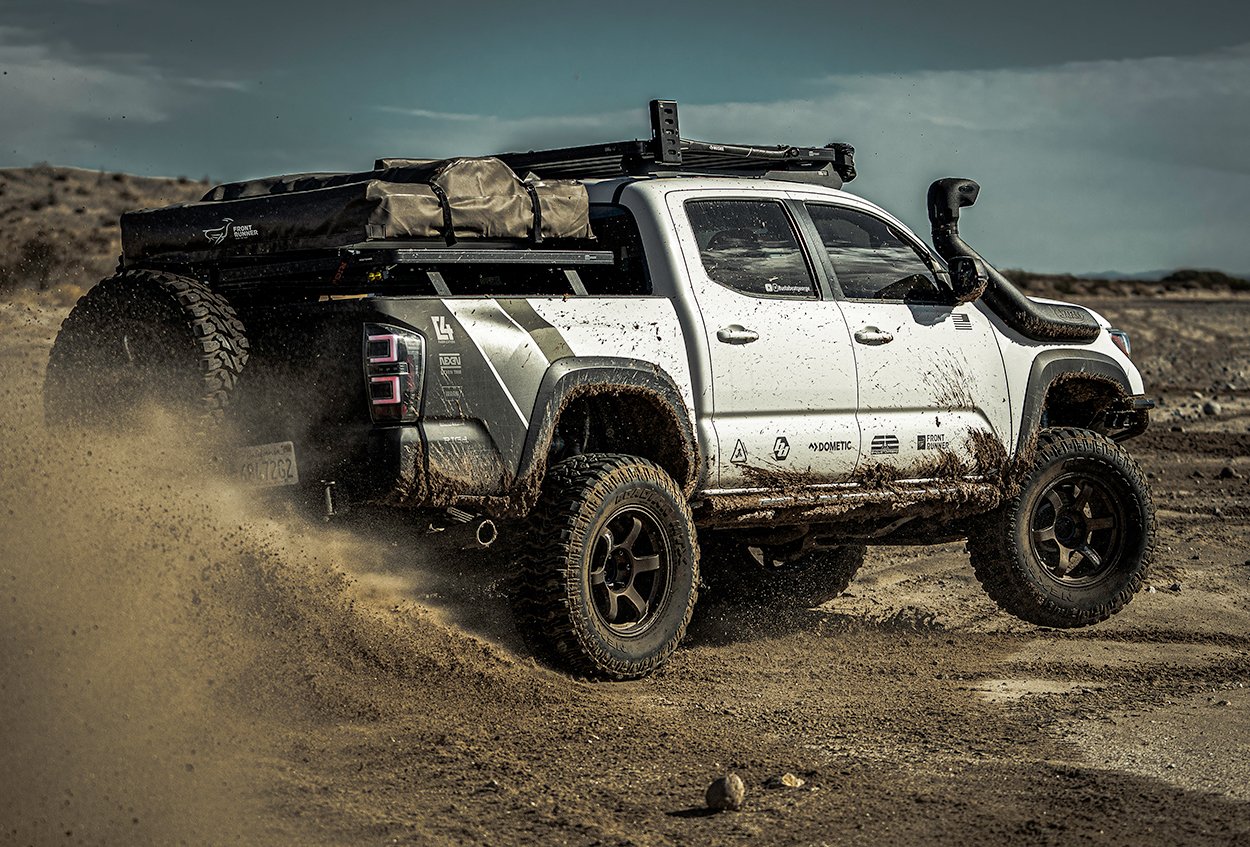 Popular Off-Road & Overland Bed Rack Options For 2nd & 3rd Gen (2005-2023) Tacoma – Complete Buyer's Guide & What To Know
Truck beds provide sufficient storage space for your average hauling needs. That might be fine for some truck owners, but for the frequent weekend overlander, trail explorer, or sports enthusiast, a truck bed offers limited functionality in terms of hauling cargo. What if you need to transport a large item, say a kayak, which is nearly impossible to fit into your truck bed? Or you frequently take the truck out on camping trips and need to mount a rooftop tent for overnight shelter?
Whether you are hauling tools and equipment for outdoor sports, camping, or trail explorations, you can significantly enhance the utility of your truck and increase its hauling capacity by installing a high-quality bed rack. If you are looking for storage or mounting solutions to make the most of your Tacoma, check out our guide below.
Looking to learn more about alternatives? Check out Daniel's post – Camper Shells vs. Bed Racks vs. Campers.
We also have a post dedicated to camper shell / toppers. Popular Camper Shells & Bed Toppers For Tacoma.
Bed Racks for Toyota Tacoma
What Are Bed Racks?
A bed rack is a metal frame, typically made of steel or aluminum bars, that is secured to a truck bed to enhance its functionality. It provides extra storage space for your pickup truck, which makes it a popular choice for avid overland adventurers. Depending on the design style of the rack, you get a range of side and ceiling mounting solutions for outdoor gear like recovery boards, axes, shovels, RotopaX and rooftop tents.
Before you buy a rack, it is important to check its compatibility with your truck model. While there are some adjustable racks that fit any bed length, usually, a bed rack is specifically designed to be installed on specific models and bed lengths. Also, not all bed racks are created equal. They differ in quality, functionality, versatility, durability and price.
Bed Rack Benefits
A bed rack is worth the investment, especially if you frequently take your truck out on trails. Even if you don't do a lot of off-roading, bed racks are still useful when you have a range of items you need to haul with your truck. Some benefits of installing a bed rack include the following…
Increases Storage Capacity
Your truck's bed provides limited storage space; there's only so much it can accommodate. Bed racks eliminate this problem by allowing you to mount and haul items that won't fit into a normal truck bed including surfboards and kayaks. It also serves as a platform for attaching accessories like bicycles and awnings. The ability to add mounting locations for all your gear and accessory ensures you can comfortably handle your items, more easily. Especially things like rooftop tents.
Protects Truck from Damage
Bed racks allow you to properly organize your gear, instead of just throwing it in the truck bed where tools like shovels can easily scratch or dent the body of the truck. With the elevation of the rack, you are able to organize your tools and equipment in a way that prevent areas like, say, the rear window from being damaged.
Improves Organization
If you do any sort of off-roading, overlanding, or camping, you know that organization is very important. Throwing everything in the back of your bed unorganized is one way to do it, but not very efficient. Digging through an entire bed's worth of stuff can be very time consuming and make it difficult to find items in times of need. Bed racks significantly improve your ability to get organized, with a plethora of holes and points for attaching your items.
Relatively Lightweight
In terms of what is available on the market, like a full on Tacoma truck camper, or truck cap (like the Leer 100R), most bed racks weigh significantly less than their full sized counterparts. If you're really looking to cut down on weight, but still add functional space, a bed rack is a great option to consider.
Potential Negatives?
A bed rack will not cover the bed completely, so your items are still exposed to the elements. They also do not provided much added security, although you can technically bolt stuff down with special hardware or nuts/bolts that are tougher to remove. A bed rack might not be a great idea if you consistently haul loads that exceed the available space within the confines of the rack.
Is A Bed Rack For You?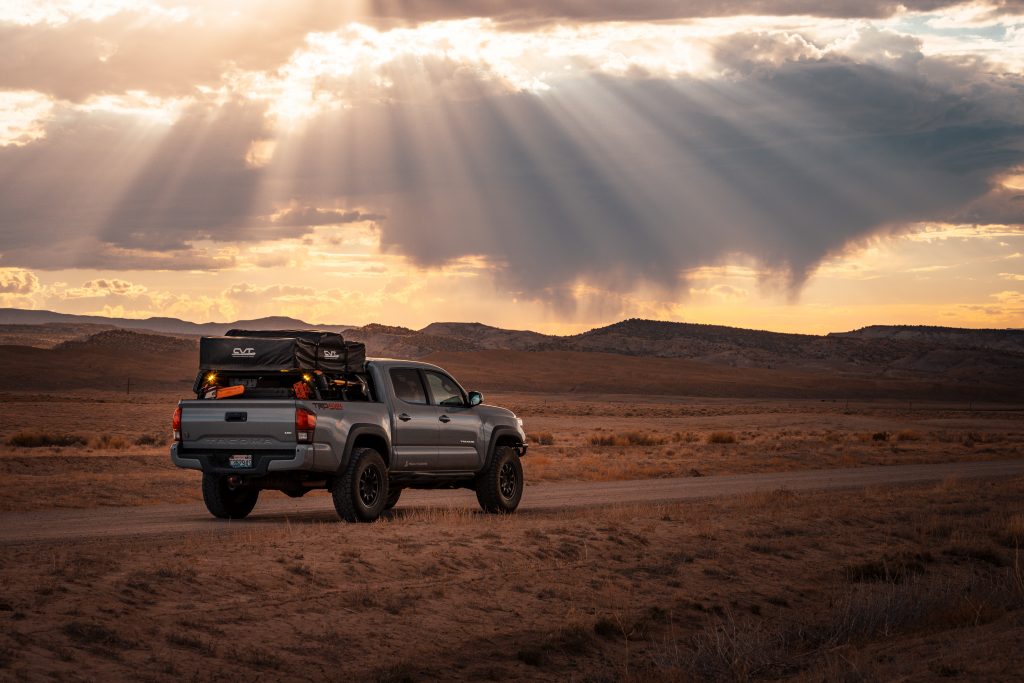 Bed racks are a must if you frequently go on trail explorations and other overland adventures. It makes organizing and hauling your tools – shovels, axes, fuel packs, recover boards etc. – so much more convenient. Most racks come with built-in mount slots for your gear and it requires little effort to attach and remove your gear as needed.
But even if you aren't into the overlanding lifestyle, but you own a truck, a bed rack is still beneficial as it maximizes load capacity, allowing you to organize and haul more items on your truck.
For sport enthusiasts – snowboarder, cyclist etc. – installing a bed rack is great for securing sport equipment like bikes in your truck bed and hauling to locations where they'll be used.
Amazon vs. Name Brand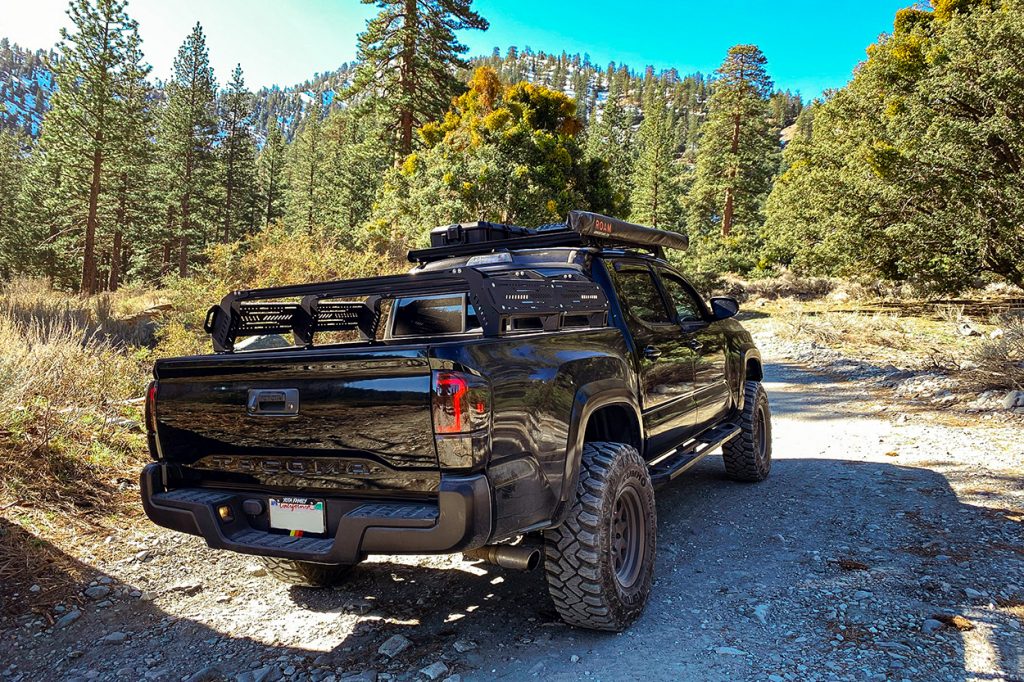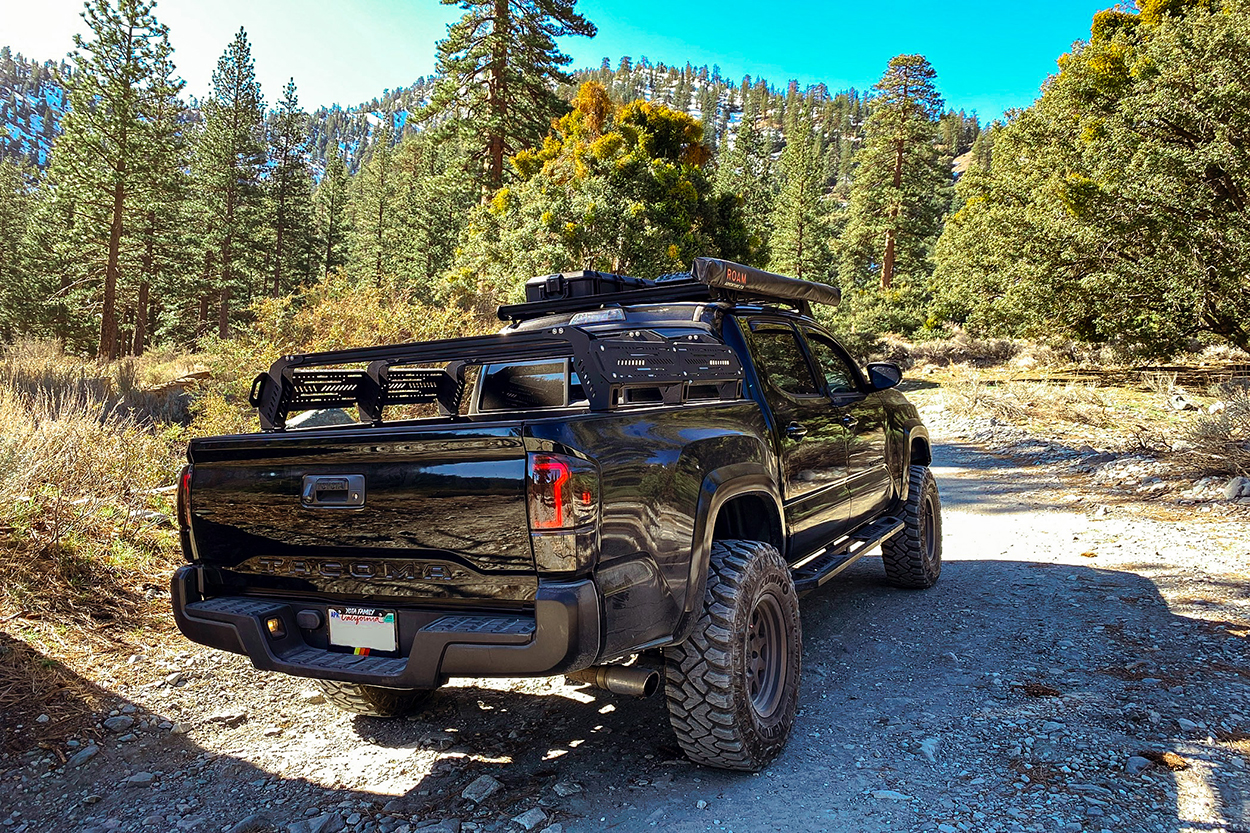 If you are in the market for a bed rack, obviously price is a factor you must consider before making your decision. But do not sacrifice quality for a cheaper priced rack, as you may end up regretting it in the long run.
While a rack might seem expensive, you have to think big picture and understand that you might probably get a higher ROI (return-on-investment) from a higher priced rack due to its superior quality, versatility and durability.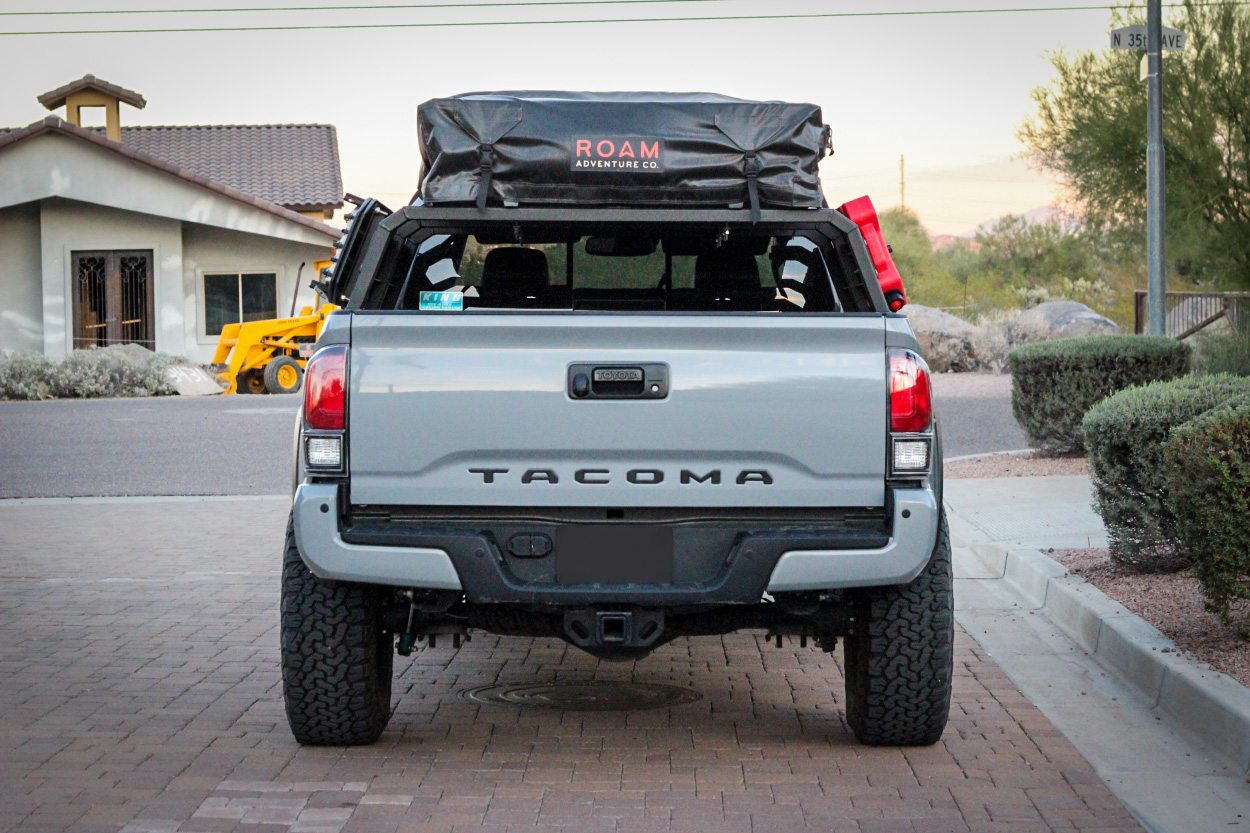 You may have seen bed racks online from retailers like Amazon. Amazon offers a range of bed racks differing in quality, height options and pricing. Most are generic, economy racks with simple designs, which offer few mounting options, hence their low pricing. It's likely many of those racks come from overseas as well, so their overall quality tends to be lower.
Brand name racks feature more cutting-edge designs for heavy-duty performance, many of them are completely made in the USA as well. The determining factors for choosing between the two include your budget, load ratings, mounting options and how often you will use the rack. But we recommend going with the established companies in the space.
Weight Capacity
Most bed rack manufacturers test the load capacity of their racks in three different scenarios:
1. Static, when the truck is parked
2. On-road, when it is driven on paved or concrete surfaces
3. Off-road, while driven on demanding off road terrains.
These ratings allow buyers to get a good idea of what rack works best for their specific needs. If you frequently take your truck camping, and need to mount a rooftop tent, knowing the static capacity will likely be a determining factor in whether or not you purchase a particular bed rack.
Weight capacities range from one rack to the next. Typically, a good rack can support between 500 – 1000 lbs of static weight. The on-road and off-road ratings of a rack will always be lower than the static rating.
With all that said, let's get into it!
1. Cali Raised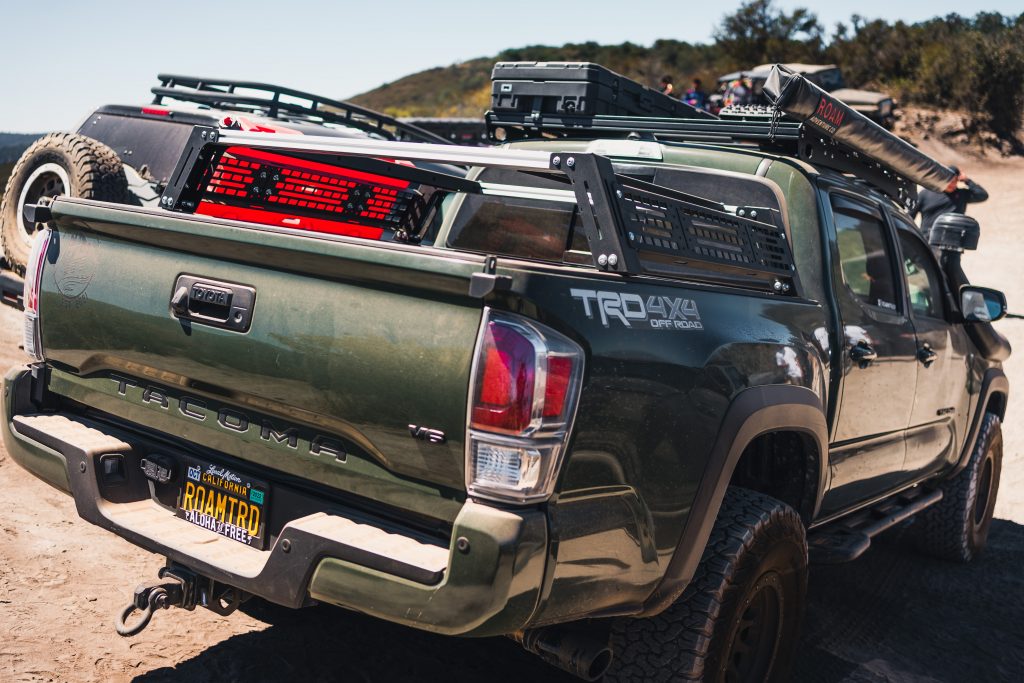 Find It Online
Cali Raised LED overland bed rack is compatible with 2005-2023 Toyota Tacoma models. This high-grade rack is lightweight yet durable, thanks to its mixed laser-cut steel and 80% aluminum construction. While the steel components are powder-coated for long-lasting corrosion resistance, the aluminum crossbars are bare, but you can get it coated if that is your preference.
Featuring a unique, sleek and versatile design, you have a range of options for mounting and securing tools and equipment like RotopaX, high lifts and recovery boards. The aluminum T-slot design allows you to mount LED lights – perfect for those late nights camping out in the woods – and other accessories. The sliding top bars allow you to adjust their placement depending on the width of the equipment you are mounting.
Cali Raised offers three height configurations to meet your specific needs and preferences:
Low Profile – 8"
Mid Profile – 10.5"
Tall Profile – 17.5"
All configurations come with two support crossbars. According to the manufacturer, each crossbar has an impressive load rating of up to 1000 lbs., allowing you to put a good amount of weight on the rack. This makes it an ideal rack for mounting rooftop tents and hauling other heavy items.
2. CBI Off-Road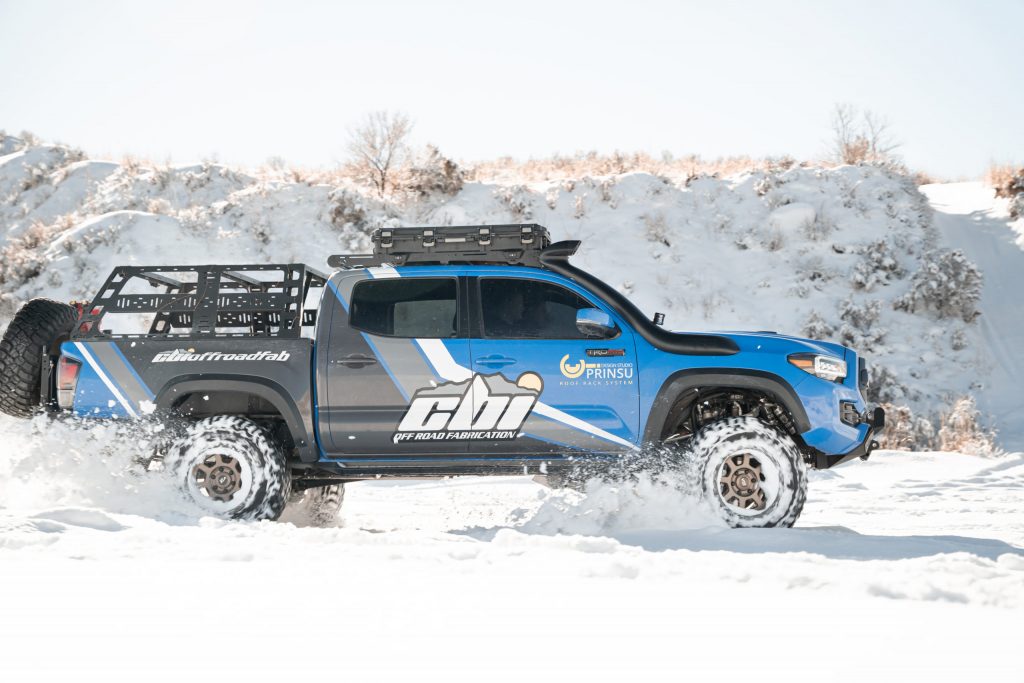 Find It Online
CBI bed racks are popular among off-road enthusiasts. They are 100% made in the USA and are known for their superior quality and performance. Engineered from hot rolled carbon steel, the CBI bed rack for 2nd and 3rd  Gen Tacoma models boasts a rigid, durable construction that maximizes load hauling capacity.
The sides of the rack feature multiple vertical and horizontal slots for optional accessory mounts that are used to secure a wide range of off-road essentials like recovery boards, hi-lift jacks and shovels. You get additional mounting solutions with the rack's crossbars that are perfect for securing even more gear and accessories.
You have two options when it comes to the rack's coat – a protective satin black textured finish or a bare metal rack with no finish. The black finish will cost you more but is worth getting as it saves you the time and trouble of a DIY paint/coating job and guarantees that the rack will have a longer service life.
3. All-Pro Off-Road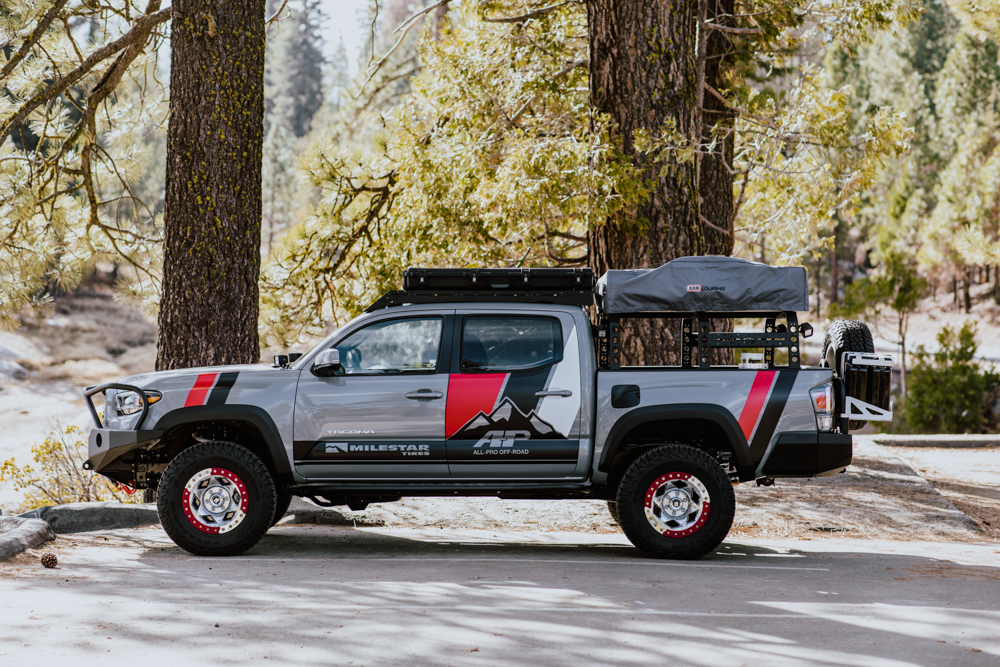 Find It Online
A long standing company, All-Pro provides a unique approach to racks. This bed rack is constructed from ASTM A36 steel and sits 16″ off the top of your bedsides. It features a PEM nut design which simplifies the installation process.
With several holes for zip ties, grooves for running your auxiliary wiring, and several slots and mounting locations – getting your truck bed dialed should be easy. Not to mention that it's 100% made in America. It's also backed by a 12-month limited warranty.
This rack will easily and safely carry a rooftop tent (with occupants) and all your gear and accessories. Owner's are expected to use common sense and sound judgement when loading down their rack.
4. Leitner Designs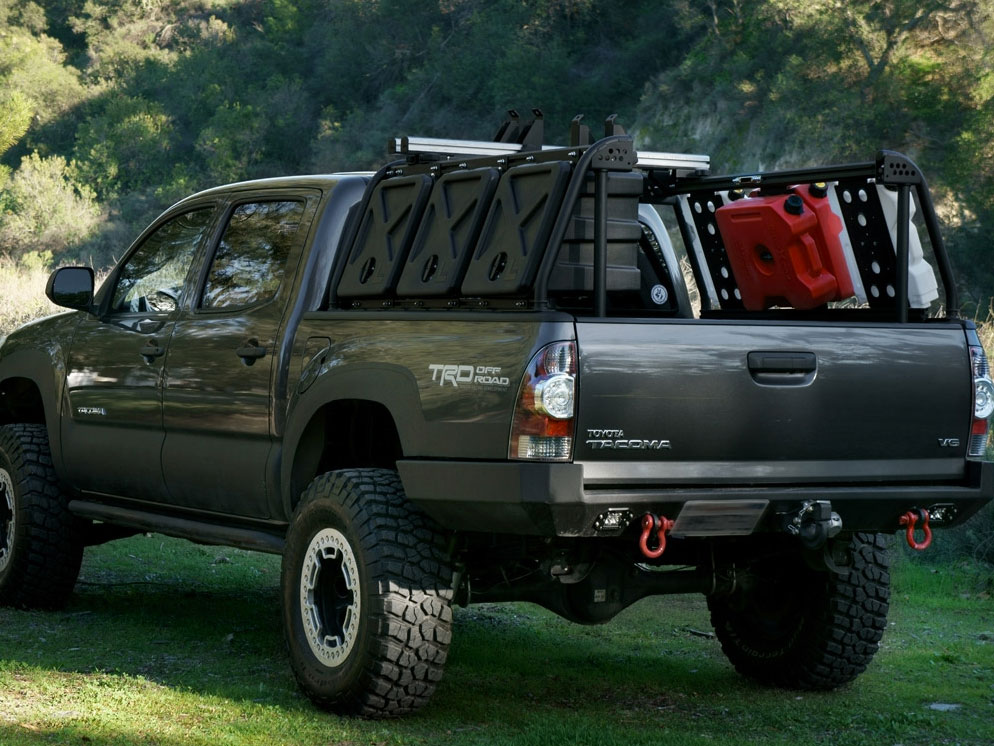 Find It Online
The Leitner Designs ACS bed rack is popular, thanks to its high-quality, cutting-edge design. The rack is available for both short and long bed 2005-2023 Toyota Tacoma models.
Made from military grade aluminum, and strengthened by its fully-TIG construction, it weighs 81lbs – lightweight, but sturdy and capable of supporting heavy loads. It is manufactured in California, and all materials used in construction are sourced in the United States, which means it is 100% American made.
Below are the rack's load ratings:
Off-Road Dynamic Weight Capacity – 250lbs
On-Road Dynamic Weight Capacity – 500lbs
Parked Static Weight Capacity – 1000lbs
From your truck's bed rails to the top of the bed caps, the rack is 23'' in height. One unique feature of this rack that differentiates it from most of its competitors on the market is its rear sliding load bar, an innovation patented by Leitner Designs. This comes in handy for hauling large items like motorbikes. With the rear sliding load bar, you would simply slide the bar forward to create enough space to accommodate your motorcycle.
5. Warrior Products – Platform Bed Rack
Find It Online
Warrior Products' aftermarket accessories are 100% American-made at their facilities in Tualatin, Oregon. Constructed for compatibility with 2005-2023 Toyota Tacoma models, their platform bed rack features a solid, low profile design and is more than capable of supporting a range of tools and equipment. You can purchase other Warrior accessories to help mount items on the rack including awning brackets, mod box, quicklatch mounts, no-drill spare tire mount and platform off-road mount.
Compared to other Toyota Tacoma bed racks on the market, this is an economy bed rack, and while it doesn't offer the same level of versatility as other Tacoma bed racks due to its limited mounting points, it is still a dependable rack for your hauling and off-road needs. It is especially ideal for mounting rooftop tents. Its maximum load capacity is on par with similar bed racks on the market, although Warrior offers these numbers with a disclaimer – always check the truck manufacturer's load specifications before loading up your truck:
Static: 600lbs
Off-road: 150lbs
On-road: 400lbs
Installation is bolt-on and relatively easy; simply follow the manufacturer's instructions for attaching to your truck's factory track rails.
Warrior also recommends their bed reinforcement bars for enhanced bed side support.
6. Body Armor 4X4 – Overland Bed Rack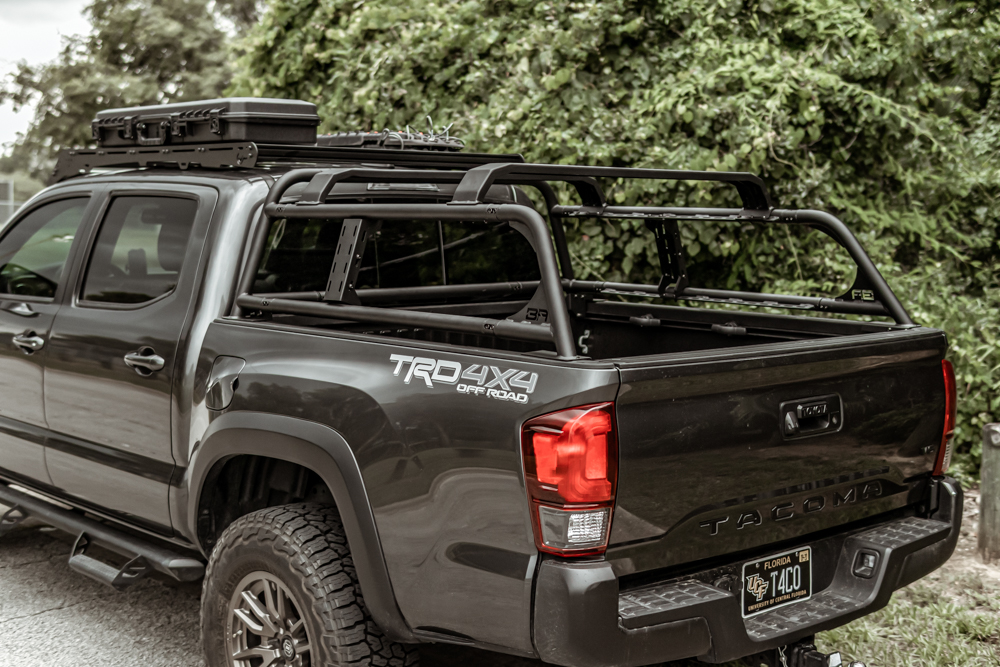 Find It Online
Body Armor 4X4 offers Tacoma bed racks for both 2nd and 3rd Gen Tacoma models. These racks features a simple design and is made from mild steel tubing. Two-stage powder coat with a black, light-texture finish which helps boost the rack's durability by protecting the steel from cuts and corrosion.
While Body Armor does not provide an official load rating for the rack, it is sturdy and durable enough to carry heavy loads, allowing you to mount most universal rooftop tents. You can also easily mount and secure your off-road gear using the two TC-6126 accessory mounts included in the pack. However, compared to other Tacoma bed racks on the market, mounting options are limited. We would recommend purchasing additional accessory mounts if you are hauling a range of tools and equipment that the included mounts can't accommodate.
They currently have two sizes, the original full size, and the new mid size option.
Read the install, review, and overview for the Body Armor 4X4 Bed Rack here.
7. Addictive Desert Design – ADD-Lander Bed Rack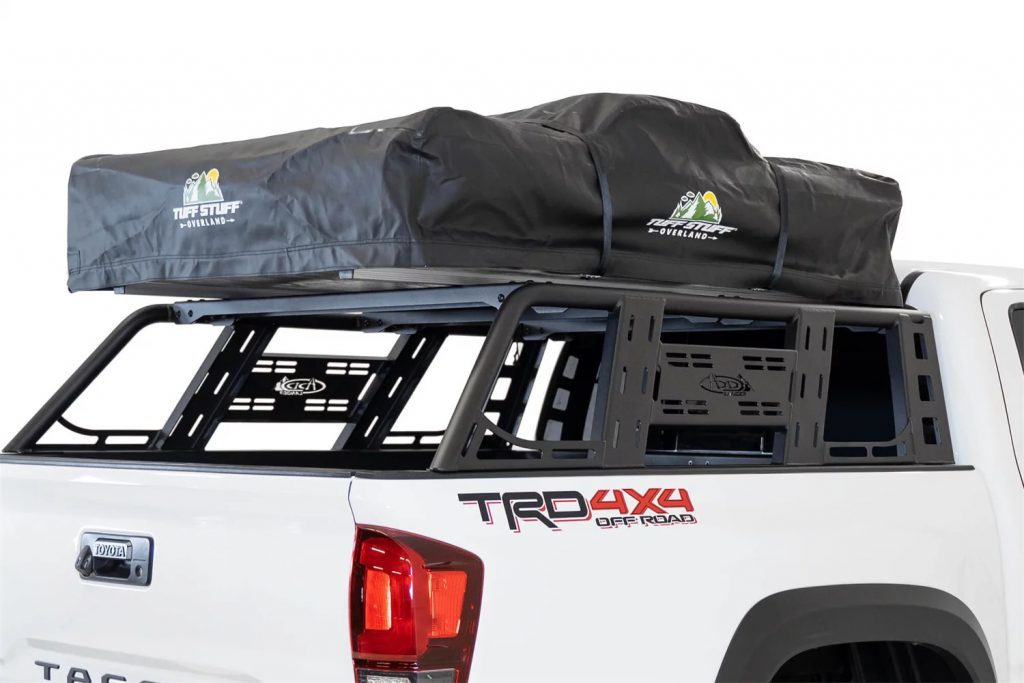 Find It Online
The Addictive Desert Designs ADD-Lander overland rack for 2005-2023 Toyota Tacoma is built robust and durable, constructed from a combination of high-tensile tube and plate steel. It is manufactured in ADD's facility in Mesa, Arizona and is 100% American-made. It will cost you about $2000+, which is a bit on the pricey side when compared to other brands on the market. But it is built to last a long time, and if you are a frequent weekend overlander or need a heavy-duty rack for extreme loads, this rack is worth the investment.
The three center crossbars and the side rails feature multiple slotted holes for mounting a range of off-road accessories. However, its height when installed is slightly below that of the Tacoma's roofline which would mean any mounted rooftop tent will sit above the roofline. This means you can expect increased wind resistance and some vehicle drag while navigating terrains, so keep this in mind before purchasing.
The rack is coated with a scratch-proof, hammer black powder finish which prevents premature rust and damage to the underlying steel. Like comparable overland racks available, installation requires no modification to your truck.
8. Fab Fours – Overland Bed Rack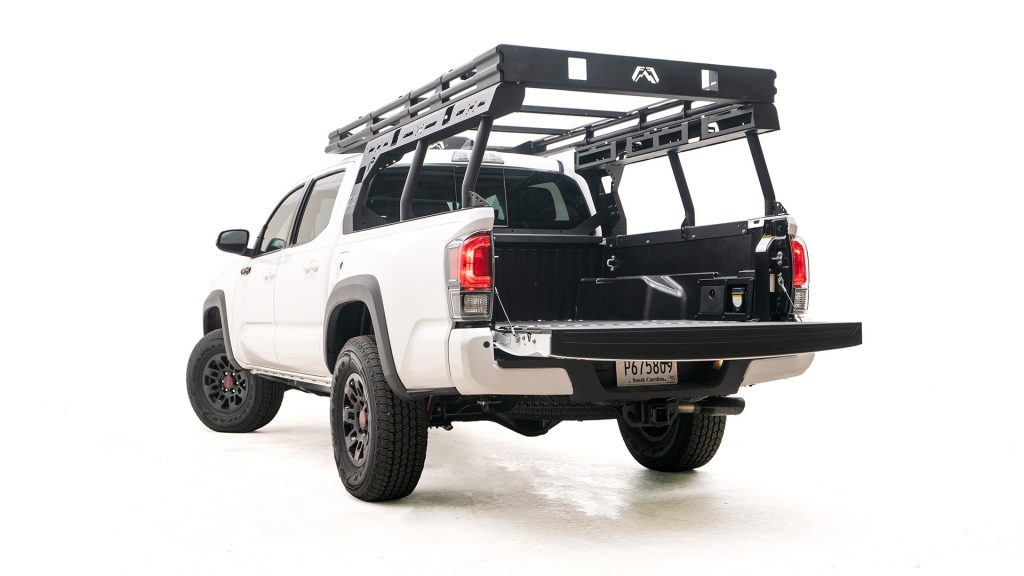 Find It Online
Fab Fours overland rack for Toyota Tacoma is a bold, imposing rack; it takes your pick-up truck to the next level in disposition and functionality. 100% American made, this premium rack could be worth the investment. Its design is a combination of a roof and bed rack as the top of the rack extends over a good portion of the truck's roof when installed. The Fab Fours overland rack is compatible with 3rd Gen Tacoma models and is designed exclusively to fit the 5' bed length Tacoma.
Constructed from 12 gauge steel, it boasts superior strength for handling extremely heavy loads. It features a two-stage black powder coat to protect the steel from corrosive and abrasive elements. This rack boasts multiple tie-down and mounting points, as well as ten integrated pod mounts, offering you an extensive range of possibilities for securing and hauling your off-road gear.
According to Fab Fours, with the two included cross-members, you get a static load capacity of up to 500 lbs. You have the option of buying extra cross members as well.
9. Wilco – ADV SL Bed Rack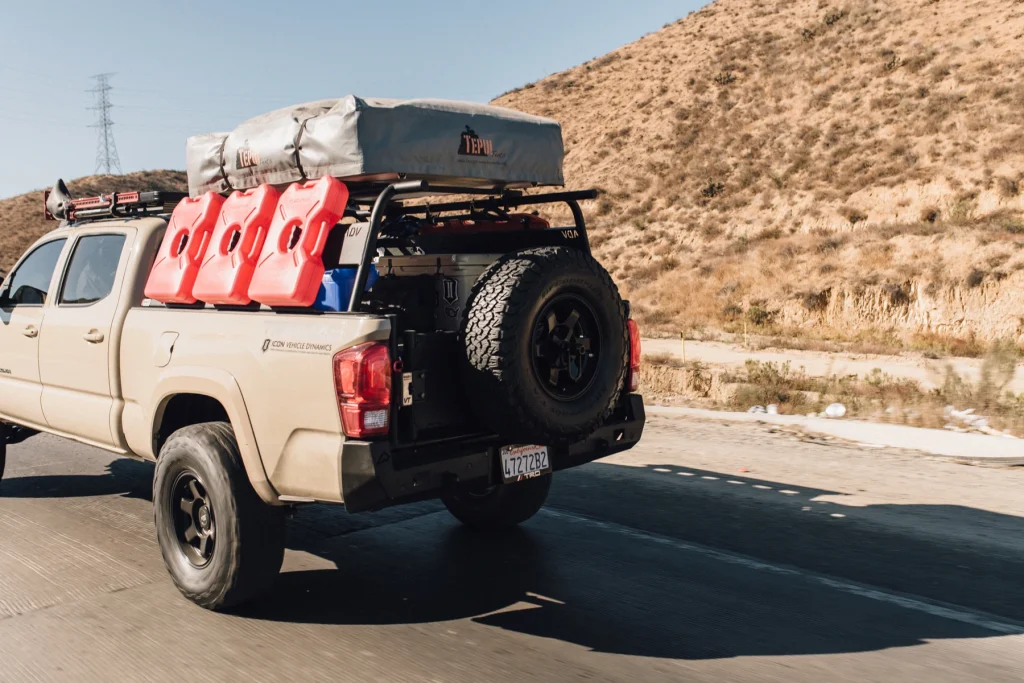 Find It Online
The ADV SL bed rack is lightweight – weighing a mere 68 lbs – thanks to its aluminum construction. Featuring 1 3/4″ tubular aluminum and side expedition panels for mounting off-road accessories, this rack is specially manufactured to meet your off-road and truck hauling needs. Whether you are hauling recovery boards, axes or shovels, this rack has got you covered. It is compatible with most pickups with 5' or 6' beds, including Toyota Tacoma models.
Wilco provides official load ratings for this rack which are quite impressive: while static, it has a 1100 lbs. load rating; on-road, the load rating is 550lbs while off-road, it is 275lbs. It also comes with sliding crossbars on the top of the rack which are compatible with rooftop-mounted gear including most rooftop tents. These crossbars are adjustable along the length of the rack, allowing you to customize it for optimal fitment with various gear.
Its powder-coated finish makes the rack highly resistant to corrosion, and it features multiple tie-down locations and side panels that allow you to mount essentials like recovery and fuel gear. Wilco offers two height options: a low profile 14″ option and a standard height 21″ option. Like most comparable bed racks on the market, a no-drill, fully bolt-on installation is required to install the rack on your truck.
10. RCI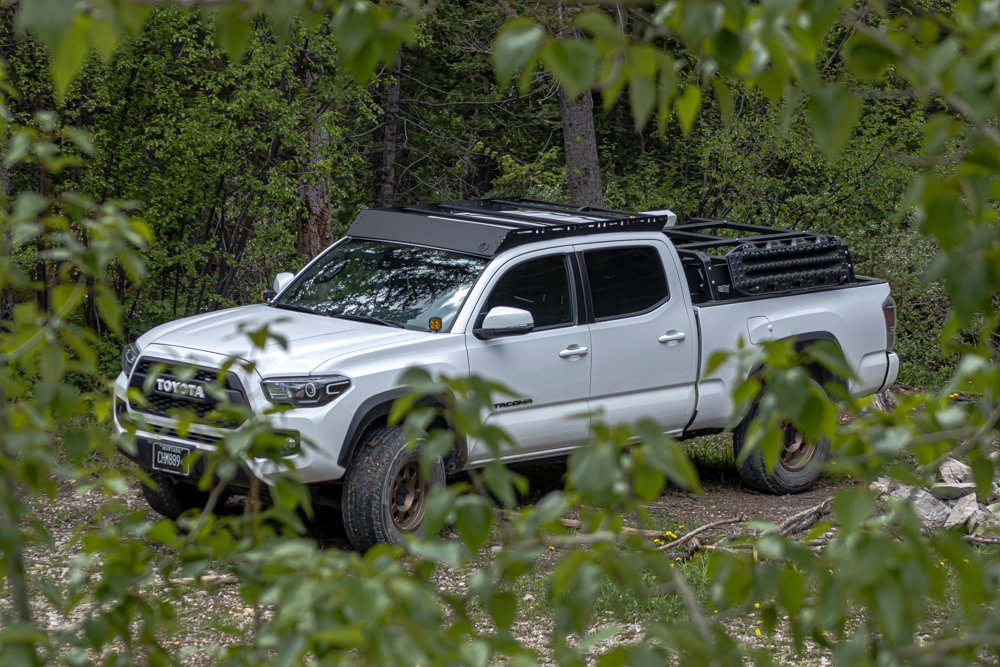 Find It Online
Located in Loveland, Colorado, RCI manufactures high-quality aftermarket products, popular among overlanding enthusiasts. Their HD Bed Rack features a highly durable design, and weighs roughly 100lbs. It includes a special mounting kit for 2nd and 3rd Gen (2005-2023) Tacoma models. It is also fully compatible with RCI's Tonneau Adapter Kit. This rack is capable of accommodating a range of tools and equipment – spare tires, Rotopax, hi-lift jacks and so much more.
There are two bed length options available – 5' and 6' – while the width of the rack is adjustable. The height of the rack from your truck's rails is 12". When it comes to its load rating, RCI claims the bed rack has been tested to support up to 1500lbs (static load) but they recommend a benchmark of 750lbs static load as other factors like bed width determine the exact load capacity.
It features three crossbars and multiple mounting points for securing essential items for your off-road adventures. There are mounting points integrated to the top of the rack that allow you to easily mount your rooftop tent. The tent will sit just below your roof line, which helps minimize aerodynamic drag while you drive.
11. Relentless Fab
Find It Online
Made from laser cut and CNC brake formed steel, the Relentless Fab modular bed rack is built strong, offering maximum rigidity to support all your off-road essentials. This bed rack has been meticulously designed and rigorously tested to guarantee it can handle the most demanding hauling needs. From your truck's bed rails, it sits 12'' high, a convenient height that ensures sufficient space to mount traction boards and Rotopax on side mounts while at the same time securing a rooftop tent at a level that minimizes vehicle drag caused by wind resistance.
Slotted holes are strategically integrated in all three cross rails for fitment with universal rooftop tents. To mount traction boards, Relentless Fab offers brackets which have to be purchased separately. The installation process requires no drilling or modification to your vehicle. The rack is simply attached to your truck's bed rails using 12 grade 8 bolts and T-nuts. To assemble components, you will need a pair of 9/16'' sockets or wrenches.
Thanks to its modular design, when you don't need to use the rack for long periods of time, it is easy to disassemble the individual pieces, and store away until you are ready to use again.
12. DV8 Bed Rack
Find It Online
DV8 aftermarket products for off-road trucks are designed and manufactured in their facilities in Mesa, AZ and Riverside, CA.
The DV8 bed rack for 2005-2023 Toyota Tacoma models stands out from most comparable racks on the market thanks to its unique sliding two-piece sides. This feature allows you to adjust the sides of the rack to fit any bed length. Its 8'' height design – which can securely accommodate and support a rooftop tent without exceeding the roofline – is aerodynamically-friendly, minimizing drag caused by wind resistance as you drive your truck.
This is a durable rack and is perfect for truck owners who are on a budget. It is able to support up to 500lbs static weight and is perfect for hauling hi-lift jacks, Rotopax and other off-road accessories. It features a 6'' single row light mount and 8 D-rings that serve as mount points. With its protective sand texture, black powder coat finish, you can count on the rack lasting a long time without worrying about corrosion or abrasion on the metal.
13. Wescott Designs

Find It Online
Operating out of Phoenix, Arizona, Westcott Designs specializes in aftermarket products for pickup trucks. If you are on a budget, and you need a reliable rack to haul your basic off-road essentials, this is the rack for you. Westcott Designs offers the rack for both 2nd and 3rd Gen (2005-2023) Tacoma models, and it is compatible with short and long bed length versions.
It is constructed from TIG-welded, cold rolled mild steel. To protect the steel from corrosion-causing elements in the environment, Westcott powder-coats the rack with a black finish. This rack is sturdy, dependable and capable of supporting heavy loads, making it a go-to economy rack for off-road adventures where large items like rooftop tents are needed.
It measures 12" from the top of your bed rails to the top of the rack, a good height for mounting a roof-top tent as aerodynamic quality is maximized while you drive. Available at extra cost are side-mounted MOLLE panels. These panels feature multiple tie-down windows for securing your outdoor gear including shovels and fuel jugs. Installation is completely bolt-on, and does not involve any welding, cutting or modification to your truck.
14. upTOP Overland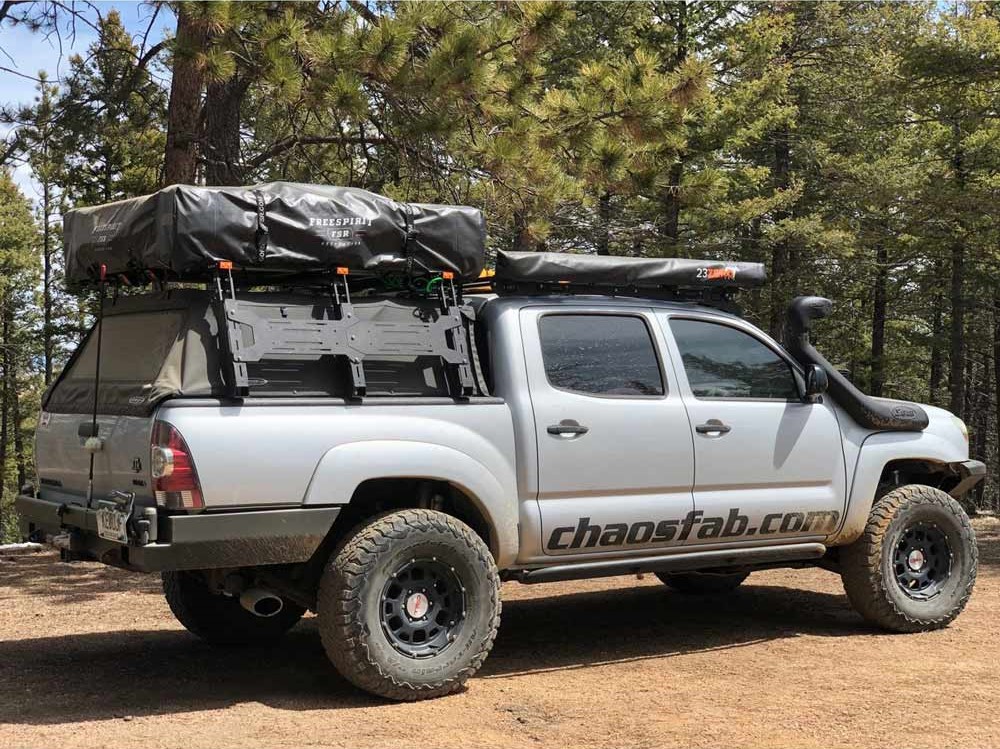 Find It Online
The upTOP Overland TRUSS bed rack is built strong and lightweight, averaging 55lbs. Its component pieces are fully aluminum, which, right off the bat, is a plus as it eliminates any rust issues that typically occur over time with steel bed racks. When installed, it has an impressive load capacity of over one thousand pounds, although you should always check your truck's specifications to know the maximum load limit your truck can support.
This rack comes with load-bearing armor plates on the sides, with slots strategically placed to accommodate off-road essentials like RotopaX, Quickfists, Waterports and MaxTrax. Grooves located on either sides of the back of the plates are perfect for tying down even more off-road gear with guy wires and bungee cords.
upTop offers several different options for bed racks. They even have one that is soft top compatible, as seen in the image above. According to upTOP Overland, racks are built to order and on their website, you can check for lead times for an order you've placed. Installation is bolt-on, involving assembling individual components following the manufacturer's installation instructions. The upTOP TRUSS bed rack are compatible with 2005 – 2022 Toyota Tacoma models and features a one-size-fits-all design for both short and long beds.
15. Victory 4×4
Find It Online
The Victory 4X4 modular base bed rack is tough and resilient, built from CNC cut and formed steel. This rack is compatible with both 2nd and 3rd Gen Tacoma models, and is designed to secure a range of gear for outdoor explorations including snowboards, kayaks, mountain bikes and rooftop tents. Pre-drilled side panels provide multiple mounting options for your off-road essentials. It is 100% USA-made and has a two-stage satin textured black powder coat over a zinc primer finish to help protect the underlying steel from cuts and premature corrosion.
Victory 4X4 also offers bed stiffeners that provide optimal support for the rack, protecting the truck's bed from damage caused by pressure of the rack on your bed over time, and boosting the rigidity of the rack as it hauls extremely heavy loads.
This rack is available for both the 5′ and 6′ bed lengths. You also have the choice of either a half rack (12") or full rack (18") height option, with the full rack costing you $20 more. The height you choose should match your aesthetic preferences and specific trail needs. Installation requires bolt-on assembly, with all essential hardware included in the rack's packaging.
Victory also offers a larger overland bed rack that fits over certain bed toppers, such as the Softopper (soft bed cover).
16. Front Runner – Slimline II Bed Rack
Find It Online
To wrap up the list, we have the Front Runner Slimline II. This mid-height bed rack made for 2nd and 3rd Gen Tacoma's utilizes the OEM bed rails that mount onto your truck without needing to drill for the installation. Using black powder coated T6 aluminum and high strength steel together, Front Runner built this rack to be durable without weighing too much – approximately 53lbs.
On the cargo tray and side rails, there are T-Slots in the bars that allow you to use standard 8mm bolts to mount any of your gear. Front Runner says that they have engineered their rack to hold up to 660lbs., although they suggest checking manufacturer's recommendations as this may exceed the load capacity of the bed rails.
The cargo tray of this rack is advantageous for those who want to use their bed racks like a Swiss army knife. Maybe one weekend you want to use it for a rooftop tent, but the next weekend you want it to hold your full-sized spare tire. With all of the slotted crossbars within the cargo tray, the options are endless for gear that you can mount.
17. Rago Fabrication – Endeavor Bed Rack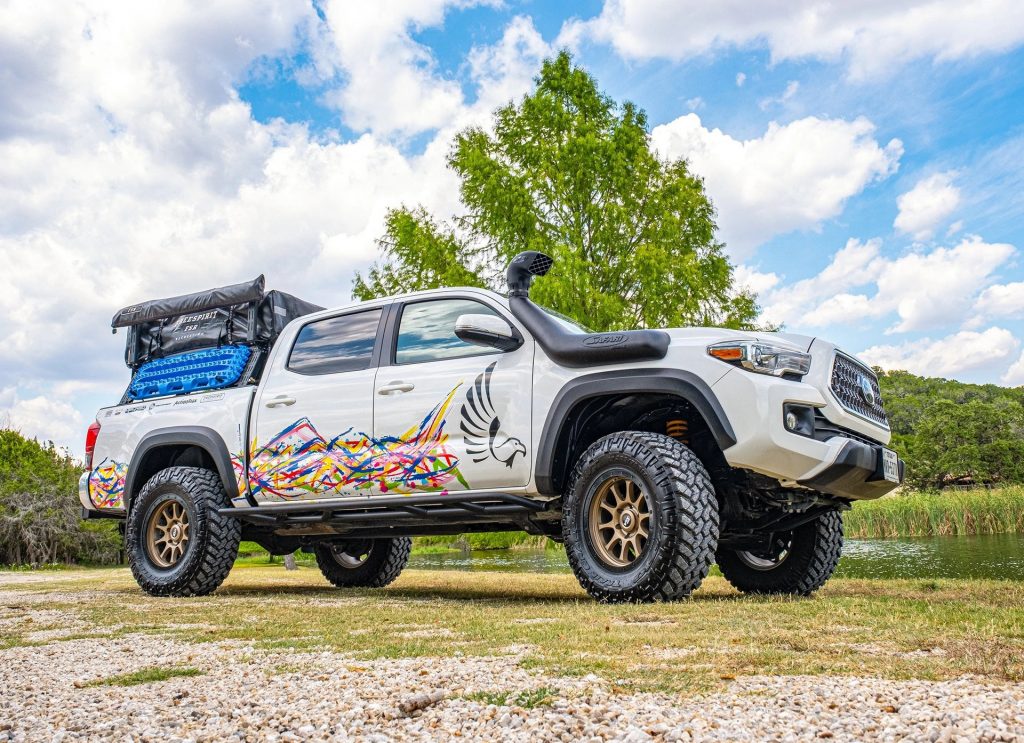 Find It Online
The Rago Fabrication Endeavor bed rack for 2nd and 3rd Gen Tacoma models features a sleek, unique modular design. It is CAD designed, laser cut and CNC bent, and is powder coated with a black textured finish for enhanced durability.
Its side MOLLE panel stands out from other bed racks with its multiple rectangular slots. Although recovery board mounting points are built into the rack's design, recovery board pins must be purchased separately. Additional slots integrated into the center support rails provide ceiling mounting solutions for a range of off-road essentials.
With a static load capacity of over 700lbs, this rack is capable of supporting heavy loads including most rooftop tents. It requires bolt-on assembly of the individual components included in its packaging and bolt-on installation on to your truck's bed rails. When installed, the height of the rack is 12'' above the top of truck's bed rails and sits slightly below your truck's roofline.
Final Thoughts
All in all, I hope I have given you a clear and thorough overview of what each of these bed racks bring to the table and what areas they leave you hoping for more. At the end of the day, the bed rack you choose is going to come down to what you want out of it. Some prefer a simplistic design while others want their bed racks to be as multi-functional as possible.
Outside of these aspects, price and budget will play a major role in what you end up with as the relative prices between these options can vary greatly. If you have any questions or need help deciding, always feel free to reach out to us and we'll be able to assist in the comments. You won't really go wrong with any of the aforementioned options, yet some will suit your needs better than others.